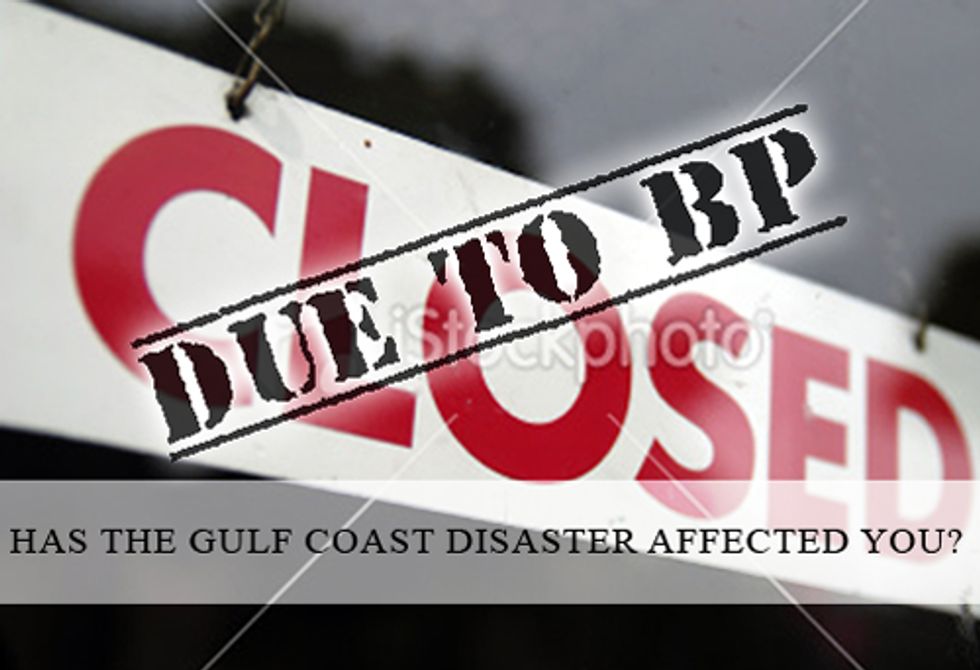 Michael Brune, Sierra Club executive director, called on President Obama Feb. 6 to take strong action in any settlement of claims under the Clean Water Act and Oil Pollution Act from BP's 2010 Gulf of Mexico oil spill to ensure comprehensive restoration and recovery of the Gulf of Mexico's ecosystem and communities, and to protect the region from future oil spill disasters. With the public largely shut out of the legal process, Brune weighed in directly in a letter to the president, requesting that specific measures be included in any settlement agreement over the Deepwater Horizon disaster.
Sierra Club summarized six main points from their Feb. 6, 2012, letter to President Obama.
Establish a Natural Resource Damages Fund in an amount assessed by the Natural Resource Trustees for comprehensive, long-term ecosystem restoration and monitoring that satisfies Natural Resource Damage Assessment (NRDA) regulations and prioritizes the public interest
Create a fund of no less than $10 billion to execute the Gulf Coast Ecosystem Restoration Task Force Early Restoration Strategy with $500 million dedicated to long-term monitoring
Establish a fund of no less than $20 billion or an amount equivalent to the Clean Water Act penalties assessment for "gross negligence" dedicated to Supplemental Environmental Projects that enhance NRDA restoration, including long-term monitoring and independent scientific studies
Include a broad re-opener provision that allows the government to re-open the settlement for at least 30 years and requires the responsible parties to reimburse the U.S. for latent, unforeseen damages
Establish and fund the operation of a Gulf of Mexico Regional Citizen's Advisory Council to ensure formal public oversight and industry accountability of offshore drilling activities in the region
Ensure that all activities executed under a settlement comply with Executive Order 12898 on Environmental Justice.
The full letter is available here.
For more information, click here.
EcoWatch Daily Newsletter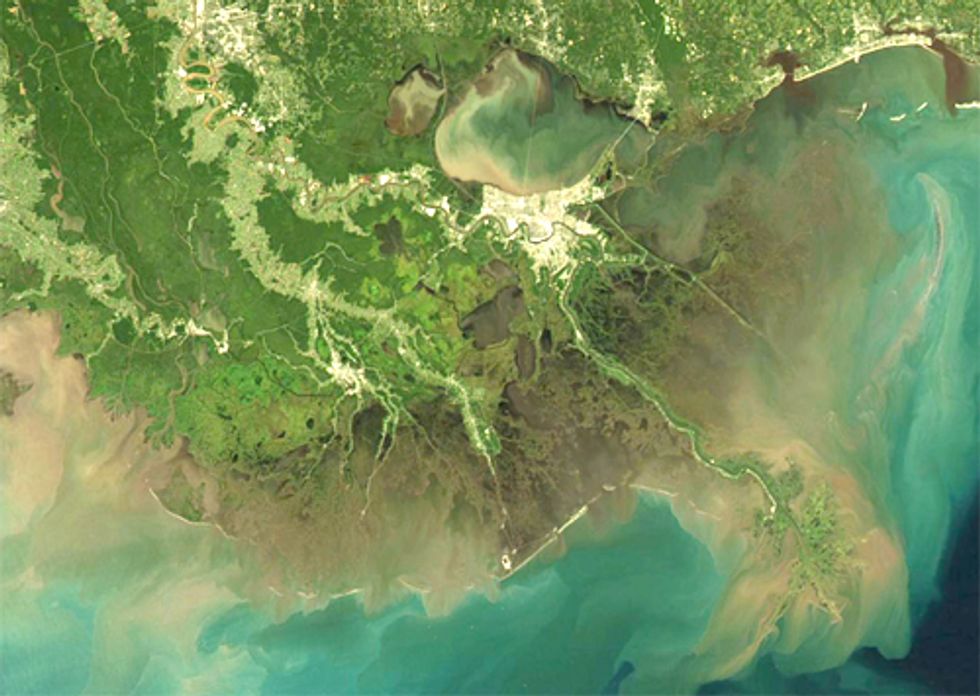 Waterkeeper Alliance and several Gulf Coast Waterkeeper organizations filed suit in Federal Court Feb. 2 against Taylor Energy Company LLC under the citizen suit provisions of the Clean Water Act and Resource Conservation Recovery Act, for ongoing violations stemming from an oil spill in the Gulf of Mexico that has continued to flow for more than seven years.
Aided by satellite imagery and research conducted by SkyTruth and aerial observation by SouthWings, the Waterkeeper Alliance and its local Waterkeeper organizations learned that the spill, located approximately 11 miles off the coast of Louisiana, started after an undersea landslide in the aftermath of Hurricane Ivan in 2004. An offshore platform and 28 wells were damaged, and since then, Taylor has yet to stop the daily flow of oil from the site. Waterkeeper estimates that hundreds of gallons of oil have leaked from the site each day for the last 7 years.
"The plaintiffs filed suit to stop the spill and lift the veil of secrecy surrounding Taylor Oil's seven-year long response and recovery operation," explained Marc Yaggi, executive director of Waterkeeper Alliance. "Neither the government nor Taylor will answer basic questions related to the spill response, citing privacy concerns." The public deserves to know how this spill happened and why it continues. Coastal communities should understand the risks involved in developing off-shore oil resources and what protections are in place to prevent damage from future spills.
"The Taylor Oil spill is emblematic of a broken system, where oil production is prioritized over concerns for human health and the environment," said Justin Bloom, eastern regional director of Waterkeeper Alliance. "Nearly two years after the BP Deepwater Horizon Spill, none of the comprehensive reforms recommended by the National Oil Spill Commission have been enacted and Congress has yet to pass a single law to better protect workers, the environment or coastal communities."
Meanwhile, President Obama, in his State of the Union, has called for a massive push to open up 38 million acres in the Gulf of Mexico to oil exploration and extraction. He also seeks to open up pristine Arctic waters to drilling. The Taylor spill is in relatively shallow and accessible waters compared to the deepwater, challenging environment where Big Oil has set its sights. Oil exploration and extraction technology has dramatically outpaced the development of safety and recovery technology and it appears that the current regulatory regime is incapable of protecting us from a runaway industry.
A report released this week by the Gulf Monitoring Consortium, a partnership between Waterkeeper Alliance, SkyTruth and SouthWings, investigates several spills in the Gulf (including the Taylor Spill) and highlights numerous deficiencies in the reporting and response process.
A copy of the report can be found by clicking here.
"Imagine an incident like the Taylor Spill in a deepwater, high-pressure environment, that could not be contained in 7 years," said Paul Orr, the Lower Mississippi Riverkeeper. "Do we really want to race to the bottom without a lifeline when it looks like Big Oil is still at the helm?"
A copy of the complaint can be found by clicking here.
Joining Waterkeeper Alliance in the lawsuit are—Atchfalaya Basinkeeper, Baton Rouge, La.; Galveston Baykeeper, Galveston, Texas; Lower Mississippi Riverkeeper, Baton Rouge, La.; Louisiana Bayoukeeper, Barataria, La.; and Louisiana Environmental Action Network, Baton Rouge, La. Plaintiffs are represented by the Tulane Environmental Law Clinic.
For more information, click here.
—————
Waterkeeper Alliance is a global environmental movement uniting more than 190 Waterkeeper organizations around the world and focusing citizen advocacy on the issues that affect our waterways, from pollution to climate change. Waterkeepers patrol more than 1.5 million square miles of rivers, streams and coastlines in the Americas, Europe, Australia, Asia and Africa.  
Like many other plant-based foods and products, CBD oil is one dietary supplement where "organic" labels are very important to consumers. However, there are little to no regulations within the hemp industry when it comes to deeming a product as organic, which makes it increasingly difficult for shoppers to find the best CBD oil products available on the market.
<p>Here you can learn about the importance of organic hemp oil, why it's better for the environment, and which CBD companies actually make trustworthy products with sustainable farming processes. origins which weigh heavily on many consumers who want to buy a product that's produced in the best way possible for not only themselves to ingest, but for the environment as well through sustainable farming methods. </p><h2>What Is CBD Oil?</h2><p>First things first, CBD stands for cannabidiol, and it's a cannabinoid found within cannabis sativa plants. This plant compound is believed to have many potential benefits, and it is primarily derived from hemp plants via a CO2 extraction process. </p><p>Since CBD is extracted from industrial hemp, which contains only trace amounts of THC (the psychoactive component in cannabis plants), this means that CBD won't make you feel high like marijuana, which has much higher levels of THC that causes psychoactive effects. Instead, the effects of CBD are much more subtle and promote a general sense of calm and relaxation in most users.</p><h2>What Makes a CBD Oil Organic?</h2><p>In terms of organic labels, perhaps the most important (and prominent) certification comes from the United States Department of Agriculture (USDA). This government organization has been labeling foods as "organic" for many years, but what exactly does this certification entail? Essentially, a label indicating that a product is "USDA Organic" or "Certified Organic" means that at least 95% of the ingredients are obtained from organic sources.</p><p>For a crop to be considered organic by the USDA, it must be grown without the use of industrial solvents, irradiation, genetic engineering (GMOs), synthetic pesticides, or chemical fertilizer. Instead, farmers rely on natural substances and <a href="https://www.usda.gov/media/blog/2012/03/22/organic-101-what-usda-organic-label-means" rel="noopener noreferrer" target="_blank">mechanical, physical, or biologically based farming</a> techniques to cultivate healthy and organic crops.</p><p>Before the passage of the 2018 Farm Bill, no hemp-derived products could be dubbed as "certified organic" since the hemp plant and its extracts were still categorized as a Schedule I Controlled Substance. However, it's still difficult for CBD companies to obtain a USDA certified organic label for their products due to the legal grey area that still surrounds CBD extracts. </p><p>Because of these challenges, and due to the fact that industrial hemp has only recently become an agricultural crop, very few CBD oils are USDA certified organic. Rather, many CBD products contain hemp extracts from plants that were grown in organic conditions but may not be federally certified.</p><h2>What are the Best Organic CBD Oil Brands?</h2><p><em>Each product featured here has been independently selected by the writer. If you make a purchase using the links included, we may earn commission.</em></p><em><br></em>