Gulf Coast oysters on the half shell at Wintzell's in Mobile, AL.
donireewalker / CC BY 2.0
By Daniel R. Petrolia and William C. Walton
For Cainnon Gregg, 2018 started out as a great year. After leaving his job as an installation artist to become a full-time oyster farmer in Wakulla County, Florida in 2017, Gregg began raising small oysters in baskets or bags suspended in the shallow, productive coastal waters of Apalachicola Bay.
Raising oysters "off-bottom" this way takes a lot of time and money, but has a big potential payoff. They are destined for the high-end raw bar market, where offerings are denoted by specific appellations, like "Salty Birds" (Cainnon's oysters), "Navy Coves" (from Alabama) and "Murder Points" (also from Alabama), and can retail for twice the price of oysters harvested from traditional on-bottom reefs.
<p> When Hurricane Michael made landfall at Mexico Beach, Florida, on Oct. 10, it dealt a devastating blow to this nascent industry. Preliminary reports indicate significant damage and heavy crop losses. Raising oysters by any method is not an easy job, but if off-bottom farming can become established along the Gulf Coast, it could give the industry a much-needed boost, give consumers more choices, and provide a new stream of environmental benefits. </p><div id="88191" class="rm-shortcode" data-rm-shortcode-id="0KFXXZ1576662078"><blockquote class="instagram-media" data-instgrm-captioned="" data-instgrm-version="4" style=" background:#FFF; border:0; border-radius:3px; box-shadow:0 0 1px 0 rgba(0,0,0,0.5),0 1px 10px 0 rgba(0,0,0,0.15); margin: 1px; max-width:658px; padding:0; width:99.375%; width:-webkit-calc(100% - 2px); width:calc(100% - 2px);"> <div style="padding:8px;"> <div style=" background:#F8F8F8; line-height:0; margin-top:40px; padding:50% 0; text-align:center; width:100%;"> <div style=" background:url(data:image/png;base64,iVBORw0KGgoAAAANSUhEUgAAACwAAAAsCAMAAAApWqozAAAAGFBMVEUiIiI9PT0eHh4gIB4hIBkcHBwcHBwcHBydr+JQAAAACHRSTlMABA4YHyQsM5jtaMwAAADfSURBVDjL7ZVBEgMhCAQBAf//42xcNbpAqakcM0ftUmFAAIBE81IqBJdS3lS6zs3bIpB9WED3YYXFPmHRfT8sgyrCP1x8uEUxLMzNWElFOYCV6mHWWwMzdPEKHlhLw7NWJqkHc4uIZphavDzA2JPzUDsBZziNae2S6owH8xPmX8G7zzgKEOPUoYHvGz1TBCxMkd3kwNVbU0gKHkx+iZILf77IofhrY1nYFnB/lQPb79drWOyJVa/DAvg9B/rLB4cC+Nqgdz/TvBbBnr6GBReqn/nRmDgaQEej7WhonozjF+Y2I/fZou/qAAAAAElFTkSuQmCC); display:block; height:44px; margin:0 auto -44px; position:relative; top:-22px; width:44px;"> </div></div><p style=" margin:8px 0 0 0; padding:0 4px;"> <a href="https://www.instagram.com/p/BdXjq1PDEvP/" style=" color:#000; font-family:Arial,sans-serif; font-size:14px; font-style:normal; font-weight:normal; line-height:17px; text-decoration:none; word-wrap:break-word;" target="_top">PelicanOysterCo on Instagram: "This time last year I only dreamt of what my own farm would be like and now I'm a few weeks away from my first harvest. This has been a…"</a></p> </div></blockquote></div><p> <strong>Premium Products</strong> </p><p> The U.S. produces multiple species of oysters, but historically the eastern oyster (<em>Crassostrea virginica</em>) has accounted for over 70 percent of total harvests. The Gulf Coast generally accounts for 80 percent of those, with production generating <a href="https://repository.library.noaa.gov/view/noaa/16121" target="_blank">$1 billion in annual revenues</a>. </p><p> Louisiana is the national leader in oyster production, with a handful of other states vying for second place, including Washington, South Carolina and Texas. However, when states are ranked by value per unit—that is, total value over total landings—states like Massachusetts, Maryland and Virginia dominate. </p><p> This is partly due to regional differences in how oysters are grown and marketed. Traditional harvesting of oyster reefs on the sea bottom still dominates in the Gulf region. These oysters are generally sold as a commodity, appearing on menus as simply "oysters" or "Gulf Coast oysters." </p><p> Elsewhere, most oysters come from off-bottom farming and tend to be marketed under the names of specific reefs, growers or appellations. Off-bottom oyster farming has been a <a href="https://www.fisheries.noaa.gov/national/aquaculture/us-aquaculture" target="_blank">major driver in the growth of marine aquaculture production nationally</a>. </p><p class="shortcode-media shortcode-media-rebelmouse-image"> <img type="lazy-image" data-runner-src="https://assets.rebelmouse.io/eyJhbGciOiJIUzI1NiIsInR5cCI6IkpXVCJ9.eyJpbWFnZSI6Imh0dHBzOi8vYXNzZXRzLnJibC5tcy8xODgwMzIxNS9vcmlnaW4uanBnIiwiZXhwaXJlc19hdCI6MTYzMTIzMjk4OX0.lNw_0CwYdfLhYlGBnOZFkq4Row8LE3WIHX9eCbjhAIU/img.jpg?width=980" id="cb0eb" class="rm-shortcode" data-rm-shortcode-id="f00d4b755880d37aead522c40664e461" data-rm-shortcode-name="rebelmouse-image"> <small class="image-media media-caption" placeholder="add caption...">Oysters are grown in cages at Island Creek Oyster Farm in Duxbury, MA.</small><small class="image-media media-photo-credit" placeholder="add photo credit..."><a href="https://flic.kr/p/bDGAqU" target="_blank">MA Office of Travel and Tourism / Hanks</a>, CC BY-ND</small> </p><p> The Gulf's first commercial off-bottom farms started up in Alabama and Louisiana in 2010. Today more than 50 farms are operating in Florida, Alabama and Louisiana, with permits pending for others in Mississippi. Harvest data are limited, but in Alabama alone, eleven farms collectively reported <a href="http://masgc.org/assets/uploads/publications/1312/alabama_shellfish_aquaculture_situation_and_outlook_report_2016.pdf" target="_blank">nearly $2 million in sales in 2016</a>. In recent years Alabama has ranked among the top five states in per-unit value.<br> </p><p><strong>Reasons to Diversify</strong></p><p> Raising off-bottom oysters is good for more than oystermen's bottom lines. Oysters improve water clarity by filtering out phytoplankton, thereby removing nitrogen from the water column. They also provide forage grounds and habitat for fish and act as breakwaters, protecting nearby shorelines. </p><p> Off-bottom farms deliver the same types of benefits as traditional on-bottom reefs, although in slightly different ways and at different times, depending on local conditions and farming methods. In our view, raising oysters in multiple ways is beneficial because it avoids putting all of our eggs in one basket, so to speak, and makes the industry more resilient. </p><p> We come at this topic from different perspectives. <a href="https://scholar.google.com/citations?user=yPXqOj8AAAAJ&amp;hl=en" target="_blank">Daniel Petrolia</a> focuses on the economics of <a href="http://dx.doi.org/10.3368/le.92.2.292" target="_blank">coastal resources</a> and <a href="http://dx.doi.org/10.3368/le.91.2.272" target="_blank">natural hazards</a>. <a href="https://scholar.google.com/citations?user=DzRuv-cAAAAJ&amp;hl=en" target="_blank">William Walton</a> directs Auburn University's <a href="https://mifralabgroup.wixsite.com/home" target="_blank">Marine Invertebrate Fisheries, Restoration and Aquaculture Lab</a>. We have worked together since 2011 to better understand <a href="https://restoreactscienceprogram.noaa.gov/projects/oyster-planning-tool" target="_blank">oyster habitats</a>, <a href="https://doi.org/10.1017/aae.2016.30" target="_blank">evaluate market opportunities</a> and identify and tackle challenges for the new industry. Disaster preparation and recovery clearly are top priorities. </p><p> We see off-bottom oyster farming as especially interesting economically, given its novelty on the Gulf Coast, the new market opportunities it affords growers and the diversity it brings to the Gulf Coast's oyster habitat "portfolio." It also offers new choices for people who like to eat Gulf Coast oysters. </p><p class="shortcode-media shortcode-media-youtube"> <span style="display:block;position:relative;padding-top:56.25%;" class="rm-shortcode" data-rm-shortcode-id="a202f81c7e0e0f9ec6f37ab71d69cf76"><iframe type="lazy-iframe" data-runner-src="https://www.youtube.com/embed/9iPXluPr7V0?rel=0" width="100%" height="auto" frameborder="0" scrolling="no" style="position:absolute;top:0;left:0;width:100%;height:100%;"></iframe></span> <small class="image-media media-caption" placeholder="add caption...">Panacea Oyster Co-op overview</small> <small class="image-media media-photo-credit" placeholder="add photo credit..."> <a href="https://youtu.be/9iPXluPr7V0" target="_blank">youtu.be</a> </small> </p><p> <strong>Natural and Man-Made Disasters<br> </strong> </p><p> <a href="http://www.ecowatch.com/tag/hurricanes">Hurricanes</a> and storms pose serious threats to the Gulf oyster industry. They can harm reefs by burying them in sediments or drastically altering water salinity. </p><p> Storm impacts tend to be highly localized. Prior to Hurricane Katrina in 2005, Mississippi was the fourth-largest oyster-producing state in the nation. Katrina <a href="https://www.st.nmfs.noaa.gov/commercial-fisheries/commercial-landings/annual-landings/index" target="_blank">slashed the state's output by 80 percent that year</a>, and fishermen were unable to harvest oysters at all in 2006. Production recovered somewhat over the next several years, but Mississippi harvests have remained around one-tenth of pre-Katrina levels. </p><p> Louisiana, whose oyster reefs lie just west of where Katrina made landfall, saw just a 6 percent drop in production following Katrina. The impacts of the Deepwater Horizon disaster were shorter-lived, but Louisiana's 2010 harvest was cut in half due to precautionary closures during and after the spill. Oysters were also killed by releases of fresh water from the Mississippi River, which were conducted in an effort to keep oil out of coastal estuaries. </p><p> Storms are not the only threat. Florida and Georgia have been fighting for decades over <a href="https://www.tampabay.com/news/environment/Supreme-Court-finally-rules-on-Florida-s-30-year-water-war-with-Georgia-And-it-s-not-over-_169506140" target="_blank">allocating water from the Apalachicola River</a>; when Georgia draws a high level of water, it reduces freshwater flow to Apalachicola Bay, which can lead to increases in oyster mortality from predation and disease. And harmful algal blooms, such as <a href="https://theconversation.com/what-is-causing-floridas-algae-crisis-5-questions-answered-101305" target="_blank">Florida's massive 2018 red tide outbreak</a>, can close waters to harvesting. </p><p class="shortcode-media shortcode-media-twitter_embed"> </p><div id="09607" class="rm-shortcode" data-rm-shortcode-id="ATC94D1576662078"><blockquote class="twitter-tweet twitter-custom-tweet" data-twitter-tweet-id="1012001134343573505" data-partner="rebelmouse"><div style="margin:1em 0">@SCOTUS ruled on the #Georgia #Florida #WaterWars. Who won? Well, no one really. The case was remanded to the inves… https://t.co/RWwTRZSyuZ</div> — Grant Blankenship (@Grant Blankenship)<a href="https://twitter.com/Grant_Blank_/statuses/1012001134343573505">1530114847.0</a></blockquote></div> <p></p><p> Beyond direct impacts on oyster farms, Hurricane Michael damaged state laboratories that conduct water quality testing required to re-open waters to harvesting. Testing delays could lead to prolonged closures and even affect areas not hit by the storm. Michael also disrupted red tide sampling in several Panhandle counties. In Gulf and Escambia counties, red tide concentrations actually <a href="http://myfwc.com/RedTideStatus" target="_blank">increased in late October</a>.<br> </p><p> Farmers will be looking for more oyster seed—the small oysters that they need to restock their bags and baskets. This could drive up demand and strain the industry's capacity. Unlike crop farmers on land, oyster farmers cannot buy subsidized insurance to help them with losses of oysters and gear, so those who suffered heavy damage will be challenged to rebuild their operations. </p><p class="shortcode-media shortcode-media-rebelmouse-image"> <img type="lazy-image" data-runner-src="https://assets.rebelmouse.io/eyJhbGciOiJIUzI1NiIsInR5cCI6IkpXVCJ9.eyJpbWFnZSI6Imh0dHBzOi8vYXNzZXRzLnJibC5tcy8xODgwMzIyMC9vcmlnaW4uanBnIiwiZXhwaXJlc19hdCI6MTYxNTU3Mzc2M30.lsTb0EufXwm7xJ3gI53vM5vOWzlsnhiRC9CmXFteqsc/img.jpg?width=980" id="27a6a" class="rm-shortcode" data-rm-shortcode-id="545343f7b7874d7afcc33a71ef298455" data-rm-shortcode-name="rebelmouse-image"> <small class="image-media media-caption" placeholder="add caption...">Hurricane Michael failed to break up the red tide outbreak along Florida's west coast. </small><small class="image-media media-photo-credit" placeholder="add photo credit..."><a href="http://myfwc.com/RedTideStatus" target="_blank">Florida Fish and Wildlife Conservation Commission</a></small> </p><p> <strong>Not an Easy Business<br> </strong></p><p> As we write, oyster farmers in the Panhandle are still inspecting their farms for damage and seeing how their oysters fared. Some estimate that they may have lost <a href="https://www.nbcnews.com/news/us-news/hurricane-michael-may-have-dealt-deadly-blow-florida-s-nascent-n922356" target="_blank">60 to 90 percent of their crops</a>. </p><p> Oystermen have strategies for dealing with hurricanes, such as sinking baskets loaded with oysters to the bottom before the storm arrives. But they can only reduce risk, not eliminate it. The threat of <a href="https://tidesandcurrents.noaa.gov/publications/techrpt86_PaP_of_HTFlooding.pdf" target="_blank">rising sea levels</a> and <a href="https://opensky.ucar.edu/islandora/object/technotes:552" target="_blank">more intense storms</a> will force them to continue adapting and improving their strategies. </p><p> Earlier this year, Cainnon Gregg started selling "Salty Birds" to some of the finest oyster bars in the South. Two days after Hurricane Michael passed through, he was back on the water checking lines and making repairs. "There's nothing easy about any of this, and all you can do is get back out here and get back to work," he said. He could have been speaking for all Gulf oystermen.</p><p class="shortcode-media shortcode-media-twitter_embed"> </p><div id="2661b" class="rm-shortcode" data-rm-shortcode-id="MNTTRJ1576662079"><blockquote class="twitter-tweet twitter-custom-tweet" data-twitter-tweet-id="816731185917345792" data-partner="rebelmouse"><div style="margin:1em 0">#Louisiana Faces Faster Levels of Sea-Level Rise Than Any Other Land on Earth https://t.co/zCuAWpcH7U @NRDC @RobertKennedyJr @Waterkeeper</div> — EcoWatch (@EcoWatch)<a href="https://twitter.com/EcoWatch/statuses/816731185917345792">1483558863.0</a></blockquote></div> <p></p><p><em>Reposted with permission from our media associate <a href="https://theconversation.com/hurricanes-and-water-wars-threaten-the-gulf-coasts-new-high-end-oyster-industry-105479" target="_blank">The Conversation</a>.</em><br></p><script async="async" data-counter="https://counter.theconversation.com/content/105479/count?distributor=republish-lightbox-advanced" id="theconversation_tracker_hook" src="https://theconversation.com/javascripts/lib/content_tracker_hook.js" type="text/javascript"></script>
EcoWatch Daily Newsletter
Gulf Change, a group of Gulf Coast mothers, grandmothers and concerned citizens, is calling for an immediate Congressional hearing concerning actions needed in order to address the continuing health effects of the BP Oil drilling disaster.
More than 2,400 cases of chemical poisoning have been reported across the Gulf Coast, with symptoms including headaches, respiratory illness, pulmonary issues, seizures, gastrointestinal problems, rectal bleeding, skin and eye ailments, memory loss and neurological issues.
Clean-up workers, fishermen and coastal residents have reported symptoms and proper diagnosis and care is urgently needed, particularly for children who are suffering the effects of oil and dispersant exposure.
Kindra Arnesen, resident of South Plaquemines Parish in South Louisiana describes the children's health crisis in her community:
"...we have 388 children in the local elementary school and in that school we have sick kids all over the place, they're suffering from upper respiratory infections, severe asthma, all the sudden, in kids that had nothing wrong with them before. Skin conditions, lesions in between their fingers, around their mouths. As of April 2011 we had a closet full of nebulizers to help them breath. A closet full of nebulizers for a school with 388 kids. Where's the red flag?"
A recently released video by the Louisiana Environmental Action Network (LEAN), highlights the health struggles of several coastal families. One mother of three, Julie Creppel, of Burras, La., estimates her son has been on antibiotics ten or eleven times in the two years since the disaster and her 12-year old daughter's health has also suffered:
"They say she's got acute sinusitis....I've had to pick her up multiple times from school since the spill. I never picked her up before. She's stayed sick and had to miss more school now than she ever has before...and her stomach, it bothers her...she swears it's killing her."
In addition to their call for an immediate Congressional hearing, Gulf Coast activists are calling for health care for effected clean-up workers and residents and for the Gulf Coast Claims Facility, the victim's compensation fund paid for by BP and administered by Kenneth Feinberg, to immediately pay all health-related and economic claims.
Click here and here to be a hero to children on the Gulf Coast today.
For more information, click here.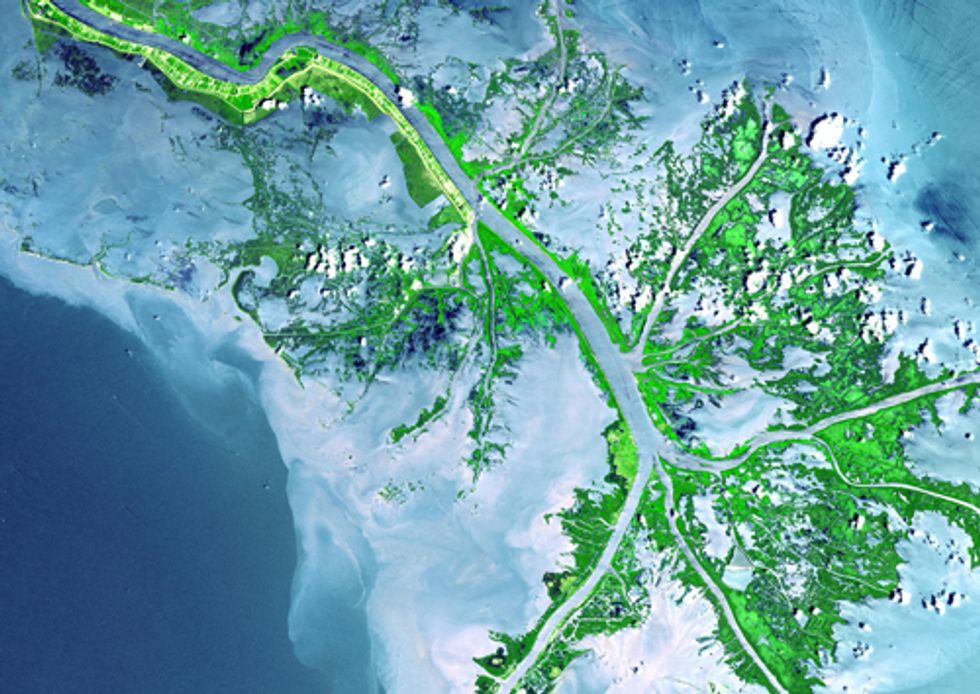 Today and tomorrow, we are asking everyone to participate in Twitter (today, Dec. 12) and Facebook (tomorrow, Dec. 13) Social Media Days of Action around the RESTORE Act, urging Congress to make the bill a priority this year. The RESTORE Act will ensure that 80 percent of the Gulf oil spill Clean Water Act penalties that British Petroleum and other responsible parties will have to pay will be returned to the Gulf States that deserve it. We need Congress to make passing the RESTORE Act a priority, so that this money will be dedicated to Gulf Coast ecosystem and economic restoration.
You can help by joining our RESTORE Act Twitter Day of Action today. Be sure to include the #RESTOREact hashtag, as well as tagging @SenatorReid and @McConnellPress in your Tweets.
Sample Tweets (Click to Tweet):
Help protect Gulf wildlife, people & jobs. Tell @SenatorReid & @McConnellPress to pass #RESTOREact -- Please RT! via @RestoreDelta
Gulf wildlife still need our voice. Tell @SenatorReid & @McConnellPress to pass #RESTOREact & send #oilspill fines back to Gulf. Please RT!
Help restore the Gulf Coast ecosystem and economy. Tell @SenatorReid & @McConnellPress to make #RESTOREact a priority this year. Please RT!
The Gulf #oilspill is not over. Tell @SenatorReid & @McConnellPress to pass #RESTOREact -- Please RT! via @RestoreDelta
Pls RT! The wildlife & people of the Gulf Coast need your voice. Tell @SenatorReid & @McConnellPress to make the #RESTOREact a priority
A reminder that tomorrow we will be having a Facebook RESTORE Act Day of Action. Become a fan of Restore the Mississippi River Delta on Facebook to participate and check back here tomorrow for more details.
For more information, click here.