By Kati Lawson, Pennsylvania Legislative Service
Clean water activists and representatives from Clean Water Action, Sierra Club, Delaware Riverkeeper Network and Berks Gas Truth gathered in the Capitol Wednesday to call on Gov. Corbett (R-PA) to speak publicly on the extent of water contamination from fracking for natural gas in Pennsylvania.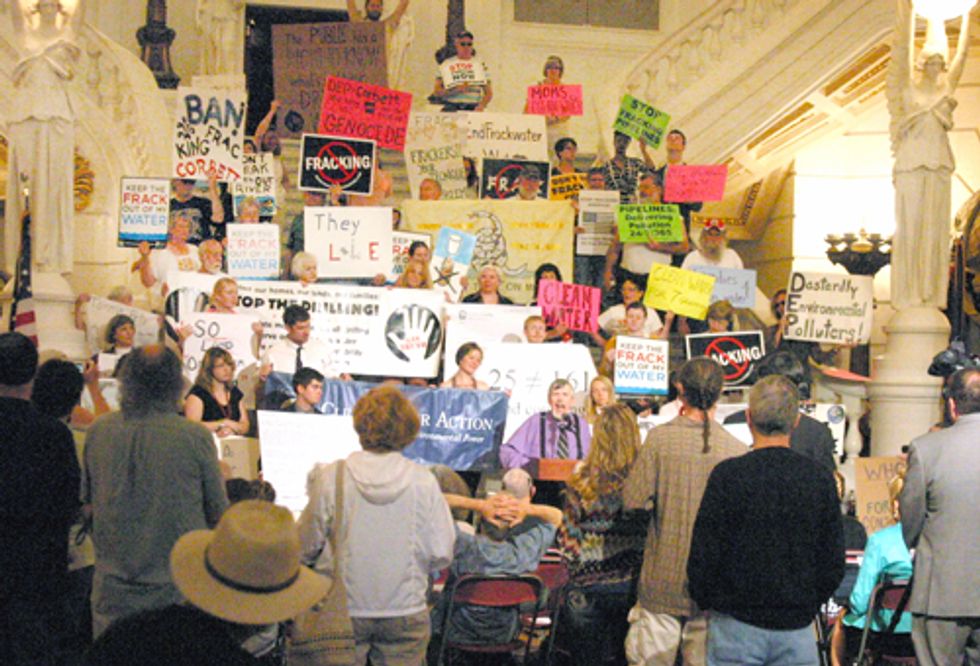 Pennsylvania State Director of Clean Water Action, Myron Arnowitt, said the rally was being held because many activists know that Pennsylvania will end up with dirty water if gas companies continue to work without regulations. He pointed to some of the large signs carried by attendees on the steps and explained that they received a letter from the Department of Environmental Protection (DEP) that told homeowners that their water had been contaminated due to gas drilling.
"It's time for Gov. Corbett to tell the public what happened and how many people have been affected by fracking," said Arnowitt. "We want a little truth from our government and some justice for the folks who have had their water contaminated by fracking."
Tracy Carluccio, deputy director at Delaware Riverkeeper Network, said that the rally was scheduled to make the government listen to the people saying "no" to drilling for natural gas in Pennsylvania. "We are as important as the gas development companies," said Carluccio. "Democracy is eroding and we will bring it back by showing the truth about gas drilling."
Carluccio said DEP has failed Pennsylvanians, and because Gov. Corbett is the man behind DEP, he too has failed his constituents. She said that DEP has not been transparent about drilling incidents and does not even have a database of the water affected by natural gas drilling.
"This administration is working for the gas drillers and developers, not for the people," stated Carluccio. "We demand that the truth come out and we want a DEP that cares and works for the people."
Karen Feridun, founder of Berks Gas Truth, said that all of Pennsylvania is in danger because of fracking, not just the areas of the state that host drilling wells. She explained that a compressor station 100 miles away from a Berks County Residence was affected during Hurricane Sandy and sent tons of gas and compounds into the air. Feridun said that people in the area who smelled gas tried to contact the gas company, the media and DEP with no success.
Feridun said that it took her personally contacting DEP representatives to get any answers about the compressor station incident. "Nothing has been done to the company who caused the leak and this kind of thing happens all the time," said Feridun. "It's almost guaranteed that when these companies violate the rules that nothing will happen; the recidivism rate is ridiculous."
Feridun stated that she knows many wonderful hardworking people who would love to do their jobs in the DEP, but as long as Gov. Corbett is in charge the state is stuck with a dangerous industry in command. "There are lots of things in life that are more important than money," said Feridun. "Our environment, health, safety and community are more important than money."
Craig Stevens, a Susquehanna County resident affected by gas drilling, said that his message to the naysayers is to go see the destruction caused by fracking firsthand. He stated that DEP has been claiming that there is no problem, then he held up hundreds of determination letters from DEP released through Right-to-Know requests.
"This isn't about fracking the ground for gas," said Stevens. "This is about fracturing a community."
Stevens said that he and other activists have offered the dirty drinking water of wells considered "safe" by DEP standards to DEP officials who refuse to drink. "There might be money in the ground for this, but I need water more than I need gas," proffered Stevens.
Ray Kemble, a resident of Dimock, PA, brought with him a jug of his well water, which was a medium brown color. "The DEP and EPA [Environmental Protection Agency] came to my house and said there was nothing wrong with my water at first," said Kemble. "Then a few months later I got a letter than said my well water is undrinkable."
Kemble explained that he used to work within the natural gas industry, but now that he is a whistleblower he no longer has a job.
Nathan Sooy, Harrisburg director of Clean Water Action, called Harrisburg the "Capital of Un-Reality." He demanded that Gov. Corbett direct DEP to protect the environment of Pennsylvania by implementing strong policies and practices, help all of the families whose water is impacted by natural gas drilling, and appoint a DEP Secretary who has experience in environmental protection.
Sooy said that a recent poll showed that almost two-thirds of Pennsylvanians are in favor of a full moratorium on drilling. He said that Gov. Corbett has accepted $1.8 million in contributions from the oil and gas industry since 2004 and called for Pennsylvanians to make the change in the Commonwealth through grassroots efforts.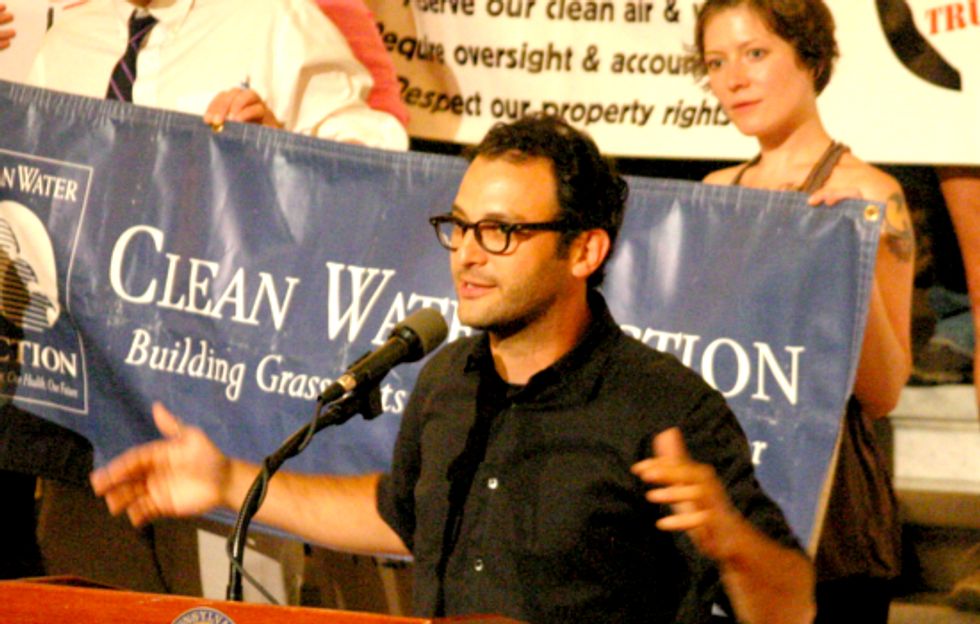 Filmmaker Josh Fox, creator of the movie Gasland, called Harrisburg the biggest fracking site in the Commonwealth. He said that the past three governors have accepted funds from natural gas drillers, but that Act 13 is the greatest affront to Pennsylvania's environment.
"Corbett sponsored and signed Act 13 which [sought] to overturn local and municipal bans because of Pennsylvania oil and gas laws," said Fox. "Another law above Pennsylvania oil and gas law, which is the Constitution of Pennsylvania, guarantees Pennsylvanians our rights to clean air and water."
Fox said that Act 13 also steps in between doctors and patients. He explained that if doctors think that their patient is suffering of a drilling-related illness they have to sign non-disclosure agreements.
"In New York, the government did environmental studies and then kept the natural gas industry out of the state because they had the democratic opportunity to do that," said Fox.
He said that the democracy of every Pennsylvanian is in jeopardy because of the gas industry's stranglehold on the elected government. Fox further explained that studies show that after thirty years, 50 percent of gas wells will leak in Pennsylvania. "With the projected 180,000 gas wells that are supposed to be built in Pennsylvania, there could be 90,000 leaky gas wells across Pennsylvania," said Fox. "There is a clear possibility of contaminating the entire state of Pennsylvania."
Fox said that Pennsylvanians have several reasons to be hopeful. "Nearly two-thirds of Pennsylvanians want a moratorium and Nate Silver said that Gov. Corbett is the most endangered governor in the United States of America," stated Fox. He said it is important to share information from neighbor to neighbor in order to vote Gov. Corbett out of office in 2014 and make sure the Democrat running for governor embraces a full moratorium on gas drilling.
Visit EcoWatch's FRACKING page for more related news on this topic.
——–

Sign the petition today, telling President Obama to enact an immediate fracking moratorium:

EcoWatch Daily Newsletter
waterlust.com / @tulasendlesssummer_sierra .
Each product featured here has been independently selected by the writer. If you make a purchase using the links included, we may earn commission.
The bright patterns and recognizable designs of Waterlust's activewear aren't just for show. In fact, they're meant to promote the conversation around sustainability and give back to the ocean science and conservation community.
Each design is paired with a research lab, nonprofit, or education organization that has high intellectual merit and the potential to move the needle in its respective field. For each product sold, Waterlust donates 10% of profits to these conservation partners.
Eye-Catching Designs Made from Recycled Plastic Bottles
waterlust.com / @abamabam
The company sells a range of eco-friendly items like leggings, rash guards, and board shorts that are made using recycled post-consumer plastic bottles. There are currently 16 causes represented by distinct marine-life patterns, from whale shark research and invasive lionfish removal to sockeye salmon monitoring and abalone restoration.

One such organization is Get Inspired, a nonprofit that specializes in ocean restoration and environmental education. Get Inspired founder, marine biologist Nancy Caruso, says supporting on-the-ground efforts is one thing that sets Waterlust apart, like their apparel line that supports Get Inspired abalone restoration programs.
"All of us [conservation partners] are doing something," Caruso said. "We're not putting up exhibits and talking about it — although that is important — we're in the field."
Waterlust not only helps its conservation partners financially so they can continue their important work. It also helps them get the word out about what they're doing, whether that's through social media spotlights, photo and video projects, or the informative note card that comes with each piece of apparel.
"They're doing their part for sure, pushing the information out across all of their channels, and I think that's what makes them so interesting," Caruso said.
And then there are the clothes, which speak for themselves.
Advocate Apparel to Start Conversations About Conservation
waterlust.com / @oceanraysphotography
Waterlust's concept of "advocate apparel" encourages people to see getting dressed every day as an opportunity to not only express their individuality and style, but also to advance the conversation around marine science. By infusing science into clothing, people can visually represent species and ecosystems in need of advocacy — something that, more often than not, leads to a teaching moment.

"When people wear Waterlust gear, it's just a matter of time before somebody asks them about the bright, funky designs," said Waterlust's CEO, Patrick Rynne. "That moment is incredibly special, because it creates an intimate opportunity for the wearer to share what they've learned with another."
The idea for the company came to Rynne when he was a Ph.D. student in marine science.
"I was surrounded by incredible people that were discovering fascinating things but noticed that often their work wasn't reaching the general public in creative and engaging ways," he said. "That seemed like a missed opportunity with big implications."
Waterlust initially focused on conventional media, like film and photography, to promote ocean science, but the team quickly realized engagement on social media didn't translate to action or even knowledge sharing offscreen.
Rynne also saw the "in one ear, out the other" issue in the classroom — if students didn't repeatedly engage with the topics they learned, they'd quickly forget them.
"We decided that if we truly wanted to achieve our goal of bringing science into people's lives and have it stick, it would need to be through a process that is frequently repeated, fun, and functional," Rynne said. "That's when we thought about clothing."
Support Marine Research and Sustainability in Style
To date, Waterlust has sold tens of thousands of pieces of apparel in over 100 countries, and the interactions its products have sparked have had clear implications for furthering science communication.
For Caruso alone, it's led to opportunities to share her abalone restoration methods with communities far and wide.
"It moves my small little world of what I'm doing here in Orange County, California, across the entire globe," she said. "That's one of the beautiful things about our partnership."
Check out all of the different eco-conscious apparel options available from Waterlust to help promote ocean conservation.
Melissa Smith is an avid writer, scuba diver, backpacker, and all-around outdoor enthusiast. She graduated from the University of Florida with degrees in journalism and sustainable studies. Before joining EcoWatch, Melissa worked as the managing editor of Scuba Diving magazine and the communications manager of The Ocean Agency, a non-profit that's featured in the Emmy award-winning documentary Chasing Coral.