Water Source a Deciding Factor in Property Value
A Duke University and Resources for the Future study found that the most significant factor in the impact of oil and gas development near residential property is whether water is piped in or sourced on-site from a well.
Based in Washington County, PA, the study found that property with on-site wells lost 13 percent of their value.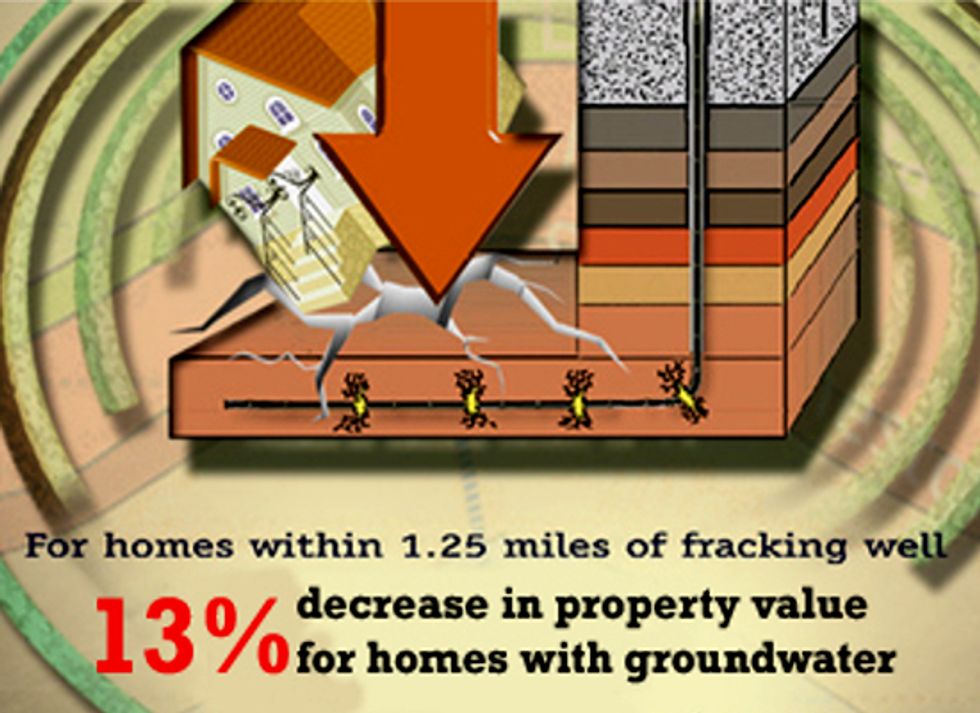 Another study by Integra Realty Resources in Flower Mound, TX, looked at the relationship between property value and proximity to wells. It concluded that properties with houses that were less than 750 feet away from a drill site experienced an average sales price drop of 2-7 percent.
Mortgages
Oil and gas leases have also made it more difficult to get a new mortgage or refinance and can even constitute a technical default on an existing mortgage. Depending on the site of the well, leases can also affect neighbor's mortgages due to setback violations or requirements, or uncertain future property value.
Last year, Jack and Carol Pyhtila spent several weeks working to refinance the mortgage on their roughly 30 acres in Tompkins County, NY. But when they arrived to sign the mortgage, the lender, Visions Federal Credit Union, had taken a closer look at the lease on their land and revoked its offer, said Mr. Pyhtila, 72.
Of course, making it more difficult to get a mortgage isn't going to make selling a property with a lease any easier.
Oil Boom Pushes Seniors Out of Homes
The rush to drill has led many single young men and family men to places like Williston, ND, for a shot at financial comeback. 
As the Williston Herald reported, apartments that used to rent for $400 a month five years ago are going for four times that today, and homes that sold for $60,000 are now on the market for $200,000.
While this may sound like a dream for local residents, some, particularly senior citizens and people on fixed income, have found that they are no longer able to afford their rent and have been forced to move.
Visit EcoWatch's FRACKING page for more related news on this topic.
——–
Otisfield residents voted overwhelmingly at a town meeting Saturday to pass a municipal resolution stating opposition to sending tar sands oil through ExxonMobil's Portland-Montreal Pipeline, making it the seventh Maine town to publicly and officially oppose the proposal. The 63-year-old pipeline, which stretches 236 miles from Montreal to South Portland, is being considered for the transport of tar sands, a form of toxic, thick oil that is associated with higher incidence of pipeline spills and can be nearly impossible to clean up. The pipeline stretches six miles through Otisfield near Pleasant Lake and both Saturday and Moose Ponds.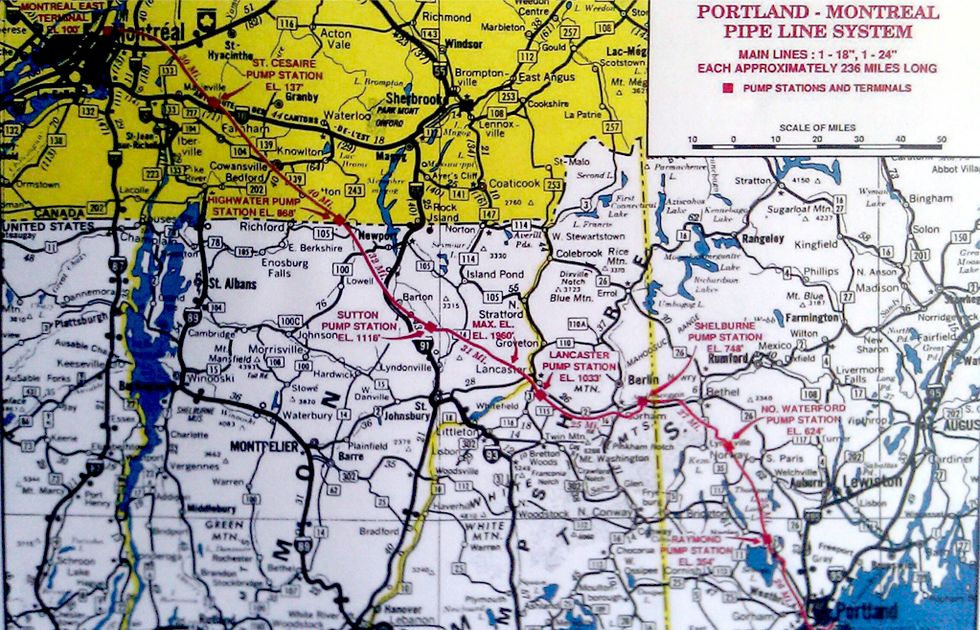 "This is an important stand for Otisfield to take to ensure the health and viability of our community," says Moose Pond residents Scott and Zizi Vlaun. "A tar sands oil spill in the Crooked River would be a complete disaster to our environment and tourism-based economy. As organic farmers, much of our customer base comes from visiting tourists, so it would definitely hurt our business."
The resolution states serious concerns about the environmental and public health hazards of tar sands oil in the context of a town and region heavily dependent on a clean environment for recreation, tourism and the economy at large. Concerns about threats to water quality also motivated the resolution.
"A tar sands oil spill in to the Crooked River would be a disaster for Maine people and wildlife," says Lee Dassler, executive director of the Western Foothills Land Trust. "The Crooked River is a AA water quality river, which is supposed to be the cleanest and most protected in Maine. It also provides critical spawning habitat for Maine Landlocked Salmon. The Crooked River also provides 40 percent of the surface water to Sebago Lake, the drinking water supply for one in seven Maine people."
The resolution was submitted by Otisfield residents who have become increasingly opposed to tar sands oil threatening the local environment and economy. Otisfield residents collected over 100 signatures from registered Otisfield voters and worked with the town selectmen to put the resolution on the warrant for Saturday's annual town meeting.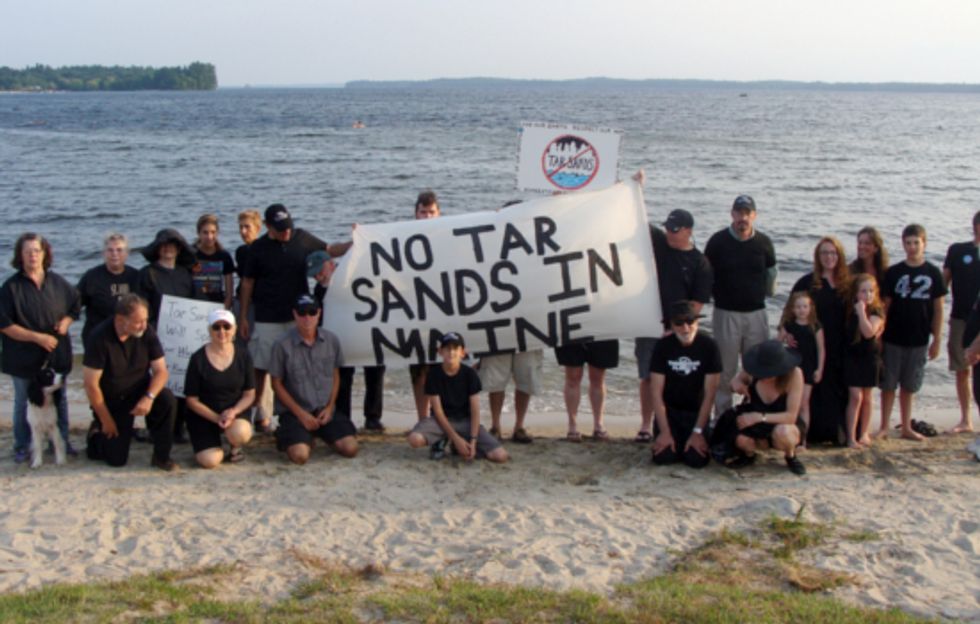 "I am pleased so many Otisfield residents took the time to learn the facts about tar sands oil and were not swayed by unsubstantiated industry claims," says Jeff Stern, chair of the Otisfield Conservation Commission. "Many Otisfield residents attended panel discussions, public presentations and movie showings to learn the facts before today's vote. Today's vote makes it clear that Otisfield does not want to run the risk of transporting this heavy toxic oil through our community."
The resolution calls upon elected leaders to help ensure any tar sands pipeline proposal gets a complete environmental impact review, something that can be required by the U.S. State Department for cross-border pipelines. More than 30 towns along the pipeline have already passed similar resolutions including Raymond, Casco, Waterford, Harrison, Bridgton and Portland.
"As a Canadian citizen and a 30 year resident of Cape Bretton, I've seen the emergence of the tar sands extraction rush in Alberta and the devastation it has caused across a widening expanse of the Boreal forest," says Otisfield resident Pixie Williams. "I've also seen the citizen resistance forming in Canada and the U.S. as people learn the facts about tar sands extraction and transportation. Ultimately our children and grandchildren will need to live with this pipeline in their backyards for years to come. We should not put their future at risk by sending toxic tar sands oil through the pipeline."
"We congratulate the town and citizens of Otisfield on passing this important resolution," says Todd Martin, outreach coordinator for the Natural Resources Council of Maine. "Once you learn about tar sands and pipelines, it's not hard to see that it would be a bad deal for Maine."
Visit EcoWatch's TAR SANDS page for more related news on this topic.

EcoWatch Daily Newsletter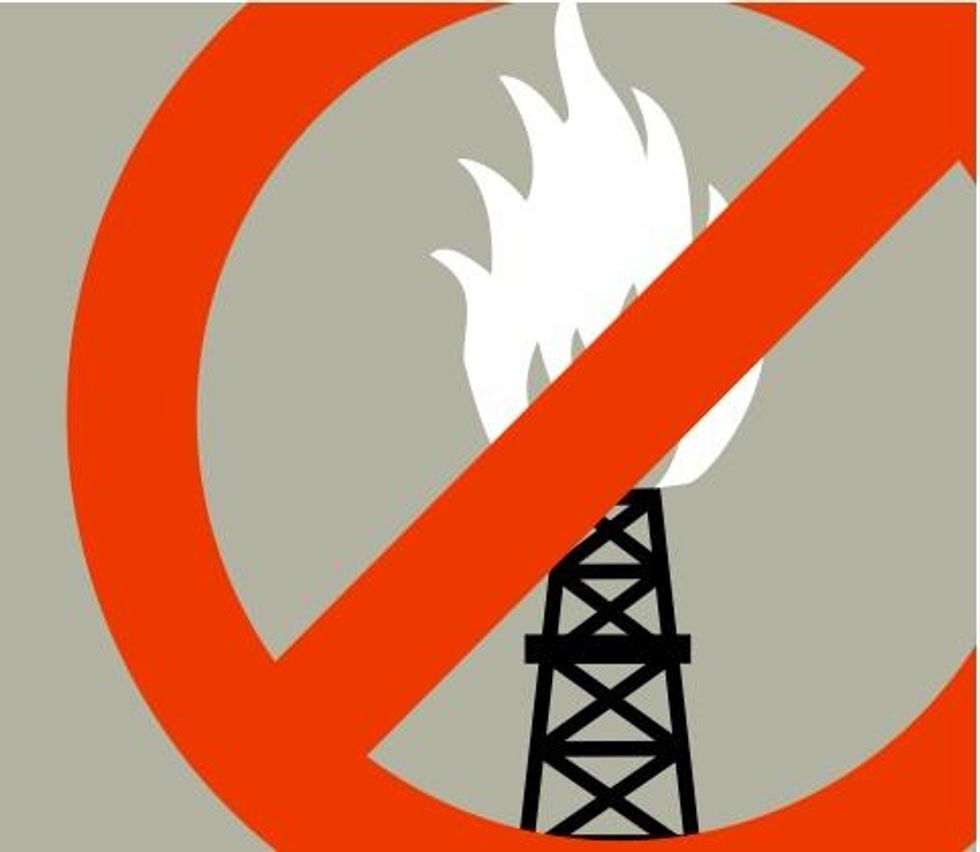 This morning, more than 11,000 residents called on Beacon Hill to ban the dirty drilling process of fracking, in petitions presented by Environment Massachusetts and its allies at a statehouse news conference. The petitions show wide support for H.788, a bill introduced by Rep. Kocot (D-MA) and Rep. Provost (D-MA) to ban fracking and the processing of its toxic wastewater in the commonwealth.
"In states like Pennsylvania, we have already seen fracking contaminate drinking water and make nearby residents sick," said John Rumpler, senior attorney for Environment Massachusetts. "Residents looking at this track record have one message for their legislators today: keep this dirty drilling out of Massachusetts."
Local concern about fracking has grown since the U.S. Geological Survey identified shale gas deposits in the Pioneer Valley last December. Moreover, as New York mulls large-scale fracking next door, drilling operators could soon view Western Massachusetts as a convenient dumping ground for toxic fracking wastewater.
"In light of the threats to our environment and to our health, we cannot allow fracking—or its toxic waste—to come to Massachusetts," said Rep. Provost, sponsor of H.788.
Bill H.788 would protect the commonwealth from both of these threats by both banning fracking and its wastewater. Last year, Vermont already enacted a similar law, and New Jersey legislators voted overwhelmingly for a ban on fracking waste (and citizens there are calling for an override of Gov. Chris Christie's veto).
Laced with cancer-causing and even radioactive materials, fracking wastewater has contaminated drinking water sources from Pennsylvania to New Mexico. For Western Massachusetts, such threats are heightened by the fact that many communities in the Pioneer Valley rely on groundwater as their sole source of drinking water.
"The quantity and quality of our existing water supply is invaluable and irreplaceable," declared Mayor Michael Tautznik of Easthampton. "Gambling our water against the known dangers of this dirty drilling is a loser's proposition."
Today in Greenfield, in solidarity with the petitions gathered by Environment Massachusetts and CREDO, local residents showed their opposition to fracking through community art. Alongside the Climate Summer team, a group of youth traveling exclusively by bicycle throughout the state focused on climate action, local Greenfield community members demonstrated their concern for fracking coming to their community through visual art on the town common.
In addition to impacts on the local environment, fracking and the processing of gas releases methane—a greenhouse gas far more potent than carbon dioxide.
"It turns out that fracking contributes to global warming in a major way," observed Dorian Sosnick Williams, an organizer with A Better Future Project. "If Massachusetts is serious about combating climate change, we cannot allow fracking here."
Rumpler ended the petition delivery with praise for all 14 co-sponsors of H.788: "By sponsoring a ban on fracking, these legislators are standing tall against the oil and gas industry. And today, thousands of their constituents are standing with them."
Visit EcoWatch's FRACKING page for more related news on this topic.
——–
Sign the petition today, telling President Obama to enact an immediate fracking moratorium: