Big Food giants like Nestlé, Kraft, PepsiCo and others have been buying up more and more of their competitors, big and small. The result is that some of the biggest companies have products on nearly every aisle of the supermarket and dominate the market in many categories.
For example, Kraft not only sells more macaroni and cheese than anyone else, but also makes products as diverse as pickles, nuts, salad dressing and coffee.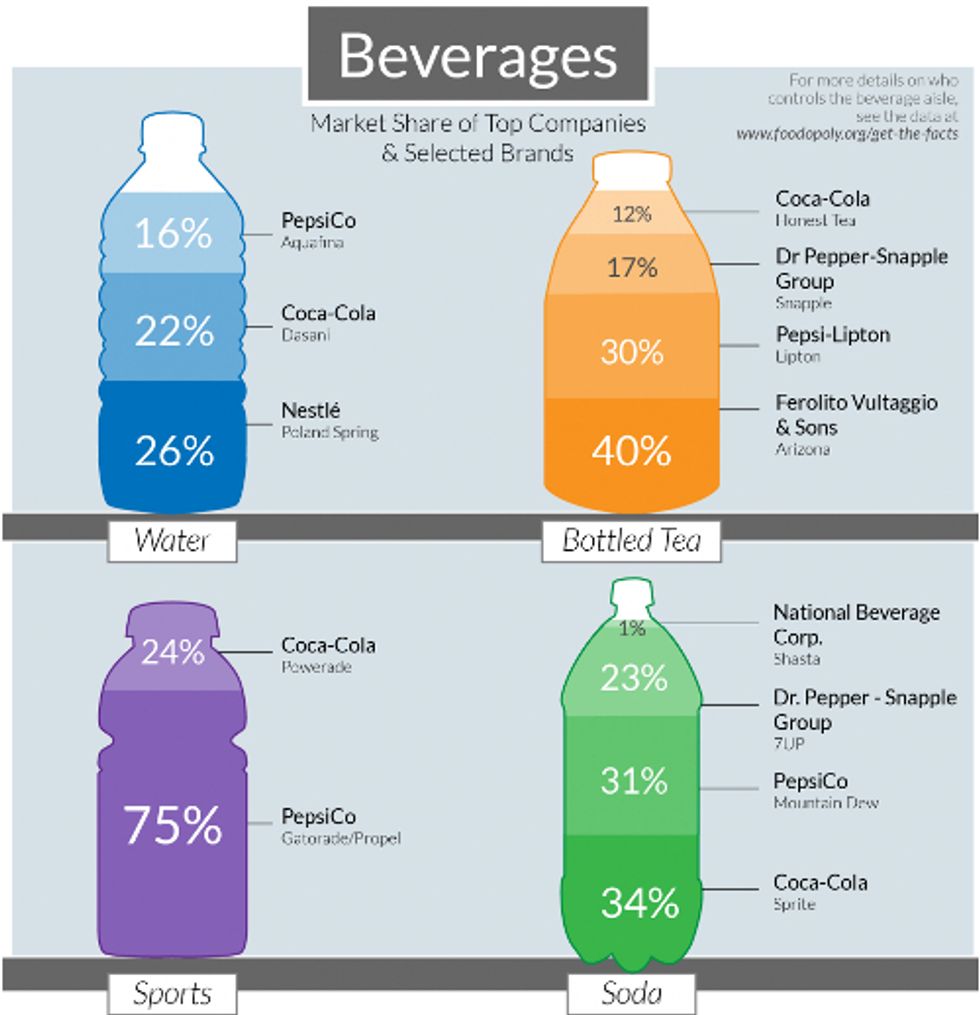 What does that mean for the consumer? When you stand in front of the cereal aisle and marvel at the diverse array of choices, it's all an illusion. While you might see dozens of brands on the shelves, most of them are owned by just a handful of companies, and often, those companies control multiple brands of the same product.
Grocery Goliaths: How Food Monopolies Impact Consumers , a new report by Food & Water Watch, says grocery stores don't want you to know this. They want you to think you have a choice, so they can offer false deals and other psychological tricks to make you spend more money.
The report examines 100 types of grocery products and found that as food companies and supermarket chains have consolidated over the last few years, the illusion of choice among brands has coincided with increasingly expensive grocery bills.
Test your food brand savvy and learn who owns your foods by taking this 10-question quiz presented by Food & Water Watch. At the end of the quiz, you can share your score on Facebook and Twitter.

A new analysis shows that the top four or fewer food companies control a substantial majority of the sales of each item, and they often offer multiple brands in each type of grocery, giving consumers the false impression they are choosing among competing products.
The in-depth analysis, released by Food & Water Watch on Thursday, illustrates the consolidation of the grocery industry and the range of impacts it has on the food chain.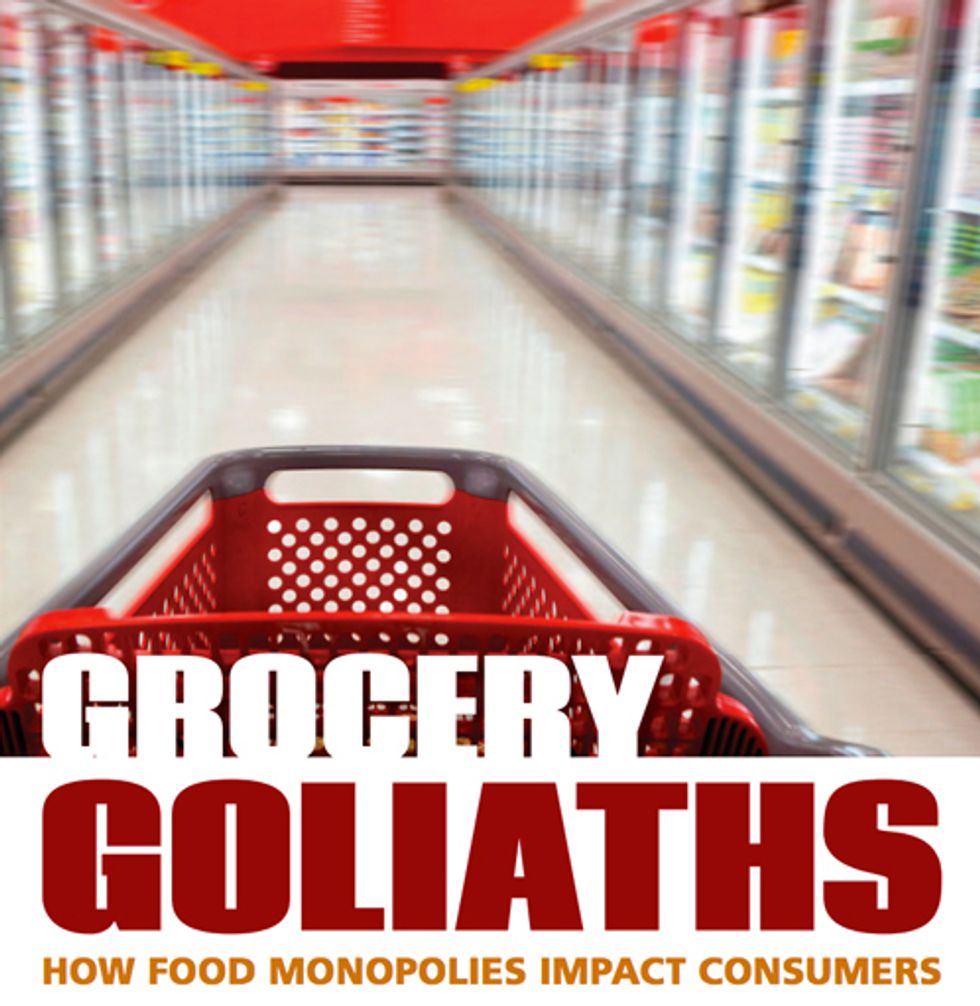 Grocery Goliaths: How Food Monopolies Impact Consumers examines 100 types of grocery products and found that as food companies and supermarket chains have consolidated over the last few years, the illusion of choice among brands has coincided with increasingly expensive grocery bills.
"You might think you're a savvy shopper, supporting independent businesses when you buy a product from the organic foods aisle of your grocery store, but chances are you're really being duped by a small handful of grocery industry Goliaths hiding behind an array of brands and pretty packaging," said Wenonah Hauter, executive director of Food & Water Watch."The largest mega-retailers and manufacturers control more of what we eat than you thought. And they're not only costing shoppers, but farmers and small food companies too."
Report findings came from the latest available grocery industry data (primarily from 2011 and 2012) and accounts for mergers, acquisitions and spin-offs through October 2013. Highlights include:
In 2012, 53.6 percent of the money that Americans spent on groceries went to the four largest retailers: Walmart, Kroger, Target and Safeway. Walmart alone sold almost a third (28.8 percent) of all groceries in 2012.
The top four or fewer grocery manufacturing companies controlled, on average, 63.3 percent of the sales of 100 types of groceries. For 32 grocery items, the biggest firms controlled more than 75 percent of sales and for six items, the top companies accounted for more than 90 percent of sales in things like infant formula and microwave dinners.
Consumers are led to believe they are choosing among competitors, when many different products are actually made by the same firm. For example, ConAgra sells six varieties of popcorn. This is true even for healthful foods; Kellogg's owns both Kashi and Bear Naked brands, though their packaging and websites make them seem independent.
Some major retailers charge food producers a fee to place their products in the most profitable shelf locations, making it almost impossible for small food producers to compete.
Top food producers are manipulating the shopping experience. In 2012, the top four grocery retailers spent $4.4 billion on advertisements and the top food manufacturers spent $8.4 billion. Ninety-one percent of the foods advertised on children's Saturday morning television programs were high in fat, added sugars and sodium, and low in nutrients, based on federal nutrition standards.
Intense consolidation throughout the grocery industry limits not just where consumers can shop, but what they can buy, according to Food & Water Watch. The number of mergers and acquisitions has increased as the economy emerges from the recession. The report contends the growing and significant consolidation puts small competitors at a disadvantage and denies shoppers transparency and consumer choice.
The analysis points to the ripple effects of grocery consolidation across the food chain. While grocery prices are rising and the share farmers receive is decreasing, the profits of major food retail companies and food manufacturers remain strong.
Food & Water Watch suggests that the Federal Trade Commission (FTC), the agency responsible for protecting the grocery industry from mega consolidation, should enact a national moratorium on grocery chain mergers and reject mergers of food companies and brands. Food & Water Watch further demands Congress grant the FTC proper authority to effectively regulate food marketing.
"This isn't a problem we can just shop our way out of. These mega-mergers encompass so much of the food chain that it's extremely difficult to always know who produced what we buy and where our dollars are going," Hauter said. "People are fed up with not having real choice and transparency when they are trying to feed themselves and their families. It's time for the FTC to prioritize protecting shoppers over protecting the profits of a shrinking handful of corporations."
The analysis of grocery industry data builds upon Hauter's book, Foodopoly: The Future of Food and Farming in America, which examines big business of the food supply and the increasing amount of control monolithic food companies have over consumers and small food producers.
Visit EcoWatch's FOOD page for more related news on this topic. 

EcoWatch Daily Newsletter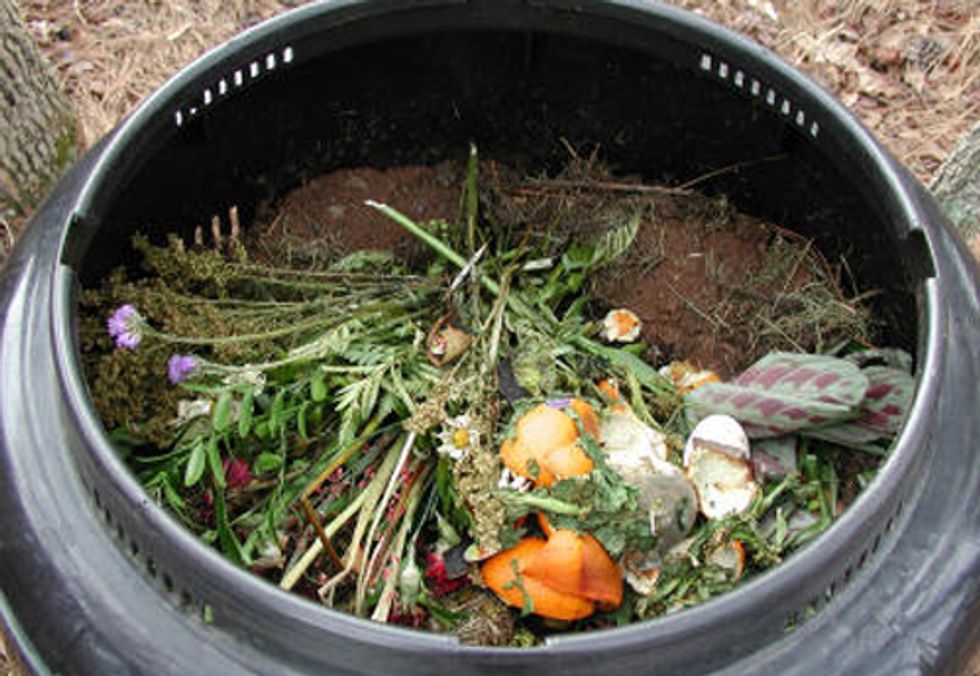 By Graham Salinger
The United Nations Food and Agriculture Organization (FAO), reports that an estimated one-third of the food produced worldwide for human consumption is wasted annually. In the U.S., an estimated 40 percent of edible food is thrown away by retailers and households. In the United Kingdom, 8.3 million tons of food is wasted by households each year. To make the world more food secure consumers need to make better use of the food that is produced by wasting less.
Today, Nourishing the Planet presents five ways that consumers can help prevent food waste.
1. Compost—In addition to contributing to food insecurity, food waste is harmful to the environment. Rotting food that ends up in landfills releases methane, a potent greenhouse gas, that is a major contributor to global climate change and can negatively affect crop yields. Composting is a process that allows food waste to be converted into nutrient rich organic fertilizer for gardening.
Compost in Action—In Denver, the city contracts with A1 Organics, a local organic recycling business, to take people's waste and turn it into compost for local farmers. Similarly, a new pilot program in New York City allows patrons to donate food scraps to a composting company that gives the compost to local farmers.
2. Donate to food banks—Donating food that you don't plan to use is a great way to save food while helping to feed the needy in your community.
Food Banks in Action—In Atlanta, Ga., the Atlanta Community Food Bank relies on food donations to supply 20 million pounds of food to the poor each year. In Tennessee, the Second Harvest Food Bank works to reduce waste resulting from damaged cans by testing the cans to make sure that they don't have holes in them that would allow food to spoil. For more on how you can donate food that would otherwise go to waste, visit Feed America, a national network of food banks.
3. Better home storage—Food is often wasted because it isn't stored properly, which allows it to mold, rot or get freezer burn. By storing food properly, consumers can reduce the amount of food they waste.
Better storage in Action—The National Center for Home Food Preservation is a great resource for consumers to learn a range of techniques to increase the shelf life of food. For example, they recommend blanching vegetables—briefly boiling vegetables in water—and then freezing them. They also stress canning fruits and vegetables to protect them against bacteria.
4. Buy less food—People often buy more food than they need and allow the excess food to go to waste. Reducing food waste requires that consumers take responsibility for their food consumption. Instead of buying more food, consumers should buy food more responsibly.
Buying Less Food in Action—Making a shopping list and planning meals before shopping will help you buy the amount of food that is needed so that you don't waste food. There are a number of services that help consumers shop responsibly—Mealmixer and e-mealz help consumers make a weekly shopping list that fits the exact amount of food that they need to buy. Eating leftovers is another great way to reduce the amount of food that needs to be purchased. At leftoverchef.com, patrons can search for recipes based on leftover ingredients that they have.  Similarly, Love Food Hate Waste offers cooking enthusiasts recipes for their leftovers.
5. Responsible grocery shopping—Consumers should make sure that they shop at places that practice responsible waste management. Many grocery stores are hesitant to donate leftovers to food banks because they're worried about possible liabilities if someone gets sick. But consumers can encourage grocery chains to reduce food waste by supporting local food banks in a responsible manner.
Responsible grocery shopping in Action—Safeway and Vons grocery chains donate extra food to Feeding America. Additionally, Albertsons started a perishable food recovery program that donates meat and dairy to food banks. The Fresh Rescue program, which partners with various national supermarkets, has also helped food banks with fundraising in 37 states.
For more information, click here.