This website uses cookies to ensure you get the best experience while browsing it. By clicking 'Got It' you're accepting these terms.


The best of EcoWatch, right in your inbox. Sign up for our email newsletter!
Tesco supermarket near Ashford Hospital in West Bedfont, England.
Maxwell Hamilton / CC BY 2.0
It's been a green week for Tesco, the UK's largest supermarket.
First, the chain said it would remove "Best before" labels from around 70 pre-packaged fruits and vegetables in an attempt to stop customers from discarding still-edible food, BBC News reported Tuesday.
Since China launched its "action on air pollution" local governments have been shutting down smaller outdated steel plants.
By Lauri Myllyvirta, Unearthed
Earlier this month and without much comment, dozens of huge steel mills in China stopped or curtailed their operations. In northern China cement plants are preparing to shut down entirely before Christmas.
The measures are a part of an aggressive action plan that aims to cut wintertime particulate pollution by 15 percent year-on-year over the next five months. These cuts are badly needed as Beijing and the surrounding industrial provinces have suffered the winter's first serious episode this week, with PM2.5 levels across several provinces reaching "very unhealthy" levels.
EcoWatch Daily Newsletter
www.youtube.com
By Imogen Calderwood
Sir David Attenborough has spoken out about "heartbreaking" examples of plastic pollution that were documented while filming for his new series, Blue Planet II.
Attenborough, the broadcasting legend who brought the world Planet Earth, revealed that teams had recorded seabirds feeding their chicks with scraps of plastic, in the documentary series that will focus on how our oceans are changing.
A serious change has been the dramatic rise in plastic pollution.
Jennifer Lavers / University of Tasmania
By Louisa Casson
It's a horror story.
A truly shocking 38 million pieces of plastic have been found on Henderson Island, one of the Pitcairn Islands that make up one of the UK's last remaining overseas territories.
The decommissioned coal-fired Battersea Power Station near London.
Loco Steve
/flickr
The United Kingdom's grid operator just announced an incredible prediction—April 21 is probably going to be the country's first coal-free day since the Industrial Revolution.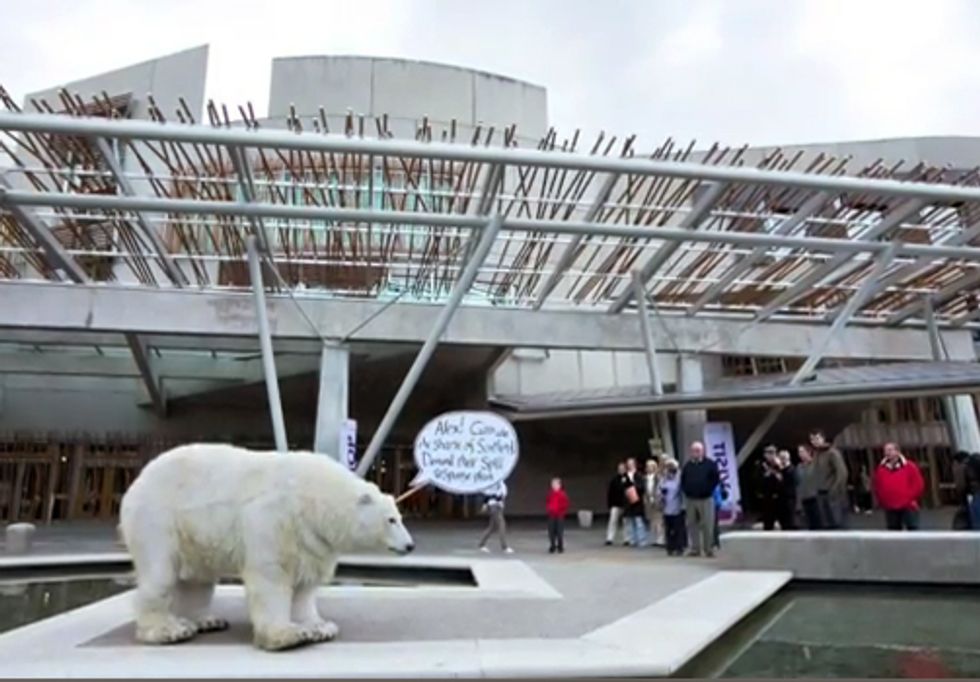 It's official. On Feb. 17, Shell got a step closer to drilling for oil in our planet's last wild ocean—the Arctic.
The company's oil spill response plan for the Chukchi Sea off Alaska was given the all clear by U.S. authorities, even though it's a work of almost complete fantasy.
While Shell prepares to start trashing this stunning wilderness, putting it at risk of catastrophic oil spills and more melting ice caps as a result of climate change, its PR people are getting busy. This evening—Feb. 21—they've invited influential guests to an event at the National Gallery in London, in the hope that those guests will lend the Shell brand a veneer of respectability.
We've decided to tell their guests the truth—this year Shell is planning to drill for oil in the pristine waters of the Arctic, and its plans will change this fragile wilderness forever.
So our climbers have made sure that guests at the National Gallery are met with an unexpected picture when they arrive. A short while ago, they evaded security and are preparing to unfurl a huge banner with the words "It's no oil painting." Our climber Hannah is tweeting from the rooftop using the hashtag #SaveTheArctic. 
Meanwhile, Paula Bear has emerged from her wintry den to mingle with the crowds in Trafalgar Square, where dozens of Greenpeace volunteers are talking to curious passers-by.
Polar bears—like other Arctic species including beluga whales, narwhals and walruses—are already under severe pressure in the Arctic from climate change. In just 30 years, the Arctic has lost 75 percent of its sea ice, and temperatures in the Arctic are rising faster than anywhere else on Earth.
While more and more people recognize the changing face of the Arctic as a stark warning about climate change (earlier today, several scientists gave evidence to this effect to the parliamentary inquiry, Protecting the Arctic), Shell sees the melting ice as a business opportunity—a chance to drill in newly accessible areas to find more of the oil that caused the melt in the first place.
And now Shell plans to create a new threat to the Arctic's stunning—and ecologically fragile—coastlines and oceans: the threat of a catastrophic oil spill, which would be impossible to clean up.
Shell is just first of the so-called 'supermajors'—the big oil companies—to make exploitation of the Arctic a key part of their strategy. But if it strikes oil this summer, other global oil giants may follow.
Shell sees the Arctic as a resource to be exploited for profit. We think it should be protected. What do you think? Join the discussion on our blog and on Twitter: #SaveTheArctic.
For more information, click here.