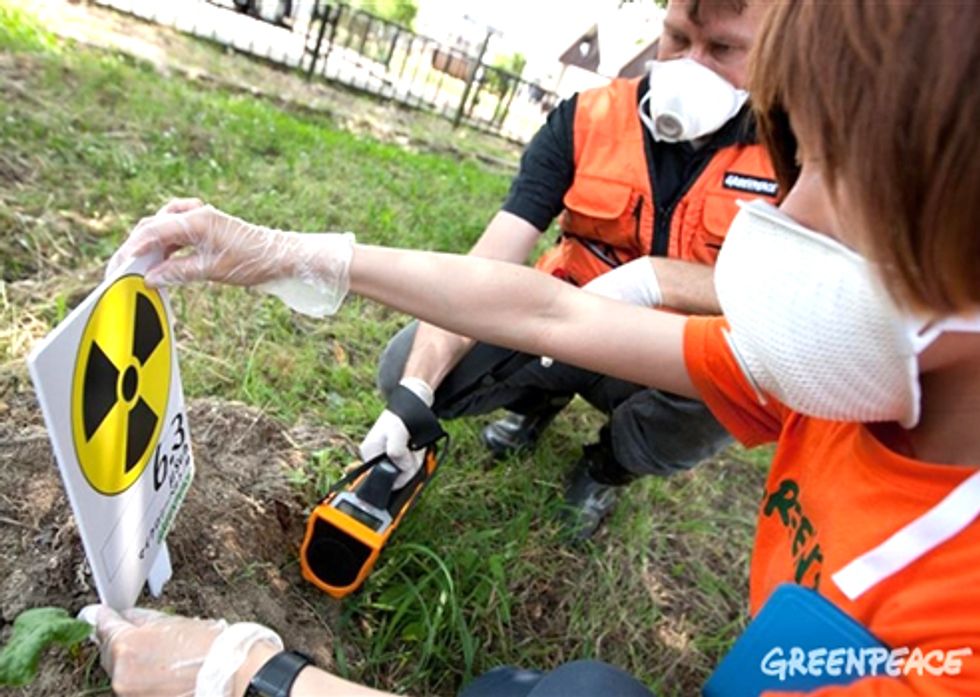 On Feb. 28 Greenpeace released Lessons from Fukushima, a new report which shows that it was not a natural disaster that led to the nuclear disaster at the Fukushima Daiichi plant on Japan's east coast, but the failures of the Japanese Government, regulators and the nuclear industry. The key conclusion to be drawn from the report is that this human-made nuclear disaster could be repeated at any nuclear plant in the world, putting millions at risk. "While triggered by the tragic March 11 earthquake and tsunami, the Fukushima disaster was ultimately caused by the Japanese authorities choosing to ignore risks, and make business a higher priority than safety," said Jim Riccio, Greenpeace USA nuclear policy analyst. "This report shows that nuclear energy is inherently unsafe, and that governments are quick to approve reactors, but remain ill-equipped to deal with problems and protect people from nuclear disasters. This has not changed since the Fukushima disaster, and that is why millions of people continue to be exposed to nuclear risks."
Greenpeace commissioned Dr. David Boilley, a nuclear physicist with the French independent radiation laboratory ACRO; Dr. David McNeill, Japan correspondent for The Chronicle of Higher Education and other publications; and Arnie Gundersen, a former nuclear executive and chief engineer of Fairewinds Associates, to write Lessons from Fukushima1. The report, peer reviewed by Dr. Helmut Hirsch, an expert in nuclear safety, reaches three important insights:
Japanese authorities and the operators of the Fukushima plant were entirely wrong in their assumptions about the risks of a serious accident. The real risks were known but downplayed and ignored.
Even though Japan is considered one of the best-prepared countries in the world for handling major disasters, the reality of a large nuclear disaster proved to be far worse than what was planned for. Nuclear emergency and evacuation plans utterly failed to protect people.
Hundreds of thousands of people have been deeply affected by evacuations to escape radioactive contamination. They cannot rebuild their lives due to a lack of support and financial compensation. Japan is one of only three countries with a law making a nuclear operator liable for the full costs of a disaster. Yet, the liability law and compensation schemes are inadequate in Japan. Even a year after the disaster began, impacted people are essentially left on their own and Japanese taxpayers will end up paying much of the costs.
"Fukushima Daiichi was not just a nuclear accident; rather, for decades it was a nuclear accident waiting to happen. Flaws in the GE Mark 1 containment design were well known for four decades, and the likelihood of seismic and tsunami events far worse than the Fukushima Units were designed to withstand were well understood for more than 20 years," said Arnie Gunderson of Fairewinds Associates, a co-author of the report. "Against this prophetic backdrop, Tokyo Electric, Japanese regulators, and international nuclear organizations turned a blind eye toward these obvious warnings and continued to operate the reactors. Fukushima Daiichi is not unique, and these same nuclear regulatory institutions oversee other reactors in Japan and worldwide. Truly independent worldwide nuclear reactor regulatory institutions do not exist, setting the stage for similar accidents somewhere else in the world."
Greenpeace is urging the Japanese Government to not restart its nuclear power plants in favor of a strong push to energy efficiency and renewable power, and calling for a global phase out of nuclear power by 20352.
For more information, click here.
—————
Link to the Executive Summary and the Lessons from Fukushima report by clicking here.
The Greenpeace Energy Revolution scenario for Japan shows how a phase out of nuclear power generation in 2012 is possible while still reducing greenhouse gas emissions by 25 percent by 2020.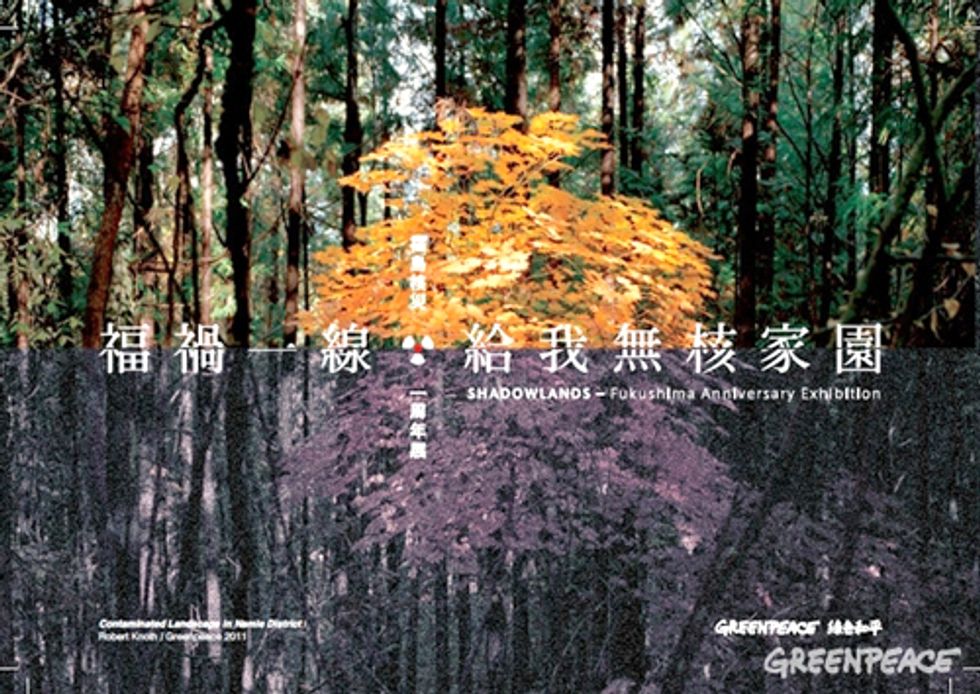 Greenpeace launched 'Shadowlands' on Feb. 20, a presentation of haunting photographs depicting the impacts of the Fukushima nuclear disaster, the plight of people displaced by the crisis, and a warning to others that a serious nuclear accident can happen everywhere there are reactors.
Shadowlands features the work of award-winning photographer Robert Knoth and documentary maker Antoinette de Jong and can be viewed by clicking here. Using social media links and its website, Greenpeace will also collect messages of support for the Japanese people.
"The Fukushima nuclear disaster is having a dramatic impact on the environment and the lives of the people from a wide area around the nuclear plant," said Knoth. "We sought to document this through landscape and portrait photography, as well as interviews with people from the affected region—some of whom may never be able to return to their homes. What we found was a profound sense of loss."
Since the beginning of the crisis on March 11, 2011, Greenpeace radiation specialists have documented the on-going impacts of radiation contamination on the environment, food and seafood to demonstrate that Japanese authorities have consistently underplayed, underestimated and underreported the radiation impacts around Fukushima.
"The underestimation of the disaster by the authorities has exacerbated the suffering of the people of Fukushima," said Junichi Sato, Greenpeace Japan executive director. "Now, the government is rushing to restart reactors against public opinion, and without learning any lessons from Fukushima. We hope our exhibition will give it pause to reflect upon the ramifications of its decisions."
"The Fukushima nuclear disaster happened because the Japanese authorities failed to protect people, instead choosing to protect the nuclear industry. For this reason, people in Japan continue to be exposed to radiation hazards, even a year later. They have not been compensated for all they have lost, and they have not received the support they need to rebuild their lives," said Jan Beránek, head of Greenpeace International's energy campaign. "This reminds us that millions of people living near reactors anywhere in the world are at risk of suffering the same consequences of a major nuclear disaster."
The Shadowlands photos show beautiful landscapes—but something is clearly missing—people. More than 150,000 people had to flee the Fukushima area because of radioactive contamination.
"Nature is already taking over. In the early morning, monkeys look for food on the outskirts of villages, wild boars roam the fields, cranes majestically soar over breath taking scenery, and there is silence," said Knoth.
Greenpeace Japan also launched the first of a series of exhibitions of Knoth's photographs. The Fukushima collaboration by Knoth and De Jong continues their earlier work with Greenpeace on the on-going effects of the Chernobyl nuclear disaster on the Ukrainian people.
Greenpeace is calling on the Japanese government to not restart any nuclear plants and for a global phase out of inherently dangerous nuclear reactors.
For more information, click here.
EcoWatch Daily Newsletter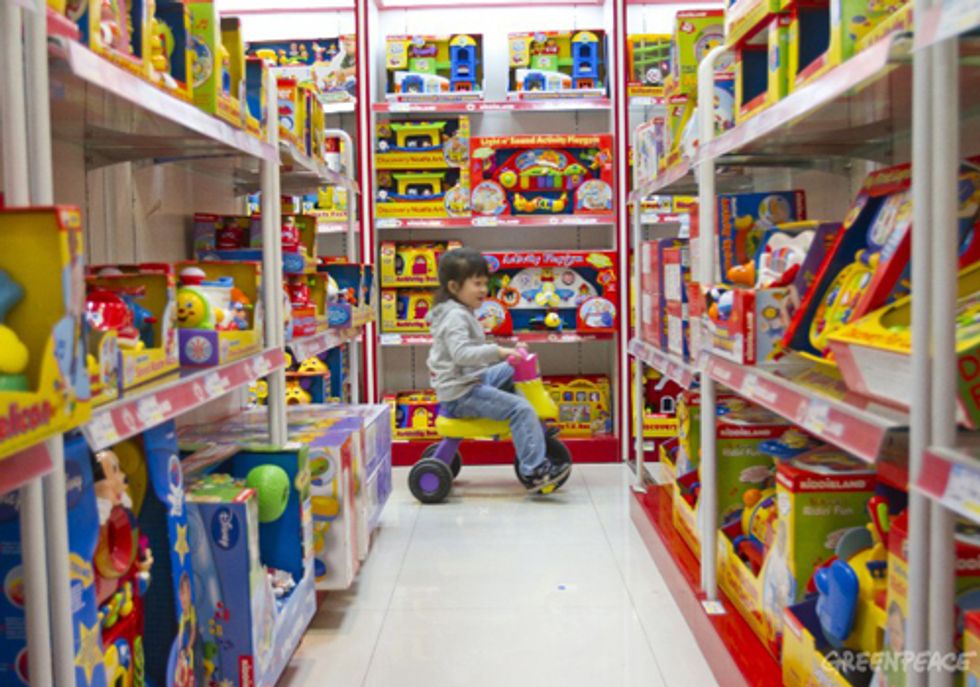 In December, Greenpeace and the International POPs (Persistent Organic Pollutants) Elimination Network (IPEN) jointly released an alarming report that found more than 30 percent of 500 samples of toys and other items contained at least one type of toxic heavy metal. About 10 percent of the samples contained lead above the Chinese regulation of 600 parts per million. The news first came out of Beijing and it was covered extensively by mainland reporters. Later, we took our show on the road and showed Christmas shoppers in Hong Kong the dangers they face in buying seemingly harmless Christmas gifts.
While in Hong Kong, our toxics campaigners, along with Joe DiGangi of IPEN, decided to get ambitious—They inspected an extra 82 items to add to our already extensive list of 500 toys, school supplies, clothing, cups and other products. Add in one pair of Winnie the Pooh slippers from Beijing and a Barbie pencil bag from Guangzhou, and that brings our list to 584.
The list gives detailed information on each of the products and the levels of six heavy metals hiding in different coatings. These heavy metals can be absorbed into the growing bodies of children and cause major issues with their development—especially mental development.
"Heavy metals in children's products pose a serious threat to kids—even the slightest bit of lead can harm a child's development," said Greenpeace toxics campaigner Wu Yixiu. "Children tend to put toys and products into their mouths, so they are more vulnerable."
For more information on the dangers of heavy metals, see this link.
In some cases, the results of our testing were absurdly high. With the Winnie the Pooh slippers, for example, the lead content reached 5,580 parts per million. Oh bother.
And the cute Barbie pencil bag? It had a lead content of 2,930 parts per million.
But perhaps the most shocking item was a cup that contained lead levels beyond 40,000 parts per million.
As scary as it sounds, you can avoid these dangerous items. We've given you the knowledge. Check our list for the things you should keep away from. Together we can get the industry to change if we don't buy their toxic products.
"The industry of children's products should take responsibility in preventing children from being exposed to heavy metals, particularly for big brands," Wu said. "They must take the lead to make change rather than harming their consumers to make a quick buck."
Greenpeace calls on the government to take immediate action to clean up these toxic products and strengthen quality supervision. The government should also adopt more stringent regulations over lead limits in children's products to keep the source of heavy metals away from children entirely.
For more information, click here.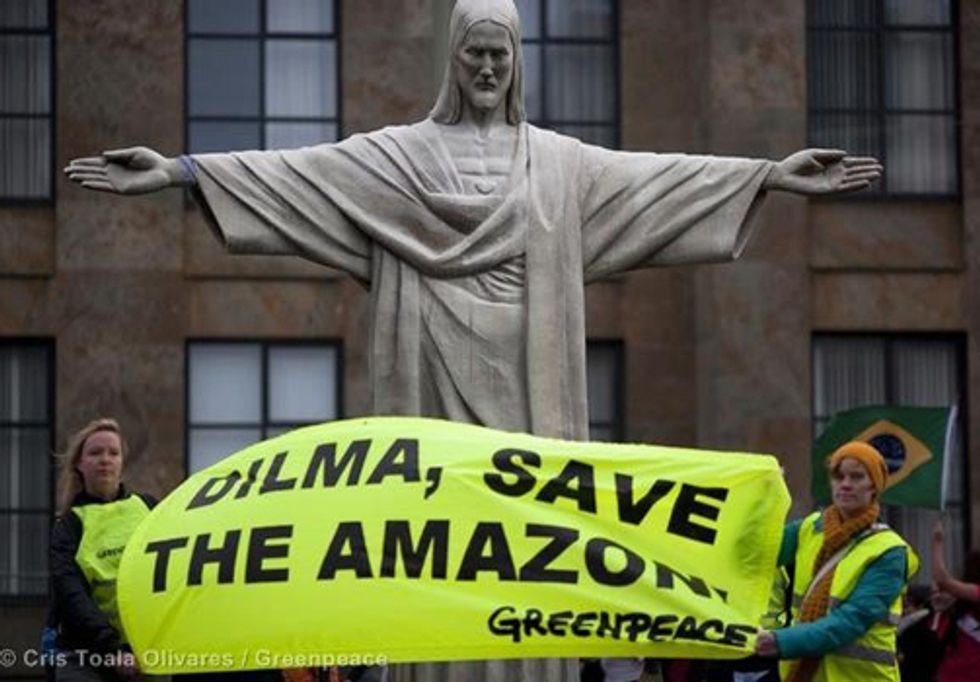 The next stage of voting on Brazil's new Forest Code—which could have devastating impacts on the Amazon—has been once again postponed before going to President Dilma Rousseff, who can either approve or veto it. The new code, which has been labelled a 'forest protection measure,' has been so badly altered that it has become nothing more than an invitation for bulldozers and chainsaws to come to the forests.
The new forest proposal was passed by the Senate last week, and was set to be voted on this week by the Brazilian Chamber of Deputies, the lower house of Brazil's National Congress. However, at the Chamber meeting, the vote that was meant to happen was postponed until March 2012. While this means more time for the agribusiness sector to make even more damaging changes to the Forest Code, it also means more time to make sure President Rousseff hears the worldwide demand to protect the Amazon.
In the past week alone, 50,000 of you sent emails directly to President Rousseff urging her to use her veto power to protect the Amazon. This same demand was made by people all over the world and a wide spectrum of civil society groups, including World Wildlife Fund, Avaaz.org, and Floresta Faz a Diferença, a Brazilian coalition.
The discussions on changes to Brazil's Forest Code have lasted more than a decade in total, including a two-year long messy legislative process in the National Congress. There have been multiple delays along the way and a last minute effort from scientists, environmentalists, religious leaders and social movements to restore sanity to the Forest Code with amendments designed to make the Code an effective measure for forest protection. Despite this, the Senate, under intense pressure from the agribusiness sector, voted to pass the new Forest Code last week and open the Amazon up for widespread destruction. The final result threatens to turn back the clock on several years of struggle against deforestation and grant amnesty to past crimes of illegal deforestation.
Inside Brazil, more than 1.5 million people have already called for action against the new Forest Code, but the fight to save the Amazon is not over. President Rousseff is still the only real chance to stop this regressive Forest Code in its tracks, before it is delivered on a silver platter to the agribusiness sector. The delay means there is more time to stop this destructive new code. We will continue to stand up for the Amazon against this threat, but we will still need your support.
Sign up and stay tuned for how you can join the call to save the Amazon.
For more information, click here.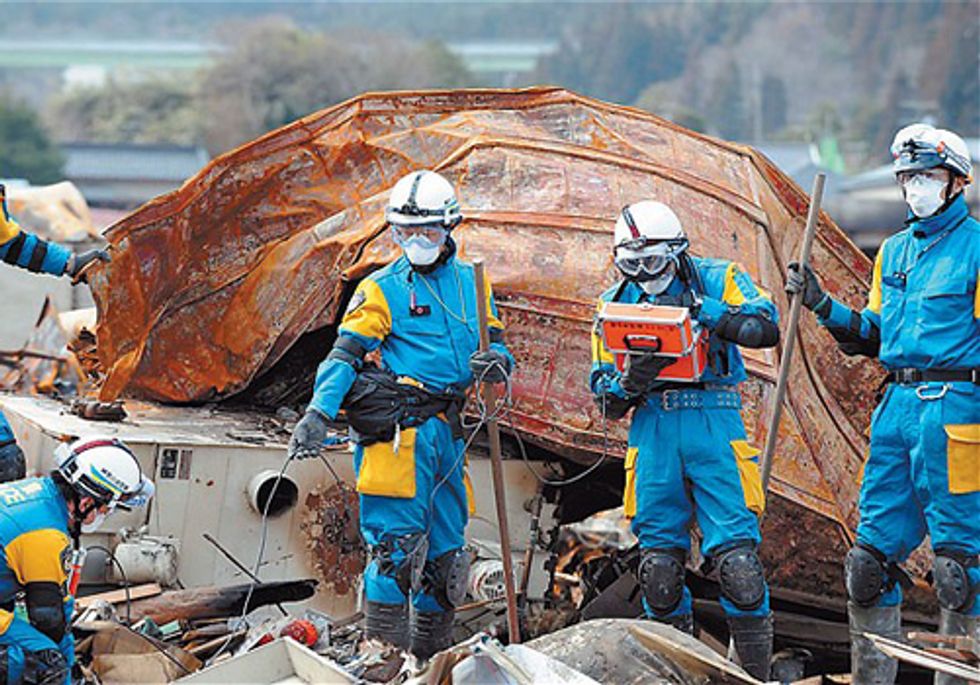 Nine months after the triple meltdown at the Fukushima Daiichi nuclear plant, Greenpeace renewed its demand Dec. 7 for urgent relocation of pregnant women and children living in contaminated areas of Fukushima City, Japan, after finding radioactive hot spots and signs that the official decontamination program is both uncoordinated and thoroughly inadequate.
In early December, the environmental organization conducted radiation monitoring in the Watari and Onami neighbourhoods of Fukushima City, roughly 60km from the stricken nuclear plant, finding hot spots of up to 37 microSieverts per hour in a garden in suburban Watari, and 10.1 microSieverts per hour in bags of dirt, seemingly abandoned, on a road in Onami1.
Greenpeace's mapping of dose rates in Watari shows that people are at risk of being exposed to more than 10 times the 1 milliSievert per year international maximum for radiation doses. The Greenpeace radiation experts found that contamination levels in the Fukushima neighborhoods were comparable to areas designated as evacuation zones, such as Minamisoma. Despite this, authorities have decided only to decontaminate the Fukushima City communities, without giving the residents the right to relocate—including pregnant women and small children, who are at the most risk
"The people of Onami and Watari are facing clear risks to their health and must be given the right to relocate with full support," said Kazue Suzuki, Greenpeace Japan nuclear campaigner. "The government must not discriminate between residents in similar situations2. At very least pregnant women and children must be evacuated from risky areas until sufficient decontamination is completed."
Although official decontamination work has been underway in Onami for two months, only 35 houses out of 370 have reportedly been completed to date, with residents continually exposed to radiation as they wait. In the Watari area, no decontamination work has yet started, and official radiation monitoring is limited to just 1,038 houses out of 6,700. Worried residents wanting rapid decontamination are being left to do the work themselves without clear information about the risks or safety training—further threatening public health.
In August 2011, Greenpeace called on the authorities to urgently organize and deploy thousands of workers to decontaminate areas such as Fukushima City and Koriama, and presented new Prime Minister Yoshihiro Noda with a detailed list of technical demands3. However, these demands have not been met, and the situation for many Fukushima residents has clearly worsened since then.
"Radioactive waste is being buried on the same properties it is removed from, as there are still no proper waste storage sites, and decontamination work is spreading contamination rather than removing it4," said Ike Teuling, Greenpeace International radiation expert. "The situation is rapidly spinning out of control, and the Japanese government seems to have abandoned its responsibility to protect its population as it has left local authorities, who lack the necessary knowledge and equipment, to clean up this mess."
For more information, click here.
—————
1. Hotspots measured at 10cm. The latest raw data and Google maps from this round of radiation monitoring are available by clicking here.

2. Fukushima City levels for decontamination: 2 microSievert per hour at 1m for households with children or pregnant women, 2.5 microSievert per hour at 1m for other households. Minamisoma levels for evacuation: 2 microSievert per hour at 50cm for households with children or pregnant women.
3. A Greenpeace letter to the Japanese national Government calling for stronger protective and decontamination measures is available by clicking here. For a detailed list of demands, click here.

4. Examples of bad decontamination practices:
Decontamination waste (top soil) of one house in Onami buried in an opposite field, risking further contamination spread.
Decontamination run-off water with levels up to 9.8 microSv per hour at 10 cm on the street in Onami. The contamination is not removed but spreads in the environment with this method. * Bags with decontamination waste left on a street in Onami with levels up to 10.1 microSievert/h at 10 cm. 
Sub-contractors decontaminating a house in Onami with high-pressure hoses without wearing face-masks.
Decontamination of houses in Onami is done in two phases: first washing the house, second removing the top soil. In between phases the residents are allowed to return to their houses, increasing the risk of further spreading contamination. 
Inhabitants of Watari are asked to decontaminate their own houses. One resident buried waste in a corner of his garden only one meter away from the house. Radiation levels at that spot were 1.1 microSiever/h at 1 meter.
Greenpeace is an independent global campaigning organization that acts to change attitudes and behavior, to protect and conserve the environment, and to promote peace.