Workers collect salt crystals on Aug. 22 at Aigues-Mortes where the salt pans cover 10,000 hectares. PASCAL GUYOT / AFP / Getty Images
By Julia Conley
A year after researchers at a New York university discovered microplastics present in sea salt thanks to widespread plastic pollution, researchers in South Korea set out to find out how pervasive the problem is—and found that 90 percent of salt brands commonly used in homes around the world contain the tiny pieces of plastic.
The new research, published in the journal Environmental Science & Technology, suggests that the average adult ingests about 2,000 microplastics per year due to the presence of plastics in the world's oceans and lakes.
Examining 39 brands sold in 21 countries, researchers at Incheon National University and Greenpeace East Asia found microplastics in 36 of them. The three table salts that did not contain the substance were sold in France, Taiwan and China—but Asia overall was the site of some of the worst plastic pollution.
The study "shows us that microplastics are ubiquitous," Sherri Mason, who conducted last year's salt study at the State University of New York at Fredonia, told National Geographic. "It's not a matter of if you are buying sea salt in England, you are safe."
Greenpeace East Asia found a strong link between the level of plastic pollution in a given part of the world and the amount of microplastics people in those regions are inadvertently ingesting each year.
"The findings suggest that human ingestion of microplastics via marine products is strongly related to emissions in a given region," Seung-Kyu Kim, a co-author of the study, told National Geographic.
Nat Geo Travel put it succinctly on Twitter:
The more we consume plastics, the more we literally consume plastics https://t.co/6d1SZ9YG65

— Nat Geo Travel (@Nat Geo Travel)1539860415.0
Indonesia, it was found in an unrelated 2015 study, has the world's second-highest level of plastic pollution. The researchers in South Korea discovered that the country's table salt brands also contain the most microplastics.

"That fact that they found higher counts in Asia is interesting. While not surprising, you still have to have the data," Mason said. "The earlier studies found traces of microplastics in salt products sold in those countries, but we haven't known how much."
Erik Solheim, the executive director of the United Nations Environmental Program, called the study "more evidence of the frightening proliferation of plastic pollution"—and expressed hope that studies like this one would encourage more governments and companies around the world to sharply reduce their use of plastics.
More evidence of the frightening proliferation of plastic pollution. World must keep up momentum to deal with this… https://t.co/cOxgchgqBJ

— Erik Solheim (@Erik Solheim)1539858591.0
Reposted with permission from our media associate Common Dreams.

From Your Site Articles
Related Articles Around the Web
EcoWatch Daily Newsletter
Polllution in Shanghai, China on Dec. 5, 2013. leniners / Flickr
China unveiled the details on Tuesday of what is soon to be the world's largest carbon market, two years after China's president Xi announced the initiative.

Although the market launch date wasn't revealed, observers saw today's announcement as a noteworthy step. "This is like the pyramids of Giza for climate policy," Nathaniel Keohane, the vice president of international climate at the Environmental Defense Fund, told ClimateWire.
In its early stages the carbon market will only apply to emissions from power plants producing more than 26,000 tons of carbon per year. This means nearly all of China's power plants, about 1,700 companies, will be included. An estimated 39 percent of China's total emissions come from its coal and natural gas-based electricity sector. From this sector alone, the country's carbon market will quickly outgrow Europe's emissions market—currently the world's biggest.
"It is important to bear in mind that the first phase will be embryonic," Li Shuo, a senior global policy adviser for Greenpeace East Asia, who has been briefed on some details of the plan, told ClimateWire.
Initially, the government is likely to set the cap high. This will allow most power plants to keep emitting as they have been, making emission reductions minimal. A ton of carbon is likely to incur a market cost of around $7.50 (50 yuan), according to a Chinese official who spoke to Quartz on the condition of anonymity. The official went on to say that they expected the price to gradually rise to $45 (300 yuan) per ton of carbon. Every ton of carbon dioxide emitted today will likely cause $125 worth of damage to society in the future, according to economists.
The slow start "is a sign that China is taking this seriously and wants to make sure they're doing it right," Barbara Finamore, a senior attorney and Asia director for the China program at the Natural Resources Defense Council, told ClimateWire.
Market participation will require a rigorous verification process and subsequent monitoring, experts noted. For the first time the Chinese government will be able to take accurate measures from power sector emissions and analyze the data.
"It is precisely the lack of transparency that has worried investors in other Chinese markets, and carbon markets are known for being notoriously tricky," Paul Bledsoe, a former Clinton White House climate adviser, told ClimateWire
Companies are already responding to the initiative. Over the past two years, following president Xi's announcement, a number of industries have jumpstarted preparations for the carbon market. The number of Chinese companies planning for mandatory carbon markets rose from 54 in 2015 to 102 in 2017, Nicolette Bartlett, director of carbon pricing at the environmental charity CDP, told the Financial Times, citing a survey of 336 companies.
The program builds on regional test trading systems that go back to 2011 and have been running since 2013. Those regional programs for other sectors, such as steel and aluminum, will continue until the Chinese government deems they are prepared to enter the carbon market.
China's announcement comes against the backdrop of the U.S. withdrawing from its role as a global leader in climate action. Just yesterday President Trump signed a document that doesn't acknowledge climate change as a real national security threat.
From Your Site Articles
Related Articles Around the Web
waterlust.com / @tulasendlesssummer_sierra .
Each product featured here has been independently selected by the writer. If you make a purchase using the links included, we may earn commission.
The bright patterns and recognizable designs of Waterlust's activewear aren't just for show. In fact, they're meant to promote the conversation around sustainability and give back to the ocean science and conservation community.
Each design is paired with a research lab, nonprofit, or education organization that has high intellectual merit and the potential to move the needle in its respective field. For each product sold, Waterlust donates 10% of profits to these conservation partners.
Eye-Catching Designs Made from Recycled Plastic Bottles
waterlust.com / @abamabam
The company sells a range of eco-friendly items like leggings, rash guards, and board shorts that are made using recycled post-consumer plastic bottles. There are currently 16 causes represented by distinct marine-life patterns, from whale shark research and invasive lionfish removal to sockeye salmon monitoring and abalone restoration.

One such organization is Get Inspired, a nonprofit that specializes in ocean restoration and environmental education. Get Inspired founder, marine biologist Nancy Caruso, says supporting on-the-ground efforts is one thing that sets Waterlust apart, like their apparel line that supports Get Inspired abalone restoration programs.
"All of us [conservation partners] are doing something," Caruso said. "We're not putting up exhibits and talking about it — although that is important — we're in the field."
Waterlust not only helps its conservation partners financially so they can continue their important work. It also helps them get the word out about what they're doing, whether that's through social media spotlights, photo and video projects, or the informative note card that comes with each piece of apparel.
"They're doing their part for sure, pushing the information out across all of their channels, and I think that's what makes them so interesting," Caruso said.
And then there are the clothes, which speak for themselves.
Advocate Apparel to Start Conversations About Conservation
waterlust.com / @oceanraysphotography
Waterlust's concept of "advocate apparel" encourages people to see getting dressed every day as an opportunity to not only express their individuality and style, but also to advance the conversation around marine science. By infusing science into clothing, people can visually represent species and ecosystems in need of advocacy — something that, more often than not, leads to a teaching moment.

"When people wear Waterlust gear, it's just a matter of time before somebody asks them about the bright, funky designs," said Waterlust's CEO, Patrick Rynne. "That moment is incredibly special, because it creates an intimate opportunity for the wearer to share what they've learned with another."
The idea for the company came to Rynne when he was a Ph.D. student in marine science.
"I was surrounded by incredible people that were discovering fascinating things but noticed that often their work wasn't reaching the general public in creative and engaging ways," he said. "That seemed like a missed opportunity with big implications."
Waterlust initially focused on conventional media, like film and photography, to promote ocean science, but the team quickly realized engagement on social media didn't translate to action or even knowledge sharing offscreen.
Rynne also saw the "in one ear, out the other" issue in the classroom — if students didn't repeatedly engage with the topics they learned, they'd quickly forget them.
"We decided that if we truly wanted to achieve our goal of bringing science into people's lives and have it stick, it would need to be through a process that is frequently repeated, fun, and functional," Rynne said. "That's when we thought about clothing."
Support Marine Research and Sustainability in Style
To date, Waterlust has sold tens of thousands of pieces of apparel in over 100 countries, and the interactions its products have sparked have had clear implications for furthering science communication.
For Caruso alone, it's led to opportunities to share her abalone restoration methods with communities far and wide.
"It moves my small little world of what I'm doing here in Orange County, California, across the entire globe," she said. "That's one of the beautiful things about our partnership."
Check out all of the different eco-conscious apparel options available from Waterlust to help promote ocean conservation.
Melissa Smith is an avid writer, scuba diver, backpacker, and all-around outdoor enthusiast. She graduated from the University of Florida with degrees in journalism and sustainable studies. Before joining EcoWatch, Melissa worked as the managing editor of Scuba Diving magazine and the communications manager of The Ocean Agency, a non-profit that's featured in the Emmy award-winning documentary Chasing Coral.
Greenpeace
By Lauri Myllyvirta
While some politicians—ahem, Trump!—are trying to prop up the fossil fuel industry, there's been a quiet revolution happening around the world.
People are ditching coal—the main global energy source since 2003—like never before!
Burning coal is the biggest single source of carbon dioxide emissions from human activity, and mining it also releases the potent greenhouse gas methane.
So why is King Coal no longer the energy of the future? New research from Greenpeace and CoalSwarm shows why.
1. More governments are completely ditching coal than ever before!
Twenty-three countries, states and cities will have either phased out coal-fired power plants or set a timeline to do so by 2030. Before 2014, no major jurisdiction had completely phased out coal. How things have changed!
Greenpeace activists block the coal ship 'Paquis' in the Netherlands in 2016.
2. The capital cities of China and India are going coal free!

Three of the G7 economies have decided to phase out coal—with Italy looking like it might also be phasing coal out soon.
3. Twenty-five percent of companies in the coal business have completely pulled out!

This represents nearly 370 large coal-fired power plants shut down or not built in the first place—enough to power around six United Kingdoms, and equivalent to nearly half a trillion U.S. dollars in assets retired or not developed.
Greenpeace activists climb the cooling tower of the largest and dirtiest lignite power station in Greece, in 2015.
4. In the U.S., 14 coal plants have decided to close this year alone.

And that's despite Trump's pro-coal agenda.
5. More people are taking action to stop coal than ever before.

From the UK's Kingsnorth protests, the Beyond Coal movement in the U.S., to artists in Beijing to clean air activists in Delhi, people around the world are protesting dirty, polluting coal in favor of clean, renewable, affordable energy.
It's time we end the age of fossil fuels and help workers and communities transition over to renewables.

Lauri Myllyvirta is the Energy Analyst at Greenpeace East Asia.
By Monica Tan
Last year the Greenpeace toxics team went undercover to infiltrate factories that were releasing hazardous chemicals into China's waterways. Campaigner Zhang Kai looks back on the challenges and successes of the Detox campaign—a campaign that sent reverberations throughout the nation's textiles industry.
Which part of the campaign work left the deepest impression on you?
We spent about one year carrying out the investigation on the textile plants, covering factories along the Yangtze River and in the Pearl River Delta. Our investigators had to work undercover and conceal their identity. For example, we had some workers pretend to apply for work at the factory so they could take photos of the plant secretly, and others gathered information by just chatting to factory workers.
Also, two weeks after we released our report, Puma came out with its promise to eliminate toxic substances from its supply chain. When we heard that, we were overjoyed. Since then Adidas, H&M, Nike and Li-Ning have all followed suit.
Which part of the Detox campaign was the most challenging?
The most challenging parts were the investigations into the production process and the supply chain. This included investigating the effluent from the suppliers' sewage pipes and the precise relationship between the brands and the suppliers. In mainland China, factories don't clearly mark their effluent pipes, so we needed to confirm which pipe belonged to which factory and then we needed to make at least five sampling trips for each factory pipe. This was one of Greenpeace's most complex investigations because the relationship between textile plants and the big brands was often opaque, and it was vital to our campaign that we established the relationship clearly.
What do you hope to achieve in the next few years?
We will continue to pressure the big clothing brands to commit to eliminating toxic chemicals and we'll engage with the China Textile Industry Association, research bodies and the environmental bureaus to promote clean policies and standards.
We look forward to the day that the reckless behaviour of multinational companies no longer endangers the health of Chinese people by turning their waterways into rivers of toxic poison. By continuing to monitor the operations of these clothing companies and their suppliers, holding them accountable to the promises they have made, as well as facilitate other companies to likewise make the "detox" switch, we hope to see a detox revolution move through the entire textile industry.
In 20-25 years time, we hope the entire textile industry will have eliminated the use of hazardous chemicals.
For more information, click here.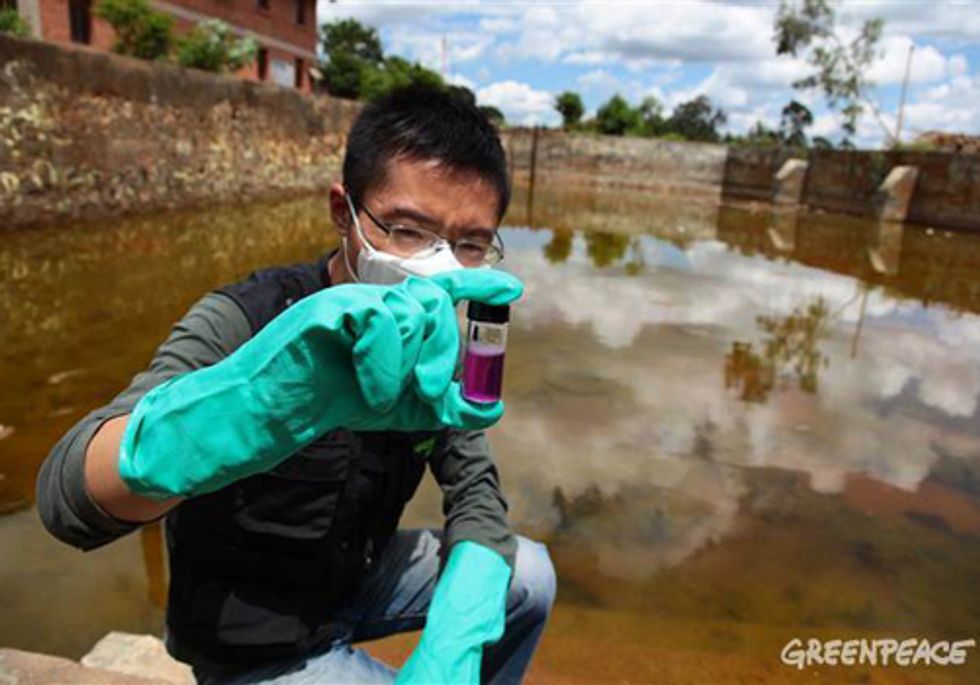 By Monica Tan
Earlier this year we were all shocked by the news that a chemical company in southern China's Yunnan province had been illegally dumping toxic cancer-causing waste near the village of Xinglong. The problem was so serious that the Chinese press began calling Xinglong a cancer village. Yunnan Liuliang Chemical Industry had dumped 5,000 tons of the hazardous waste and had another 140,000 tons that would likely have ended up the same way if they had not been discovered. The waste should have been driven to the neighbouring province of Guizhou to a processing plant.
The chemical waste, containing toxic chromium VI, had seeped into the soil, drinking water and crops. And the villagers did not know the real dangers. They were still drinking the water and walking in their fields barefoot.
As soon as we heard about the news, Greenpeace sent a rapid response team to the area to document the problem and raise awareness among the local people. When we tested the water used by the villagers for drinking, the levels of chromium VI were so high the readings went off the scale.
Our work and the resulting media attention then kick-started a clean-up campaign. The local government fenced off the polluted area, surveyed the region for other illegal waste sites, tested for levels of contamination and then made the results public.
There are many other chromium waste dump sites across China, endangering people's lives and polluting the land and water. Following our work in Yunnan, the Ministry of Environmental Protection announced a national crackdown on chromium waste sites, with clear timelines. And it's had a positive spill-on effect into other waste issues such as e-waste.
Then in October, local environmental NGO (non-governmental organization), Friends of Nature, filed a public interest law suit against Luliang Chemical for dumping the toxic chromium waste. This is the first time a grassroots Chinese NGO has successfully brought a public interest lawsuit to court.
Ma Tianjie, from Greenpeace in Beijing, was part of the Greenpeace rapid response team that was dispatched to Yunnan to investigate that toxic chromium dump. Here he shares with us his experiences:
The drivers working for the chemical company were lazy and so they dumped the toxic chromium waste in several sites in the hills here. Rain washed the waste into a nearby reservoir killing dozens of cattle and sheep. And the bigger problem is that Liuliang Chemical still has more than 100,000 tons of untreated chromium waste. If there was a bad storm this waste could contaminate the source of the Pearl River and turn it into a toxic soup.

We visited a nearby village, called Xinglong, which because of abnormally high rates of cancer has been dubbed a cancer village by the media. We took some measurements from the mouth of an underground aquifer, which locals call 'the dragon's fountain' and it was hundreds of times over the safe limit for chromium. But still local villagers plant their crops barefoot and put their cattle and sheep out to graze on this contaminated land. They told us crops fail and their livestock die for no reason.

The other members of the emergency response team and I put on rubber boots, gloves and masks, and dug through the chromium waste dump to take suitable samples. We also told the villagers how to protect themselves and urged the local government to take immediate action.

Sadly, this dump in Liuliang County is not the only one. There are similar toxic dump sites all across the country including in Tianjin, Henan and Hunan. They are like toxic time bombs. We hope that we can use this Yunnan example to kick start a big cleanup everywhere. We have taken the first step.
Chromium VI—Fast Facts
Heavy metal, highly toxic, commonly used in electroplating or in the manufacture of stainless steel.
Included on China's national list of hazardous waste, one of eight substances most harmful to the human body.
Difficult to break down, it requires years or even decades to completely clean up.
In the U.S., similar contaminated sites are still not completely clean even after 30 years.
For more information, click here.