This website uses cookies to ensure you get the best experience while browsing it. By clicking 'Got It' you're accepting these terms.


The best of EcoWatch, right in your inbox. Sign up for our email newsletter!
A new study released by the University of Michigan in the Aug. 25 journal of Climate Change is causing a ripple through the fuel industry, as it contends that more carbon dioxide is actually released through biofuels than gasoline.
The Obama administration released finalized fuel efficiency standards for medium- and heavy-duty vehicles Tuesday, the latest of its many regulations to cut U.S. greenhouse gas emissions.
"The new efficiency and emissions standards for heavy duty trucks are an impressive achievement from President Obama."
The new standards are expected to eliminate 1.1 billion metric tons of carbon dioxide once fully implemented, equivalent to a year's worth of emissions from U.S. residential power use. Although these vehicles make up just 5 percent of road traffic, they account for 20 percent of transportation-related carbon emissions. The standards, which will be in effect through 2027, largely have the support of the trucking industry as they could save $170 billion in fuel costs and reduce oil consumption.
"Last December, the United States played a leading role in securing a global climate agreement in Paris and these new standards demonstrate that we are doing our part to implement that landmark agreement," said Ken Kimmell, president of Union of Concerned Scientists, who posted a blog today on the rule. "They are realistic, cost-effective and will reduce greenhouse gas emissions by 1.1 billion tons and oil consumption by 2 billion barrels over the lifetime of the program."
According to NextGen Climate President Tom Steyer, "The new efficiency and emissions standards for heavy duty trucks are an impressive achievement from President Obama, proving once again that tackling the climate crisis goes hand-in-hand with growing our economy and improving public health. President Obama's leadership in addressing the climate crisis continues to put our country on the right path to building a clean energy economy, and coming off the hottest month in recorded history, there's no time to waste. We can't let a dangerous demagogue like Donald Trump roll back this incredible progress."
For a deeper dive:
News: Washington Post, Morning Consult, CBS News, New York Times, Reuters, Politico, Bloomberg, Wall Street Journal, The Hill
Commentary: Washington Post, Fredrick Kunkle column, The Hill, Dr. Elena Rose op-ed
For more climate change and clean energy news, you can follow Climate Nexus on Twitter and Facebook, and sign up for daily Hot News.

EcoWatch Daily Newsletter
By Robert McSweeney

Last year saw records in the Earth's climate system continue to tumble, says the latest State of the Climate report from the U.S. National Oceanic and Atmospheric Administration (NOAA).
The 300-page report, released Tuesday and now in its 26th year, is an annual assessment of the world's climate, scrutinizing the Earth's land, oceans, ice and atmosphere. It is compiled by more than 450 scientists from 62 countries.
State of the Climate Report
Carbon Brief takes a look at how rising greenhouse gas emissions, with the help of a strong El Niño event, made 2015 into a record-breaker.

Greenhouse Gases
Last year was record-breaking for concentrations of all three of the main long-lived greenhouse gases that contribute to climate change: carbon dioxide (CO2), methane (CH4) and nitrous oxide (N2O).
At the Mauna Loa Observatory, where scientists have been monitoring CO2 since the 1950s, the average concentration for the year as a whole surpassed 400 parts per million (ppm) for the first time. At 400.8 ppm, CO2 levels in the atmosphere were 3.1 ppm greater than 2014—the largest annual increase of the 58-year record.
In addition, March 2015 was the first time average CO2 concentration across the globe has been more than 400 ppm for an entire month. Global annual average CO2 levels for 2015 finished just shy of the 400 ppm milestone, at 399.4 ppm. You can see this in the chart below, one of several graphics produced alongside the report.
Meanwhile, levels of both methane and nitrous oxides reached new record highs in 2015, at 1834.0 parts per billion (ppb) and 328.2 ppb, respectively.
Global average carbon dioxide concentrations since 1958, with Arizona's coal-fired Cholla power plant in the background.NOAA / Photo by John Fowler
Global Surface Temperature

As was widely reported in January, observations show that 2015 was the hottest year on record.
The 2015 globally averaged surface temperature was 0.42-0.46 C above the 1981–2010 average, topping the previous record set in 2014 by 0.13-0.18 C. The range in values reflect the different datasets used by various meteorological agencies to calculate global temperature.
2015 was also the first year to see average global temperatures surpass 1 C above pre-industrial levels. Fourteen of the 15 warmest years on record have now occurred since the beginning of the 21st century, the report notes, with 1998 the only exception.
The strong El Niño event in the Pacific Ocean contributed to the record global temperatures, the report says, though it does not quantify by how much. Prof. Adam Scaife, head of long-range forecasting at the Met Office, told Carbon Brief earlier this year that El Niño made a contribution of only a few hundredths of a degree to the 2015 record.
El Niño is expected to have more of an impact on 2016's average temperature, Scaife noted, contributing "around 25% to what will most likely be a new record global temperature in 2016."
Across the global land surface, record or near-record warmth was reported across every inhabited continent, the report says. Twelve countries—such as Russia and China—reported record high annual average temperatures.
Top: Average surface temperatures for 2015, against a baseline of 1981-2010. Shading indicates where temperatures are above (red) or below (blue) average. Bottom: Global temperature since 1880 for the surface (dark red line) and the troposphere (pale red line), against a baseline of 1981-2010.NOAA
Land temperatures in 2015 saw a record number of warm days—which are days where the maximum temperature reaches the top 10 percent for the average for that season during 1961-90. Globally, 2015 saw almost twice the number of warm days than the annual average for 1961-90.

There were also a record low number of cool days in 2015. These are days when the maximum temperature doesn't rise above the chilliest 10 percent of days for that season during 1961-90. There were almost half the number of cool days in 2015 than the average for 1961-90.
Oceans
As well as above the surface, 2015 was a record year for the world's oceans.
Global sea surface temperatures (SSTs) in 2015 were 0.33-0.39 C above the 1981-2010 average, surpassing the previous record set in 2014 by 0.10-0.12 C. The strong El Niño during 2015 contributed to record high SSTs across much of the tropical Pacific Ocean, the report notes, which boosted global SSTs. You can spot the El Niño event in the map below by the warm SSTs in the central and eastern tropical Pacific Ocean.
The whole of the top 700 m of the world's oceans saw record warming in 2015, exceeding the record set in 2014. As oceans absorb more than 90 percent of the heat trapped by the Earth's atmosphere, the level of warming reflects the continuing accumulation of heat in the upper layer of the oceans, the researchers say.
Top: Global map of upper ocean heat content in 2015. Shading indicates where ocean heat content is below (blue) or above (orange/red) average. Bottom: Graph of heat content for the upper ocean (red line) and deep ocean (blue line) since 1993.NOAA
Warming ocean temperatures also contributed to global sea levels hitting new heights last year. Water expanding as it warms is one of several different components of sea level rise, along with melting glaciers and ice sheets and changes to how much water is stored on land.

In 2015, global sea level was approximately 70 mm higher than when the satellite record began in 1993. This is, in part, down to the long term rising trend of 3.3 mm per year plus the effect of the strong El Niño, which boosted sea level in 2015 by an extra 10 mm.
During El Niño events, rainfall over the oceans tends to increase, while decreasing over land. This reduces the amount of water stored on land, temporarily adding to sea levels. You can see from the map below that sea levels in the central Pacific Ocean were as much as 20 cm higher than usual during 2015.
Top: Global sea levels in 2015, compared to a baseline of 1993-2014. Shading indicates areas where sea levels are higher (blue) or lower (brown) than average. Bottom: Global sea levels since the satellite record began in 1993, compared to a baseline of 1993-99. NOAA / Photo by Roberto Mangual
Arctic

At 1.2 C warmer than the 1981–2010 average, land surface temperatures in the Arctic in 2015 equalled the existing record, held jointly by 2007 and 2011. The Arctic land surface has warmed by 2.8 C since 1900, the report notes.
2015 also saw sea ice cover hit its lowest winter peak since the satellite record began, the report says:
"Under the influence of persistent warming temperatures, the Arctic sea ice cover is diminishing in extent and thickness. The lowest maximum sea ice extent in the 37-year satellite record occurred on 25 February 2015, at 7% below the average for 1981–2010."
The winter maximum, when Arctic sea ice typically reaches its maximum extent, is one of two points each year of particular interest, the report notes. The other is at the end of summer, when the ice reaches its annual minimum extent.
The minimum sea ice extent in September 2015 was 29 percent less than the 1981–2010 average—the fourth smallest in the satellite record, the report says.
"Highly Significant"
Overall, the report shows that 2015 was yet another highly significant year for the climate, says co-author, Dr. Kate Willett, a senior scientist at the Met Office:
"Looking at a range of climate measurements … not only was 2015 the warmest year on record by a large margin, it was also another year when the levels of dominant greenhouse gases reached new peaks … and sea levels and ocean heat content were all at their highest levels."
As the report runs to almost 300 pages, there are plenty more facts and figures than the selection we've picked here. You can find the full-length version on the American Meteorological Society's website to peruse at your leisure.
This article was reposted with permission from our media associate Carbon Brief.
According to the Intergovernmental Panel on Climate Change (IPCC)'s Fifth Assessment Report, we are approaching dangerous territory because of climate change. All areas of the world have already experienced effects of global temperatures rising, from extreme weather events to record droughts.
For the first time in human history, concentrations of carbon dioxide, a global warming pollutant, have hit 400 parts per million in Earth's atmosphere. Without taking action to reduce greenhouse gas emissions, we can expect to experience a number of escalating consequences, from sea level rise to ecosystem degradation, according to experts.
Yet there is still time to reverse course and stave off such catastrophic outcomes. IPCC  finds it physically and technically feasible to stay within the world's "carbon budget" and offers useful tips for climate action.
What would the future look like if we took drastic action to cut emissions—or no action at all?
Using IPCC data, World Resources Institute created an infographic depicting the likely outcomes of four variable emissions pathways—known as Representation Concentration Pathways—from a low-carbon future to one that is fossil fuel-intensive.

We can choose our own ending to this story. Which way will it go?
You Might Also Like
Doing Nothing Isn't an Option: How to Avoid the Worst of Climate Change
NASA: Earth Could Warm 20 Percent More Than Earlier Estimates
Powerful Film Underscores Urgent Need to Address Climate Change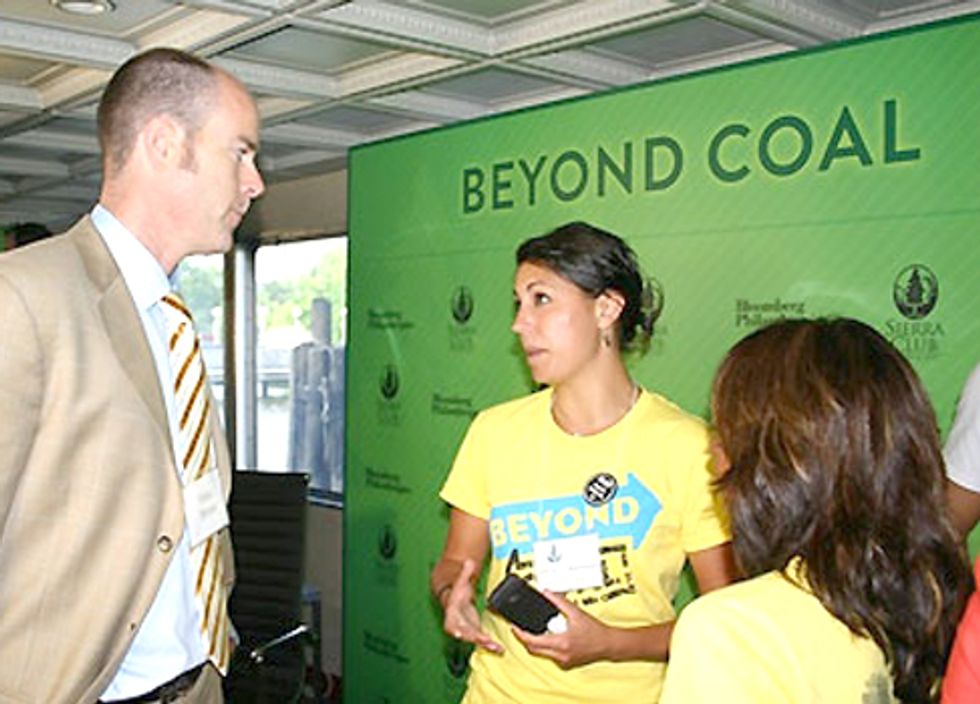 On Feb. 29, Mayor Rahm Emanuel and Midwest Generation announced the planned retirement of the Fisk and Crawford coal plants, two of the oldest and dirtiest coal-fired power plants in the nation located in the heart of Chicago's Southwest side. According to an agreement signed by Midwest Generation, the Clean Power Coalition, and the City of Chicago, the Fisk coal plant in Pilsen will retire in 2012 and the Crawford coal plant in Little Village will retire by 2014. As part of the Chicago Clean Power Coalition, Sierra Club has worked with an incredible group of local community organizations to retire these coal plants due to the dangerous health impacts on the families of Chicago.
"Today's announcement of the retirement of the Fisk and Crawford coal plants is a triumph for Chicago families," said Sierra Club's Executive Director Michael Brune. "These old and dirty plants have been polluting two thriving Chicago neighborhoods for over 100 years. The effort to end pollution from the plants has been an uphill battle for a very long time. This announcement is the culmination of many years of hard work by local families and concerned residents in Pilsen and Little Village, and this victory belongs to them. Pollution from these coal plants has been making local residents sick since 1903, contributing to asthma attacks, respiratory illnesses and other health problems. This is giant leap in our work to move America beyond coal."
Chicago is the only major metropolitan area with not only one, but two polluting coal plants within the city limits, and the Sierra Club, along with the Chicago Clean Power Coalition, has been working with Mayor Emanuel to retire these two Midwest Generation plants. The coal burned in these plants is brought in from Wyoming, the power is sold out of state, and the profits go to a California-based company, leaving Chicago to deal with the pollution. The announcement marks the end of a long and difficult battle led by the Chicago Clean Power Coalition to protect the health of the Pilsen and Little Village residents.
"This is a grassroots victory for environmental justice. Over the past year-and-a-half, hundreds of Chicagoans have logged calls to their Aldermen, to the Mayor, to Midwest Generation, delivered thousands of postcards and petitions, marched in the streets and demanded that every person, regardless of who they are where they live, has the right to breathe clean air," said Tony Fuller, volunteer for the Sierra Club. "This victory proves that when communities and organizations work together, they can stop big polluters in their tracks."
According to a 2011 National Association for the Advancement of Colored People (NAACP) report, Crawford and Fisk were ranked number one and number three respectively on a list of the top environmental justice offenders national wide.
"This is a tremendous victory for our frontline communities who are forced to breathe this air day in and day out," said Rosalie Mancera of Pilsen Alliance. "This is the first of many victories to come in Illinois, as people from all different backgrounds will come together to move coal out of their back yards and bring clean air and clean jobs to their neighborhoods."
While this is a tremendous victory for the health of Chicagoans, Midwest Generation still has four other major coal plants throughout Illinois. Midwest Generation will be making critical decisions in the next several months with whether to make risky investments in retrofitting these old coal plants or choose to set retirement dates and invest in clean energy.
"Chicagoans can breathe easier thanks to Mayor Emanuel's leadership in closing these old, polluting coal plants," said Jack Darin, director of the Sierra Club, Illinois Chapter. "Mayor Emanuel knows that moving Chicago from coal to clean energy works for all of us, and we applaud him for his efforts to bring cleaner air to Pilsen, Little Village, and all of Chicago. Now, as America transitions away from coal, we call on Midwest Generation and other power companies to ensure that communities, workers and families will have a just and stable transition from working with coal to becoming leaders in a clean energy future."
Last Year the Sierra Club joined forces with Michael R. Bloomberg, Mayor of New York City, and his Bloomberg Philanthropies to combat the dangerous health effects coal pollution has on children and families across the nation.
"Mayor Rahm Emanuel and the City of Chicago have taken a big step forward in building a healthier and environmentally sustainable city. Mayor Emanuel is a leader who understands the need for immediate steps to improve public health and make long-term investments in our urban infrastructures," said Michael R. Bloomberg, philanthropist and mayor of New York City. "Today is also a great step forward for the Beyond Coal Campaign that has been working with Mayor Emanuel, residents, and local organizations. With today's development, Chicago joins the legion of cities across America who have committed to putting our country on a new energy path."
Chicago has been a key target for Sierra Club's national Beyond Coal campaign, aimed at replacing dirty, polluting coal-fired power plants with clean energy like wind and solar power.
The Fisk and Crawford plants are the 98th and 99th plants to be retired since the Beyond Coal campaign began. They join the ranks of coal plants like Cane Run in Louisville, Kentucky and GenOn in Alexandria, Va. and a fleet of First Energy Plants in Ohio who announced their historic retirements in recent months. The Beyond Coal Campaign aims to replace dirty, polluting coal-fired power plants with clean energy like wind and solar power. The campaign, in conjunction with allies around the country, have stopped more than 150 coal plants from breaking ground, and the number of planned retirements continues to grow as the nation transitions to a clean energy future.
For more information, click here.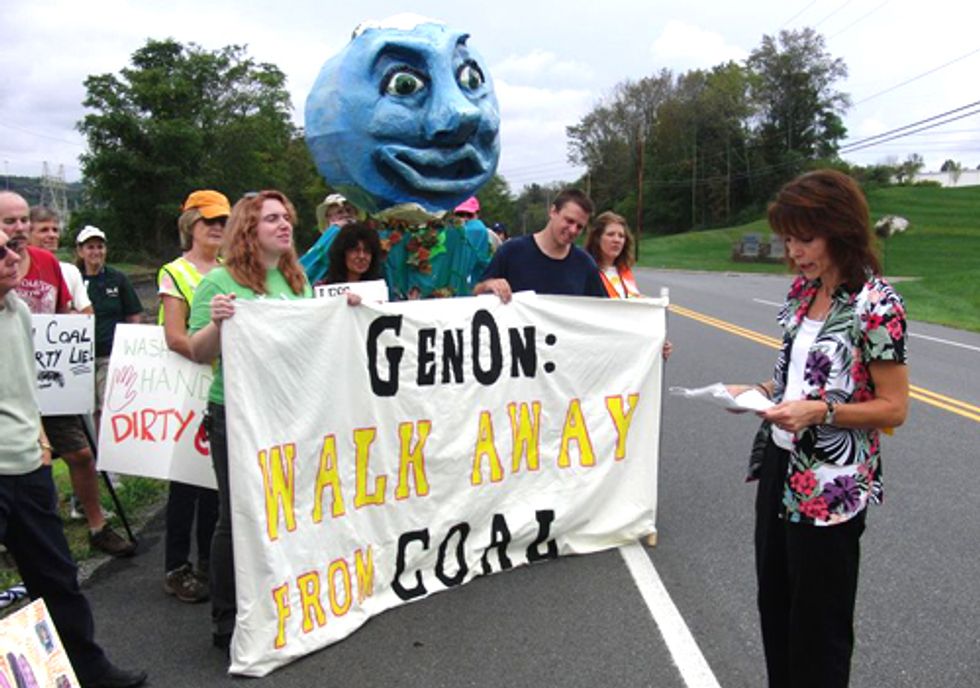 GenOn Energy Inc., a major nationwide energy generator, announced on Feb. 29 that the company will retire seven of its oldest, dirtiest coal-fired power plants.  These plants are located in Pennsylvania and Ohio, two states whose residents are most affected by pollution from coal-fired power plants.
GenOn announced the following retirements during a meeting with investors—Portland, Shawville, Titus, New Castle and Elrama in Pennsylvania and Niles and Avon Lake in Ohio. In total, these retirements will bring 2,980 megawatts of dirty and dangerous coal pollution to an end.
Pollution from coal-fired power plants, including sulfur dioxide, nitrous oxides and mercury, contributes to four of the five leading causes of death in the U.S.—heart attacks, stroke, respiratory illnesses and cancer. Closure of the seven plants will prevent more than 179 premature deaths, 300 heart attacks and 2,800 asthma attacks, according to data from the Clean Air Task Force. That same report estimated the total economic impact of premature deaths and disease from these plants at more than $1.3 billion.
"Above all, this is a win for public health and for families who have been breathing polluted air from these outdated plants," said Bruce Nilles, senior director of the Sierra Club's Beyond Coal campaign. "GenOn has recognized that operating outdated, dirty coal plants just doesn't make economic sense anymore, especially in a time when constructing a wind farm is now cheaper than building a new coal plant. What matters now is ensuring that GenOn does the right thing and transitions these workers into the growing clean energy sector."
One of these coal-fired power plants, the Portland Generating Station, is the subject of a landmark ruling by the U.S. Environmental Protection Agency (EPA) requiring the plant to reduce the pollution it releases and stop it from carrying over from the plant's home state into New Jersey. The plant opposed that ruling, which was the first of its kind on a single-source emitter; the Sierra Club, in a coalition of environmental groups including Clean Air Council and Greenpeace, filed notice to join the lawsuit to defend EPA's ruling.
Activists in Ohio praised the planned plant retirements at Avon Lake and Niles. "For decades, these plants have been polluting our air and water," said Dave Simons, a Cleveland, Ohio resident and Energy Committee Chair for the Ohio chapter of the Sierra Club. "Now we can look forward to a cleaner, brighter future when no one will get sick because of pollution from these plants."
But activists in both states also stressed the need for GenOn to ensure that its workforce will be transitioned into other employment when the plants are retired. "GenOn may have recognized that it just makes good economic sense for them to close these plants, but now they have the responsibility of making sure that their business decision doesn't mean unemployment for their workers," said Rashay Layman, organizing representative with the Sierra Club's Beyond Coal campaign in Ohio.
The retirements, the most recent in a wave of similar announcements from energy providers, come at a time when the nation's share of clean energy is at a record high. "Today's news is part of a national trend of clean energy replacing coal, with states like Iowa and South Dakota that generate 20 percent of their electricity from wind," said Randy Francisco, organizing representative with the Beyond Coal Campaign in Pennsylvania.
Coal plants are major sources of climate disruption and toxic air pollution like mercury, soot and carbon pollution. These seven plants bring the tally of coal plant retirements to 106 since the Sierra Club's Beyond Coal campaign began work to responsibly retire coal-fired power plants and develop clean energy in 2010.
For more information, click here.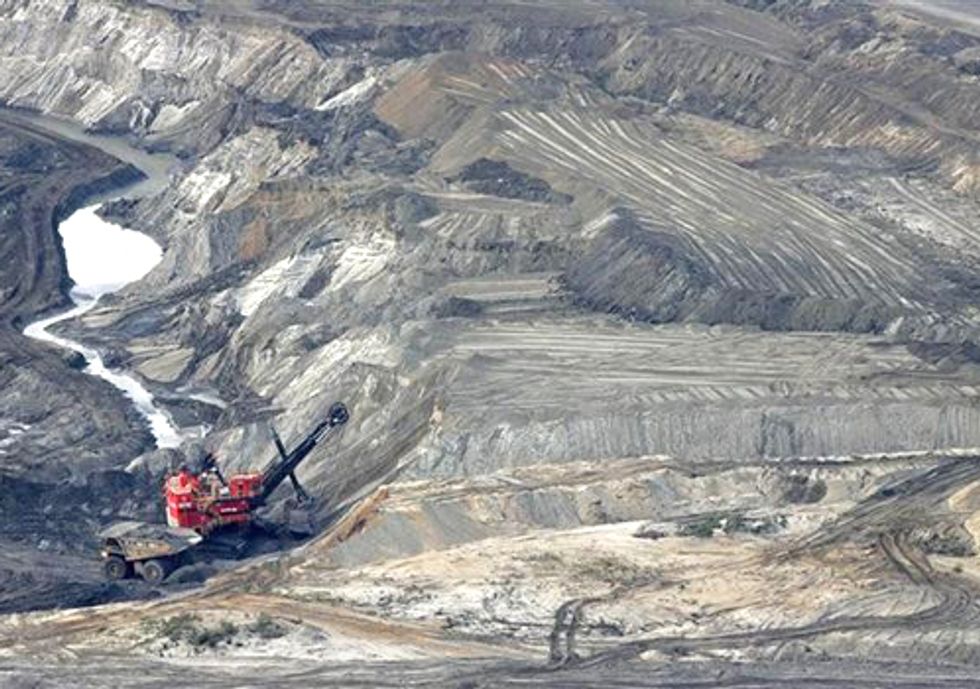 A meeting on Feb. 23 of European Union (EU) country representatives to decide on an effective ban of climate-wrecking fuels, such as those produced from tar sands, has ended in stalemate, said Greenpeace. The decision to implement the EU's fuel quality directive and its agreed objective of cutting carbon emissions from fuels by 6 percent by 2020 now lies with European environment ministers, who are expected to vote on the matter in June.
The issue has been the subject of a furious back-room lobby offensive by the government of Canada, backed by global oil companies, which are set to profit from environmentally destructive tar sands extraction. Canada sits on what is probably the world's third biggest oil reserve, but most of it is locked up in tar sands.
Tar sands oil produces 23 percent more climate emissions than conventional fuels, Stanford University found in a report for the European Commission.
"Now that the tar sands issue is finally in the hands of publicly accountable ministers, we will see who's pulling the strings in Europe," said Greenpeace EU transport policy adviser Franziska Achterberg. "The evidence is clear—tar sands are the world's dirtiest fuels. The decision is even clearer—ministers should stand up to the oil industry and ban them from Europe."
For more information, click here.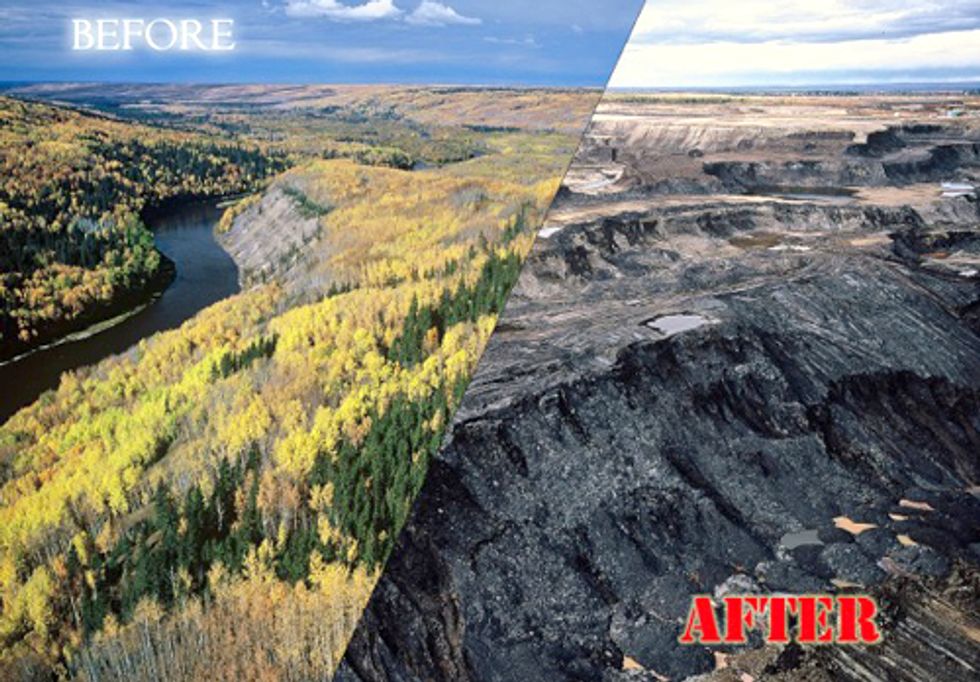 The European Commission—the executive branch of the European Union (EU)—will be voting in the next couple days whether to designate Canada's tar sands as being "highly polluting." Given tar sands' terrible ecological impacts upon our shared global atmosphere—and Canadian boreal forests, water, and indigenous peoples—the answer should be painfully obvious, and a resounding yes.
Such a designation would be a significant setback for tar sands growth.
Yet given the power of the ecocidal oil oligarchy which rules Canada and much of the world, empowered global citizens need to let the EU know the world expects, indeed demands, the EU do the right thing in condemning tar sands—in order to establish a level playing field for a renewable, efficient, and conservation based energy future.
Send a message to the EU to let them know you don't support tar sands development by clicking here.
For more information, click here.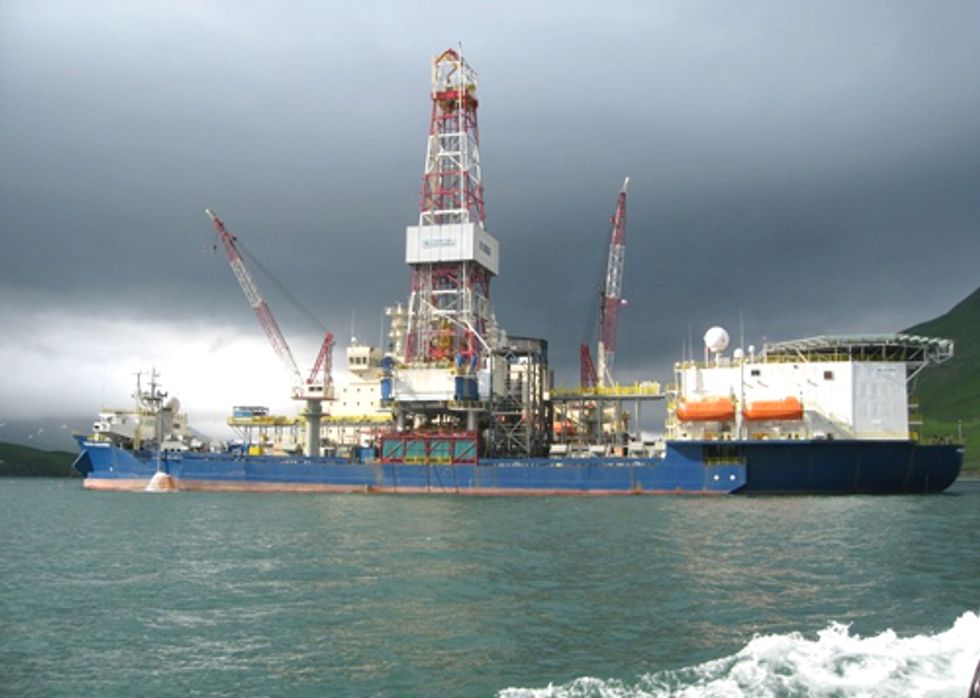 A coalition of groups has filed a lawsuit in the Ninth Circuit Court of Appeals challenging the U.S. Environmental Protection Agency's (EPA) issuance of air pollution discharge permits for Shell's Discoverer drillship and associated fleet for use in the Beaufort and Chukchi seas. The permits, provisionally approved last September, were issued Feb. 10, 2012. Shell intends to use the Discoverer to drill in the fragile, remote, stormy and icy waters of the America's Arctic Ocean starting this summer.
Alaska Wilderness League, Center for Biological Diversity, Natural Resources Defense Council, Northern Alaska Environment Center, Oceana, Pacific Environment, Resisting Environmental Destruction on Indigenous Lands (REDOIL), Sierra Club, and The Wilderness Society filed the challenge late last Friday, represented by Earthjustice. The organizations issued the following statement regarding the lawsuit:
"As early as this summer, the Discoverer drillship and other vessels in Shell's fleet could be in the Chukchi Sea or Beaufort Sea of the Arctic Ocean where they will pump tens of thousands of tons of pollution into pristine Arctic skies. Not only will they be drilling for oil in some of the harshest conditions on earth, each year these ships will emit large amounts of harmful air pollutants such as carbon monoxide, nitrogen dioxide and particulate matter. Further, greenhouse gases and black carbon from the Discoverer fleet are expected to accelerate the loss of snow and sea ice in the Arctic, to the detriment of both the fragile Arctic ecosystem and members of Alaska Native communities that rely upon a healthy ecosystem for subsistence and other traditional cultural activities.
"The EPA approved these permits without ensuring that all air quality standards are met, and as such our only option is to challenge them in court. Although the Clean Air Act requires modern pollution controls that could greatly reduce much of this pollution, the EPA did not require Shell to install all the controls it should have.
"In addition to the excess air pollution from the Discoverer and Shell's other ships, Shell's drilling poses other risks. Drilling for oil in the remote waters of the Arctic Ocean is risky and fraught with potential disaster. An oil spill in these waters would have significant impacts on endangered and threatened species such as bowhead whales and polar bears."
For more information, click here.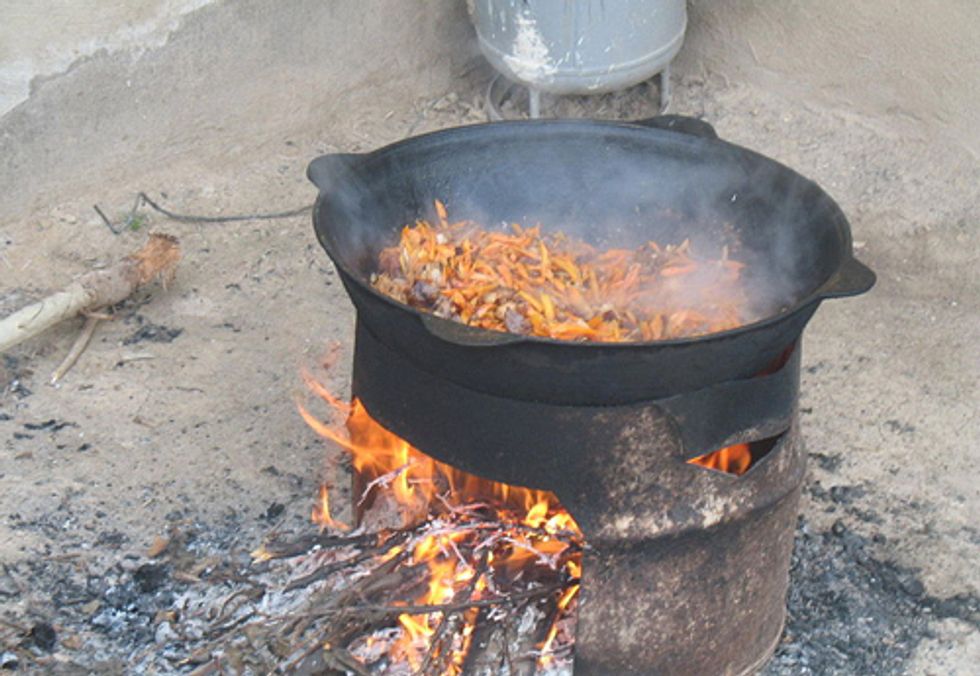 World Wildlife Fund (WWF) has welcomed a "black carbon" initiative announced Feb. 16 by the U.S., Canada, Mexico, Ghana, Sweden and Bangladesh—but warned that the primary effort in reducing dangerous climate changing emissions has to remain on achieving rapid and deep cuts to carbon dioxide emissions.
The substances highlighted in the initiative—black carbon or soot, methane and hydrofluorocarbons—are known as short-lived climate forcers, since they do not stay in the atmosphere as long as CO2. Major sources of black carbon include burning of biomass in traditional cookstoves and fires in some developing countries, as well as diesel exhaust.
'The fact is that the big emitters like the U.S. and Canada that are advancing this initiative have done very little to reduce CO2 emissions, the primary cause of global warming," said Samantha Smith, leader of the WWF Climate and Energy Initiative.
"'Now they have developed a plan that shifts the focus to others—developing countries in particular. While support for poorer countries is important, their primary responsibility should be to cut their own emissions and address the global challenges posed by climate change."'
"Cutting black carbon emissions by ensuring adequate access to energy and cleaner cookstoves is in principle good, but we should not assume that this new initiative will deliver quick results," said Smith. "There are many practical challenges to this and the other measures in the initiative, including the very large number of sources of pollution, financing, and cultural barriers to adoption of new cooking methods. Success will depend on good mechanisms for finance, accounting and delivery."
In short, while short-lived forcers provide a window of opportunity, it should not distract us from addressing the biggest cause of climate change—CO2 emissions.
For more information, click here.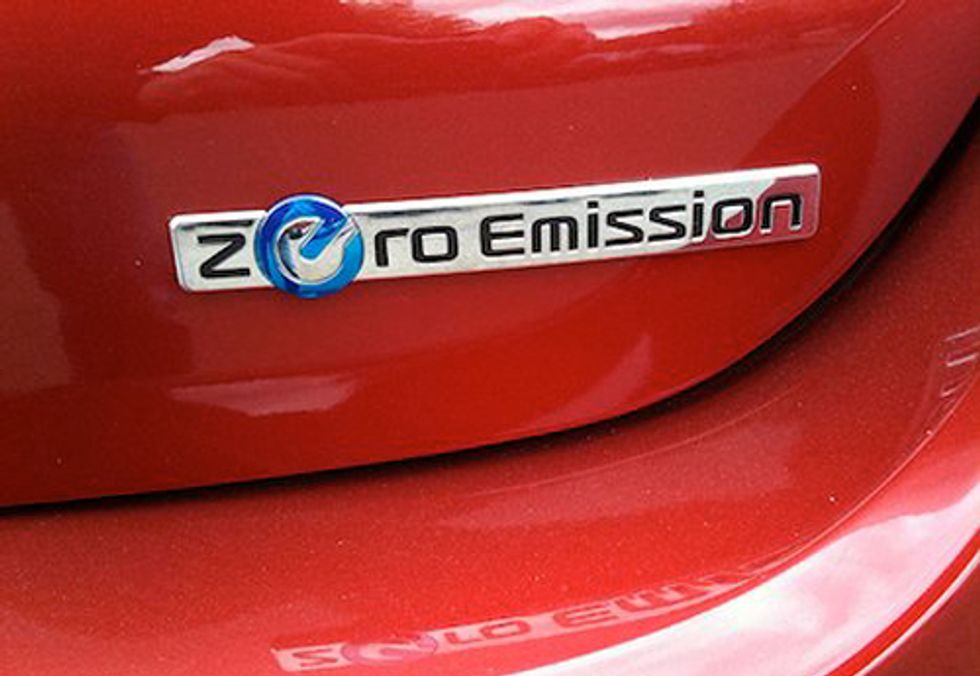 With the help of our supporters, the Union of Concerned Scientists (UCS) has long led the fight to break our dangerous oil dependence and address global warming by strengthening fuel efficiency and pollution standards for cars and trucks. We stand on the verge of historic progress with the Obama administration's recently proposed fuel efficiency and global warming emissions standards for vehicles sold between 2017 and 2025. These standards would save consumers billions of dollars at the gas pump, prevent millions of tons of global warming emissions, and save as much oil in 2030 alone as we currently import from Saudi Arabia and Iraq.
Automakers have the technology to make all new cars, trucks and SUVs cleaner. But just as opportunity knocks, automakers and their allies are working behind the scenes to weaken the standards with loopholes that could increase pollution and oil dependence.
The U.S. Environmental Protection Agency (EPA) and the Department of Transportation (DOT) are currently accepting public comments on the proposed standards, and they need to hear from citizens like you, not just industry lobbyists.
Take action today and tell the Obama administration to move forward with strong clean car standards and oppose harmful industry-backed loopholes. The comment period expires on Feb. 13, 2012.
Click here to learn more about the new clean car standards and about the UCS Clean Car Standards Resource Center.
For more information, click here.