This website uses cookies to ensure you get the best experience while browsing it. By clicking 'Got It' you're accepting these terms.


The best of EcoWatch, right in your inbox. Sign up for our email newsletter!
Oil and gas companies flare natural gas that cannot be processed or sold.
Varodrig / Wikimedia Commons
As expected, the U.S. Department of the Interior on Tuesday released a final rule that reverses Obama-era restrictions on methane emissions from oil and gas operations.
President Obama's 2016 methane waste rule, which never went into effect, required fossil fuel companies on tribal and public lands to reduce emissions of methane, a potent greenhouse gas that's about 86 times more powerful than carbon dioxide. It called on drilling operators to capture leaking and vented methane and to update their leak-detection equipment.
Goddard Media Studios / NASA
By Alex Kirby
The Gulf Stream is slowing, the North Atlantic is cooling. An international scientific study has found new and harder evidence that one of the planet's key heat pumps, the currents which exchange warmth between the tropics and the Arctic, are weaker today than at any time in the last thousand years.

EcoWatch Daily Newsletter
Geographers in the U.S. have found a new factor in the carbon cycle, and—all too ominously—a new potential source of the greenhouse gas carbon dioxide (CO2). They have identified huge deposits of fossil soils, rich in organic carbon, buried beneath the Great Plains of America.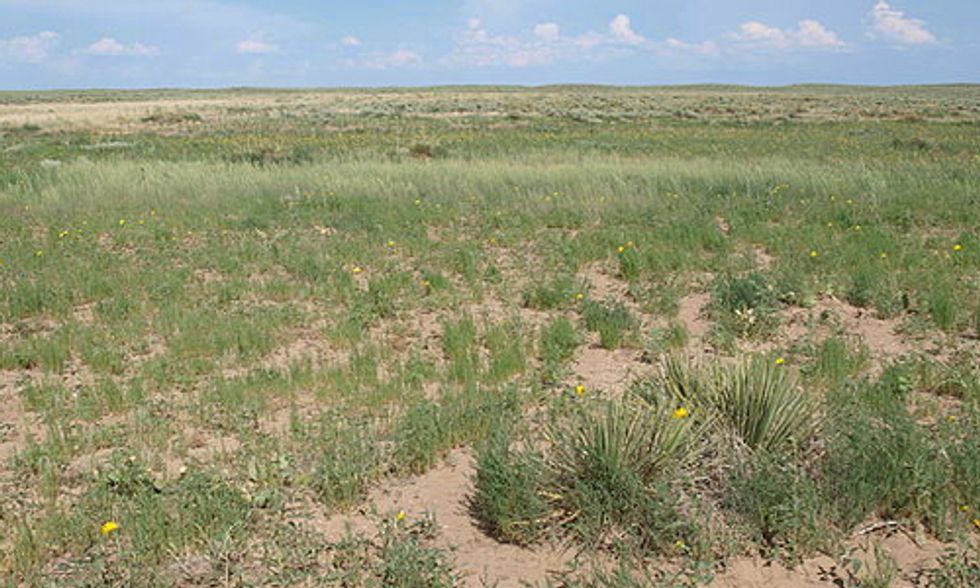 The discovery is evidence that the subterranean soils could be a rich store, or sink, for ancient atmospheric carbon. But if the soil is exposed—by erosion, or by human activities such as agriculture, deforestation or mining—this treasure trove of ancient charred vegetation, now covered by wind-blown soils, could blow back into the atmosphere and add to climate change.
Erika Marin-Spiotta, a biogeographer at  the University of Wisconsin-Madison, and her colleagues report in Nature Geoscience that what is known as Brady soil—ancient buried soil—formed more than 13,500 years ago in Nebraska, Kansas and other Great Plains states.
Glacial Retreat
It now lies more than six meters below the surface, and it was buried by a vast deposit of loess—wind-blown dust—about 10,000 years ago, when the glaciers began to retreat from North America.
The significance is not that it survived the end of the Ice Age and the colonisation of the Great Plains by grazing animals, but in the fact that it is there at all, at such depths. Calculations about the world stock of soil carbon have focused on the topsoil, and the role of root systems, decaying vegetation, microbes and fungi in the natural carbon cycle. Now the climate scientists who play with models of the carbon cycle will have to think again.
"There is a lot of carbon at depths where nobody is measuring," said Dr. Marin-Spiotta. "It was assumed that there was little carbon in deeper soils. Most studies are done only in the top 30 centimeters. Our study is showing that we are grossly underestimating carbon in soils."
The researchers have enough evidence to put together a picture of a stormy past in an almost empty continent. The tract of prairie that now contains the Brady soil was never glaciated. As the glaciers retreated from the rest of the continent, the climate warmed, the vegetation regime changed, and it became scorched by wildfire—"an incredible amount of fire" according to the report's author.
Thick Band
Before the ash, charred wood and singed fibers and stalks of the prairie grasses could begin to decompose and turn back into CO2, it was covered by the accumulating loess. It now exists as a meter-thick band of dark soil far below the surface—a hidden record of bygone climate.
The researchers calculate that, altogether, there could be as much as 2.7 billion tons of potentially reactive carbon below the Great Plains. And what happened in the Plains, could have happened in many other parts of the world. The implication is that such deposits could exist anywhere, and could just as easily be a potential contributor to global warming if disturbed.
--------
YOU MIGHT ALSO LIKE
Deforestation in Sandy Ecosystems Increase Release of CO2
Researchers Find Trees in Borneo Soak Up More CO2 Than Trees in the Amazon Rainforest
Research Finds Vapors From Coniferous Trees Could Help Slow Global Warming
--------
Policy plays an enormous role in the future of our planet. Check out this great list from Mother Jones of four recent environmental policies we should all be thankful for.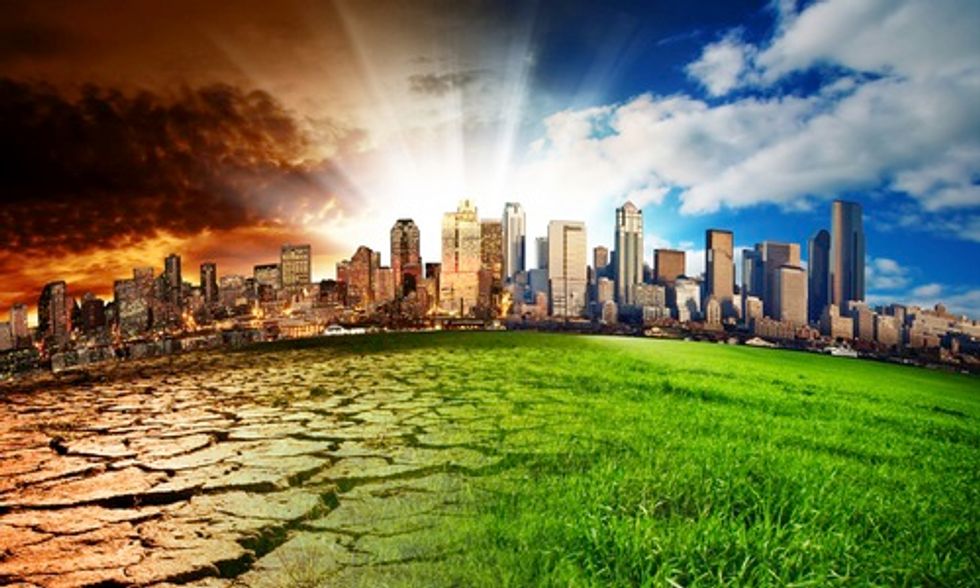 Shutterstock
1. The U.S. and the World Bank will avoid financing coal-fired power plants abroad.
Burning coal is among the dirtiest ways to produce energy and quickest ways to accelerate climate change. This July, when the World Bank announced it would limit funding for new coal-burning plants to "rare circumstances" where countries have "no feasible alternatives," green advocates were thrilled. At the same time, the global development giant also reversed its opposition to hydroelectric power, which many environmental activists had pushed as an alternative to cheap energy from coal. Last month, based on an announcement President Obama made in June, the U.S. Treasury Department also ceased financing any new coal projects abroad except in cases where coal was the only viable option for bringing power to poor regions. The U.S. and World Bank decisions only affect coal projects that use public financing; around the world, many are built with private money. But a Treasury official told the New York Times the Obama administration believed "if public financing points the way, it will then facilitate private investment."
2. The White House will push carbon limits for new and existing power plants.
Natural gas and coal-fired power plants are responsible for 40 percent of the United States' carbon emissions and one-third of its greenhouse gas emissions. The country can't address climate change without regulating this sector of the economy. In his June speech at Georgetown University, President Obama announced that for the first time ever, the U.S. Environmental Protection Agency (EPA) will propose rules to cap carbon emissions from existing power plants. His administration also pushed forward a rule to limit pollution from new power plants, which had stalled last year. If the EPA finalizes the rule and it's upheld in court, it would limit new coal-fired plants to 1,100 pounds of carbon dioxide emissions per megawatt hour—the average coal power plant releases 1,800 pounds—and new gas power plants to 1,000 pounds. Obama said the rules were necessary for the U.S. to meet its pledge to bring down greenhouse gas emissions by 17 percent—or below 2005 levels—by the year 2020.
3. The global warming slowdown showed that international agreements can reduce climate change.
The so-called global warming "slowdown" you heard about over the summer certainly doesn't mean that global warming has stopped—regardless of what climate skeptics may be saying. Although climate scientists determined that over the past 15 years, the rate of the warming of the planet has slowed, the Earth's surface and oceans are continuing to heat up at an alarming rate. (Other recent research suggests the slowdown might not have occurred.) But one study found an unexpected factor contributed to the slowdown: the partial cause appears to be a planet-wide phaseout of greenhouse-trapping gases called chlorofluorocarbons (CFCs), which more than 40 countries agreed to by signing the Montreal Protocol in 1988. Without the protocol, environmental economist Francisco Estrada of the Universidad Nacional Autónoma de México reports, global temperatures today would be about a tenth of a degree Celsius higher than they are, Tim McDonnell explained earlier this month. That's roughly an eighth of the total warming documented since 1880. Bottom line? The global warming slowdown actually seems to be a strong indication that international treaties aimed at reducing climate change can work—and that we need more of them.
4. The world's largest economies will reduce the use of a potent greenhouse gas.
The phaseout of CFCs had another unexpected outcome. Manufacturers began to replace CFCs—used in air conditioners, refrigerators, and aerosol cans—with hydrofluorocarbons (HFCs). HFCs don't eat away at the ozone layer like CFCs do. But scientists recently concluded HFCs are a type of super-pollutant—gases that have exponentially more heat-trapping ability than carbon dioxide, although they dissipate from the atmosphere within a few years. Without intervention, HFCs were on track to make a huge contribution to global warming. If present trends hold steady, then by the year 2050, the amount of HFCs humans will have released into the atmosphere will cause as much warming as 90 billion metric tons of carbon dioxide. But this year saw positive signs that world leaders are ready to curb this powerful greenhouse gas. In a deal that the White House announced in June, the U.S. and China agreed to explore technologies and financial incentives to reduce the use of HFCs. Three months later, leaders of the Group of 20, which includes major economic powers like Russia, announced that their countries, too, would make plans to reduce the use of HFCs.
Visit EcoWatch's CLIMATE CHANGE page for more related news on this topic.

Far from being a "solution" to climate change, natural gas extracted from shale is a huge contributor of greenhouse gases when both methane and carbon dioxide are considered, according to a major new study by three Cornell University researchers.
The natural gas industry already accounts for almost a fifth (17 percent) of the total U.S. greenhouse gas emissions inventory, when analyzed using recently available new evidence. This percentage is predicted to grow to almost one quarter (23 percent) as shale gas continues to replace conventional natural gas.
Methane, which is a far more powerful greenhouse gas than carbon dioxide, is the culprit, according to the report.
The study Venting and Leaking of Methane from Shale Gas Development, is the work of professor Robert Howarth and Renee Santoro, researchers in the Department of Ecology & Evolutionary Biology, Cornell University, and Anthony Ingraffea, a professor in the School of Civil and Environmental Engineering at Cornell.
The study follows up on the author's groundbreaking April 2011 paper, which provided the first comprehensive analysis of greenhouse gas emissions from shale gas obtained by hydraulic fracturing, with a focus on methane emissions. Rather than understating the impact by looking only at shale gas used for electricity generation (just 30 percent of U.S. usage), the studies also look at heat generation (the largest use) over both a 20- and 100-year time frame. The new paper emphasizes this 20-year time frame, and analyzes the U.S. national greenhouse gas inventory in that context.
The 20-year time frame is particularly important, the authors explain, because it may well be the timing for a "tipping point" for climate change if emissions are not brought under immediate control. The new paper builds on major new findings from the United Nations and from researchers at NASA published over the past six months, highlighting the urgent need to immediately reduce methane pollution globally.
Robert W. Howarth, David R. Atkinson professor, Department of Ecology & Evolutionary Biology, Cornell University, said: "We believe the preponderance of evidence indicates shale gas has a larger greenhouse gas footprint than conventional gas, considered over any time scale. The greenhouse gas footprint of shale gas also exceeds that of oil or coal when considered at decadal time scales, no matter how the gas is used. We stand by the conclusion of our 2011 research: 'The large [greenhouse gas] footprint of shale gas undercuts the logic of its use as a bridging fuel over coming decades, if the goal is to reduce global warming.'"
Anthony Ingraffea, Dwight C. Baum professor, School of Civil and Environmental Engineering, Cornell University, said: "Can shale-gas methane emissions be reduced? Clearly yes, and proposed EPA regulations to require capture of gas at the time of well completions are an important step. Regulations are necessary to accomplish emission reductions, as economic considerations alone have not driven such reductions. And it may be extremely expensive to reduce leakage associated with aging infrastructure, particularly distribution pipelines in cities but also long-distance transmission pipelines, which are on average more than 50 years old in the U.S. Should society invest massive capital in such improvements for a bridge fuel that is to be used for only 20 to 30 years, or would the capital be better spent on constructing a smart electric grid and other technologies that move towards a truly green energy future?"
According to the report:
• The natural gas industry dominates methane emissions for the U.S., contributing 39 percent of the nation's total methane emissions.
• On an overall basis, methane makes up 44 percent of all greenhouse gas emissions when considered on the 20-year time frame after emission, including all gases and all human activities.
• The methane emissions from natural gas systems make up 17 percent of the entire man-made greenhouse gas emission inventory of the U.S., when viewed through the lens of the 20-year time frame.
• When viewed on the time scale of 100 years following emission, the importance of methane is substantially reduced, but the shorter time frame is critical, given possible tipping points in the global climate system over the coming few decades.
For more information, click here. To listen to the streaming audio of the Jan. 19 telenews event, click here.