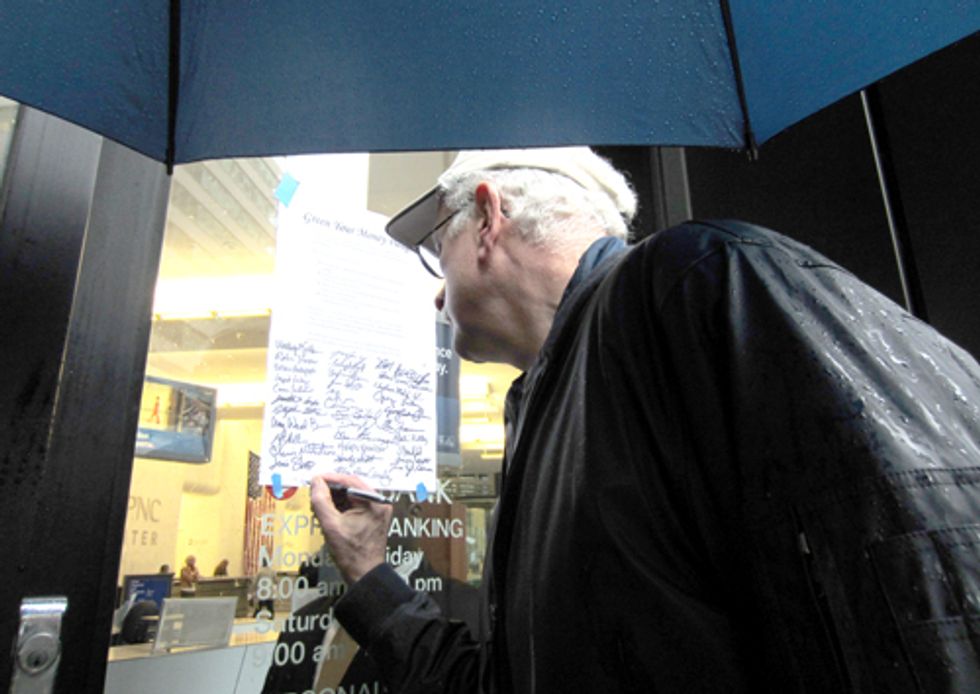 Members of Earth Quaker Action Team (EQAT) launched a website and held a press conference on Feb. 29 with 50 attendees to kick-off their Green Your Money Initiative. Green Your Money is a program to encourage consumers to close their accounts with PNC and pressure the bank to end all financing for companies that practice a controversial form of surface coal mining known as mountaintop removal. EQAT said they are giving PNC until May 31, 2012, or 90 days, to do so.
Kathy Miller, peace activist and member of Chestnut Hill Quaker Meeting announced that her congregation has formally decided to remove $1.9 million, which they have raised to build a new meetinghouse, from their current PNC accounts. "We are deeply concerned about this major destruction of the environment, and think it is important that the financial business and transactions of the Meeting are conducted in accordance with Quaker values and testimonies," Miller said.
Chris Nicholson spoke of his Quaker grandfather, co-founder of Provident National Bank, commonly known as "the Quaker Bank," which, after merging with Pittsburgh National in 1982, became PNC Financial Services. "He was a scientist, botanist, and astronomer, and an active Quaker. He had a strong interest in environmental issues and I am sure that he would object now to PNC money being used for destructive mining practices."
Pallavi Podapati represented members of the Temple and Penn Communities Against Mountaintop Removal, who met last month with senior PNC executives and are now organizing Green Your Money campaigns on both campuses. In addition, Swarthmore professor George Lakey announced plans for a Green Walk for Jobs and Justice, a 200 mile, 16-day walk between Philadelphia and PNC National Headquarters in Pittsburgh, stopping at Quaker meetings, like-minded congregations and PNC banks along the way.
Following the press conference, 30 participants walked to PNC regional headquarters, where they were locked out in the rain by the bank. The demonstrators were able to hand deliver a letter to PNC Philadelphia Regional President J. William Mills, and posted their pledge to the front door of the bank. "By joining together, we can call PNC Bank back into integrity with its publicly stated values, stand with the people of Appalachia, and help take the profit out of financing climate change," said Walter Hjelt Sullivan, program director with EQAT.
Mountaintop removal is a form of surface mining practiced in Appalachia that uses explosives to access the coal beneath. Recently released studies have associated high rates of respiratory disease, cancer and birth defects with proximity to these mining sites. EQAT has given PNC bank until May 31st to enact a 'sector exclusion' that would end its investments in companies that practice mountaintop removal, and has opened the website "GreenPNC.org" to collect Green Your Money pledges.
According to Rainforest Action Network, PNC Bank, which claims to have done "more to energize the green cause" than any other major bank, is one of the largest financiers of mountaintop removal. Published reports show that PNC has provided loans in the last year to companies responsible for up to 47 percent of all mountaintop removal mining, in spite of issuing a new policy in 2010 which appears to distance the bank from the practice.
For more information, click here.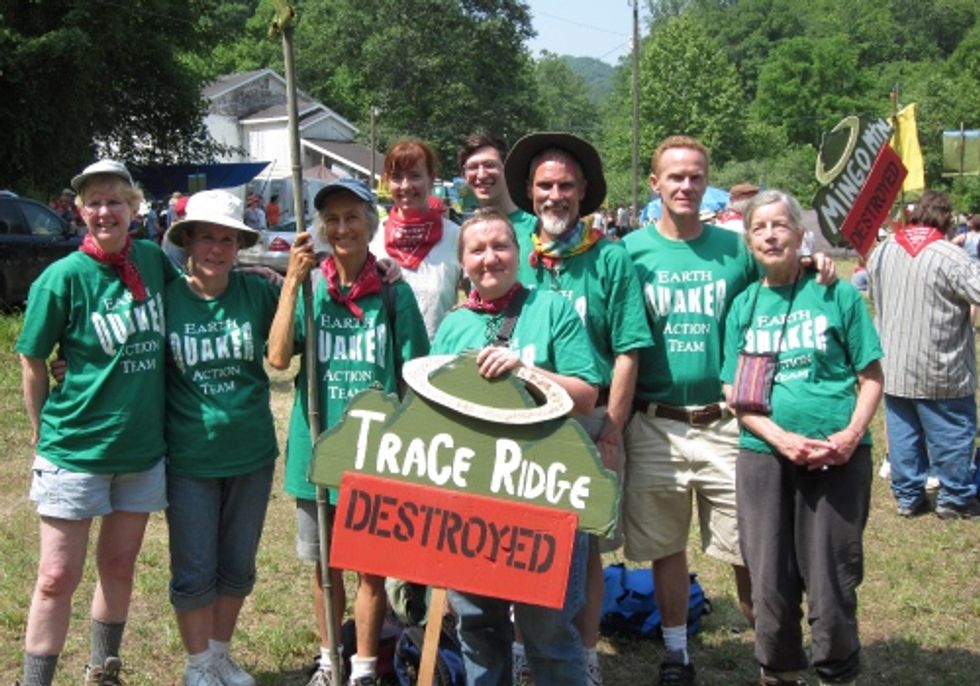 WHAT: Press conference to kickoff Earth Quaker Action Team's new Green Your Money Initiative
WHEN: Feb. 29, noon – 12:30 p.m.
WHERE: Friends Center, 1515 Cherry St., Philadelphia, Pennsylvania 19102
On Feb. 29, the Earth Quaker Action Team (EQAT) will hold a press conference to kickoff its new Green Your Money initiative. Green Your Money is a program to organize Quaker individuals, meetings and organizations to remove their money from PNC Bank and pressure them to end all financial support for companies that practice mountaintop removal coal mining.
PNC Bank—historical inheritor of the "Quaker Bank" legacy and self-described green bank—continues to be one of the nations two largest financiers of mountaintop removal according to recently released reports from the Rainforest Action Network.
At the kickoff, EQAT will unveil their new website, report on the first $1.9 million Quaker dollars pledged to be withdrawn from PNC and announce a Walk for Jobs and Justice from Philadelphia to PNC National Headquarters in Pittsburgh.
Speakers will include:
• Chris Nicholson, grandson of John E. Carter, 1865 co-founder of "the Quaker Bank"
• George Lakey, Swarthmore professor, director of the Global Nonviolent Action Database
• A representative of Chestnut Hill Friends Meeting, which is planning to withdraw $1.9 million from PNC Bank, inspired by EQAT's campaign.
Following the press conference, participants will deliver a notice to PNC regional headquarters at 1600 Market St., Philadelphia, PA 19103. They will also post a petition on PNC's front door, conduct street speaking and recruit pledges from PNC account holders.
For more information, click here.
EcoWatch Daily Newsletter