This website uses cookies to ensure you get the best experience while browsing it. By clicking 'Got It' you're accepting these terms.


The best of EcoWatch, right in your inbox. Sign up for our email newsletter!
A mountaintop removal site near Pikeville, Kentucky. Photo credit: Kenny Stanley/Berkeley Energy Group
Apple's solar PV facility in Maiden, North Carolina is helping the state become a national solar leader. Photo credit: James West / Climate Desk
With an incoming presidential administration seemingly hostile towards action on climate change, local solutions are now more important than ever. With or without Donald Trump's help, the North Carolina municipality of Boone is calling on the whole state—and the United States at large—to encourage green jobs and transition to 100 percent clean energy across all energy sectors.
The resolution was approved by a 5-0 vote by Boone Town Council on Thursday. This makes Boone the first town in the country to officially demand that the U.S. completely ditch fossil fuels to "avoid climate catastrophe."
The country's total transition to clean energy is not as far-fetched as it seems. Boone's resolution was inspired in part by the research of renewable energy expert Dr. Mark Z. Jacobson, a Stanford University professor and cofounder of The Solutions Project, a state-by-state roadmap to convert the country to 100 percent renewable energy by 2050.

You might have heard of the project before. In fact, Jacobson stopped by David Letterman's late-night television show in 2013 to explain how the whole world, not just the U.S., can transition to renewables.
"There's enough wind to power the entire world, for all purposes, around seven times over," Jacobson explained then. "Solar, about 30 times over, in high-solar locations worldwide."
Jacobson is an advisor for the North Carolina Climate Solutions Coalition which endorsed Boone's resolution.
"This decision by Boone, North Carolina to commit to transitioning to 100 percent clean, renewable energy sets a great example for other towns and cities in the U.S. and around the world," Jacobson commented to EcoWatch. "It is now established that such a transition is possible state by state and country by country."
Last year, the Solutions Project team published a study explaining how each state in the country can replace fossil fuels by tapping into renewable resources available in each state such as wind, solar, geothermal, hydroelectric, and even small amounts of tidal and wave power.
The authors found that converting the nation's energy infrastructure into renewables is ideal because it helps fight climate change, saves lives by eliminating air pollution, creates jobs in the rapidly booming renewable energy sector and also stabilizes energy prices.
North Carolina's roadmap to renewables.The Solutions Project
"The results of such a transition are the creation of more net long-term jobs than lost (2 million more if the U.S. converts), more stable energy prices (since wind and solar fuel costs are zero), lower overall energy costs, lower terrorism and grid blackout risk (because energy sources will be more decentralized), no more air pollution mortality from fossil fuels and a reduction in global warming," Jacobson explained.
One reason Boone adopted its resolution is because North Carolina is a solar power all star. The Tar Heel state ranks third in the nation in installed solar capacity, with enough to power 260,000 homes. The state's solar power industry employs some 6,000 people. In 2015, nearly $1.7 billion was invested on solar installations in the state. Not only that, the Atlantic coast state also has incredible offshore wind energy potential.
"Leading economists, policy experts, and business leaders conclude that transitioning to a clean energy economy available for all would create millions of green jobs nationally, improve our living standards, and boost economic growth in coming years," Boone's resolution states.
Boone's resolution stresses that the state's most disadvantaged populations are most affected by a warming planet, which is why action is needed.
"Low-income communities and communities of color in North Carolina and the United States are inordinately exposed to pollution, that causes serious health problems such as cancer and asthma, from fossil fuels, including the dirtiest coal-fired power plants which produce coal ash, are disproportionately located in communities of color," it reads.
Unlike our president-elect and his top staff comprised of climate change deniers and fossil fuel puppets, Boone's town council accepts that rising global average temperatures are primarily due to human-caused fossil fuels emissions and that 195 nations agreed during the Paris climate talks to hold global temperature rise well below 2 degrees Celsius.
Jacobson believes that the country's transition to sustainable energy is possible but the main barriers are "social and political rather than technical or economic." See North Carolina's storied solar wars, for example.
"Boone," however, as Jacobson said, "has overcome many of the social and political barriers."
Dr. Michael E. Mann, renowned climate scientist and fellow North Carolina Climate Solutions Coalition advisor, praised the town's vote.
"Daniel Boone was an early pioneer who explored our nation's frontiers during it's early history. So it seems fitting that a town named after him would serve as our next great American pioneer, boldly leading us into the frontier of a clean energy-driven economy," he told EcoWatch. "Just when we really needed some good news in the climate change battle, I thank the people of Boone, North Carolina for providing some."
EcoWatch Daily Newsletter
GTM Research and the Solar Energy Industries Association (SEIA) today release U.S. Solar Market Insight: 1st Quarter 2013, the definitive analysis of solar power markets in the U.S., with strategic state-specific data for 28 U.S. states and the District of Columbia.

 This quarter's report finds that the U.S. installed 723 megawatts (MW) in Q1 2013, which accounted for more than 48 percent of all new electric capacity installed in the U.S. last quarter. Overall, these installations represent the best first quarter of any given year for the industry. In addition, the residential and utility market segments registered first-quarter highs with 164 MW and 318 MW respectively.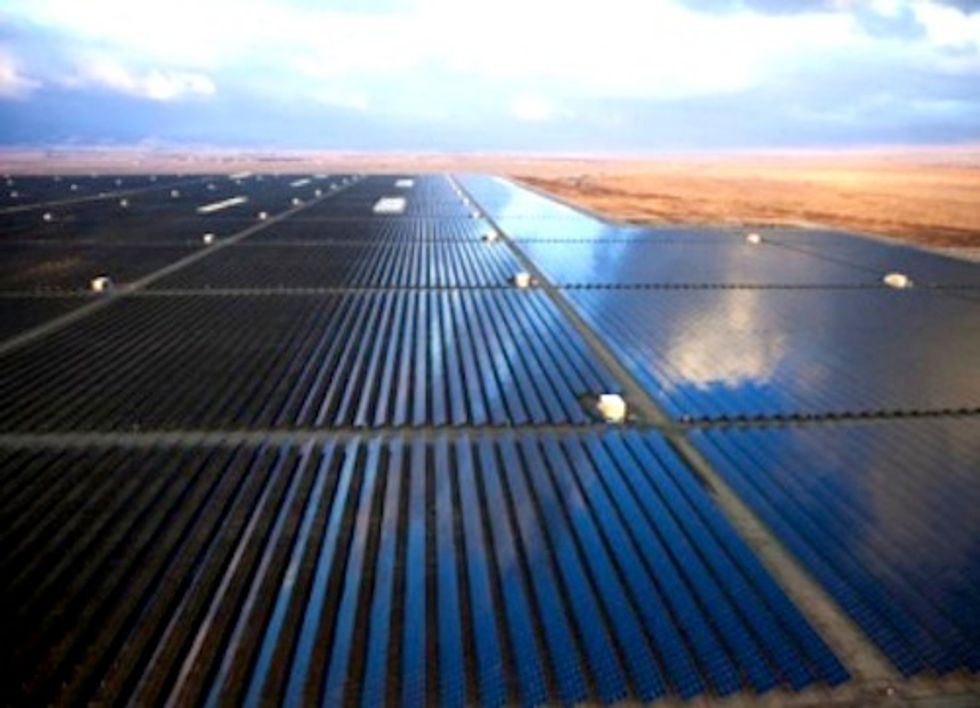 "We are on the cusp of a new solar revolution in the U.S., driven by the rapid expansion of distributed generation," said Shayle Kann, vice president of research at GTM. "Installations will speed up over the next four years as projects become economically preferable to retail power in more locations. However, changes to net metering and electricity rate structures could serve as the market's primary barrier to adoption."


As explored in greater detail in the report, the residential market remains a highlight for U.S. solar with 53 percent year-over-year growth. Unlike the non-residential and utility markets, residential solar has not exhibited seasonality and market volatility on a national basis; quarterly growth in the U.S. residential market has ranged from four percent to 21 percent in 12 of the past 13 quarters.


Furthermore, third-party owned (TPO) residential systems continue to be a major storyline in the market. In key states of California and Arizona, for example, TPO systems accounted for 67 percent and 86 percent respectively of all residential photovaltic (PV) installed in Q1 2013. 

In fact, the California residential market had a record quarter, installing more new PV capacity than ever before, and for the first time was greater than the non-residential market.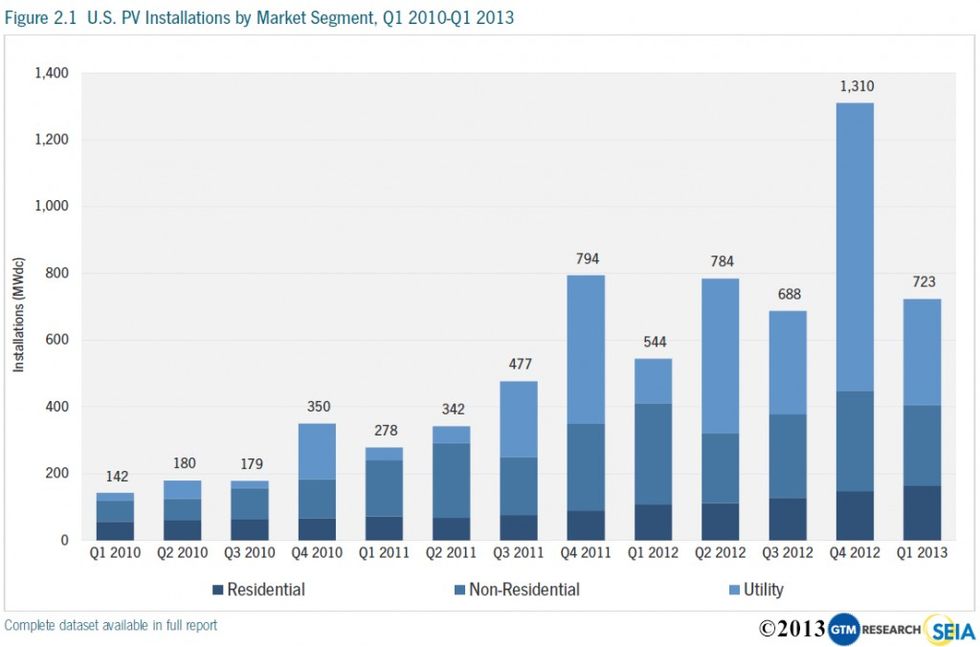 This is largely driven by increased "retail rate" parity in major utility territories, where a residential PV system can provide a discount at retail electricity rates with few or no incentives other than the 30 percent federal investment tax credit.

 Percentage of New Residential Installations Owned by Third Party in California, Arizona, Colorado and Massachusetts, Q1 2011–Q1 2013
.
Looking at the market on the whole, U.S. Solar Market Insight: 1st Quarter 2013 forecasts 4.4 gigawatts (GW) of PV to be installed by the end of 2013, growing to nearly 9.2 GW annually in 2016. GTM Research and SEIA have increased each year's forecast marginally from past editions of the report, due largely to increasingly bullish expectations for the residential market and the near-term opportunity it offers. 

Despite the fact that little concentrating solar power (CSP) capacity came online during Q1 2013, CSP is also expected to make major gains by the end of the year, adding more than 900 MW of capacity. Combined, the U.S. is expected to add 5.3 GW of solar electric capacity in 2013, enough to power more than 960,000 average American homes.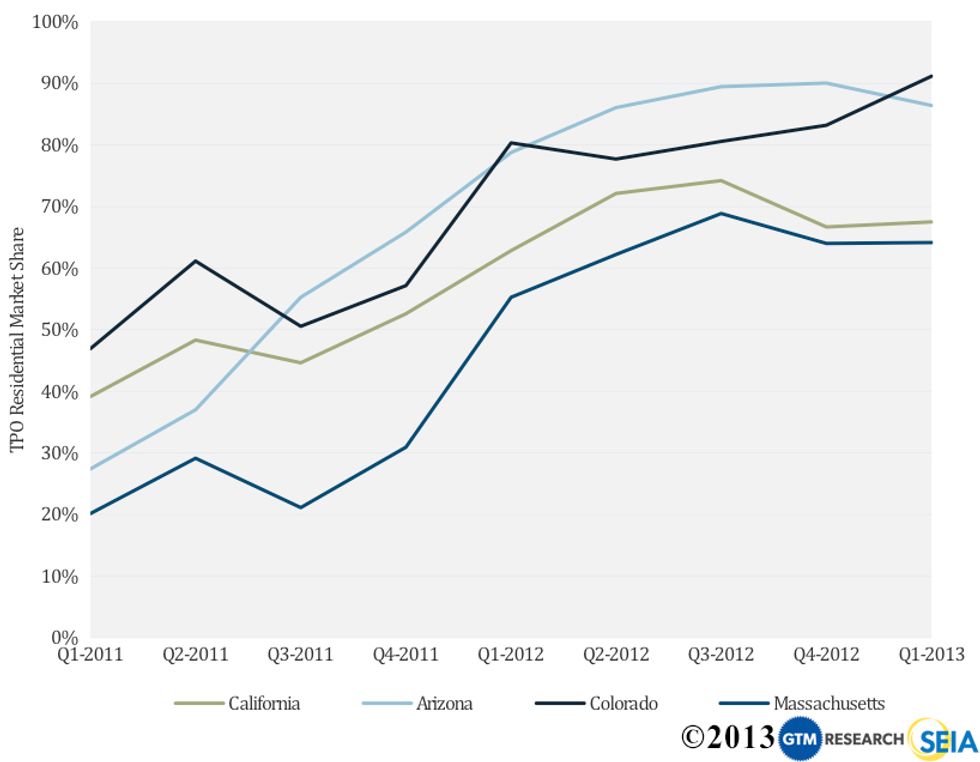 "The U.S. now has more than 8,500 MW of cumulative installed solar electric capacity, enough to power more than 1.3 million American households," said Rhone Resch, president and CEO of SEIA.
"This sustained growth is enabling the solar industry to create thousands of good American jobs and to provide clean, affordable energy for more families, businesses, utilities and the military than ever before," said Resch. "This growth simply would not have occurred without consistent, long-term policies that have helped to ensure a stable business environment for our nation's 5,600 solar companies—many of them small businesses."


Key Report Findings

:
 PV installations totaled 723 MW in Q1 2013, up 33 percent over Q1 2012

Cumulative operating PV capacity in the U.S. now stands at 7.9 GW

The residential market grew 53 percent over Q1 2012 and 11 percent over Q4 2012, continuing its streak of consistent incremental quarterly growth

The non-residential market shrank 20 percent on both a quarterly and annual basis, which reflects slow demand across a number of major markets

The utility market more than doubled year-over-year, with 24 utility PV projects completed in Q1 2013

The average residential PV system price fell below $5.00 per watt, while the average non-residential system price fell below $4.00 per watt

Visit EcoWatch's RENEWABLES page for more related news on this topic.
——–
Click here to tell Congress to Expedite Renewable Energy

By Jason Mark
"The arc of the moral universe is long," Dr. Martin Luther King, Jr. said, "but it bends toward justice." That famous line could also serve as an apt description for the comeback of Van Jones. In 2009, the veteran social justice and environmental activist was hounded out of his White House job by right wing loudmouth Glenn Beck. "A high tech lynching," is how one commentator described the concocted controversy that led Jones to resign his post as special advisor for green jobs. Fast-forward four years, and Jones remains one of the most inspiring figures in the progressive movement. He has a new organization—Rebuild the Dream, dedicated to repairing the tattered social safety net of the U.S.—and is a paid pundit on CNN. And Glenn Beck? He's off somewhere in the hinterlands of Internet television, peddling goldbug fantasies.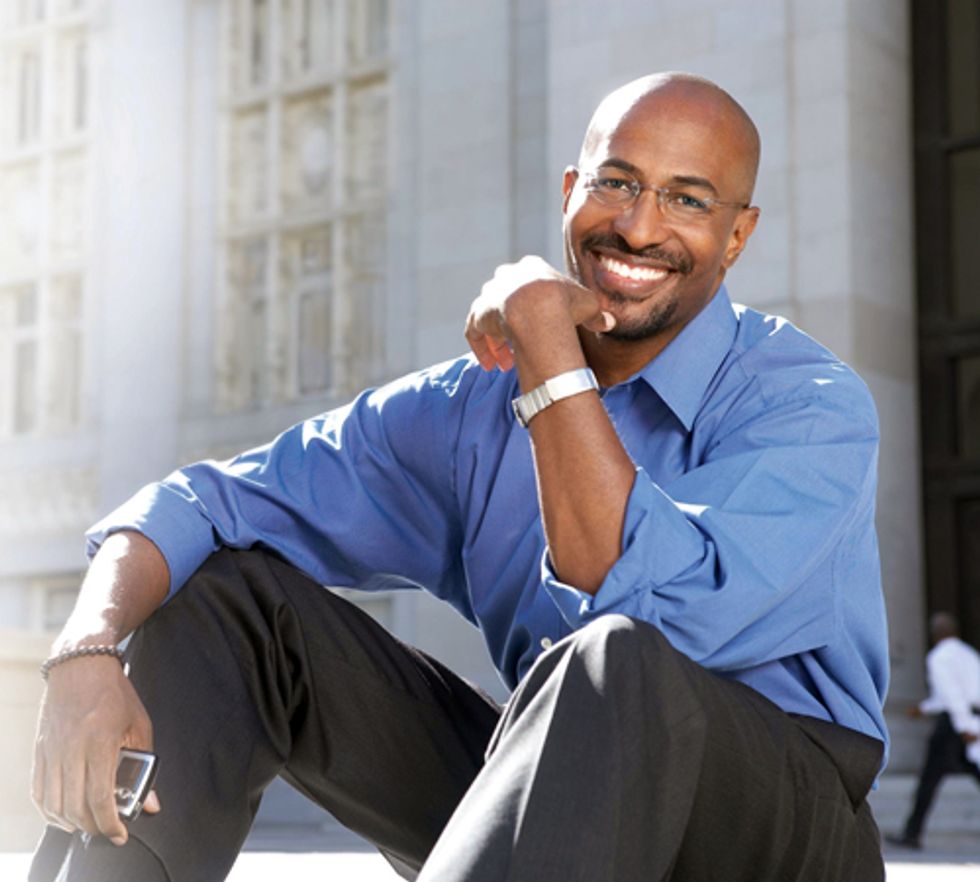 Looking back today, Jones doesn't express much bitterness about the episode. "Your successes give you your confidence and your setbacks give you your character," he told me in a recent interview. While he still promotes the hopeful, and heartfelt, vision of a green and fair economy, the experience of a public takedown seems to have spiked his optimism with a bit of political sobriety. "My failures are the things that tend to give me real insight about what works and what doesn't work."
If anything, his roller coaster career seems to have given the preternaturally strategic Jones even more political savvy. Among other observations, Jones feels that environmentalists specifically, and progressives generally, do a poor job of celebrating their victories.
"Depending on what you call a green job, there are as many as 3 million green jobs," he told me. "I don't know why people say, 'Well, jeez, green jobs are such a failure,' … I'd like to have a few more failures like that."
Me, too. It would help demonstrate, as Jones himself has proved, that the arc of the moral universe isn't as long as we might fear.
Mark: When we talked to you right before the Forward on Climate rally in Washington you had some pretty strong words for President Obama, saying that if he approves the Keystone XL pipeline, the first thing it will run over will be his credibility. If you were a betting man, where would you put your money on whether the president is going to approve the pipeline?
Jones: Well, I think if you look at the signals that [the administration] is sending, you would have to come to the conclusion that it's more likely that they will approve this awful pipeline than that they will reject it. However, they did just receive a million online comments almost entirely opposing the project. The EPA [U.S. Environmental Protection Agency] just came out saying that the State Department's environmental review was inadequate, which I think shows there are cracks inside the administration. And I don't think this fight is over. I think you would be kidding yourself if you said that the environmentalists are in the lead—but I think you'd also be wrong to say that the race is over. I think that environmentalists—and not just environmentalists, but people who have the good sense to understand economics and math and have any intelligence at all—can still win. But it's going to take more pressure. The other factor I would say is that never underestimate the power of a really good film. Al Gore showed that. He changed the entire global conversation with one really good film. Well, Bill McKibben just put out in the online world arguably an equally powerful film, Do the Math. Never underestimate the power of that to wind up on the screen of someone with power, or that person's spouse or child or neighbor. So this fight is not over.
Mark: Some important progress was made in President Obama's first term, including a significant down payment on the green economy via the stimulus package and increased fuel-economy standards for car and trucks. But in general I think many people are disappointed that the president hasn't shown more leadership around the climate crisis. Why haven't we seen more passionate leadership from the president on the environment?
Jones: I don't think we have seen consistent and passionate leadership from any part of society—including the environmental movement—on the climate issue. With the exception of a few lonely voices. I think the failure to pass cap and trade left the entire environmental movement somewhat disoriented. When you get as close as we did and you come up short, it takes a while for people to get life back into them. I think that 350.org, the youth and the other people that are in this fight—the Native Americans and the farmers and the ranchers have been fighting against the [Keystone XL] pipeline—and Bill McKibben have been carrying the banner since 2010. And it's definitely good work. But in general a president does not get too far ahead of the public on any major issue. If you look at civil rights, it wasn't Lyndon Johnson who led the civil rights movement. There was Selma, and you had people in the streets, and you had people going to jail and you had a spokesperson like Dr. King—and it was in that context that Johnson did what he did.
I think we have this myth that presidents lead great movements. What happens is that presidents ratify the achievements of great movements. And you see that in the LGBT movement. The president was able to come out and say he was personally for marriage equality after a tenacious movement and fight in the streets, in the courts and in the media. Hollywood had already won ground so he can safely occupy it.
Usually presidents don't bail out failed movements. They usually stand behind rising movements. You can see that with immigration, you see that with marriage equality.
Mark: This is the 64-million-dollar question that everyone in the environmental movement is asking, but what do you think are some of the explanations for why we haven't seen an ascendant movement that would create the political space for the president?
Jones: Well, I think that to the extent that climate solutions seem abstract and the concern of an intellectual elite, it makes the movement more vulnerable to being dismissed. And then there's the importance of the state of the struggle. Al Gore raised the alarm with his film An Inconvenient Truth, and then an overlapping set of people raised up the solution of a green economy that would fix the problem while delivering more work, more wealth and better help to people who who need that. That particular formulation really threatened the polluters. The idea that we were coming forward with economic solutions that were business-friendly, pro-innovation, pro-investment, pro-American independence, that could actually deliver more jobs than the coal companies—that scared the bejeebers out of the Koch Brothers. And it scared the bejeebers out of the Heritage Foundation. And it scared the bejeebers out of Big Coal and Big Oil. Those forces don't get together and attack ideas they think are weak and stupid. They get together and attack ideas that are strong and promising. And they declared on the front page of the Heritage Foundation website that "ending the myth of green jobs" was their number one priority. And then they came after the idea, hammer and tongs, to obliterate it from public discussion.
Rather than the environmental movement, and the labor movement, and the civil rights movement and the anti-poverty movement rallying around the idea—saying that if they are attacking the idea with this much force, we must be onto something—people backed away from it and handed them a victory. The reality is it's very hard to deliver economic change of any kind inside of 12 months. You can easily say, "Well, they passed the stimulus bill, and there are no green jobs, and therefore the idea didn't work." But that's a pretty stupid idea for us to buy. The very first time that green jobs was even incorporated into federal law was in the 2007 energy bill—the Green Jobs Act of 2007 that Bush signed. And there was not a penny put behind [the idea] until 2009. The very first time that you had any federal funding for green jobs at all was in 2009. And people were already saying, "Green jobs do not work." I mean, it was the most ridiculous surrender of high ground that I have seen in a political movement. To actually give up on your best idea 12 months after you just got your first penny for it. And then to never mention green jobs again.
That shows the fragility of the commitment to this idea. That's why I think there isn't a very broad [environmental] movement. A very broad movement would have to be an eco-populist movement, not an eco-elitist movement. It would have to be an eco-populist movement pointing to solutions that would help ordinary people. When we had that, we got hammered as any promising movement is going to get hammered. But rather than staying the course, and fighting it through and doubling down, I think there was this sense of running for the hills as soon as the polling numbers started to tank on the idea.
Even civil rights was not popular at one time—obviously, since it took 100 years to get to civil rights. Civil rights was desperately unpopular for 344 years. The forces that convened and converged to make green jobs such a hopeful possibility couldn't even withstand 344 days of hard attack. So we have to go back and look in the mirror and think.
Mark: Speaking of an eco-populism, despite some good-faith efforts to forge more solidarity between environmental groups and people of color organizations, the environmental movement continues to be very monochromatic. As I wrote right after the election, if your social movement looks more like a Romney-Ryan rally than an Obama-Biden rally, you're in trouble. What will it take to have an environmental movement that really reflects the diversity of this country?
Jones: That may be the wrong question. In may be that trying to figure out how to make the environmental movement more brown might not be the right question. It might be that the better question is: How do we make other movements more green? It could be you just have some built in cultural patterns inside of whatever is now called the environmental movement, patterns that will be too difficult to overturn in a frontal way. It might actually be more fruitful to say, "How do we take these rising movements that are much more diverse already and get them to be more green?" Get them to hold ecological solutions much closer in their own hearts as they try to solve their economic problems. That might actually wind up being more fruitful.
Mark: OK, then—how would that happen?
Jones: Well, the Latino community polls off the charts as pro-environment. The African-American community polls nearly off the charts in numbers. In fact, by polling, not by intensity, but in terms of broad support, the African-American community is much more environmentally friendly than the white community. And so I think we should go fishing where the fish are. There is a lot of environmental sentiment in the rising majority already that we don't have to go fight for. We don't have to get the Tea Party to join the environmental ranks. I think there's a lot to work with in existing rising movements. The challenge is that those communities have a lot of other tough problems. So there's an intensity question. But I mean, honestly, most Latinos and African-Americans are not going to get jobs in the coal industry. They are not going to get jobs from the oil industry. But they could get jobs in the clean energy economy, either putting up solar panels or selling them or marketing them. Or creating the hydroponic, organic food co-ops. There are a lot more economic solutions available to the rising majority that are green than what the Koch Brothers are going to be offering.
So there are innovations out there that we could drive more deeply into communities of color that might actually have the effect of more environmental ideas taken into the bloodstream without having to overturn 30 or 40 years of cultural dynamics in the self-identified environmental movement.
Mark: Your newest organization, Rebuild the Dream, is focused on bread and butter issues. How do you put these ecological solutions "into the bloodstream," as you say, while working on student loan debt, the foreclosure crisis, the continuing unemployment crisis?
Jones: Well, first, I want to come back to the green jobs thing, since a lot of people are critical of it. According to Brookings, there are 2.4 million green jobs in America right now. I don't think anyone knows that. According to the Department of Labor, there are 3.1 to 3.2 million green jobs in America right now. That's compared to 80,000 coal miners. There's 70,000 people who got up today and went to work in the wind industry alone. We almost have job parity between coal and wind, and that's despite the fact that fracking has flooded the market with cheap natural gas that is undercutting the wind industry. We still have 70,000 Americans who went to work in the wind industry today, this morning. That doesn't include the solar industry. Depending on what you call a green job and how you define it, there are as many as 3 million green jobs. So why is that considered a defeat? I really just want to circle back on that before I talk about the other stuff I've been working on. We don't claim the victories we get. I don't know any other movement that got its first nickel of federal money in 2009 that's got 3 million jobs. I mean, I don't know why people say, "Well, jeez, green jobs are such a failure." OK, can we ask for some more failures like that? I'd like to have a few more failures like that. I think the main problem is that we didn't say, "We want a million green jobs by 2013." Had we said that, we would have overshot our goal by twice. If you completely shift the economy into a clean energy economy I suppose you could have 7 million green jobs. What happened to the green jobs idea is that it suddenly became an overnight panacea to produce a utopia—as opposed to an economic development opportunity pathway to create a few million jobs. In our enthusiasm for the solution we kind of suggested it would happen in 12 months—and then it was a failure. I think that kind of mistake is understandable for a young movement, for a new movement, for a new idea. But there's not even an idea to replace it.
This is where my frustration comes in. For some people this was just another way to frame what they wanted to do. For some of us, it was survival. Like, this is how we're going to have jobs for our children. In a survival fight, you don't give up in 12 months just because the mainstream media has given up on it. In a survival fight, you don't give up on it in 12 months just because Koch Brothers don't like it. In a survival fight, you don't give up in 12 months because the polling data isn't as strong as it was. So I think that is part of the problem. For some people, it was never a real commitment to marginal communities, to laid-off workers, to folks in Appalachia who could have better work while we fix the climate. It was just a frame. And once the frame was damaged, it was just a sound bite. And once the sound bite took heavy fire from our opponents, a lot of people just walked away. When they walked away, they forgot to look over their shoulder and see 2 to 3 million Americans working right now who wouldn't be working. And since you're not looking for that, you don't see it.
People say, "I don't know anybody with a green job." Well, how many people do you know who work in coal mines? There's only 80,000 of them. You probably don't know any of them. But the people who are pro-coal sure make sure you see them everywhere. You can conjure up the image of a coal miner in your mind. Because the people who believe in that make sure it's in the public mind even though there are not that many people coal mining. There are just as many people working in wind. But how much time do we spend celebrating them?
We'd rather talk about how we couldn't have done better and shouldn't have done better. It's just to say that it's very hard to do better tomorrow if you don't claim your victories of yesterday and today.
I'm in this strange position of being frustrated and critical. But I don't only want to be frustrated and critical, because we have actually done some amazing things. Think of the big picture. Gore's movie came out in 2006. Nobody was talking about climate change on the national stage in 2005. In the 2004 campaign between Kerry and Bush, climate wasn't even an issue. In 2008, four years later, it was one of the main issues. In 2012, it didn't fall off the radar—it was driven off the radar by a concerted effort of some of the most powerful forces in American society. After we had got $90 billion of funding though the stimulus bill—90 billion with a B—for the biggest clean energy investment ever, after we had got the House of Representatives to pass climate legislation, and after we had gotten the president to push fuel economy on automobiles for the first time in years—then we got a counterattack. Which is understandable. But we didn't have a strong enough coalition who was committed to our strategy to withstand that. So now we're back on our heels, and now we have to get back in the game. But that's not, "We suck, and green jobs mysteriously never happened." It did happen. It just didn't happen at the scale people had hoped. But people's hopes were ill-defined in the first place.
Mark: You've worn a number of hats in your career—community-based attorney, author, White House official, now CNN pundit. In which of those roles did you feel the most empowered to make progressive social change?
Jones: Well, it's interesting, because it's the two extremes. But I think that when I was a broke, marginal, grassroots organizer I felt like I could get a lot done because you have no ties to the system. You can just fight the fight you just want to fight. And often you end up winning. Because it's that kind of David and Goliath syndrome where you don't know how much strength you have until you throw the punch. And you don't know much strength they have until they get punched. Sometimes you end up pulling these miraculous victories. I was very happy, for instance, to play a big role in preventing the construction of the superjail for kids they were going to build in Oakland in the early 2000s. I've always been proud of that victory, more than anything else I've ever been a part of. Or in the mid-1990s, getting the SFPD [San Francisco Police Department] to fire Marc Andaya for his role in beating to death Aaron Williams. That fight was back in 1997. It was my first real true victory for community justice. I look back to those fights with joy because it just shows what ordinary people can do with literally nothing more than determination.
And then, on the other extreme, working in the White House was a great opportunity. Getting the chance to basically play the role of an organizer inside the federal family. The inter-agency process that I headed was moving $80 billion out the door into communities across the country. I got a chance to work with almost a dozen agencies on behalf of the White House. So all my organizing skills from my grassroots days suddenly became incredibly handy. So at the furthest end of being an outsider and the furthest end of being an insider were the two times I probably felt the most effective.
Mark: So what would you say to young, up-and-coming progressive organizers who are not going to find themselves on either of those ends, but instead somewhere in the squishy middle?
Jones: I think finding mentors and role models always pays off. I've been so lucky. In my early life I had veterans from SNCC [the Student Nonviolent Coordinating Committee] who took me under the wing. Dinky Forman and Dottie Zellner were two SNCC workers who took me under their wing and continue to give me council. Carrie [Caroline] Kerry Kennedy and Arianna Huffington at different stages of my journey were instrumental in connecting me with opportunities, advisors and donors. Josh Mailman, who founded the Social Venture Network, was there for me at critical times. Al Gore was one of the first people to call me after I left the White House to encourage me. He said, "People have lost much bigger jobs in the White House than you have." Which I thought was the perfect thing to say. So I've been open to getting that kind of help.
What worries me about some of the younger activists is how isolated they seem to be at times in their own sub- sub- sub-cultures. And people in my age group, who are in their 40s, have a real responsibility to go above and beyond the call of duty to reach out, to be supportive, to be encouraging and to learn from the next generation. I think that's critical.
If there's anything I would say, it's embrace failure. Almost all of the things that get put on your resume are successes, and that's what tends to make it into your self-esteem bucket. But all of my failures are the things that tend to give me real insight about what works and what doesn't work. Your successes give you your confidence and your setbacks give you your character. And you have to have a lot of setbacks, and as a result have a much more sober and realistic view about how hard this work is. But, I've never been beat up, I've never been shot at, I've never had dogs set on me or fire hoses on me. Compared to earlier generations of activists, that's pretty good. I think it's important to keep that perspective. Any good planet needs a lot of sunshine and a lot of shit in order to grow. The question is if you can turn the shit into fertilizer.
Visit EcoWatch's CLIMATE CHANGE, RENEWABLES and ENERGY pages for more related news on this topic.
——–
Click here to tell Congress to Expedite Renewable Energy

Congress has been unable to extend vital tax credits for the wind industry, causing incredible uncertainty for investors in the fast-growing wind sector and threatening thousands of jobs across America, like those at Alliant Energy in Iowa highlighted in the video released by the Center for American Progress Dec. 20. With the production tax credit set to expire next December, manufacturers are already seeing a cut back in orders and developers are thinning their portfolios.
Wind companies need clarity on future investments and a looming tax credit expiration hurts business. Instead of protecting every kind of job, including green jobs, for American workers in this stagnant economy, some members of Congress are calling green jobs "illusory" and "political propaganda." So who are the American workers with jobs in the wind industry impacted by political inaction? And what do they have to lose?
Center for American Progress video producer Andrew Satter traveled to Iowa and spoke to people working in Iowa's wind industry—a sector that enjoys strong bipartisan support, maintains more than 3,000 jobs, and generates $50 million in revenue for the state each year. That economic activity helps support middle-class workers like Nathan Crawford, a wind technician with Alliant Energy who says he loves his job. "It's pretty cool that I get to do this every day," says Crawford. "The wind industry has been able to bring me and my wife back close to home."
But with national political leaders dragging their feet, they threaten these good-paying, middle-class jobs in America's heartland. That is the true price of inconsistency in clean energy policy.
Encourage American lawmakers to support the renewable energy industry by sending them a letter via the American Wind Energy Association website.
--------
The Center for American Progress is a nonpartisan research and educational institute dedicated to promoting a strong, just and free America that ensures opportunity for all. We believe that Americans are bound together by a common commitment to these values and we aspire to ensure that our national policies reflect these values. We work to find progressive and pragmatic solutions to significant domestic and international problems and develop policy proposals that foster a government that is "of the people, by the people and for the people."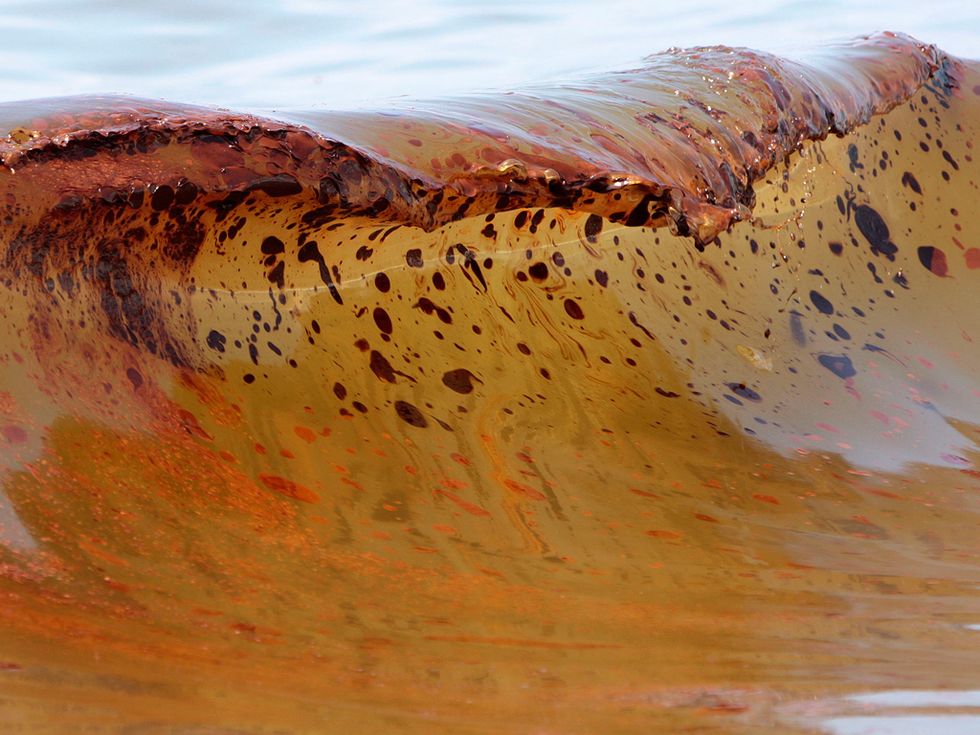 The Clean Water Act penalties from last year's British Petroleum (BP) oil disaster could kick-start the launch of a long-term investment in ecosystem restoration and create jobs that would benefit at least 140 businesses with nearly 400 employee locations in 37 states, including more than 260 in the Gulf Coast and nearly 60 in Florida, according to a new Duke University study. The report—RESTORING THE GULF COAST: New Markets for Established Firms—funded by a grant from the Walton Family Foundation to Environmental Defense Fund—is based on a sample of 140 firms linked to coastal restoration projects already undertaken or completed.
"Long-term ecosystem restoration would be an economic grand slam because it both protects current jobs in key Florida industries—like fishing, tourism, and shipping—and creates new jobs," said Jackie Prince Roberts, director of sustainable technologies for Environmental Defense Fund. "A study of Everglades restoration by Mather Economics—based on data from the U.S. Army Corps of Engineers—estimates that every $1 million of public investment in restoring the Everglades would create about 20 jobs. Our study helps Florida residents understand where those jobs can be created, and the opportunity Florida has to be a leader in this new industry sector that provides ecosystem restoration services to the Gulf, and to meet emerging global demand."
The study's release is timely because the House Transportation and Infrastructure Committee will hold a hearing Wednesday to examine bipartisan legislation, the RESTORE Act (H.R. 3096), that would dedicate 80 percent of the estimated $5-21 billion in Clean Water Act fines from the 4.9 million barrel spill to restoring the Gulf. The Senate Environment and Public Works Committee already has approved the Senate version of the bill (S. 1400), cosponsored by nine of the 10 Gulf state senators, including Florida's Bill Nelson (D) and Marco Rubio (R).
"Restoration projects activate a full supply chain linking materials providers, equipment manufacturers, shipbuilders, machinery repair firms, engineering and construction contractors and environmental resource firms," the report says. "Many of the firms are based in the Gulf Coast region. Having long worked in the marine construction industry building oil and gas industry infrastructure, they can apply the same skills and equipment to coastal restoration, thus finding new markets and a more diverse client base."
"Coastal habitat restoration typically creates at least 3-4 times as many jobs as road infrastructure or oil and gas projects for every $1 million invested," said Keith Bowers, president of Biohabitats, Inc., a conservation planning, ecological restoration and regenerative design firm that does restoration work in the Everglades, Big Cypress and Tampa Bay, Fla., Texas and Louisiana, and has offices in Baltimore, Md.; Louisville, Ky.; Raleigh, N.C.; North Charleston, S.C., Denver, Colo.; Cleveland, Ohio; Glen Ridge, N.J.; and Santa Fe, N.M. "This study proves ecological restoration can be a real catalyst for job creation, economic vitality and ecosystem resiliency. Passing the RESTORE Act could help restore the fishing and tourism industries in Florida and the other Gulf Coast states."
Two-thirds of the firms sampled have offices in the Gulf Coast and qualify as small businesses, according to Small Business Administration guidelines on number of employees. One of the firms is Taylor Engineering, an employee-owned design firm that restored seven miles of critically eroded beaches battered by hurricanes in Walton County and the city of Destin in Okaloosa County, and has full-service offices in Jacksonville and West Palm Beach, and local-service offices in Tampa and Destin, Fla., Savannah, Ga., Baltimore, Md., and Columbia, S.C. The firm has provided a life-cycle commitment to the art and science of delivering sustainable solutions in the water environment since 1983.
"If our customer base picks up in response to RESTORE funding, there would be a positive and sustainable long-term impact on our hiring," said James Marino, P.E., president of Taylor Engineering, and a certified Diplomat in Coastal Engineering, who was an officer in the U.S. Army Corps of Engineers for 20 years. "Restoration projects are very important to small and medium-sized firms like ours because they provide a valuable stream of work in a fragile economy. The cost to benefit ratio is very high for restoration projects, especially for beach restoration, which brings considerable value for regional economies in a multitude of business sectors. Not only do these projects serve as an immediate and prolonged benefit economically, but more importantly, the net positive effects provided to a sustainable environmental infrastructure are enduring."
The BP oil disaster worsened the damage to the badly degraded Mississippi River Delta wetlands, a priceless resource that "sustains the Gulf region's unique people and cultures and brings the U.S. economy billions of dollars each year in energy, fishing, shipping and tourism," the report states. "At stake in the loss of coastal wetlands is not only the environmental health of the Gulf region, but also several of the nation's vital industries."
The Gulf region's critical economic role, and the extent to which this role depends on the delta ecosystem, is evident in the following assets provided by the Gulf region:
The report notes that a robust coastal restoration sector has been developing in the marine construction industry, but recent budget cuts have stalled many authorized restoration projects.
"In Florida, the economy is the environment, but funding for environmental restoration projects has been reduced by the state and most local governments," said Michael L. Davis, vice president and principal, Keith and Schnars, P.A., an environmental, planning and engineering consulting firm that currently is working on the South Miami-Dade Watershed Study and Plan and has offices in Fort Lauderdale, Jacksonville and Doral, Florida. "The RESTORE Act is a win for Florida's economy and Florida's environment because it will enable environmental consulting firms like mine to hire additional biologists and engineers, and restoration construction contractors to buy more equipment and hire more operators."
The report concludes that coastal restoration is needed in Florida, California, the Pacific Northwest and the Great Lakes. If U.S. markets expand, the firms that serve them will be well positioned to sell to international markets as they develop in the future. For example, several countries in Asia are developing integrated coastal management programs, and recently India, Bangladesh, Indonesia and Vietnam have undertaken hundreds of millions of dollars' worth of coastal restoration projects. The RESTORE Act would continue to build this promising new sector.
For more information, click here.
—————
Environmental Defense Fund, a leading national nonprofit organization, creates transformational solutions to the most serious environmental problems. EDF links science, economics, law and innovative private-sector partnerships. Follow us at Twitter.com/EDF_Louisiana and at Facebook.com/EnvDefenseFund.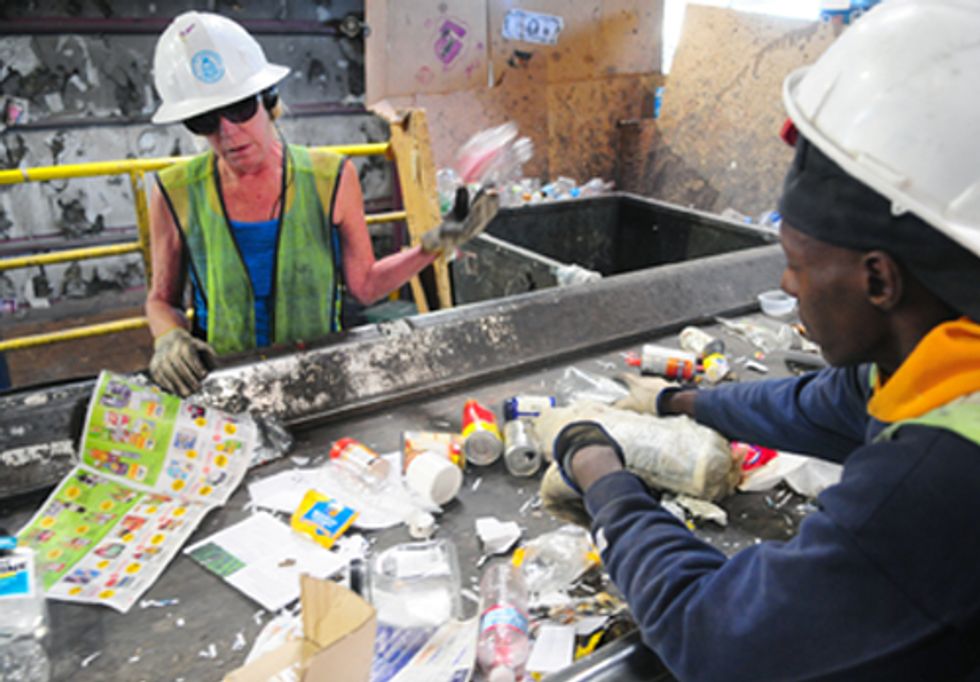 By Ananda Lee Tan
A new report called More Jobs, Less Pollution shows that a national, 75 percent recycling rate would create nearly 1.5 million new jobs while reducing an amount of climate pollution equal to shutting down 72 coal-fired power plants, or taking 50 million cars off the road. This report, produced for Global Alliance for Incinerator Alternatives (GAIA), the Teamsters, Blue Green Alliance, Natural Resources Defense Council and Service Employees International Union, describes the benefits of building a resource recovery economy that creates community jobs with family-supporting wages.
These are jobs we desperately need, and the money to invest in them could easily be redirected from subsidies that are currently being wasted on polluting incinerators and landfills. Simply put, we need to reinvest in recycling, composting, reuse and strategies that move us on the path toward zero waste and climate justice and green jobs.
For a short, informative take on this topic, watch The Story of Broke, which describes how hard-earned taxpayer money props up the "dinosaur economy" where we spend huge amounts of public money to subsidize the biggest polluting corporations in the U.S.
We need to demand that public money supports the future we want to see. Not only does recycling offer a cleaner, safer option for waste than landfilling or incineration, it also takes a lot less energy to manufacture products from recycled material than from newly extracted, material. Reaching a nationwide 75 percent recycling rate would create healthier communities too. Cities like San Francisco, Seattle and Oakland have shown this is achievable, and the state of California has set a statewide recycling goal of 75 percent by 2020.
Burning waste kills jobs, burdens public health and ruins local economies. Cities like Harrisburg, Pa. and Detroit, Mich. are going broke because incinerators are risky investments. Not only are they the most expensive way to make energy—incinerators are the most expensive way to handle waste.
A new GAIA report—Burning Public Money for Dirty Energy—exposes the tax breaks and public money handed to this industry. These subsidies are intended for clean, renewable energy, not a technology that creates more climate and mercury pollution per unit of energy than coal-fired power plants.
And now Congress is poised to make a bad situation worse by gutting the Clean Air Act for some incinerators and cement kilns (HR 2250, HR 2681). Earthjustice estimates the resulting pollution would cause up to 9,000 deaths every year. Congress is also considering a bill (HR 66) to create new tax exemptions for "waste-to-energy" incinerators.
Tell Congress no to bills for dirty energy, and yes to zero waste jobs. Recycling and composting are necessary steps to zero waste and climate justice. We simply need to stop subsidizing polluters, and get busy turning waste into work.
For more information, click here.