The Earth Day Network highlighted some of the country's greenest colleges and universities last week.
Here are their picks:
1. University of California, Santa Barbara (UCSB) for its commitment to water conservation. The school reduced water use by 20 percent, nine years before a target date of 2020 for all California public universities. UCSB plans to cut water use by another 20 percent by 2028 through its Water Action Plan, one of the most comprehensive water management plans created by a university. 
The Water Action Plan was first proposed in 2012 by a group of six graduate students at UCSB's Bren School of Environmental Science and Management. The first step was to conduct a massive water audit at the university. Next, the group of students wrote a series of recommendations to improve efficiency. The students recommended creating a new staff position to oversee water management, and the inclusion of water conservation in the academic curriculum.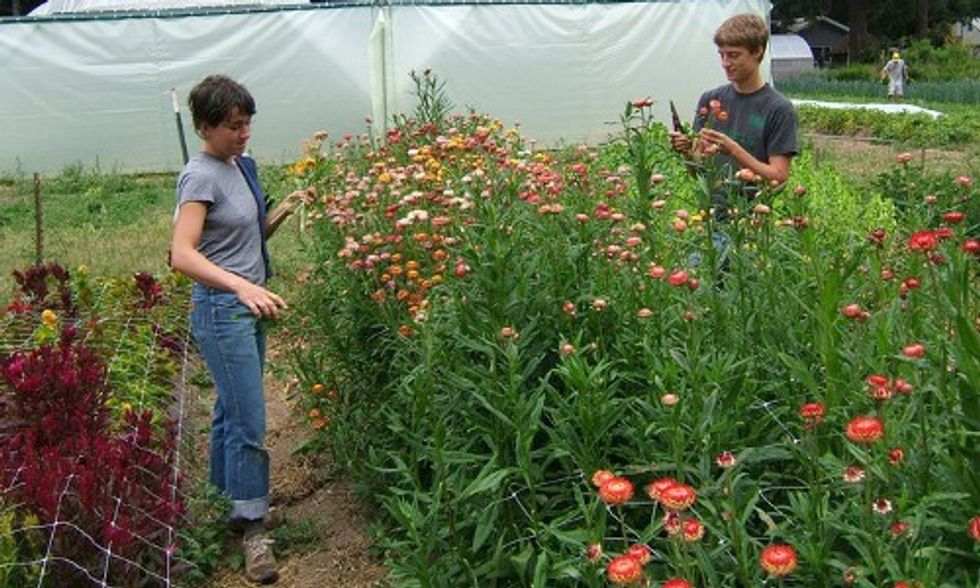 2. American University (AU) for its waste management strategy. The Washington, D.C. university has pledged to reach zero waste by 2020, meaning it will no longer send any waste to the landfill. It's an ambitious goal, but AU already is two-thirds of the way there, thanks to a massive composting program. Compost bins for organic waste are distributed throughout the campus. Other steps include reducing food waste in its dining halls. In 2009, the university's main dining hall decided to eliminate trays, resulting in 32 percent reduction in food waste and a 27 percent reduction in dish use.
3. University of Minnesota, Morris (UM-Morris) for its renewable energy portfolio. The UM-Morris campus derives 70 percent of its electricity from two 1.65 megawatt wind turbines. One—operated by the West Central Research and Outreach Center—was built in 2005. The other turbine was built in 2011 and is operated by the university. This makes UM-Morris home to the first large-scale wind research turbines at a U.S. public university. On windy days, these two turbines can provide enough electricity to power the entire campus. Just one of the turbines generates 5.6 million kilowatt hours of electricity a year.
The university relies on a biomass plant for heating and cooling. The plant is powered by 9,000 tons of corn cobs and prairie grass biofuels purchased from local farms—all within 20 miles of Morris—every year, adding $500,000 to the local economy and providing enough energy for at least 150 days of heating and cooling. The biomass plant cuts the university's fossil fuel use by 80 percent and eliminates 8,000 tons of carbon dioxide emissions every year.
UM-Morris also generates solar power. The campus's Regional Fitness Center is adorned with a 32-panel solar array, which heats the building's swimming pool. These panels prevent 30,000 pounds of carbon dioxide from entering the atmosphere each year. The campus's science buildings also have solar panels converting sunlight into electricity.
4. Evergreen State College in Washington state for managing its land responsibly and sustainably. The 1,000-acre campus is primarily composed of second-growth forest, which is a forest regenerated after harvests or severe disruptions like fire, storms or insects.
Dozens of trails wind through the trees, a few of which lead to Evergreen Beach, a unique coastal habitat in Puget Sound. The forest often is described as the campus' primary classroom, and provides opportunities for ecological and scientific research. The grounds are carefully and sustainably managed. No herbicides or insecticides are used for landscaping. Some parts of the forest maintain reserve status, to minimize foot traffic and protect the region's ecological balance—particularly the health of its watershed.
Five acres is devoted to agricultural and ecological studies. The plot includes a farmhouse, Demeter's Gardens, Community Gardens, a compost facility, a workroom, tool shed, greenhouses and the 38,000-square-foot production area of the Organic Farm. Sheep and chickens are raised at the farm, as well as a diverse array of produce. Produce is sold through a local CSA farmshare and an on-campus farm stand. Some of the produce is also served in Evergreen's dining halls. Students can intern at the farm for college credit.
Want to read about more green colleges and universities? In August, Sierra magazine released its seventh annual ranking of the nation's "Coolest Schools," a salute to U.S. colleges helping to solve climate problems and making significant efforts to operate sustainably.
Visit EcoWatch's CLIMATE CHANGE pages for more related news on this topic.

EcoWatch Daily Newsletter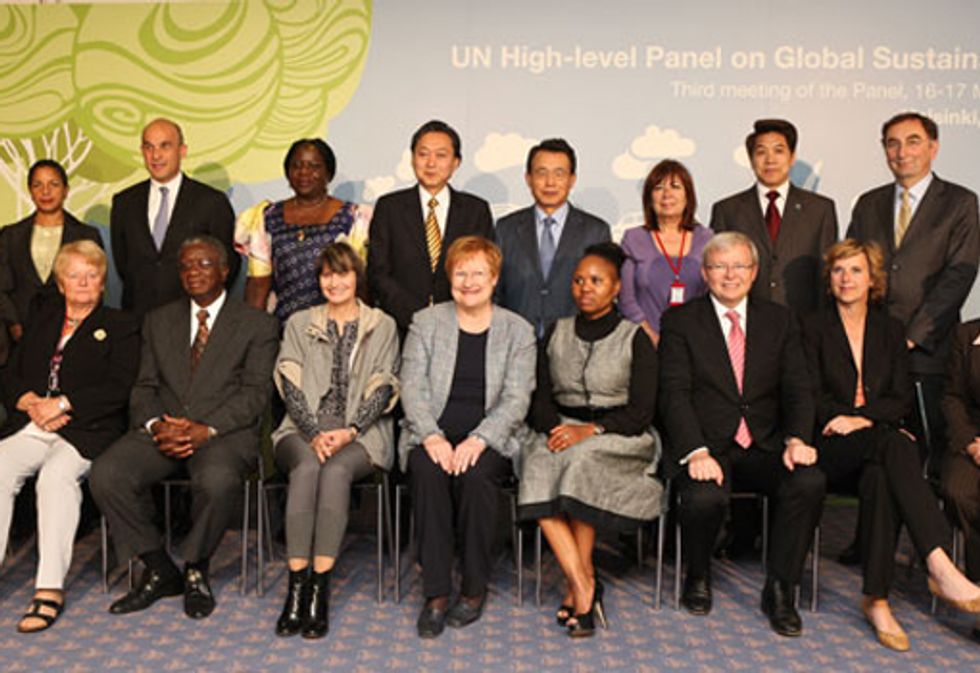 The United Nations (UN) High-Level Panel for Global Sustainability call for a radical redesign of the global economy for a healthy environment and social well-being deserves a wide audience and the full attention of all governments before this year's Rio+20 Earth Summit, global environment organization World Wildlife Fund (WWF) said Jan 30.
Resilient People, Resilient Planet: A Future worth Choosing, more than a year in preparation by a panel co-chaired by South African president Jacob Zuma and Finnish President Tarja Halonen, is a useful successor to Our Common Future, the 1987 Brundtland Report that became the reference text on sustainable development and the basis of the original 1992 Rio Earth Summit—for many considered the start of the global environmental movement.
"The Global Sustainability report gives the highest level political signal yet of greater readiness to take the bold steps needed to build a prosperous future," said Jim Leape, director general of WWF International.
"This report makes the alarming point that while we are already exceeding the Earth's capacity to support us, by 2030 we will need 50 percent more food, 45 percent more energy and 30 percent more water than we do today.
"The High-Level Panel report offers a vision for meeting those challenges. As negotiators develop the text for the Rio Summit in June, we look to them to embrace the urgency and commitments needed to turn this vision into reality."
Convened by UN Secretary General Ban Ki-moon in 2010, the panel was charged with providing a vision for sustainability, growth and prosperity in the years to come, along with a framework for moving past political and economic hurdles that put progress at risk. The panel, comprising current and former political leaders, was urged to make bold, practical and concrete recommendations reflecting the scale and urgency of the challenges faced by our planet.
Global conservation organization WWF welcomed the report's call for responsible consumer choices and sustainable resource management, and urged political leaders to create the enabling conditions to allow for the "21st century Green Revolution" called for in the Jan. 30 report.

Wanted urgently—a sustainable economy
The Global Sustainability report focuses on a number of essential measures to create a "green economy." WWF welcomes the wide-ranging recommendations which include:
 incorporating social and environmental costs in the regulation and pricing of goods
 the phasing out of counter-productive subsidies (particularly fossil fuel subsidies)
 a requirement for business groups to work with governments and international agencies to report annually on environmental practices
 the establishment of a "beyond GDP" Sustainable Development Index or set of indicators to be developed by 2014
A coherent institutional framework
The second important area covered by the report relates to the strengthening of institutional governance at all levels. Recommendations include:
 the establishment of universal Sustainable Development Goals to compliment and succeed the Millennium Development Goals post-2015
 the establishment of a new UN Global Sustainable Development Council
 a peer review mechanism to enable states to share experiences and lessons learned
Other notable areas of the report include:
 the recognition of the links between food, water and energy and the fact that they should not be treated as separate issues
 the need to give priority to challenges facing marine and coastal ecosystems
 funds for transition to sustainable development to developing countries
 increased resources for disaster risk reduction
Report's weaknesses
Much like the Rio+20 first negotiating draft issued earlier this month, the report is weak on binding commitments.
WWF did have concerns that while the recommendations for economic and institutional reform are positive, the report fails to suggest any concrete, time-bound commitments for progress, leaving policies open to governments to implement as they saw fit.
WWF urged the discussion at Rio to reflect the need for obligations and commitments in the recognition that this is about everyone's future prosperity.
While the report focuses strongly on environmental concerns, the Rio negotiations need to further integrate social issues which are core to sustainability.
For real change, we need to take into account social issues such as poverty eradication, gender equality, fair distribution of resources, advancing of education and employment creation. Recommendations must make the link between social welfare and environmental health.
Find more information on the Global Sustainability report by clicking here.
Learn more about WWF's reaction to the Rio+20 first negotiating draft by clicking here.
For more information, click here.
—————
WWF is one of the world's largest and most respected independent conservation organizations, with over 5 million supporters and a global network active in over 100 countries. WWF's mission is to stop the degradation of the earth's natural environment and to build a future in which humans live in harmony with nature, by conserving the world's biological diversity, ensuring that the use of renewable natural resources is sustainable, and promoting the reduction of pollution and wasteful consumption.
stocknroll / Getty Images
More and more Americans are retrofitting their bathrooms with high-end bidets, allowing them to enjoy cleanliness and hygiene without creating as much paper waste. Not all bidets are created equal, however, and before deciding on a particular brand, it's important to do your homework. Take a look at our comprehensive Toto bidet review, and our reviews of Tushy and Omigo, to learn more about all of their options.

<h2>Toto overview</h2><p>Toto is a company that has been around for over 100 years. They aim to improve people's quality of life, and they do that specifically by focusing on bathrooms. To that end, Toto is known for high-quality products including toilets, faucets, showers, bathtubs, and bidets. </p><p>Toto has also expressed an admirable commitment to ecological stewardship. As <a href="https://www.totousa.com/about-toto/toto-way" target="_blank">their corporate website</a> notes, they strive to "protect the global environment by conserving finite natural resources and energy." One example of this is their donation of any imperfectly fired porcelain products for recycling and reuse as porcelain floor tile. Their <a href="https://www.totousa.com/about-toto/living-toto-library/smart-sustainable-packaging-solution" rel="noopener noreferrer" target="_blank">packaging</a> uses differing levels of recycled post-consumer paper products while their forklifts operate using <a href="https://www.totousa.com/about-toto/living-toto-library/plant-based-hydraulics" rel="noopener noreferrer" target="_blank">plant-based hydraulics</a> made from soybean oil instead of traditional hydraulic oil.</p><p>Toto is definitely a company with a superior reputation when it comes to bathroom accessories in general, and bidets in particular. Here are reviews of some of the specific products in the Toto line.</p><h2>Toto bidet reviews</h2><p>There are two different bidet product families available from Toto: standalone bidets and bidet seat attachments. Their standalone models include the Piedmont bidet, the Lloyd bidet, and the Clayton bidet, while their bidet toilet seat offerings include a wide selection in the popular Washlet line. Here are details on the three standalone options and three of the most popular bidet seat attachments.</p><p><em>Each product featured here has been independently selected by the writer. If you make a purchase using the links included, we may earn commission.</em></p><h3>Toto standalone bidets</h3><h4></h4>
<h3>Toto bidet seats</h3>