When it comes to energy and economics in the climate-change era, nothing is what it seems. Most of us believe (or want to believe) that the second carbon era, the Age of Oil, will soon be superseded by the Age of Renewables, just as oil had long since superseded the Age of Coal. President Obama offered exactly this vision in a much-praised June address on climate change. True, fossil fuels will be needed a little bit longer, he indicated, but soon enough they will be overtaken by renewable forms of energy.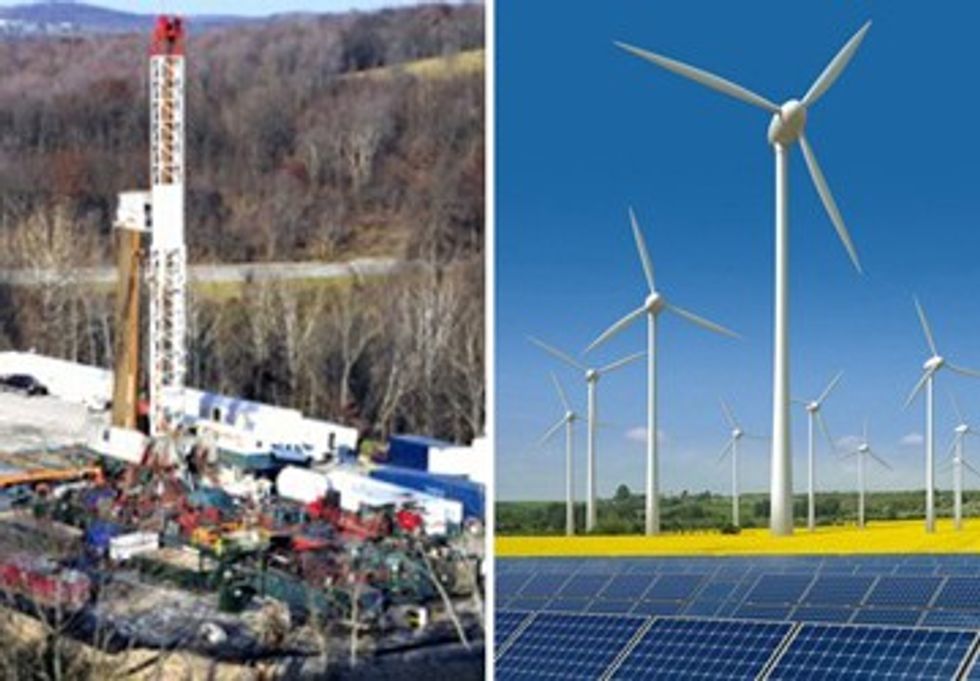 Many other experts share this view, assuring us that increased reliance on "clean" natural gas combined with expanded investments in wind and solar power will permit a smooth transition to a green energy future in which humanity will no longer be pouring carbon dioxide (CO2) and other greenhouse gases into the atmosphere. All this sounds promising indeed. There is only one fly in the ointment: it is not, in fact, the path we are presently headed down. The energy industry is not investing in any significant way in renewables. Instead, it is pouring its historic profits into new fossil-fuel projects, mainly involving the exploitation of what are called "unconventional" oil and gas reserves.
The result is indisputable: humanity is not entering a period that will be dominated by renewables. Instead, it is pioneering the third great carbon era, the Age of Unconventional Oil and Gas.
That we are embarking on a new carbon era is increasingly evident and should unnerve us all. Hydro-fracking—the use of high-pressure water columns to shatter underground shale formations and liberate the oil and natural gas supplies trapped within them—is being undertaken in ever more regions of the U.S. and in a growing number of foreign countries. In the meantime, the exploitation of carbon-dirty heavy oil and tar sands formations is accelerating in Canada, Venezuela and elsewhere.
It's true that ever more wind farms and solar arrays are being built, but here's the kicker: investment in unconventional fossil-fuel extraction and distribution is now expected to outpace spending on renewables by a ratio of at least three-to-one in the decades ahead.
According to the International Energy Agency (IEA), an inter-governmental research organization based in Paris, cumulative worldwide investment in new fossil-fuel extraction and processing will total an estimated $22.87 trillion between 2012 and 2035, while investment in renewables, hydropower and nuclear energy will amount to only $7.32 trillion. In these years, investment in oil alone, at an estimated $10.32 trillion, is expected to exceed spending on wind, solar, geothermal, biofuels, hydro, nuclear and every other form of renewable energy combined.
In addition, as the IEA explains, an ever-increasing share of that staggering investment in fossil fuels will be devoted to unconventional forms of oil and gas: Canadian tar sands, Venezuelan extra-heavy crude, shale oil and gas, Arctic and deep-offshore energy deposits, and other hydrocarbons derived from previously inaccessible reserves of energy. The explanation for this is simple enough. The world's supply of conventional oil and gas—fuels derived from easily accessible reservoirs and requiring a minimum of processing—is rapidly disappearing. With global demand for fossil fuels expected to rise by 26 percent between now and 2035, more and more of the world's energy supply will have to be provided by unconventional fuels.
In such a world, one thing is guaranteed: global carbon emissions will soar far beyond our current worst-case assumptions, meaning intense heat waves will become commonplace and our few remaining wilderness areas will be eviscerated. Planet Earth will be a far—possibly unimaginably—harsher and more blistering place. In that light, it's worth exploring in greater depth just how we ended up in such a predicament, one carbon age at a time.
The First Carbon Era
The first carbon era began in the late 1800s, with the introduction of coal-powered steam engines and their widespread application to all manner of industrial enterprises. Initially used to power textile mills and industrial plants, coal was also employed in transportation (steam-powered ships and railroads), mining and the large-scale production of iron. Indeed, what we now call the Industrial Revolution was largely comprised of the widening application of coal and steam power to productive activities. Eventually, coal would also be used to generate electricity, a field in which it remains dominant today.
This was the era in which vast armies of hard-pressed workers built continent-spanning railroads and mammoth textile mills as factory towns proliferated and cities grew. It was the era, above all, of the expansion of the British Empire. For a time, Great Britain was the biggest producer and consumer of coal, the world's leading manufacturer, its top industrial innovator and its dominant power—and all of these attributes were inextricably connected. By mastering the technology of coal, a small island off the coast of Europe was able to accumulate vast wealth, develop the world's most advanced weaponry and control the global sea-lanes.
The same coal technology that gave Britain such global advantages also brought great misery in its wake. As noted by energy analyst Paul Roberts in The End of Oil, the coal then being consumed in England was of the brown lignite variety, "chock full of sulfur and other impurities." When burned, "it produced an acrid, choking smoke that stung the eyes and lungs and blackened walls and clothes." By the end of the nineteenth century, the air in London and other coal-powered cities was so polluted that "trees died, marble facades dissolved, and respiratory ailments became epidemic."
For Great Britain and other early industrial powers, the substitution of oil and gas for coal was a godsend, allowing improved air quality, the restoration of cities and a reduction in respiratory ailments. In many parts of the world, of course, the Age of Coal is not over. In China and India, among other places, coal remains the principal source of energy, condemning their cities and populations to a twenty-first-century version of nineteenth-century London and Manchester.
The Second Carbon Era
The Age of Oil got its start in 1859 when commercial production began in western Pennsylvania, but only truly took off after World War II, with the explosive growth of automobile ownership. Before 1940, oil played an important role in illumination and lubrication, among other applications, but remained subordinate to coal; after the war, oil became the world's principal source of energy. From 10 million barrels per day in 1950, global consumption soared to 77 million in 2000, a half-century bacchanalia of fossil fuel burning.
Driving the global ascendancy of petroleum was its close association with the internal combustion engine (ICE). Due to oil's superior portability and energy intensity (that is, the amount of energy it releases per unit of volume), it makes the ideal fuel for mobile, versatile ICEs. Just as coal rose to prominence by fueling steam engines, so oil came to prominence by fueling the world's growing fleets of cars, trucks, planes, trains and ships. Today, petroleum supplies about 97 percent of all energy used in transportation worldwide.
Oil's prominence was also assured by its growing utilization in agriculture and warfare. In a relatively short period of time, oil-powered tractors and other agricultural machines replaced animals as the primary source of power on farms around the world. A similar transition occurred on the modern battlefield, with oil-powered tanks and planes replacing the cavalry as the main source of offensive power.
These were the years of mass automobile ownership, continent-spanning highways, endless suburbs, giant malls, cheap flights, mechanized agriculture, artificial fibers and—above all else—the global expansion of American power. Because the U.S. possessed mammoth reserves of oil, was the first to master the technology of oil extraction and refining, and the most successful at utilizing petroleum in transportation, manufacturing, agriculture and war, it emerged as the richest and most powerful country of the twenty-first century, a saga told with great relish by energy historian Daniel Yergin in The Prize. Thanks to the technology of oil, the U.S. was able to accumulate staggering levels of wealth, deploy armies and military bases to every continent and control the global air and sea-lanes—extending its power to every corner of the planet.
However, just as Britain experienced negative consequences from its excessive reliance on coal, so the U.S.—and the rest of the world—has suffered in various ways from its reliance on oil. To ensure the safety of its overseas sources of supply, Washington has established tortuous relationships with foreign oil suppliers and has fought several costly, debilitating wars in the Persian Gulf region, a sordid history I recount in Blood and Oil. Over-reliance on motor vehicles for personal and commercial transportation has left the country ill-equipped to deal with periodic supply disruptions and price spikes. Most of all, the vast increase in oil consumption—here and elsewhere—has produced a corresponding increase in carbon dioxide emissions, accelerating planetary warming (a process begun during the first carbon era) and exposing the country to the ever more devastating effects of climate change.
The Age of Unconventional Oil and Gas
The explosive growth of automotive and aviation travel, the suburbanization of significant parts of the planet, the mechanization of agriculture and warfare, the global supremacy of the U.S. and the onset of climate change: these were the hallmarks of the exploitation of conventional petroleum. At present, most of the world's oil is still obtained from a few hundred giant onshore fields in Iran, Iraq, Kuwait, Russia, Saudi Arabia, the United Arab Emirates, the U.S. and Venezuela, among other countries; some additional oil is acquired from offshore fields in the North Sea, the Gulf of Guinea and the Gulf of Mexico. This oil comes out of the ground in liquid form and requires relatively little processing before being refined into commercial fuels.
But such conventional oil is disappearing. According to the IEA, the major fields that currently provide the lion's share of global petroleum will lose two-thirds of their production over the next 25 years, with their net output plunging from 68 million barrels per day in 2009 to a mere 26 million barrels in 2035. The IEA assures us that new oil will be found to replace those lost supplies, but most of this will be of an unconventional nature. In the coming decades, unconventional oils will account for a growing share of the global petroleum inventory, eventually becoming our main source of supply.
The same is true for natural gas, the second most important source of world energy. The global supply of conventional gas, like conventional oil, is shrinking, and we are becoming increasingly dependent on unconventional sources of supply—especially from the Arctic, the deep oceans and shale rock via fracking.
In certain ways, unconventional hydrocarbons are akin to conventional fuels. Both are largely composed of hydrogen and carbon, and can be burned to produce heat and energy. But in time the differences between them will make an ever-greater difference to us. Unconventional fuels—especially heavy oils and tar sands—tend to possess a higher proportion of carbon to hydrogen than conventional oil, and so release more CO2 when burned. Arctic and deep-offshore oil require more energy to extract, and so produce higher carbon emissions in their very production.
"Many new breeds of petroleum fuels are nothing like conventional oil," Deborah Gordon, a specialist on the topic at the Carnegie Endowment for International Peace, wrote in 2012. "Unconventional oils tend to be heavy, complex, carbon laden, and locked up deep in the earth, tightly trapped between or bound to sand, tar, and rock."
By far the most worrisome consequence of the distinctive nature of unconventional fuels is their extreme impact on the environment. Because they are often characterized by higher ratios of carbon to hydrogen, and generally require more energy to extract and be converted into usable materials, they produce more CO2 emissions per unit of energy released. In addition, the process that produces shale gas, hailed as a "clean" fossil fuel, is believed by many scientists to cause widespread releases of methane, a particularly potent greenhouse gas.
All of this means that, as the consumption of fossil fuels grows, increasing, not decreasing, amounts of CO2 and methane will be released into the atmosphere and, instead of slowing, global warming will speed up.
And here's another problem associated with the third carbon age: the production of unconventional oil and gas turns out to require vast amounts of water—for fracking operations, to extract tar sands and extra-heavy oil, and to facilitate the transport and refining of such fuels. This is producing a growing threat of water contamination, especially in areas of intense fracking and tar sands production, along with competition over access to water supplies among drillers, farmers, municipal water authorities and others. As climate change intensifies, drought will become the norm in many areas and so this competition will only grow fiercer.
Along with these and other environmental impacts, the transition from conventional to unconventional fuels will have economic and geopolitical consequences hard to fully assess at this moment. As a start, the exploitation of unconventional oil and gas reserves from previously inaccessible regions involves the introduction of novel production technologies, including deep-sea and Arctic drilling, hydro-fracking and tar-sands upgrading. One result has been a shakeup in the global energy industry, with the emergence of innovative companies possessing the skills and determination to exploit the new unconventional resources—much as occurred during the early years of the petroleum era when new firms arose to exploit the world's oil reserves.
This has been especially evident in the development of shale oil and gas. In many cases, the breakthrough technologies in this field were devised and deployed by smaller, risk-taking firms like Cabot Oil and Gas, Devon Energy Corporation, Mitchell Energy and Development Corporation and XTO Energy. These and similar companies pioneered the use of hydro-fracking to extract oil and gas from shale formations in Arkansas, North Dakota, Pennsylvania and Texas, and later sparked a stampede by larger energy firms to obtain stakes of their own in these areas. To augment those stakes, the giant firms are gobbling up many of the smaller and mid-sized ones. Among the most conspicuous takeovers was ExxonMobil's 2009 purchase of XTO for $41 billion.
That deal highlights an especially worrisome feature of this new era: the deployment of massive funds by giant energy firms and their financial backers to acquire stakes in the production of unconventional forms of oil and gas—in amounts far exceeding comparable investments in either conventional hydrocarbons or renewable energy. It's clear that, for these companies, unconventional energy is the next big thing and, as among the most profitable firms in history, they are prepared to spend astronomical sums to ensure that they continue to be so. If this means investment in renewable energy is shortchanged, so be it. "Without a concerted policymaking effort" to favor the development of renewables, Carnegie's Gordon warns, future investments in the energy field "will likely continue to flow disproportionately toward unconventional oil."
In other words, there will be an increasingly entrenched institutional bias among energy firms, banks, lending agencies and governments toward next-generation fossil-fuel production, only increasing the difficulty of establishing national and international curbs on carbon emissions. This is evident, for example, in the Obama administration's undiminished support for deep-offshore drilling and shale gas development, despite its purported commitment to reduce carbon emissions. It is likewise evident in the growing international interest in the development of shale and heavy-oil reserves, even as fresh investment in green energy is being cut back.
As in the environmental and economic fields, the transition from conventional to unconventional oil and gas will have a substantial, if still largely undefined, impact on political and military affairs.
U.S. and Canadian companies are playing a decisive role in the development of many of the vital new unconventional fossil-fuel technologies; in addition, some of the world's largest unconventional oil and gas reserves are located in North America. The effect of this is to bolster U.S. global power at the expense of rival energy producers like Russia and Venezuela, which face rising competition from North American companies, and energy-importing states like China and India, which lack the resources and technology to produce unconventional fuels.
At the same time, Washington appears more inclined to counter the rise of China by seeking to dominate the global sea lanes and bolster its military ties with regional allies like Australia, India, Japan, the Philippines and South Korea. Many factors are contributing to this strategic shift, but from their statements it is clear enough that top American officials see it as stemming in significant part from America's growing self-sufficiency in energy production and its early mastery of the latest production technologies.
"America's new energy posture allows us to engage [the world] from a position of greater strength," National Security Advisor Tom Donilon asserted in an April speech at Columbia University. "Increasing U.S. energy supplies act as a cushion that helps reduce our vulnerability to global supply disruptions [and] affords us a stronger hand in pursuing and implementing our international security goals."
For the time being, the U.S. leaders can afford to boast of their "stronger hand" in world affairs, as no other country possesses the capabilities to exploit unconventional resources on such a large scale. By seeking to extract geopolitical benefits from a growing world reliance on such fuels, however, Washington inevitably invites countermoves of various sorts. Rival powers, fearful and resentful of its geopolitical assertiveness, will bolster their capacity to resist American power—a trend already evident in China's accelerating naval and missile buildup.
At the same time, other states will seek to develop their own capacity to exploit unconventional resources in what might be considered a fossil-fuels version of an arms race. This will require considerable effort, but such resources are widely distributed across the planet and in time other major producers of unconventional fuels are bound to emerge, challenging America's advantage in this realm (even as they increase the staying power and global destructiveness of the third age of carbon). Sooner or later, much of international relations will revolve around these issues.
Surviving the Third Carbon Era
Barring unforeseen shifts in global policies and behavior, the world will become increasingly dependent on the exploitation of unconventional energy. This, in turn, means an increase in the buildup of greenhouse gases with little possibility of averting the onset of catastrophic climate effects. Yes, we will also witness progress in the development and installation of renewable forms of energy, but these will play a subordinate role to the development of unconventional oil and gas.
Life in the third carbon era will not be without its benefits. Those who rely on fossil fuels for transportation, heating and the like can perhaps take comfort from the fact that oil and natural gas will not run out soon, as was predicted by many energy analysts in the early years of this century. Banks, the energy corporations and other economic interests will undoubtedly amass staggering profits from the explosive expansion of the unconventional oil business and global increases in the consumption of these fuels. But most of us won't be rewarded. Quite the opposite. Instead, we'll experience the discomfort and suffering accompanying the heating of the planet, the scarcity of contested water supplies in many regions and the evisceration of the natural landscape.
What can be done to cut short the third carbon era and avert the worst of these outcomes?  Calling for greater investment in green energy is essential but insufficient at a moment when the powers that be are emphasizing the development of unconventional fuels. Campaigning for curbs on carbon emissions is necessary, but will undoubtedly prove problematic, given an increasingly deeply embedded institutional bias toward unconventional energy. 
Needed, in addition to such efforts, is a drive to expose the distinctiveness and the dangers of unconventional energy and to demonize those who choose to invest in these fuels rather than their green alternatives. Some efforts of this sort are already underway, including student-initiated campaigns to persuade or compel college and university trustees to divest from any investments in fossil-fuel companies. These, however, still fall short of a systemic drive to identify and resist those responsible for our growing reliance on unconventional fuels.
For all President Obama's talk of a green technology revolution, we remain deeply entrenched in a world dominated by fossil fuels, with the only true revolution now underway involving the shift from one class of such fuels to another. Without a doubt, this is a formula for global catastrophe. To survive this era, humanity must become much smarter about this new kind of energy and then take the steps necessary to compress the third carbon era and hasten in the Age of Renewables before we burn ourselves off this planet.
Visit EcoWatch's ENERGY page for more related news on this topic.
——–
EcoWatch Daily Newsletter
Greenpeace has warned about new figures showing Britain's offshore rigs and platforms have leaked oil or other chemicals into the North Sea 55 times over the past month should act as a "reality check" for an industry aiming to drill in the Arctic.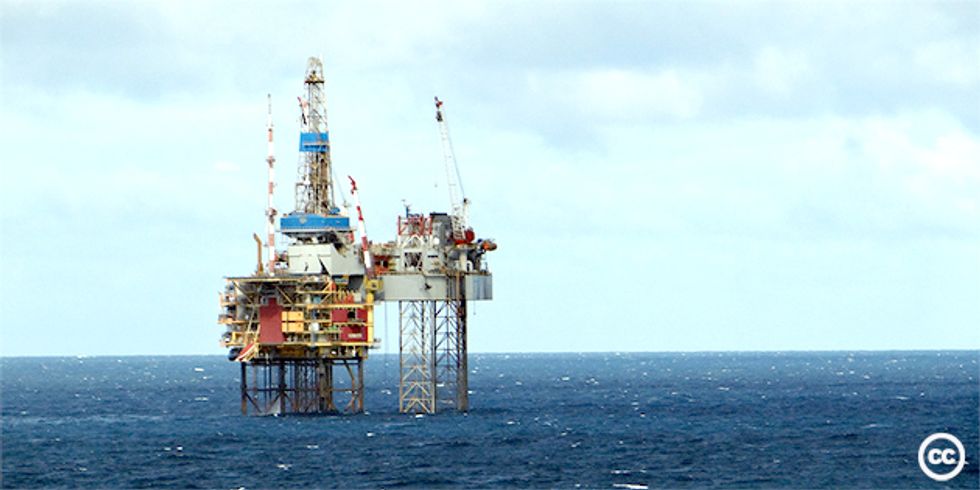 The latest figures, released by the Department for Energy and Climate Change, challenge claims that the industry has a strong a effective safety and environmental recorded.
Facilities operated by Shell, BP and BG Group were all offenders.
Greenpeace say the figures are alarming, particularly when you consider that the industry is trying to persuade the world it should be allowed to drill in the pristine but harsh environments of the Arctic.
Greenpeace senior climate adviser Charlie Kronick said:
They're trying to convince the world that they can operate safely in one of the world's harshest environments, yet they can't prevent this steady trickle of oil and other polluting chemicals leaking into the relatively safe waters of the North Sea.
This will do little to increase public trust in their ability to drill in the Arctic without damaging this incredibly beautiful and fragile corner of our planet.
But the industry says the leaks often contained just tiny amounts of relatively harmless substances and the reporting system is an example of good regulation.
The latest figures come as environmental campaigners also warn that half of Britain's biggest energy companies are looking to drill in the Arctic.
E. On and Centrica are interested in exploring for oil and gas in the Barents Sea, while RWE Npower is also reportedly interested in exploiting resources in the area.
The companies gained exploration licenses in Norwegian waters, but Greenpeace warn companies are risking spills in an area of "breathtaking beauty."
The most controversial is a block in the Barents Sea awarded to E.ON, which the Norwegian Institute of Marine Research (NIMR) said should not be opened at all, because of the risk to marine life including the largest cods stocks left in the world.
Greenpeace say that many of the areas being explored are full of rare wildlife and important fish stocks and warn that environmental groups in Norway are extremely concerned over the plans. Three of the country's environment agencies have called for at least a partial ban on drilling in certain areas.
Because of its remote location and extreme conditions, Greenpeace—along with other environmentalists and scientists—say that an oil spill would be virtually impossible to clean up.
Visit EcoWatch's OFFSHORE OIL DRILLING page for more related news on this topic.
——–
SHARE YOUR THOUGHTS BELOW: Is drilling for oil in the oceans too risky to continue pursuing as a form of energy?
——–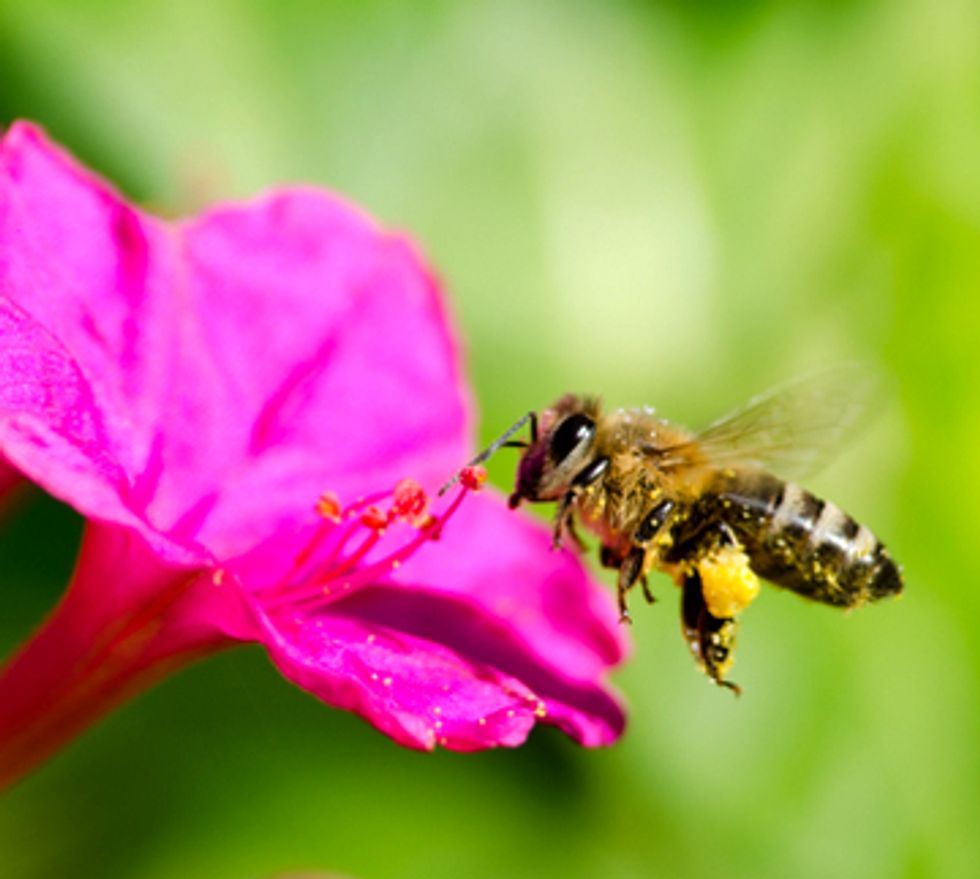 Photo courtesy of Shutterstock
Today, the British Beekeepers Association (BBKA) announced the results of its latest annual winter survival survey which show that the number of honey bee colonies lost over the winter was more than double that of the previous year, with all regions in England showing increased losses.
The overwinter survival of honey bee colonies is a composite measure of their fitness and the effect of various factors such as colony nutrition and the skill and experience of the beekeeper.
On average 33.8 colonies in every 100 were lost compared with 16.2 in the winter of 2011-2012. The losses principally reflect the impact of the continual poor and changeable weather during 2012 continuing into 2013 and exacerbated by the late arrival of spring. It is feared that the situation may have worsened since the survey closed at the end of March given the ongoing poor weather and the late arrival of spring.
The poor summer of 2012 meant that honey bees were regularly prevented from gathering pollen and foraging and when they could, there was a general scarcity of pollen and nectar throughout the season. Virgin queens were unable to mate properly leading them to become drone laying queens and causing those colonies affected to die-out.  
Winter Losses of Honey Bee Colonies in England Over Last Six Years

Importance of Winter Losses of Honey Bees
The honey bee is the only bee to maintain a colony throughout the winter reducing its colony size in autumn and relying on its stores of honey to last it through the winter months when it is too cold for foraging or there is no forage available. In winter, worker bees can live for up to five or six months. In the summer, worker bees only live for around six weeks. Honey bee queens live for three to four years but cannot survive without worker bees. In other species of bees or wasps only the queen survives by hibernating through the winter months.
Impact of Bad Weather on Honey Bee Colonies
Inability of the bees to forage during the year resulting in poorly developed colonies
Scarcity of pollen and nectar throughout the season; even if in flower, nectar output is temperature dependent
Poor weather at the time of mating of the new virgin queens resulting in inadequately mated queens leading to drone laying queens and colonies which can ultimately die out
Inadequate nutrition, especially pollen during the late summer when the specialized bees which take the colony through the winter are born 
Beekeepers have reported significant incidence of isolation starvation, which happens when the bees lose contact with their food reserves during the winter. Bees cluster closely together to maintain the hive temperature and consume the stores of honey closest to them. Having exhausted stores close to them they take advantage of any warmer weather to move within the hive to fresh stores. If the weather is too cold for them to move or if the cluster moves and re-groups having moved in the wrong direction, the colony may starve. Very often these colonies are found to have plenty of stores.
Honey bee colonies which are in a poor nutritional state become more vulnerable to disease and other stress factors.
Survey Results by Region

David Aston, BBKA chairman explains, "Those honey bee colonies which have survived the winter and are now prospering have done so in the main due to the careful nurturing through the winter by beekeepers who have spent much time and effort feeding and carrying out frequent checks on hives, incurring significant additional expense meeting the need to continually feed their bees.
"The training and education of beekeepers to be able to adapt their beekeeping practices to help their honey bees cope with this period of changing weather patterns is a high priority for all beekeeping associations."
Visit EcoWatch's BIODIVERSITY page for more related news on this topic.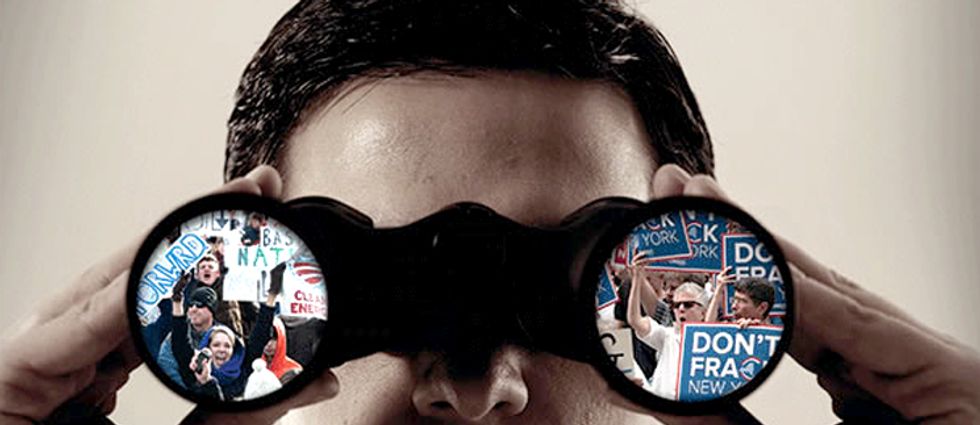 Design Action
In February 2010, Tom Jiunta and a small group of residents in northeastern Pennsylvania formed the Gas Drilling Awareness Coalition (GDAC), an environmental organization opposed to hydraulic fracturing in the region. The group sought to appeal to the widest possible audience, and was careful about striking a moderate tone. All members were asked to sign a code of conduct in which they pledged to carry themselves with "professionalism, dignity and kindness" as they worked to protect the environment and their communities. GDAC's founders acknowledged that gas drilling had become a divisive issue misrepresented by individuals on both sides and agreed to "seek out the truth."
The group of about 10 professionals—engineers, nurses and teachers—began meeting in the basement of a member's home. As their numbers grew, they moved to a local church. In an effort to raise public awareness about the risks of hydraulic fracturing or fracking they attended township meetings, zoning and ordinance hearings and gas-drilling forums. They invited speakers from other states affected by gas drilling to talk with Pennsylvania residents. They held house-party style screenings of documentary films.
Since the group had never engaged in any kind of illegal activity or particularly radical forms of protest, it came as a shock when GDAC members learned that their organization had been featured in intelligence bulletins compiled by a private security firm, The Institute of Terrorism Research and Response (ITRR). Equally shocking was the revelation that the Pennsylvania Department of Homeland Security had distributed those bulletins to local police chiefs, state, federal and private intelligence agencies, and the security directors of the natural gas companies, as well as industry groups and public relations firms. News of the surveillance broke in September 2010 when the director of the Pennsylvania Department of Homeland Security, James Powers, mistakenly sent an email to an anti-drilling activist he believed was sympathetic to the industry, warning her not to post the bulletins online. The activist was Virginia Cody, a retired Air Force officer. In his email to Cody, Powers wrote:
"We want to continue providing this support to the Marcellus Shale Formation natural gas stakeholders while not feeding those groups fomenting dissent against those same companies."
The tri-weekly bulletins featured a wide range of supposed threats to the state's infrastructure. It included warnings about Al-Qaeda affiliated groups, pro-life activists and Tea Party protesters. The bulletins also included information about when and where groups like GDAC would be meeting, upcoming protests and anti-fracking activists' internal strategy. The raw data was followed by a threat assessment—low, moderate, severe or critical—and a brief analysis.
For example, bulletin no. 118, dated July 30, 2010, gave a low to moderate threat rating in reference to public meetings that anti-drilling activists planned to attend, and suggested that an "attack is likely … and might well be executed." The threat assessment was accompanied by this note:
"The escalating conflict over natural gas drilling in Pennsylvania may define local fault lines and potentially increase area environmentalist activity or eco-terrorism. GDAC communications have cited Northeastern Pennsylvania counties, specifically Wyoming, Lackawanna and Luzerne, as being in real 'need of our help' and as facing a 'drastic situation.'"
Another bulletin referenced an August 2010 Federal Bureau of Investigation (FBI) assessment of the growing threat of environmental activism to the energy industry. Because of Pennsylvania's importance in the production of natural gas, ITRR concluded an uptick in vandalism, criminal activity and extremism was likely.
Although the Pennsylvania scandal caused a brief public outcry, it was quickly brushed aside as an unfortunate mistake. In fact, the episode represents a larger pattern of corporate and police spying on environmental activists fueled in part by the expansion of private intelligence gathering since 9/11.
By 2007, 70 percent of the U.S. intelligence budget—or about $38 billion annually—was spent on private contractors. Much of this largesse has been directed toward overseas operations. But it is likely that some of that money has been paid to private contractors—hired either by corporations or law enforcement agencies—that are also in the business of spying on American citizens. As early as 2004, in a report titled The Surveillance Industrial Complex, the American Civil Liberties Union (ACLU) warned that the "U.S. security establishment is making a systematic effort to extend its surveillance capacity by pressing the private sector into service to report on the activities of Americans." At the same time, corporations are boosting their own security operations. Today, overall annual spending on corporate security and intelligence is roughly $100 billion, double what it was a decade ago, according to Brian Ruttenbur, a defense analyst with CRT Capital.
The surveillance of even moderate groups like GDAC comes at a pivotal time for the environmental movement. As greenhouse gas emissions continue unchecked, opposition to the fossil fuel industry has taken on a more urgent and confrontational tone. Some anti-fracking activists have engaged in nonviolent civil disobedience and the protests against the Keystone XL tar sands pipeline have involved arrests at the White House. Environmentalists and civil libertarians worry that accusations of terrorism, even if completely unfounded, could undermine peaceful political protest. The mere possibility of surveillance could handicap environmental groups' ability to achieve their political goals.
"You are painting the political opposition as supporters of terrorism to discredit them and cripple their ability to remain politically viable," says Mike German, an FBI special agent for 16 years who now works with the ACLU.
The Pennsylvania episode is not an isolated case. The FBI and Americans for Prosperity (AFP), a Koch Brothers-backed lobbying group, have both taken an interest in anti-drilling activists in Texas. In the fall of 2011, according to an investigation by The Washington Post, the FBI was digging for information on the leader of Rising Tide North America, a direct action environmental group, because of his opposition to hydraulic fracturing.
Rising Tide has also been active in organizing protests against the Keystone XL pipeline. Ben Kessler, a Texas-based activist, told the Post that the FBI had received an anonymous tip to look into his activities. The agency also showed up at the office of Kessler's philosophy professor, Adam Briggle, who teaches an ethics course that covers nonviolent civil disobedience and the history of the environmental movement. Briggle, who has been involved in organizing residents to impose tougher regulations on gas drilling in Denton, Texas, told the Post that, "it seemed like a total fishing expedition to me."
About a month after he was approached by the FBI, Briggle received a notice from his employer, the University of North Texas, asking him to turn over all emails and other written correspondence "pursuant to City of Denton natural gas drilling ordinances and the 'Denton Stakeholder Drilling Advisory Group,'" an organization Briggle founded in July 2011 whose mission is similar to that of GDAC. The university had received a request under the state's Public Information Act and Briggle was forced to hand over more than 1,300 emails. He was later told that the request had been made by Peggy Venable, Texas Director of AFP.
Rising Tide activists had speculated that the anonymous tip came from one of the gas companies active in the region. Although there was no way to prove a connection between the FBI's investigation and AFP's mining of Briggle's emails, both were viewed within the activist community as acts of intimidation. Briggle says, "The message is, you're being watched."
During the last decade, the FBI and, to a lesser extent, corporations have elevated the threat of eco-terrorism to a top priority even as environmentally motivated crimes have declined. In 2005, John Lewis, an FBI deputy assistant director, said the animal rights and environmental movements were "one of the FBI's highest domestic terrorism priorities." In the post-9/11 era, the outsourcing of intelligence gathering to private companies has ballooned, the bar for investigating domestic threats has been lowered and a premium has been placed on information sharing with the private sector.
"What changed after 9/11 was the lowering of the threshold for FBI investigations and the promulgation of these radicalization theories that while specifically written about Muslim extremists—the same theory that people move from ideas to activism to terrorism—justified increased surveillance against activists and against people who were just part of the environmental rights movement but had no association with violence or criminal acts," says German of the ACLU.
Since 9/11, accusations of eco-terrorism have proliferated and a number of individuals and groups have been prosecuted under new laws, which have profoundly impacted the radical environmental movement. The broad crackdown and subsequent fear and paranoia that swept through activist circles have been referred to as the "Green Scare."
"The shift was gradual," Will Potter writes in Green is the New Red: An Insider's Account of a Social Movement Under Siege, "slowly merging the rhetoric of industry groups with that of politicians and law enforcement."
In public, corporations have amplified the threat of eco-terrorism to influence legislation, such as the Animal Enterprise Terrorism Act. In private, meanwhile, they have hired firms to spy on environmental groups. About a month after 9/11, for example, the crisis communications firm Nichols Dezenhall (now Dezenhall Resources) registered a website called StopEcoViolence.com (now defunct), which served as a sort of faux watchdog group and source for media outlets including The New York Times. Around the same time, Dezenhall—described by Bill Moyers as the "Mafia of Industry"—was involved in corporate espionage. Along with two other public relations companies, Dezenhall hired a now-defunct private security firm, Beckett Brown International, to spy on environmental activists.
One of the targeted groups was Greenpeace. In 2011, Greenpeace filed a lawsuit charging that Dow Chemical, Sasol (formerly CONDEA Vista), the public relations firms and individuals working for Beckett Brown International (which was founded by former Secret Service officers) stole thousands of documents, intercepted phone call records, trespassed and conducted unlawful surveillance. In a story for Mother Jones, James Ridgeway revealed that the security firm obtained donor lists, detailed financial statements, Social Security numbers of staff members and strategy memos from several groups, and, in turn, "produced intelligence reports for public relations firms and major corporations involved in environmental controversies." In February, a Washington, DC, court ruled that the claims of trespass and misappropriation of trade secrets could proceed.
More recently, according to a report in The Nation, the agricultural giant Monsanto contracted with a subsidiary of Blackwater, the private security firm, to gather intelligence on and possibly infiltrate environmental groups in order to protect the company's brand name.
"This is the new normal," says Scott Crow, an author and longtime environmental activist who was the subject of FBI and corporate surveillance for close to eight years beginning in 1999.
While the above cases involved corporations hiring private security firms to carry out black-ops against environmental groups, the Pennsylvania scandal may be the first time that a state agency has contracted with a private security firm to gather intelligence on lawful groups for the benefit of a specific industry. Although the ITRR bulletins were produced for the Pennsylvania Department of Homeland Security, they were shared with PR firms, the major Marcellus Shale companies, and industry associations. For members of GDAC and other anti-drilling organizations, the revelations were profoundly troubling. Not only were they being lumped together with groups like Al-Qaeda, but the government agencies tasked with protecting the people of Pennsylvania were, in their view, essentially working for the gas companies. If a moderate group like GDAC wasn't safe from the surveillance-industrial complex, it seemed nobody was.
"These systems and this type of collection is so rife with inappropriate speculation and error—both intentional and unintentional—that your good behavior doesn't protect you," German says.
Tom Jiunta, the founder of GDAC, says the ITRR bulletins had a chilling effect. Attendance at GDAC meetings declined and some members left the group altogether. Organizers assumed that their phones had been tapped and that their emails were being monitored, a common perception among anti-drilling activists. At meetings they would leave their cell phones outside or remove the batteries. Jiunta, who has a podiatry practice in downtown Kingston, began to take different routes to work because he was worried about being followed. "We kind of assume that we're being watched," he says. "Even now."
Indeed, the intelligence gathering continues. Although the state canceled its contract with ITRR, the company still works for the natural gas industry, according to GDAC attorney Paul Rossi. "An employee with one of the gas companies has told me that he is willing to testify that ITRR is still conducting operations for the gas companies and they are focusing in on environmental groups," Rossi says.
In 2010, GDAC filed a lawsuit against the Commonwealth of Pennsylvania and ITRR on First Amendment grounds. Because it's a private company or a "non-state actor," the judge ruled, claims against ITRR were dismissed. The terms of a settlement with the state have not been reached. (ITRR did not return requests for comment).
Like many of the activists I spoke with, Jiunta underscored the fact that he's never been drawn to conspiracy theories. GDAC's code of conduct was designed to weed out those whom Jiunta described as "wackos." Jiunta admits that he was pretty naïve when he first got involved in anti-drilling activism; he would print out large stacks of information on fracking to bring to state senators, who politely told him not to waste their time. Now, his faith in the role of government has been shattered. "People worried about being on a watch list," he told me. "It was shocking."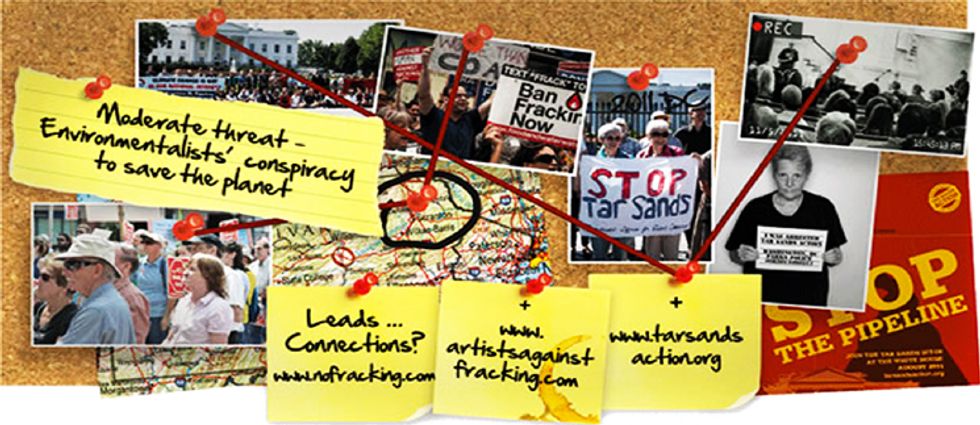 Design Action
In the wake of the surveillance scandal, Pennsylvania Homeland Security Director James Powers resigned and the state terminated its $103,000 no-bid contract with ITRR. Then-governor Ed Rendell called the episode "deeply embarrassing" and a one-day Senate inquiry was held. In testimony before the committee, Virginia Cody, the retired Air Force officer who had become a critic of gas drilling, said:
"For the first time in my life, I do not feel secure in my home. I worry that what I say on the phone is being recorded. I wonder if my emails are still being monitored."
The hearing sought to answer questions about how the contract was awarded, why citizen groups exercising their First Amendment rights were included, and, crucially, who received the information. Powers explained that the information was distributed to various chemical, agricultural and transportation companies mentioned in the bulletins. At least 800 individuals were on the distribution list. In the case of gas drilling activism he explained, "It [the bulletins] went to the security directors of the Marcellus Shale companies and DEP [Department of Environmental Protection]."
This is only partially true. A list of the individuals and groups who received the bulletins shows that industry associations and public relations firms that have nothing to do with protecting the state's infrastructure were also included. For example, one of Powers's key contacts on Marcellus-related activity was Pam Witmer, then head of the Bravo Group's energy and environmental practice as well as president and CEO of the Pennsylvania Chemical Industry Council, a business advocacy group. The Bravo Group is a public relations and lobbying firm based in Pennsylvania. Its clients include Chief Oil and Gas, Southwestern Energy and People's Natural Gas, all of which are deeply invested in Marcellus Shale production.
The Marcellus Shale Coalition, an industry lobbying group, was also on the distribution list. In 2010, the coalition signed a $900,000 lobbying contract with Ridge Global, a private security firm founded by Tom Ridge, former head of the Department of Homeland Security under President George W. Bush. As part of its energy consulting services Ridge Global offers "advisory support for natural gas and other infrastructure security." Ridge is just one of many former security officials who now have private consulting services. Others include John Ashcroft, Michael Chertoff and Richard Clarke.
The blurring of public and private spying is what Dutch scholar Bob Hoogenboom calls "grey intelligence." In a 2006, paper of the same name, Hoogenboom noted that in addition to well-known spy agencies like Military Intelligence, Section 6 (MI6) and the Central Intelligence Agency (CIA), hundreds of private organizations involved in intelligence gathering have entered the market to meet corporate demand.
"The idea was to do for industry what we had done for the government," Christopher James, a former MI6 officer who founded Hakluyt, a private intelligence company whose clients have included Shell and BP, told the Financial Times. Many corporations now have their own private intelligence networks, or "para-CIAs," to gather information on consumers, critics and even their own shareholders. Wal-Mart, for example, has an office of global security headed by a one-time CIA and FBI official with a staff that includes former State Department security experts. As Eveline Lubbers writes in her recent book, Secret Manoeuvres in the Dark: Corporate and Police Spying on Activists, "Because these business firms hire former spies and analysts from the ranks of government, the informal links with government intelligence increase."
This is a global phenomenon. Corporations in Europe and Canada have also spied on environmental groups. In 2006, French energy giant Électricité de France (EDF), the world's largest operator of nuclear reactors, hired Kargus Consultants, a private intelligence gathering agency run by a former member of the French secret service, to spy on Greenpeace. Kargus hacked into a lead Greenpeace organizer's computer and compiled a dossier on the organization's European campaign strategy. In 2011, a French court fined EDF 1.5 million euros and sent two of its employees to jail on charges of illegal spying.
Although it was not raised at the Pennsylvania Senate hearing, the ITRR bulletins also were shared with the Royal Canadian Mounted Police (RCMP). In January, a Montreal paper reported that the RCMP itself has been tracking anti-shale gas activists in Quebec. The Critical Infrastructure Intelligence Team, a branch of the RCMP, produced two reports that described the possibility of Canadian activists collaborating with "extremist" groups in the U.S., such as Earth First! and Occupy Well Street—an offshoot of Occupy Wall Street opposed to fracking. According to Jeff Monaghan, a researcher with the Surveillance Studies Center (SSC) at Queen's University in Ontario, the Canadian government likely shares intelligence with the energy industry. Since at least 2005, the Canadian government has held biannual intelligence briefings to share sensitive information with the private sector. In 2007, Gary Lunn, former Minister of Natural Resources, admitted his agency had helped more than 200 industry representatives obtain high-level security clearances. "This enables us to share information with industry and their associations," Lunn said at a pipeline security forum.
Similar arrangements have been uncovered in the UK. In 2009, it was revealed that the British police and the Department of Business, Enterprise and Regulatory Reform had provided information about Climate Camp demonstrations to E.ON, the company that runs the Ratcliffe-on-Soar power station. E.ON also hired private security firms like Vericola and Global Open to spy on protesters; both companies are staffed by former intelligence agents.
The specter of environmental extremism has been used to justify information sharing between law enforcement and the private sector. Last year, Joe Oliver, Canada's Minister of Natural Resources, warned that environmental groups "threaten to hijack our regulatory system to achieve their radical ideological agenda."
"It's the new politics of the petro-state," says Monaghan, SSC. "Anything that's remotely linked with direct action or nonviolent civil disobedience is being described as extremism, which is the new code word of security agencies."
The fossil fuel industry's targeting of its critics goes beyond mere surveillance. Natural gas drilling companies have also flirted with using the dark arts of psychological warfare, or "psy ops." In comments recorded by an anti-drilling activist at a 2011 natural gas conference in Houston and leaked to CNBC, Matt Pitzarella, director of corporate communications at Range Resources, said Range had hired "several former psy ops folks" with experience in Iraq and Afghanistan. "Having that understanding of psy ops in the Army and in the Middle East has applied very helpfully here for us in Pennsylvania [sic]," Pitzarella said.
At the same conference, Matt Carmichael, a public relations specialist with Anadarko Petroleum, referred to the anti-drilling movement as an "insurgency" and advised industry representatives to download the U.S. Army/Marine Corps Counterinsurgency Manual. "There's a lot of good lessons in there and coming from a military background, I found the insight in that extremely remarkable," he told his colleagues.
The oil and gas industry has good reason to feel besieged. Opposition to fracking, especially, is on the rise. New York State has in place a moratorium against the drilling technique, and legislators in California are considering a similar ban. A white paper prepared by FTI Consulting, a DC-based public relations firm with ties to the shale gas industry, recently warned:
"Environmental activists are looking to undermine the strategies and operations of energy companies … Adding to the activists' momentum is the fact that a growing number of mainstream shareholders are supporting their proposals."
But given the absence of any physical attacks against drilling company assets, the industry's view of its opponents smacks of paranoia. In August 2012, iJET International, a private security firm founded by a former National Security Agency (NSA) operative, issued a risk assessment of anti-drilling protests in New York State. In one of its daily intelligence bulletins distributed to corporate clients the firm observed:
"Protests against hydraulic fracturing have gained considerable momentum over the past few months … While most demonstrations have been peaceful, participants say they are hoping to intensify actions in hopes of disrupting operations at targeted facilities."
The U.S. Army Counterinsurgency Manual that was offered as suggested reading for shale gas industry representatives includes an appendix on Social Network Analysis, defined as "a tool for understanding the organizational dynamics of an insurgency." In an age of digital networks and online activism, this often means using data-mining software, cyber surveillance and in some cases outright computer hacking to track opposition groups.
At the 2011 natural gas conference in Houston the CEO of Jurat Software, Aaron Goldwater, gave a presentation on the subject of data mining and stakeholder intelligence. In his presentation he emphasized the importance of knowing the communities you work in, of tracking and mapping relationships, and compiling a sophisticated database that includes all offline and online conversations. He pointed to the military as a model. "If you look at the people who are experts at it, which is the military, the one thing they do is gather intelligence," he told the audience.
Corporations have already taken advantage of network forensic software to keep tabs on their own employees. The new technology, which allows companies to monitor an employee's activity down to the keystroke, is one of the fastest growing software markets. There is a fine line, however, between data mining—which is perfectly legal though largely out of view—and cyber surveillance, or hacking.
While it is difficult to prove hacking, many activists are convinced their computers have been tampered with. Kari Matsko, a professional software consultant and director of the People's Oil and Gas Collaborative in Ohio, says her computer was hacked after she began to push for tougher regulation of the natural gas industry.
Matsko got involved in environmental activism after hydrogen sulfide gas was released from a well site near her home. In 2008, she started helping a group of citizens who had filed a lawsuit against one of the larger energy companies in Ohio on grounds of nuisance violations and loss of property value. She spent many months doing research and collecting files related to the case, some of which she described as damning.
Because of her profession, Matsko has very strong computer security and says that prior to working on oil and gas issues she had never had problems with malware. But while assisting with the lawsuit Matsko's computer was attacked by a sophisticated virus. Matsko was able to remove it and everything seemed fine. About a month later, though, she unsuccessfully tried to open the computer folder that contained the sensitive files related to the lawsuit. The files were either missing or corrupted. "I remember I was so terrified by it that I didn't even tell people unless it was in person," she says.
Other activists have described similar cyber security-related issues. Around the time the ITRR bulletins were made public, Jiunta told me, members of GDAC experienced persistent problems with their computers. "Everybody was getting suspicious," he says. "I had computer issues. Some are still having issues."
John Trallo, a 61-year-old musician and guitar instructor whose communications were also featured in the ITRR bulletins, has been an outspoken critic of shale gas development for several years. In 2007, Chief Oil and Gas offered him a signing bonus of $1,400 to lease his mineral rights. Trallo, who lives in a modest two-story home in northeastern Pennsylvania, refused. He's been fighting the industry ever since.
"This is something that's bigger in my life than I ever wanted it to be," he says. "Five years ago, when I first started getting involved in this and I started talking to people, I would say to myself, 'these people are a little crazy.' Five years later, I sound like them."
Immediately after the intelligence bulletins were made public Trallo's computer became nearly unusable. Documents were corrupted and irretrievable; photos were disappearing and programs wouldn't work. A relatively new machine with a high-end operating system, Trallo had it serviced at a Best Buy in nearby Muncy. He was told by the Geek Squad at Best Buy that a highly sensitive program that acts like a Trojan Horse had been installed on his computer. According to Trallo, "They said that the program monitors every key stroke, every email, everything you do on the computer."
Nearly all of the activists I spoke with said the Pennsylvania Homeland Security revelations, while giving them pause, had not changed their behavior. They continue to speak out, to attend public meetings and to push for greater oversight of the industry. Still, "it leads to some scary possibilities in the future," says Eric Belcastro, an organizer with the Community Environmental Legal Defense Fund. "I don't sit around being paranoid about this stuff. I just try to do what I have to do and get along with my life. But I admit the playing ground is rough and I think people need to be careful."
Even as corporations expand their surveillance of citizen-activists, they are seeking to obstruct public oversight of their own behavior. It's a bit like a one-way mirror of democratic transparency—with corporations and law enforcement on one side looking in and activists on the other.
Pennsylvania is a case in point. In early 2012, legislators there passed "Act 13," a set of amendments to the state's Oil and Gas Act, which essentially stripped local municipalities of the authority to regulate drilling activity through zoning ordinances and other measures. The law also requires doctors who treat patients exposed to fracking chemicals to sign a confidentially agreement before receiving information about the substances. The gag rule would prevent them from sharing that information with the patient or even other doctors (GDAC's current president, Dr. Alfonso Rodriguez, is challenging this provision).
Earlier this year, a bill was introduced into the Pennsylvania legislature that would make it a felony to videotape farming operations in Pennsylvania—so-called "ag-gag" legislation that has already passed in Utah and Iowa, and has been introduced in several other legislatures. Many of the ag-gag bills draw on language crafted by the American Legislative Exchange Council's (ALEC) "Animal and Ecological Terrorism Act." Section D of the ALEC bill defines an animal or ecological terrorist organization in broad terms "as any association, organization, entity, coalition or combination of two or more persons" who seek to "obstruct, impede or deter any person from participating" not only in agricultural activity but also mining, foresting, harvesting and gathering or processing of natural resources. In recent years, ALEC has received considerable support from the natural gas industry
The proposed law has many anti-drilling activists worried. If such language were included in the bill (it is currently in committee and will be revised before it comes to the floor) it would greatly limit the ability of residents to photograph or video well sites, compressor stations, and pipeline development—all of which could be considered part of the "gathering or processing of natural resources."
"It's clearly legislation that could be easily expanded in any particular case to include folks like me who do whatever we can to get as close to some of these sites as we are able," says Wendy Lee, a philosophy professor at Bloomsburg University who regularly photographs the industrial impacts of gas drilling and then posts them on her Flickr page.
Lee says that among anti-drilling activists there is a sense that 2013 is a do-or-die year. The Pennsylvania Supreme Court is set to rule on the constitutionality of Act 13. As the drilling boom moves into ever more populated areas, activists are gearing up for more focused organizing and larger nonviolent protests. With tens of thousands of wells yet to be drilled, at least this much is clear: The industry will be watching closely.
Research support for this article was provided by The Investigative Fund at The Nation Institute.