Wikipedia
Prime Minister Justin Trudeau says oil pipelines have no place in BC's Great Bear Rainforest. Opponents of the approved Kinder Morgan pipeline expansion to the West Coast and the cancelled Energy East pipeline to the East Coast argue pipelines and tankers don't belong in any coastal areas. Research led by the Raincoast Conservation Foundation confirms the threat to marine mammals in BC waters from a seven-fold increase in tanker traffic is considerable.
After examining potential impacts of a 15,000-cubic-meter oil spill in BC waters on 21 marine mammals, researchers concluded most individuals would be at risk and a few local populations wouldn't survive. Baleen whales, for example, are highly susceptible to ingesting oil because they breathe through blowholes, filter and eat food from the ocean surface and rely on invertebrate prey. Oil residue can stick to the baleen, restricting the amount of food they consume.
Resident and transient killer whales, sea otters and Steller sea lions were most likely to see a drop in population levels from an oil spill. Killer whales are especially vulnerable because of their small populations, low reproductive rates, dietary specialization, long lives and complex social structure. The 76 southern resident killer whales off the BC coast, Canada's most endangered marine mammal, are particularly threatened by oil spills, as well as ship strikes and underwater noise that hinders their ability to feed and communicate.
If Trans Mountain's Kinder Morgan pipeline expansion proceeds and an oil spill occurs, the study estimates it would affect between 22 and 80 percent of these whales' critical Salish Sea habitat. They already face severe chinook salmon prey shortages and other challenges. In court, opponents argued that adding pipeline and tanker impacts to the mix could lead to their extinction.
Following the 1989 Exxon Valdez disaster in Prince William Sound, a unique pod of north coast orcas vanished forever. Nine of the 22 whales died and remaining pod members didn't produce any living offspring.
All marine mammals are vulnerable to oil spills because they surface to breathe. If that happens in a spill, oil can adhere to their bodies, and they can inhale toxic vapors and ingest oil. Marine mammals exposed to oil spills may suffer damaged airways, congested lungs, stomach ulcerations, eye and skin lesions, weight loss and stunted growth. When whales and dolphins surface to breathe, oil can restrict their blowholes and airways. When seals and otters try to clean oil matted on their coats, they ingest it. They also lose heat because spilled oil ruins their natural insulation, so they can die of hypothermia.
Even indirect exposure to small amounts of oil chemicals known as polycyclic aromatic hydrocarbons can have profound toxic effects on animals and fish, particularly the young. Two years after the Exxon Valdez spill, mortality rates in pink salmon eggs were 96 percent higher than pre-spill levels. Researchers estimated that shoreline habitats such as mussel beds could take up to 30 years to recover fully.
Chronic oil pollution from ships traveling off Canada's coasts kills hundreds of thousands of seabirds every year. In the late 1990s, an estimated 300,000 birds died annually off Newfoundland's coast alone.
No technology will adequately clean most oil spills, especially diluted bitumen. Unlike conventional crude, bitumen can sink if spilled in water, according to a 2016 study by the National Academy of Sciences. It also found that current regulations and spill-response techniques can't manage the unique behavior and higher risks of a bitumen spill. Tar balls sink to the bottom or hang in the water column, eluding conventional booms used to contain oil spills.
An Oil Tanker Moratorium Act before Parliament recognizes that BC's north coast ecosystems and local economies must be protected from oil spill risks. BC's new government will argue in its case against the Kinder Morgan pipeline that the federal government failed to evaluate the project's risks to the marine environment—a breach of its obligation to consider the national interest.
It's certainly not in the interests of any marine mammal, especially endangered ones, to add more shipping traffic or increase oil spill risks—nor is it in keeping with our Paris agreement commitments to shift away from fossil fuels. Let's hope that the Kinder Morgan project goes the way of the Energy East pipeline.
EcoWatch Daily Newsletter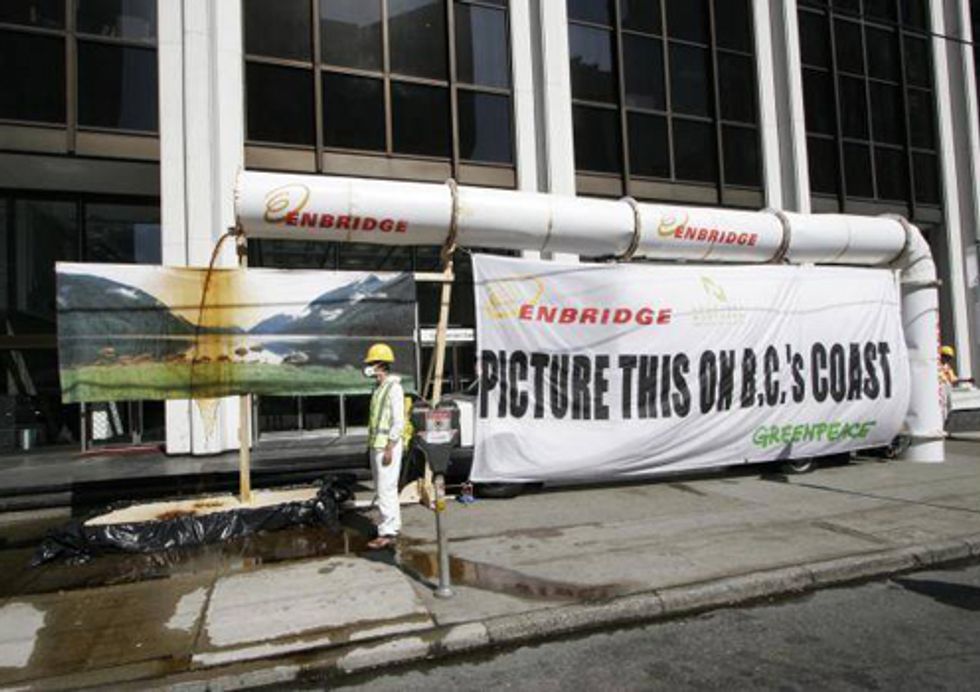 Imagine it—Pollution from tanker traffic. An impossible-to-rule-out oil spill. Destruction of pristine habitat for sea otters, killer whales, puffins, seabirds and even iconic spirit bears.
That's what's awaiting British Columbia's northern coast and hundreds of species of birds, animals and marine life that thrive in this region if we don't take action right now.
A controversial proposed pipeline would carry oil from the tar sands in Alberta to a port at Kitimat, British Columbia. After travelling nearly 1,170 km through pristine wilderness and First Nations homelands, tar sands oil would be loaded on tankers bound for Pacific markets. To get there, they must first navigate the perilous northern B.C. coast, travelling the same wildlife-filled waters where the Queen of the North ferry sank in 2006. Is this pipeline in the public's best interest?
If given a go-ahead, the pipeline project would:
Fragment the boreal forest, home to birds and other wildlife, including woodland caribou and grizzly bears.
Expose the Great Bear Rainforest, home to wolves and the iconic spirit bear, and 30 internationally recognized Important Bird Areas teeming with marine birds, fish and other animals to potential oil spills and pollution from increased tanker traffic.
Risk irreversible harm to the livelihoods of many coastal and aboriginal communities.
Canada's wildlife depends on us to speak up on their behalf and put a stop to the Northern Gateway Pipeline project before it's too late. Add your voice and send your letter today.
For more information, click here.
waterlust.com / @tulasendlesssummer_sierra .
Each product featured here has been independently selected by the writer. If you make a purchase using the links included, we may earn commission.
The bright patterns and recognizable designs of Waterlust's activewear aren't just for show. In fact, they're meant to promote the conversation around sustainability and give back to the ocean science and conservation community.
Each design is paired with a research lab, nonprofit, or education organization that has high intellectual merit and the potential to move the needle in its respective field. For each product sold, Waterlust donates 10% of profits to these conservation partners.
Eye-Catching Designs Made from Recycled Plastic Bottles
waterlust.com / @abamabam
The company sells a range of eco-friendly items like leggings, rash guards, and board shorts that are made using recycled post-consumer plastic bottles. There are currently 16 causes represented by distinct marine-life patterns, from whale shark research and invasive lionfish removal to sockeye salmon monitoring and abalone restoration.

One such organization is Get Inspired, a nonprofit that specializes in ocean restoration and environmental education. Get Inspired founder, marine biologist Nancy Caruso, says supporting on-the-ground efforts is one thing that sets Waterlust apart, like their apparel line that supports Get Inspired abalone restoration programs.
"All of us [conservation partners] are doing something," Caruso said. "We're not putting up exhibits and talking about it — although that is important — we're in the field."
Waterlust not only helps its conservation partners financially so they can continue their important work. It also helps them get the word out about what they're doing, whether that's through social media spotlights, photo and video projects, or the informative note card that comes with each piece of apparel.
"They're doing their part for sure, pushing the information out across all of their channels, and I think that's what makes them so interesting," Caruso said.
And then there are the clothes, which speak for themselves.
Advocate Apparel to Start Conversations About Conservation
waterlust.com / @oceanraysphotography
Waterlust's concept of "advocate apparel" encourages people to see getting dressed every day as an opportunity to not only express their individuality and style, but also to advance the conversation around marine science. By infusing science into clothing, people can visually represent species and ecosystems in need of advocacy — something that, more often than not, leads to a teaching moment.

"When people wear Waterlust gear, it's just a matter of time before somebody asks them about the bright, funky designs," said Waterlust's CEO, Patrick Rynne. "That moment is incredibly special, because it creates an intimate opportunity for the wearer to share what they've learned with another."
The idea for the company came to Rynne when he was a Ph.D. student in marine science.
"I was surrounded by incredible people that were discovering fascinating things but noticed that often their work wasn't reaching the general public in creative and engaging ways," he said. "That seemed like a missed opportunity with big implications."
Waterlust initially focused on conventional media, like film and photography, to promote ocean science, but the team quickly realized engagement on social media didn't translate to action or even knowledge sharing offscreen.
Rynne also saw the "in one ear, out the other" issue in the classroom — if students didn't repeatedly engage with the topics they learned, they'd quickly forget them.
"We decided that if we truly wanted to achieve our goal of bringing science into people's lives and have it stick, it would need to be through a process that is frequently repeated, fun, and functional," Rynne said. "That's when we thought about clothing."
Support Marine Research and Sustainability in Style
To date, Waterlust has sold tens of thousands of pieces of apparel in over 100 countries, and the interactions its products have sparked have had clear implications for furthering science communication.
For Caruso alone, it's led to opportunities to share her abalone restoration methods with communities far and wide.
"It moves my small little world of what I'm doing here in Orange County, California, across the entire globe," she said. "That's one of the beautiful things about our partnership."
Check out all of the different eco-conscious apparel options available from Waterlust to help promote ocean conservation.
Melissa Smith is an avid writer, scuba diver, backpacker, and all-around outdoor enthusiast. She graduated from the University of Florida with degrees in journalism and sustainable studies. Before joining EcoWatch, Melissa worked as the managing editor of Scuba Diving magazine and the communications manager of The Ocean Agency, a non-profit that's featured in the Emmy award-winning documentary Chasing Coral.