[Editor's note: These are the prepared remarks for the commencement keynote on June 22 by John Armstrong from Frack Action to the New Roots Charter School in Ithaca, NY.]
What an honor and a privilege to be here with you all. I am blown away by the magnificent idea of New Roots to combine rigorous academics with the vision of empowering young people to create just, democratic and equitable communities powered by green, sustainable economies.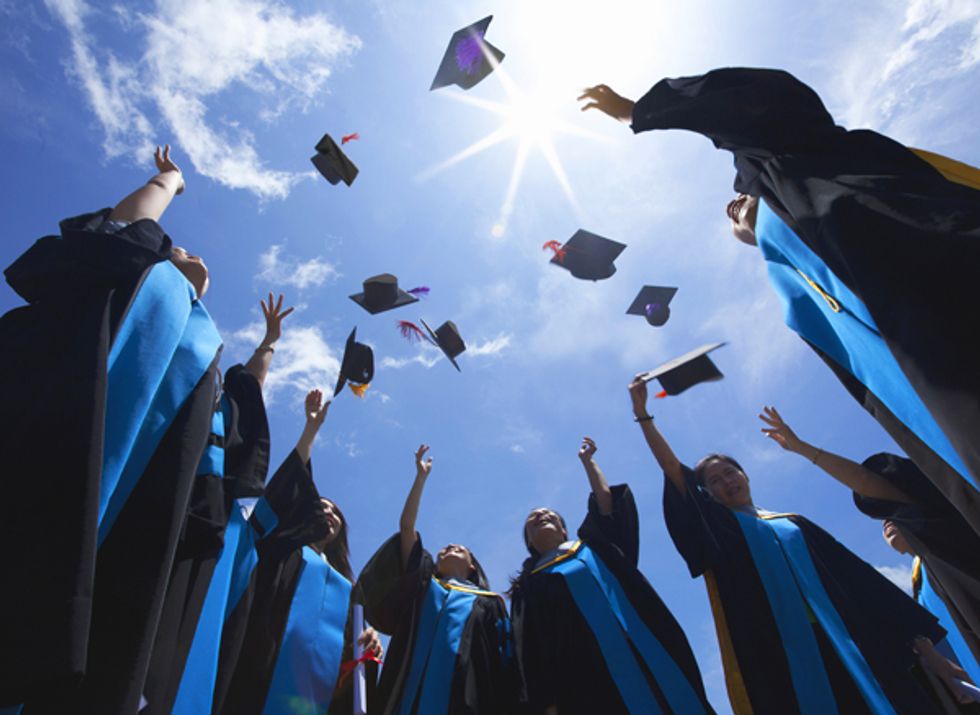 Photo courtesy of Shutterstock
Yours is no ordinary graduation. Today's rightful celebration marks the deployment of a force for good into a world that desperately needs your vision, energy and your convictions. Your class might not be the largest to graduate on this day, but mark my words, you could change the world.  
And you must. Right now the course of our future is being set by the fossil fuel industry, the most powerful corporations in the history of the world, and they're steering us off a cliff into a raging inferno. They fight each day to blow up more mountains for coal, demolish more land and oceans for oil and shatter more of the ground beneath our feet by fracking for oil and gas with a cocktail of the most toxic chemicals known to humankind. With each passing day that these interests set our course, with every additional ton of greenhouse gases emitted like a poison in our atmosphere, the drier the ink becomes on the bleak future written by the fossil fuel industry.
That future is one where oceans drown our coastal homes and cities, where biodiversity is diminished. It's a future where droughts will parch our agricultural fields and allow wildfires to run rampant. It's a future where clean, freshwater will be among the world's scarcest resources, and where smog and pollution suffocate our lungs and the planet's.
Given the fossil fuel industry's seemingly unlimited money and political influence, changing their course and taking control of our future is a tall order. But again, we must. And all of you, yes at your young ages, can make the choices that lead you to seize that control.
I turned 24 last month, and I can tell you how significant a difference each of us can make, how important the choices we make can be and the power we have as youth in this country.
I've made some of those choices. I studied ecology at Cornell, following my love of scientific research. After my undergraduate, I planned to pursue a doctorate and launch a career in research. I was particularly interested in studying high-elevation, mountainous ecosystems and how climate change would affect them. One example I worked on stands out. There's a bird in New York's Catskill Mountains called the Bicknell's Thrush, a threatened species that only lives in ecosystems unique to the highest 600 feet of the tallest mountains.
To cut to the chase of a lot of data, detailed spreadsheets and a great deal of literature, climate change is bad news for the Bicknell's Thrush. As the climate warms, ecosystems and other species' ranges will shift and those 600 feet of habitat will become 400, 200 and eventually none. The appropriate conditions for the Bicknell's Thrush will be above the top of the highest mountains. In other words, no more Bicknell's Thrushes in the Catskills.
My research was essentially projecting the effects of climate change over time, which are mostly negative, often disastrous, and in this case meant projecting the demise of the Bicknell's Thrush in the Catskills over the next 50 years or so. It hit me that I would ultimately be judging my success by how well I had predicted the demise of a species and an ecosystem I cherished.
How's that for a career and your life's work?
Around the same time, a professor pointed me to an opportunity to work for a year in environmental advocacy after graduating. I didn't really know what that was, but as I looked into it more and more, I realized it was a chance to directly affect our future, to campaign for laws that reduce greenhouse gas emissions, safeguard important environmental protections and build a movement to stop the worst impacts of climate change and environmental destruction. On this path, in 50 years I could judge my success not by how well I predicted the demise of species and ecosystems, but by how well they are doing.
I guess you know what choice I made. In that year, I was part of a successful campaign to save our nation's best climate laws in California from a couple of Texas oil companies; I worked in Maine to protect the Clean Air Act from extreme special interests; and I worked on Power Shift in our nation's capital to build the youth climate movement.
After Washington DC, I had another job lined up in New Hampshire. But I'd been learning more and more about fracking. I saw the disaster that was taking place in Pennsylvania, the research showing that fracking is one of the worst things we could do for the climate, and that widespread fracking was on the verge of being allowed in New York State. Worse yet, I saw that fracking was pushing out renewable energy, falsely being sold as a clean transition fuel, and was on track to expand exponentially across the country and the world.
I knew that the oil and gas industry had set a course for a future dominated by fracked oil and gas. If we were going to stop them, we would have to make a stand in New York.
With that conviction, I chose not to take the job in New Hampshire and instead committed myself 100 percent to stopping fracking. I moved back to New York and joined up with a couple of young women who had recently started an organization called Frack Action with the mission to stop fracking outright.
We believed that if we could stop it in New York, that would send shockwaves across the country and the world and we could also stop it elsewhere. It's a lofty goal, but one we must reach to prevent the worst impacts of climate change and to create a renewable energy future.
Given the political landscape, we saw an urgent need to better coordinate the growing grassroots movement and leverage its power across the state, in Albany and in the media. As it stood, the grassroots weren't being heard in our capital, where an army of gas industry lobbyists and a sophisticated propaganda campaign were drowning out our voices and the science.
At that point, Frack Action had a terrible website, a few hundred likes on Facebook and Twitter, and no funding. But the group of us all had some good political experience and an abundance of determination. We worked tirelessly off savings, loans and some small contributions. Frack Action organized the first major rally for a ban in Albany with a record breaking 500 people. With many allies, we went on to build out the movement, educating businesses, farmers, elected officials and combating the gas industry's lies with science and facts. Countless rallies and press conferences got the truth out and helped build the movement across the state.
And the movement was growing like wildfire, with each grassroots group inspiring another and each local action igniting the next.
Our work with the media began to change the discussion from when and how fracking would take place to whether it would take place. And today, the call for a full statewide ban is the prevailing demand. Our voices would go on to carry across the state, nation and even the world in thousands of news stories, informing the public and the national debate while also pressuring our elected officials.   
Ultimately, our vision of a coordinated movement that could effectively leverage its influence turned into what is now the mighty New Yorkers Against Fracking coalition of over 200 organizations.
This past Monday, two years and a month after that first rally for a ban in Albany, over 3,000 people descended on Governor Cuomo's doorstep to demand a frack free future powered by renewable energy. We made the case, and we made it loudly and forcefully, for a better future. Our voices resonated throughout the capitol and across the state and the nation in well over a hundred news outlets. The same morning, a poll showed statewide opposition to fracking significantly ahead of support.
By keeping fracking out this long, we've all done what many political insiders, elected officials and mainstream environmental organizations promised us was impossible. But this isn't a fight for what seems possible—it's a fight for what's necessary. We haven't won yet, but we've certainly changed the playing field. And our growth is exponential, not linear.
Meanwhile, the world is watching us in New York and similar coalitions and actions are popping up everywhere. We've helped empower a serious national and international movement against fracking.
In leaked documents, the gas industry notes how effective we are and the danger we pose. In other words, they're worried that we are changing the course they've set for a future dominated by fracked oil and gas.
We must.
Our movement is broad and diverse. But that's a result of the choices a relatively small number of individuals have made to dedicate ourselves to this cause, with the belief that we can change the course of our future. If not for those choices, we would have had fracking years ago and that future would loom darker. What I've come to know, and I know this for certain, is the incredible difference regular, individual people can make if they choose to.
They always have. An hour north of here in the town of Seneca Falls in 1848, one such individual named Elizabeth Cady Stanton led a group of 68 women and 32 men in signing the Declaration of Sentiments. Modeled after the Declaration of Independence, it asserted the equality and rights of women. A small group of women's vision, choices and action thus marked the beginning of the women's rights movement in the United States. From Seneca Falls they went forward with stalwart determination, and today we all benefit greatly from their resolve and their action.
Those women weren't so different than you and I.
One of the men who signed the Declaration of Sentiments was Frederick Douglass, who escaped slavery and became a leader of the abolitionist movement. He had the courage to fight the establishment for what was right in the face extraordinary odds and very personal attacks. Yet his words and his convictions inspired a movement and broad support ranging from everyday people to President Abraham Lincoln. He knew that you have to fight for the change you want to see in the world.
In his words, "If there is no struggle there is no progress. Power concedes nothing without a demand. It never did and it never will."
These powerful words ring true in the environmental movement as well. In 1962, marine biologist and author Rachel Carson challenged the powerful chemical and pesticides industry with her book Silent Spring. Industry fiercely opposed her work, but Caron's powerful voice carried the science and rang true, leading to a reversal of national pesticide policy and a ban on DDT. As pollution ran rampant, her uncompromising voice also inspired a grassroots environmental movement.
In 1970, Wisconsin Senator Gaylord Nelson created Earth Day, which marked a pivotal turning point away from a future of unchecked pollution and toxic chemicals. Twenty-six year old Dennis Hayes coordinated the event nationally with a team of 85 people, turning out a shocking 20 million Americans demanding environmental reform. Later that year, as a result of the public outcry, Congress created the U.S. Environmental Protection Agency and enacted the Clean Air Act. The Clean Water Act would follow in 1972.
Isn't that amazing?
Today we face climate change, perhaps the greatest challenge humankind has ever faced.
Yet as hard as it will be to meet, this is a moment of hope, not despair. If history is any guide, don't doubt the power of individuals and small groups of people to change the course of our future.
We are those people.
Can you imagine if 20 million people took to the streets tomorrow to demand action on climate change?
We have the science showing we have to take serious action. We have the technology to makes the changes. We need the political will.
That's up to us. As youth, our voices can carry far. Both the Democratic and Republican parties recognize that youth played a major role in the last two presidential elections. Corporations know that the purchasing habits we make now last for life, and as a result listen to us intently. But most importantly, we have a vision for a better world, and we can make that vision a reality with the right determination and action. It's our future, and it's time we take ownership of it.
Recall the words of Frederick Douglass, "Power concedes nothing without a demand."
Uncompromising, let's make that demand. Let's give science the force of 20 million people pushing it forward. With love and resolve, let's take control of our future.
In closing, I implore you all: give your convictions the power of action. Wherever you go from here, make the choices to make a difference.
Visit EcoWatch's FRACKING and CLIMATE CHANGE pages for more related news on this topic.
——–
Sign the petition today, telling President Obama to enact an immediate fracking moratorium:

EcoWatch Daily Newsletter
Since shale gas drilling began in Pennsylvania a decade ago, the PA Democratic Party has sought to tax and regulate drilling. That all changed on June 15 when the PA State Democratic Committee voted 115—81 to support a resolution calling for a moratorium on fracking.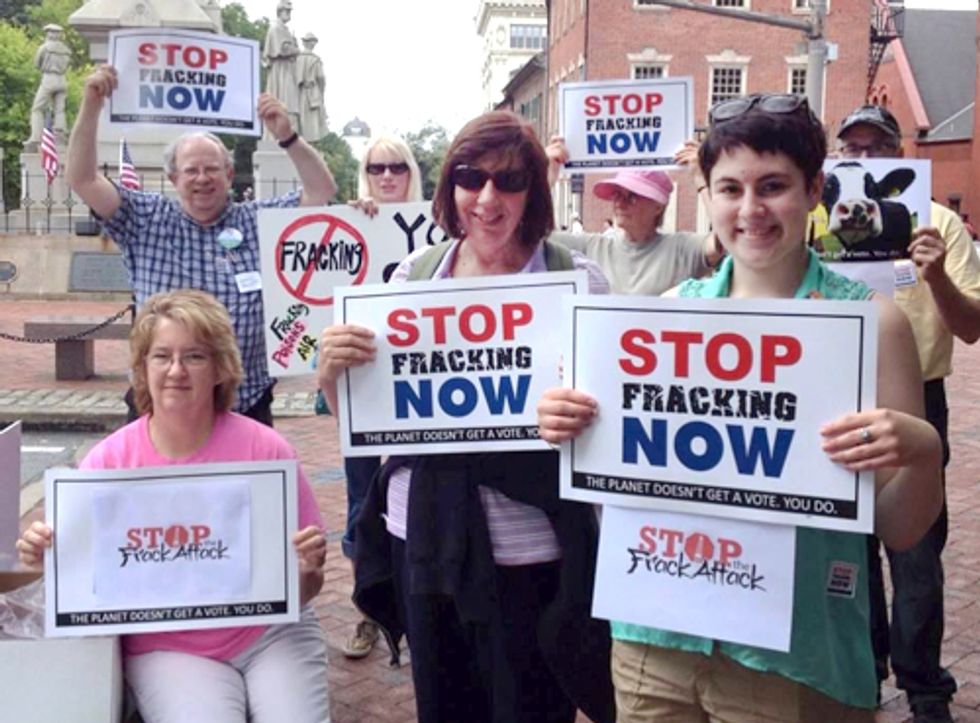 The resolution, drafted by Susan Lyons, a member of the Monroe County delegation, calls for a moratorium until fracking can be proven safe. A version of the resolution offered at the committee's last meeting was blocked from making it to the floor for a vote, so Berks Gas Truth, a grassroots community group, organized an action with co-sponsors Clean Water Action, Food & Water Watch, Gas Drilling Awareness Coalition, Lehigh Valley Gas Truth, Peach Bottom Concerned Citizens Group, Protecting Our Waters, Shale Justice and the United Sludge-Free Alliance to move the resolution forward.
"We really wanted the full committee to have an opportunity to weigh in on the resolution, but I don't think any of us expected to get it passed this time," said Karen Feridun, Berks Gas Truth's founder.
Members of Berks Gas Truth started planning to take action in May when they learned that the resolution would be up for consideration again in June. "We were discussing what we'd like to do for Stop the Frack Attack's National Month of Action when our Patti Rose realized that the Dems meeting was being held mid-month. The timing was perfect," said Feridun.
The group started by promoting the action online, inviting people to participate in conference calls where the plans were explained. The organizers encouraged registered Democrats to attend all of the sessions, meetings and social events, handing out buttons and literature. All others would protest in Lancaster's Penn Square directly across from the Lancaster Convention Center.
"We provided people with the list of committee members and told them to start calling. We told registered Dems to be sure to ask to be proxies for those who planned to miss the meeting. Proxies can not only vote, they can speak from the floor," explained Feridun who was herself a proxy, as was the Shale Justice Coalition's Wendy Lynne Lee.
"People were lining up proxies. Some even changed parties just to attend the meetings. Several people I spoke with were learning for the first time that there's such a thing as a state Democratic committee out there to lobby," says Feridun.
The committee's 59 percent to 41 percent vote mirrors the results of a recent poll by the Center for Local, State and Urban Policy at the University of Michigan, in conjunction with the Muhlenberg College Institute of Public Opinion in which nearly two-thirds of Pennsylvanians supported a moratorium on fracking. Two weeks earlier, environmental organizations led by PennEnvironment delivered 100,000 petition signatures calling for a moratorium to Gov. Corbett (R-PA). Sen. Ferlo (D-PA) announced that day that he is introducing a moratorium bill. Five Democratic legislators have signed on so far.
Most who spoke from the floor prior to the vote spoke in favor of the resolution. Rosie Skomitz, a member of the Berks Delegation and an active member of Berks Gas Truth, challenged the party to take a firm stand against fracking and pointed out that a Democratic senator was introducing a moratorium bill that had already picked up five Democratic co-sponsors.
One of the members to express her opposition was Vice-Chair Penny Gerber who said, "This bill (sic) as it currently stands says it is a moratorium on hydraulic fracturing, but it specifies that the moratorium will last until the practice can be done safely. Because no set period of time is provided it truly is a ban on fracking, and this is a thriving industry. It is for that reason I cannot support this bill (sic)." Incidentally, Gerber works as an associate for Ceisler Media & Advocacy whose clients include Chesapeake Energy, Reliant Energy and Spectra Energy.
"When I heard Gerber make the point that a moratorium until fracking can be done safely is in effect a ban, I thought, 'Right! That's our point exactly! It can never be proven safe!'" said Feridun
Visit EcoWatch's FRACKING page for more related news on this topic.
——–

Sign the petition today, telling President Obama to enact an immediate fracking moratorium:

Jill Wiener has dedicated a large part of the past five years of her life to keeping the use of hydraulic fracturing for natural gas extraction out of New York State. The Sullivan County, NY, resident believes that if fracking has yet to happen in a state, it should never be allowed to happen. And where fracking is happening, it should be stopped.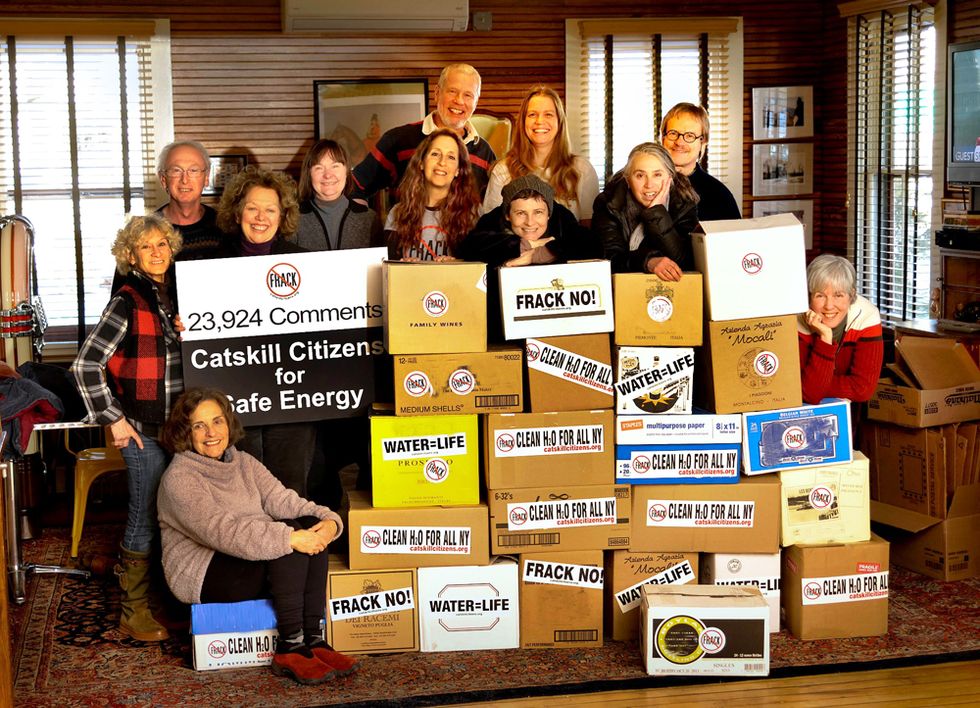 Many of Wiener's fellow grassroots activists in New York share this belief. They're opposed to the regulatory path followed in other states, including in Illinois where some big environmental groups worked with the natural gas industry to get fracking legislation passed and signed into law. So far, the New York activists' strategy for keeping shale gas drilling out of the state has worked: fracking in New York still appears to be a long way off, if it happens at all.
The strength of the resistance manifested itself again June 17 when more than 3,000 people of all ages and backgrounds from across New York gathered in Albany to urge Gov. Andrew Cuomo and the legislature to end the threat of fracking and promote a clean energy agenda. Robert Boyle, a long-time environmental activist and founder of Riverkeeper, remarked last year that he has never seen an environmental movement "spread with such wildfire" as the anti-fracking movement.
"It took me 13 or 14 years to get the first Riverkeeper going. Fracking isn't like that. It's like lighting a train of powder," he told journalist Ellen Cantarow.
Spreading Like Wildfire
The movement started to spread like wildfire in New York when concerned residents began educating their neighbors about the dangers of fracking. "The grassroots groups actually informed the Big Green groups," Wiener said in an interview with EcoWatch. "This was the grassroots telling the grass tops what was happening on the ground and doing the research and seeing that something was wrong. Back in 2008, the Big Greens thought that natural gas was a good bridge fuel, better for the climate."
Anti-fracking activists in New York were hearing news about what was happening in Pennsylvania, stories that put them on high alert. "We had a head-start because the industry marched through Pennsylvania first," Wiener said. When industry representatives began showing up in New York, they guaranteed millions of dollars to residents if they leased their land and minimal impact on the environment from the shale gas extraction process.
But many residents refused to buy into the industry's narrative. "There are a lot of native New Yorkers here," Wiener said. "We all grew up with the story, 'Well, I've got a bridge to sell you.' We're pretty skeptical."
Wiener became involved in the anti-fracking movement after she ran into a friend at a local supermarket who handed her literature describing what the natural gas industry had up its sleeve.
"I looked at it and said, 'Oh dear! They're never going to do this here. This is a hair-brained scheme,'" she recalled.
Wiener and other anti-fracking activists in the region were feeling good about their chances because they had just finished working with state lawmakers to defeat the construction of an electric transmission line called the New York Regional Interconnect (NYRI). The proposed 400-kilovolt, 1,200 megawatt, high-voltage line would have run about 190 miles from Utica, NY, to Orange County, NY.
"The whole project didn't make sense. It was not easily defeated, but we had our elected officials on our side," explained Wiener. The activists were expecting the same success in the fight against fracking. Getting public officials on board the anti-fracking bandwagon would be a "no-brainer," she thought. Activists soon discovered, though, that the fight against fracking would be much tougher and drawn-out than the campaign against the NYRI electric transmission line.
Wiener's concerns about fracking led her to Catskill Citizens for Safe Energy, a group formed in 2008 in reaction to "landmen knocking on doors." The group seeks to educate the public about fracking and to promote clean energy. At Catskill Citizens, no one takes a salary and there's no office. The organization is run by volunteers who make decisions by consensus.
The various anti-fracking groups in New York regularly communicate with each other. "If there is a plan or an action or a piece of legislation, we keep in very close touch. We have open discussions about where we need help," Wiener said.
Catskill Citizens has attracted "creative thinkers from all political stripes," many of whom have organizing experience, she said. "This is not a left-wing, tree-hugging issue. It's a public health issue and everybody deserves clean air, clean water and the right to their property and the quiet enjoyment of their property," she emphasized.
An Artist and an Activist
An artist by trade, Wiener moved into a late nineteenth century farm house in Callicoon, NY, from New York City in 1997, where she set up a pottery studio. Along with running a pottery business, Wiener grows flowers on her farm that she then cuts and arranges for parties, weddings and special events.
"I now spend much more time 'working' with Catskill Citizens than tending to my own businesses," she said. It's Wiener's strong convictions that allow her to work the long hours needed to help sustain a movement. "I don't have kids. It's not like I'm fighting for my own children. But there is right and there is wrong. And, boy, I really hate wrong," she said.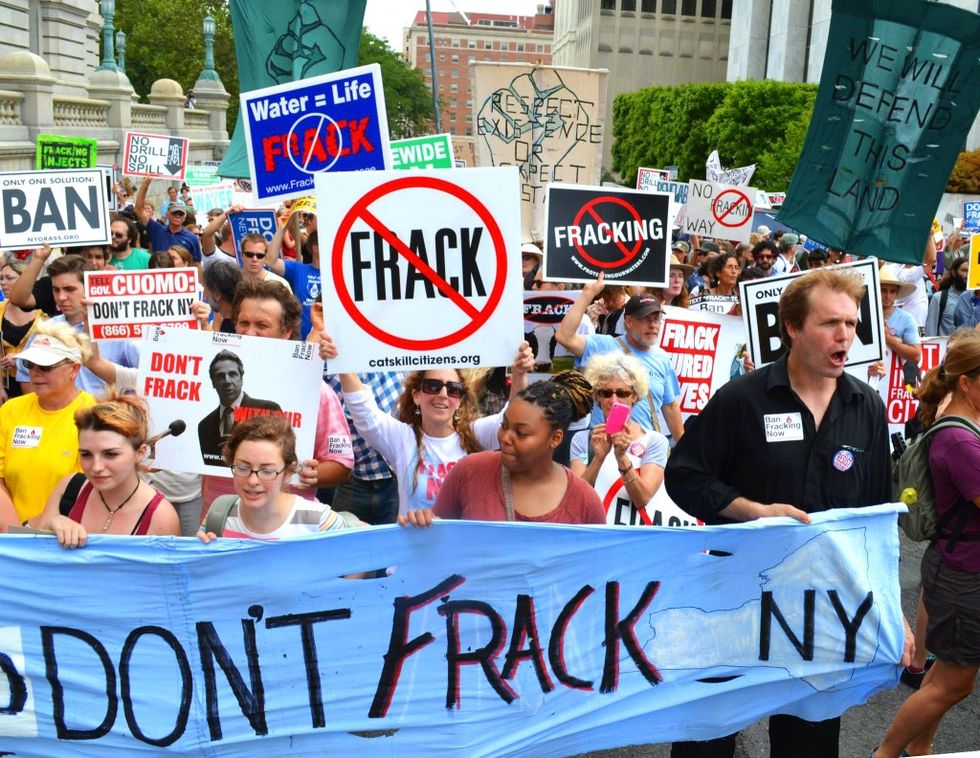 New Yorkers Against Fracking
In her work as an activist, Wiener serves as a member of the board of directors of Catskill Citizens and is on the advisory council of Stop the Frack Attack, a national coalition of anti-fracking groups.
Since moving out of New York City, Wiener also has served on the boards of the Sullivan County Visitors Association, Sullivan County Farmers' Markets, Jeffersonville Area Chamber of Commerce and the Sullivan County Alliance for Sustainable Development. She ran for the Callicoon Town Council in 2011 but did not win a seat. "I believe it is my duty to participate, to try to make our communities better where we can and protect them where we must," she said.
Before she became involved in the anti-fracking movement, Wiener said she had trouble standing up and speaking in front of just a handful of people. In recent years, though, she has become a spokesperson for the movement, speaking at events where she puts her gas industry expertise and her quick wit on display in front of large crowds. "One of my proudest moments was at the [Don't Frack New York rally in Albany in August 2012] when I spoke in front of over 2,000 people," she said.
On most days, Wiener said she is phoning fellow anti-fracking activists to talk strategy, attending meetings or performing ordinary organizational duties to help make the movement even bigger. "Our numbers keep increasing and I think our resolve keeps getting stronger and stronger because everyday something else that is an obvious wrong comes from this industry," she said.
"The industry had for years and years sold natural gas as this perfect solution to our energy problems and to climate change. They sold it as wonderful and clean and green and you put a straw into the ground and you just sort of suck the gas out and it's very simple," Wiener said. "But it really turns out that it wasn't. This is not your grandmother's gas well."
The rush to extract natural gas from the Marcellus Shale and other shale gas plays is creating industrial zones in rural areas across the U.S. The industrialization of wide swaths of forestland, meadows and mountains is threatening the health of humans who live near the drilling zones and disturbing animal and plant species who inhabit these regions.
Most people agree that the natural gas extraction process harms the environment. But they disagree on the extent of the harm. There's debate on whether the benefits of natural gas production outweigh the harm it causes. According to Wiener, the natural gas industry often takes "one kernel of one word of truth and they surround it in this pile of misinformation."
Five Minutes of Happy Dance
The odds appear to be stacked against anti-fracking activists, especially when they compare their meager budgets with the industry's huge war chests. "It's very hard to break through that with the truth when you're faced with insurmountable amounts of money. But somehow we manage to do it, person to person to person," she said.
Echoing a major theme in Gasland 2, the new documentary made by filmmaker Josh Fox, Wiener said the political elite's overwhelming support for fracking at the state and federal levels demonstrates that the nation has "a democracy problem" and that there is "undue influence by corporate money."
The influence of money also is seen in the nonprofit sector. Referring to the Environmental Defense Fund's (EDF) involvement in the Center for Sustainable Shale Development, Wiener said she takes exception to environmental groups that are "GINO," or green in name only. The Pittsburgh-based center, formed earlier this year, bills itself as a coalition of companies and groups working together to improve environmental performance of industry operations. In addition to EDF, the center's members include Chevron Corp., CONSOL Energy Inc. and Royal Dutch Shell plc, as well as Citizens for Pennsylvania's Future and the Pennsylvania Environment Council.
"If the Environmental Defense Fund actually wanted to do something good, they could take their incredible power and the money that they've gotten from Mayor Bloomberg, and put it to good use by educating the public on the dangers of shale gas extraction," she said. In August 2012, Bloomberg Philanthropies awarded the EDF with a three-year, $6 million grant for its work to "minimize the environmental impacts of natural gas operations through hydraulic fracturing."
According to Wiener, the EDF "could walk into Pennsylvania because they have relationships there and say, 'That's enough now, stop! You put a moratorium on this right now. Unless and until you get it right and you're not putting people's lives at risk and polluting their air and changing the character of your state in an irreversible way, you don't do it.'"
North of the border, in New York, pro-industry officials and environmental activists alike are beginning to believe the strength of the anti-fracking movement could spoil the natural gas industry's dream of a shale gas bonanza in the state. Wiener, who describes herself as "really stubborn," believes New York can remain free of shale gas drilling as long as she and fellow activists keep applying pressure.
But what if anti-fracking forces do succeed in New York? That was a question that a state lawmaker asked Wiener at a recent meeting. "My own state senator—not particularly on our side—said, 'Jill, what are you going to do if you ever manage to stop this? Are you going to sit back and do everything you did before?'"
"I said, 'No, if we can stop it in New York, you think I'm going to leave everybody else behind? No. Five minutes of happy dance and then we're right back to work.'"
Visit EcoWatch's FRACKING page for more related news on this topic.
——–

Sign the petition today, telling President Obama to enact an immediate fracking moratorium:

Maryann Lesert
With nothing short of a cultural shift at stake, Michigan's second Common Ground retreat, held June 1-2, was bittersweet—and everyone knew it. Sixty-some activists representing 40-some groups working to end fracking in Michigan—or, if not calling for an outright ban, then calling to take pause and scrutinize the process using the precautionary principle—took part.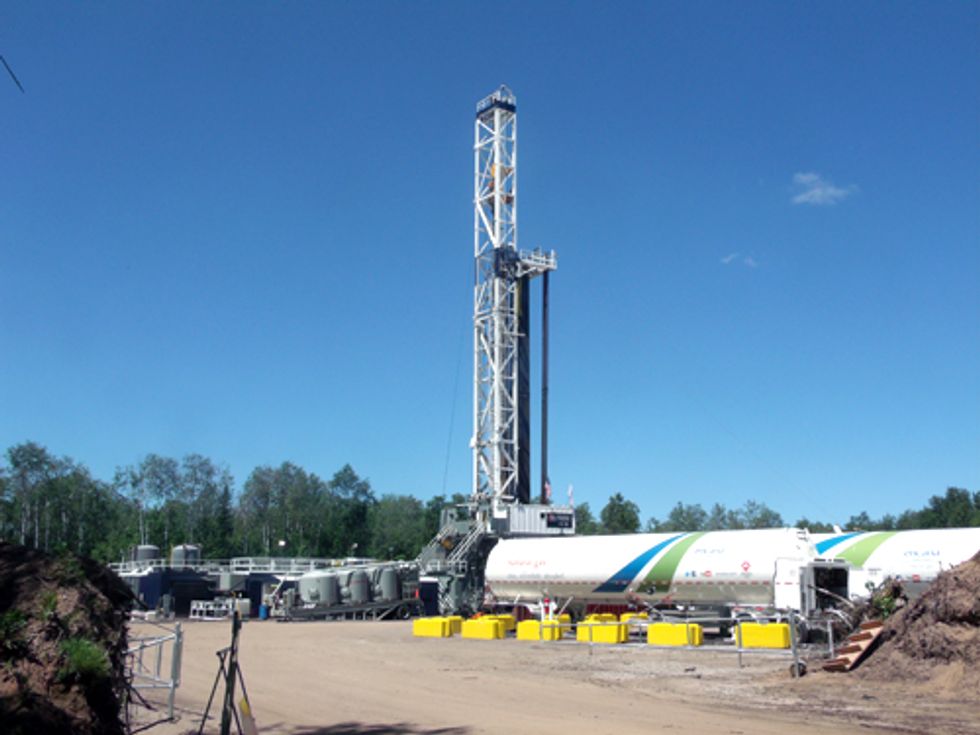 How can a group of chemical engineers, social workers, active and retired teachers, artists, carpenters and lawyers impact an industry that has been expanding its power and writing its own rules since J.D. Rockefeller had his men park abandoned railroad cars on the tracks of his competitors during the first oil boom of the 1800s? After all, Ida Tarbell's landmark 1904 History of Standard Oil didn't stop the building of an oil and gas empire. What can a loosely tied but committed group of activists, over a hundred years later, do to stop an industry bent on unconventional and perhaps even more destructive methods?
It may sound overly simplistic, but first and foremost, they can support each other with their commitment and their presence.
It's no surprise in a state defined by water—Michigan has over 12,000 lakes and an oft quoted saying, "You're never more than six miles from a lake"—that water was a repeated theme as new grassroots groups, such as Don't Frack West Michigan and Citizens for Responsible Resource Management, introduced themselves alongside 30-year veterans such as the Kalamazoo River Protection Association and Muskegon's Save Our Shoreline.
"Because we have the Great Lakes all around and under us, we should be the first ones out there protecting water," said Misty Shehan of Michigan Citizens for Water Conservation (MCWC). MCWC have made themselves known since they won a case widely known as the "Nestle case," challenging and eventually limiting water withdrawals made by Nestle's (formerly Ice Mountain) bottled water operation. Then along came fracking.
Frack wells in Michigan are using eight to 21 million gallons of fresh water per horizontal run, water that frackers are allowed to draw at no cost other than the cost of drilling a water well on the frack well pad. Michigan's Department of Environmental Quality (DEQ) assures the public that water withdrawals are monitored by a software tool called the Water Withdrawal Assessment Tool (WWAT), but the WWAT is not a legally binding regulation.
The problem, according to Common Ground's most experienced water researchers, might be phrased this way: The WWAT doesn't do squat. Which brings Common Ground to a task their predecessors in Pennsylvania, New York and Ohio have learned well: They have some myth busting to do.
"The DNR [Department of Natural Resources] and the DEQ are not the watchdogs the public thinks they are. They facilitate the industry and powerful lobbyists, whether that's timber or oil and gas," said Joanne Crowley, co-founder of Don't Frack Michigan. "And they're making a lot of money off Michigan's water and resources."
"We're not going to let the DEQ keep us trapped in their 'There's never been any contamination due to hydraulic fracturing in Michigan' argument," added JoAnne Beemon, co-founder of Don't Frack Michigan. "Every time a well is fracked, millions of gallons of water are contaminated and then removed from the Great Lakes hydrological cycle—forever."
Neither is Common Ground going to be divided by the industry's or the Michigan Chamber of Commerce's messages that environmental groups working to ban fracking in Michigan are "irresponsible" extremists. The group discussed the Committee to Ban Fracking in Michigan's ban effort in depth and affirmed the need to support all strategies—since securing a moratorium or putting restrictions on local truck traffic or providing all-important images and stories from communities affected by fracking are each important steps toward getting the public to support a turn away from fracking and other fossil fuel extraction methods.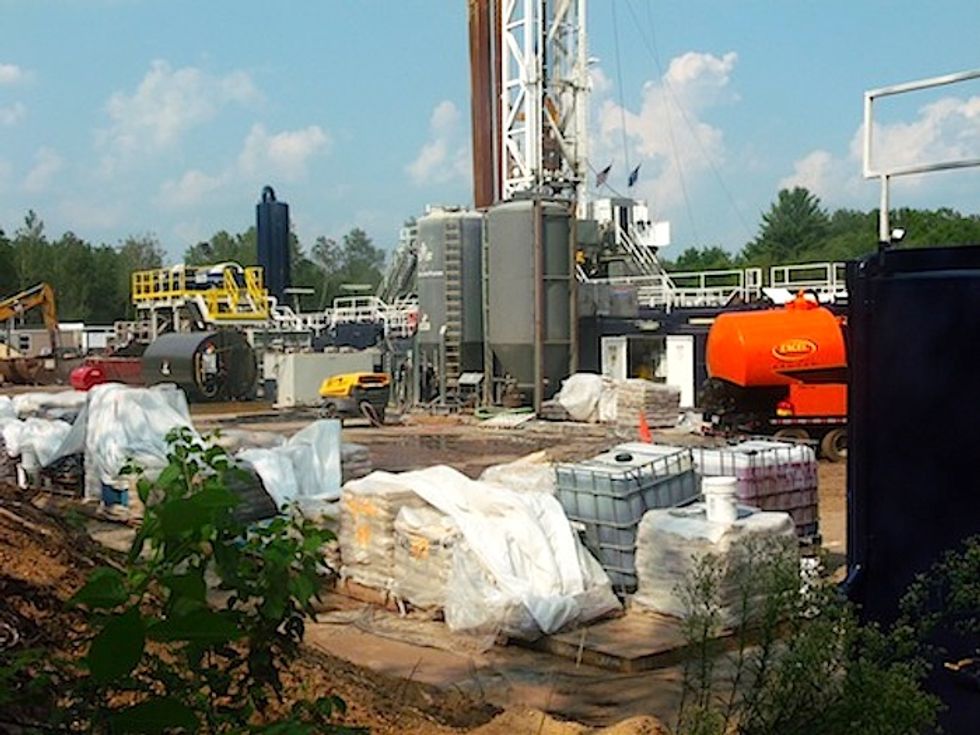 In short, Michigan is heeding the warnings they've heard about divisiveness.
They heard it from Cal Tillman, the former mayor of Dish, TX, featured in Gasland, when he visited northern Michigan in August 2012 with pictures, maps and confirmation of the industry's typical density once the shale operations prove productive. "Only the industry benefits if you're divided," Tillman told attendees.
They heard it from Kevin Heatley, a Pennsylvania restoration ecologist who lives above the Marcellus shale. "The industry's right about one thing," he said in Lansing. "Fracking is going to fundamentally change everything you know and value about your communities, and you'd better be ready."
Paul Brady, who along with Matt Wandel developed the website respectmyplanet.org, demonstrated the site's capability. At the February meeting, the site was in the design stages. Now the site functions as a one-stop source for photographs, video clips, oil and gas leasing maps and MDEQ permits for frack well sites around the state.
Aaron Wissner, a middle school computer applications teacher and founder of Local Future, put the work of the second retreat in perspective. "I'm trying to share the things I can do, right here, right now, to make state-wide sharing and communication easier." By the end of day two, Wissner had helped each of five newly formed work groups organize a web space to do just that: Share research and resources with ease.
As hugs marked the close of another long but mostly productive weekend, Beemon joked, "I wish our signs could say, 'Save our water.' 'Save our air.' 'Save our democracy.'"
But, thanks to the support building in the larger group, no single group needs to do or say it all.
Visit EcoWatch's FRACKING page for more related news on this topic.
——–
Sign the petition today, telling President Obama to enact an immediate fracking moratorium: