Unsplash
By Ercilia Sahores
On Nov. 6, the 23rd session of the Conference of the Parties (COP23) to the UN Convention on Climate Change (UNFCCC) kicked off in Bonn, Germany, the nation's former capital. Germany is one of the world's worst offenders when it comes to pollution. It's also the largest polluter in all of Europe. But Germany is not alone in the polluting business—and countries are not the only big polluters.
The world's top 20 meat and dairy companies emitted more greenhouse gases in 2016 than all of Germany, according to a report published by GRAIN, the Institute for Agriculture and Trade Policy (IATP) and Heinrich Böll Foundation.
Let us briefly go back to COP23, where Big Meat and Dairy are also participating. Several statements have been made so far at the meeting and there have been a few surprises. Unfortunately, it seems that COP23 will not be particularly innovative, especially when it comes to agricultural policies.
COP23 Started Under the Following Premises:
1. There is no time to waste and the Paris agreement must be implemented as soon as possible.
2. The climate disasters we experienced in 2017 (devastating hurricanes and floods, long droughts and extreme temperatures) are not isolated, random events. Rather, they're directly connected to climate change and unless we do something about it, they'll become more and more frequent.
3. With or without the U.S. being part of the negotiations, those countries that have signed up must commit to reaching the goal of making sure warming is limited to 2 degrees Celsius, and ideally, 1.5 degrees Celsius.
4. Rich countries must compensate poor countries, which are the most vulnerable to climate change, even when they have been the least responsible for it. The financial commitment agreed upon in Paris is now being reviewed to see if it is sufficient and adequate. It's also crucial to determine how the funding that would have come from the U.S. will be covered once it officially leaves the agreement in 2020.
COP23 Surprises
1. Syria, the only country that had not signed the Paris climate agreement after Nicaragua joined in late October, has finally agreed to be part of it. As a result, the U.S. has become increasingly more isolated as it's now the only nation on Earth that does not recognize the agreement.
2. The general mood (COP's halls are usually the best place to get an idea of what people are really thinking about—beyond protocol) is that the U.S. government's decision to leave the agreement has only created a stronger sense of solidarity among nations, which can now implement and lead the charge to reverse climate change. Many nations are competing to be the recipient of international recognition, as well as the distribution of copious amounts of funding, which in turn will pave the way for the creation of a number of agencies, departments and many other intermediate bodies.
COP23 As Usual:
1. The negotiation of agreements behind closed doors while civil society organizations and NGOs host side events. This is a way to prove that during COPs, there is civil society participation, but without ever really having to compromise.
2. Giving more relevance to controversial solutions to which much capital has already been invested and promised, such as geoengineering and nuclear energy. It's not a coincidence that despite saying the U.S. will not be part of the negotiations, the Trump administration sent a team to COP23 to advocate for more fossil fuel use.
3. Pushing existing projects that have proven effective for fighting climate change, but don't seem to have the same financial incentive.
4. Unfortunately, from what we've seen so far, the negotiations seem to ignore regenerative agriculture as being the solution to climate change. While predictable, this is actually a greater setback than other COPs, which have at least mentioned agriculture, desertification and soil restoration as being key factors in reversing climate change.
Why Agriculture?
As previously mentioned, last year the world's top 20 meat and dairy companies emitted more greenhouse gases than all of Germany. Industrialized agriculture, which doesn't account for the 500 plus million small farmers and 200 million herders that exist in the world, is a type of production that pollutes the atmosphere, our soils and waterways.
Industrialized agriculture has huge negative impacts on human health too. While producing and selling poison, Big Agriculture ruins not just local economies, but also the means of life and survival of thousands of farmers who rely on a healthy environment for their production.
At Regeneration International, we know that industrial agriculture is a critical part of the problem. But we also know that agriculture, done the right way or rather the regenerative way, is a fundamental part of the solution.
The conversations at COP23 would be entirely different if Big Meat and Dairy giants like Cargill, Tyson or JBS were held accountable for the health and environmental destruction they have caused—a significant portion of which has been funded by government subsidies.
COP23 negotiations could actually focus on real solutions if polluting corporations acknowledged their contribution to climate change, and transitioned away from chemical- and factory farm-based agriculture to a system focused on soil health, animal welfare, nutritious food and farmworker rights.
Instead, the negotiations have thus far focused on whether or not the Paris agreement is achievable, a lack of funding and Trump's latest insult. A genuine effort to hold polluting corporations accountable would shift the mood at COP23 from the same corporate rhetoric we so often hear to one centered on human health, environment and climate-related solutions.
EcoWatch Daily Newsletter
By Paul Brown
The food industry and big agricultural concerns are driving climate change and at the same time threatening to undermine efforts to feed the world's growing population, according to GRAIN, an organization that supports small farmers.
Particularly singled out for criticism are the large chemical fertilizer producers that have gained access to the United Nations talks on climate change. GRAIN accuses them of behaving like the fossil fuel companies did in the 1990s, pushing false information in the hope of delaying real action on climate change.
The evidence is detailed in a book, The Great Climate Robbery: How the food system drives climate change and what we can do about it, published by GRAIN. It is a comprehensive account of the unrelenting and largely successful campaign by big companies to take over the world's food supply and exploit it for profit.
World's food
The writers say small farms have been squeezed into less than one quarter of the world's agricultural lands, but they continue to produce most of the world's food.
Unless small farmers are protected and more land is returned to the kind of sustainable practice employed by small farmers, then there is no hope of feeding the world's population in the future, they say.
On climate change, the book details how the march of industrial agriculture has created a food chain that is now a heavy emitter of greenhouse gases. The rise of palm oil plantations for processed food, the overuse of fertilizers and the long distances produce travels to reach our plates altogether produce about 50 percent of all human greenhouse gas emissions.
This is a bold claim, but not without a remarkable body of evidence. Every chapter has a long list of footnotes citing scientific papers and UN reports.
The book is endorsed by some high-profile campaigners, including Naomi Klein, who said, "It explains why the fight to stop the industrial food juggernaut is the same as the fight for a habitable, just planet."
Another campaigner for small farmers, Dr. Vandana Shiva, said the book shows "that industrial corporate agriculture is a major part of the climate crisis, and small-scale ecological farming is a significant solution. It also alerts us to the false solutions of those who created the problem—the Exxons of agriculture."
Although industrial farming methods produce only 11 to 15 percent of emissions, the book examines the entire food business—from deforestation to convert land to farmland, to transport, food-processing factories, the freezing and retail industries and discarded food waste.
Over the past 50 years, 140 million hectares, the size of almost all the farms in India, has been taken over by four crops grown on large industrial plantations. These are soybean, palm oil, rapeseed and sugar cane.
According to the UN's Food and Agriculture Organization, small farmers produce 80 percent of food in non-industrial countries. Their great advantage, apart from producing more food from a smaller area, is that they supply local markets with fresh rather than processed products, and less is wasted.
Organic matter
The book describes how the expansion of unsustainable agricultural practices over the past century has led to vast quantities of organic matter being lost from soils. This loss is responsible for between 25 percent and 40 percent of the current carbon dioxide levels in the atmosphere.
By restoring small farmers' sustainable practices, this organic matter could be put back into the soil, offsetting up to 30 percent of all global greenhouse gas emissions, the authors say.
Instead, in order to counter the loss of this carbon from soils, more and more chemical fertilizer is used. Insecticides and herbicides are poured on the land, impoverishing biodiversity.

Cutting food miles and concentrating on fresh produce at local markets, rather than processing food and providing it frozen to supermarkets, would also directly cut emissions.
The book is a call to wrest control from the industrial agricultural giant whose job it is to make profits for shareholders—not to feed the world—and to hand the land back to farmers.
The authors complain that there has been zero political will to challenge the dominant model of industrial food production and distribution. Peasants are getting the blame for cutting down trees when in fact deforestation is being driven by big companies growing industrial crops, they say.
Reposted with permission from our media associate Climate News Network.
waterlust.com / @tulasendlesssummer_sierra .
Each product featured here has been independently selected by the writer. If you make a purchase using the links included, we may earn commission.
The bright patterns and recognizable designs of Waterlust's activewear aren't just for show. In fact, they're meant to promote the conversation around sustainability and give back to the ocean science and conservation community.
Each design is paired with a research lab, nonprofit, or education organization that has high intellectual merit and the potential to move the needle in its respective field. For each product sold, Waterlust donates 10% of profits to these conservation partners.
Eye-Catching Designs Made from Recycled Plastic Bottles
waterlust.com / @abamabam
The company sells a range of eco-friendly items like leggings, rash guards, and board shorts that are made using recycled post-consumer plastic bottles. There are currently 16 causes represented by distinct marine-life patterns, from whale shark research and invasive lionfish removal to sockeye salmon monitoring and abalone restoration.

One such organization is Get Inspired, a nonprofit that specializes in ocean restoration and environmental education. Get Inspired founder, marine biologist Nancy Caruso, says supporting on-the-ground efforts is one thing that sets Waterlust apart, like their apparel line that supports Get Inspired abalone restoration programs.
"All of us [conservation partners] are doing something," Caruso said. "We're not putting up exhibits and talking about it — although that is important — we're in the field."
Waterlust not only helps its conservation partners financially so they can continue their important work. It also helps them get the word out about what they're doing, whether that's through social media spotlights, photo and video projects, or the informative note card that comes with each piece of apparel.
"They're doing their part for sure, pushing the information out across all of their channels, and I think that's what makes them so interesting," Caruso said.
And then there are the clothes, which speak for themselves.
Advocate Apparel to Start Conversations About Conservation
waterlust.com / @oceanraysphotography
Waterlust's concept of "advocate apparel" encourages people to see getting dressed every day as an opportunity to not only express their individuality and style, but also to advance the conversation around marine science. By infusing science into clothing, people can visually represent species and ecosystems in need of advocacy — something that, more often than not, leads to a teaching moment.

"When people wear Waterlust gear, it's just a matter of time before somebody asks them about the bright, funky designs," said Waterlust's CEO, Patrick Rynne. "That moment is incredibly special, because it creates an intimate opportunity for the wearer to share what they've learned with another."
The idea for the company came to Rynne when he was a Ph.D. student in marine science.
"I was surrounded by incredible people that were discovering fascinating things but noticed that often their work wasn't reaching the general public in creative and engaging ways," he said. "That seemed like a missed opportunity with big implications."
Waterlust initially focused on conventional media, like film and photography, to promote ocean science, but the team quickly realized engagement on social media didn't translate to action or even knowledge sharing offscreen.
Rynne also saw the "in one ear, out the other" issue in the classroom — if students didn't repeatedly engage with the topics they learned, they'd quickly forget them.
"We decided that if we truly wanted to achieve our goal of bringing science into people's lives and have it stick, it would need to be through a process that is frequently repeated, fun, and functional," Rynne said. "That's when we thought about clothing."
Support Marine Research and Sustainability in Style
To date, Waterlust has sold tens of thousands of pieces of apparel in over 100 countries, and the interactions its products have sparked have had clear implications for furthering science communication.
For Caruso alone, it's led to opportunities to share her abalone restoration methods with communities far and wide.
"It moves my small little world of what I'm doing here in Orange County, California, across the entire globe," she said. "That's one of the beautiful things about our partnership."
Check out all of the different eco-conscious apparel options available from Waterlust to help promote ocean conservation.
Melissa Smith is an avid writer, scuba diver, backpacker, and all-around outdoor enthusiast. She graduated from the University of Florida with degrees in journalism and sustainable studies. Before joining EcoWatch, Melissa worked as the managing editor of Scuba Diving magazine and the communications manager of The Ocean Agency, a non-profit that's featured in the Emmy award-winning documentary Chasing Coral.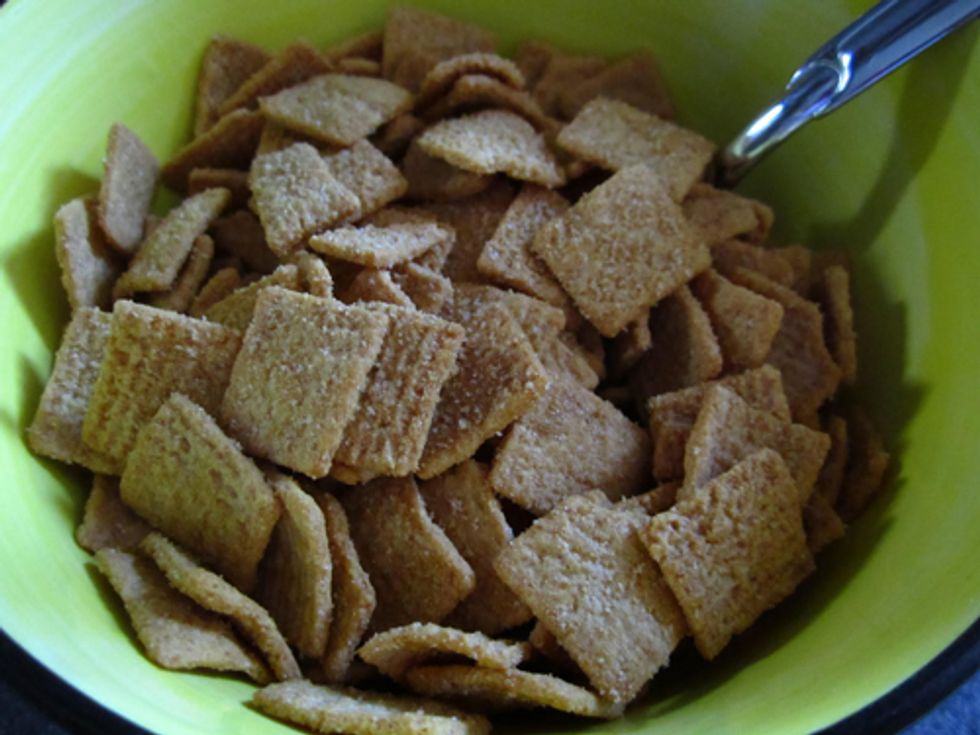 By Janelle Sorensen
Like many other consumers, I used to think that if I shopped at the local co-op or in the natural section of the grocery store, I couldn't go wrong. I could relinquish my fears of genetically modified organisms (GMOs) and pesticides and breeze through my grocery shopping without an eco-care in the world.
Not so true.
Now, I know that just because a product has pictures of baby animals or leaves, or is sitting on the shelf next to an organic product, or says "natural," it does not mean it's healthier or more eco-friendly than other conventional options.
According to the latest report from the Cornucopia Institute:
There are no restrictions for foods labeled "natural" (very basic standards exist only for meat products). The term often constitutes nothing more than meaningless marketing hype promoted by corporate interests seeking to cash in on the consumer desire for food produced in a genuinely sustainable manner.
Unlike the organic label, no government agency, certification group or other independent entity fully defines the term "natural" on processed food packages or ensures that the claim has merit.
This report explores the vast differences between organic cereal and granola products and so-called natural products, which contain ingredients grown on conventional farms where the use of toxic pesticides and genetically engineered organisms is widespread.
Our analysis reveals that "natural" products—using conventional ingredients—often are priced higher than equivalent organic products. This suggests that some companies are taking advantage of consumer confusion.
To find brands that are committed to sustainable agriculture, avoiding genetically engineered ingredients and supporting organic farmers, use the Cereal Scorecard.
Here's a quick video summary of their findings:
Does your family eat cereal? What kind? Any other easy breakfast ideas?
Learn more:
Visit Eat Healthy to find recipes that are fast, frugal, fun and eco-friendly.
 For more information, click here.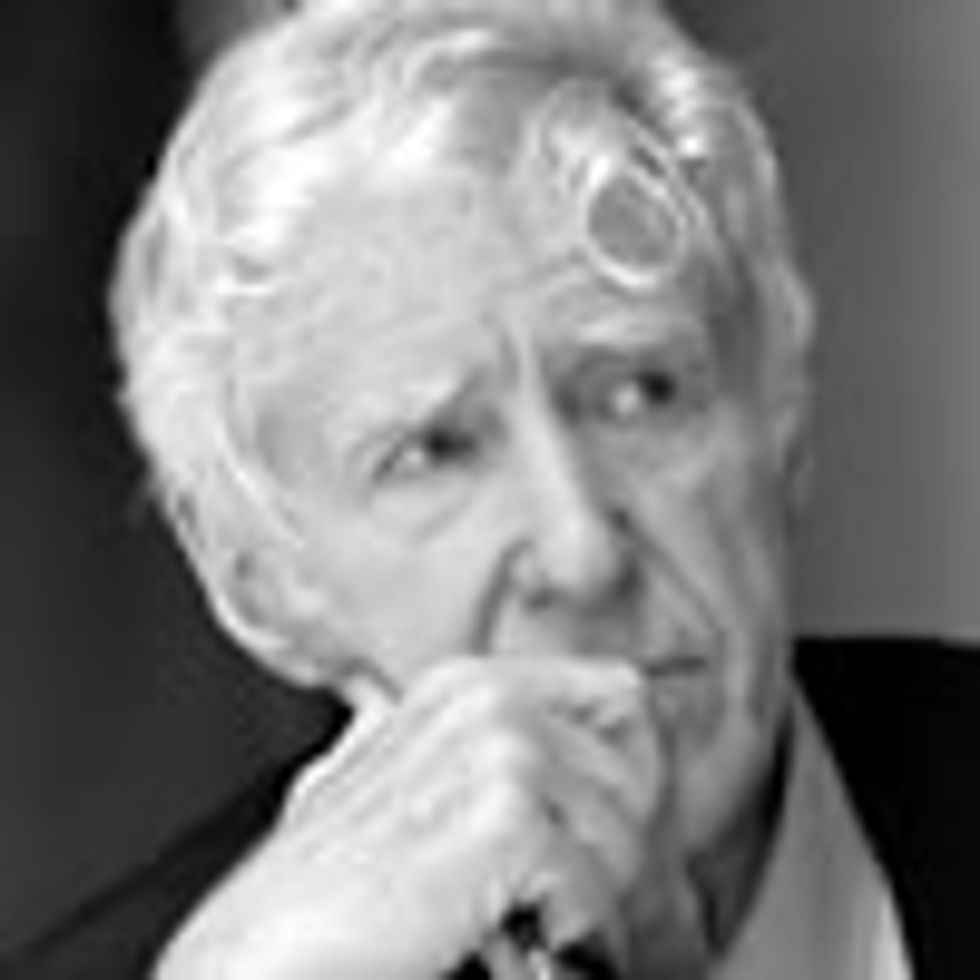 World consumption of animal protein is everywhere on the rise. Meat consumption increased from 44 million tons in 1950 to 284 million tons in 2009, more than doubling annual consumption per person to more than 90 pounds. The rise in consumption of milk and eggs is equally dramatic. Wherever incomes rise, so does meat consumption.
As the oceanic fish catch and rangeland beef production have both leveled off, the world has shifted to grain-based production of animal protein to expand output. With some 35 percent of the world grain harvest (760 million tons) used to produce animal protein, meat consumption has a large impact on grain consumption and therefore global food security.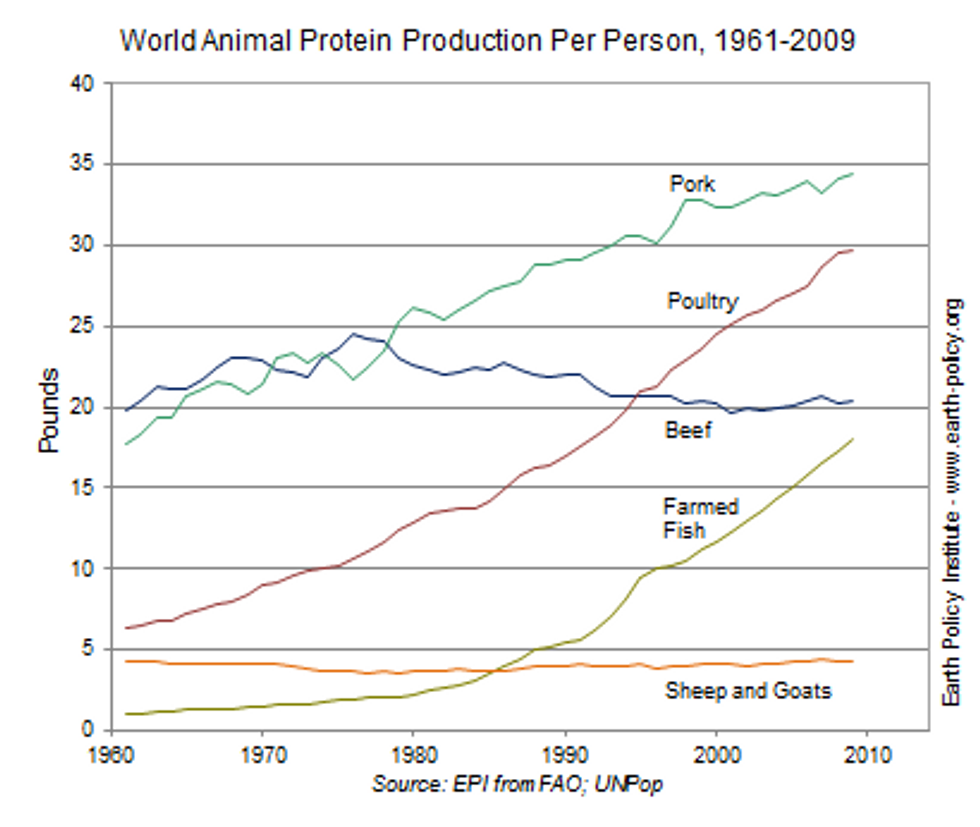 The efficiency with which various animals convert grain into protein varies widely. Grain-fed beef is one of the least efficient forms of animal protein, taking roughly 7 pounds of grain to produce a 1-pound gain in live weight. Global beef production, most of which comes from rangelands, has grown by about 1 percent a year since 1990.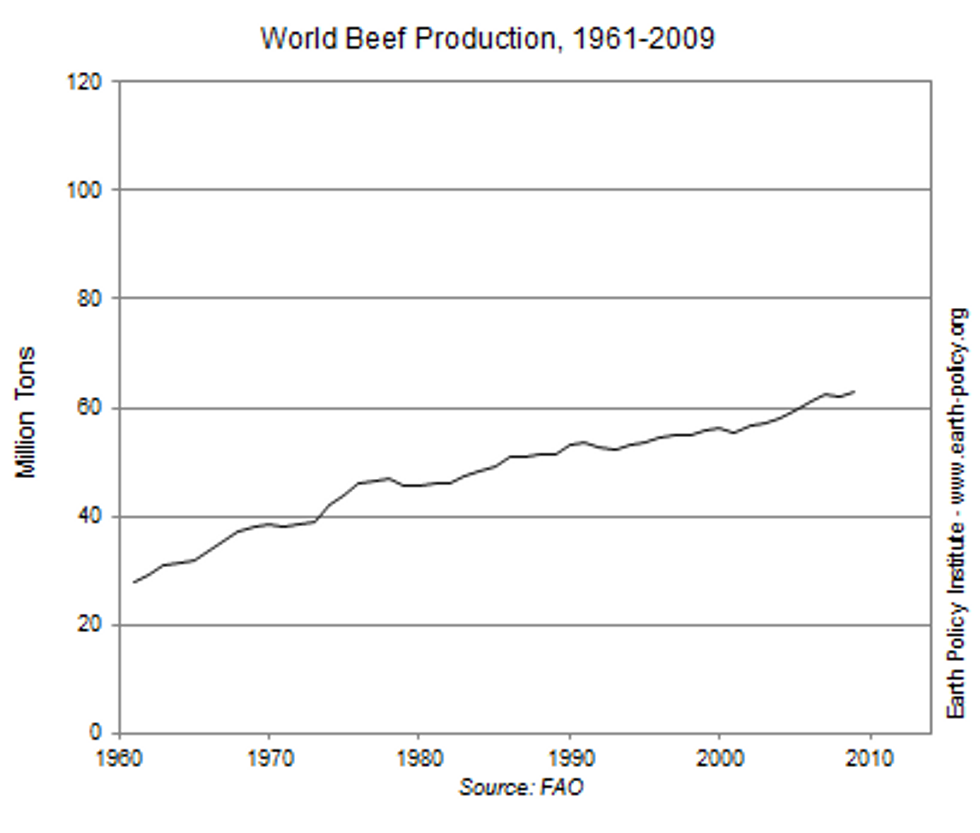 Pork production has grown by 2 percent annually since 1990. World pork production, half of it now in China, overtook beef production in 1979 and has widened the lead since then. It requires more than 3 pounds of grain to produce each 1-pound gain in live weight.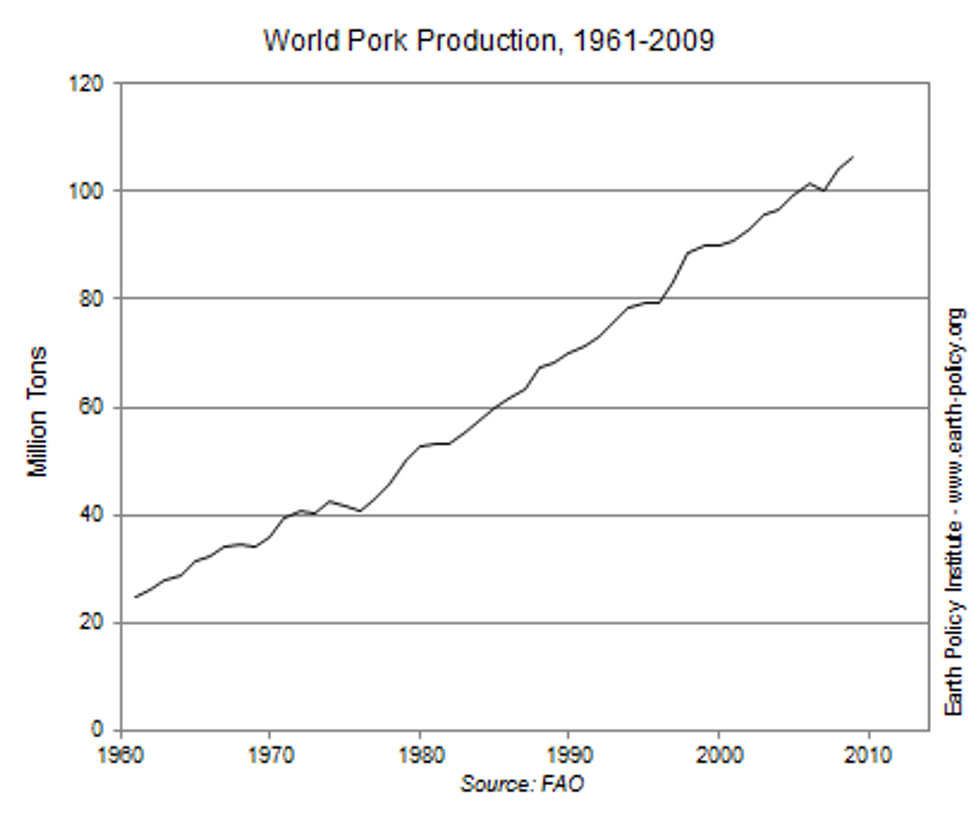 Poultry production has grown even more quickly: 4 percent annually in recent decades. It eclipsed beef in 1995, moving into second place behind pork. Poultry is even more efficient, requiring just more than 2 pounds of grain to produce a 1-pound gain in live weight.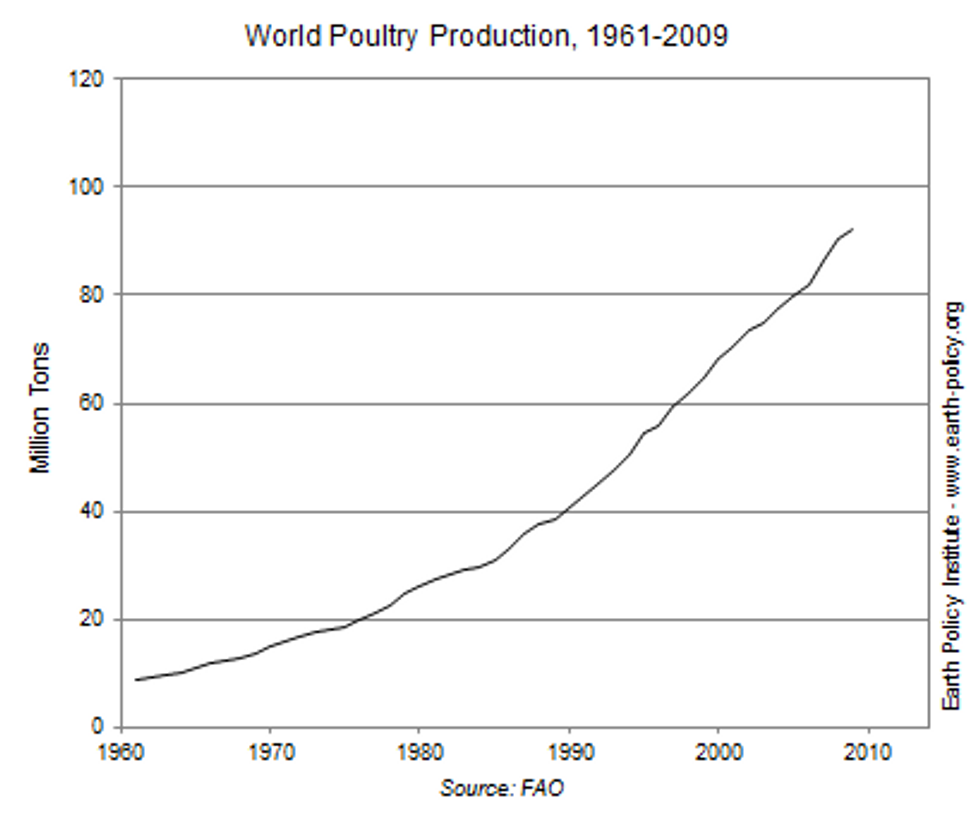 Fish farm output may also soon overtake beef production. In fact, aquaculture has been the fastest-growing source of animal protein since 1990, expanding from 13 million tons to 56 million tons in 2009, or 8 percent a year. For herbivorous species of farmed fish (such as carp, tilapia and catfish), less than 2 pounds of grain is required to produce a 1-pound gain of live weight. Although farming carnivorous fish such as salmon can be environmentally disruptive, worldwide aquaculture is dominated by herbivorous species. This represents great growth potential for efficient animal protein production.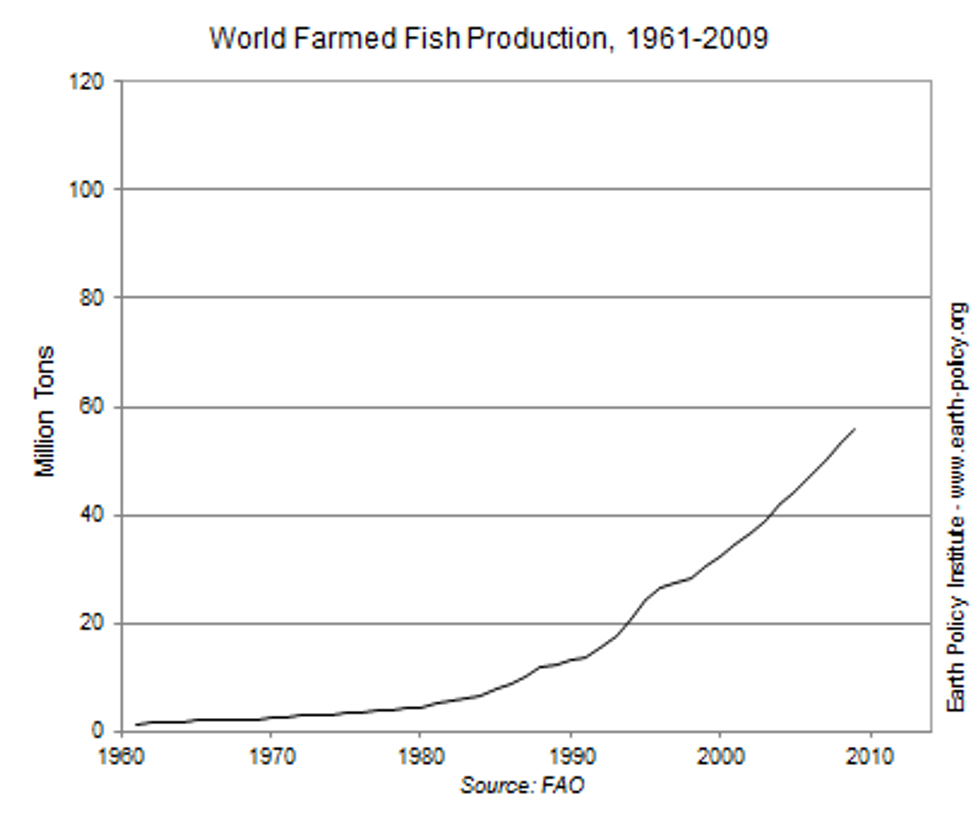 There are a number of ways to make animal protein production more efficient. Combining protein-rich soybean meal with grain dramatically boosts the efficiency with which grain is converted into animal protein, sometimes nearly doubling it. Virtually the entire world, including the three largest meat producers—China, the U.S. and Brazil—now relies heavily on soybean meal as a protein supplement in feed rations. Promising new livestock and dairy systems based on roughage rather than grain, such as India's cooperative dairy model, boost both land and water productivity.
Achieving food security depends on changes on the demand side of the equation as well as the supply side. Along with moving to smaller families to curb population growth, this means cutting individual consumption by eating less grain-intensive livestock products and eliminating waste in the food system. An American living high on the food chain with a diet heavy in grain-intensive livestock products, including red meat, consumes twice as much grain as the average Italian and nearly four times as much as the average Indian. By adopting a Mediterranean diet, Americans can cut their grain footprint roughly in half, improving health while increasing global food security.
--------
This data highlight is adapted from World on the Edge by Lester R. Brown. For more data and discussion, see the full book at www.earth-policy.org.