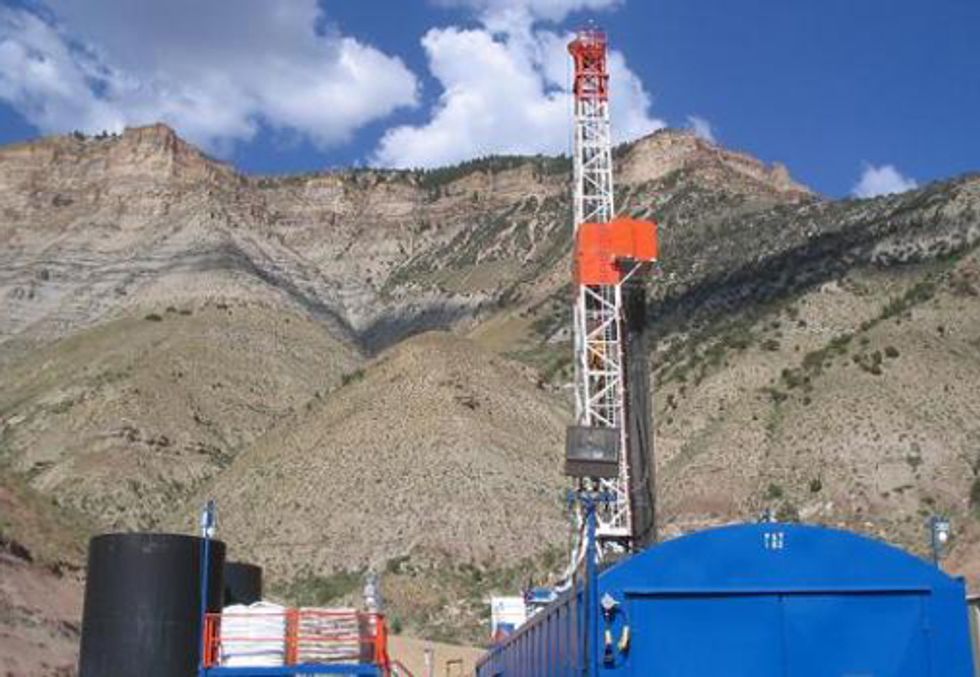 By Gary Wockner
First, the good—A few weeks ago, the state of Colorado passed the strongest rules in the U.S. for publicly disclosing what cancer-causing and other types of chemicals are used in oil and gas fracking. In a ground-breaking and intense set of negotiations between oil and gas companies and environmentalists, frackers are now forced to publicly disclose when they are fracking and what chemicals they use in fracking.
This disclosure gets at two very serious concerns posed by fracking. First, when fracking pollution occurs in groundwater, in streams, or on land, the public should be able to connect that pollution back to the fracking chemicals that caused it. Second, it will allow landowners to test their wells and groundwater prior to fracking, and then re-test after fracking to check for fracking pollution.
Importantly, the new rules substantively removed the "trade secret loophole" that was proposed in the original version of the rules that would have allowed frackers to not disclose the names of the chemicals in fracking fluids by saying those chemicals were "trade secrets." Led by attorneys from Earthjustice in Denver, the environmental community held its ground against this ridiculous exemption.
Thank you industry leaders, Gov. John Hickenlooper and environmentalists for passing these new rules.
Now for the bad—These new rules do nothing to stop or slow down fracking, do nothing to address the fracking pollution that's already occurred, and do nothing to directly protect water, land, wildlife or people from oil and gas pollution and fracking. These rules simply allow the cancer-causing chemicals to be named and tested for after the poisoning and pollution may have occurred.
Obviously, there's still a long way to go to protect Coloradans from fracking. What, at an absolute minimum, needs to happen next?
First, like the laws passed a few years ago to protect Coloradans from in situ leach uranium mining, oil and gas companies and frackers should be required to prove that they have not polluted or poisoned your property and should be required to pay for long-term groundwater monitoring. If a company is injecting cancer-causing chemicals into the ground on your property, why should you have to pay for the expensive groundwater and lab tests? Frackers should pay to prove that your land and water is clean and protected, not the other way around.
Second, the industry should be required to better manage fracking chemicals, drilling water and fracking wastes so that pollution and poisoning does not occur.
For example, in Weld County alone, which has more active oil and gas wells than any county in America (almost 18,000), public documents on the Colorado Oil and Gas Conservation Commission's (COGCC) website reveal that there have been more than 1,000 spill incident reports, more than 800 notice of alleged violations, and hundreds of public complaints associated with oil and gas drilling and fracking. Pollution and poisoning water and land are occurring—much of that due to mistakes that involve spilling frack fluids, improperly handling drilling wastes, and improperly lining waste ponds.
Third, far more mechanical integrity tests by state regulators should occur on drilling and fracking jobs in Colorado. Again, public COGCC documents reveal that of the nearly 18,000 wells in Weld County, there have only been 232 tests reported by state regulators to make sure the well casing is intact so that fracking chemicals cannot migrate back up the bore hole.
Fourth, the oil and gas industry needs to collect and publicly disclose the amount of water they use for drilling and fracking and the source of that water. All of Colorado has very serious water supply and river protection problems already—though likely in the billions of gallons per year, the amount of water used in fracking is still relatively unknown as is the source of that water as drilling and fracking continue to march across the landscape slurping up farm, city and river water.
Finally, the ugly—The director of COGCC has recently been quoted as saying that the "first line of defense" against the threat of drilling and fracking pollution is to maintain the "integrity of the wellbore" to make sure fracking chemicals do not migrate into groundwater.
I completely disagree.
The first line of defense against the threat of drilling and fracking pollution is to aggressively switch to a clean energy economy. Remember those words—"clean energy?" They were the two words most spoken by our previous pro-environment governor, Bill Ritter, but now are completely lost in the public debate. Windmills, solar panels, biofuels—remember all that?
Instead, the public debate has become insane. Billions of gallons of clean water are drained out of Colorado's endangered rivers every year in order to mix that water with cancer-causing fracking chemicals and then inject that toxic cocktail in the ground around our homes, schools and farms in order to extract non-renewable, global-warming-causing fossil fuels that are being burned at a faster and faster rate. But, insanely, the public debate at the state level is almost solely about making sure everyone knows the name of the cancer-causing fracking chemicals.
Colorado made a good start with its new fracking rules, but has a long way to go to stop our health, our economy and our state from really getting ugly.
For more information, click here.
—————

Gary Wockner, Ph.D., is director of Save the Poudre and Colorado program director for Clean Water Action in Fort Collins, Colorado.
EcoWatch Daily Newsletter
waterlust.com / @tulasendlesssummer_sierra .
Each product featured here has been independently selected by the writer. If you make a purchase using the links included, we may earn commission.
The bright patterns and recognizable designs of Waterlust's activewear aren't just for show. In fact, they're meant to promote the conversation around sustainability and give back to the ocean science and conservation community.
Each design is paired with a research lab, nonprofit, or education organization that has high intellectual merit and the potential to move the needle in its respective field. For each product sold, Waterlust donates 10% of profits to these conservation partners.
Eye-Catching Designs Made from Recycled Plastic Bottles
waterlust.com / @abamabam
The company sells a range of eco-friendly items like leggings, rash guards, and board shorts that are made using recycled post-consumer plastic bottles. There are currently 16 causes represented by distinct marine-life patterns, from whale shark research and invasive lionfish removal to sockeye salmon monitoring and abalone restoration.

One such organization is Get Inspired, a nonprofit that specializes in ocean restoration and environmental education. Get Inspired founder, marine biologist Nancy Caruso, says supporting on-the-ground efforts is one thing that sets Waterlust apart, like their apparel line that supports Get Inspired abalone restoration programs.
"All of us [conservation partners] are doing something," Caruso said. "We're not putting up exhibits and talking about it — although that is important — we're in the field."
Waterlust not only helps its conservation partners financially so they can continue their important work. It also helps them get the word out about what they're doing, whether that's through social media spotlights, photo and video projects, or the informative note card that comes with each piece of apparel.
"They're doing their part for sure, pushing the information out across all of their channels, and I think that's what makes them so interesting," Caruso said.
And then there are the clothes, which speak for themselves.
Advocate Apparel to Start Conversations About Conservation
waterlust.com / @oceanraysphotography
Waterlust's concept of "advocate apparel" encourages people to see getting dressed every day as an opportunity to not only express their individuality and style, but also to advance the conversation around marine science. By infusing science into clothing, people can visually represent species and ecosystems in need of advocacy — something that, more often than not, leads to a teaching moment.

"When people wear Waterlust gear, it's just a matter of time before somebody asks them about the bright, funky designs," said Waterlust's CEO, Patrick Rynne. "That moment is incredibly special, because it creates an intimate opportunity for the wearer to share what they've learned with another."
The idea for the company came to Rynne when he was a Ph.D. student in marine science.
"I was surrounded by incredible people that were discovering fascinating things but noticed that often their work wasn't reaching the general public in creative and engaging ways," he said. "That seemed like a missed opportunity with big implications."
Waterlust initially focused on conventional media, like film and photography, to promote ocean science, but the team quickly realized engagement on social media didn't translate to action or even knowledge sharing offscreen.
Rynne also saw the "in one ear, out the other" issue in the classroom — if students didn't repeatedly engage with the topics they learned, they'd quickly forget them.
"We decided that if we truly wanted to achieve our goal of bringing science into people's lives and have it stick, it would need to be through a process that is frequently repeated, fun, and functional," Rynne said. "That's when we thought about clothing."
Support Marine Research and Sustainability in Style
To date, Waterlust has sold tens of thousands of pieces of apparel in over 100 countries, and the interactions its products have sparked have had clear implications for furthering science communication.
For Caruso alone, it's led to opportunities to share her abalone restoration methods with communities far and wide.
"It moves my small little world of what I'm doing here in Orange County, California, across the entire globe," she said. "That's one of the beautiful things about our partnership."
Check out all of the different eco-conscious apparel options available from Waterlust to help promote ocean conservation.
Melissa Smith is an avid writer, scuba diver, backpacker, and all-around outdoor enthusiast. She graduated from the University of Florida with degrees in journalism and sustainable studies. Before joining EcoWatch, Melissa worked as the managing editor of Scuba Diving magazine and the communications manager of The Ocean Agency, a non-profit that's featured in the Emmy award-winning documentary Chasing Coral.