Residents gathered today to rally against fracking and for renewable energy outside of Gov. Cuomo's (D-NY) fundraiser in Syracuse, NY. The concerned residents urged the Governor not to put New York's clean water, air, environment and economy at risk by allow fracking. Further, they urged the Governor to aggressively invest in renewable energy, which would bring sustainable, good jobs and economic development to New York State without jeopardizing people's health and existing jobs.
"Governor Cuomo must listen to the science and ban fracking, which contaminates water, poisons air and puts our health at risk," said Renee Vogelsang of Frack Action, and a Syracuse resident.
"An overwhelming number of New Yorkers are standing up against fracking because they know it would only bring pollution and ruin to communities across New York State. Governor Cuomo should pioneer a renewable energy economy that will create long-term, safe jobs for New Yorkers," said Vogelsang.
"If Governor Cuomo cares about the future of our state, then he will reject hydrofracking," said Ursula Rozum, a Syracuse resident with the Syracuse Peace Council. "Science overwhelmingly shows that hydrofracking cannot be done safely, that it would only lead to polluted water and poisoned communities, like it has in Pennsylvania and many other states. Fracked methane gas is not a bridge fuel—it's a dirty fossil fuel and a source of climate disrupting greenhouse gasses. Governor Cuomo needs to decide, is he with the people or with the gas industry?"
Gov. Cuomo was in Syracuse for a fundraiser at the Genesee Grand Hotel. The rally began outside of the event at 11:30.
"Fracking poses a serious threat to the health of both our natural and social environments," said Emily Coralyne, a Syracuse resident. "Historically in New York, we have made agreements to maintain stewardship of this land with our native neighbors. If New York State were to allow hydrofracking, they are yet again, breaking promises made to the original people of this land to care for what has been shared with us."
Independent observers have noted that the gas industry cannot be trusted when it describes fracking as safe. A recent investigation by the Times Tribune in Pennsylvania revealed many cases of water contamination from fracking.  And a recent study showed that fracking emits significant amounts of methane—a major contributor to climate change. A recent peer-reviewed study by Duke University in the renowned Proceedings of the National Academy of Sciences linked fracking with water contamination in Pennsylvania.
The latest Siena Poll showed that upstate New Yorkers oppose fracking 52-38 percent. On June 17, 3,000 New Yorkers rallied in Albany to demand that Gov. Cuomo reject fracking and instead aggressively pioneer a renewable energy economy.
A recent peer-reviewed study detailed a plan for New York State to get to 100 percent renewable energy by 2030.
Visit EcoWatch's FRACKING page for more related news on this topic.
——–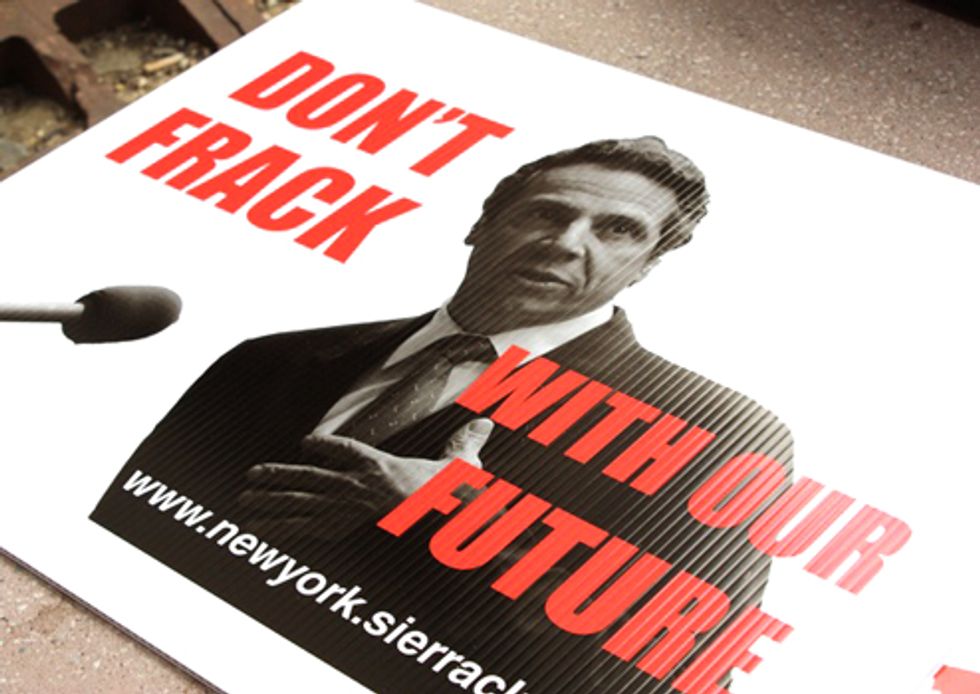 The U.S. Geological Survey (USGS) has warned New York state regulators that their plan to allow drilling and hydraulic fracturing for natural gas in the Marcellus Shale could endanger private water wells, municipal aquifers and New York City's drinking water supply.
The assessment of the USGS, widely regarded as impartial and authoritative on drilling issues, intensifies pressure on Gov. Andrew Cuomo (D-NY) not to proceed with a drilling plan drafted by the New York State Department of Environmental Conservation. Cuomo has pledged to "let the science and the facts make the determination, not emotion and not politics."1
The U.S. Environmental Protection Agency (EPA) has separately written New York regulators arguing that they are ill-equipped to regulate a boom in shale gas drilling and have limited financial means to enforce the numerous new regulations they have proposed. The EPA has raised additional concerns, among them, that the state has understated the severity of radioactive pollution associated with drilling and doesn't know how such contaminants would be disposed of.
Officials at the Department of Environmental Conservation are now considering whether to modify their plan to address the federal agencies' reservations and about 60,000 letters from local governments, independent scientists, gas drillers, property owners, environmental groups and other interested citizens. Once the state agency has concluded its review, which could wind up as soon as this spring, the issue goes to Cuomo's desk.
The stakes for New York taxpayers are enormous. The Department of Environmental Conservation has estimated that if New York City's drinking water supply is contaminated by drilling, cleaning up the water would require a water filtration plant costing at least $8 billion, with a yearly operating expense of $200 million.2 Even then, city officials have said there is no guarantee that the water could be purified. If water supplies of other population centers are tainted, the cleanup costs would soar higher.
As now written, the state plan projects that tens of thousands of natural gas wells could spring up along the New York portion of the Marcellus Shale, a vast underground formation that stretches along the Appalachian chain as far south as Kentucky. Most of the wells are likely to deploy a relatively new shale-drilling process called high volume hydraulic fracturing and horizontal drilling, which typically involves injecting millions of gallons of water laced with chemicals into the ground under high pressure, aiming to crack shale rock and release natural gas trapped in small pockets.
The USGS, the federal government's expert on the geology and hydrology of oil and gas drilling, advised New York regulators that their plan is flawed in several respects. Among them:
The state's proposal to prohibit drilling inside a 500-foot buffer around aquifers that supply major municipal water systems "is one-size-fits-all and may provide only partial protection to these aquifers."3
 
A similar 500-foot buffer for private water wells and springs "affords limited protection" and "does not take local geohydrologic conditions and topographic setting into account." The USGS added that "changes brought about by drilling, including water quality changes, can be felt rapidly at significant distance from a disturbance—especially if a domestic well is [downhill] of a well pad."4
 
Pressurized fracturing fluids could migrate through underground faults and impact an underground aqueduct that carries drinking water to New York City. The USGS said that "the possibility of damage to the aqueduct from hydraulic-fracturing operations is an issue of concern" and deserves more study.5
 
A map displayed in the state's draft plan "grossly under-represents the number and extent of [natural] faults in the Appalachian Basin of New York" where shale gas drilling would occur. Ground that is riddled with underground faults could channel pollution from drilling into underground aquifers.6
 
"Only scattered and incomplete information is available" on underground freshwater sources that could be polluted by shale gas drilling. The USGS said the state plan should require drilling companies to maintain detailed logs that would identify and protect these aquifers.7
Drilling too close to water sources
The USGS went to some lengths to dispute the state agency's premise that drilling could be safely conducted 500 feet from water supplies. The federal agency said that in some cases, it might be necessary to prohibit drilling within five square miles of aquifers to avoid polluting them.8
The USGS position is bolstered by documented cases in Colorado, Ohio and Pennsylvania, where natural gas and related contaminants have polluted underground water supplies at distances much greater than 500 feet.
In 2004, Canada-based Encana Corp. improperly cemented and hydraulically fractured a well in Garfield County, Colo. The state found that the poor cementing caused natural gas and associated contaminants to travel underground more than 4,000 feet laterally. As a result, a creek became contaminated with dangerous levels of carcinogenic benzene. The state of Colorado fined Encana a then-record $371,200. Despite more than seven years of cleanup efforts, as of last September, three groundwater monitoring wells near the creek still showed unsafe levels of benzene.9
 
In 2007, a natural gas well fractured by Ohio Valley Energy Systems Corp. in Bainbridge, Ohio, caused natural gas to contaminate 23 nearby water wells, two of which were more than 2,300 feet from the drilling site.10
 
In 2009, several natural gas wells drilled by Houston-based Cabot Oil and Gas Corp. in Dimock, Penn., polluted water wells used by at least 19 families, according to the state Department of Environmental Protection. Cabot has disputed the finding. At least three of the water wells were farther than 1,000 feet from the gas wells. For about two years, the Pennsylvania DEP ordered the company to deliver water to the families. Last December, Cabot stopped the deliveries after the DEP ruled that the company had met its obligations under a state order. Affected families were forced to scramble for new sources of water. Filmmaker Josh Fox, actor Marc Ruffalo and others donated bottled water that met some of the families' needs. The federal EPA recently found dangerous contaminants in well water in Dimock and ordered a resumption of water deliveries for four of the families. Pennsylvania officials have declined to extend public water lines to the affected families, estimating the cost at $12 million.11
New York City water aqueduct threatened
The USGS concluded that under the state plan, hydraulic fracturing fluids could reach and damage New York City's West Delaware Aqueduct, an underground tunnel that brings drinking water to the city from reservoirs in the Catskill Mountains. Naturally occurring fractures "may potentially provide pathways for the migration of pressurized fluids over significant distances," the USGS wrote. It suggested that the state's proposal to require site-specific permits in a 1,000-foot zone around the aqueduct might prove inadequate.12 The USGS focused only on threats to the West Delaware Aqueduct, one of several underground aqueducts that carry water to New York City from the Marcellus Shale region.
An earlier assessment commissioned by New York City's Department of Environmental Protection (DEP) also concluded that drilling might endanger the West Delaware Aqueduct and other tunnels that carry the city's water, for reasons similar to those cited by the USGS. The city's DEP found that naturally occurring underground pathways near the tunnels "can extend up to seven miles laterally and up to 6,000 feet in depth." It added:
"The vertical and lateral persistence of these features in conjunction with the potential for failed casings or other unforeseen occurrences could result in significant surface and subsurface contamination of fresh water aquifers, as illustrated by incidents in other well fields, most notably documented in Garfield County, Colorado (migration of toxic formation material through subsurface fractures) and Dimock, Pennsylvania (migration of natural gas to the surface via improperly cased wells). Similar mechanisms could permit migration of material into the fresh water aquifers that comprise the NYC West-of-Hudson watersheds and present potential risks to water quality and tunnel lining integrity."13
Based on this assessment, the city agency recommended several preventive measures, including barring drilling within seven miles of several aqueducts and a drilling ban within two miles of other water tunnels.14
Underground faults, water supplies unmapped
The USGS raised serious questions about the state's significant undercount of natural faults throughout the gas-rich Marcellus Shale formation. If drilling and hydraulic fracturing were permitted directly underneath faults, the federal agency said, contaminants could flow upward into underground aquifers. It noted that there are generally far more natural faults in bedrock overlying the Marcellus Shale than elsewhere.15
In a study that focused on the Marcellus Shale in New York and Pennsylvania and was published last year by the National Academy of Sciences, researchers from Duke University reported finding levels of natural gas an average of 17 times higher in water wells close to active natural gas wells than in water wells in non-active drilling areas. The most likely cause, they said, was leaky well casings, but they also raised the possibility that some gas migrated through "extensive fracture systems" in rock above the shale formations. Another factor, they said, might be gas migration through many older, un-cased wells abandoned during 150 years of drilling in Pennsylvania and New York.16
USGS urges better reporting
The USGS said that the depths of underground drinking water sources are not well documented and must be established so that drilling companies can design casing and cementing to prevent migration of gas or saltwater into underground drinking water supplies. The agency faulted New York state regulators for failing to require drilling companies to map underground fresh water and salt water sources and, as well, shallow gas formations before they drill extensively. It called these determinations critical to the design and installation of effective casing and cementing.17
Cuomo should emulate Maryland's O'Malley
The USGS assessment makes clear that New York is not ready for shale gas drilling on any level. Given Cuomo's commitment to science, it is hard to see how he could come to a different conclusion. Cuomo should halt the state's drilling plan and let scientists like those at USGS continue their work so that New Yorkers can know whether high volume hydraulic fracturing and horizontal drilling can be conducted safely before drilling begins.
That's essentially the approach Maryland Gov. Martin O'Malley has taken. His administration has embarked on a detailed study of potential drilling impacts, to be finished by 2014. Until then, O'Malley has committed not to allow gas drilling companies to deploy this controversial technique in Maryland's portion of the Marcellus Shale.18
Meanwhile, the EPA is conducting a nationwide study on hydraulic fracturing's impact on water and a separate inquiry in Pavillion, Wyo., where the agency concluded in a draft report that hydraulic fracturing likely contaminated groundwater on which the community relies for its drinking water and agricultural needs.
By proceeding with drilling in the face of warnings by USGS, the EPA and other experts, "Cuomo would be betting nothing of significance will go wrong," Albany Times-Union columnist Fred LeBrun wrote in a Jan. 15, 2012, column. "Given the enormity of the possibilities, that's a dumb bet."19
Will Cuomo make a multi-billion-dollar gamble with the state's drinking water and the health of New Yorkers? The upside, in the form of jobs and revenues from gas production, is modest. The downside, if anything goes wrong, is incalculable. Why chance it?
For more information, click here.
—————
1. Thomas Kaplan, Millions Spent in Albany Fight to Drill for Gas, New York Times, Nov. 26, 2011.
2. See NYDEC SGEIS, supra note 9, at 6-47.
3. U.S. Geological Survey, New York Water Science Center, Comments on the Revised Draft Supplemental Generic Environmental Impact Statement 6 (2012).
4. See id., at 7.
5. See id., at 20.
6. See id., at 10.
7. See id., at 1.
8. USGS, supra note 3, at 6-7.
9. URS Corp., Phase I Hydrogeologic Characterization of the Mamm Creek field Area in Garfield County (2006), http://cogcc.state.co.us/ (follow links for "Library" and then "Piceance Basin") (prepared for Bd. of County Comm'rs, Garfield County, Colo.); Colo. Oil & Gas Conservation Comm'n, Order No. 1V-276 (Sept. 16, 2004), http://cogcc.state.co.us/ (follow link for "Orders").
10. Ohio Dep't of Natural Res., Report on the Investigation of the Natural Gas Invasion of Aquifers in Bainbridge Township of Geauga County, Ohio 6, 46-7 (2008); Bair, E. Scott, et al., Expert Panel Technical Report, Subsurface Gas Invasion Bainbridge Township, Geauga County, Ohio 3-113 (2010), http://www.ohiodnr.com/mineral/bainbridge/tabid/20484/default.aspx (submitted to Ohio Dep't of Natural Res., Div. of Mineral Res. Mgmt.); Ohio Dep't of Natural Res., Order Number 2009-17 (Apr. 14, 2009) (see attachments A, B).
11. Consent Order & Settlement Agreement in re Cabot Oil & Gas Corp. (Dep't Envtl. Prot. Dec. 15, 2010); Consent Order & Settlement Agreement in re Cabot Oil & Gas Corp. (Dep't Envtl. Prot. Nov. 4, 2009); Laura Legere, DEP Drops Dimock Waterline Plans; Cabot Agrees to Pay $4.1M to Residents, Scranton Times-Tribune, Dec. 16, 2010, http://thetimes-tribune.com/news/gas-drilling/dep- drops-dimock-waterline-plans-cabot-agrees-to-pay-4-1m-to-residents-1.1077910. Laura Legere, Outside Groups Deliver Water as Sides Spar over Drilling, Scranton Times-Tribune, December 7, 2011.
12. See USGS, supra note 3, at 19-20. N.Y. City Dep't of Envtl. Prot., Final Impact Assessment Report, Impact Assessment of Natural Gas Production in the New York City Water Supply Watershed 39-40 (2009) [hereinafter NYCDEP]. N.Y. State Dep't. Envtl. Conservation, Supplemental Generic Envtl. Impact Statement on the Oil, Gas and Solution Mining Regulatory Program, Well Permit Issuance for Horizontal Drilling and High-Volume Hydraulic fracturing to Develop the Marcellus Shale and other Low-Permeability Gas Reservoirs ES-6 (2011) [hereinafter NYDEC SGEIS].
13. NYCDEP, supra note 9, at 39-40 (2009).
14. See id., at D-3. Paul Rush, Dep. Commissioner, Bureau of Water Supply, N.Y. City Dep't of Envtl. Prot., Before the New York City Council, Committee on Envtl. Prot., Sep. 22, 2011. N.Y. City Dep't of Envtl. Prot., Comments on the Revised Draft Supplemental Generic Environmental Impact Statement on the Oil, Gas and Solution Mining Regulatory Program 2 (2012).
15. See USGS, supra note 3, at 9.
16. Stephen G. Osborn, et al., Methane Contamination of Drinking Water Accompanying Gas-Well Drilling and Hydraulic Fracturing, 108 PNAS 8172-76, 8175 (2011), http://www.pnas.org/content/108/20/8172.
17. USGS, supra note 3, at 1.
18. Martin O'Malley, Governor of Maryland, Executive Order 01.01.2011.11, The Marcellus Shale Safe Drilling Initiative, June 6, 2011. Accessed online February 20, 2012 at http://www.governor.maryland.gov/executiveorders/01.01.2011.11.pdf.
19. Fred LeBrun. The Keys to the Kingdom, Albany Times-Union, Jan. 15, 2012, at D1.
EcoWatch Daily Newsletter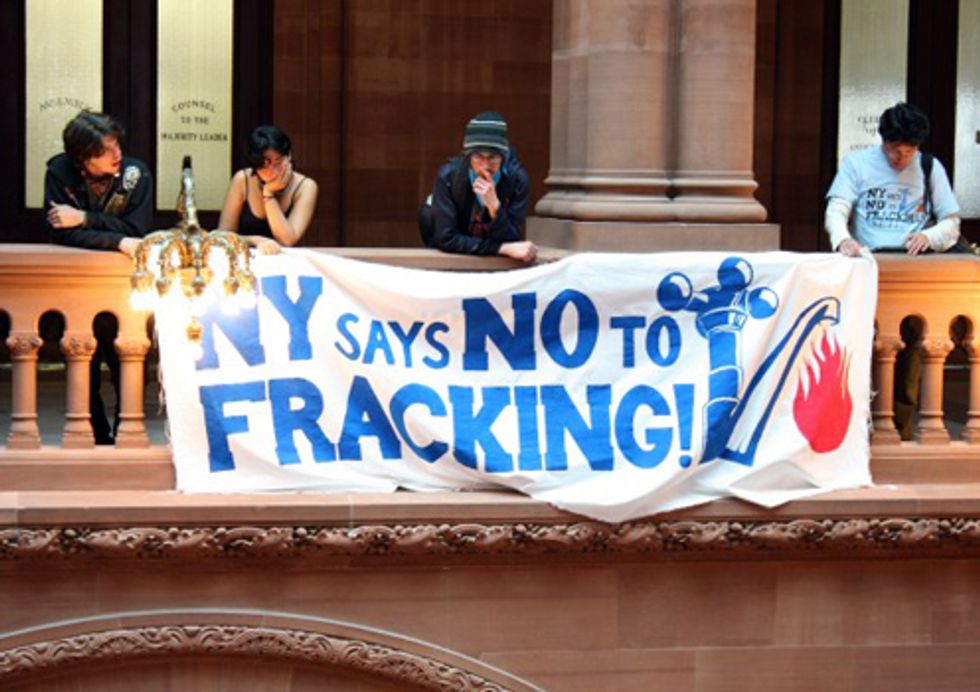 By Kate Sinding
Used with permission of NRDC - Switchboard
Jan. 11 marks the last official moment for New Yorkers across the state to speak up and have their opinions heard about the current proposal for the expansion of fracking here. The public comment period for the state's environmental impact study (known by its full name as the revised draft Supplemental Generic Environmental Impact Statement, or RDSGEIS) and proposed regulations on fracking is coming to a close.
As the deadline approaches, Natural Resources Defense Council (NRDC) is putting the finishing touches on more than 500 pages of detailed technical and legal comments—both from scientific experts and our own expert legal staff—to add to the more than 20,800 comments the state has received so far, and the thousands more expected tomorrow. (A link to our full comments will be made available as soon as they are submitted.) 
Although it would be impossible to give a complete rundown of what we will be submitting, I wanted to share just a few of our top-line takeaways.
First and foremost, although there were some notable improvements and it's clear that the Department of Environmental Conservation (DEC) has done some hard work since the last review, there are still significant deficiencies in both the impact study and the regulations, demonstrating that the state is not prepared to move forward with fracking.
The bottom line—when you rush, you make mistakes, and that is exactly what happened here. Not only are critical analyses still missing and/or incomplete, but the decision to release the impact study together with the draft regulations has resulted in many of the proposed mitigation measures getting lost in translation.
Since July, we've gathered a team of experts—covering the fields of hydrology, geology, toxicology, petroleum engineering, water quality, air quality, health and others—who have provided an in-depth review and critique of the state's findings and have likewise confirmed that there are significant parts of the review where the state needs to go back, re-do the review properly, and reissue it for public review and comment.
On top of the issues we have previously identified, this in-depth technical analysis has identified a host of additional deficiencies. Here are just five of our most pressing new concerns, each one of which, on its own, demonstrates that the environmental review process is far from complete:
There's no plan at all to deal with toxic wastewater.  The wastewater generated from fracking operations is among the worst our expert toxicologist has ever seen. Yet the state has absolutely no plan whatsoever for how the vast amounts of toxic wastewater expected from fracking operations would be managed.  We've seen the impacts of improper wastewater management elsewhere—including contaminated rivers from treatment in municipal sewage plants in Pennsylvania and earthquakes from improper deep well injection in Ohio—and it is inexcusable for the state not to have some plan in place before allowing new fracking here.
The scope of the action is too broad. The current version of the impact study and proposed regulations purport not only to address fracking in the Marcellus shale region, but also shale formations such as the much deeper Utica Shale, yet the study only directly looks at the impacts of drilling in the Marcellus. As our experts point out, every shale formation is different, and so are the environmental concerns with developing different regions. Separate shale formations demand their own environmental reviews. Until that happens, drilling in these other formations should be off the table.
Health risks are omitted entirely. There's next to zero exploration of the health impacts fracking could have on New Yorkers. Yet it is increasingly recognized that a full health impact assessment is a critical component of a thorough examination of the potential risks of fracking. Just last Thursday, the nation's top environmental health expert called out the need for comprehensive new analysis of the health risks of fracking.
Flawed socio-economic analysis doesn't calculate negative impacts. The state itself has acknowledged that it needs to re-do its socio-economic analysis because of glaring omissions. Most significantly, while overstating potential economic benefits, the report includes only seven pages out of more than 250 on the potential negative economic impacts, when we know that there are real and substantial economic risks associated with fracking.
Fracking could be allowed in flood zones and other critical vulnerable areas. The analysis fails to consider how the effects of climate change could result in fracking operations taking place in major flood plains, including places that were under water during Hurricane Irene last year. This presents serious pollution risks, particularly as drilling is proposed to occur in and around flood-prone communities.
Over and over, we've told the state to slow down, yet the Fracking Express keeps barreling forward. Gov. Andrew Cuomo (D-NY) rushed to push out the environmental impact study and proposed regulations after only six months in office, and the result is huge gaps in the proposed regulatory program. These are gaps that would make moving forward with new fracking not only dangerous, but contrary to the purpose of the environmental law that requires the study's creation (the New York State Environmental Quality Review Act, aka SEQRA).
We recognize that there is significant pressure from industry to move forward, but taking the time to undertake a complete, legally sufficient consideration of the impacts of fracking is not too much to ask when the risks involved could have grave, lasting—if not permanent—effects on New Yorkers and communities statewide. One needs only to look next-door to Pennsylvania to see that's true. Fracking is the biggest environmental issue facing New York in a generation, and Gov. Cuomo must stay true to his word that he will not authorize any new fracking unless the risks have been properly and fully evaluated, and necessary safeguards identified and implemented.
For more information, click here.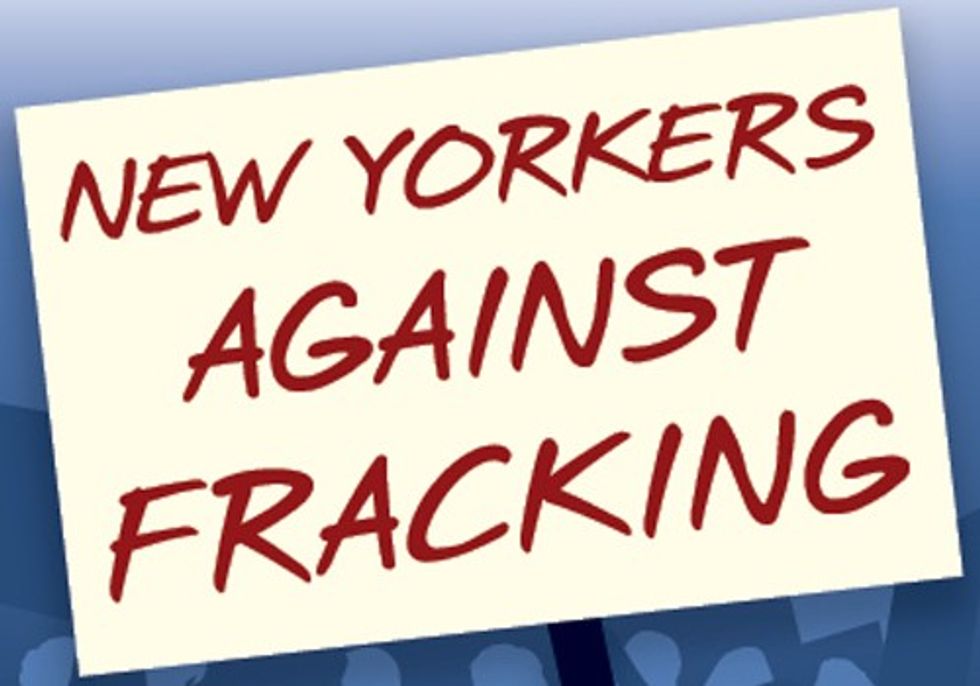 A decision is coming as soon as next week on Gov. Andrew Cuomo's plan to lift New York's ban on fracking, which could jeopardize the safety of water in New York City, and across the state.
After a massive public outcry, New York's Department of Environmental Conservation (DEC) repeatedly delayed the decision, but Jan. 11 is the final deadline to comment on the plan.
The only way to guarantee protection for New York's water is to keep the state's ban on fracking.
This is the final week to register fierce opposition, and that's what we need to do.
Tell the New York Department of Environmental Conservation—Don't lift New York's fracking ban. Submit a public comment now.
DEC's plan lifts a ban on fracking, and opens up 85 percent of the state to this controversial gas drilling practice that has been poisoning water across the country.
Additionally, while drilling won't be allowed on the surface of the watersheds of New York City and Syracuse, the plan fails to protect these watersheds from horizontal drilling below the surface. It fails to set out a plan for safe disposal of the chemical-filled, radioactive1 fracking waste-water and fails to protect the infrastructure (tunnels, dams and aqueducts) that transport water to New York City.2
If fracking is too dangerous anywhere in New York, it should be too dangerous everywhere. And with something as fundamental as safe drinking water on the line, there's no room for any more tragic reminders of oil and gas companies' failures to adhere to even minimal safety standards.
Fracking (also known as horizontal hydraulic fracturing) involves the injection of water, toxic chemicals and sand at extremely high pressure, thousands of feet underground then horizontally, to crack and release gas bubbles trapped deep in the rocks.
From Dimock, Pa., where families can't drink their water, to Pavillion, Wy. where the U.S. Environmental Protection Agency just found their first documented case of groundwater contamination from fracking,3 it's clear that there is currently no such thing as safe fracking.
Even the Department of Energy's fracking panel, despite heavy industry ties, found "a real risk of serious environmental consequences" if fracking continues unchecked.4
There are plenty of ways to meet our energy needs that don't put our drinking water at risk. Gov. Cuomo and the DEC need to reject this plan, and insure that New Yorkers' water remains protected from dangerous gas drilling.
For more information, click here.
—————
1. Regulation Lax as Gas Wells' Tainted Water Hits Rivers, New York Times, Feb. 26, 2011
2. 10 Major Flaws With New York's Fracking Plan, Delaware Riverkeeper, Dec. 1, 2011
3. EPA Finds Compound Used in Fracking in Wyoming Aquifer, ProPublica, Nov. 10, 2011
4. Despite Industry Ties, DOE Fracking Panel Warns of "A Real Risk of Serious Environmental Consequences" Absent Regulation, Think Progress, Nov. 11, 2011