This website uses cookies to ensure you get the best experience while browsing it. By clicking 'Got It' you're accepting these terms.
Artem Hvozdkov / Getty Images
On Thursday, July 19 The Hill reported that the Republican controlled Congress passed a non-binding resolution saying a tax on carbon-dioxide emissions "would be detrimental to American families and businesses, and is not in the best interest of the United States."
Rep. Tim Walberg (R-Mich.) thinks that if climate change is a "real problem" then God can fix it.
The Republican congressmen, who has been handsomely rewarded by Big Oil, made the remarks at a town hall in Coldwater, Michigan on Friday.

EcoWatch Daily Newsletter
Noam Chomsky
In a new interview with BBC Newsnight, Professor Noam Chomsky repeated his previous claim that the Republican Party is the most dangerous organization "in human history," especially in their refusal to fight climate change or even denying that the global phenomenon is real.
It's time to modernize George Orwell's concept of the memory hole laid out in his (once again best-selling novel), 1984. The "memory hole" was where "the party" discarded inconvenient bits of history, replacing them with what are now known as "alternative facts." The logic, as Orwell explained it, was "Who controls the past, controls the future."
A day before officially declaring Donald Trump as the Republican Party's presidential nominee, the party released its 2016 platform that promises sweeping changes to climate and environmental policies.
The platform calls for pulling the U.S. out of the Paris agreement, ending all renewable energy incentives and demoting the U.S. Environmental Protection Agency—set up by Republican President Richard Nixon in 1970—to a commission.
"If this extremist platform were ever actually implemented, it would imperil clean air and clean water for all Americans," Sierra Club Political Director Khalid Pitts said. "Donald Trump has vowed to eliminate the Environmental Protection Agency, and now the Republican Party has codified a radical and dangerous path to enable Trump and his anti-environmental ideology.
"This double-dealing platform both praises NASA while simultaneously rejecting the scientific consensus on the climate crisis, which NASA has affirmed time and time again. The Republican platform has gone beyond partisan politics and extended into cartoonish absurdity. Any voter who cares about our climate has to help make sure that Donald Trump never becomes president, and that this platform never gets near a piece of legislation."
Calling climate change "not proven science," the Republican platform promises to cancel the Clean Power Plan, oppose "any carbon tax" and prioritize fossil fuels. Free-market group Partnership for Responsible Growth has launched efforts to get the Republican Party to accept climate science and climate action efforts, including an ad running on Fox News where President H.W. Bush, among other GOP leaders, said "We cannot allow a question such as climate change to be characterized as a debate."

For a deeper dive:

News: Guardian, ClimateWire, Grist, Deutsche Welle, Greenwire, E&E News
Commentary: New York Magazine, Jonathan Chait column; Washington Post, Steven Mufson column; The Hill, John D. Graham op-ed

For more climate change and clean energy news, you can follow Climate Nexus on Twitter andFacebook, and sign up for daily Hot News.

Rep. Lamar Smith, chairman of the House Science Committee, has subpoenaed two state attorneys general to obtain records of their investigations into whether ExxonMobil misled investors and the public on climate change risks.
Rep. Lamar Smith, chairman of the House Science Committee
Smith is among a group of GOP lawmakers who say the oil giant's statements on climate change—regardless of whether they were known to be factually inaccurate—should be regarded as "free speech" and therefore free of any accountability.
Smith also subpoenaed eight environmental and legal groups.

"Chairman Smith's subpoena is an abuse of power that goes way beyond the House Science Committee's jurisdiction and amounts to nothing more than harassment," Ken Kimmell, president of the Union of Concerned Scientists, said in a statement.
For a deeper dive: AP, Washington Post, Reuters, Albany Times Union, The Hill, Morning Consult, InsideClimate News, Mashable, BuzzFeed

For more climate change and clean energy news, you can follow Climate Nexus on Twitter and Facebook, and sign up for daily Hot News.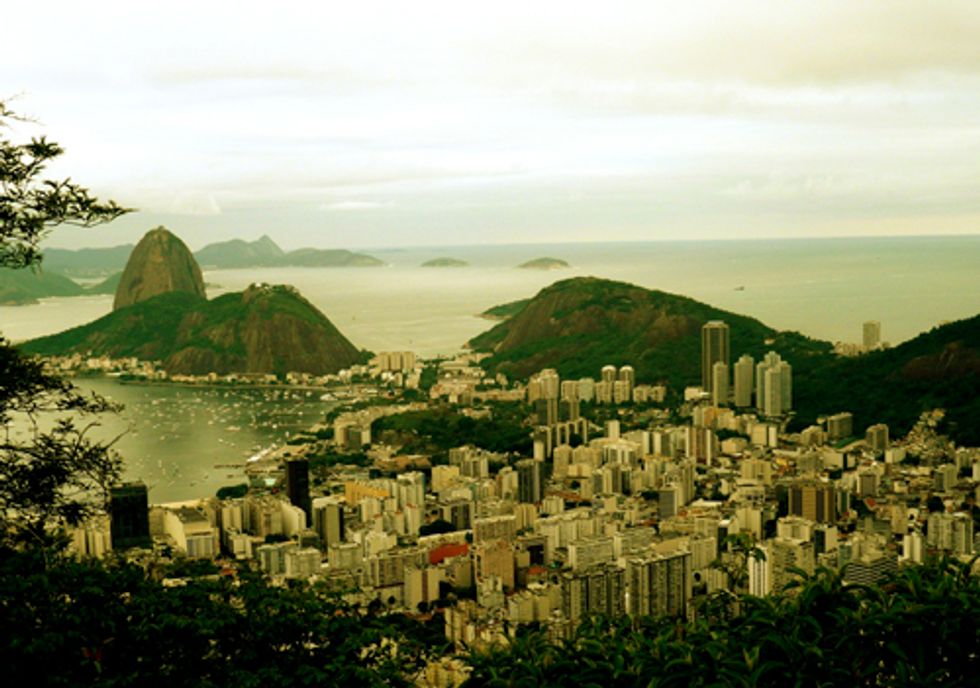 By Manish Bapna
What are the top environmental and development issues that will shape 2012? Jan. 10, I presented the World Resources Institute's (WRI) 9th annual Stories to Watch at the National Press Club. While we can't predict the future, here's a rundown of the key issues to keep an eye on:
1. Environmental Issues in an Election Year
U.S. Climate Policy
In 2008, the Obama administration set a target that the U.S. would reduce greenhouse gas (GHG) emissions 17 percent by 2020 (compared to 2005 levels). According to WRI's 2010 analysis, the 17 percent target is still within reach, but it will require a sustained effort in 2012 and beyond.
In 2012, the Obama administration has significant opportunities to cut emissions—but it remains to be seen how far it will be willing to go. This year you cannot answer the question of whether the administration will be aggressive without considering the political context even more than usual.
At the state level, California will be putting in place the foundation for their new cap-and-trade program, and the Regional Greenhouse Gas Initiative states will be doing a program review in 2012.
U.S. Presidential Election
It's amazing how quickly things can change in politics. Back in 2008, both Democratic and Republican candidates supported national action to address climate change.
Now, the obvious story to watch is how environmental issues play out in the 2012 campaign. This will, in part, set the stage for what happens in the next presidential administration.
Will President Obama leverage his environment and public health record and position himself in contrast to the more extreme strains of the GOP? Will he lean into these issues or distance himself from them?
On the Republican side, will the presumed candidate embrace anti-EPA rhetoric, using it as a prime example of government overreach? Or will he pivot back toward more moderate positions as the general election begins?
2. Transitions in China
Solar and Wind Trade Issues between the U.S. and China
Recent trade cases have upped the ante in the clean energy trade dispute between the U.S. and China. Solarworld has brought a case forward on behalf of a coalition of U.S. manufacturers of solar panels. A group of solar buyers and installers have banded together to oppose the complaint. China's Ministry of Commerce began a formal investigation of U.S. government support for the clean energy sector. And, just last week, a new trade case was filed in the U.S. challenging Chinese subsidies for steel towers used for wind turbines.
We'll be keeping a close eye on this story. Some are suggesting that this dispute could become as heated as the trade wars on automobiles between the U.S. and Japan in the 1980s.
National Energy Cap
For the first time, China is considering setting a national cap on energy use. Although we don't know the details yet, it will likely be an annual limit on total energy consumption or coal consumption, probably through 2015 or through 2020. This would be a major step forward in helping China decouple energy consumption from Gross Domestic Product growth.
The ultimate impact of the cap will be to limit the use of coal in China, which currently makes up more than 70 percent of consumption. We'll be watching to see how this plays out on the national and provincial level.
Carbon Trading Systems
China will be setting up provincial carbon trading systems in 2012. Interestingly, the pilots in different places will be constructed differently. Just as U.S. states act as laboratories of change, the Chinese government uses pilots at the provincial level to test new ideas before scaling up across the country.
3. Rising Food Demand and Opportunities
Demand for food is accelerating at a remarkable rate. The global middle class is expected to triple within the next 20 years, changing the types of food people eat. There will be pressure to convert many of the remaining, pristine natural landscapes to food production. How we respond to this demand will have profound implications for biodiversity, forests and the global climate.
One solution to this problem is to restore degraded or significantly underproductive lands. Although estimates vary, a key study last year published in the Proceedings of the National Academy of Sciences found that somewhere between 600-700 million acres of degraded cropland has been abandoned over the past century, and a huge amount of that land (about four times the size of Texas) could be brought back into production.
4. Renewable Energy—Boom or Bust
Global investment in renewable energy is already approaching global investments in fossil fuels. Could 2012 be the year in which renewable energy investment surpasses fossil fuels?
This depends in part on two issues. First is the effect of the shale gas boom. Abundant, cheap shale gas may make it even more difficult for renewables to break into the market.
Second are government policy decisions, especially in the U.S., China, Germany and India. These will likely determine the scale of future investment in renewable energy. Will countries commit to steady and well-telegraphed renewable policies, as Germany has done successfully over the past few years, or will they cut renewable support under political and fiscal pressures?
5. Rio+20
In June 2012, more than 40,000 people are expected to convene for the Rio+20 Conference in Brazil. This is the fourth historic global environmental summit, following Stockholm in 1972, Rio in 1992, and Johannesburg in 2002. But, with just six months to go, vision for the conference is only now beginning to emerge. I am therefore doubtful that major breakthroughs will emerge from the official process. That said, we may see exciting action emerge from the bottom up—via a subset of governments or from civil society or from the business sector or a combination of them.
For example, we expect to see governments make commitments to energy access, and around water security, food security and governance. If so, we could see some significant developments in Rio.
When we look to 2012, we see that a movement toward sustainability is underway in many places around the globe. It is collapsing the boundaries between economics and environment, and is re-defining concepts of what constitutes quality of life and national security. We observe it is being driven not just by altruism, but by necessity—long-term business strategies, political calculations, re-valuing natural resources and in many instances survival for many people.
For more information, click here.