This website uses cookies to ensure you get the best experience while browsing it. By clicking 'Got It' you're accepting these terms.
Google has continued to curry political favor with staunch conservatives by making substantial financial contributions to more than a dozen groups that deny that the climate crisis is real, as The Guardian revealed in a bombshell investigation.
Verdura Resort is home to Google's camp. Verdura Resort
Google's seventh annual meeting of the minds, dubbed Google Camp, is happening at a seaside resort in Sicily and this year, it is dedicated to the climate crisis. Luminaries from tech, business, entertainment and politics descended upon the Italian island to discuss ideas and solutions for tackling the climate crisis at the three-day event that costs Google upwards of $20 million, according to Business Insider.
EcoWatch Daily Newsletter
PHILIPPE HUGUEN / AFP / Getty Images
Google announced Wednesday it would expand its innovative, street-by-street air pollution mapping program to an international fleet of 50 Google Street View cars, Business Wire reported.
The program is a partnership with Aclima, a San Francisco company that maps air quality on a block-by-block scale.
It just got a whole lot easier to decide whether or not to get solar panels for your roof. Google's Project Sunroof site will help you locate your home, see how much sun it gets on average and what you could save if you purchased panels.
U.S. companies are taking a stand in these politically chaotic times.
So far, 127 technology firms are firing back at President Donald Trump's travel ban affecting immigrants and refugees from seven Muslim-majority countries.
The movement was led by nearly 100 Silicon Valley companies who filed a legal brief on Sunday to oppose the highly controversial executive order, arguing that it is unconstitutional and "inflicts significant harm on American business, innovation, and growth." Apple, Facebook, Google, Microsoft, Uber, Reddit, Netflix and Dropbox were among the 97 companies that initially signed on to support Washington state's lawsuit against Trump's order.
That list got substantially larger late Monday afternoon, when Tesla, SpaceX and 29 other tech firms joined the brief.
Tesla and SpaceX were notably absent on the original list of signatories. CEO Elon Musk, who happens to sit on Trump's business advisory council, previously said he would use his position to "express our objections to the recent executive order on immigration."
But as a Tesla spokesperson told the Verge, "as soon as we saw the brief this morning, we insisted on being added."
The suit is being heard in the ninth circuit federal court in San Francisco, California and has already succeeded in temporarily halting the enforcement of the executive order.
Many other companies are making real efforts to be socially responsible. The outdoor industry as a whole has taken a stand against Utah state's and the federal government's proposals to shed public lands.
In an open letter to Trump and Congress, more than 100 outdoor industry leaders led by REI have called upon elected officials to protect public lands and the integrity of the outdoor recreation industry, which powers $646 billion in gross national product.
Outdoor clothing big-hitter Patagonia also announced on Tuesday it will not participate in Utah's Outdoor Retailer shows after Gov. Gary Herbert signed a resolution on Friday urging the Trump administration to repeal the newly named Bears Ears National Monument.
A new Greenpeace report, Clicking Clean: Who is Winning the Race to Build a Green Internet?, finds that Apple, Google, Facebook and newcomer Switch are leading the charge to build a renewably powered internet. These companies are coupling transitions of their data centers to clean energy with strong advocacy for access to renewable options.
By Gary Cook
Google announced today that it has reached 2.6 GW of renewable energy purchased, putting the company on pace to reach 100 percent renewable energy in 2017. In its announcement, the company noted that renewable energy has both managed its carbon footprint and been good for business as the lowest cost option.
Google has been a catalyst in the dramatic growth in renewable energy procurement among corporations, redefining the art of the possible by bringing significant renewable energy projects onto the same grid its data centers are powered from. Google's milestone of 2.6 GW of renewable energy purchased puts it well above what most corporations have done to drive renewable growth.

As Google itself acknowledges, its effort to become 100 percent renewably powered remains a work in progress due to the limited renewable energy options offered by monopoly utilities. The company rightly highlights the need to change government policies to drive investment and create new pathways that will allow all of their operations to be directly powered by renewables. Google and other IT leaders like Apple and Facebook have increasingly used their influence to open previously closed markets to allow for more access to renewables.
Google has put its money where its mouth is on renewable energy over the past six years, repeatedly showing that renewables are not only good for the climate, but good for business. More than ever, companies must show this sort of leadership on renewable energy. Now is not the time to be silent. Corporations have helped drive growth during the Obama administration, but given the hostility to climate change and renewable energy policies by the incoming Trump Administration, companies that have made commitments to power their operations with renewable energy need to speak up on the critical importance of strengthening renewable energy policies as Google has done today.

Greenpeace will release its latest Clicking Clean report, assessing the performance of Google, Apple, Amazon and other internet companies on their use of renewable energy, on Jan. 10, 2017.
Starting next year, Google's shrimp dishes won't be made with actual shrimp. After tasting New Wave Foods's realistic faux shrimp, the tech giant's chef pledged to switch to the company's plant- and-algae-based product for the first few months of 2017, Wired reported.
EcoWatch featured the San Francisco sustainable seafood startup in December. The New Wave team consists of three women with a combined professional background in environmentalism to take on this ambitious task: Dominique Barnes is an oceanography graduate and former shark caretaker at Las Vegas's Golden Nugget Hotel, Michelle Wolf is a materials scientist and engineer, and Jennifer Kaehms has a bioengineering degree from the University of California San Diego.
We mentioned then how the company's lab-grown "shrimp" is as tasty and nutritious as the real deal. The shrimp even transitions from grey to pink during cooking.
Barnes told Munchies, "Right now, when we do demos, most people are really surprised that it's not real shrimp." She explained that the company has mostly replicated a real shrimp's exact texture and taste using red algae:
"We looked at the building blocks of real shrimp, what they consumed. They eat many things, but one of the things they eat regularly are micro algae, and a part of that is red algae. Certain compounds from red algae actually impart shrimp's color and flavor. So we looked at that and found it can actually be cultivated and used in a similar way in our shrimp. It's also a powerful anti-oxidant."
Shrimp is America's most popular seafood. The average American peels through roughly 4 pounds of shrimp a year, according to the National Marine Fisheries Service. About 6 million tons of shrimp are consumed worldwide per year.
However, the world's fondness for this crustacean has sent global populations plummeting from overfishing. For instance, Maine's Northern shrimp haul dropped from 12 million pounds in 2010 to just 563,313 pounds in 2013.

The World Wildlife Fund points out that production has also been known to rip out ecologically sensitive habitats such as mangroves. Shrimp farming also creates a steady stream of organic waste, chemicals and antibiotics that can pollute groundwater and coastal estuaries.

"Looking at land use, water use, transportation of the product—[our shrimp] is much less intensive" compared with shrimp farming, Barnes explained to Wired.
You might also want to avoid certain types of shrimp for health reasons. A startling Consumer Reports study tested 342 packages of frozen shrimp—284 raw and 58 cooked samples—purchased at Albertsons, Costco, Fry's Marketplace, Hy-Vee, Kroger, Sprouts Farmers Market and Walmart in 27 cities across the U.S. The results showed that 60 percent of raw shrimp tested positive for bacteria, including salmonella, E. coli and listeria. In seven raw shrimp samples, scientists detected the antibiotic-resistant superbug MRSA, or Methicillin-resistant Staphylococcus aureus, that could potentially lead to a dangerous infection.

If that doesn't ruin your taste for shrimp, most varieties you'll find in supermarkets or served in restaurants comes from small shrimp farms in Southeast Asia. Last December, a stunning investigation from the Associated Press revealed that the industry was rife with human trafficking and the shrimp you might be eating was peeled by slave labor.
New Waves's fake shrimp can thus be consumed without any guilt. Barnes, however, admitted to Wired that it will be an uphill climb to switch American taste buds off their favorite seafood for what amounts to "pond scum."

"One hurdle that I do see," Barnes said, "is in our perception of algae. When I talk to people, usually they're like, 'What are you talking about? This is pond scum.'" She also pointed out that you've likely eaten algae without even knowing it. "You probably already consumed something this week that has an algae ingredient," she said.
Besides Google, the fake shrimp has been served at pop-up events in San Francisco and the company is working for a mass-market release.

"We've been able to visit Google twice so far and [had our food] served in their cafeteria," Barnes told Digital Trends. "At the moment we're making everything in small batches because we're kind of an artisanal company. But to meet the kind of quantity they would like to order we need to focus on scaling our production. Right now that's our main focus."
When reading or opining online about the energy consumed by homes, cars and power providers, it's easy to overlook the amount of electricity the Internet itself requires.
According to a new Greenpeace report, the Web would rank sixth in energy demand if it were a country. The amount of Internet data out there is expected to have tripled from 2012 to 2017. In that time, the Web population is expected to grow from 2.3 billion in 2012 to 3.6 billion people by 2017, or half of the world's population.
With that sort of virtual volume on deck, Web companies have to become greener.
In Clicking Clean: How Companies Are Creating the Green Internet, Greenpeace researchers make it clear which companies are leading the movement and which ones are still relying on fossil fuels.
Greenpeace evaluated the energy choices of 19 familiar Internet companies and more than 300 of their data centers. Five of those firms have announced a goal of powering their operations with 100-perecent renewable energy.
"Apple, Facebook and Google are powering our online lives with clean energy, and building a greener offline world for everyone in the process," Gary Cook, a Greenpeace senior IT analyst, said in a statement. "These companies have proven over the past 24 months that wind and solar energy are ready and waiting to power the internet, and the rest of our economy, with clean electricity."
While all three companies are known for the renewable energy investments of recent years, Greenpeace particularly singled out Apple, the only company to earn a 100-percent score on its four-category Clean Energy Index. The company powers facilities like its Reno, NV data center with all clean energy, despite the local utility's resource mix being more than half comprised of natural gas. The same goes Apple's facility in Maiden, N.C., where 57 percent of the local mix is made up of nuclear energy.
Apple's North Carolina data center, which is home to the iCloud service, is powered by the largest privately owned solar installation in the country. Amazon and eBay, on the other hand, received 15 and 6 percent, respectively, on their indexes.
"Apple's rapid shift to renewable energy over the past 24 months has made it clear why it's one of the world's most innovative and popular companies," Cook said. "By continuing to buy dirty energy, Amazon Web Services not only can't seem to keep up with Apple, but is dragging much of the internet down with it."
In the organization's own words, here is what Greenpeace wants all "major" Internet companies to do:
Make a long-term commitment to become 100-percent renewably powered.
Commit to transparency on IT performance and consumption of resources, including the source of electricity, to enable customers, investors, and stakeholders to measure progress toward that goal.
Develop a strategy for increasing their supply of renewable energy, through a mixture of procurement, investment, and corporate advocacy to both electricity suppliers and government decision-makers.
——–
YOU ALSO MIGHT LIKE
Google to Power Entire Data Center With Wind
Microsoft, Apple, Google Power Data Centers with Renewable Energy
Facebook to Power Data Center With Wind
——–
It takes a lot of energy to enable web users to stream videos, downloads books and other online activities—about the same amount it would take to power 30 nuclear power plants.
Data centers around the world use about 30 gigawatts, or 30 billion watts of electricity, according to Green House Data. U.S. data centers account for nearly one-third of that amount, according to estimates compiled by The New York Times.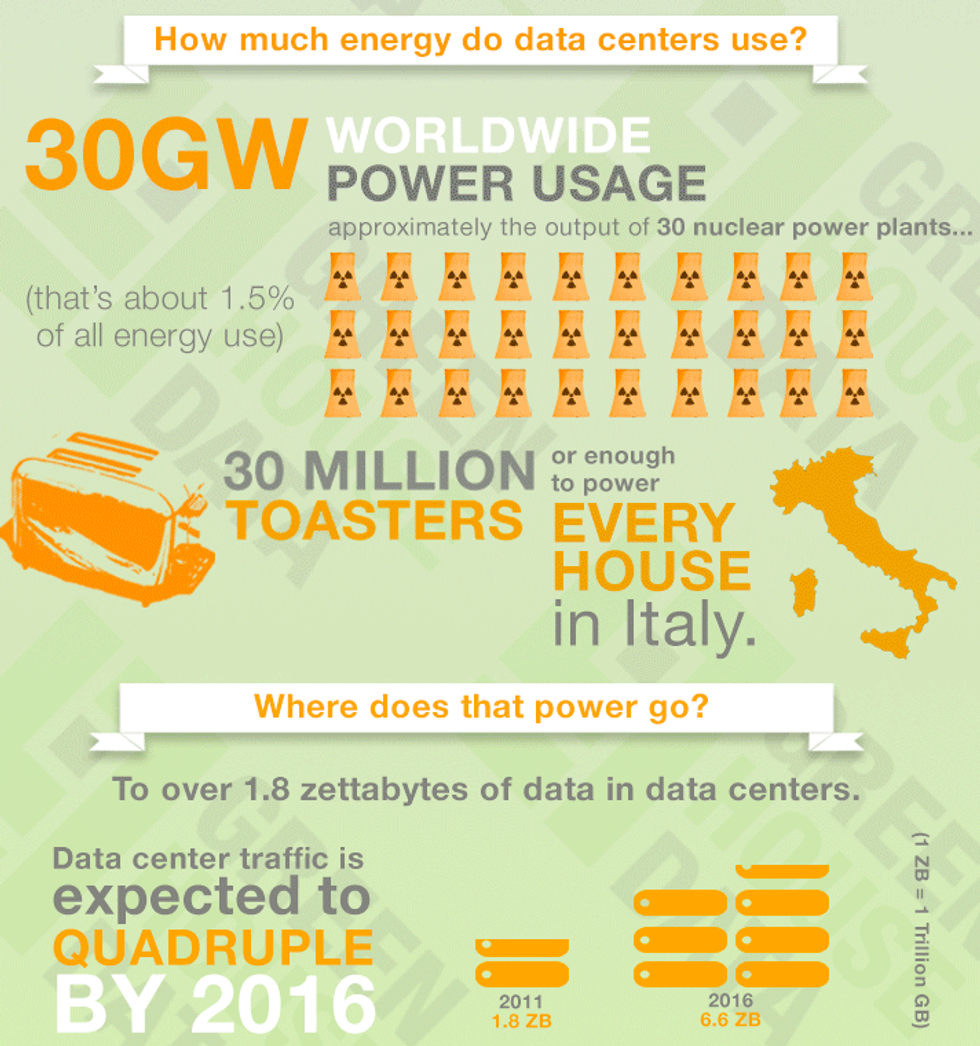 Stanford University research fellow Jonathan G. Koomey told the publication that U.S. data centers used about 76 billion kilowatt-hours in 2010, which equates to about 2 percent of the electricity used by the entire country that year.
Powering data centers with renewable energy sources like wind or solar is an obvious solution to global energy problems. Here are three companies who have announced plans to power their data centers with renewable energy:
Microsoft
The software corporation announced Monday that it would buy 110 megawatts (MW) of energy from a wind farm 70 miles northwest of Fort Worth, Texas to power its San Antonio data center. The 20-year agreement marks the first time the company will power a data center with clean energy.
The power will come from RES Americas' Keechi Wind project, which will begin construction early next year. The wind farm will include 55 wind turbines manufactured by Vestas, largely in Colorado.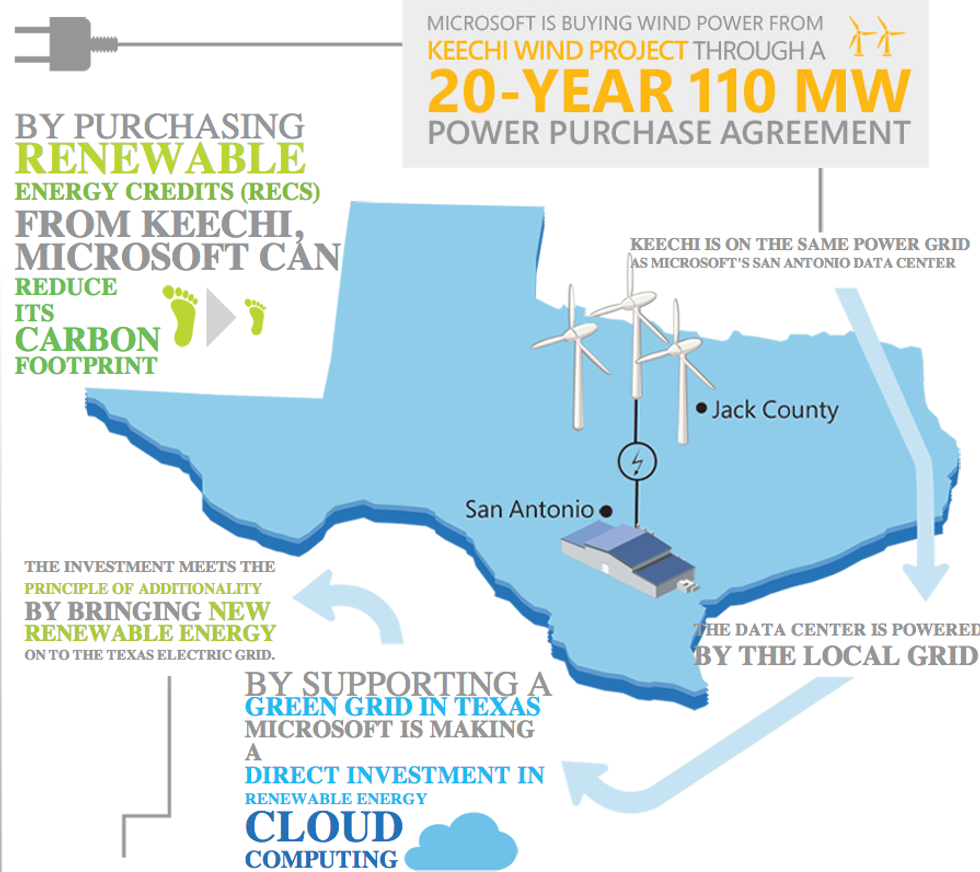 "For Microsoft, signing a long-term [power purchase agreement] for wind energy is a significant milestone in our commitment to carbon neutrality," Robert Bernard wrote on the company's Green Blog. "It also underscores how the carbon fee is changing the way Microsoft does business globally. By placing a dollar value on a metric ton of carbon, Microsoft is building environmental sustainability into our long term business planning and creating a blueprint for more purchases of renewable energy like this one."
Apple
Earlier this year, Apple said it would power its iCloud data centers with renewable energy instead of coal. An environmental report released in March revealed:
An increase in the percentage of renewable energy, from 35 percent to 75 percent, over the last three years at corporate facilities.
Apple opted out of default grid mix program in Prineville, OR in order to power its under-construction data center with wind, hydroelectric and solar.
Like existing data centers in Maiden, NC and Newark, CA, a new Reno, NV site will be completely powered by renewable energy
Google
Google purchased 48 MW of wind energy in 2012 to power a data center in Oklahoma that helps store Gmail, Google Docs and search engine results, Greenpeace reported. The company was faced with using a 50-percent coal mix before striking a power purchase agreement with the local utility.
Google also has a habit of investing millions in renewable facilities. The company Google announced its 13th renewable energy investment in three years last month by helping to fund a 265.7 MW solar project in California. The company pledged $103 million to Silver Ridge Power's Mount Signal Solar project, which will power 80,000 homes and create 900 construction jobs. Google's clean energy investment portfolio—which has eclipsed $1 billion—also includes projects in Germany and South Africa.
"We invest in these projects because they make business sense, because they help put more renewable energy on the grid and because they have a positive impact on the local economies where they operate," Google corporate finance head Kojo Ako-Asare said.
Visit EcoWatch's SUSTAINABLE BUSINESS page for more related news on this topic.