By Som Niyogi and Solomon Amuno
Even though it was closed decades ago, the Giant Mine on the outskirts of Yellowknife has left a long environmental legacy.
<p> The gold extraction process, which required roasting ores at extremely high temperatures, created a toxic byproduct called arsenic trioxide. For about 55 years (1948-2004), arsenic and other toxic elements were released into the environment, causing <a href="http://www.rcinet.ca/eye-on-the-arctic/2016/08/24/arsenic-contamination-persists-in-yellowknife-lake-a-decade-after-gold-mine-shut-study/" target="_blank">widespread contamination of the terrestrial and aquatic ecosystems around Yellowknife</a>. </p> <p> About <a href="http://www.cbc.ca/news/canada/north/giant-mine-arsenic-process-1.4418862" target="_blank">237,000 tonnes of arsenic trioxide dust is buried</a> underground, and <a href="http://www.cbc.ca/news/canada/north/dots-lakes-arsenic-nwt-yellowknife-water-1.4230597" target="_blank">several nearby lakes show arsenic contamination</a>. </p> <p> Elevated arsenic levels have also been reported in soil, vegetation and fish around Yellowknife, but we knew little about how it has affected the health of the small mammals that live in the area. </p> <p> Many of these fur-bearing animals are still being trapped for their pelts and for food, so knowing their arsenic levels is also important for human health. </p> <p> <strong>Weak Bones</strong> </p> <p> Small mammals can serve as sentinels for environmental contamination. Snowshoe hares (<em>Lepus americanus</em>) live in a relatively small area and eat soil, so they are likely to accumulate higher levels of arsenic and other trace metals from the environment. </p> <p> Exposure to elevated levels of arsenic can cause damage to the liver and other organs. And cadmium, a toxic metal and another byproduct of the gold extraction process, can replace calcium in the bones, leading to bone deformities and weakness. </p> <p> In humans, chronic arsenic exposure (usually from water) can lead to <a href="https://www.epa.gov/sites/production/files/2014-03/documents/human_health_effects_from_chronic_arsenic_poisoning_3v.pdf" target="_blank">changes in skin colour, skin growths and cancers of the skin, lung and internal organs</a>. </p> <p> When we measured arsenic and cadmium levels in hares living within two kilometres of the Giant Mine and compared them to hares living about 20 kilometres away from Yellowknife, the results were striking. </p> <p> The arsenic levels in the guts of snowshoe hares living near the Giant Mine were <a href="https://www.sciencedirect.com/science/article/pii/S0048969717322982" target="_blank">20-50 times greater</a> than those living away from it. We also saw higher concentrations of arsenic in the organs and nails of the Giant Mine hares. </p> <p> Cadmium levels were also higher but the difference wasn't as marked. Hares from both locations had weaker bones and showed signs of osteoporosis, probably due to <a href="https://academic.oup.com/toxsci/article/82/2/468/1656953" target="_blank">chronic exposure to cadmium</a>. </p> <p> <strong>Ecological Implications</strong> </p> <p> This chronic exposure to elevated levels of arsenic and cadmium may explain why snowshoe hares living near the Giant Mine are in poor health. </p> <p> Wildlife living in metal contaminated areas in other parts of the world have also shown problems with reproduction, osteoporosis, neurological damage and chronic metabolic disease. But in Canada, it's the first time we've seen small wild mammals with chronic arsenic poisoning. </p> <p> The high levels of pollutants could compromise the long-term survival of the snowshoe hare and other small mammals in the Yellowknife area. </p> <p> The high arsenic and cadmium burden in hares could have consequences for other animals that prey on them, such as foxes, wolves or other carnivorous mammals, and <a href="https://www.aadnc-aandc.gc.ca/eng/1524242446493/1524243007228" target="_blank">for the people who hunt them</a>. </p> <p> <em>Reposted with permission from our media associate </em><em><a href="https://theconversation.com/toxic-leftovers-from-giant-mine-found-in-snowshoe-hares-95849" target="_blank">The Conversation</a></em><em>.</em> </p> <p> <em><br> </em> </p> <script async="async" data-counter="https://counter.theconversation.com/content/95849/count?distributor=republish-lightbox-advanced" id="theconversation_tracker_hook" src="https://theconversation.com/javascripts/lib/content_tracker_hook.js" type="text/javascript"></script>
On Aug. 4, an approximately 580 acre impoundment failed at a Canadian gold and copper mine near Likely, British Columbia. The breach at Imperial Metal's Mt. Polley mine dumped an estimated 1.3 billion gallons of toxic mine waste into the surrounding environment. On Aug. 5, Landsat 8 acquired an image of the mine showing that grey sludge from the tailings dam has entered Polley Lake, saturated the entire length of Hazeltine Creek and entered Quesnel Lake more than five miles downstream of the failed impoundment.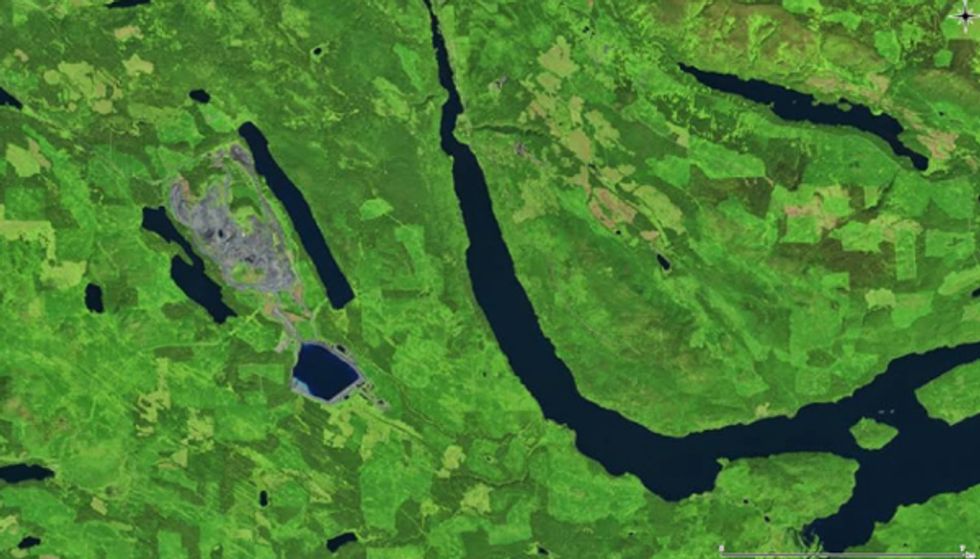 BEFORE: Mt. Polley Mine and Quesnel Lake, British Columbia, Canada: A Landsat 8 satellite image acquired July 29 shows the pond intact and Hazeltine Creek barely visible. Source: USGS/Landsat
The spill has prompted drinking water bans throughout the region, since the pond contains a slurry laden with arsenic, lead, mercury, selenium and other toxic metals and compounds.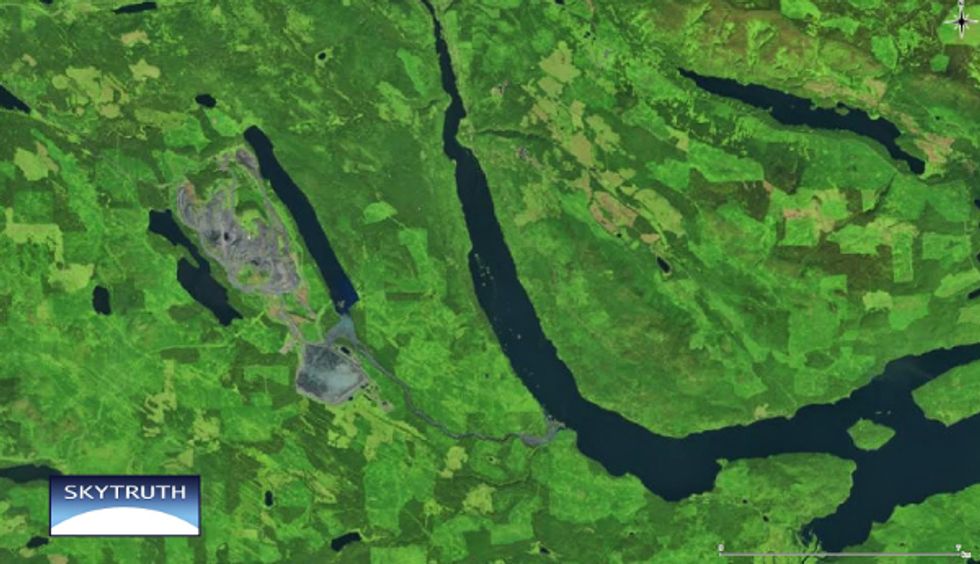 AFTER. The pond has breached and grey mine waste can be seen entering Quesnel Lake over five miles away. Credit: USGS via SkyTruth
The president of Imperial Metals, Brian Kynoch, claims that the water in the tailings pond is "near drinking water quality" and expressed disbelief that the impoundment could fail so catastrophically, despite the fact that Canadian officials had issued multiple warnings to Imperial Metals for exceeding water quality standards for effluent and exceeding the permitted wastewater levels in the pond.
Local citizens anticipating the arrival of a salmon run now fear the worst for the environment and tourism, especially as they begin to document dead fish in Quesnel Lake. 
Environmental groups across North America will be watching this story closely given the similarities to the proposed Pebble Mine in Alaska's Bristol Bay watershed, the world's most productive wild salmon fishery. Tailings ponds at Pebble mine would cover a surface area 13 times larger than the Mt. Polley impoundment and would have similar earthen dams taller than the Washington Monument.
You Might Also Like
Take Action to Protect Bristol Bay and Largest Wild Salmon Fisheries on Earth
Another Developer Pulls Investment From Controversial Pebble Mine Project
Salmon vs. Gold at Alaska's Pebble Mine
EcoWatch Daily Newsletter
Just in time for Valentine's Day, more than 100 of the world's leading jewelry retailers—including eight of the top 10 in the U.S.—have committed to more responsible metals sourcing by signing the No Dirty Gold campaign's Golden Rules.
"Dirty gold just isn't romantic," said Payal Sampat of Earthworks' No Dirty Gold campaign. "Retailers don't want consumers to associate gold jewelry with polluted rivers and child labor, and they are joining us in calling on the mining industry to clean up its act."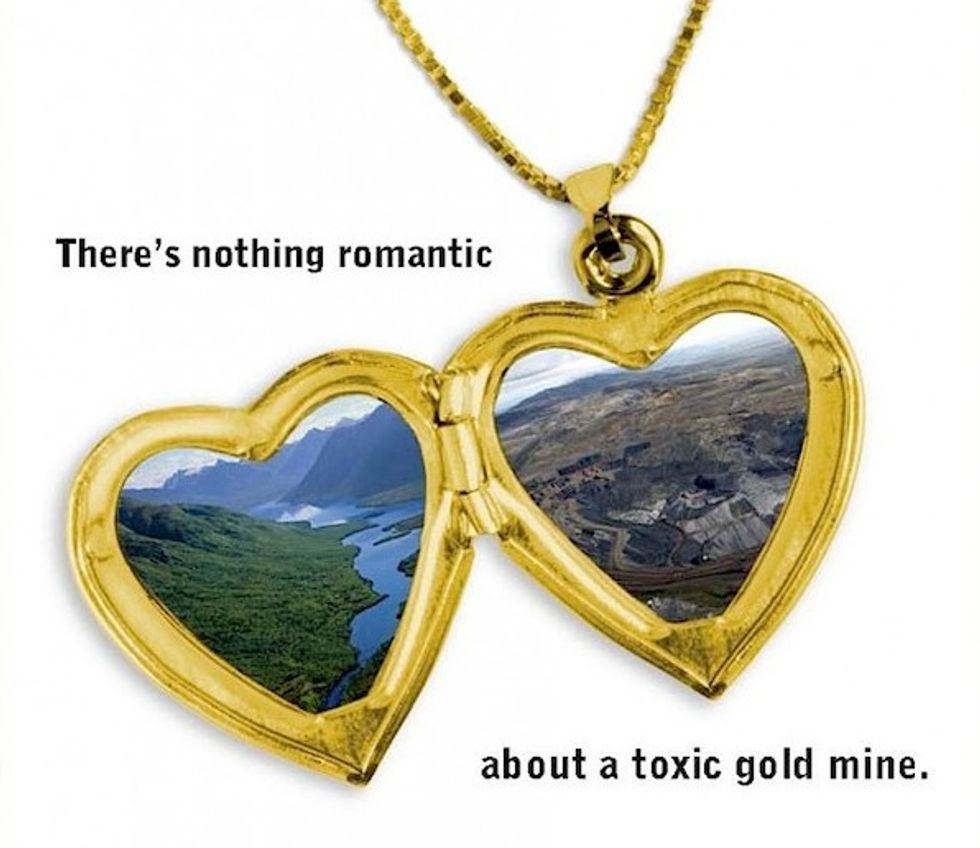 The Golden Rules are based on broadly accepted international human rights laws and basic principles of sustainable development, including respect for workers' rights and protection of ecologically sensitive areas.
"We believe that socially and environmentally responsible jewelry should be widely available to consumers," said Brilliant Earth co-founder Beth Gerstein. "We want to reduce the need for dirty mining of precious metals. That's why we signed the No Dirty Gold campaign's Golden Rules. And that's why we use only recycled and ethically produced metals."
Gold mining is one of the world's most destructive industries. Producing a single gold ring creates at least 20 tons of mine waste. U.S. Environmental Protection Agency (EPA) data show that metal mining is the largest toxic polluter in the U.S. Around the world, mining has been linked to human rights abuses, perpetual water pollution, destroyed wildlands and long-term health impacts.
Valentine's Day is one of the largest jewelry purchasing holidays of the year in the U.S. Nearly 20 percent of Valentine's gift givers will buy jewelry, spending more than $4 billion according to National Jeweler.
Jewelers are in a unique position to influence mining industry behavior because jewelry demand accounts for the majority of gold demand in the U.S. and around the world.
The world's largest jewelry retailers including Tiffany & Co., Target and Helzberg Diamonds have all committed to take steps to clean up irresponsible gold and metals mining. These include studying their metals supply chains, revising their supplier sourcing criteria to include the Golden Rules, increasing recycled gold content, and seeking more responsibly produced metals.
Dirty gold mining is booming around the world, in places ranging from Mongolia to Peru. In Bristol Bay, Alaska, gold mining threatens the world's largest wild salmon fishery. According to the EPA, if built, the proposed Pebble mine would dump toxic mining waste directly into rivers, lakes and streams, and irreversibly damage the $480 million fishery upon which the regional economy and local subsistence-based communities depend.
"We can't eat gold," said Kimberly Williams, director of Nunamta Aulukestai, an association of ten Bristol Bay Native village corporations and Native Tribes. "Our way of life relies on Bristol Bay's salmon, and has for thousands of years. Because the Pebble Mine would damage our salmon, it would damage our community."
Visit EcoWatch's BIODIVERSITY page for more related news on this topic.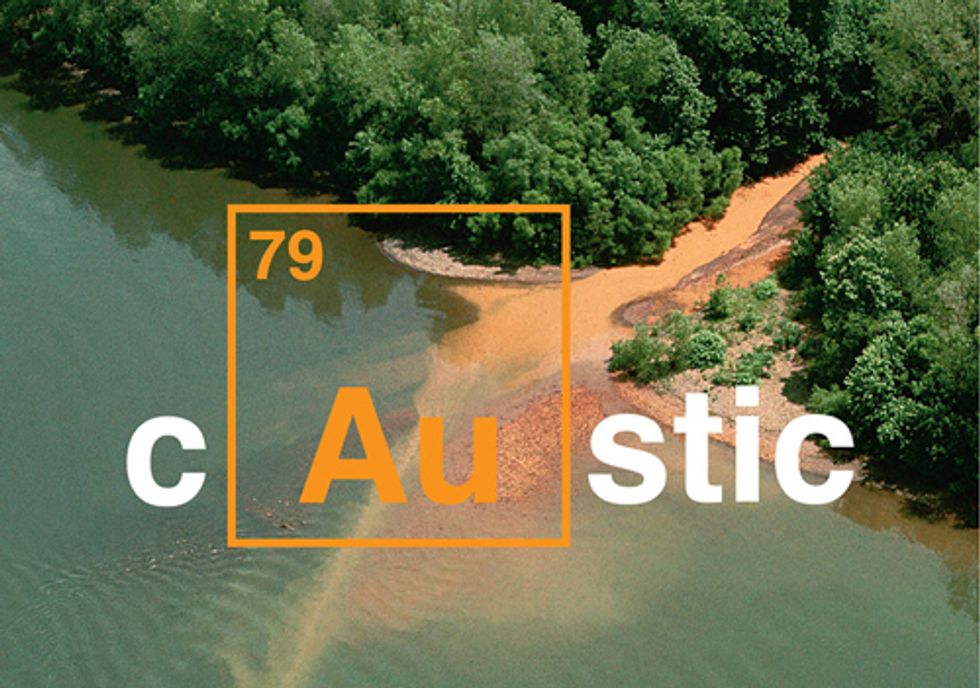 Some 80 jewelry retailers from around the world, including eight of the top 10 retailers in the U.S., have committed to cleaning up dirty metals by signing the No Dirty Gold campaign's Golden Rules for more responsible metals sourcing.
The Golden Rules are a set of social, human rights and environmental criteria for gold and other precious metals. Jewelers who have signed the Golden Rules are committed to selling gold jewelry that is mined and smelted responsibly.
This is good news for consumers, the environment and the communities who live with metals mining says No Dirty Gold campaign director Payal Sampat. "Dirty gold must become a thing of the past," she said. "No one wants their Valentine's Day jewelry tainted with human rights abuses or toxic pollution. But this can't happen unless companies like Macy's commit to cleaning up their supply chains and sign the Golden Rules."
Macy's is one of the last major jewelry retailers to sign the Golden Rules. The department store chain, which includes Bloomingdale's, is the fifth-largest retailer of gold jewelry in the U.S., with more than 800 locations in 45 states, the District of Columbia, Puerto Rico and Guam.
On Feb. 13, activists with the No Dirty Gold campaign hung a balloon banner at the Macy's Washington, D.C. store, reading, "Macy's: Don't Break Our Hearts. Dump Dirty Gold."
"Until Macy's ends its love affair with dirty gold, the company's commitment to sustainability and transparency is just a bunch of hot air," said No Dirty Gold campaign coordinator Nick Magel.
Costco, the ninth largest U.S. jewelry retailer, headquartered in Issaquah, Wa., has also declined to sign the Golden Rules.
Sampat says the campaign's effort to secure commitments from jewelers to oppose dirty gold production is a crucial step because about 80 percent of newly mined gold is made into jewelry.
The world's largest jewelry retailers, including Walmart, Sterling, Zale's, Tiffany & Co., QVC, Target, Sears/Kmart and JCPenney have all committed to study their metals' supply chains, revise their supplier sourcing criteria to include the Golden Rules and increase recycled gold content.
Michelle Pearlman, senior vice president and president of Jewelry, Sears Holdings, said, "The No Dirty Gold campaign is a great initiative that pushes for sustainability and ethical sourcing on gold. We are proud to be a part of it and to offer our customers gold that was obtained in a responsible manner. Sears strives to be a green company and we will continue to work to build lifetime relationships with our customers starting from the mines up."
Cyanide used in leaching gold from ore can pollute water resources and kill aquatic life. Gold mining can pollute nearby waters with acid mine drainage, which is harmful to wildlife and people. Some mines discharge toxic waste in rivers, lakes or oceans, or store the waste tailings in reservoirs that can leak or burst. Mine wastes include byproducts like mercury and heavy metals, which can enter the food chain and sicken people and animals.
Refining the gold in smelter furnaces releases air pollution, especially oxides of nitrogen and sulfur, which are components of smog and acid rain, as well as lead. Smelters release tons of greenhouse gases into the atmosphere.
The Golden Rules call on mining companies to meet these basic standards in their operations:
    Respect basic human rights outlined in international conventions and law
    Obtain the free, prior and informed consent of affected communities
    Respect workers' rights and labor standards, including safe working conditions
    Ensure that operations are not located in areas of armed or militarized conflict
    Ensure that projects do not force communities off their lands
    Ensure that projects are not located in protected areas, fragile ecosystems, or other areas of high conservation or ecological value
    Refrain from dumping mine wastes into the ocean, rivers, lakes or streams
    Ensure that projects do not contaminate water, soil or air with sulfuric acid drainage or other toxic chemicals
    Cover all costs of closing down and cleaning up mine sites
    Fully disclose information about social and environmental effects of projects
    Allow independent verification of the above
Marc Choyt, president, Reflective Images, a Santa Fe-based jewelry company known for its modern Celtic designs, takes pride in his signature on The Golden Rules. "We are 100 percent in support of the No Dirty Gold campaign," he said. "Precious metals mining causes tons of toxic pollution and is often tied to human rights abuses, which are unacceptable to us and our customers."
"Not only do we manufacture exclusively with recycled gold," said Choyt, "but in 2008, my company was perhaps the first manufacturer in the jewelry sector to move its entire American and international manufacturing to recycled silver as well. We are now creating ethical mine-to-market custody, and also write the Internet's leading resource on fair trade jewelry issues, www.fairjewelry.org."
A number of jewelers who have signed The Golden Rules have also signed a pledge to refrain from buying any gold that might be produced from the proposed Anglo American Pebble Mine due to concerns that it will ruin one of the world's richest salmon fisheries in Bristol Bay, Alaska.
The proposed Pebble Mine would siphon as much as 35 billion gallons of fresh water out of the headwaters of Bristol Bay every year, eliminating critical salmon habitat, finds a new report released last week.
Produced by the Wild Salmon Center and Trout Unlimited, the report details multiple concerns with excavating Pebble's massive deposit of copper, gold, and molybdenum.
Approval of the mine and its infrastructure will likely spur a much larger mining district, substantially increasing odds that mining will harm Bristol Bay's wild salmon, the report found. Pebble's infrastructure would enable mining claims covering 793 square miles, an area 10 times larger than Washington, D.C.
After examining a wide body of scientific information, the report concludes that too much is at stake ecologically, economically and culturally to risk mine development.
Tiffany & Co. Chairman and CEO Michael Kowalski said, "There are some special places where mining clearly does not represent the best long-term use of resources. In Bristol Bay, we believe the extraordinary salmon fishery clearly provides the best opportunity to benefit Southwestern Alaskan communities in a sustainable way. For Tiffany & Co.,—and we believe for many of our fellow retail jewelers—this means we must look to other places to responsibly source our gold."
For more information, click here.