This website uses cookies to ensure you get the best experience while browsing it. By clicking 'Got It' you're accepting these terms.


The best of EcoWatch, right in your inbox. Sign up for our email newsletter!
This Sept. 19, 2018 photo shows the last standing building above the Yellow Pine Pit open-pit gold mine in the Stibnite Mining District in central Idaho where a company hopes to start mining again. Riley Bunch / Idaho Press
The Trump administration allowed a mining company to write its own report for how proposed mines in Idaho would affect protected species in the area, the AP reports.
In a stunning reversal, the U.S. Environmental Protection Agency (EPA) said it is suspending its effort to reverse an Obama-era plan to restrict mining in Bristol Bay, Alaska based on a controversial mine project's risks to the region's important salmon fisheries and natural resources.
The unexpected move from President Trump's pro-business administration was a blow to Pebble Limited Partnership, a subsidiary of Canadian mining company Northern Dynasty Minerals. The mine developer is proposing to extract one of the world's largest copper and gold deposits from the pristine watershed. Shares fell as much as 26 percent on Monday following the EPA's surprise decision.
EcoWatch Daily Newsletter
By Paul Brown
The collapse of the Soviet Union left Bulgaria achieving in the 1990s what the rest of the world is working hard to manage in the 2020s, a reduction in its carbon dioxide emissions of more than 45 percent.
But while a lot of inefficient mines and smelting plants have closed, the rump of the minerals industry survived. It is now expanding again, destroying pristine forests and wildlife and raising questions about Europe's policy of transporting ore across the globe for smelting and refining.
The lynx is one Bulgarian species in jeopardy from mining for gold and silver.Jonas Bengtsson / Wikimedia Commons
Vast quantities of raw material are transported by ship, but the emissions caused are not counted because shipping is not covered by the Paris Agreement of last December.

In countries across the Balkans the lure of high metal prices and the prospect of new employment are leading governments to ignore the heavy environmental costs of new mines.
In Bulgaria itself, for example, the collapse of inefficient mining and heavy industries led many to migrate to the cities, leaving the countryside with severe unemployment. More than one million emigrated to find new work abroad.
The knowledge that there are gold and silver deposits in the mountains has led to a new rush to open mines in pristine natural areas and a battle over whether Macedonia, Serbia and Bulgaria should foster agriculture and tourism or plump for the short-term gains of mining.
Climate change rarely gets mentioned in these arguments over the opening-up of beautiful forested areas and wildlife havens for mining. But the way the industry operates is adding dramatically to emissions of greenhouse gases.
Two-Way Traffic
This is because the banning of the use of cyanide means partly-separated silver and gold ore will be sent to Namibia for processing. Additionally, to feed spare capacity in European smelters for zinc and other metals, ore will be imported from South America.
The latest battle involves the impoverished and depopulated Trun border region of Bulgaria which contains a beautiful mountainous area, home to bears, wolves and lynx. Trun faces a difficult dilemma: to welcome or oppose plans for vast new gold and silver mines.
The mining area will come within 100 meters of the village of Erul, buried in the forested border with Serbia. Currently the village has 18 inhabitants.
Outside the tiny monastery next to the holy well, Archimandrite Joseph, the priest in charge, has no doubt that the mine will be bad for the people. "I am against the mine because it will destroy nature. God's garden should not be destroyed. We hesitate to build our houses bigger because it will damage the ecology, but the mining company wants to remove the whole hill."
The profusion of wild flowers, including many orchids, helps to make the area a Natura 2000 site, supposedly giving it special protection under European legislation. This has led the mining company, Euromax Services, to amend its original plans.
Instead of all being opencast quarries, three of the proposed mines inside the protected area will be underground, with three outside the Natura 2000 site still opencast.
The company's case is that the mine will provide 500 jobs in the impoverished municipality of Trun in which Erul lies, where by coincidence 500 of the population of 4,000 are unemployed.
No Risk
The company is part-Bulgarian but the holding company, Assarel Medet, is incorporated in Malta. It has taken over an empty shop in the town and turned it into a well-furnished information center, where staff entertain local schoolchildren to geology lessons to educate them about the wonders of gold mining.
Elitsa Georgieva, the company's community relations chief, says it wants to take 750,000 tons of ore out of the mountain more than 26 years to extract the gold and silver. She says the 320-hectare tailings pond will be lined to prevent chemicals contaminating the water supply. In any case, she adds, the chemicals are not dangerous.
The proposed mine is on a ridge of mountains which have been exploited since ancient times, where the Greeks and Romans had extensive workings. The last mine in this area closed in the 1970s, but while gold remains at US$1,200 an ounce demolishing mountains to reach the ore is an economic proposition.
The company is currently paying experts to compile the environmental impact assessment required by law before the government will grant a permit to mine.

Rumiana Boyanova, aged 34, whose grandparents come from the district and who spends week-ends in the area, has formed a local resistance group.
"We have the cleanest air in Bulgaria, an untouched wilderness, with many rare and protected species. There are lots of interesting archaeological discoveries, Thracian, Roman and others yet to be properly studied", she said.
She does not believe the company's promises about recycling the water for the mine and fears the poisoning of drinking water and rivers.
"There is a much better alternative to mining in the increasing development of eco-tourism," Boyanova said. There is already an established local industry of picking wild herbs and hunting wild game like pigs and deer. "When the gold digging is finished in 20 years, we will be left with a moonscape."
Asked about climate change, she said that of course shifting 750,000 tons of rock would use vast amounts of diesel fuel and destroying the forests would release carbon. The company would not comment on climate change but said local environmental damage would be minimal. The concentrate containing the gold and silver will go to Namibia for final extraction.
Dimitar Sabev, a Bulgarian economist and journalist, who has studied the metal trade in Europe, said the new mine is part of a pattern of uncounted carbon emissions involving the transport of lead, zinc and copper concentrates from Latin America to the smelters of the European Union, Bulgaria's included. "This 10,000 km-long trade line across oceans is tax-exempt and free to create considerable emissions, since it is a several million tons load."
The controversial free trade agreement between the EU and Peru and Colombia, dating from 2013, cemented these fast-growing shipments.
"The least that could be said is that this trade is carbon-irresponsible," Sabev said. "I personally see here another manifestation of resource exploitation and profiting from others' underdevelopment. The environmental impacts remain hidden from the public."
He says work is still in progress on calculating the emissions involved, but ore transport from South America to Europe will not be less than 1 million tonnes of carbon dioxide—which is not counted in EU inventories.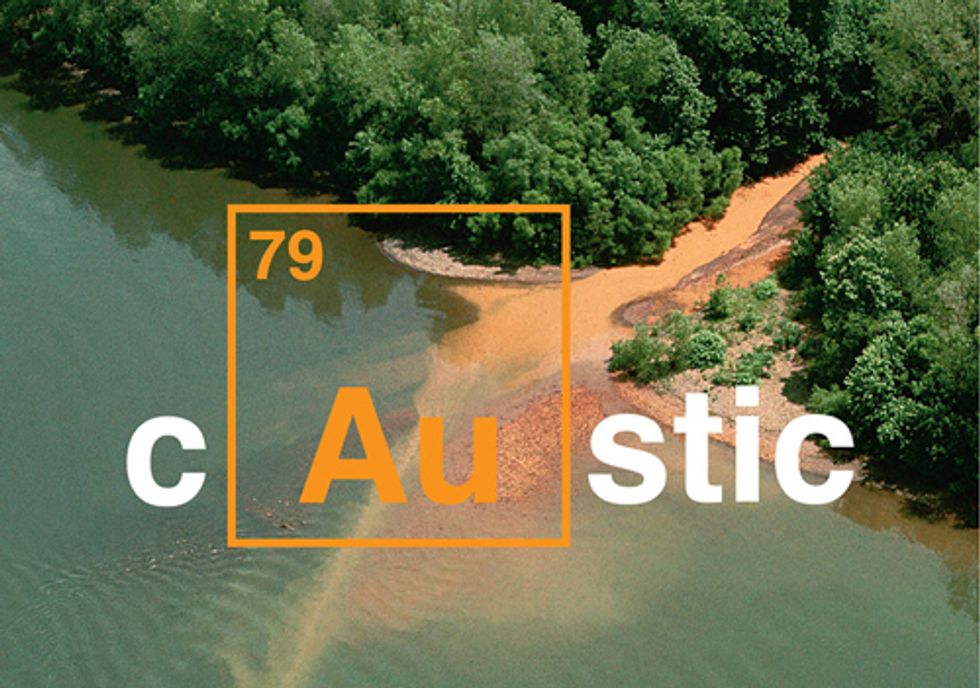 Some 80 jewelry retailers from around the world, including eight of the top 10 retailers in the U.S., have committed to cleaning up dirty metals by signing the No Dirty Gold campaign's Golden Rules for more responsible metals sourcing.
The Golden Rules are a set of social, human rights and environmental criteria for gold and other precious metals. Jewelers who have signed the Golden Rules are committed to selling gold jewelry that is mined and smelted responsibly.
This is good news for consumers, the environment and the communities who live with metals mining says No Dirty Gold campaign director Payal Sampat. "Dirty gold must become a thing of the past," she said. "No one wants their Valentine's Day jewelry tainted with human rights abuses or toxic pollution. But this can't happen unless companies like Macy's commit to cleaning up their supply chains and sign the Golden Rules."
Macy's is one of the last major jewelry retailers to sign the Golden Rules. The department store chain, which includes Bloomingdale's, is the fifth-largest retailer of gold jewelry in the U.S., with more than 800 locations in 45 states, the District of Columbia, Puerto Rico and Guam.
On Feb. 13, activists with the No Dirty Gold campaign hung a balloon banner at the Macy's Washington, D.C. store, reading, "Macy's: Don't Break Our Hearts. Dump Dirty Gold."
"Until Macy's ends its love affair with dirty gold, the company's commitment to sustainability and transparency is just a bunch of hot air," said No Dirty Gold campaign coordinator Nick Magel.
Costco, the ninth largest U.S. jewelry retailer, headquartered in Issaquah, Wa., has also declined to sign the Golden Rules.
Sampat says the campaign's effort to secure commitments from jewelers to oppose dirty gold production is a crucial step because about 80 percent of newly mined gold is made into jewelry.
The world's largest jewelry retailers, including Walmart, Sterling, Zale's, Tiffany & Co., QVC, Target, Sears/Kmart and JCPenney have all committed to study their metals' supply chains, revise their supplier sourcing criteria to include the Golden Rules and increase recycled gold content.
Michelle Pearlman, senior vice president and president of Jewelry, Sears Holdings, said, "The No Dirty Gold campaign is a great initiative that pushes for sustainability and ethical sourcing on gold. We are proud to be a part of it and to offer our customers gold that was obtained in a responsible manner. Sears strives to be a green company and we will continue to work to build lifetime relationships with our customers starting from the mines up."
Cyanide used in leaching gold from ore can pollute water resources and kill aquatic life. Gold mining can pollute nearby waters with acid mine drainage, which is harmful to wildlife and people. Some mines discharge toxic waste in rivers, lakes or oceans, or store the waste tailings in reservoirs that can leak or burst. Mine wastes include byproducts like mercury and heavy metals, which can enter the food chain and sicken people and animals.
Refining the gold in smelter furnaces releases air pollution, especially oxides of nitrogen and sulfur, which are components of smog and acid rain, as well as lead. Smelters release tons of greenhouse gases into the atmosphere.
The Golden Rules call on mining companies to meet these basic standards in their operations:
    Respect basic human rights outlined in international conventions and law
    Obtain the free, prior and informed consent of affected communities
    Respect workers' rights and labor standards, including safe working conditions
    Ensure that operations are not located in areas of armed or militarized conflict
    Ensure that projects do not force communities off their lands
    Ensure that projects are not located in protected areas, fragile ecosystems, or other areas of high conservation or ecological value
    Refrain from dumping mine wastes into the ocean, rivers, lakes or streams
    Ensure that projects do not contaminate water, soil or air with sulfuric acid drainage or other toxic chemicals
    Cover all costs of closing down and cleaning up mine sites
    Fully disclose information about social and environmental effects of projects
    Allow independent verification of the above
Marc Choyt, president, Reflective Images, a Santa Fe-based jewelry company known for its modern Celtic designs, takes pride in his signature on The Golden Rules. "We are 100 percent in support of the No Dirty Gold campaign," he said. "Precious metals mining causes tons of toxic pollution and is often tied to human rights abuses, which are unacceptable to us and our customers."
"Not only do we manufacture exclusively with recycled gold," said Choyt, "but in 2008, my company was perhaps the first manufacturer in the jewelry sector to move its entire American and international manufacturing to recycled silver as well. We are now creating ethical mine-to-market custody, and also write the Internet's leading resource on fair trade jewelry issues, www.fairjewelry.org."
A number of jewelers who have signed The Golden Rules have also signed a pledge to refrain from buying any gold that might be produced from the proposed Anglo American Pebble Mine due to concerns that it will ruin one of the world's richest salmon fisheries in Bristol Bay, Alaska.
The proposed Pebble Mine would siphon as much as 35 billion gallons of fresh water out of the headwaters of Bristol Bay every year, eliminating critical salmon habitat, finds a new report released last week.
Produced by the Wild Salmon Center and Trout Unlimited, the report details multiple concerns with excavating Pebble's massive deposit of copper, gold, and molybdenum.
Approval of the mine and its infrastructure will likely spur a much larger mining district, substantially increasing odds that mining will harm Bristol Bay's wild salmon, the report found. Pebble's infrastructure would enable mining claims covering 793 square miles, an area 10 times larger than Washington, D.C.
After examining a wide body of scientific information, the report concludes that too much is at stake ecologically, economically and culturally to risk mine development.
Tiffany & Co. Chairman and CEO Michael Kowalski said, "There are some special places where mining clearly does not represent the best long-term use of resources. In Bristol Bay, we believe the extraordinary salmon fishery clearly provides the best opportunity to benefit Southwestern Alaskan communities in a sustainable way. For Tiffany & Co.,—and we believe for many of our fellow retail jewelers—this means we must look to other places to responsibly source our gold."
For more information, click here.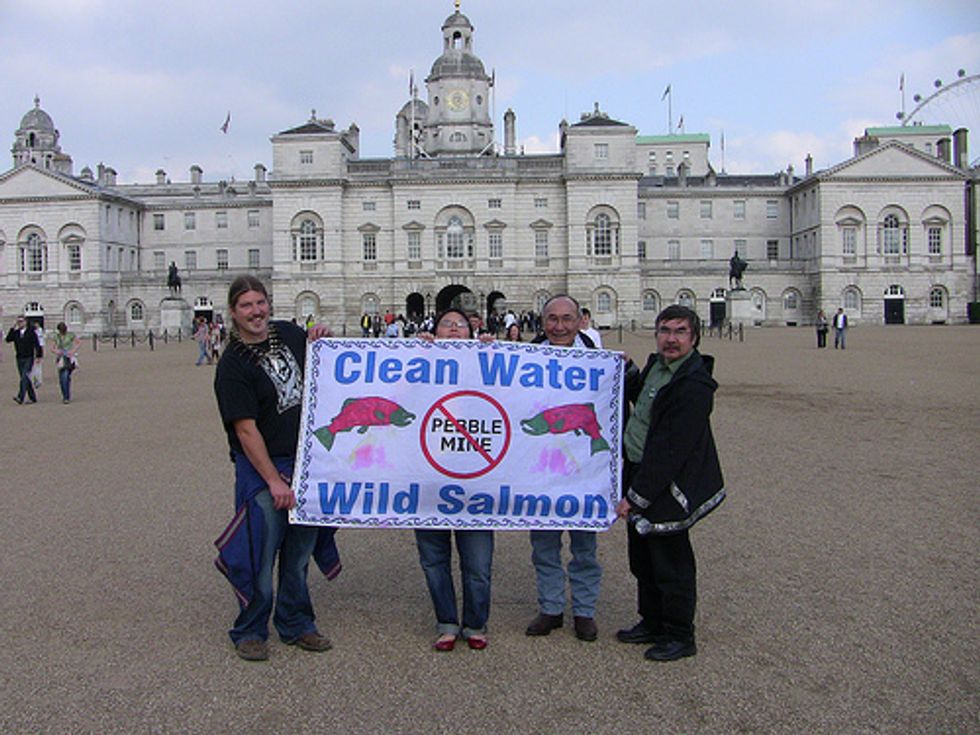 In the weeks leading up to Black Friday, the biggest shopping day of the year, Alaskans are asking Signet, the world's largest jewelry corporation, to promise not to use gold from the proposed Pebble Mine—a massive copper gold mine that threatens the world's most valuable wild salmon fishery.
Alaska Natives, commercial fishermen and mining reform group Earthworks have turned the spotlight on the world's largest jeweler—Signet, parent company of the retail chains Kay Jewelers and Jared the Galleria, with a full-page ad in the Western edition of The New York Times.
The groups want Signet Jewelers (NYSE:SIG)(LSE:SIG) to sign the Bristol Bay Protection Pledge. More than 50 leading jewelers worldwide, representing over $5.5 billion in sales and including Tiffany & Co., Zales and Boucheron, have gone on record that they will not use gold from the Pebble Mine, proposed by Anglo American plc (LSE:AAL)(JSE:ANGLO) in partnership with Canadian miner Northern Dynasty.
The vast open-pit mine would sit at the headwaters of Bristol Bay, the most valuable wild salmon fishery in the world and the basis of the region's economy and culture. Up to 10 billion tons of toxic mine waste would be dumped in the Bristol Bay watershed, endangering both the salmon and a way of life. A 2010 ecological risk assessment concluded that large-scale mining in Bristol Bay is cause for "significant concern regarding the long- term abundance and sustainability of salmon in the region."
"Bristol Bay feeds our families and millions the world over," said Kim Williams, executive director of Nunamta Aululestai ("Caretakers of the Land" in Yu'pik.) "We're asking Kay and Jared Jewelers to support Bristol Bay protection because gold jewelry should be a symbol of love, not destruction."
"Alaska's Bristol Bay supplies half the world's wild sockeye salmon, and it sustains thousands of hardworking fishermen," said Bob Waldrop of the Bristol Bay Regional Seafood Development Association, representing roughly 2,000 Bristol Bay commercial fishermen. "We're very grateful for the support we've gotten from jewelers all over the world, and we're asking Signet to support us, too," he continued. "It's the responsible thing to do and it shows their customers that they are serious about ethical gold sourcing."
Since 2009, the groups have attempted on numerous occasions to engage with Signet through letters and phone calls and have invited Signet to meet with native Alaskan leaders, technical experts and others regarding the project.
The jewelry retail sector is an important voice on the issue because jewelry accounts for roughly 80 percent of newly mined gold globally, according to the World Gold Council. The proposed Pebble Mine is the largest gold porphyry deposit in the world, according to the mining company.
"This is an opportunity for Kay and Jared Jewelers to shine. There's no better way to demonstrate that it supports responsible gold sourcing principles than for the world's largest jeweler to promise that it won't buy gold from a mine that would jeopardize the world's greatest fishery," said Bonnie Gestring of Earthworks.
The ad was signed by Nunamta Aulukestai, the association of nine Native villages in the area, the Alaska Independent Fishermen's Association, the Bristol Bay Regional Seafood Development Association, and the mining reform group Earthworks.
To see a copy of the New York Times ad, click here.
For a full list of jewelers who have signed the pledge, click here.
Jeweler statements are available here.
For more information, click here.