France moved beyond Monsanto Tuesday, approving an law with far-reaching applicability for genetically modified (GM)corn.
France's lower house of Parliament banned GM corn in a sweeping fashion, Reuters reported. Now, no variety of GM corn can be cultivated because of its toxic threats to the soil, insects and human health.
Just a month ago France prohibited the sale, use and cultivation of Monsanto's MON 810, the only GM crop that had been authorized in the European Union (EU).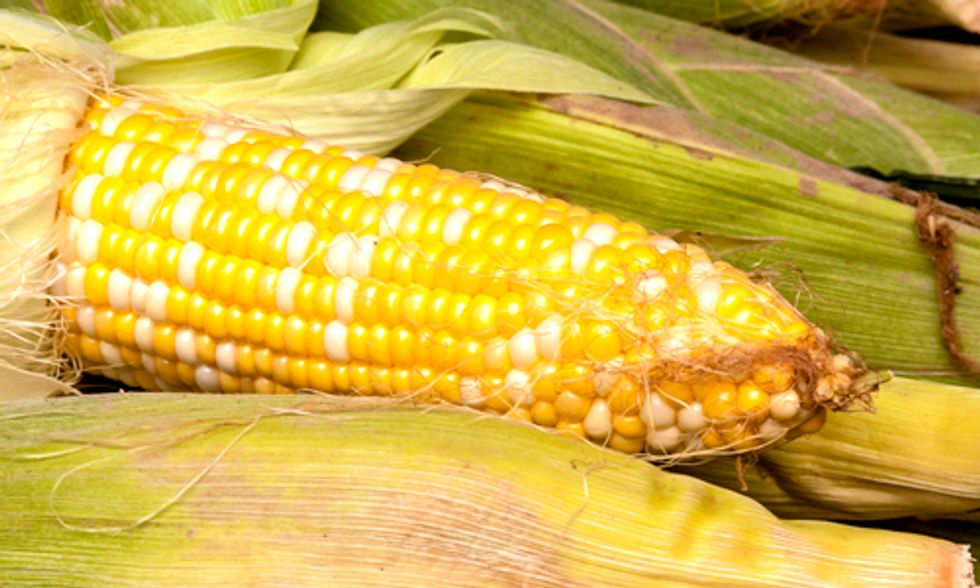 Photo courtesy of Shutterstock
"It is essential today to renew a widely shared desire to maintain the French ban," Jean-Marie Le Guen, the minister in charge of Parliament relations told the National Assembly. "This bill strengthens the decree passed last March by preventing the immediate cultivation of GMO and extending their reach to all transgenic maize varieties."
That means that future strains will be banned even if the EU approves them. That includes Pioneer 1507, a crop developed by DuPont and Dow Chemical that is still on the table for EU states and could be approved later this year.
The ban now heads back to the Senate, which rejected a similar one two months ago, calling it unconstitutional.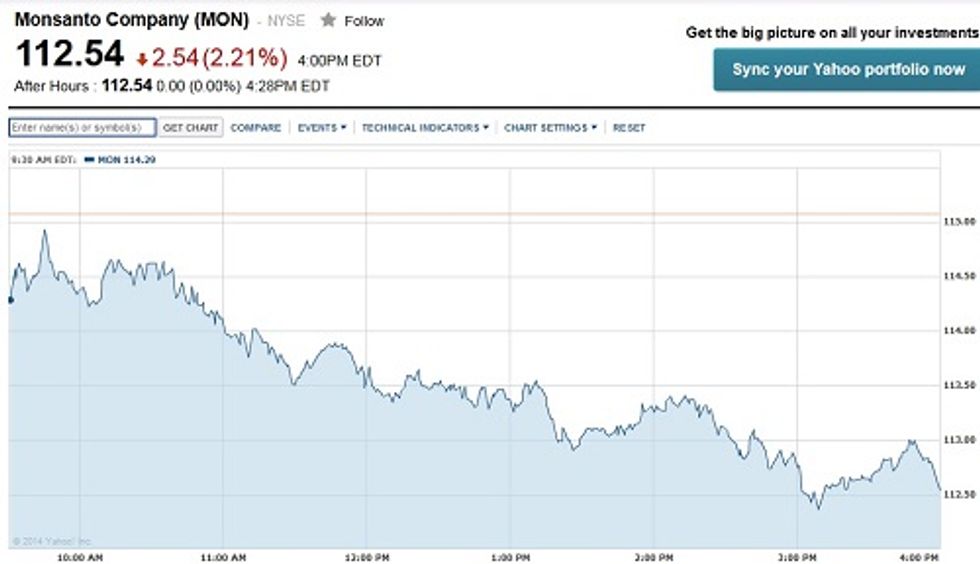 Just a week ago, Food Democracy Now! launched a U.S. divestment campaign against Monsanto. It followed a six-month investigation that found that the three largest mutual fund shareholders, Vanguard, Fidelity and State Street, own nearly 16 percent of Monsanto stock.
A day later, Monsanto's stuck plummeted as the day carried on.
——–
YOU ALSO MIGHT LIKE
France Stands Up to Monsanto, Bans Seed Giant's GMO Corn 
How You Might Be Investing in Monsanto's Toxic Legacy Without Realizing It
Journal Retracts GMO Study After Hiring Former Monsanto Employee
——–
EcoWatch Daily Newsletter
A scientific journal that published a study in 2012 linking cancer with Monsanto's genetically modified corn has now retracted it, months after hiring a former Monsanto employee to fill a new editorial position reviewing biotechnology papers.
The study, by Gilles-Eric Seralini and others, reviewed the toxicological effects of Monsanto's NK603 and its associated Round-Up pesticide and was published in Food and Chemical Toxicology. The journal said it retracted the study because the its small sample size and choice of rat used in the research meant no definitive conclusions could be reached.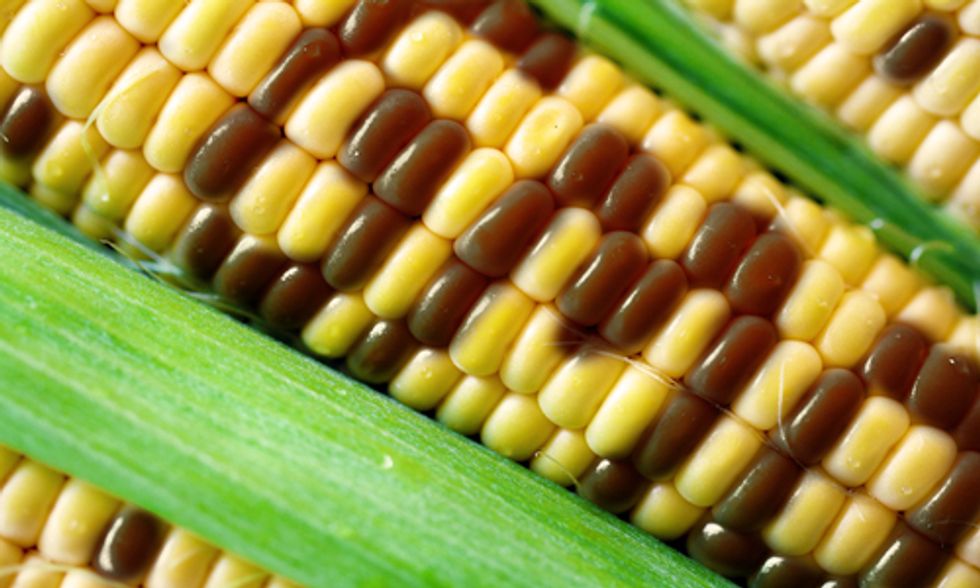 Shutterstock
Seralini's study was aimed at creating a chronic toxicity study under the same conditions that Monsanto used to assert the genetically modified corn's safety. The study found "severe toxic effects (including liver congestions, necrosis and kidney nephropathies), increased tumor rates and higher mortality in rats fed Monsanto's genetically modified NK603 maize and/or the associated herbicide Roundup." 
Last February, the journal hired a former Monsanto employee, Richard E. Goodman, for a new position reviewing biotechnology papers, reports GreenMedInfo. On Nov. 19, Food and Chemical Toxicology reported its decision to retract the published paper.
Writing for CRIIGEN, the independent lab with which Seralini is affiliated, Frédérique Baudouin noted that a short Monsanto study, which was published in the same journal to prove the safety of its product, "was conducted with the same strain and number of rats." Séralini has said he will sue.
"In science, repeating someone else's study is common practice. Retracting a published paper is not," food writer Marion Nestle wrote in her blog.
 Guidelines for retracting journal articles published by the Committee on Publication Ethics (COPE) say journal editors should consider retracting a publication if:
They have clear evidence that the findings are unreliable, either as a result of misconduct (e.g. data fabri­cation) or honest error (e.g. miscalculation or experimental error)
The findings have previously been published elsewhere without proper crossreferencing, permission or justification (i.e. cases of redundant publication)
It constitutes plagiarism
It reports unethical research
"The Séralini paper may be unreliable, but that should have been obvious to the peer reviewers and the journal's editors. Otherwise, the paper does not fit any of the established criteria for retraction," Nestle wrote.
The European Network of Scientists for Social and Environmental Responsibility (ENSSER) has condemned the journal's actions and warned they were "a flagrant abuse of science" that will "decrease public trust in science." ENSSER condemned the journal for violating "the criteria for retraction to which the journal itself subscribes," and "any standards of good science."
The GreenMedInfo article details Goodman's affiliation with Monsanto. The article says Goodman worked for the company between 1997 and 2004. While at Monsanto he assessed the allergenicity of the company's genetically modified organisms and published papers on its behalf on allergenicity and safety issues relating to genetically modified organisms (GMOs).
GreenMedInfo said Goodman has an active and ongoing involvement with the International Life Sciences Institute (ILSI). ILSI is funded by the multinational GMO and agrochemical companies, including Monsanto. It develops industry-friendly risk assessment methods for GMOs and chemical food contaminants and inserts them into government regulations.
Visit EcoWatch's GMO page for more related news on this topic.

waterlust.com / @tulasendlesssummer_sierra .
Each product featured here has been independently selected by the writer. If you make a purchase using the links included, we may earn commission.
The bright patterns and recognizable designs of Waterlust's activewear aren't just for show. In fact, they're meant to promote the conversation around sustainability and give back to the ocean science and conservation community.
Each design is paired with a research lab, nonprofit, or education organization that has high intellectual merit and the potential to move the needle in its respective field. For each product sold, Waterlust donates 10% of profits to these conservation partners.
Eye-Catching Designs Made from Recycled Plastic Bottles
waterlust.com / @abamabam
The company sells a range of eco-friendly items like leggings, rash guards, and board shorts that are made using recycled post-consumer plastic bottles. There are currently 16 causes represented by distinct marine-life patterns, from whale shark research and invasive lionfish removal to sockeye salmon monitoring and abalone restoration.

One such organization is Get Inspired, a nonprofit that specializes in ocean restoration and environmental education. Get Inspired founder, marine biologist Nancy Caruso, says supporting on-the-ground efforts is one thing that sets Waterlust apart, like their apparel line that supports Get Inspired abalone restoration programs.
"All of us [conservation partners] are doing something," Caruso said. "We're not putting up exhibits and talking about it — although that is important — we're in the field."
Waterlust not only helps its conservation partners financially so they can continue their important work. It also helps them get the word out about what they're doing, whether that's through social media spotlights, photo and video projects, or the informative note card that comes with each piece of apparel.
"They're doing their part for sure, pushing the information out across all of their channels, and I think that's what makes them so interesting," Caruso said.
And then there are the clothes, which speak for themselves.
Advocate Apparel to Start Conversations About Conservation
waterlust.com / @oceanraysphotography
Waterlust's concept of "advocate apparel" encourages people to see getting dressed every day as an opportunity to not only express their individuality and style, but also to advance the conversation around marine science. By infusing science into clothing, people can visually represent species and ecosystems in need of advocacy — something that, more often than not, leads to a teaching moment.

"When people wear Waterlust gear, it's just a matter of time before somebody asks them about the bright, funky designs," said Waterlust's CEO, Patrick Rynne. "That moment is incredibly special, because it creates an intimate opportunity for the wearer to share what they've learned with another."
The idea for the company came to Rynne when he was a Ph.D. student in marine science.
"I was surrounded by incredible people that were discovering fascinating things but noticed that often their work wasn't reaching the general public in creative and engaging ways," he said. "That seemed like a missed opportunity with big implications."
Waterlust initially focused on conventional media, like film and photography, to promote ocean science, but the team quickly realized engagement on social media didn't translate to action or even knowledge sharing offscreen.
Rynne also saw the "in one ear, out the other" issue in the classroom — if students didn't repeatedly engage with the topics they learned, they'd quickly forget them.
"We decided that if we truly wanted to achieve our goal of bringing science into people's lives and have it stick, it would need to be through a process that is frequently repeated, fun, and functional," Rynne said. "That's when we thought about clothing."
Support Marine Research and Sustainability in Style
To date, Waterlust has sold tens of thousands of pieces of apparel in over 100 countries, and the interactions its products have sparked have had clear implications for furthering science communication.
For Caruso alone, it's led to opportunities to share her abalone restoration methods with communities far and wide.
"It moves my small little world of what I'm doing here in Orange County, California, across the entire globe," she said. "That's one of the beautiful things about our partnership."
Check out all of the different eco-conscious apparel options available from Waterlust to help promote ocean conservation.
Melissa Smith is an avid writer, scuba diver, backpacker, and all-around outdoor enthusiast. She graduated from the University of Florida with degrees in journalism and sustainable studies. Before joining EcoWatch, Melissa worked as the managing editor of Scuba Diving magazine and the communications manager of The Ocean Agency, a non-profit that's featured in the Emmy award-winning documentary Chasing Coral.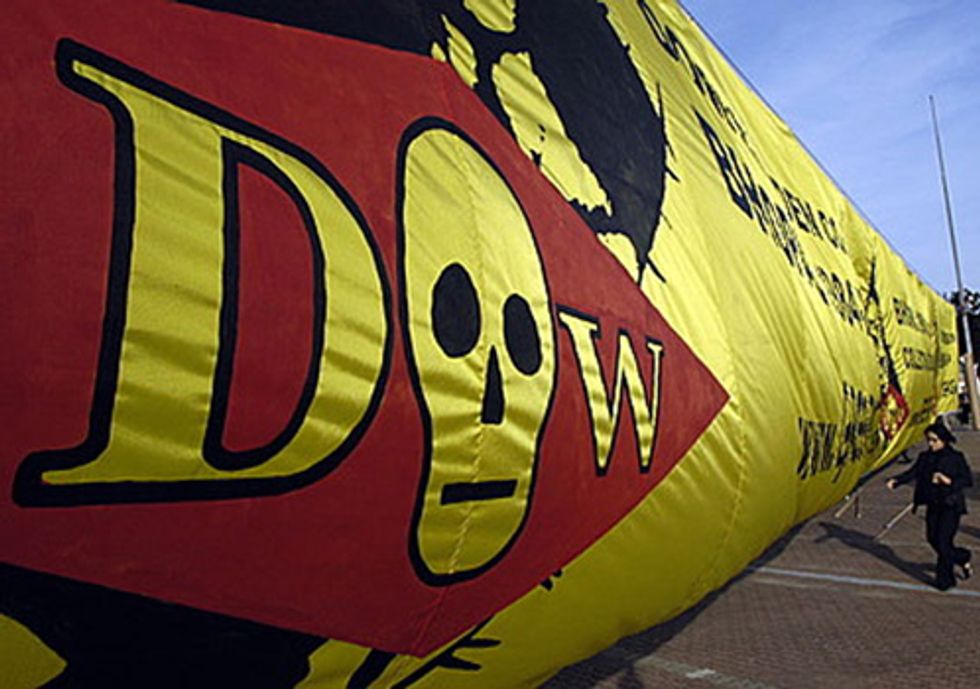 Dow Chemical is currently requesting unprecedented approval from the U.S. Department of Agriculture (USDA) to market a genetically engineered (GE) version of corn that is resistant to 2,4-D, a major component of the highly toxic Agent Orange. Agent Orange was the chemical defoliant used by the U.S. in Vietnam, and it caused lasting ecological damage as well as many serious medical conditions in both Vietnam veterans and the Vietnamese.
Exposure to 2,4-D has been linked to major health problems that include cancer (especially non-Hodgkin's lymphoma), lowered sperm counts, liver disease and Parkinson's disease. A growing body of evidence from laboratory studies shows that 2,4-D causes endocrine disruption, reproductive problems, neurotoxicity and immunosuppression. Furthermore, tests within the industry show that 2,4-D is contaminated with dioxins, a group of highly toxic chemical compounds that bioaccumulate, so even a minute amount can accumulate as it goes up the food chain, causing dangerous levels of exposure. Dioxins in Agent Orange have been linked to many diseases, including birth defects in children of exposed parents—and, according to the U.S. Environmental Protection Agency (EPA), 2,4-D is the seventh largest source of dioxins in the U.S.
USDA approval of Dow's GE corn will trigger a big increase in 2,4-D use—and our exposure to this toxic herbicide. Yet the USDA has not assessed how much exposure will increase, nor analyzed the resulting impacts on public health, the environment or neighboring farmers (2,4-D is prone to drift and cause damage to nearby crops). Instead, the agency has once again bowed to the pesticide industry by giving preliminary approval to still another pesticide-promoting crop that will likely harm people and their children, including farmers, and the environment. The USDA claims to be adhering to a scientific process, yet they are blatantly ignoring the science on 2,4-D.
Tell the USDA to reject 2,4-D resistant GE corn—Sign the petition today.
For more information, click here.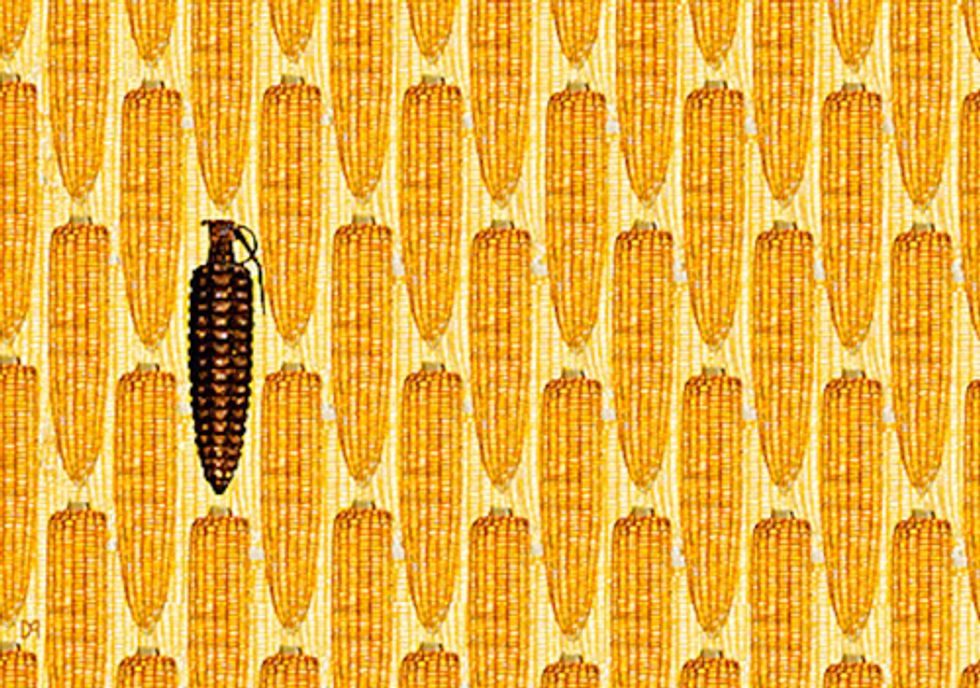 Responding to a study released last week highlighting the increased resistance of weeds to glyphosate, and the potential introduction of new corn varieties genetically engineered (GE) to be used with more highly toxic weedkillers, farmers are calling on the U.S. Department of Agriculture (USDA) to take action to protect rural economies.
If USDA deregulates 2,4 D resistant corn, farmers will once again shoulder the cost of the failed promise of GE crops.
"Widespread planting of 2,4-D corn will inevitably lead to a surge in the herbicide's use," said George Naylor, an Iowa corn and soybean farmer. "This will not only have adverse effects on public health from air and water pollution, but will also pose another economic risk to Midwest farmers whose non-2,4-D resistant crops will take the brunt of more herbicide drift."
The study in last week's edition of Bioscience projects greatly increased herbicide use and collateral damage to nearby, non-resistant crops and wild habitat. 2,4-D is well understood to drift, both directly after it is applied and through volatilization, drift that takes place long after an application. As a result, farmers growing their products within miles of cornfields where 2,4-D is applied could face crop losses and serious financial hardship. In addition, organic farmers could lose their certification for years if their fields are contaminated.
Authors of the article, relying in part on industry analysis, note that use of 2,4-D and dicamba herbicides, first used during World War II, are expected to increase ten fold over the next decade. Dow AgroSciences is the driving force behind 2,4-D-resistant seeds, while Monsanto, the dominant manufacturer of glyphosate-resistant seeds, is collaborating with the European industry giant BASF (soon moving to the U.S.) in engineering dicamba-resistant seeds. And other pesticide and biotech firms have similar products in the pipeline. For years, Dow, Monsanto, and the rest of the "Big 6", have argued that genetically engineered crops result in reduced pesticide use or can even "resist" drought, though with little to no documented success, according to independent scientists.
"Genetically engineered, herbicide-resistant seeds are the growth engines of the pesticide industry's market strategy," said Dr. Marcia Ishii-Eiteman, PhD, senior scientist at Pesticide Action Network. "Repackaging antiquated pesticides as new solutions for Midwest economies is a disaster waiting to happen."
The study also ties the increase in herbicide use to the decline of sustainable weed management. The authors note that USDA has increased funding at major universities for chemically-intensive methods while at the same time decreasing funding for agroecological methods—such as cover cropping, crop rotation and limited tillage—that are successful at improving weed control and reducing weed pressures.
At the same time, weed scientists have been raising red flags around the impending problems of resistance, the reliance on the "pesticide treadmill" and the need to invest in sustainable weed control, or Integrated Weed Management.
"It is only going to get worse," said Lee Van Wychen, director of science policy at the Weed Science Society of America in a Reuter's interview.
The Weed Society of America just announced it will focus its May 2012 meeting on finding solutions to herbicide resistance. However, concerns remain about Monsanto's efforts to undermine science and promote the next wave of GE technology, including 2,4-D and dicamba.
"I'm convinced that this is a big problem," said Dave Mortensen, professor of weed and applied plant ecology at Penn State University. "Most of the public doesn't know because the industry is calling the shots on how this should be spun."
For more information, click here.