According to two new reports on the global status of renewable energy, the industry posted strong rates of investment and new installation in 2012, proving itself as more than an alternative source of energy.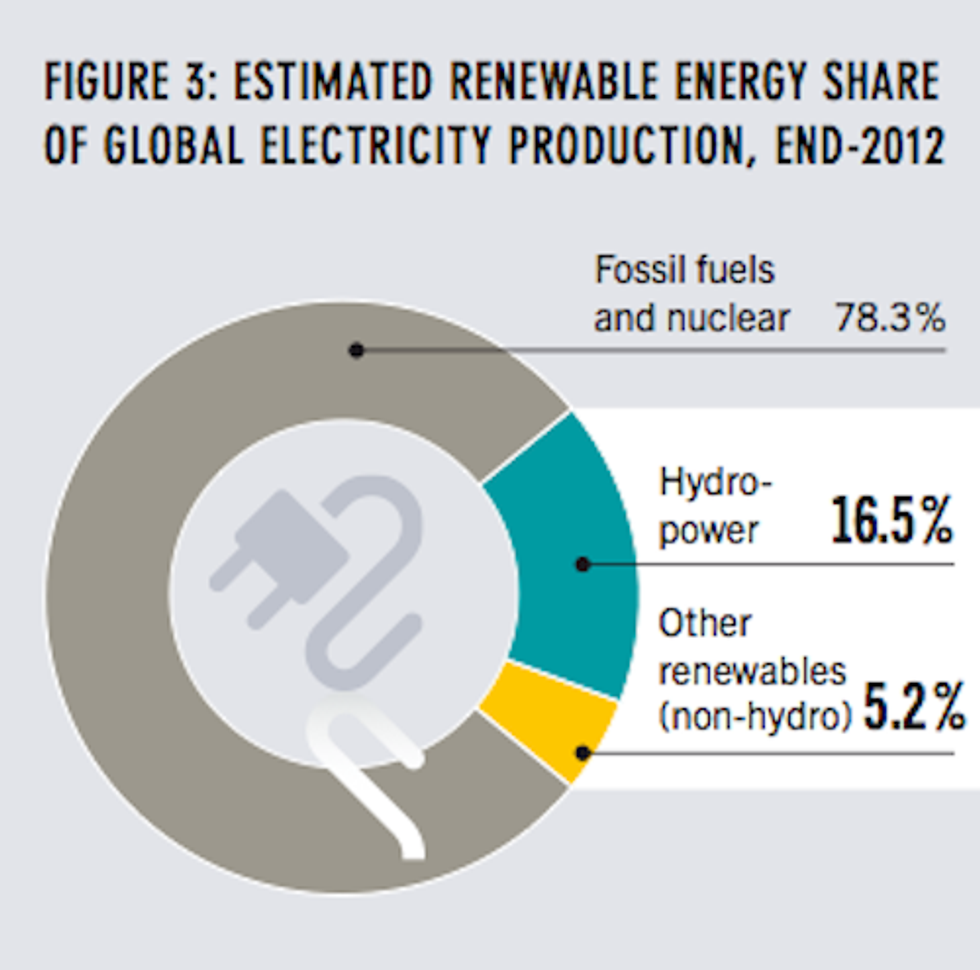 The world's economies, however, continue to spend $6 subsidizing fossil fuels for every $1 spent to support the growth renewable energy.
Global Wind Day, tomorrow, June 15, is an opportunity to highlight this harmful disparity just ahead of the G8 summit in the UK. These major economies, as members of the G20, pledged in 2009 to "phase out and rationalize over the medium term inefficient fossil fuel subsidies while providing targeted support for the poorest"—a much applauded decision that has yet to see significant follow-through.
Not only do these subsidies continue to sponsor the activities that cause climate change, but they work against the creation of stable government support for the renewable energy industry. The lack of reliable, long term support for renewables creates uncertainty that holds back the potential of the industry.
Despite uncertainty, however, the industry has achieved striking successes so far.
The promising trends seen in the industry were reported by two sister publications, REN21's Renewables 2013 Global Status Report and Frankfurt School–United Nations Environment Programme/Bloomberg New Energy Finance's Global Trends in Renewable Energy Investment 2013, launched together June 12, 2013.
The publications report that 2012 was the second highest year ever for renewable energy investments, totaling $1.3 trillion since 2006. Additionally, the installation of new renewable energy continues to grow, adding new, clean energy capacity both on and off the grid.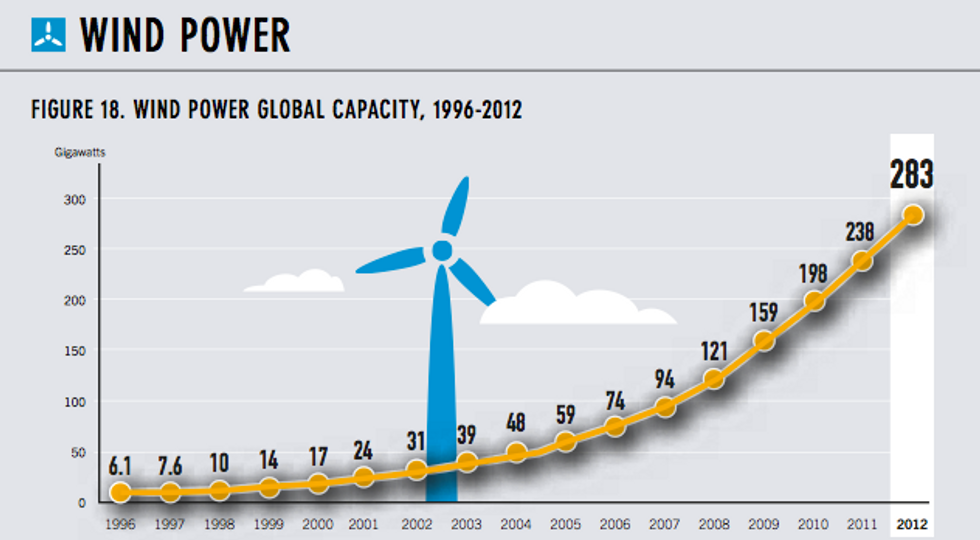 This growth isn't limited to developed nations—in fact, developing nations are quickly rising to the top of this burgeoning industry. In 2012, renewable energy investments in developing nations totaled $112 billion, just shy of the $132 billion invested in developed nations. This is a dramatic shift from 2007, when developed nations invested 2.5 times more in the industry.
The sector employs an estimated 5.7 million people worldwide, with high rates of employment in Brazil, China, India, the European Union and the U.S. Green jobs are also growing in other nations, with an increasing number of technicians and sales staff in off-grid sectors of the developing world. In Bangladesh for example, selling, installing and maintaining small solar panels employs 150,000 people directly and indirectly.
Amongst the good news, the publications point out that 2012 investment rates were down from their 2011 high. Examples of contributing factors to the decline include a 34 percent drop in the U.S. as well as similar decreases in Italy and Spain due to policy uncertainties.
In Japan, however, new feed-in tariffs for installations contributed to a 73 percent spike in renewable investment. Japan is now on track to the world's largest solar market. In only seven months following the introduction of the tariffs, the Japanese Ministry of Economy, Trade and Industry approved 12,258 mega watts of solar projects.
Policy uncertainty led to an overall decline in investments—but as the success of Japan's tariffs shows, the decline can be temporary. REN21's report demonstrates that the right policies can drive the successful integration of larger shares of renewables.
Shifting policy priorities to bolster the growth of the renewable energy sector, not just for providing economic growth but also for advancing the clean solutions needed to fight climate change, is vital for the future. The first step in showing serious commitment to do so will be cutting down harmful fossil fuel subsidies.
Visit EcoWatch's RENEWABLES page for more related news on this topic.
——–
Click here to tell Congress to Expedite Renewable Energy

EcoWatch Daily Newsletter
Like many other plant-based foods and products, CBD oil is one dietary supplement where "organic" labels are very important to consumers. However, there are little to no regulations within the hemp industry when it comes to deeming a product as organic, which makes it increasingly difficult for shoppers to find the best CBD oil products available on the market.
<p>Here you can learn about the importance of organic hemp oil, why it's better for the environment, and which CBD companies actually make trustworthy products with sustainable farming processes. origins which weigh heavily on many consumers who want to buy a product that's produced in the best way possible for not only themselves to ingest, but for the environment as well through sustainable farming methods. </p><h2>What Is CBD Oil?</h2><p>First things first, CBD stands for cannabidiol, and it's a cannabinoid found within cannabis sativa plants. This plant compound is believed to have many potential benefits, and it is primarily derived from hemp plants via a CO2 extraction process. </p><p>Since CBD is extracted from industrial hemp, which contains only trace amounts of THC (the psychoactive component in cannabis plants), this means that CBD won't make you feel high like marijuana, which has much higher levels of THC that causes psychoactive effects. Instead, the effects of CBD are much more subtle and promote a general sense of calm and relaxation in most users.</p><h2>What Makes a CBD Oil Organic?</h2><p>In terms of organic labels, perhaps the most important (and prominent) certification comes from the United States Department of Agriculture (USDA). This government organization has been labeling foods as "organic" for many years, but what exactly does this certification entail? Essentially, a label indicating that a product is "USDA Organic" or "Certified Organic" means that at least 95% of the ingredients are obtained from organic sources.</p><p>For a crop to be considered organic by the USDA, it must be grown without the use of industrial solvents, irradiation, genetic engineering (GMOs), synthetic pesticides, or chemical fertilizer. Instead, farmers rely on natural substances and <a href="https://www.usda.gov/media/blog/2012/03/22/organic-101-what-usda-organic-label-means" rel="noopener noreferrer" target="_blank">mechanical, physical, or biologically based farming</a> techniques to cultivate healthy and organic crops.</p><p>Before the passage of the 2018 Farm Bill, no hemp-derived products could be dubbed as "certified organic" since the hemp plant and its extracts were still categorized as a Schedule I Controlled Substance. However, it's still difficult for CBD companies to obtain a USDA certified organic label for their products due to the legal grey area that still surrounds CBD extracts. </p><p>Because of these challenges, and due to the fact that industrial hemp has only recently become an agricultural crop, very few CBD oils are USDA certified organic. Rather, many CBD products contain hemp extracts from plants that were grown in organic conditions but may not be federally certified.</p><h2>What are the Best Organic CBD Oil Brands?</h2><p><em>Each product featured here has been independently selected by the writer. If you make a purchase using the links included, we may earn commission.</em></p><em><br></em>