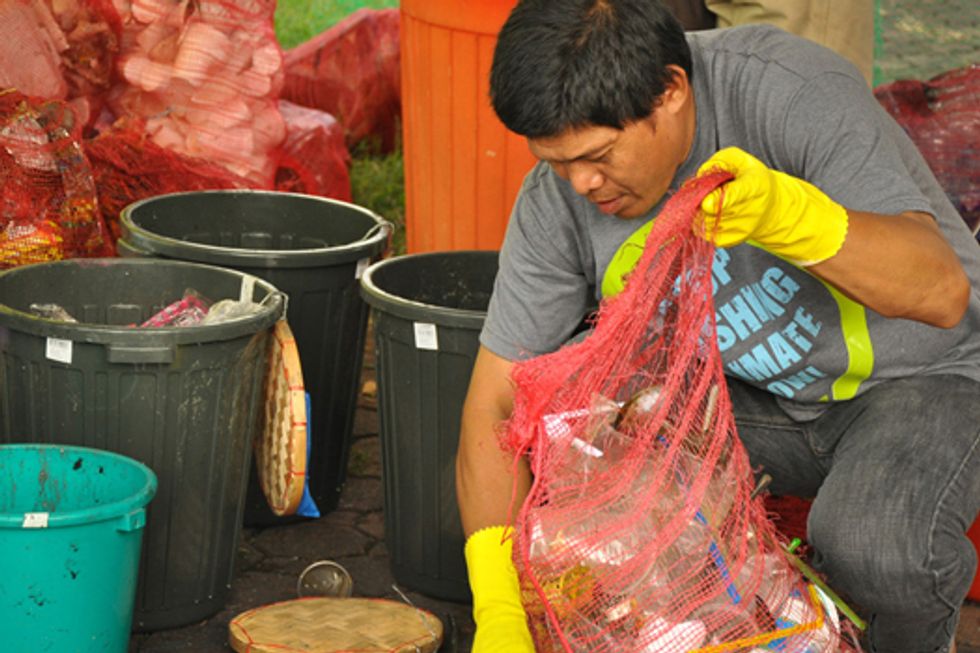 Waste pickers attending COP17 Dec. 5 called for a Green Climate Fund with direct community access and an end to clean development mechanism (CDM) waste-to-energy projects. Representatives from three continents highlighted the fact that waste pickers are the most effective way to reduce greenhouse gas emissions in the waste sector.
Millions of people worldwide make a living from waste picking. They collect, sort and process recyclables, reducing the amount of waste that is sent to landfills and saving valuable natural resources. Today, an increasing number of waste pickers are processing organic waste, diverting it from landfills and therefore reducing methane gas pollution. Waste pickers could further reduce greenhouse gas emissions given proper support.
To secure this support, a waste picker delegation has come to COP17 to raise their concerns surrounding current climate financing mechanisms and to advocate for more just alternatives that are directly accessible by waste pickers. Waste pickers from three different continents spoke against disposal technologies that undermine their livelihoods, such as incinerators and waste-to-energy projects.
Harouna Niass, a waste picker from Dakar, Senegal, spoke about the formation of Book Diomm Waste Pickers Association with 800 members, and the threat they face from CDM-backed landfill gas companies competing to extract methane and force the waste pickers off the landfill.
"Waste pickers should be included and given more respect because we take care of our environment," Niass said.
Simon Mbata, with the South African Waste Pickers' Association, discussed the importance of supporting waste pickers.
"We demand a Green Climate Fund that is directly accessible to waste pickers and an end of support for CDM projects which compete directly with us," Mbata said.
Neil Tangri, with the Global Alliance for Incinerator Alternatives (GAIA), provided background on CDM-backed projects and the Green Climate Fund. Suman More, a waste picker with SWaCH cooperative in Pune, India, discussed incinerator alternatives.
The GAIA promotes these solutions worldwide:
We only achieve true solutions when our work supports systems of social and economic justice and ecological sustainability. Addressing issues of access, ownership, autonomy and democratic participation, among others, lays the foundation for lasting success.
Zero waste means reducing what we trash in landfills and incinerators to zero. Most things can and should be safely and economically recycled or reused. We also need to simply use less and redesign our products so that they are toxic-free and built to last.
Clean Production is a way of designing products and manufacturing processes in harmony with natural ecological cycles. It takes a life cycle view of all materials' flows, from extraction of the raw material to product manufacture and the ultimate fate of the product at the end of its life.
Extended Producer Responsibility
To get to the root cause of waste, communities need to stop picking up after the producers of products that become waste and begin demanding that they do so themselves. The embodiment of this idea is extended producer responsibility, which requires companies that manufacture or sell products to be responsible for such products after their useful life.
In many parts of the developing world, collecting and sorting waste informally provides a livelihood for large numbers of the urban poor, who often work in deplorable conditions. GAIA believes that advocating for waste picker rights is an important part of working for environmental justice.
In order to fulfill the medical ethic to "first do no harm," healthcare providers have a responsibility to manage waste in ways that protect the public and the environment. The first step is waste minimization and separation, and the next is treating infectious waste to prevent the spread of disease.
Read GAIA's case studies on CDM projects on municipal waste management:
To read about the CDM incinerator in Chengdu Luo Dai, China, click here.
To read about the Bisasar landfill in Durban, South Africa, click here.
To read about the Usina Incinerator in Rio de Janeiro, Brasil, click here.
For more information, click here.
—————
The Global Alliance of Waste Pickers brings together waste pickers organizations from Africa, Asia and Latin America. To learn more about waste pickers' experiences and to support fair and just solutions to climate change, visit our blog www.globalrec.org.
EcoWatch Daily Newsletter
stocknroll / Getty Images
More and more Americans are retrofitting their bathrooms with high-end bidets, allowing them to enjoy cleanliness and hygiene without creating as much paper waste. Not all bidets are created equal, however, and before deciding on a particular brand, it's important to do your homework. Take a look at our comprehensive Toto bidet review, and our reviews of Tushy and Omigo, to learn more about all of their options.

<h2>Toto overview</h2><p>Toto is a company that has been around for over 100 years. They aim to improve people's quality of life, and they do that specifically by focusing on bathrooms. To that end, Toto is known for high-quality products including toilets, faucets, showers, bathtubs, and bidets. </p><p>Toto has also expressed an admirable commitment to ecological stewardship. As <a href="https://www.totousa.com/about-toto/toto-way" target="_blank">their corporate website</a> notes, they strive to "protect the global environment by conserving finite natural resources and energy." One example of this is their donation of any imperfectly fired porcelain products for recycling and reuse as porcelain floor tile. Their <a href="https://www.totousa.com/about-toto/living-toto-library/smart-sustainable-packaging-solution" rel="noopener noreferrer" target="_blank">packaging</a> uses differing levels of recycled post-consumer paper products while their forklifts operate using <a href="https://www.totousa.com/about-toto/living-toto-library/plant-based-hydraulics" rel="noopener noreferrer" target="_blank">plant-based hydraulics</a> made from soybean oil instead of traditional hydraulic oil.</p><p>Toto is definitely a company with a superior reputation when it comes to bathroom accessories in general, and bidets in particular. Here are reviews of some of the specific products in the Toto line.</p><h2>Toto bidet reviews</h2><p>There are two different bidet product families available from Toto: standalone bidets and bidet seat attachments. Their standalone models include the Piedmont bidet, the Lloyd bidet, and the Clayton bidet, while their bidet toilet seat offerings include a wide selection in the popular Washlet line. Here are details on the three standalone options and three of the most popular bidet seat attachments.</p><p><em>Each product featured here has been independently selected by the writer. If you make a purchase using the links included, we may earn commission.</em></p><h3>Toto standalone bidets</h3><h4></h4>
<h3>Toto bidet seats</h3>