UPDATE: On Friday, July 29, President Obama signed into law S. 764, which overturns Vermont's GMO label law and directs the Sec. of Agriculture to come up with a national labeling standard at some point in the next two to three years.
UPDATE: The U.S. House of Representatives passed the bill by a 306-117 vote Thursday. The bill now heads to President Obama's desk.
Looks like we're finally getting GMO labels on food products—just not the kind you can actually read.
CALL US House today Tell 'em you don't support the #DARKACT - 1-877-796-1949 @flugennock IS right about GMO law. https://t.co/PuSQvna7oQ

— Dr. Bronner's (@Dr. Bronner's)1468507209.0
President Obama is expected to throw his weight behind a controversial bill that allows businesses to use a smartphone scannable QR code instead of clear, concise wording that informs consumers if a product contains genetically modified ingredients. The bill would also nullify state-by-state GMO labeling mandates such as Vermont's landmark law that took effect on July 1.
"While there is broad consensus that foods from genetically engineered crops are safe, we appreciate the bipartisan effort to address consumers' interest in knowing more about their food, including whether it includes ingredients from genetically engineered crops," White House spokeswoman Katie Hill told Bloomberg in an e-mail. "We look forward to tracking its progress in the House and anticipate the president would sign it in its current form."
The House of Representatives is voting today on legislation from the Senate, which voted 63 to 30 in favor of the bill on July 7, less than a week after Vermont enacted its GMO label law. The bipartisan "compromise" bill was conceived after years of negotiations by Democrat Sen. Debbie Stabenow and Republican Sen. Pat Roberts and is supported by the very industry that produces and profits from such products, including the powerful Grocery Manufactures Association and world's largest seed producer and pesticide giant Monsanto.
#GMO Label Bill Clears Major Hurdle in #Senate ... Now What? https://t.co/0HybSUJips @nongmoreport @foodandwater https://t.co/5yPkq7hH5K

— EcoWatch (@EcoWatch)1467916050.0
Yesterday, the House voted 242-185 on a rules resolution to bar amendments to the bill, meaning it would not have to go back to the Senate. After the House vote today, Congress will be on summer recess until Sept. 8.
Some House Democrats have criticized the bill.
"In order to access the information through the QR code, an individual must have a smartphone and must have access to the internet," Rep. Jim McGovern (D-Mass.) said during a floor debate Wednesday, reported The Hill. "The reality is that not every American has access to a smartphone or the internet," he said, adding that consumers who do have a smartphone would have to painstakingly scan every item they'd like to purchase to see if it contains GMOs.
Many consumer and environmental groups have nicknamed the looming mandate as the "Deny Americans the Right to Know," or DARK Act, as the bill goes against the majority of Americans who support clear labeling for GMOs.

While the influential Organic Trade Association (OTA) unexpectedly endorsed the Stabenow-Roberts bill, the group's backing has been viewed as highly suspicious. Just yesterday, the farmer-controlled Organic Seed Growers and Trade Association announced that it withdrew membership from the OTA, citing "betrayal" over the "Monsanto-backed" bill.
The group also accused the OTA's board members of endorsing a "dangerous" Senate bill as, "recent revelations have made clear that the OTA has created numerous close partnerships with Monsanto including intensive lobbying efforts by the notorious biotech-linked lobbyist Podesta Group on behalf of the deal brokered by Senators Stabenow (D-MI) and Roberts (R-KS)."
OSGATA's membership in @OrganicTrade is over: https://t.co/OtZBIuVuNg https://t.co/GFwstx7PeK

— OSGATA (@OSGATA)1468429815.0
The U.S. Food and Drug Administration (FDA) has also expressed concern that the Roberts-Stabenow bill is ridden with loopholes. In its technical comments, the FDA pointed out that the bill has a narrow and ambiguous definition of "bioengineering" that would exempt many foods from GMO sources.
Stabenow has brushed aside the FDA assessment. According to Politico, "she asked the USDA, which will be tasked with implementing the measure, to respond to the FDA assessment's major points ... The USDA's general counsel [said in a letter that] regulatory officials will follow the spirit of the law when crafting rules and require labeling of all GMO ingredients that gain USDA approval as well as those developed with novel technologies."
Still, the bill even has conservative critics. Right wing think tank Heritage Foundation came up with six problems with the labeling bill, with one reason being the "implication is that there's something wrong with [genetically modified] crops."
Despite its flaws, it appears that the bill will soon land on President Obama's desk, as the Republican-controlled House is likely in favor of passage. Last year, the House voted 275-150 to pass an anti-labeling bill.
Bloomberg reported that Republican Mike Conaway of Texas, the chairman of the House Agriculture Committee, has indicated his support of the bill meaning that it will likely pass the lower chamber.
Conaway and House Ag Committee ranking member Collin Peterson told Agri-Pulse that they expect a majority of both Republicans and Democrats to vote for the legislation on final passage. Agri-Pulse noted, however, that the final GMO bill is bunched with "a far more controversial abortion-related measure that Democrats broadly oppose," so stayed tuned for how the final vote tallies.
Meanwhile, a number of major food companies such as General Mills, Campbell Soup, Kellogg, Conagra Foods and Mars have voluntarily added GMO labels on their packages. This marks a larger trend of businesses complying with consumer demand of transparency and organic food.
Sales from organic farms across the country have boomed in recent years, with consumer spending up 72 percent since 2008. Just yesterday, the meat brand Applegate announced its commitment of removing GMOs from its entire supply chain, from animal feed to finished product and gain third-party certification.
Today, yogurt maker Dannon announced that its products in the U.S. that have GMO ingredients will be clearly labeled and has unveiled its first Dannon and Oikos branded products containing more natural and non-GMO ingredients.
"Shoppers are our main ingredient, and what is important to them drives what we do. For this reason, the range of products we make is evolving to provide even more choices," said Dannon CEO Mariano Lozano. "Transparency is the key word for this shift. To show to our consumers that in order to make a real choice, we need clear labels, today we are making a bold change and candidly discussing how transparency from brands is essential for shoppers to make real choices."
From start to finish, our plan to remove GMOs from our entire supply chain: https://t.co/1edQAO0Fqn https://t.co/xneo1KnsEK

— Applegate (@Applegate)1468414135.0
Environmental Working Group's President Ken Cook agrees. "While we support a national, mandatory GMO labeling system, we cannot support this proposal because food companies would be permitted to make a GMO disclosure through a means that is unavailable or unfamiliar to many Americans," he said.
"While the proposal clearly intends to require a disclosure on more foods than are covered by state GMO labeling laws, we are concerned that loopholes could undermine Congress' intent."
Kaye Spector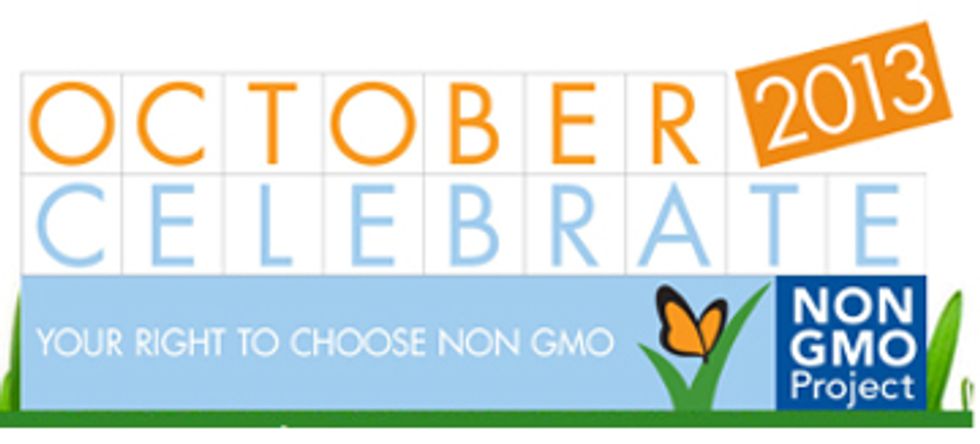 The Non-GMO Project is celebrating the third annual Non-GMO Month during October against a backdrop of rising consumer and manufacturer demand for non-GMO product labeling.
Demand for the label has gotten so high that the board overseeing the certification program recently decided to expand it. Sales of non-GMO labeled products have reached more than $3.5 billion in the three years since the launch of the label.
At the same time, U.S. retail sales of non-GMO foods and beverages are projected to increase at a compound annual growth rate of 12.9 percent in the next five years, Packaged Facts predicted in a recent report. Non-GMO sales could represent 30 percent of the U.S. market with a value of $264 billion in 2017, the report said. 
GMOS are plants or animals that have been genetically engineered with DNA from bacteria, viruses or other plants and animals. These experimental combinations of genes from different species cannot occur in nature or in traditional crossbreeding. In the U.S., GMOs are in up to 80 percent of conventionally processed food.
More than 80 percent of GMOs grown worldwide are engineered to tolerate herbicides. As a result, use of toxic herbicides like Roundup has increased 15 times since GMOs were introduced. GMO crops are also responsible for the emergence of super weeds and super bugs that can only be killed with more toxic poisons like 2,4-D (a major ingredient in Agent Orange). Scientists have linked these poisons to an often-fatal immune system cancer in farmers, among other adverse effects.
The long-term impact of GMOs are unknown, and they cannot be recalled once released into the environment.
The Non-GMO Project confers the labeling for non-GMO food and products. The group is North America's only third-party verification organization. 
The organization was formed in the absence of mandatory labeling by the government. But in 2013, 26 states proposed measures that would mandate clear labeling of genetically engineered ingredients on food packages. The hottest battle ground right now is in Washington state, where on Nov. 5, voters will decide on Proposition I-522, a citizen initiative that would mandate GMO labeling. The measure has pitted consumer and farmers' advocates against the multibillion-dollar agribusiness corporations.
Non-GMO Month was created to raise awareness about genetically modified organisms. Last year, more than 1,500 stores participated in Non-GMO Month in communities across the U.S. and Canada.
How to celebrate Non-GMO Month? Read up on the topic, choose food and products that are Non-GMO Verified or check out some events and activities.

EcoWatch Daily Newsletter
The U.S. Environmental Protection Agency (U.S. EPA) has issued a new rule raising the allowed residue levels of Monsanto's glyphosate herbicide, Roundup, on food.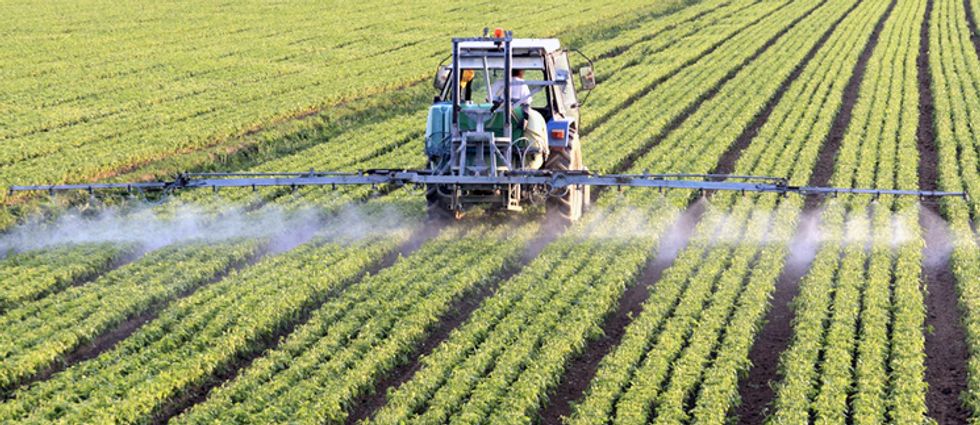 Glyphosate is an herbicide produced and marketed by Monsanto Corporation, the agrochemical and biotechnology giant. Monsanto claims that glyphosate is safe and has successfully lobbied the U.S. EPA to raise the residue limits of this toxic chemical.
But independent scientists disagree with Monsanto: several recently published peer-reviewed studies point to serious health impacts from exposure to this toxic herbicide.
Glyphosate has been shown in several recent studies to be an endocrine disruptor. According to the National Institutes of Health, endocrine disruptors could have long-term effects on public health, especially reproductive health. And the "dose makes the poison" rule does not apply to endocrine disruptors, which wreak havoc on our bodies at low doses.
The U.S. EPA must consider independent and recent science rather than depending on industry-funded, outdated studies supplied by Monsanto. A June study concluded that glyphosate "exerted proliferative effects in human hormone-dependent breast cancer." An April study by a Massachusetts Institute of Technology scientist concluded that "glyphosate enhances the damaging effects of other food borne chemical residues and environmental toxins," and pointed out that glyphosate's "negative impact on the body is insidious and manifests slowly over time as inflammation damages cellular systems throughout the body."
Instructions for Submitting Comments
Click here to submit your comment electronically.
If you are submitting on your own behalf, for the required field "Organization Name," please enter "Citizen."
The deadline for submitting comments is Monday, July 1.
Sample Letter
You may cut and paste, but you are encouraged to personalize:
The EPA's final rule raising the residue limits of glyphosate is unacceptable and based on outdated science.
The toxicology profile for glyphosate is not "complete," as the EPA claims. Ongoing research shows glyphosate may promote breast cancer, induce inflammation, and act as an endocrine disruptor.
I urge you to perform a careful review of independent science to determine the health impacts of raising the residue limit for glyphosate.
Comment today to let the U.S. EPA know that their decision to cater to Monsanto's interests is unacceptable given the recent science pointing to serious harm from this toxic herbicide.
Visit EcoWatch's BIODIVERSITY and GE FOOD pages for more related news on this topic.