Reposted with permission from Rodale News.
Despite its own admission that it will cause an up to seven-fold increase in chemical pesticide use, the U.S. Department of Agriculture (USDA) is poised to approve a new type of genetically engineered seed built to resist one of the most toxic weedkillers on the market.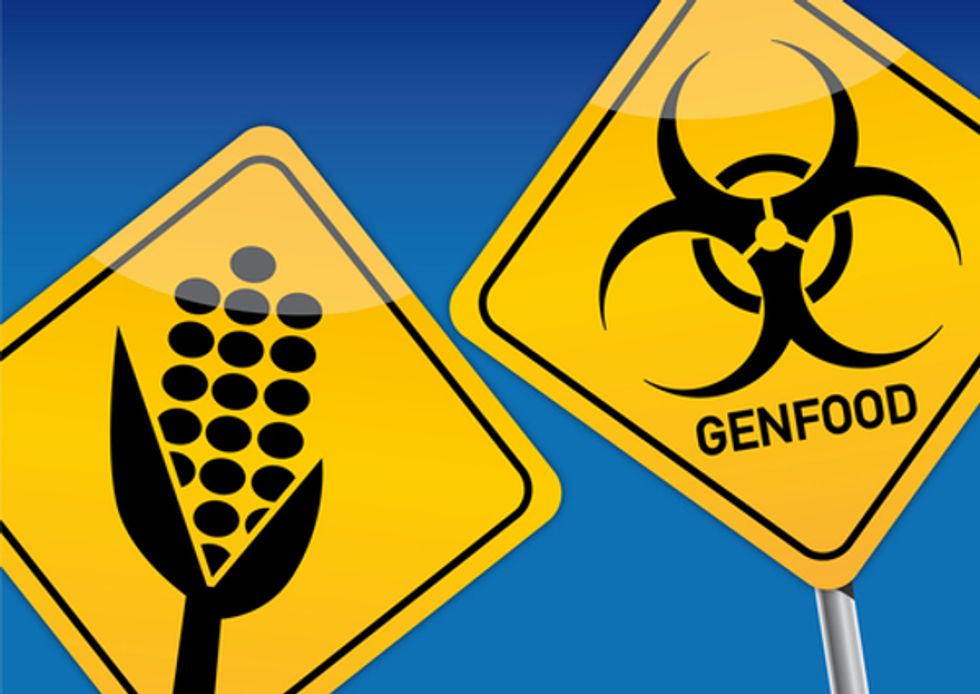 USDA suggests approval of new GMO corn and soy seeds. Photo courtesy of Shutterstock
Now, total approval hinges on the U.S. Environmental Protection Agency. If that federal body approves the new genetically modified organism (GMO), farmers will be free to plant corn and soy seeds genetically manipulated to live through sprayings of Dow's Enlist Duo herbicide, a chemical cocktail containing both glyphosate and the antiquated, toxic chemical 2,4-D. Ironically, in the '90s, chemical companies said the development of GMOs would eliminate the need to use older, more dangerous chemicals like 2,4-D. But as GMO use ramped up over the last few decades, chemical use increased, and many weeds are no longer responding to glyphosate, the main ingredient in Roundup, and the current chemical of choice for GMO farmers. This has created a "superweed" crisis, creating millions of acres of U.S. fields infested with hard-to-kill weeds.
With this week's USDA final Environmental Impact Statement (EIS) suggesting approval of the new GMO, many public food and safety experts say the American public faces unprecedented risks. After all, current chemical use is so high that foods now actually contain "extreme" levels of glyphosate. Because it's systemic, it actually winds up inside of food. Adding 2,4-D to the mix is even more concerning, given its ties to cancer.
"USDA's announcement is an outrageous abdication of USDA's responsibility to protect our health and our food supply. The Obama Administration has ignored the interests and demands of millions of Americans, Members of Congress, and scientists, farmers and health professionals," says Andrew Kimbrell, executive director of Center for Food Safety.
Farmers are upset about the decision, too. "Weed resistance is a major problem for farmers and we need a solution. This decision shows that the only options USDA is willing to consider are ones that lead to increased profits for chemical companies. We need to get off the pesticide treadmill, not increase the speed," says George Naylor, Center for Food Safety board member and Iowa corn and soybean farmer.
Suggested approval comes despite USDA's acknowledgment that Dow's crops will trigger a three- to seven-fold increase in agricultural use of 2,4-D, foster 2,4-D resistance in weeds and inhibit farmers' use of non-chemical weed control methods. "USDA's decision represents a huge setback for farmers and sustainable agriculture. Independent scientists have linked 2,4-D to cancer, Parkinson's disease and other maladies," says Bill Freese, science policy analyst at Center for Food Safety. "Introduction of 2,4-D- resistant corn and soybeans will dramatically increase use of this toxic herbicide, leading to more disease, environmental harm and increasingly intractable weeds for farmers."
The adoption of this new generation of GMOs also threatens farmer's market favorites like tomatoes, peppers, grapes (and wine!) and potaotes. Any 2,4-D drift could cause these crops to become mangled and deformed, or even outright kill them.
For more reasons to reject GMOs, check out the biggest GMO myths, busted.
You Might Also Like
Monsanto Supersizes Farmers' Weed Problem, But Science Can Help
5 Reasons Monsanto's 'Science' Doesn't Add Up
Fight Continues Over Moratorium of GMO Crops on Hawaii's Big Island
EcoWatch Daily Newsletter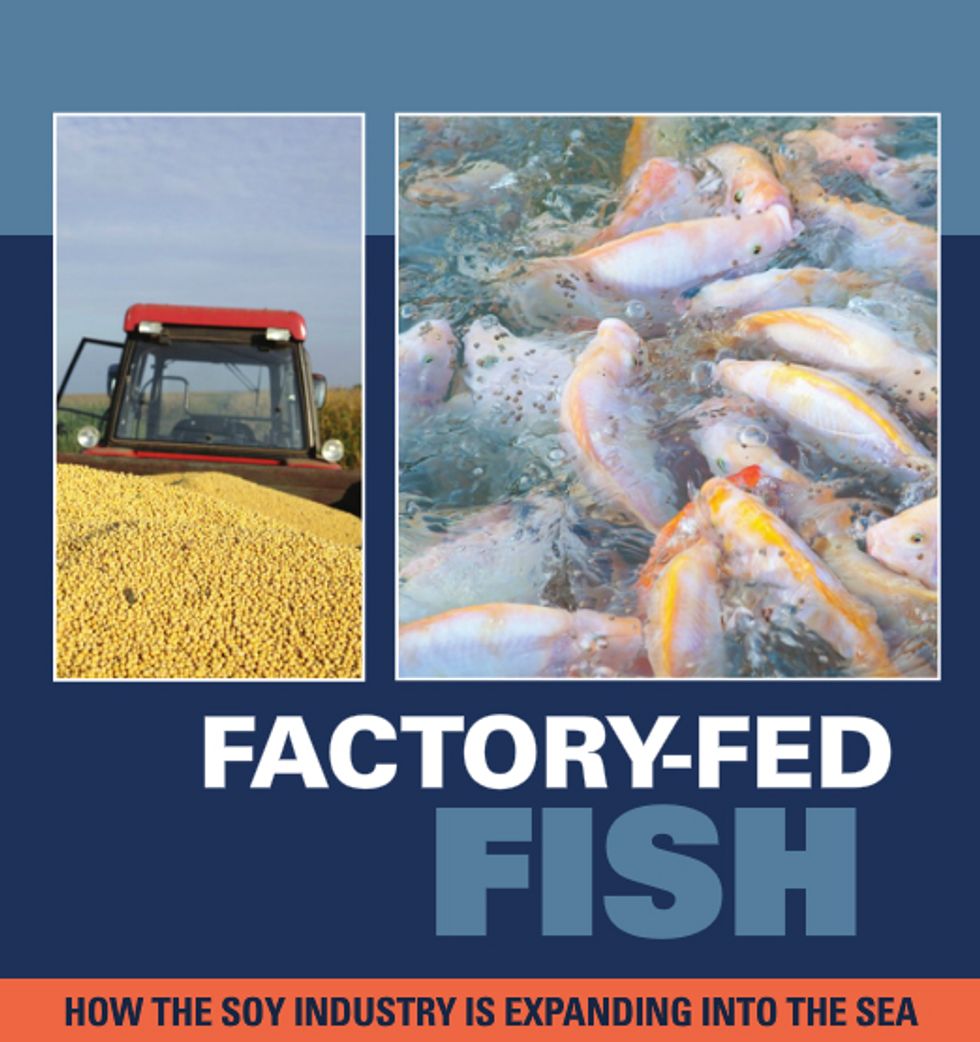 In 2010, the CEO of the American Soy Association reported that the organization has been closely monitoring progress in the development of offshore fish farming legislation and meeting with congres­sional staff on the topic. In March 2011, it endorsed a controversial plan that would allow such fish farming or "aquaculture" in the Gulf of Mexico. In September 2011, a press release was issued announcing a new marine fish farm project that would "revolutionize sustainable agriculture." The source of the release? The Illinois Soybean Association.
Why are trade associations for an agricultural commodity that is grown on land involved in policies and marketing that affect the use and stewardship of our oceans?
Seafood is one of our last wild food sources. Fish are a vital part of many people's diets because of poten­tial health benefits, fresh taste and the connection that fish give us to our oceans and coasts. Around half of the world's seafood, however, now comes from farms rather than from the wild. In some of these farms, fish are grown in crowded, polluting cages and may be fattened on commercially prepared diets.
Feed has been one of the aquaculture industry's greatest challenges. Many of the species grown by the ocean finfish industry are highly valued carnivorous fish, which have typically been fed diets consisting of fishmeal and oil made from smaller, wild fish. The excessive use of wild fish to grow farmed fish can make aquaculture inefficient. Further, aquaculture has been accused of spurring the depletion of these small fish, which is problematic not only for their own populations, but also to the other animals that rely on them for food.
With little public scrutiny, soy has been hailed by some as a sustainable alternative to feed based on wild fish, thus supposedly solving some of the fish farming industry's sustainability problems.
In this report, the first to address the relationship between the soy and factory fish farming industries, Food & Water Watch reveals that, while the soy industry stands to make large profits from the expan­sion of factory fish farming, there is no guarantee that soy-based aquaculture feed can consistently produce healthy fish or promote ecological respon­sibility. In fact, by causing fish to produce excess waste, soy could lead to an even more polluting fish farming industry.
By supporting factory fish farming, the soy industry could not only help to expand an industry that degrades marine environments, threatens wild fish populations and damages coastal communities, it could also extend its own negative impacts. Already, industrial soy production has led to the prevalence of genetically modified crops on U .S. farmland and in consumer food-products, caused massive defor­estation in South America and displaced indigenous communities living in areas now used to grow soy.
Rather than actually promoting sustainability in a developing industry, the involvement of soy associa­tions in aquaculture could spur the growth of two industries that have extremely negative impacts on our land, our oceans and the communities that depend on them.
To read the full report—Factory-Fed Fish: How the Soy Industry Is Expanding into the Sea—click here.
Visit EcoWatch's FACTORY FARMING, SUSTAINABLE AGRICULTURE and GENETICALLY MODIFIED ORGANISM pages for more related news on these topics.
Xsandra / Getty Images
Looking for ways to cut down on single-use plastic while grocery shopping? You may already have eco-friendly shopping bags, but bringing your own reusable produce bags is another easy swap.

According to the UN Environment Program, up to 5 trillion single-use plastic bags are used globally each year, and because of the material they're made from, most municipal recycling centers don't accept them (more on this below).
The most sustainable option is to skip the bag altogether. You can also make your own reusable produce bags out of old T-shirts. But if you'd rather purchase them new, here are our recommendations for the best reusable produce bags on the market today.
<p><em>Each product featured here has been independently selected by the writer. If you make a purchase using the links included, we may earn commission.</em></p>