By Jessica A. Knoblauch
A U.S. District Court judge took the U.S. Food and Drug Administration (FDA) to task on Jan. 10 for withholding government documents related to the agency's approval of genetically engineered (GE) salmon. The judge's decision is a big win for public transparency, but it's also a small step toward finally doing a proper evaluation of the risks posed by GE animals—which could one day end up on our dinner plates.
In 2015, the FDA approved GE salmon made from the DNA of three different animals: Atlantic salmon, deep water ocean eelpout, and Pacific Chinook salmon. The GE version is intended to grow faster than conventional farmed salmon, reportedly getting to commercial size in half the time.
FDA Approves AquaBounty's Genetically Engineered Salmon Despite Widespread Opposition https://t.co/AUdqzoy7SB via @ecowatch

— Food Babe (@Food Babe)1447948318.0
Even though this is the first time any government in the world has approved a GE animal for commercial sale and consumption, so far the FDA has taken a lackadaisical approach to evaluating the salmon's potential for harm to wild salmon and the environment. If the GE salmon were to escape, it could threaten wild salmon populations by outcompeting them for scarce resources and habitat, by mating with endangered salmon species, and by introducing new diseases.
The world's preeminent experts on GE fish and risk assessment, as well as biologists at U.S. wildlife agencies charged with protecting fish and wildlife, heavily criticized the FDA for failing to evaluate these impacts. But the FDA ignored their concerns, so in March 2016, Earthjustice filed a lawsuit against the agency.
What Will Happen When Genetically Engineered #Salmon Escape Into the Wild? https://t.co/8BXnrcB2dP @Earthjustice https://t.co/KkRffQsrzj

— EcoWatch (@EcoWatch)1460296531.0
As part of the lawsuit, the FDA is required to compile a record of documents that illuminate the path the agency followed to reach its decision to approve the GE salmon—much like a student is required to show their work for a math problem in middle school. A complete record is essential in all cases. But it is especially important here because the FDA has so far refused to release most of the documents related to its decision, despite repeated requests for that information from Earthjustice's diverse set of clients under the Freedom of Information Act.
ICYMI Groups Sue FDA Over Approval of Genetically Engineered #Salmon https://t.co/nerQorTpQZ via @EcoWatch #GMO https://t.co/xZLoIa3b6n

— Sustainable Table (@Sustainable Table)1459794913.0
The public has a right to know how the agency came to this seemingly ill-informed decision, especially because the FDA's approach will likely serve as a precedent for the assessment of future GE food animals. Withholding that information is illegal because government agencies like the FDA are funded by taxpayer dollars, which means that any records they create, with only limited exceptions, can and should be available to the public and to citizens seeking to hold the government accountable in court.
Last month, a U.S. District Court judge agreed, concluding that: "the government is wrong to assert that these types of materials … should be excluded" from the record. The FDA is now required to fully complete the record with all relevant documents no later than July 2017. In addition to working to ensure the timely completion of that process, we will thoroughly review the full basis for the agency's decisions.
"There's no way to know what exactly is in these documents until we see them," says Earthjustice attorney Brettny Hardy. "But they will undoubtedly provide a far more complete picture of how we got here, including information that raises legitimate questions about the agency's decision."
Jessica Knoblauch is a former award-winning journalist who now serves at the helm of Earthjustice's editorial team, which tells stories through the organization's blog, quarterly magazine and website.
EcoWatch Daily Newsletter
The first genetically modified (GMO) apples, which are engineered to resist browning when sliced, will arrive in select midwestern U.S. stores next month. The fruit, produced by Okanagan Specialty Fruits and sold under the brand name Arctic Apples, will be packaged as "grab-and-go" slices, according to Capital Press.
2017 is here, and we're so on trend https://t.co/ye72xnSULj https://t.co/7jx98Dpm5J

— Arctic Apples (@Arctic Apples)1484704209.0
A customer will only know that the fruit is genetically modified by scanning the packaging with a smartphone. The company is adhering to the new GMO food labeling act which allows businesses to use a QR code instead of clear wording that informs consumers if a product contains GMO ingredients.

"We are selling it under the Arctic brand and we've had a lot of press and attention, so I assume most people will know what it is," Okanagan's founder and president Neal Carter told Capital Press.
The company's product can be identified with its logo of a snowflake inside an apple outline.

Obama Signs Industry-Backed GMO Label Bill Into Law - EcoWatch https://t.co/kEMS092CUY @gmo917 @GMWatch

— EcoWatch (@EcoWatch)1470003011.0
The apples first stirred up controversy in February 2015 when the U.S. Department of Agriculture (USDA) approved an aesthetically-improved genetically engineered food for the first time.

In order to prevent apples from browning, the company "silenced" an enzyme called polyphenol oxidase (PPO) that drives oxidation in apples. The benefit of these apples, as the company said, is that it cuts down food waste—about 40 percent of apples are currently wasted, with much of that waste from superficial bruising and browning.
Like the industry norm, Arctic Apples do not fully oxidize for three weeks after being cut into but without the flavor-altering, chemical additives used by the traditional sliced apple business.

The cost savings "can be huge," Carter told NPR. "Right now, to make fresh-cut apple slices and put them in the bag, 35 or 40 percent of the cost is the antioxident treatment. So you could make a fresh-cut apple slice 30 percent cheaper."
DYK: #ArcticApples have benefits for dried slices too? https://t.co/K0SvhjBVWV https://t.co/N28iO7SqUL

— Arctic Apples (@Arctic Apples)1484607919.0
Okanagan touts that its Arctic Goldens, the variety that will hit shelves next month, "offer the same nutritional value as the conventional Golden Delicious apple you know and love, but do so even better, especially as ready to eat, preservative free slices!"
The company will also be selling GMO Granny Smith and Fuji in the future after gaining USDA approval. The USDA deregulated the GMO Fuji apple in September despite receiving more than 620 comments from individuals and consumer groups who were opposed to the variety, GMO food in general, as well as concerns over a lack of clear GMO labeling.
"It's not only an unnecessary product, but the risks have not been fully examined," said Wenonah Hauter, executive director of Food & Water Watch.

Hauter added that there could be unintentional consequences of the fruit.
"Regulators have glossed over the possible unintentional effects of this technology, including the potential economic impacts on farmers, the potential of contamination for non-GMO and organic apple crops and the potential impact of the non-browning gene silencing, which could also weaken plant defenses and plant health," she said.
3 Companies Say 'No' to GMO Arctic Apples https://t.co/W9EbUca67d @food_democracy @NonGMOProject

— EcoWatch (@EcoWatch)1445463646.0
Carter told Capital Press that Midwestern retailers were chosen for the first sales this winter because they seemed like a good fit demographically.

When the publication asked if Midwest consumers may be more accepting of GMO apples compared to the East or West coasts, Carter said consumer research did not indicate that and that it was not a consideration.
"We don't want to skew our test marketing results by choosing stores that may be more friendly to genetic engineering," he said.
Five hundred, 40-pound boxes of Arctic Goldens will be sold at 10 unnamed stores in the Midwest in February and March. Okanagan is aiming to produce more than 6,000 more boxes of the fruit for the region after the fall 2017 crop.
Westend61 / Getty Images
Residential solar energy companies are helping more and more homeowners upgrade their properties to clean energy sources. Solar energy companies can equip you with the technology you need to harness the amazing power of the sun and reduce your need for fossil fuels. In this article, we'll review some of the most trustworthy providers and installers of solar power.
Our picks for the best solar companies
The first step in the process is researching some of the top companies in the solar industry. Here are the ones that stood out in our research.

Each product featured here has been independently selected by the writer. If you make a purchase using the links included, we may earn commission.
How we chose the best solar energy companies
How did we determine which solar power companies to recommend?

To begin with, we took a deep dive into each company's offerings, assessing them for the following criteria:
Range of services offered
Pricing/affordability and financing options
Extent of service area
Solar panel efficiency
Warranty
Temperature coefficient (e.g., how much high temperatures affect efficiency)
Additionally, we weighed membership and certification by professional associations like the Solar Energy Industries Association (SEIA). Affiliation with these groups is a good indicator that a solar energy company is reputable, and that their work is up to the highest standards within the industry.
The best solar energy companies
schmidt-z / Getty Images
With these criteria in mind, consider our picks for the best solar panel providers and installers in the industry.

If you're looking for a company that can walk you through the process of upgrading to solar power for an easy and convenient experience, look no further than to SunPower. The company offers:
A "design studio" app, allowing you to safely and seamlessly design your own solar power system so that you can see a visual of what the finished product will look like once installed.
Online calculators that make it easy for you to determine about how much electricity you will save once you upgrade to solar panels.
Virtual consultations, allowing you to chat one-on-one with a solar power expert and to ask any questions you might have.
SunPower offers leading solar panels and energy storage technology to homeowners across dozens of states. And, they are also the preferred solar partner of many major businesses, including Walmart, FedEx, and Lowes.

Why buy: SunPower is a reliable solar energy company with an impressive tech portfolio and an extremely easy, intuitive process.
Upgrading to solar power can seem a little intimidating, but SunRun is out to bring simplicity. Their approach makes it extremely straightforward to select a custom solar energy plan for your household. Here's what to know about SunRun:
They offer virtual consultations with solar energy experts, making it simple to explore your options and determine which solar set-up is right for your home energy needs.
Each system they design is completely customized to address the customer's needs. SunRun doesn't do "one size fits all" solar equipment options.
Their guarantee, the best in the industry, offers extraordinary peace of mind that your solar system will prove durable and reliable.
SunRun also leads in terms of flexible financing options, making solar power accessible and affordable.
Why buy: With SunRun, the name of the game is customization. This is one of the best solar installation companies to turn to for solar power solutions that are truly made with you in mind.
You probably associate Tesla with their electric vehicles, but did you know that the company also produces high-efficiency solar panels? Depending on your needs and your budget, Tesla can hook you up with an array of solar panels or even a solar roof, making it easy to cut electricity costs and power your home via the sun's vital energy.
Some fast facts about choosing solar power from Tesla:
They offer a price match guarantee and affordable financing options.
Their advanced solar panel technology offers a low profile, a sleek style, and long-term durability.
Home battery backups allow you to save solar power and then access it on demand, whenever you need it.
Why buy: Tesla offers sophisticated solar products for what the company claims is the lowest price of any national provider, which they back with a price-match guarantee. Plus, all of their solar panels come with a solid 25-year performance guarantee.
LG is another well-known tech company that is also a leader in solar energy. Some of their solar panels use a bifacial solar module that captures energy from two directions to increase their efficiency. While they are a solar panel manufacturer, they can also help you with the installation process by finding an LG Pro installer in your area.
They offer an online "solar concierge" service that allows you to evaluate your home energy needs and to compare different options for going solar.
LG offers a 25-year warranty, not only on their technology but also on the work their of their solar installers.
They offer a range of solar panels and supporting products, and they supply you with plenty of information to make a fully informed choice.
Why buy: LG is a company that knows technological innovation. Their award-winning solar energy products are reliably efficient, well-priced, and designed for maximum efficiency.
Panasonic has one of the most impressive tech portfolios in the solar energy industry. Their products boast some of the highest conversion efficiency rates, along with the lowest degradation rates. And they back everything with a generous warranty.
Some additional reasons to choose Panasonic:
They offer a range of solar panels to choose from. With Panasonic, you'll find that you have plenty of options.
They also provide a lot of great online support and consumer education, ensuring you'll get the most out of your solar technology.
Why buy: Panasonic is a solar panel company with products that are tough to beat. Both their pricing and warranties are very appealing, and their HIT high-performance solar panels offer some of the best power conversion rates of any product.
Vivint is a company that offers a full spectrum of services, including solar power consultation, design, and installation. A few reasons why homeowners trust their solar power needs to the Vivint team:
Everything Vivint does is customized. They tailor everything to fit your roof and to help you achieve your home energy goals.
They make the entire process simple, handling all of the little details for you. This includes securing permits, filing the right paperwork, etc.
They emphasize safety, using only the highest caliber of solar panels and backing everything with a world-class warranty.
Why buy: Vivint is noteworthy for their focus on customization, their commitment to safety, and their one-stop-shop solar power solutions. In addition to solar panel installation, they also offer other specialized technology, including solar-powered electric vehicle chargers.
Enphase is another company that stands out, both for their robust technology as well as for their commitment to customization. Their microinverter technology makes their solar system safer by reducing the likelihood of arc fault fires.
They design their solar technology with safety in mind, including fire safeguards that other companies can't match.
Their solar panels are built for durability and can hold up even through the most extreme kinds of weather.
Enphase uses smart technology to update itself; all you need to do is connect it to your home Internet.
They also have one of the best apps in the solar industry, making it simple to monitor your home energy use.
Why buy: Enphase is a company of innovators, and their solar portfolio has a lot to offer. Their system is also modular, meaning you can easily add more panels to your system as you need them.
This solar power provider has won recognition not just for their excellent technology, but also for their sincere commitment to sustainability and to ecological stewardship. And don't let the name throw you off: Though Canadian Solar is based in Canada, they provide solar power solutions in the U.S. and other countries.
Some additional facts about Canadian Solar:

They offer a wide range of products, from energy converters to storage solutions.
Their solar panels boast exceedingly high energy efficiency rates.
Canadian Solar has won a number of awards for its first-class innovations, and one of their products even set a world record for conversion efficiency in 2020.
Why buy: This company has a proven track record of technological excellence, plus a real commitment to ecological stewardship. They also closely monitor their supply chain to ensure that no goods or materials used in their products come from prohibited forms of labor.
First Solar boasts an impressive track record of advocacy for solar power and for renewable energy sources. And, thankfully, they back their advocacy with some excellent solar technologies.
A few reasons to choose First Solar solar panels:
Their technology offers an outstanding temperature coefficient, meaning they won't lose performance during high temperatures.
Their solar cells are among the most reliable and most efficient in the clean energy sector.
First Solar also offers a lot of post-purchase, post-installation help, as needed.
Why buy: First Solar is a great option for anyone who's serious about renewable energy, and who wants the best performance from their solar panels.
The biggest drawback to Go Solar is that, right now, their work is limited to just a few states. But if you happen to live in that part of the country, you're in luck. Go Solar's panels are uniquely calibrated to take advantage of the western region's abundant sunlight. Some additional reasons to pick Go Solar include:
They offer free home solar assessments.
They custom-design solar systems to meet the needs of your home.
They have some of the most trusted installers in the solar power industry.
Why buy: For solar solutions that are tailored to the climate of the American West, definitely consider Go Solar. Plus, with their Give Solar International partnership, they give an equivalent solar panel system to a family in Uganda for each system sold.
How does a solar energy system work?
schmidt-z / Getty Images
As you explore the different options for embracing solar power, it may be helpful to have a baseline understanding of how solar energy systems actually function.

Generally speaking, solar energy systems involve solar panels installed on your roof. These panels absorb the sun's energy, storing it in what are known as photovoltaic cells. These cells convert the solar energy into direct current (DC) energy, then use an inverter to convert that DC energy into alternate current (AC) electricity. AC electricity is what you need to power all your home appliances.

It's important to note that, before you purchase solar panels, it's worthwhile to meet with a solar energy consultant who can tell you more about how many panels your home will require, and also to let you know how those panels should be ideally positioned on the roof.
One more note: If you're concerned about the affordability of solar power, it's important to remember that most solar energy companies provide a host of options, including flexible financing and solar lease options for a system rather than purchase it outright. As you talk with different solar energy companies, don't hesitate to inquire about these leasing and financing options.

Benefits of solar energy
Installing solar panels on your home can yield a number of benefits. Here are just a few examples.
Cleaner energy
One of the main reasons why homeowners choose to install solar cells is that it allows them to truly embrace clean energy sources. Rather than depend on fossil fuels and power plants, you can power your home with renewable energy that comes straight from the sun. This can be a highly effective way to minimize your environmental footprint.
Solar tax credits and rebates
There are a number of ways in which choosing renewable energy can save you money, starting with the fact that there are so many rebates and tax credits available. Essentially, both the federal government and many state governments want to encourage people to "go green" as much as possible, and they will make it worth your while by allowing you to claim these important tax incentives. Some utility companies also offer rebates that can help pay for the upfront costs of solar projects.
Lower electricity bills
Of course, embracing solar power will also help you save money by slashing your electricity bills. Most solar energy companies offer online calculators that allow you to see for yourself how much money you'll save over time, simply by changing to a renewable energy source. There is also an option called a power purchase agreement (PPA) that can allow you to host a solar or renewable energy system from a utility provider in exchange for lowered energy rates. If your solar panel system generates excess energy, the utility will then purchase that energy from you in the form of a net metering credit on your bill.
Make a smart choice about solar power
There are obviously a lot of perks to choosing solar energy for your home. And yet, it can also be a rather daunting process, simply because there are so many solar energy companies to choose from.

Using our guidelines and rankings, start doing your due diligence, seeking the solar power company that's right for you. Remember to look for a company that's well-regarded within the industry and get a consultation before you buy. Always be sure to ask some direct questions about the financing options that are available to you.
Josh Hurst is a journalist, critic, and essayist. He lives in Knoxville, TN, with his wife and three sons. His writing on natural health, nutrition, and supplements has appeared in Health, Shape, and Remedy Review.
Companies and organizations opposed to labeling foods that contain genetically engineered (GE) ingredients disclosed $9 million in lobbying expenditures that made reference to GE labeling in the first quarter of 2014—nearly as much as they spent in all of 2013.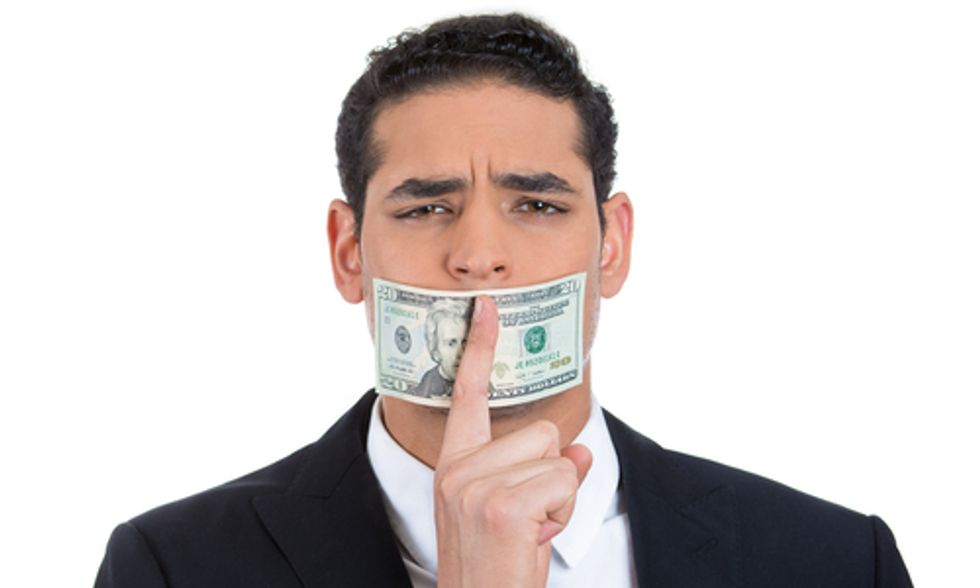 Food industry lobbying in Congress dwarfed that of supporters of GE labeling. Photo courtesy of Shutterstock
The burst of lobbying by food and biotechnology companies was partly designed to muster Congressional support for legislation that would block states from requiring GE labeling on food packages. That bill, dubbed the Deny Americans the Right to Know (DARK) Act by advocates of GE labeling, was introduced on April 9 by Rep. Mike Pompeo (R-Kan.).
In May, Vermont became the first state to enact legislation to require GE labeling, although industry has filed suit in an effort to block it. Connecticut and Maine have passed GE labeling laws that would go into effect if other northeastern states pass similar legislation.
Oregon and Colorado voters will consider GE labeling ballot initiatives this fall, and labeling bills have been introduced in 30 other states in 2013 and 2014.
Food and biotechnology companies and organizations disclosed $9.3 million in lobbying expenditures in 2013 that made reference to GE labeling and $9 million in the first quarter of 2014 alone. The forms cite lobbying on GE labeling as well as other policy issues.
In particular, the Grocery Manufacturers Association disclosed $1.2 million in lobbying expenditures that made reference to GE labeling in the first quarter of 2014. The Association's member organizations separately disclosed another $4.3 million in lobbying expenditures that made reference to GE labeling in the first quarter, including $3.9 million by beverage giants Coca-Cola and Pepsi.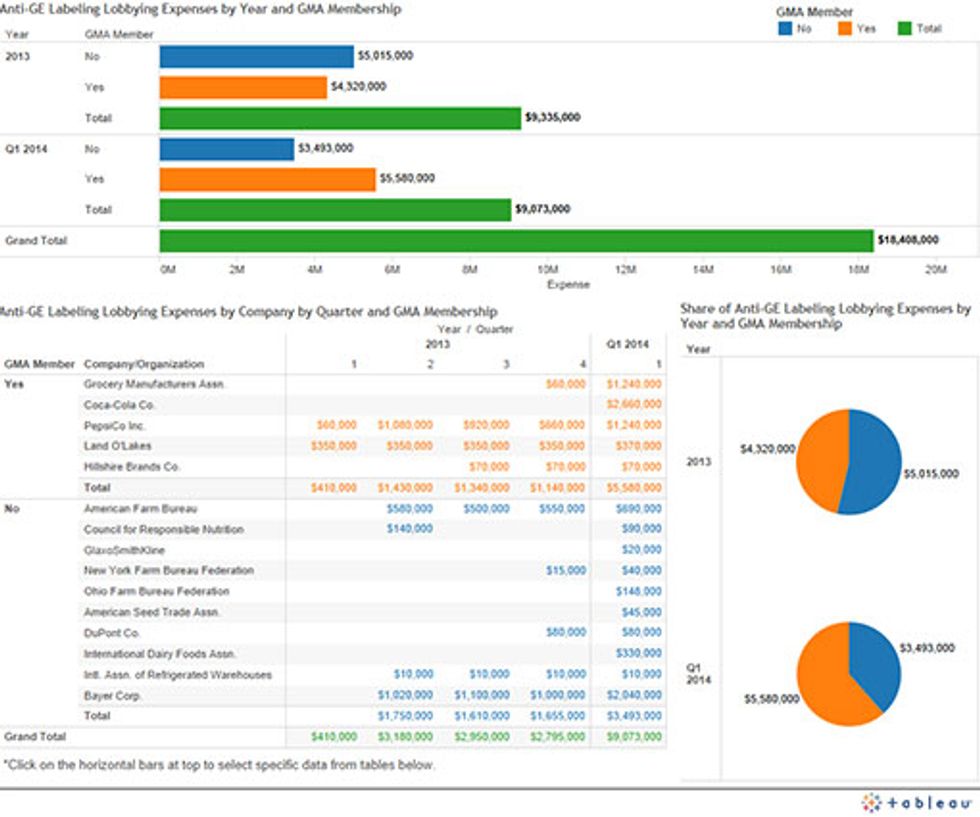 Food industry lobbying in Congress dwarfed that of supporters of GE labeling, who disclosed $1.6 million in lobbying expenditures that made reference to GE labeling in 2013 and just over $400,000 in the first quarter of this year—just one-eighth as much as the opponents. Advocates of GE labeling are supporting legislation introduced by Rep. Peter DeFazio (R-Ore.) and Sen. Barbara Boxer (D-Calif.) that would require GE labeling nationwide.
Several companies that produce genetically engineered seeds and herbicides—including Monsanto, Syngenta and Dow AgroSciences—did not report lobbying specifically on either piece of legislation on their 2013 disclosure forms or in the first quarter of 2014. Instead, their reports cited general advocacy on "biotechnology and biotech product issues," "biotech innovation and regulation" and "biotechnology acceptance." This language could easily include GE labeling, but that wouldn't be obvious to the general public.
Lobbying expenditures for the second quarter of 2014 were due July 21, and the new data will be available by the end of July.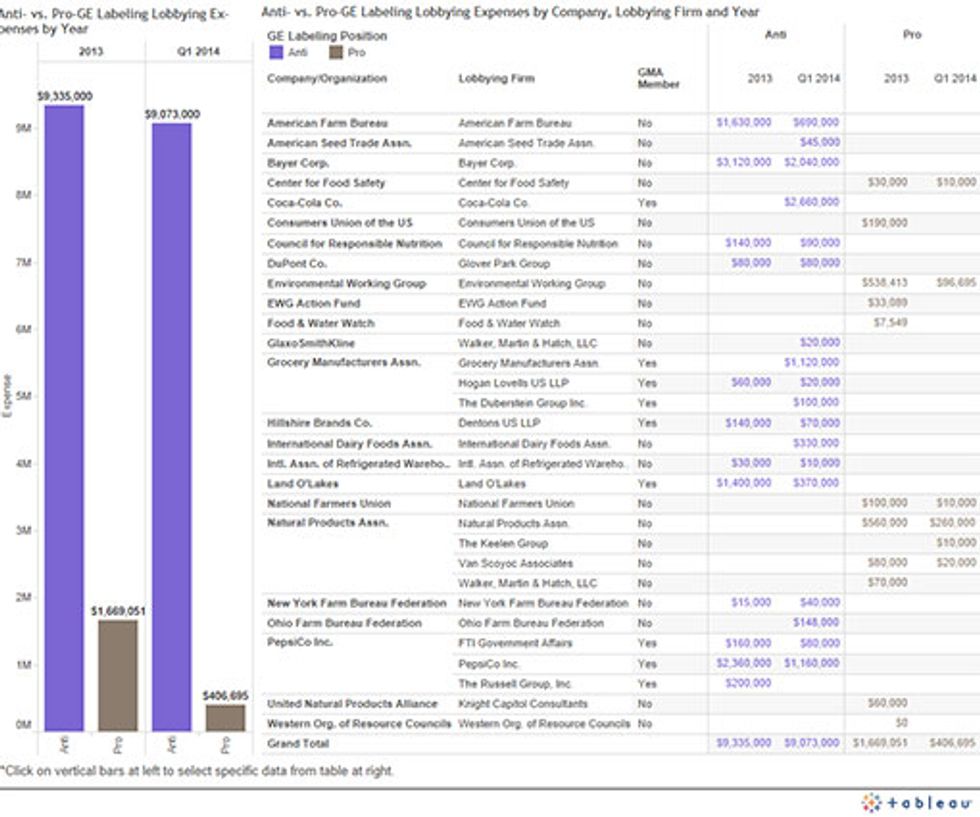 Food and biotechnology companies' political action committees also reported giving $221,345 in campaign contributions to Pompeo and 22 of the 26 members of Congress who co-sponsored the DARK Act (as of July 9). Eight of them, including Pompeo, serve on the House Energy and Commerce Committee, which has jurisdiction over GE labeling.
Pompeo was the second-largest recipient of these campaign contributions, and Monsanto's own PAC was the most generous PAC contributor.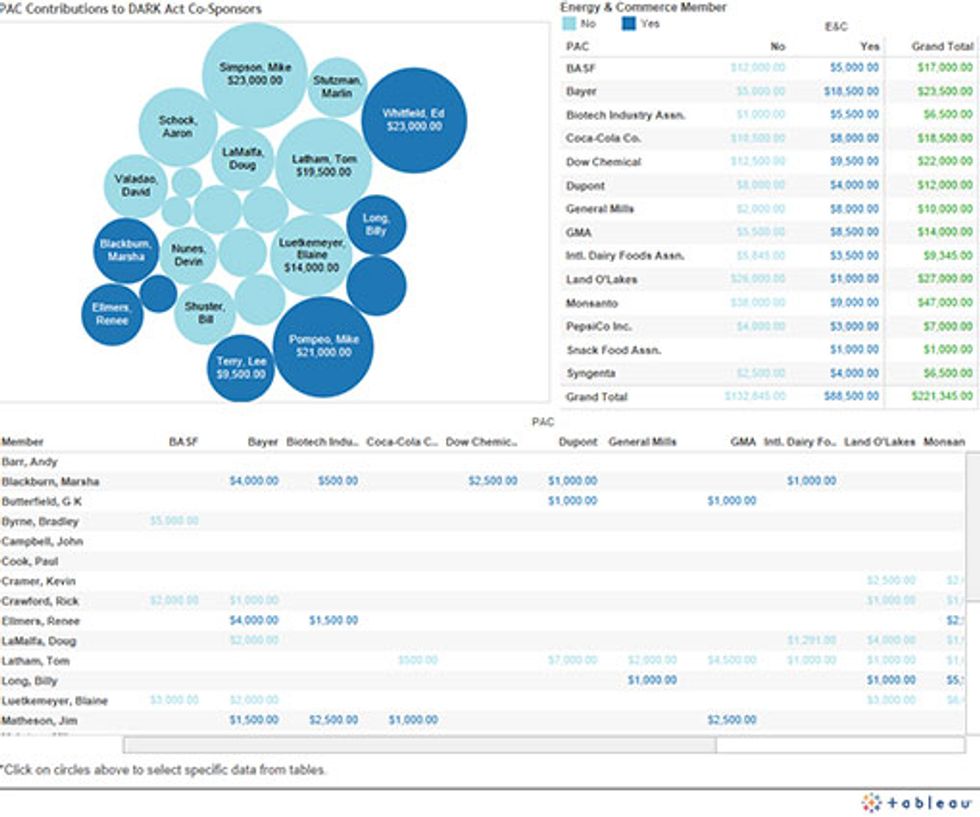 In addition to disclosing $18.4 million in lobbying expenditures that made reference to GE labeling in 2013 and the first quarter of 2014, GE labeling opponents spent $67.9 million to defeat ballot initiatives in California and Washington. Environmental Working Group did not tally funds expended to lobby state legislatures.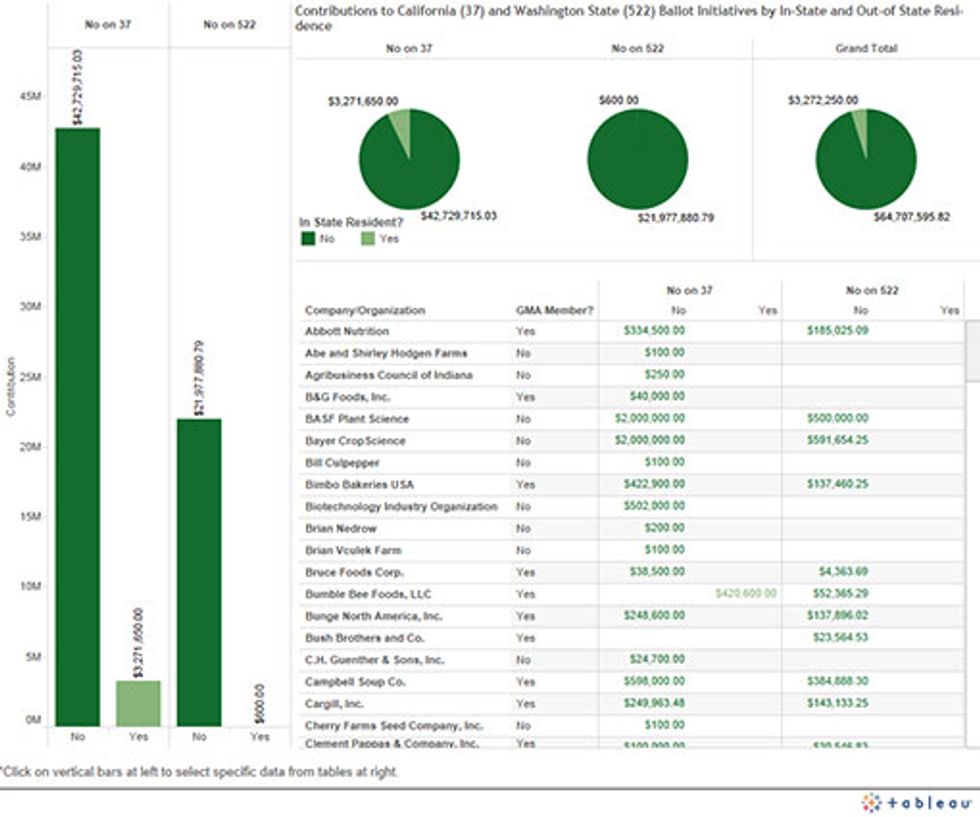 The DARK Act would block any state from requiring GE labels on packaged foods. In addition, it would also allow foods containing genetically engineered ingredients to be labeled as "natural" and limit the Food and Drug Administration (FDA)'s ability to mandate GE labeling nationally.
Instead, the DARK Act would codify existing FDA rules that permit voluntary GE and non-GE labels. To date, no food manufacturer has voluntarily disclosed the presence of GE ingredients in its products.
Americans overwhelmingly support the right to know whether there are genetically engineered ingredients in their food, and recent polls in Oregon and Colorado found that more than three-quarters of voters in those states feel the same way.
You Might Also Like
'Big Food' Ready for Costly Battle as States Consider GMO Labeling Bills
GMO Grass: Coming to a Lawn Near You?
Wave of GMO Labeling Victories Emboldens Movement to Take Back Food Democracy
Mark Lynas—maybe the most famous apologist for GMO foods ever—this week urged a gathering of food and biotech industry employees to stop battling the growing movement to label foods made with genetically engineered ingredients.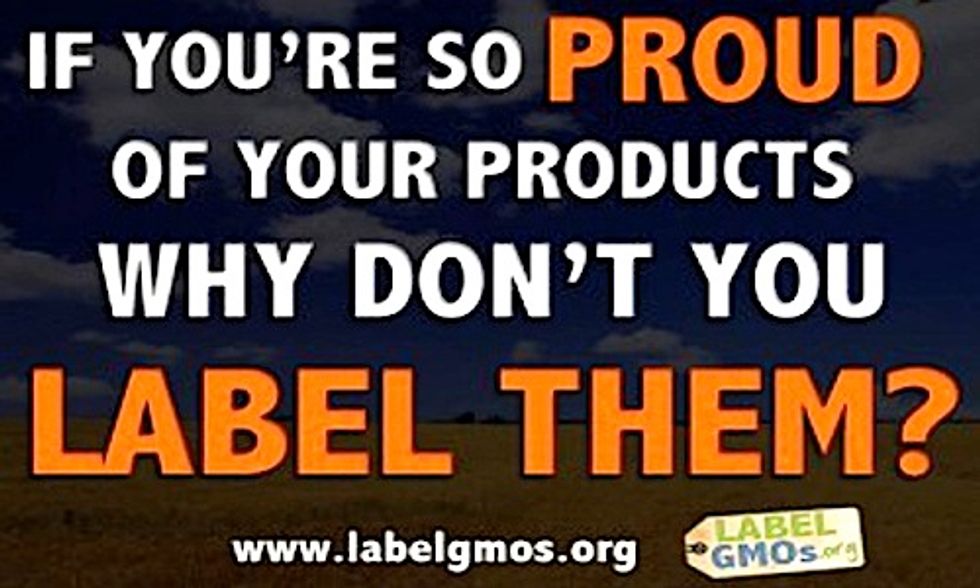 Lynas shocked his audience, convened for a food packing and processing confab called the Center for Food Integrity Summit, when he dropped this bomb about half way through his speech: 
People are getting increasingly scared of GMOs precisely because the industry is fighting a rearguard battle not to tell people which foodstuffs contain them. [The industry's tactic] has to be the worst PR strategy ever: can you think of a single analogy where an industry uses every media tool, every electoral and legal avenue possible to stop people knowing where their own products are used? This is the opposite of advertising—instead of telling people about the benefits of your product and encouraging them to seek it out, you have to smuggle your core products into peoples' shopping baskets so that they can only buy them either unknowingly or by mistake. Does anyone here [think] this is a winning strategy? ... You have to stop opposing labeling. Instead, you have to embrace the consumer right to know.
We could not agree more: it's hard to think of an American activity other than, say, the intelligence community, that works harder and spends more money trying to hide its very presence from the public.
Survey after survey shows that the overwhelming majority of Americans support labeling of GMOs. A recent poll commissioned by the Just Label It campaign found that fully 93 percent of Democrats, 90 percent of Independents and 89 percent of Republicans favor labeling.
As Lyans put it to his biotech audience, "You cannot, you should not, fight against democracy. What consumers want is transparency—and you must deliver this to them. Do not dig yourselves deeper into the wrong side of a winning argument."
Lynas and Just Label It make the same point. Whether you're pro or anti-GMO, you can still be on the side of consumers and support their right to know what's in their food. Major food companies argue that genetic engineering is the only real solution to providing enough food to feed the globe. That's debatable, as is Monsanto's claim that genetic engineering is perfectly safe for human health. Still, if they believe in their products, then they should embrace them and shout from the rooftops about the benefits of their genetically manipulated foods. And, they should proudly stamp labels on all of the edibles made with their laboratory creations.

Kaye Spector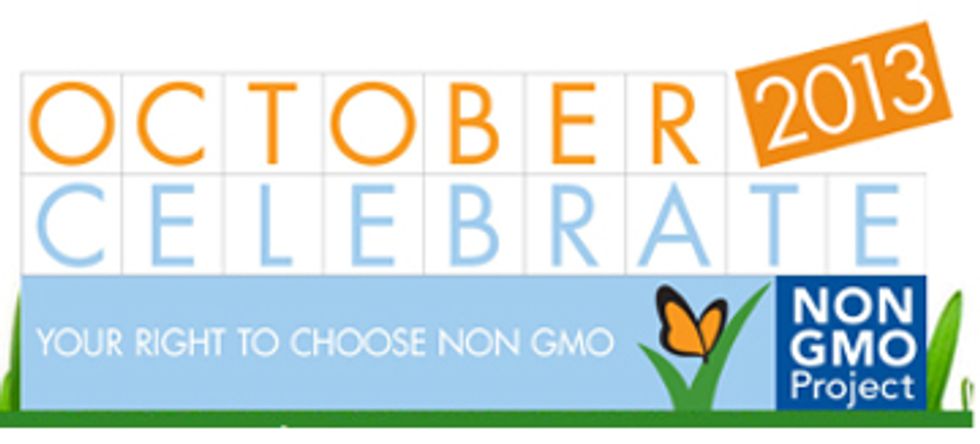 The Non-GMO Project is celebrating the third annual Non-GMO Month during October against a backdrop of rising consumer and manufacturer demand for non-GMO product labeling.
Demand for the label has gotten so high that the board overseeing the certification program recently decided to expand it. Sales of non-GMO labeled products have reached more than $3.5 billion in the three years since the launch of the label.
At the same time, U.S. retail sales of non-GMO foods and beverages are projected to increase at a compound annual growth rate of 12.9 percent in the next five years, Packaged Facts predicted in a recent report. Non-GMO sales could represent 30 percent of the U.S. market with a value of $264 billion in 2017, the report said. 
GMOS are plants or animals that have been genetically engineered with DNA from bacteria, viruses or other plants and animals. These experimental combinations of genes from different species cannot occur in nature or in traditional crossbreeding. In the U.S., GMOs are in up to 80 percent of conventionally processed food.
More than 80 percent of GMOs grown worldwide are engineered to tolerate herbicides. As a result, use of toxic herbicides like Roundup has increased 15 times since GMOs were introduced. GMO crops are also responsible for the emergence of super weeds and super bugs that can only be killed with more toxic poisons like 2,4-D (a major ingredient in Agent Orange). Scientists have linked these poisons to an often-fatal immune system cancer in farmers, among other adverse effects.
The long-term impact of GMOs are unknown, and they cannot be recalled once released into the environment.
The Non-GMO Project confers the labeling for non-GMO food and products. The group is North America's only third-party verification organization. 
The organization was formed in the absence of mandatory labeling by the government. But in 2013, 26 states proposed measures that would mandate clear labeling of genetically engineered ingredients on food packages. The hottest battle ground right now is in Washington state, where on Nov. 5, voters will decide on Proposition I-522, a citizen initiative that would mandate GMO labeling. The measure has pitted consumer and farmers' advocates against the multibillion-dollar agribusiness corporations.
Non-GMO Month was created to raise awareness about genetically modified organisms. Last year, more than 1,500 stores participated in Non-GMO Month in communities across the U.S. and Canada.
How to celebrate Non-GMO Month? Read up on the topic, choose food and products that are Non-GMO Verified or check out some events and activities.

By Luís Ferreirim
What had been brewing for weeks following various hints and tips was finally confirmed last week when Monsanto announced it would cease the marketing of new genetically engineered seeds (GE) in the European Union.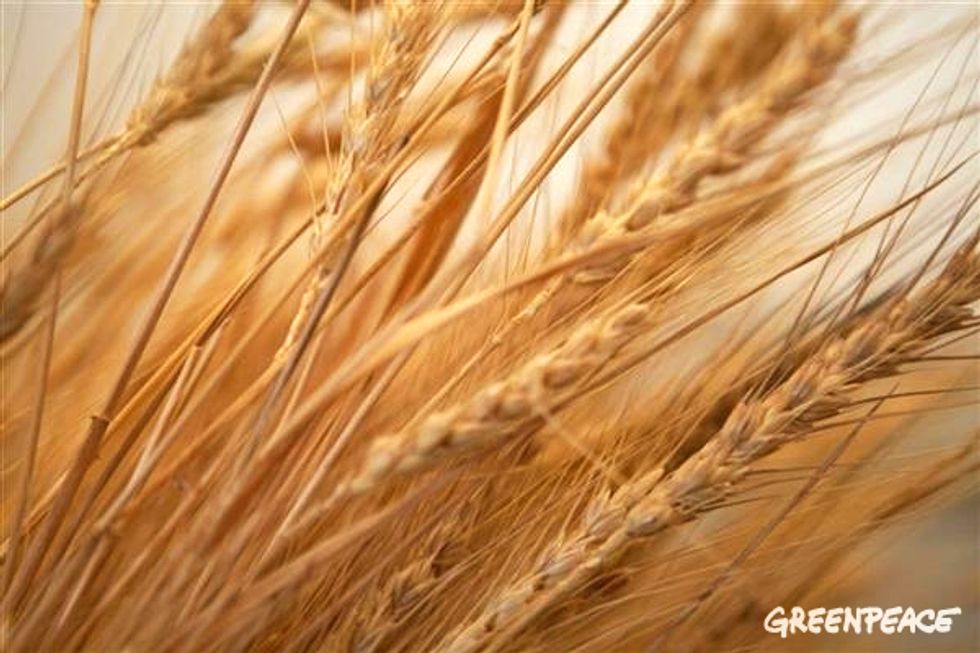 The world's largest seed company had already sent signals in May that it would no longer lobby the EU to approve cultivation of its GE seeds, but we were waiting for an official confirmation before we could really believe it.
Monsanto and other biotech industries have tried for years to make us believe that GE crops are the answer to many of the world's problems, such as hunger and climate change. However, these GE seeds have been nothing more than empty promises giving us mainly crops that have further increased reliance on pesticides without any clear gains in the amount of food produced.
There is also growing resistance around the world against the use of GE products. A recent poll in the EU shows that 95 percent of EU citizens agree that "the right thing to do" is to use products that are respectful of the environment.
Furthermore, using GE crops also poses environmental problems because these types of crops can't be controlled and would inevitably end up in the environment with consequences that are hard to foresee.
It is increasingly clear that the U.S. farmers who choose to grow GE seeds are having huge problems. Experiences after a decade of growing herbicide-tolerant crops such as Monsanto's RoundupReady soy and corn are bad news for the environment, biodiversity and the farmers who grow them; they mean more toxic herbicides, more expensive seeds and lower yields.
In 2012, Greenpeace produced the documentary, Growing Doubt, in co-operation with farmers and non-governmental organizations in the U.S. and Argentina, to warn EU politicians and farmers about Monsanto's GE crops.
However, the GE battle in Europe is far from over. The EU-wide authorization for the cultivation of MON810, a genetically engineered maize variety and the last genetically engineered crop currently grown in Europe, expired in 2008, after a 10-year period. The long-awaited reassessment of MON810 is now five years overdue. The European Commission should announce its decision shortly and will determine whether Europe will be entirely GE-free in the near future or not.
Greenpeace will continue promoting ecological farming as a food production model that respects the environment and delivers enough healthy food for ourselves and future generations, without relying on genetic engineering or harmful chemical inputs.
As we have said before, sooner or later, the GE goliath will fall.
Monsanto's decision last week is a clear sign that the giant is shaken. It's good news for science and research in Europe. For 30 years, global agriculture research and development on GE seeds has wasted time, effort, research resources and political attention for no gain.
Hopefully this move now means that the EU can come up with some real solutions for European agriculture in the 21st century. The world needs solutions based on agro-ecological science, including modern seeds varieties without GE, that can produce enough food for all, while benefiting farmers and protecting the environment.
We will not back down, nor will we stop. We urge politicians, food producers, farmers, to reflect deeply and turn to ecological farming as the only way to keep our planet and people healthy.
Visit EcoWatch's GE FOOD page for more related news on this topic.

By Katherine Paul and Ronnie Cummins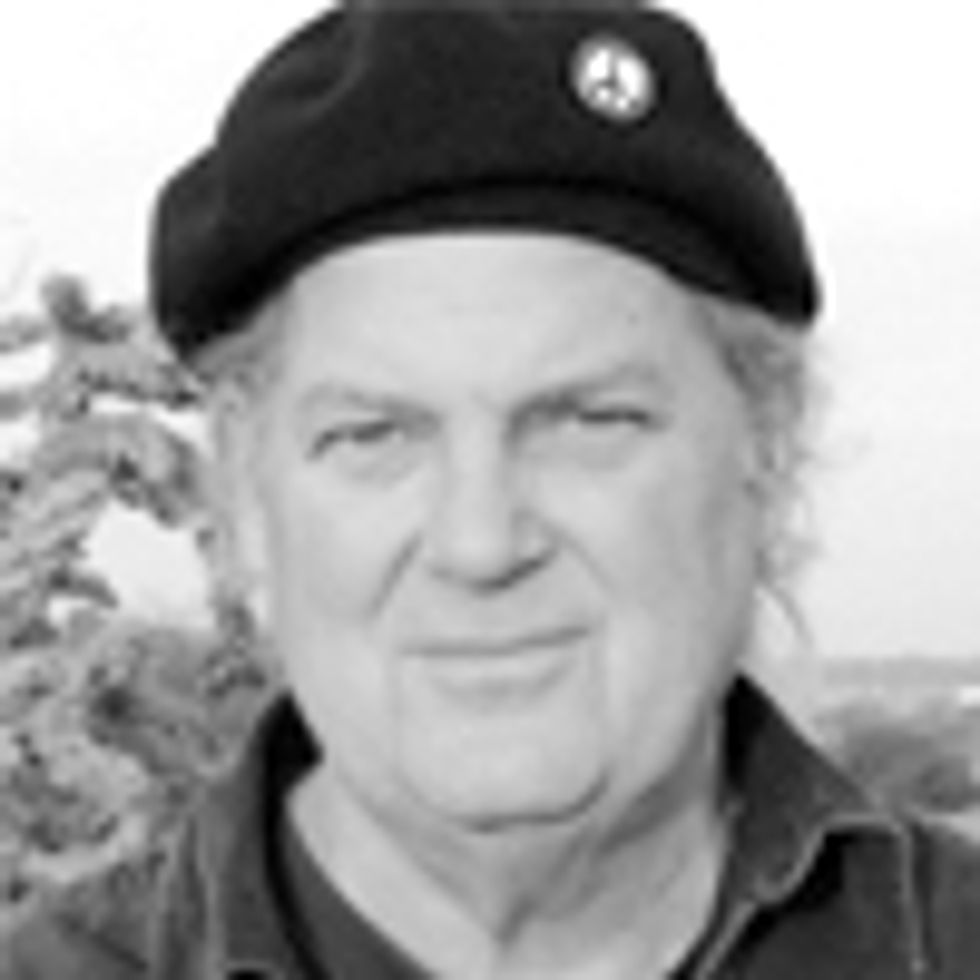 If you think the U.S. government is doing a sub-par job of keeping your food safe, brace yourself. You could soon be eating imported seafood, beef or chicken products that don't meet even basic U.S. food safety standards. Under two new trade agreements, currently in negotiation, the U.S. Food and Drug Administration could be powerless to shut down imports of unsafe food or food ingredients. And if it tries, multinational corporations will be able to sue the U.S. government for the loss of anticipated future profits.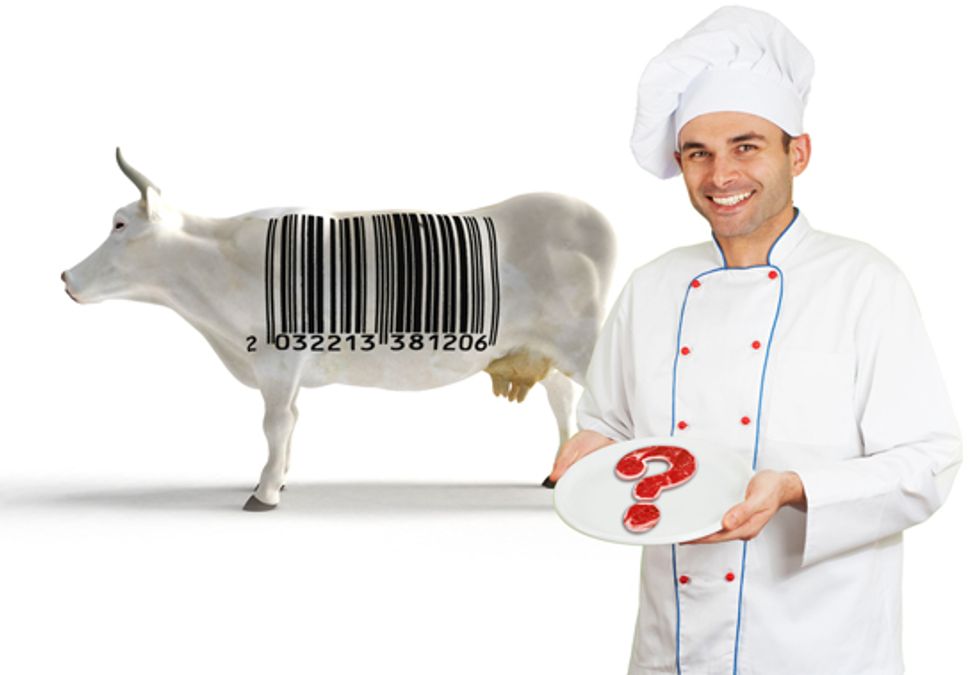 Photo courtesy of Shutterstock
More frightening? Negotiations for both agreements are taking place behind closed doors, with input allowed almost exclusively from the corporations and industry trade groups that stand to benefit the most. And the Obama Administration intends to push the agreements through Congress without so much as giving lawmakers access to draft texts, much less the opportunity for debate.
Designed to grease the wheels of world commerce, the Trans-Atlantic Trade and Investment Partnership (TTIP) and the Trans-Pacific Partnership (TPP) would force the U.S. and other participating countries to "harmonize" food safety standards. That means all countries that sign on to the agreement would be required to abide by the lowest common denominator standards of all participating governments. So for instance, say Vietnam allows higher residues of veterinary antibiotics in seafood than the U.S. allows, and Vietnam and the U.S. both sign on to the TPP. As a trade partner, the U.S. could be forced to lower its standards to allow for imports of seafood from Vietnam—or face a lawsuit by the seafood exporter for depriving the company of future sales of its products in the U.S.
The U.S. has already had a taste of this type of policy under the North American Free Trade Act. In 2005, the Canadian Cattlemen for Fair Trade sued the U.S. the U.S. government for banning imports of beef and live Canadian cattle after a case of mad cow disease was discovered in Canada. In the end, the U.S. prevailed, but not until it had spent millions to defend itself in court. Mexico wasn't so fortunate when three companies (Corn Products International, ADM/Tate & Lyle and Cargill) sued the Mexican government for preventing imports of high fructose corn syrup. Mexico lost all three cases, and was forced to pay out a total of $169.18 million to the three firms.
Among the many gifts to Big Ag contained in the TTIP and TPP include back-door entry for their genetically modified seeds and crops. Countries, including those in the European Union, could find it increasingly difficult to ban, or even require the labeling of, genetically modified organisms (GMOs), if biotech companies determine that those countries' strict policies restrict fair trade and infringe on the companies' "rights" to profit.
The TTIP and the TPP are, individually and combined, two of the largest free trade agreements in world history. According to the Citizens Trade Campaign (CTC), the TPP alone covers 40 percent of the global economy. That percentage will likely grow, because the agreement allows for other countries, besides the 12 currently involved, to "dock on" after the agreement is in place.
Both the TTIP and TPP could have dangerous consequences for food safety in the U.S., and around the world. But they're not limited to food or agriculture policy. Both also contain sweeping policies that could affect everything from the environment and sustainability, to healthcare, Internet freedom and the financial markets. Given the potential of these agreements to shape global policy on so many fronts, it's reasonable to assume that negotiators would actively solicit, and take into careful consideration, input from the affected parties, including consumers, farmers and governments. Instead they've taken the opposite approach. From day one, negotiations for the TTIP and TPP have been shrouded in secrecy. The public and participating governments, including the U.S. Congress, have been shut out of the negotiating process, denied access to everything from early proposals to final draft texts.
Why the secrecy? The Obama Administration wants as little public debate as possible, so it can ram the agreements through Congress using something called "Fast Track." Fast Track, a product of the Nixon presidency, strips Congress of its authority to control the content of a trade deal and hands that authority over to the executive branch. Congress gets a vote, but only after the negotiations have been completed, and the agreements have been signed. No debate. No amendments. Just a fast, forced vote, too late for Congress to have any influence. According to the CTC, two-thirds of Democratic freshmen in the U.S. House of Representatives have expressed serious reservations about the TPP negotiations and the prospect of giving Fast Track authority to the President. And more than 400 organizations representing 15 million Americans have already petitioned Congress to do away with Fast Track in favor of a more democratic approach to trade agreement negotiations. So far those pleas have fallen on deaf ears.
If the public is shut out, and Congress gets no say, who gets a seat at the table? Corporations. That's right. The Obama Administration is trusting corporations like Dow AgroSciences, Cargill and DuPont, and trade groups like the Pork Producers Council and Tobacco Associates, Inc., to write food safety policies. In all, more than 600 corporations have been given access to drafts of various chapters of the TPP. Requests for the same level of access, from members of Congress and from the public, have been denied.
No wonder then that, according to leaked drafts obtained by groups like the CTC, Public Citizen and the Institute for Agriculture and Trade Policy, the TPP contains proposals designed to give transnational corporations "special rights" that go far beyond those possessed by domestic businesses and American citizens, says Arthur Stamoulis, executive director of the CTC. Experts who have reviewed the leaked texts say that TPP negotiators propose allowing transnational corporations to challenge countries' laws, regulations and court decisions, including environmental and food safety laws. Corporations will be allowed to resolve trade disputes in special international tribunals. In other words, they get to do an end run around the countries' domestic judicial systems, effectively wiping out hundreds, if not more, domestic and international food sovereignty laws.
U.S. consumers aren't the only ones who should be up in arms about these trade agreements, the secrecy around their negotiations and the Obama Administration's intent to fast-track them. Under the TTIP and TPP, consumers in countries that have stricter food safety regulations than those in the U.S. will see their standards lowered, too. For instance, Japan prohibits the use of peracetic acid to sterilize vegetables, fruits and meat, while the U.S., Canada and Australia allow it. Japan's health ministry, in anticipation of the TPP, has said the country will add the acid to its approved list. In all, Japan has approved only about 800 food additives, to the more than 3,000 approved in the U.S. Japan's consumers could soon see a sudden reversal of laws enacted to protect their health.
European consumers will also suffer. Europe has long used the precautionary principle to ban ractopamine in meat, chlorine rinses of poultry and the use of rBGH growth hormone in milk production. Under the TTIP, Europe could be forced to allow all three in order to meet the lowest common denominator rule. The precautionary principle removes the burden of proof from policymakers, allowing them to make discretionary decisions in situations where there is the possibility of harm, given the lack of scientific proof to the contrary. But that principle flies out the window under TTIP rules.
The Organic Consumers Association is urging consumers to petition President Obama and U.S. Trade Representative Michael Froman to release the draft texts of the TTIP and TPP, and encourage full and open debate on the policies contained in both agreements. The petition also asks President Obama to end the Fast Track option, and grant Congress the ability to debate and amend the agreements, before voting on them.
With the world's food supply and consumers' health already endangered by chemical-intensive industrial agriculture and climate change, the U.S. and other governments should be looking for ways to promote sustainable food and agriculture policies, not restrict governments' abilities to do so. Instead, the Obama Administration is subverting the principles of democracy in favor of handing a few transnational corporations unprecedented power to put profits above the health and well being of consumers.
Visit EcoWatch's FOOD page for more related news on this topic.

By Janet Cotter
There's been a lot of "noise" recently about how genetically engineered (GE) crops can help "feed the world" and that they can help agriculture in a climate-affected world. But are these promises real or just hype?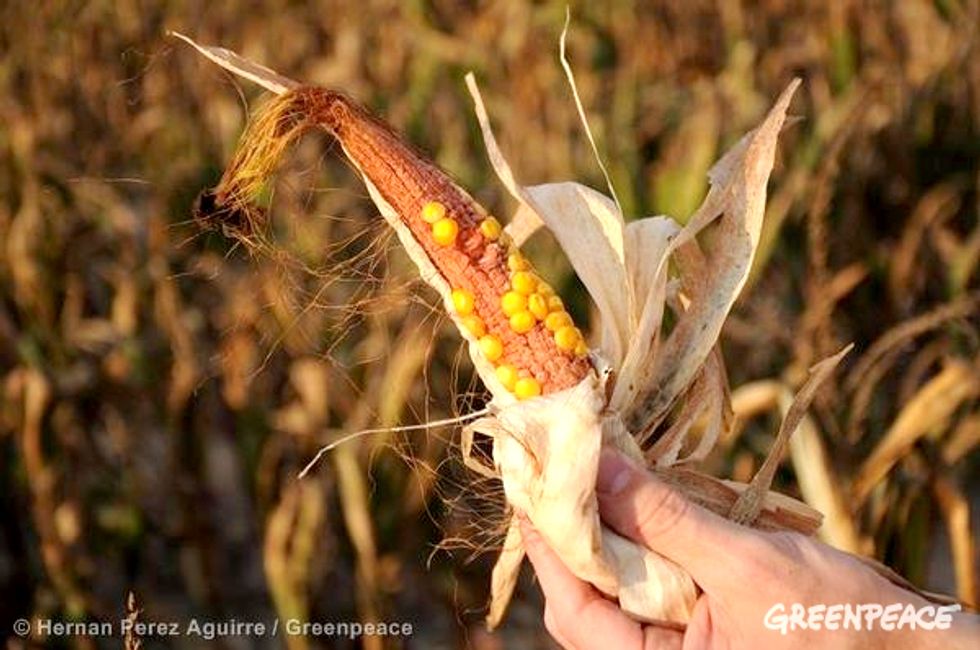 If we look at recent studies, they actually highlight the failures of GE technology to deliver on its promises, and the mounting evidence that agricultural productivity is better served by a focus on ecological agriculture1. For instance, the latest study by the University of Canterbury, New Zealand found that:
Despite the claims that GE might be needed to feed the world, we found no yield benefit when the United States was compared to West Europe, other economically developed countries of the same latitude which do not grow GE crops.
This is not altogether surprising as there simply are no GE crops designed to increase yield. They do not exist.
The majority of currently existing GE crops—for example Monsanto's "Roundup Ready" GE soya—are herbicide tolerant, which allow herbicides to be sprayed liberally, killing all plants apart from the GE crop. This is not good for biodiversity because it affects animals such as birds2 and insects3 by reducing the abundance of plants that they feed on. This might also include bees, adding pressure to already declining populations.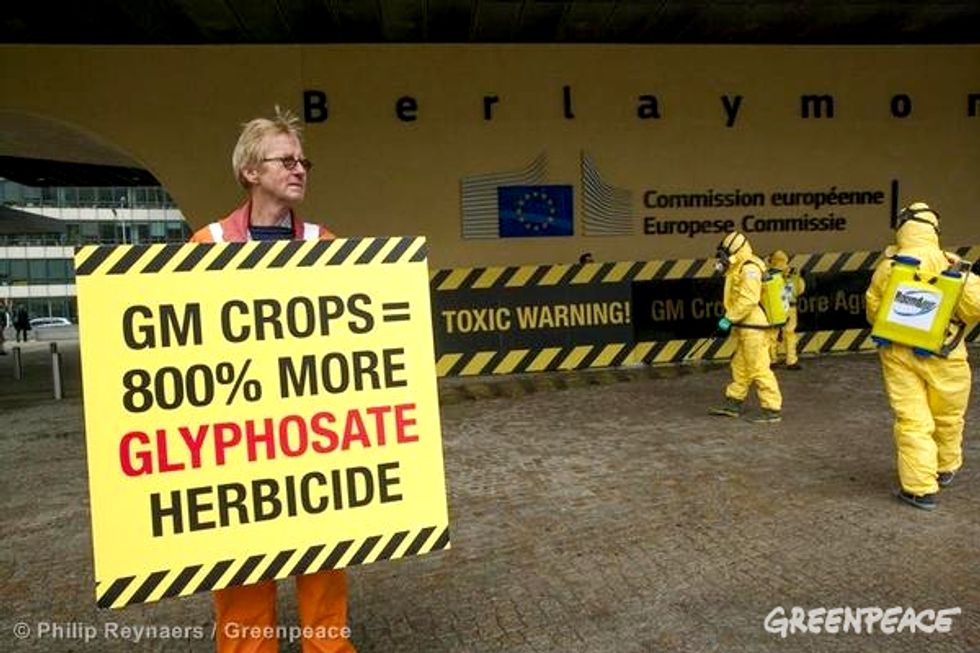 The remainder of GE crops are mostly insect resistant and produce their own pesticide (for example GE Bt corn). These are also not good for biodiversity as these GE crops can kill other insects such as butterflies4. Problems of insect resistance5 and other, secondary6 insect pests, mean that farmers have to continue spraying pesticides with GE Bt crops. With GE crops, farmers are still on the pesticide treadmill.
The reality is that the promised "beneficial" GE crops are stuck at the development stage in the lab. The reason is that scientists are finding that the traits we need to help crops to cope with climate change (e.g. heat tolerance) or increased nutrition (e.g. enhanced vitamins) are actually quite complex and controlled by several genes. Genetic engineering is a crude technology and is no match the tightly controlled network regulating gene expression in cells. For example, "Golden" rice, a GE rice variety, is still in development after 20 years, largely because of the complexity of the genetic engineering.
Meanwhile, advances in conventional breeding mean that several of the crops promised by genetic engineering are already in farmer's fields. For example, both flood and drought tolerant rice are already in farmer's fields and drought resistant maize is available in many parts of Africa where it's needed. Nutrient enhanced crops also exist already—without using genetic engineering but a more sustainable solution is to improve access to a healthy and diverse diet.
It's clear that GE crops are not capable of producing the crops that farmers and consumers need, whilst the quiet revolution in conventional breeding techniques is already producing these crops.
GE crops are stuck with two simple traits: herbicide tolerance and insect resistance. These do not help to "feed the world", but pose threats to human and animal health, as well as biodiversity.
Visit EcoWatch's GE FOOD page for more related news on this topic.
1 Heinemann, JA et al. 2013. Sustainability and innovation in staple crop production in the US Midwest, International Journal of Agricultural Sustainability: DOI:10.1080/14735903.2013.806408
1 Jacobsen SE et al.2013. Feeding the world: genetically modified crops versus agricultural biodiversity. Agronomy for Sustainable Development: DOI 10.1007/s13593-013-0138-9
1 Quist DA et al. 2013. Hungry for Innovation: pathways from GM crops to agroecology. Ch. 19 in: European Environmental Agency (EEA) Late lessons from early warnings: science, precaution, innovation. Vol. 2. EEA Report no 1/2013 pp. 490-517
2 Heard MS et al. 2003a. Weeds in fields with contrasting conventional and genetically modifies herbicide-tolerant crop – I. Effects on abundance and diversity. Philosophical Transactions of The Royal Society London B 358: 1819-1832; Heard MS et al. 2003b. Weeds in fields with contrasting conventional and genetically modified herbicide-tolerant crops. II. Effects on individual species. Philosophical Transactions of The Royal Society London B 358: 1833-1846
3 Pleasants JM & Oberhauser KS 2012. Milkweed loss in agricultural fields because of herbicide use: effect on the monarch butterfly population. Insect Conservation and Diversity doi: 10.1111/j.1752-4598.2012.00196.x
4 Dively GP et al. 2004. Effects on monarch Butterfly larvae (Lepidoptera: Danaidae) after continuous exposure to Cry1Ab expressing corn during anthesis. Environmental Entomology 33: 1116-1125
5 Tabashnik B et al. 2013. Insect resistance to Bt crops: lessons from the first billion acres. Nature Biotechnology 31: 510-521
6 Catangui MA & Berg RK 2006.Western bean cutworm, Striacosta albicosta (Smith) (Lepidoptera : Noctuidae), as a potential pest of transgenic Cry1Ab Bacillus thuringiensis corn hybrids in South Dakota Environmental Entomology 35 1439-1452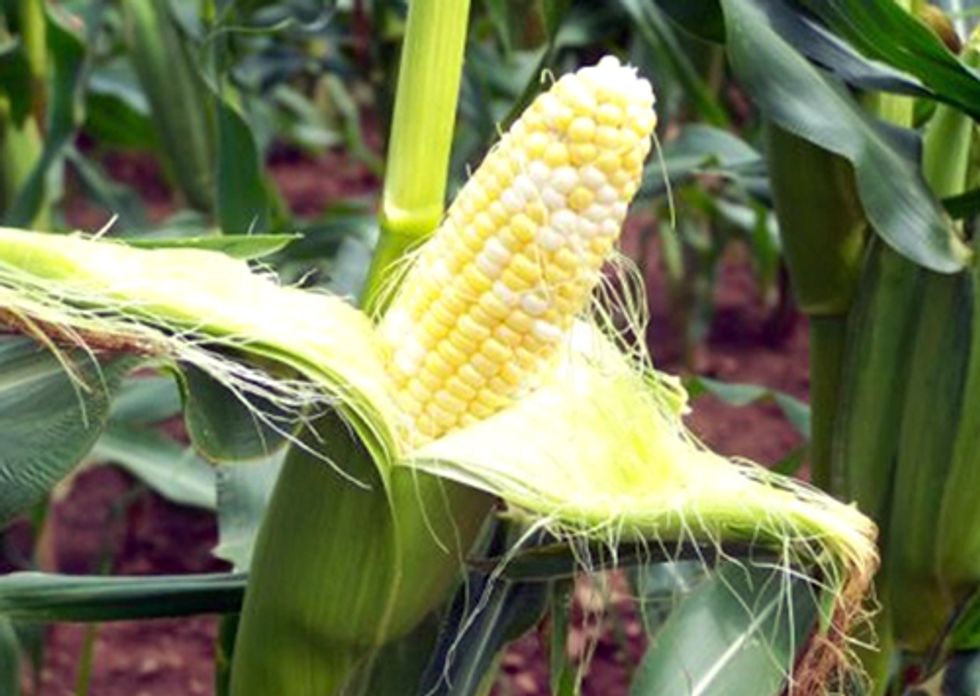 More than 140 groups and 365,000 citizens from across the country are urging the U.S. Department of Agriculture (USDA) to reject a Dow Chemical application seeking approval of a controversial genetically engineered (GE) corn that is resistant to the hazardous herbicide 2,4-D. In addition to the public comments, 143 farm, environmental, health, fisheries groups and companies will submit a letter to USDA Secretary Tom Vilsack expressing their overwhelming opposition to this crop. The comments and letter will be submitted when USDA's public comment period ends on April 27.
"American agriculture stands at a crossroads. One path leads to more intensive use of old and toxic pesticides, litigious disputes in farm country over drift-related crop injury, less crop diversity, increasingly intractable weeds, and sharply rising farmer production costs," said Andrew Kimbrell, executive director of the Center for Food Safety. "This is the path American agriculture will take with approval of Dow's 2,4-D resistant corn, soybeans and the host of other new herbicide-resistant crops in the pipeline. Another path is possible, but embarking upon it will take enlightened leadership from USDA."
According to agricultural scientist Dr. Charles Benbrook, widespread planting of 2,4-D resistant corn could trigger as much as a 30-fold increase in 2,4-D use on corn by the end of the decade, given 2,4-D's limited use on corn at present. Overall 2,4-D use in American agriculture would rise from 27 million lbs. today to more than 100 million lbs. 2,4-D soybeans and cotton would boost usage still more. Yet USDA has provided no analysis of the serious harm to human health, the environment or neighboring farms that would result.
"It's clear that this new generation of GE herbicide-resistant seeds is the growth engine of the pesticide industry's sales and marketing strategy," said Marcia Ishii-Eiteman, senior scientist at Pesticide Action Network. "These seeds are part of a technology package explicitly designed to facilitate increased, indiscriminate herbicide use and pump up chemical sales."
In addition, 35 medical and public health professionals have signed a letter to USDA warning of the severe health harms that would likely accompany the massive increase in 2,4-D use, expected to accompany approval of the GE seed. "Many studies show that 2,4 D exposure is associated with various forms of cancer, Parkinson's Disease, nerve damage, hormone disruption and birth defects," said Wenonah Hauter, executive director of Food & Water Watch. "USDA must take these significant risks seriously and reject approval of this crop."
American farmers are also rightly concerned that the introduction of 2,4-D resistant corn will threaten their crops. 2,4-D drift is responsible for more episodes of crop injury than any other herbicide. Last week, a coalition representing more than 2,000 farmers and groups filed petitions with the USDA and the EPA, asking USDA to conduct a thorough environmental review before making a decision on approving 2,4-D resistant corn and EPA to convene an advisory panel to examine impacts from increased application of the herbicides.
"Farmers are on the front lines of this potential chemical disaster," said Iowa conventional corn and soybean farmer George Naylor. "Conventional farmers stand to lose crops while organic farmers will lose both crops and certification, resulting in an economic unraveling of already-stressed rural communities. I'm also very concerned about the further pollution of the air and water in my community."
"USDA must stand up for those growing America's food and put their interests, and the public's, ahead of chemical companies' profits," added Margot McMillen, an organic farmer in Missouri. Hers is the message of farmers who spoke on this issue at an April 26 national telepress conference organized by the National Family Farm Coalition.
Dow's 2,4-D resistant corn is a clear indication that first-generation GE, herbicide-resistant crops—specifically Monsanto's Roundup Ready (RR) varieties—are rapidly failing. RR crops, which comprise 84 percent of world biotech plantings, have triggered massive use of glyphosate (Roundup's active ingredient) and an epidemic of glyphosate-resistant "superweeds."
Though Dow claims 2,4-D crops are the solution to weed resistance a recent peer-reviewed study published in the prestigious journal Bioscience concludes that these new GE crops will pour oil on the fire. The study, entitled Navigating a Critical Juncture for Sustainable Weed Management, suggests new GE crops will trigger an outbreak of still more intractable weeds resistant to both glyphosate and 2,4-D.
2,4-D drift and runoff also pose serious risk for environmental harm. The U.S. Environmental Protection Agency (EPA) and the National Marine Fisheries Service have found that 2,4-D is likely having adverse impacts on several endangered species, including the California red-legged frog, the Alameda whipsnake, and Pacific salmon, via impacts on their habitats and prey.
"EPA recently denied our petition to ban or control 2,4-D, putting their head in the sand instead of protecting people and plants," said Mae Wu, a health attorney at the Natural Resources Defense Council (NRDC). "If USDA now grants Dow's application, farmers, gardeners, wildlife and kids will all face even greater exposure to this toxic herbicide."
If approved, the Center for Food Safety has vowed to challenge USDA's decision in court, as this novel GE crop provides no public benefit and will only cause serious harm to human health, the environment, and threaten American farms.
The groups submitting public comments to USDA include the Center for Food Safety, Pesticide Action Network, Food & Water Watch, Food Democracy Now, the National Family Farm Coalition, Organic Farming Research Foundation, the Organic Consumers Association, SumOfUs.org, the Sierra Club and the Natural Resources Defense Council.
For more information, click here.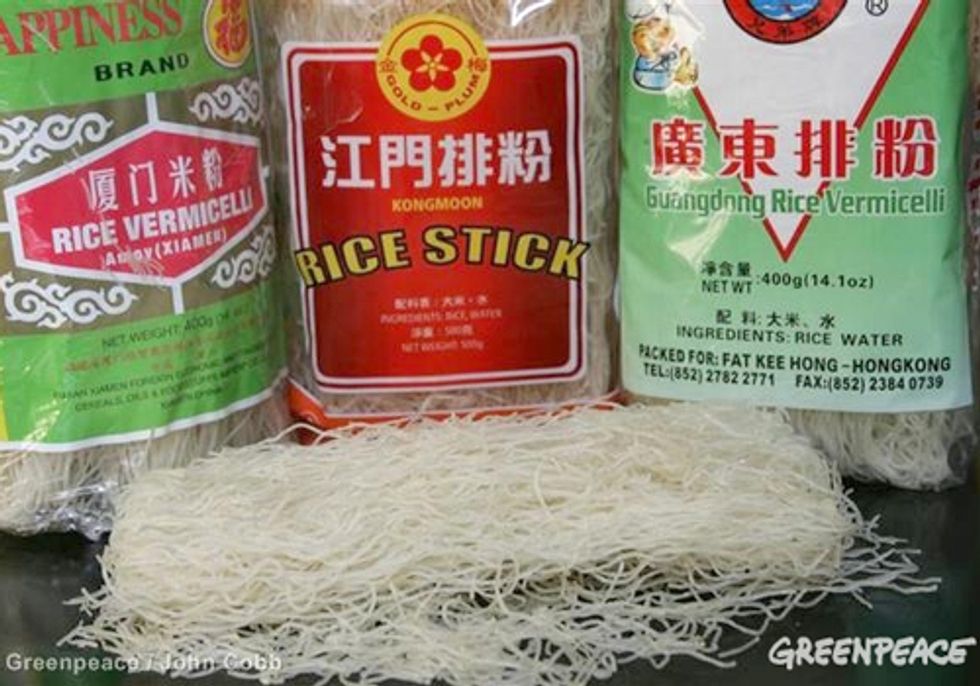 Recently, China proposed to legislate against genetically engineered (GE) grains. This means that staple foods such as rice cannot be researched, planted or sold on the Chinese market, nor can it be exported.
Greenpeace China has campaigned against GE rice since 2004, and in September 2011, the Chinese government announced the suspension of GE rice and wheat commercialisation. That was the first nail in the GE coffin. This time the Chinese have gone a step further and put a legislative proposal on the table.
In the past few years other Asian countries have said no to GE foods as well. India made a ground-breaking decision by putting a moratorium on the approval of Bt Brinjal (eggplant) in 2010 and in 2011 the Thai government decided to keep its rice GE-free.
Other Asian countries, such as the Philippines and Bangladesh are currently in the process of developing and commercializing GE grains so the proposed grain law in China should send a message to decision-makers globally that GE is not welcome in Asia, which companies such as Monsanto and Bayer, regard as a key future market for their GE seeds.
Europe voiced a loud no to GE in 2009 after 1 million Europeans signed a Greenpeace petition. Annual industry figures that were recently released by the International Service for the Acquisition of Agri-biotech Applications (ISAAA), a group funded by the biotech industry to promote GM crops, confirmed the commercial failure of GE food in Europe. Only around 0.06 percent of the EU's farmland was used in 2011 to grow GE food.
While we await the legislative proposal to be passed into law, China should focus its future investments on sustainable agriculture that has the capacity of providing rice to all Chinese, just as it has in the past 7,000 years. We believe that ecological farming should be adopted as the national policy framework for food and agriculture in China and in all countries around the globe to form a solution that provides food for all.
For more information, click here.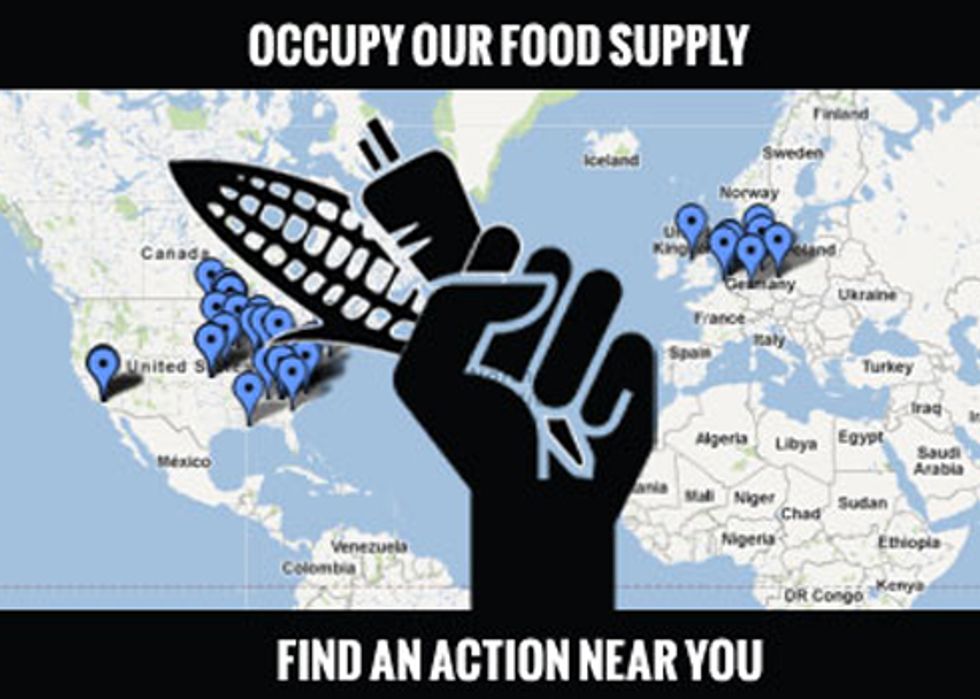 On Feb. 27, an unprecedented alliance of more than 60 Occupy groups and 30 environmental, food and corporate accountability organizations will join together for Occupy our Food Supply, a global day of action resisting the corporate control of food systems.
The call to Occupy our Food Supply, facilitated by Rainforest Action Network, is being echoed by prominent thought leaders, authors, farmers and activists including the Indian environmentalist Vandana Shiva, Food Inc.'s Robert Kenner, music legend Willie Nelson, actor Woody Harrelson, and authors Michael Pollan, Raj Patel, Anna Lappe, Gary Paul Nabhan, and Marion Nestle, among others. (See quotes in release below). The central theme uniting this diverse coalition is a shared sense of urgency to resist the corporate consolidation of food systems and create socially and environmentally just local solutions.
"Nothing is more important than the food we eat and the family farmers who grow it," said Willie Nelson, founder and president of Farm Aid. "Corporate control of our food system has led to the loss of millions of family farmers, destruction of our soil, pollution of our water and health epidemics of obesity and diabetes. We simply cannot afford it. Our food system belongs in the hands of many family farmers, not under the control of a handful of corporations."
From Brazil, Hungary, Ireland, and Argentina to dozens of states in the U.S., thousands of people will be participating in the Feb. 27 global day of action.  Participants will be reclaiming unused bank-owned lots to create community gardens; hosting seed exchanges in front of stock exchanges; labeling products on grocery store shelves that have genetically engineered ingredients; building community alliances to support locally owned grocery stores and resist Walmart megastores; and protesting food giants Monsanto and Cargill.
"Occupy our Food Supply is a day to reclaim our most basic life support system—our food—from corporate control. It is an unprecedented day of solidarity to create local, just solutions that steer our society away from the stranglehold of industrial food giants like Cargill and Monsanto," said Ashley Schaeffer, Rainforest Agribusiness campaigner with Rainforest Action Network (RAN).
Never have so few corporations been responsible for more of our food chain. Of the 40,000 food items in a typical U.S. grocery store, more than half are now brought to us by just 10 corporations. Today, three companies process more than 70 percent of all U.S. beef—Tyson, Cargill and JBS. More than 90 percent of soybean seeds and 80 percent of corn seeds used in the U.S. are sold by just one company—Monsanto. Four companies are responsible for up to 90 percent of the global trade in grain. And one in four food dollars is spent at Walmart.
The overwhelming support for Occupy our Food Supply underscores the unity between farmers, parents, health care professionals, human rights activists, food justice advocates and food lovers around the world who are increasingly viewing their concerns as different manifestations of the same underlying problem—a food system structured for short term profit instead of the long term health of people and the planet.
Supporting groups include—Bay Localize, Berkeley Association for Animal Advocacy, Biosafety Alliance, California Food and Justice Coalition, Chiapas Support Committee, Family Farm Defenders, Food Democracy Now, Food First, National Family Farms Coalition, PAN (Pesticide Action Network), Pesticide Watch, Planting Justice, Organic Consumers Association, Occupy Big Food, Occupy Claremont, Occupy Cargill, Occupy DC, Occupy Delaware, Occupy Denver, Occupy Farms, Occupy for Animal Rights, Occupy Fort Lauderdale, Occupy Food, Occupy Gardens Toronto, Occupy Jacksonville, Occupy Maine, Occupy MN/Seeds of Change, Occupy Monsanto, Occupy Philly (Occupy Vacant Lots), Occupy Portland, OWS-Food Justice, OWS Puppets, OWS Sustainability, Occupy Santa Cruz, Occupy SF Environmental Justice Working Group, and Occupy the Food System- Oakland, among many others.
For the full list of supporters and more information on the events planned for Occupy our Food Supply, click here.
Vandana Shiva, Indian physicist and internationally renowned activist, adds—"Our food system has been hijacked by corporate giants from the seed to the table. Seeds controlled by Monsanto, agribusiness trade controlled by Cargill, processing controlled by Pepsi and Philip Morris, retail controlled by Walmart—is a recipe for Food Dictatorship. We must Occupy the Food system to create Food Democracy."
Raj Patel, activist, academic and author of The Value of Nothing, reflects—"It's hard for us to imagine life without food corporations because they've made our world theirs. Although we think food companies make food for us, in almost every way that matters, we—and our planet—are being transformed to suit food companies. From their marketing to children and exploitation of workers to environmental destruction in search of profit, the food industry represents one of the most profound threats to sustainability we face today."
Occupy Wall Street's Sustainability and Food Justice Committees issued this statement in support of #F27—"On Monday, February 27th, 2012, OWS Food Justice, OWS Sustainability, Oakland Food Justice & the worldwide Occupy Movement invite you to join the Global Day of Action to Occupy the Food Supply. We challenge the corporate food regime that has prioritized profit over health and sustainability. We seek to create healthy local food systems. We stand in Solidarity with Indigenous communities, and communities around the world, that are struggling with hunger, exploitation, and unfair labor practices." 
"On this day, in New York City, community gardeners, activists, labor unions, farmers, food workers, and citizens of the NYC metro area, will gather at Zuccotti Park at noon, for a Seed Exchange, to raise awareness about the corporate control of our food system and celebrate the local food communities in the metro area." 
Marion Nestle, professor and author of What to Eat and Food Politics: How the Food Industry Influences Nutrition and Health, said—"While the food industry digs in to fight public health regulations, the food movement will continue to attract support from those willing to promote a healthier and more sustainable food system. Watch for more young people going into farming and more farmers' markets, farm-to-school programs, school meal initiatives, and grassroots community efforts to implement food programs and legislate local reforms. There is plenty of hope for the future in local efforts to improve school meals, reduce childhood obesity, and make healthier food more available and affordable for all."
Rukaiya Rofiq, director of the human rights organization Yayasan SETARA Jambi in Indonesia, said—"It is encouraging to see Americans connecting the dots between the food choices they make at a grocery store and the serious impacts those choices have here in Southeast Asia. When an additive like palm oil is used to make cheap crackers and cookies it gives companies a green light to expand palm plantations at all costs which is why we see community member homes bulldozed when they fight expansion, Indigenous land rights ignored, and natural rainforests completely decimated. Invisible companies like Cargill, who are profiting off the backs of Indonesians, must be held accountable in the countries they call home." 
Michael Ableman, farmer and founder of the Center for Urban Agriculture in Goleta, California, said—"We are focusing on what we are for, as much as what we are against. We are re-occupying our soils with life and fertility and our communities with good food. We are working to rebuild the real economy, one based on soil and seeds and sunlight and individuals and communities growing together."
For more information, click here.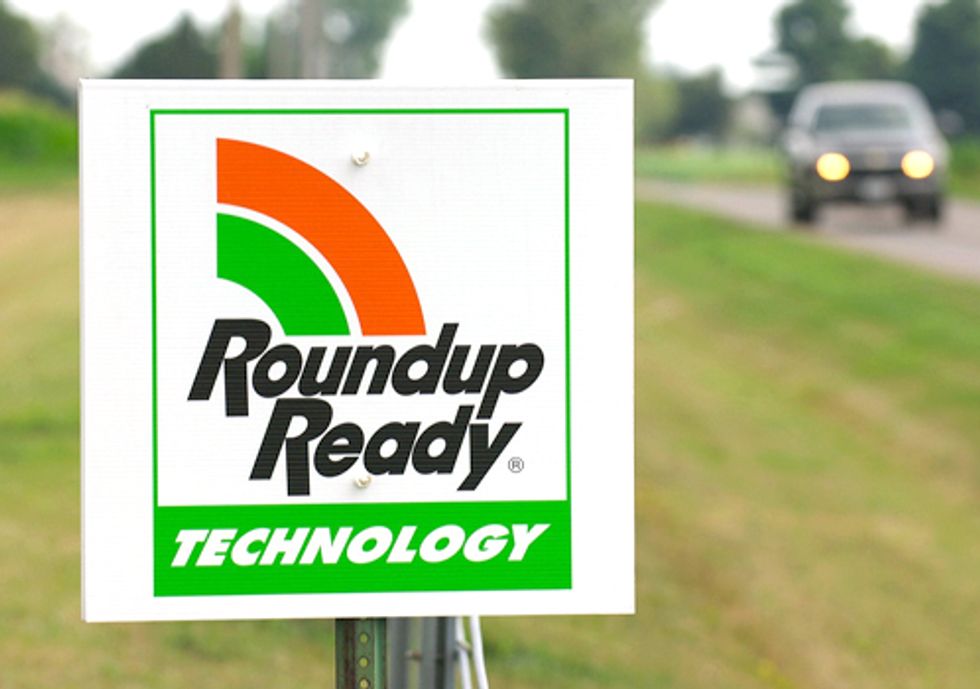 The U.S. Department of Agriculture (USDA) is currently deciding whether or not to approve an application by Dow Chemical for its controversial genetically engineered (GE) corn crop that is resistant to the highly toxic herbicide 2,4-D—one of the main ingredients in Agent Orange.
On Feb. 22, just five days before the close of the comment period, the USDA extended the public comment period on this issue until the end of April 2012. The Center for Food Safety (CFS), the nation's leading organization in the fight against GE crops, was one of the groups that requested this extension from USDA, and we are pleased the agency responded accordingly. If approved, CFS has vowed to challenge USDA's decision in court, as this novel GE crop provides no public benefit and will only cause serious harm to human health, the environment, and threaten American farms.
"Dow's 'Agent Orange' corn will trigger a large increase in 2,4-D use—and our exposure to this toxic herbicide—yet USDA has not assessed how much, nor analyzed the serious harm to human health, the environment, or neighboring farms," said Andrew Kimbrell, executive director of the Center for Food Safety. "This novel corn will foster resistant weeds that require more toxic pesticides to kill, followed by more resistance and more pesticides—a chemical arms race in which the only winners are pesticide/biotechnology firms."
If approved, millions of acres of "Agent Orange" corn could be planted as early as next year, raising concern for its adverse health impacts. 2,4-D was one of the main ingredients in Agent Orange, the chemical defoliant used by the U.S. in the Vietnam War. Agent Orange was contaminated with dioxins, a group of highly toxic chemical compounds, which are responsible for a host of serious medical conditions—from diabetes to cancer to birth defects—in Vietnam veterans as well as Vietnamese and their children. Industry's own tests show that 2,4-D is still contaminated with dioxins.
"Many studies show that 2,4 D exposure is associated with various forms of cancer, Parkinson's Disease, nerve damage, hormone disruption and birth defects," said Dr. Amy Dean, an internal medicine physician and president-elect of the American Academy of Environmental Medicine. "Because it poses significant health risk, exposure should not be increased, but significantly reduced to protect the public's health."
2,4-D drift and runoff also pose serious risk for environmental harm. Because it is such a potent plant-killer, 2,4-D can harm animals by killing the plants they depend on for habitat and food. The U.S. Environmental Protection Agency and the National Marine Fisheries Service have found that 2,4-D is likely having adverse impacts on several endangered species, even now. 2,4-D is currently used to control weeds primarily in cereal grains and lawns. Its use in corn has been extremely limited. USDA's approval of 2,4-D resistant GE corn will increase the overall use of this toxic herbicide, worsening these impacts and likely placing many other species at risk.
American farmers are also rightly concerned that the introduction of 2,4-D resistant corn will threaten their crops—2,4-D drift is responsible for more episodes of crop injury than any other herbicide. "In my experience, 2,4-D is an herbicide that can and does drift considerable distances to damage neighboring crops," said Indiana farmer Troy Roush. "We can expect greatly increased use of 2,4-D with Dow's new corn, and that could wreak havoc with soybeans, tomatoes, and other crops my neighbors and I grow."
The advent of Dow's 2,4-D resistant corn is a clear indication that first-generation genetically engineered, herbicide-resistant crops—Monsanto's Roundup Ready (RR) varieties—are rapidly failing. RR crops, which comprise 84 percent of world biotech plantings, have triggered massive use of glyphosate (Roundup's active ingredient) and an epidemic of glyphosate-resistant weeds. These resistant "superweeds" are regarded as one of the major challenges facing American agriculture.
Dow now falsely suggests that 2,4-D crops (2,4-D soybeans and cotton are also under development) are the solution to weed resistance. Far from solving the problem, however, a peer-reviewed study recently published in the prestigious journal Bioscience, entitled Navigating a Critical Juncture for Sustainable Weed Management, suggests that these new GE crops will pour oil on the fire, triggering an outbreak of still more intractable weeds resistant to both glyphosate and 2,4-D.
USDA's public comment period on 2,4-D resistant corn is open until April 27th. Comments may be submitted to the agency through CFS's action link by clicking here.
For more information on 2,4-D corn, see CFS's two-page fact sheet and more extensive Food Safety Review.
For more information, click here.
—————
The Center for Food Safety is a national, nonprofit, membership organization founded in 1997 to protect human health and the environment by curbing the use of harmful food production technologies and by promoting organic and other forms of sustainable agriculture.