More than a quarter of a million people and 500 organizations submitted comments Wednesday rejecting the commercialization of ArborGen Inc.'s genetically engineered (GE) eucalyptus trees, which, if approved, would be the first-ever GE forest tree approved in the U.S.
The U.S. Department of Agriculture (USDA) proposed approval in April 2017, releasing a draft Environmental Impact Statement (dEIS) for public comment. This comment period ended on July 5. The GE eucalyptus trees are engineered to tolerate freezing temperatures in order to greatly expand their growing range. The approval of these GE trees could set a precedent for future approval of GE forest trees such as poplar and pine.
In the dEIS, USDA downplayed or ignored the significant risks posed by these novel GE trees. The agency conservatively predicts commercial GE eucalyptus plantations would cover more than one million acres across seven southern states—from coastal South Carolina to eastern Texas. This would have devastating consequences across this region, which is home to a number of the poorest counties in the country, as well as some of the most biodiverse ecosystems in the world. The region is already precariously threatened by climate change and sprawl.
"GE eucalyptus plantations spread across the South would be a disaster," stated Dr. Marti Crouch, consulting scientist for the Center for Food Safety. "Some non-GE eucalyptus species have already become invasive and are degrading natural areas. Plants and animals, including endangered species, will be unable to find suitable habitats within landscapes dominated by GE eucalyptus. Approving these trees is a terrible idea."
Just last month in Portugal, catastrophic wildfires that killed dozens were directly blamed on eucalyptus plantations that comprise more than one-quarter of Portugal's tree cover. In January, Chile experienced the worst wildfires in its history. In both cases, eucalyptus monocultures—well-known for being extremely flammable and depleting ground water—contributed to dry conditions that combined with heat waves to create the perfect setting for wildfire. Already the U.S. South is experiencing frequent droughts and heat waves, and climate change forecasts predict more of the same. The dEIS made no mention of climate change impacts in its proposed approval of these GE eucalyptus trees.
"GE eucalyptus is being pushed for commercialization to help feed the skyrocketing demand for trees for biomass electricity," said Ruddy Turnstone, GE Trees Campaigner for Global Justice Ecology Project, and a resident of Florida in the region targeted for GE eucalyptus plantations. "But biomass is a false solution to climate change. Not only is it a major polluter, climate-stabilizing Southeastern forests are being decimated for the booming European biomass industry. GE eucalyptus plantations will only escalate this deforestation."
USDA's assurances that GE eucalyptus will not escape into native forests are fatally undercut by the U.S.'s 30-year experiment with GE crops, which have escaped containment over and over again, despite industry and USDA claims they would not. GE trees are even more likely to escape and spread than GE crops, given their much longer lives, pollination distances and the unpredictable, changing conditions that can occur over the lifespan of the trees.
"Forests are interwoven with human evolution," stated Dr. Rachel Smolker, Co-Director of Biofuelwatch and Steering Committee member of the Campaign to STOP GE Trees. "They regulate and stabilize water flow and climate, enrich soils and prevent erosion. They provide food, medicine, shelter, fuel, livelihoods, recreation and sanctuary for peoples around the world. They literally make life on Earth possible. Trees have evolved over the eons in adaptation to their native environments. Tweaking their genetics and planting them in foreign environments demonstrates an alarming lack of understanding of ecology and genetics."
Beyond the ecological impacts are the effects on local communities that will result from these GE eucalyptus plantations. "GE eucalyptus trees exemplify the unjust and unsustainable forestry model," explained BJ McManama of the Indigenous Environmental Network. "There are already hundreds of documented human rights abuses resulting from the unchecked expansion of eucalyptus plantations in Central and South America. Indigenous and traditional communities are poisoned by exposure to deadly chemicals and in some cases violently evicted from their ancestral lands. These abuses demonstrate the forest industry's blatant disregard for both people and the environment. USDA must deny this petition."
Public opposition to GE eucalyptus has been consistent and strong. In February 2013, the government released ArborGen's GE eucalyptus petition for public comment, resulting in a response of 10,000 to one opposing the GE eucalyptus trees. This was followed by the then-largest ever protest against GE trees at the Tree Biotechnology Conference in Asheville, North Carolina. In April of this year the USDA finally made public their draft findings recommending approval of ArborGen's petition, eliciting yesterday's avalanche of comments rejecting GE eucalyptus trees in the U.S. Even the dEIS itself highlights public opposition as creating risks for investors:
"An additional source of risk that extends beyond the scope of this study is the risk of some public backlash against the planting of genetically modified trees. This societal risk could affect investment choices in the same fashion as biophysical risk—i.e., increased risk would reduce the rate of adoption."

EcoWatch Daily Newsletter
ArborGen pine tree field test site in South Carolina. BJ McManama
By BJ McManama
ArborGen Corporation, a multinational conglomerate and leading supplier of seedlings for commercial forestry applications, has submitted an approval request to the U.S. Department of Agriculture, Animal and Plant Health Inspection Service to deregulate and widely distribute a eucalyptus tree genetically engineered (GE) to be freeze tolerant. This modification will allow this GE variety to be grown in the U.S. Southeast. The reason this non-native and highly invasive tree has been artificially created to grow outside of its tropical environment is to greatly expand production capacity for the highly controversial woody biomass industry.
For almost two decades, and under the radar from widespread awareness and public scrutiny, government, academia, biotech and the commercial forestry industries have invested millions of dollars into research and development (R&D) of GE trees. The few reports published about the R&D cite a major goal of many of these projects as providing a sustainable alternative for fossil fuels in the manufacture of consumer products and energy production.
Eucalyptus Trees are Not Native to North America
Eucalyptus trees grow faster, are highly combustible, and require more water than other species. Although some assurances have been given that this GE variety won't spread unintentionally, there are no guarantees this won't happen. Introduction of non-native, invasive organisms has been proven over the years to cause irreversible harm to the ecosystem they've overtaken. This is true when done either intentionally or accidentally. Some of the non-GE eucalyptus trees, planted in California years ago have proven a huge problem for native species. Efforts to eradicate them have been largely ineffective and are recently the leading cause of wildfires burning hotter and causing more damage in areas where they have grown unchecked.
If the draft environmental impact statement (DEIS) is accepted and this GE tree is deregulated, it will make it possible for these trees to be grown in industrial-sized "tree farms" from South Carolina to Texas.
More than 1 million acres of pine plantations, grasslands, pastures and once forested land could be forever altered by row after row of GE eucalyptus trees. Few other living things can survive on these plantations because all vegetation has been stripped from the land, soaked with herbicides and chemical fertilizers, and planted with row after row with thousands of unnaturally altered seedlings. Every five to seven years the trees are cut like hay and loaded on to giant tractor trailers headed to energy or feedstock processing facilities and the process from start to finish is repeated.
Other Trees in the GE Pipeline
GE eucalyptus trees won't be the only trees modified and mass produced for human demands if we don't stop this emerging biotech takeover of our natural world.
Biotech's R&D divisions and academic researchers have developed poplars and pines to grow faster, produce their own pesticides and be herbicide/pesticide resistant. Other varieties are being designed to have a weaker structure that requires less processing, and conversely some are being modified to have more density/strength for construction applications. For agro-fuel production, tree genes are being manipulated to make them easier to digest into liquid fuels, or for burning as biomass.
Creating trees for commercial applications will, in of itself, create new markets and uses for forest products. Assertions that these synthetic forests will save our precious natural forests is not realistic based on current trends and an ever-growing industry. We only need to look at the expansion of the international wood pellet market to see how demand is increasing.
U.S. southern hardwood forests are disappearing at an alarming rate due to the demand for wood pellets in the UK. Pellet production and export from the U.S. southeast has rapidly increased to keep up with demand. And will these natural forests with 100-year old hardwoods be regenerated? Doubtful, as they will most likely be replaced by mile after mile and row after row of fast growing GE trees.
Precautionary Principle Must Be Implemented
There are far too many unanswered questions regarding the risks associated with releasing millions of GE eucalyptus trees across the U.S. Southeast. Questions regarding invasion of surrounding ecosystems, chemical contamination, water depletion and human rights have to be addressed with certainty. These few questions alone precipitate a complete moratorium on approval of all genetically engineered trees and suspending all field trials until answers can be provided. Native American Tribes and front line communities must be consulted before GE tree plantations are established within their regions. Laws and regulations require agreement by all stakeholders and enforced to ensure protection from aggressive expansion tactics that have and are currently the cause of major human rights violations in developing countries.
As concerned citizens, we must voice our opposition to bio-engineering and commodification of Mother Earth's natural resources. Please tell the USDA that approval for unrestricted planting of this GE eucalyptus must be rejected while considerations are given to all of the threats known and unknown, here.
Indigenous Rights, Forests and Biodiversity
We cannot continue to support an unsustainable natural resource extraction economy that has reduced intact forested areas by an alarming 9.7 percent in the last 15 years. According to data collected, approximately 919 thousand, nearly 1 million acres of forest disappeared between 2000 and 2015. Now, add these latest statistics to millions more acres lost to centuries of clearcutting, that even today, takes place out of public purview.
Non-GE eucalyptus and oil palm tree plantations in the global south have been replacing rainforests at an unbelievably rapid pace. Eucalyptus trees have been the cause of rivers drying up and Indigenous communities losing access to clean water resources along with vital subsistence needs of traditional foods and medicines. Front line and Indigenous communities have been removed from their ancestral homelands to make way for these mega-operations, sometimes violently, and forced into work-camps or relegated to city slums.
The mega-tree farms planned for the southeast U.S. won't be located next to million-dollar homes and corporate high-rises. These most certainly will be placed on or near southeastern Native American treaty and traditional lands, and in close proximity to small communities in rural farming areas. If this happens, the people will be subjected to high concentrations of chemical fertilizers, pesticides and herbicides used for each growing cycle.
Forests are directly responsible for collecting, filtering and directing rainfall to streams, rivers and aquifers. Climate changes have reduced rainfall, and combined with warmer than normal temperatures, groundwater reserves are severely depleted. Recent droughts in the U.S. southeast have caused widespread crop failures and many areas have not yet recovered normal levels. In some areas, what reserves do remain, have shown to contain abnormally high levels of one or more toxic chemicals from industrial agriculture and other polluting industries. If monoculture tree plantation acreage is expanded as planned, human and animal health, and biodiversity will be sacrificed solely to increase corporate profits.
We can't allow the lands and resources of Indigenous and front line communities to be destroyed by large and powerful corporations, as has, and is currently happening in other countries. Click here to sign the petition to request the USDA reject this permit and reevaluate future priorities based on sound science, common sense and preserve these irreplaceable gifts of nature for the next Seven Generations to come.
BJ McManama is an organizer with the Indigenous Environmental Network for their Save Our Roots campaign to stop GE trees and a steering committee member of the International Campaign to Stop GE Trees. She can be reached by email at: [email protected].
waterlust.com / @tulasendlesssummer_sierra .
Each product featured here has been independently selected by the writer. If you make a purchase using the links included, we may earn commission.
The bright patterns and recognizable designs of Waterlust's activewear aren't just for show. In fact, they're meant to promote the conversation around sustainability and give back to the ocean science and conservation community.
Each design is paired with a research lab, nonprofit, or education organization that has high intellectual merit and the potential to move the needle in its respective field. For each product sold, Waterlust donates 10% of profits to these conservation partners.
Eye-Catching Designs Made from Recycled Plastic Bottles
waterlust.com / @abamabam
The company sells a range of eco-friendly items like leggings, rash guards, and board shorts that are made using recycled post-consumer plastic bottles. There are currently 16 causes represented by distinct marine-life patterns, from whale shark research and invasive lionfish removal to sockeye salmon monitoring and abalone restoration.

One such organization is Get Inspired, a nonprofit that specializes in ocean restoration and environmental education. Get Inspired founder, marine biologist Nancy Caruso, says supporting on-the-ground efforts is one thing that sets Waterlust apart, like their apparel line that supports Get Inspired abalone restoration programs.
"All of us [conservation partners] are doing something," Caruso said. "We're not putting up exhibits and talking about it — although that is important — we're in the field."
Waterlust not only helps its conservation partners financially so they can continue their important work. It also helps them get the word out about what they're doing, whether that's through social media spotlights, photo and video projects, or the informative note card that comes with each piece of apparel.
"They're doing their part for sure, pushing the information out across all of their channels, and I think that's what makes them so interesting," Caruso said.
And then there are the clothes, which speak for themselves.
Advocate Apparel to Start Conversations About Conservation
waterlust.com / @oceanraysphotography
Waterlust's concept of "advocate apparel" encourages people to see getting dressed every day as an opportunity to not only express their individuality and style, but also to advance the conversation around marine science. By infusing science into clothing, people can visually represent species and ecosystems in need of advocacy — something that, more often than not, leads to a teaching moment.

"When people wear Waterlust gear, it's just a matter of time before somebody asks them about the bright, funky designs," said Waterlust's CEO, Patrick Rynne. "That moment is incredibly special, because it creates an intimate opportunity for the wearer to share what they've learned with another."
The idea for the company came to Rynne when he was a Ph.D. student in marine science.
"I was surrounded by incredible people that were discovering fascinating things but noticed that often their work wasn't reaching the general public in creative and engaging ways," he said. "That seemed like a missed opportunity with big implications."
Waterlust initially focused on conventional media, like film and photography, to promote ocean science, but the team quickly realized engagement on social media didn't translate to action or even knowledge sharing offscreen.
Rynne also saw the "in one ear, out the other" issue in the classroom — if students didn't repeatedly engage with the topics they learned, they'd quickly forget them.
"We decided that if we truly wanted to achieve our goal of bringing science into people's lives and have it stick, it would need to be through a process that is frequently repeated, fun, and functional," Rynne said. "That's when we thought about clothing."
Support Marine Research and Sustainability in Style
To date, Waterlust has sold tens of thousands of pieces of apparel in over 100 countries, and the interactions its products have sparked have had clear implications for furthering science communication.
For Caruso alone, it's led to opportunities to share her abalone restoration methods with communities far and wide.
"It moves my small little world of what I'm doing here in Orange County, California, across the entire globe," she said. "That's one of the beautiful things about our partnership."
Check out all of the different eco-conscious apparel options available from Waterlust to help promote ocean conservation.
Melissa Smith is an avid writer, scuba diver, backpacker, and all-around outdoor enthusiast. She graduated from the University of Florida with degrees in journalism and sustainable studies. Before joining EcoWatch, Melissa worked as the managing editor of Scuba Diving magazine and the communications manager of The Ocean Agency, a non-profit that's featured in the Emmy award-winning documentary Chasing Coral.
The U.S. Department of Agriculture (USDA) is currently considering approval of the first genetically engineered (GE) tree for commercial use—a GE eucalyptus tree developed by the biotechnology corporation ArborGen. The tree is designed to withstand colder climates and would primarily be cultivated to provide pulp for paper and wood pellets used for fuel.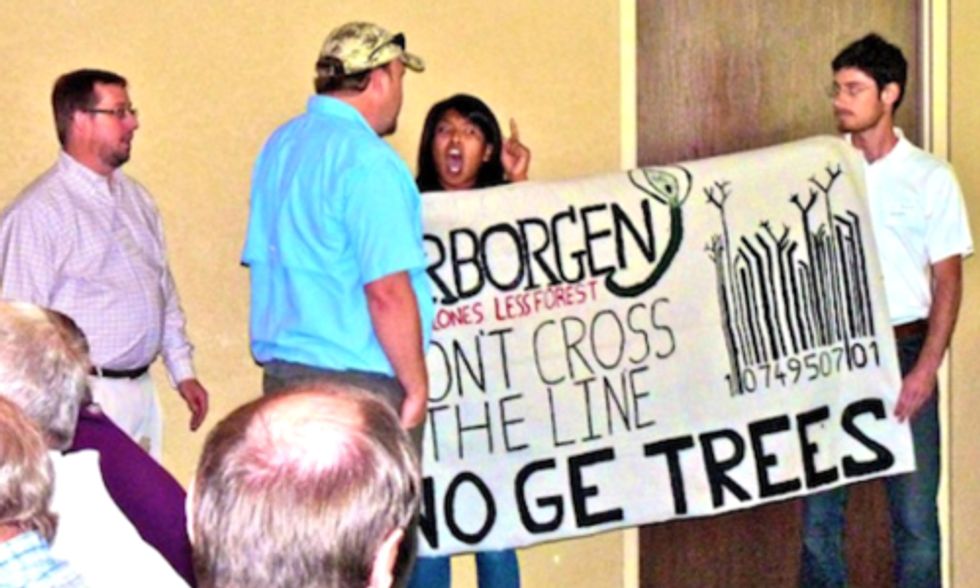 Yesterday in Tallahassee, FL, outraged demonstrators interrupted an event hosted by ArborGen, giving a stark warning to participants to expect resistance and growing protests should they plant GE trees, according to a press release from the Global Justice Equality Project (GJEP). The event brought together landowners and foresters from the industrial tree plantation sector and featured top ArborGen scientists working on GE trees. 
"We sent a clear message to participants—plant genetically engineered trees and expect resistance," said Keith Brunner, an organizer with GJEP. "Invasive GE eucalyptus, planned for deployment across the U.S. South, would irrevocably devastate native ecosystems, exacerbate droughts and lead to catastrophic firestorms. This must be stopped before it is too late."
The USDA is expected to accept public comments on the GE eucalyptus soon, following the release of its draft Environmental Impact Statement on ArborGen's request to commercially sell the trees. And though public comments can be a force of their own, the USDA will ultimately issue the final decision approving or denying ArborGen's request.
If approved, ArborGen could soon sell millions of  the freeze-tolerant, potentially flammable and invasive GE eucalyptus trees across the country. According the GJEP, approval  could open the door to approval for other GE species like GE pine and poplar, which pose additional risks due to the likelihood of contamination of wild species in native forests.
Stephanie Hall, a member of the Toad Clan of the Seminolee Miccosukee People, also pointed out the link between ArborGen's plans and the history of genocide against Indigenous Peoples in the region, saying, "ArborGen could not be planning for the development of vast industrial plantations of genetically engineered eucalyptus trees on land in Florida without the previous history of genocide and forced removal of Indigenous men, women, children, plants and animals from the region. People should not be complicit in this—we must ban genetically engineered trees."
"Early last year, the USDA received nearly 40,000 comments opposing ArborGen's GE eucalyptus, with only a handful received in favor," stated Anne Petermann, executive director of GJEP, noting only four of the submitted comments were supportive of the approval of GE eucalyptus. "Then in May of 2013, the international Tree Biotechnology conference in Asheville, NC, was protested and disrupted for almost a week by hundreds of protesters. These protests and today's disruption are only the beginning. As the USDA considers ArborGen's request to legalize GE trees, opposition to these trees and the threats they pose to communities and native forests continues to grow."
Non-GE eucalyptus plantations have had devastating impacts all over the world. Based on these documented impacts, GJEP expects GE eucalyptus plantations in the U.S. to likely cause:
Clearcutting of biodiverse forests for conversion to industrial GE eucalyptus plantations–called "green deserts" due to their devastating impacts on biodiversity.

Invasive spread of GE eucalyptus trees into native ecosystems–eucalyptus are already a documented invasive species in Florida and California.

Increased danger of firestorms—eucalyptus contain a highly volatile oil and are explosively flammable.

Displacement of wildlife that cannot use the non-native eucalyptus trees for habitat or food.

Contamination of soils and groundwater with toxic agrochemicals used on the plantations.

Worsening of drought—eucalyptus have deep tap roots, monopolize ground water and dry up soils.

Worsening of climate change through the destruction of carbon rich native forests for carbon poor plantations.
As has been the case with GE foods, despite whatever negative consequences the technology may bring about, GE "factory forests" will likely be highly profitable for the biotech companies, as GE crops have been for companies like Monsanto and Syngenta. The Center for Food Safety reports that should the USDA approve AbroGen's GE eucalyptus, the company has projected its profits will grow from $25 million to $500 million in five years. Corporations almost always exist to make money, so Americans should be able to count on the USDA to offset greed with some sort of ethics and make decisions that keep public health and environmental protection as their highest priority. 
--------
YOU MIGHT ALSO LIKE
Genetically Engineering Trees for Biofuels Undermines Real Energy and Climate Solutions
Report Details Potential Hazards of Genetically Engineered Trees Currently Under USDA Review
University of Florida Threatens Arrest and Evicts Anti-GE Tree Campaigners From Campus
--------
Scientists and environmentalists today condemned a recent press release by researchers at the University of British Columbia announcing they have created genetically engineered (GE) poplar trees for paper and biofuel production, opening the prospect of growing these GE trees like an agricultural crop in the future.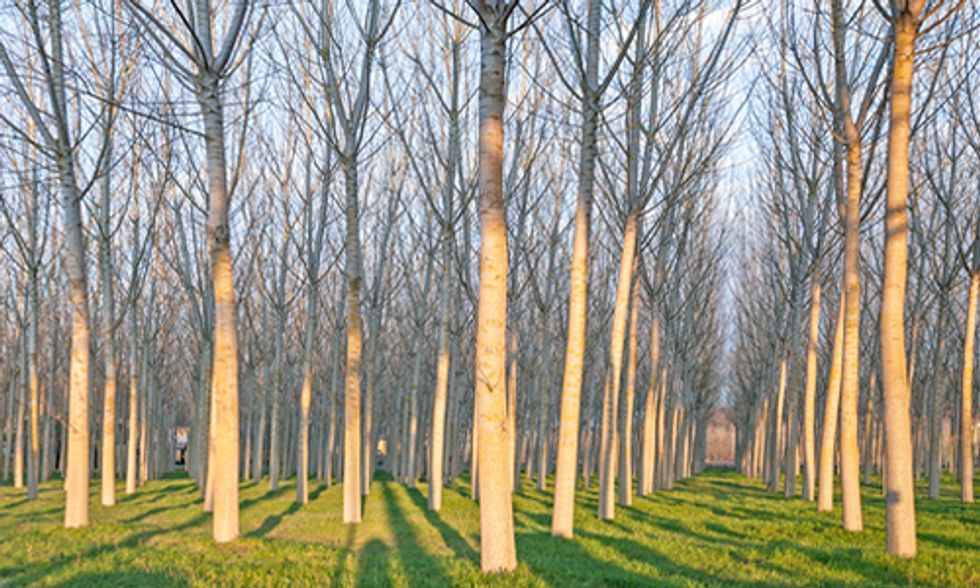 Photo courtesy of Shutterstock
The poplars were genetically engineered for altered lignin composition to supposedly make them easier to process into paper and biofuels. Groups, however, warn that manipulation of lignin, and the potential contamination of wild poplars with that trait, could be extremely dangerous. 
Lignin is a key structural component of plant cell walls and a major component of soils. It is also the product of millions of years of natural selection favoring sturdy, healthy and resilient plants. GE poplars with altered lignin could have devastating effects on forests, ecosystems, human communities and biodiversity.
Poplars include at least 30 species, are widespread throughout the Northern Hemisphere and have a high potential for genetic dispersal. 
"Because they can spread their seed and pollen so far, poplars genetically engineered for paper or biofuels are likely to inevitably and irreversibly contaminate native forests," stated Anne Petermann, executive director of Global Justice Ecology Project. "The only way to prevent this potential ecological disaster is to stop the release of GE trees."
Martha Crouch, PhD, a plant biologist consulting for the Center for Food Safety is likewise concerned, "The reports that genetic engineers have restructured poplar wood to make it easier to process into biofuels makes it sound as if this technology is right around the corner."
"However, no ecological studies have been done yet, and methods for keeping genes from escaping into forests are unproven and likely to fail. All of this hype distracts us from truly sustainable solutions that work safely with what nature has already provided," Crouch concluded.
Commercial and industrial scale biofuels and bioenergy are creating vast new demands for wood, and driving the conversion of climate stabilizing forests and other natural ecosystems to fuel crops. Rainforests in Indonesia are being burned to make way for plantations of oil palm, for example. Genetically engineering trees to be easier to manufacture into bioenergy will further contribute to the problem by increasing economic pressure to convert land into GE tree plantations.
"The whole idea of engineering trees for biofuels is outrageous—there is no question that we must end our fossil fuel addiction, but pretending we can simply substitute living plants is horribly misguided," said Rachel Smolker, PhD, co-director of Biofuelwatch added. "Even the tiny fraction of fuel currently produced from industrial bioenergy has had huge impacts on forests, water, human rights and food security."
"Forests purify water and regulate the climate," Smolker continued. "They are home to most of the world's biodiversity and many Indigenous Peoples. We need to protect and restore forests while drastically reducing overconsumption. Engineering trees is moving in exactly the wrong direction."
--------
YOU ALSO MIGHT LIKE
Report Details Potential Hazards of Genetically Engineered Trees Currently Under USDA Review
University of Florida Threatens Arrest and Evicts Anti-GE Tree Campaigners From Campus
Hundreds Protest Against Genetically Engineered Trees
--------
As the U.S. Department of Agriculture (USDA) considers whether to approve the first genetically engineered (GE) forest tree for commercial use, Center for Food Safety released its new report, Genetically Engineered Trees: The New Frontier of Biotechnology. The report details the potential ecological and socioeconomic hazards of GE trees currently under commercial development.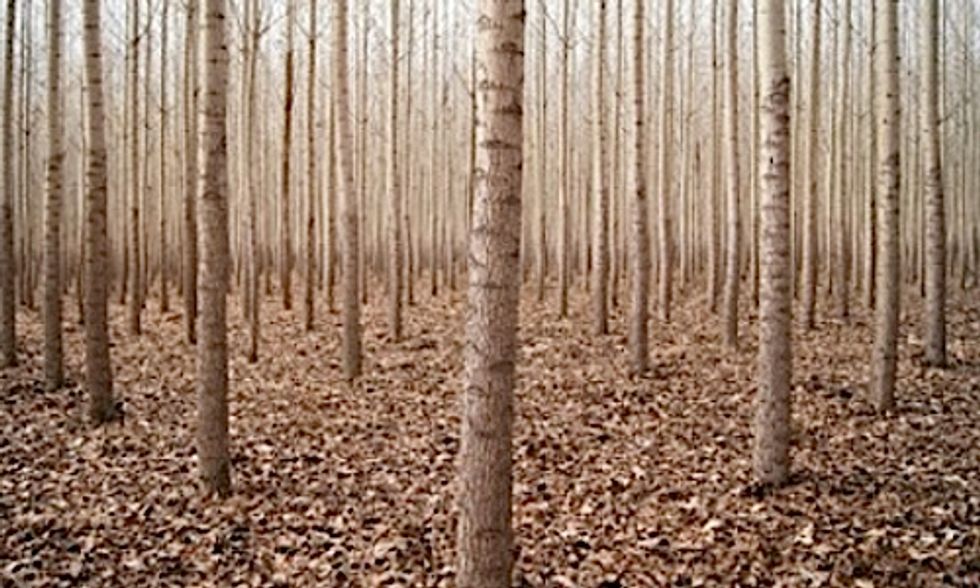 The USDA is currently reviewing a GE Eucalyptus for unrestricted planting. Eucalyptus is primarily cultivated to provide pulp for paper and "wood pellets," which are used for fuel. The GE tree, developed by the biotechnology corporation ArborGen, is engineered to grow in colder climates. ArborGen hopes to cultivate GE tree plantations across much of the southeastern U.S.
"Commercializing GE trees could be devastating to the environment," said Debbie Barker, international program director for Center for Food Safety, and editor of the report. "'Factory forests' will accelerate and expand large-scale, chemical-intensive, monoculture plantations. We need to understand the risks in order to determine if GE trees are a sustainable way forward or a dangerous diversion."
GE trees have been promoted under a banner of environmental sustainability. However, the report reveals that GE tree plantations would require vast amounts of fertilizers, pesticides and water. Further, tree plantations reduce biodiversity, can increase greenhouse gas emissions and lead to deforestation.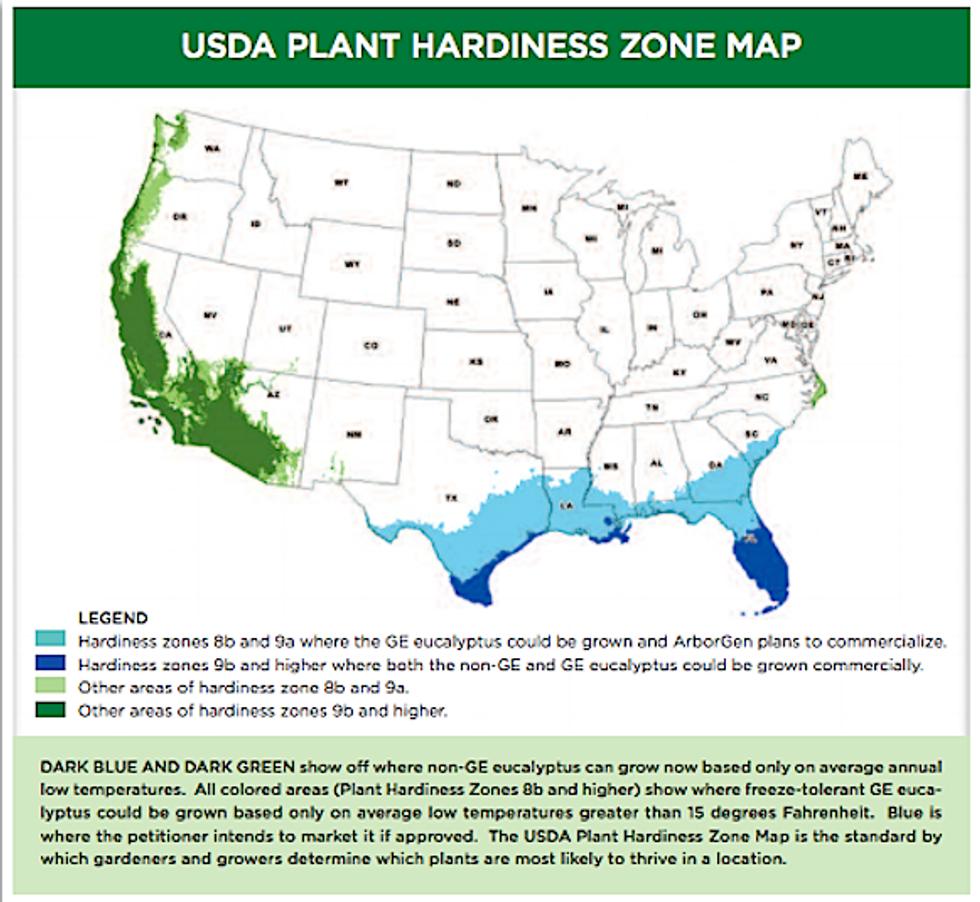 "Eucalyptus is the first forest tree now being considered for approval for unrestricted planting, but some of the largest biotechnology, paper and energy corporations are experimenting on pine, poplar, chestnut and several varieties of fruit trees," Barker said.
Among the report's key findings are the following:
Claims that burning wood-pellets for fuel will help to mitigate climate change are likely false. While turning to wood pellet biomass for fuel does reduce overall sulfur dioxide emissions, emerging science reveals that burning wood pellets increases other pollutants and may not reduce greenhouse gases.
GE eucalyptus tree plantations will intensify scarcity of fresh water resources in the southeast. A U.S. Forest Service environmental assessment reported that GE eucalyptus water usage is likely to be at least two-fold greater than existing native forests in the southeast.
Contamination of wild trees is a serious risk. Given trees' long life-spans and ability to disperse seeds and pollen over vast distances, GE trees could contaminate related wild trees, potentially compromising the health of American forests. Poplar, pine and eucalyptus trees are being engineered to alter lignin content to make it easier to process into biofuels as well as other wood-based products. Because lignin maintains structural integrity and helps repel pests and pathogens, the spread of these genes could be harmful.
Claims that GE tree plantations will protect forests ignore the evidence. Tree plantations have increased rates of deforestation in many parts of the globe. For example, oil palm plantations have been a major factor in the astounding 60 percent loss of Indonesian forests since 1960. Demand for the products of these plantations creates economic incentives to replace forests with more plantations.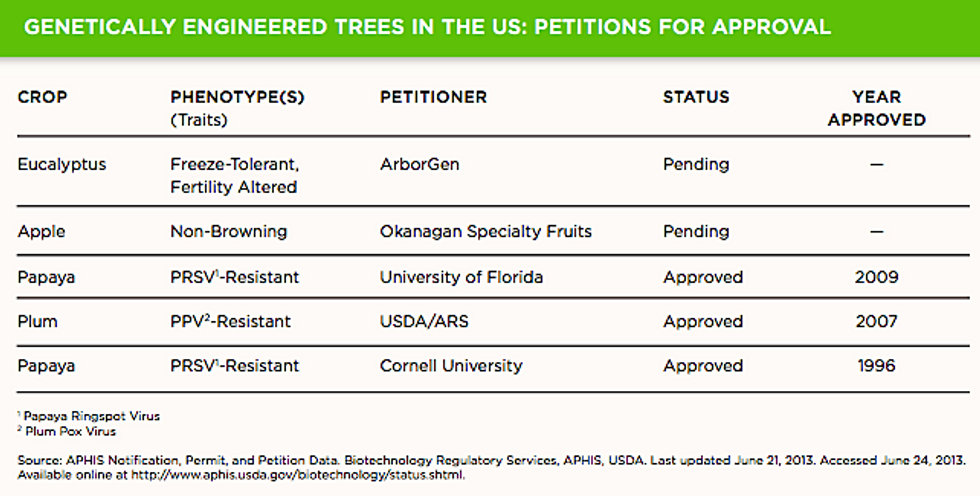 Dr. Martha Crouch, an independent consultant for the report, and an expert on issues of biotechnology, agriculture and the environment, commented: "Commercializing unproven GE trees is too big of a risk to take with so much at stake. Monocultures of GE trees could not only replace complex native forests, but GE trees could also escape from plantations into forests where they could disrupt longstanding relationships between species."
Despite the negative environmental impacts, GE "factory forests" would likely be very profitable for biotech companies. For instance, if GE eucalyptus is approved, ArborGen, the leading biotechnology tree company, has projected its profits will grow from $25 million to $500 million in five years.
Center for Food Safety's report also includes specific policy recommendations that will better determine if GE trees are a truly sustainable way forward.
Visit EcoWatch's BIODIVERSITY page for more related news on this topic.