This website uses cookies to ensure you get the best experience while browsing it. By clicking 'Got It' you're accepting these terms.


The best of EcoWatch, right in your inbox. Sign up for our email newsletter!
More than a quarter of a million people and 500 organizations submitted comments Wednesday rejecting the commercialization of ArborGen Inc.'s genetically engineered (GE) eucalyptus trees, which, if approved, would be the first-ever GE forest tree approved in the U.S.
The U.S. Department of Agriculture (USDA) proposed approval in April 2017, releasing a draft Environmental Impact Statement (dEIS) for public comment. This comment period ended on July 5. The GE eucalyptus trees are engineered to tolerate freezing temperatures in order to greatly expand their growing range. The approval of these GE trees could set a precedent for future approval of GE forest trees such as poplar and pine.
ArborGen pine tree field test site in South Carolina. BJ McManama
By BJ McManama
ArborGen Corporation, a multinational conglomerate and leading supplier of seedlings for commercial forestry applications, has submitted an approval request to the U.S. Department of Agriculture, Animal and Plant Health Inspection Service to deregulate and widely distribute a eucalyptus tree genetically engineered (GE) to be freeze tolerant. This modification will allow this GE variety to be grown in the U.S. Southeast. The reason this non-native and highly invasive tree has been artificially created to grow outside of its tropical environment is to greatly expand production capacity for the highly controversial woody biomass industry.
EcoWatch Daily Newsletter
The U.S. Department of Agriculture (USDA) is currently considering approval of the first genetically engineered (GE) tree for commercial use—a GE eucalyptus tree developed by the biotechnology corporation ArborGen. The tree is designed to withstand colder climates and would primarily be cultivated to provide pulp for paper and wood pellets used for fuel.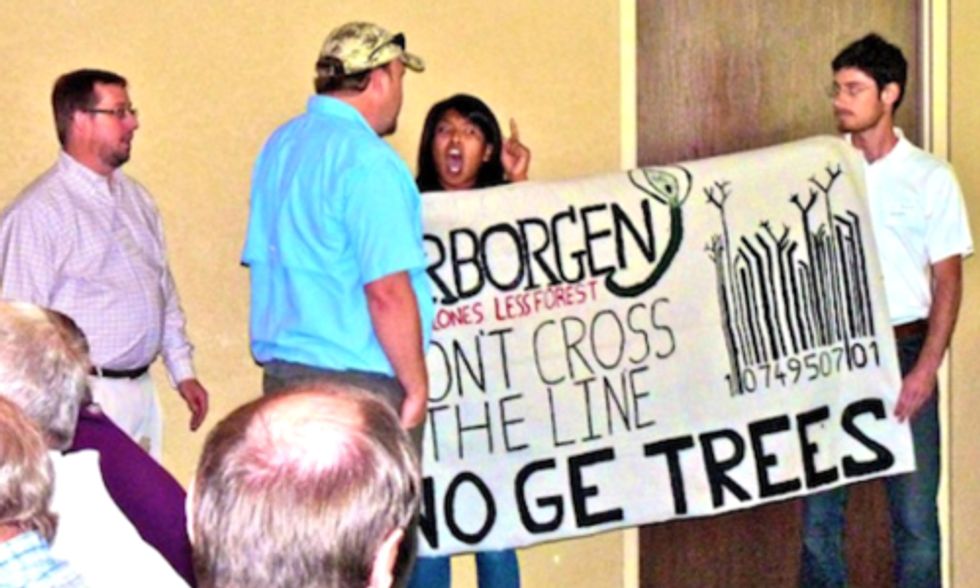 Yesterday in Tallahassee, FL, outraged demonstrators interrupted an event hosted by ArborGen, giving a stark warning to participants to expect resistance and growing protests should they plant GE trees, according to a press release from the Global Justice Equality Project (GJEP). The event brought together landowners and foresters from the industrial tree plantation sector and featured top ArborGen scientists working on GE trees. 
"We sent a clear message to participants—plant genetically engineered trees and expect resistance," said Keith Brunner, an organizer with GJEP. "Invasive GE eucalyptus, planned for deployment across the U.S. South, would irrevocably devastate native ecosystems, exacerbate droughts and lead to catastrophic firestorms. This must be stopped before it is too late."
The USDA is expected to accept public comments on the GE eucalyptus soon, following the release of its draft Environmental Impact Statement on ArborGen's request to commercially sell the trees. And though public comments can be a force of their own, the USDA will ultimately issue the final decision approving or denying ArborGen's request.
If approved, ArborGen could soon sell millions of  the freeze-tolerant, potentially flammable and invasive GE eucalyptus trees across the country. According the GJEP, approval  could open the door to approval for other GE species like GE pine and poplar, which pose additional risks due to the likelihood of contamination of wild species in native forests.
Stephanie Hall, a member of the Toad Clan of the Seminolee Miccosukee People, also pointed out the link between ArborGen's plans and the history of genocide against Indigenous Peoples in the region, saying, "ArborGen could not be planning for the development of vast industrial plantations of genetically engineered eucalyptus trees on land in Florida without the previous history of genocide and forced removal of Indigenous men, women, children, plants and animals from the region. People should not be complicit in this—we must ban genetically engineered trees."
"Early last year, the USDA received nearly 40,000 comments opposing ArborGen's GE eucalyptus, with only a handful received in favor," stated Anne Petermann, executive director of GJEP, noting only four of the submitted comments were supportive of the approval of GE eucalyptus. "Then in May of 2013, the international Tree Biotechnology conference in Asheville, NC, was protested and disrupted for almost a week by hundreds of protesters. These protests and today's disruption are only the beginning. As the USDA considers ArborGen's request to legalize GE trees, opposition to these trees and the threats they pose to communities and native forests continues to grow."
Non-GE eucalyptus plantations have had devastating impacts all over the world. Based on these documented impacts, GJEP expects GE eucalyptus plantations in the U.S. to likely cause:
Clearcutting of biodiverse forests for conversion to industrial GE eucalyptus plantations–called "green deserts" due to their devastating impacts on biodiversity.

Invasive spread of GE eucalyptus trees into native ecosystems–eucalyptus are already a documented invasive species in Florida and California.

Increased danger of firestorms—eucalyptus contain a highly volatile oil and are explosively flammable.

Displacement of wildlife that cannot use the non-native eucalyptus trees for habitat or food.

Contamination of soils and groundwater with toxic agrochemicals used on the plantations.

Worsening of drought—eucalyptus have deep tap roots, monopolize ground water and dry up soils.

Worsening of climate change through the destruction of carbon rich native forests for carbon poor plantations.
As has been the case with GE foods, despite whatever negative consequences the technology may bring about, GE "factory forests" will likely be highly profitable for the biotech companies, as GE crops have been for companies like Monsanto and Syngenta. The Center for Food Safety reports that should the USDA approve AbroGen's GE eucalyptus, the company has projected its profits will grow from $25 million to $500 million in five years. Corporations almost always exist to make money, so Americans should be able to count on the USDA to offset greed with some sort of ethics and make decisions that keep public health and environmental protection as their highest priority. 
--------
YOU MIGHT ALSO LIKE
Genetically Engineering Trees for Biofuels Undermines Real Energy and Climate Solutions
Report Details Potential Hazards of Genetically Engineered Trees Currently Under USDA Review
University of Florida Threatens Arrest and Evicts Anti-GE Tree Campaigners From Campus
--------
Scientists and environmentalists today condemned a recent press release by researchers at the University of British Columbia announcing they have created genetically engineered (GE) poplar trees for paper and biofuel production, opening the prospect of growing these GE trees like an agricultural crop in the future.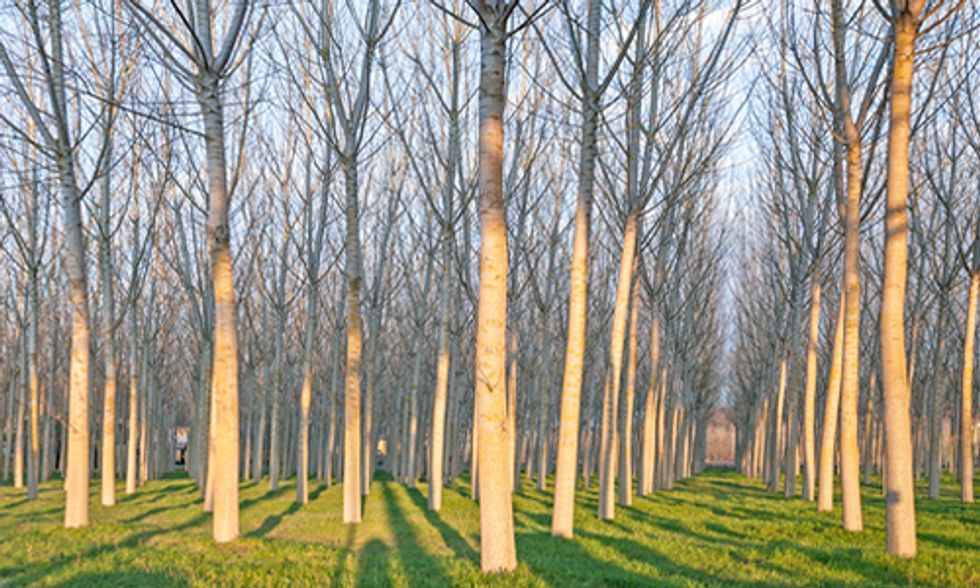 Photo courtesy of Shutterstock
The poplars were genetically engineered for altered lignin composition to supposedly make them easier to process into paper and biofuels. Groups, however, warn that manipulation of lignin, and the potential contamination of wild poplars with that trait, could be extremely dangerous. 
Lignin is a key structural component of plant cell walls and a major component of soils. It is also the product of millions of years of natural selection favoring sturdy, healthy and resilient plants. GE poplars with altered lignin could have devastating effects on forests, ecosystems, human communities and biodiversity.
Poplars include at least 30 species, are widespread throughout the Northern Hemisphere and have a high potential for genetic dispersal. 
"Because they can spread their seed and pollen so far, poplars genetically engineered for paper or biofuels are likely to inevitably and irreversibly contaminate native forests," stated Anne Petermann, executive director of Global Justice Ecology Project. "The only way to prevent this potential ecological disaster is to stop the release of GE trees."
Martha Crouch, PhD, a plant biologist consulting for the Center for Food Safety is likewise concerned, "The reports that genetic engineers have restructured poplar wood to make it easier to process into biofuels makes it sound as if this technology is right around the corner."
"However, no ecological studies have been done yet, and methods for keeping genes from escaping into forests are unproven and likely to fail. All of this hype distracts us from truly sustainable solutions that work safely with what nature has already provided," Crouch concluded.
Commercial and industrial scale biofuels and bioenergy are creating vast new demands for wood, and driving the conversion of climate stabilizing forests and other natural ecosystems to fuel crops. Rainforests in Indonesia are being burned to make way for plantations of oil palm, for example. Genetically engineering trees to be easier to manufacture into bioenergy will further contribute to the problem by increasing economic pressure to convert land into GE tree plantations.
"The whole idea of engineering trees for biofuels is outrageous—there is no question that we must end our fossil fuel addiction, but pretending we can simply substitute living plants is horribly misguided," said Rachel Smolker, PhD, co-director of Biofuelwatch added. "Even the tiny fraction of fuel currently produced from industrial bioenergy has had huge impacts on forests, water, human rights and food security."
"Forests purify water and regulate the climate," Smolker continued. "They are home to most of the world's biodiversity and many Indigenous Peoples. We need to protect and restore forests while drastically reducing overconsumption. Engineering trees is moving in exactly the wrong direction."
--------
YOU ALSO MIGHT LIKE
Report Details Potential Hazards of Genetically Engineered Trees Currently Under USDA Review
University of Florida Threatens Arrest and Evicts Anti-GE Tree Campaigners From Campus
Hundreds Protest Against Genetically Engineered Trees
--------
As the U.S. Department of Agriculture (USDA) considers whether to approve the first genetically engineered (GE) forest tree for commercial use, Center for Food Safety released its new report, Genetically Engineered Trees: The New Frontier of Biotechnology. The report details the potential ecological and socioeconomic hazards of GE trees currently under commercial development.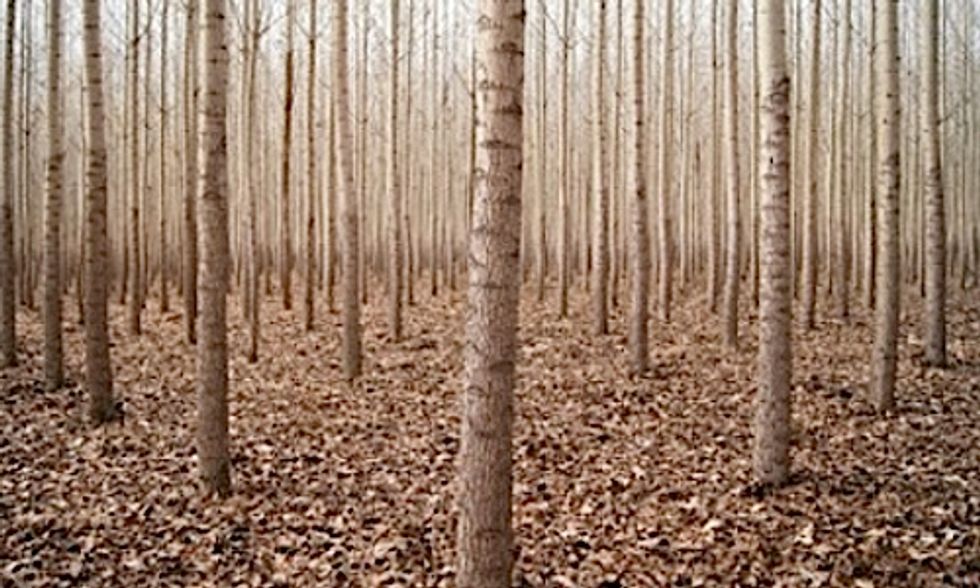 The USDA is currently reviewing a GE Eucalyptus for unrestricted planting. Eucalyptus is primarily cultivated to provide pulp for paper and "wood pellets," which are used for fuel. The GE tree, developed by the biotechnology corporation ArborGen, is engineered to grow in colder climates. ArborGen hopes to cultivate GE tree plantations across much of the southeastern U.S.
"Commercializing GE trees could be devastating to the environment," said Debbie Barker, international program director for Center for Food Safety, and editor of the report. "'Factory forests' will accelerate and expand large-scale, chemical-intensive, monoculture plantations. We need to understand the risks in order to determine if GE trees are a sustainable way forward or a dangerous diversion."
GE trees have been promoted under a banner of environmental sustainability. However, the report reveals that GE tree plantations would require vast amounts of fertilizers, pesticides and water. Further, tree plantations reduce biodiversity, can increase greenhouse gas emissions and lead to deforestation.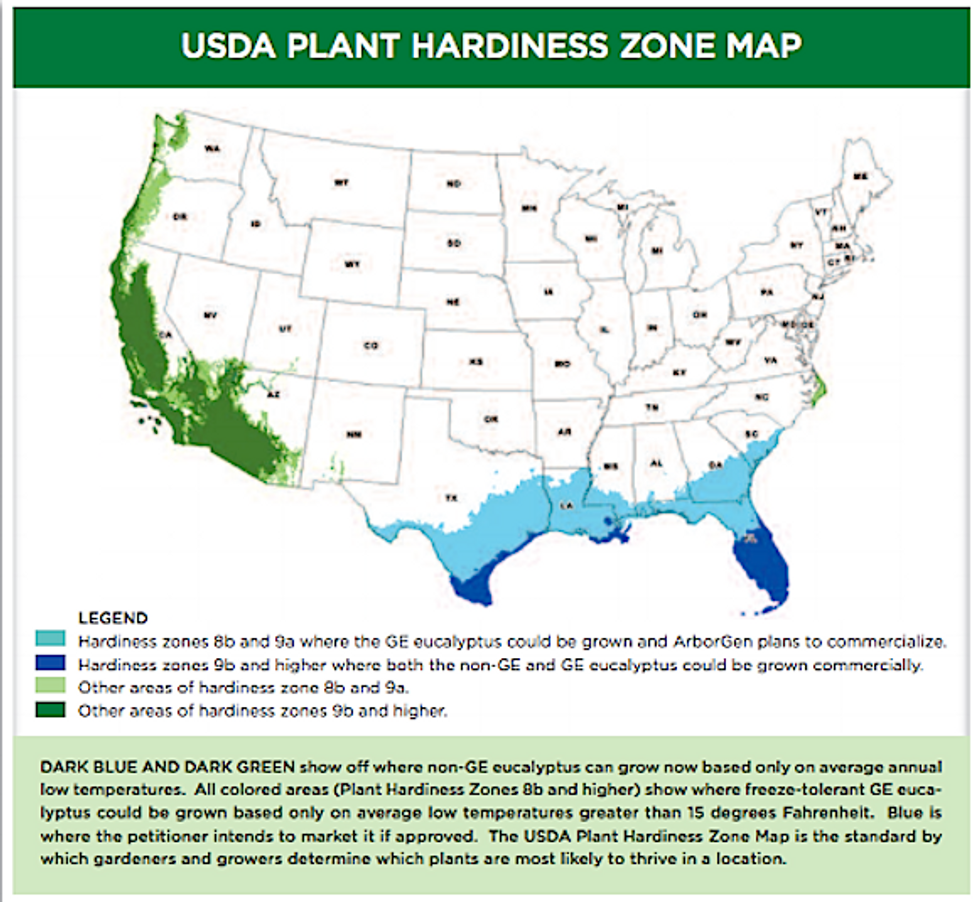 "Eucalyptus is the first forest tree now being considered for approval for unrestricted planting, but some of the largest biotechnology, paper and energy corporations are experimenting on pine, poplar, chestnut and several varieties of fruit trees," Barker said.
Among the report's key findings are the following:
Claims that burning wood-pellets for fuel will help to mitigate climate change are likely false. While turning to wood pellet biomass for fuel does reduce overall sulfur dioxide emissions, emerging science reveals that burning wood pellets increases other pollutants and may not reduce greenhouse gases.
GE eucalyptus tree plantations will intensify scarcity of fresh water resources in the southeast. A U.S. Forest Service environmental assessment reported that GE eucalyptus water usage is likely to be at least two-fold greater than existing native forests in the southeast.
Contamination of wild trees is a serious risk. Given trees' long life-spans and ability to disperse seeds and pollen over vast distances, GE trees could contaminate related wild trees, potentially compromising the health of American forests. Poplar, pine and eucalyptus trees are being engineered to alter lignin content to make it easier to process into biofuels as well as other wood-based products. Because lignin maintains structural integrity and helps repel pests and pathogens, the spread of these genes could be harmful.
Claims that GE tree plantations will protect forests ignore the evidence. Tree plantations have increased rates of deforestation in many parts of the globe. For example, oil palm plantations have been a major factor in the astounding 60 percent loss of Indonesian forests since 1960. Demand for the products of these plantations creates economic incentives to replace forests with more plantations.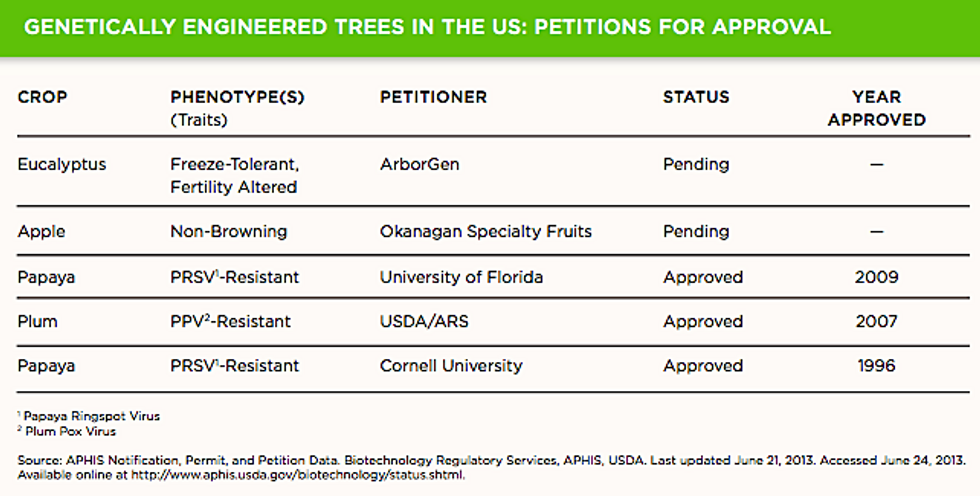 Dr. Martha Crouch, an independent consultant for the report, and an expert on issues of biotechnology, agriculture and the environment, commented: "Commercializing unproven GE trees is too big of a risk to take with so much at stake. Monocultures of GE trees could not only replace complex native forests, but GE trees could also escape from plantations into forests where they could disrupt longstanding relationships between species."
Despite the negative environmental impacts, GE "factory forests" would likely be very profitable for biotech companies. For instance, if GE eucalyptus is approved, ArborGen, the leading biotechnology tree company, has projected its profits will grow from $25 million to $500 million in five years.
Center for Food Safety's report also includes specific policy recommendations that will better determine if GE trees are a truly sustainable way forward.
Visit EcoWatch's BIODIVERSITY page for more related news on this topic.