By Jessica A. Knoblauch
A U.S. District Court judge took the U.S. Food and Drug Administration (FDA) to task on Jan. 10 for withholding government documents related to the agency's approval of genetically engineered (GE) salmon. The judge's decision is a big win for public transparency, but it's also a small step toward finally doing a proper evaluation of the risks posed by GE animals—which could one day end up on our dinner plates.
In 2015, the FDA approved GE salmon made from the DNA of three different animals: Atlantic salmon, deep water ocean eelpout, and Pacific Chinook salmon. The GE version is intended to grow faster than conventional farmed salmon, reportedly getting to commercial size in half the time.
FDA Approves AquaBounty's Genetically Engineered Salmon Despite Widespread Opposition https://t.co/AUdqzoy7SB via @ecowatch

— Food Babe (@Food Babe)1447948318.0
Even though this is the first time any government in the world has approved a GE animal for commercial sale and consumption, so far the FDA has taken a lackadaisical approach to evaluating the salmon's potential for harm to wild salmon and the environment. If the GE salmon were to escape, it could threaten wild salmon populations by outcompeting them for scarce resources and habitat, by mating with endangered salmon species, and by introducing new diseases.
The world's preeminent experts on GE fish and risk assessment, as well as biologists at U.S. wildlife agencies charged with protecting fish and wildlife, heavily criticized the FDA for failing to evaluate these impacts. But the FDA ignored their concerns, so in March 2016, Earthjustice filed a lawsuit against the agency.
What Will Happen When Genetically Engineered #Salmon Escape Into the Wild? https://t.co/8BXnrcB2dP @Earthjustice https://t.co/KkRffQsrzj

— EcoWatch (@EcoWatch)1460296531.0
As part of the lawsuit, the FDA is required to compile a record of documents that illuminate the path the agency followed to reach its decision to approve the GE salmon—much like a student is required to show their work for a math problem in middle school. A complete record is essential in all cases. But it is especially important here because the FDA has so far refused to release most of the documents related to its decision, despite repeated requests for that information from Earthjustice's diverse set of clients under the Freedom of Information Act.
ICYMI Groups Sue FDA Over Approval of Genetically Engineered #Salmon https://t.co/nerQorTpQZ via @EcoWatch #GMO https://t.co/xZLoIa3b6n

— Sustainable Table (@Sustainable Table)1459794913.0
The public has a right to know how the agency came to this seemingly ill-informed decision, especially because the FDA's approach will likely serve as a precedent for the assessment of future GE food animals. Withholding that information is illegal because government agencies like the FDA are funded by taxpayer dollars, which means that any records they create, with only limited exceptions, can and should be available to the public and to citizens seeking to hold the government accountable in court.
Last month, a U.S. District Court judge agreed, concluding that: "the government is wrong to assert that these types of materials … should be excluded" from the record. The FDA is now required to fully complete the record with all relevant documents no later than July 2017. In addition to working to ensure the timely completion of that process, we will thoroughly review the full basis for the agency's decisions.
"There's no way to know what exactly is in these documents until we see them," says Earthjustice attorney Brettny Hardy. "But they will undoubtedly provide a far more complete picture of how we got here, including information that raises legitimate questions about the agency's decision."
Jessica Knoblauch is a former award-winning journalist who now serves at the helm of Earthjustice's editorial team, which tells stories through the organization's blog, quarterly magazine and website.
EcoWatch Daily Newsletter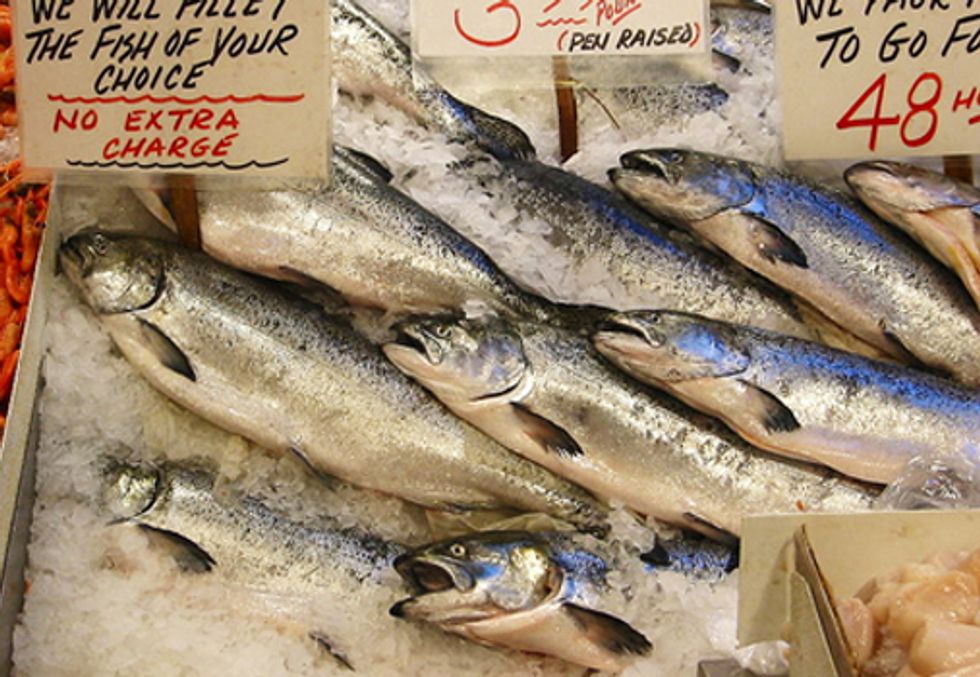 A 2009 memo from Fisheries and Oceans Canada (DFO) entered into evidence at Canada's federal Cohen Inquiry into the collapse of Fraser River sockeye Dec. 15 reveals that salmon at the AquaBounty facility in Prince Edward Island have tested positive for the Infectious Salmon Anaemia (ISA) virus.
The genetically-engineered (GE) salmon, currently under review by the U.S. Food and Drug Administration for potential sale to American consumers, tested positive for the ISA virus in November 2009. An email from a senior DFO fish health official was sent to the Canadian Food Inspection Agency, notifying the agency of the positive test results.
"AquaBounty's genetically modified fish are in a closed, land-locked facility," said Catherine Stewart of Living Oceans Society, the group whose research uncovered the evidence. "This suggests the virus could only have entered such a facility through eggs or smolts, proving once again that Canada must take action to both ban egg imports and implement more rigorous testing for ISA."
In the notification to the food health authority, DFO notes that based on molecular strain testing at two separate laboratories, the virus appears to be a new strain of ISA. The email also states,"With respect to international exports of live fish or eggs from this facility, DFO would identify that the facility has tested positive for ISAv should we be asked to sign a fish health certificate for export."
Download a .pdf of the DFO email by clicking here. The DFO email will be posted to the Cohen Commission website as Exhibit 2083.
Ms. Stewart will be attending Cohen Inquiry hearings into ISAv Friday, Dec. 16 and Monday, Dec. 19.
For more information, click here.
waterlust.com / @tulasendlesssummer_sierra .
Each product featured here has been independently selected by the writer. If you make a purchase using the links included, we may earn commission.
The bright patterns and recognizable designs of Waterlust's activewear aren't just for show. In fact, they're meant to promote the conversation around sustainability and give back to the ocean science and conservation community.
Each design is paired with a research lab, nonprofit, or education organization that has high intellectual merit and the potential to move the needle in its respective field. For each product sold, Waterlust donates 10% of profits to these conservation partners.
Eye-Catching Designs Made from Recycled Plastic Bottles
waterlust.com / @abamabam
The company sells a range of eco-friendly items like leggings, rash guards, and board shorts that are made using recycled post-consumer plastic bottles. There are currently 16 causes represented by distinct marine-life patterns, from whale shark research and invasive lionfish removal to sockeye salmon monitoring and abalone restoration.

One such organization is Get Inspired, a nonprofit that specializes in ocean restoration and environmental education. Get Inspired founder, marine biologist Nancy Caruso, says supporting on-the-ground efforts is one thing that sets Waterlust apart, like their apparel line that supports Get Inspired abalone restoration programs.
"All of us [conservation partners] are doing something," Caruso said. "We're not putting up exhibits and talking about it — although that is important — we're in the field."
Waterlust not only helps its conservation partners financially so they can continue their important work. It also helps them get the word out about what they're doing, whether that's through social media spotlights, photo and video projects, or the informative note card that comes with each piece of apparel.
"They're doing their part for sure, pushing the information out across all of their channels, and I think that's what makes them so interesting," Caruso said.
And then there are the clothes, which speak for themselves.
Advocate Apparel to Start Conversations About Conservation
waterlust.com / @oceanraysphotography
Waterlust's concept of "advocate apparel" encourages people to see getting dressed every day as an opportunity to not only express their individuality and style, but also to advance the conversation around marine science. By infusing science into clothing, people can visually represent species and ecosystems in need of advocacy — something that, more often than not, leads to a teaching moment.

"When people wear Waterlust gear, it's just a matter of time before somebody asks them about the bright, funky designs," said Waterlust's CEO, Patrick Rynne. "That moment is incredibly special, because it creates an intimate opportunity for the wearer to share what they've learned with another."
The idea for the company came to Rynne when he was a Ph.D. student in marine science.
"I was surrounded by incredible people that were discovering fascinating things but noticed that often their work wasn't reaching the general public in creative and engaging ways," he said. "That seemed like a missed opportunity with big implications."
Waterlust initially focused on conventional media, like film and photography, to promote ocean science, but the team quickly realized engagement on social media didn't translate to action or even knowledge sharing offscreen.
Rynne also saw the "in one ear, out the other" issue in the classroom — if students didn't repeatedly engage with the topics they learned, they'd quickly forget them.
"We decided that if we truly wanted to achieve our goal of bringing science into people's lives and have it stick, it would need to be through a process that is frequently repeated, fun, and functional," Rynne said. "That's when we thought about clothing."
Support Marine Research and Sustainability in Style
To date, Waterlust has sold tens of thousands of pieces of apparel in over 100 countries, and the interactions its products have sparked have had clear implications for furthering science communication.
For Caruso alone, it's led to opportunities to share her abalone restoration methods with communities far and wide.
"It moves my small little world of what I'm doing here in Orange County, California, across the entire globe," she said. "That's one of the beautiful things about our partnership."
Check out all of the different eco-conscious apparel options available from Waterlust to help promote ocean conservation.
Melissa Smith is an avid writer, scuba diver, backpacker, and all-around outdoor enthusiast. She graduated from the University of Florida with degrees in journalism and sustainable studies. Before joining EcoWatch, Melissa worked as the managing editor of Scuba Diving magazine and the communications manager of The Ocean Agency, a non-profit that's featured in the Emmy award-winning documentary Chasing Coral.