This website uses cookies to ensure you get the best experience while browsing it. By clicking 'Got It' you're accepting these terms.
The Vermont Senate today voted 28-2 to approve legislation that would require foods produced using genetic engineering (GE) to be labeled in Vermont. Minor changes made by the Senate must still be approved by the state House, which previously approved the measure (107-37). Pending the governor's signature, the law would take effect July 1, 2016.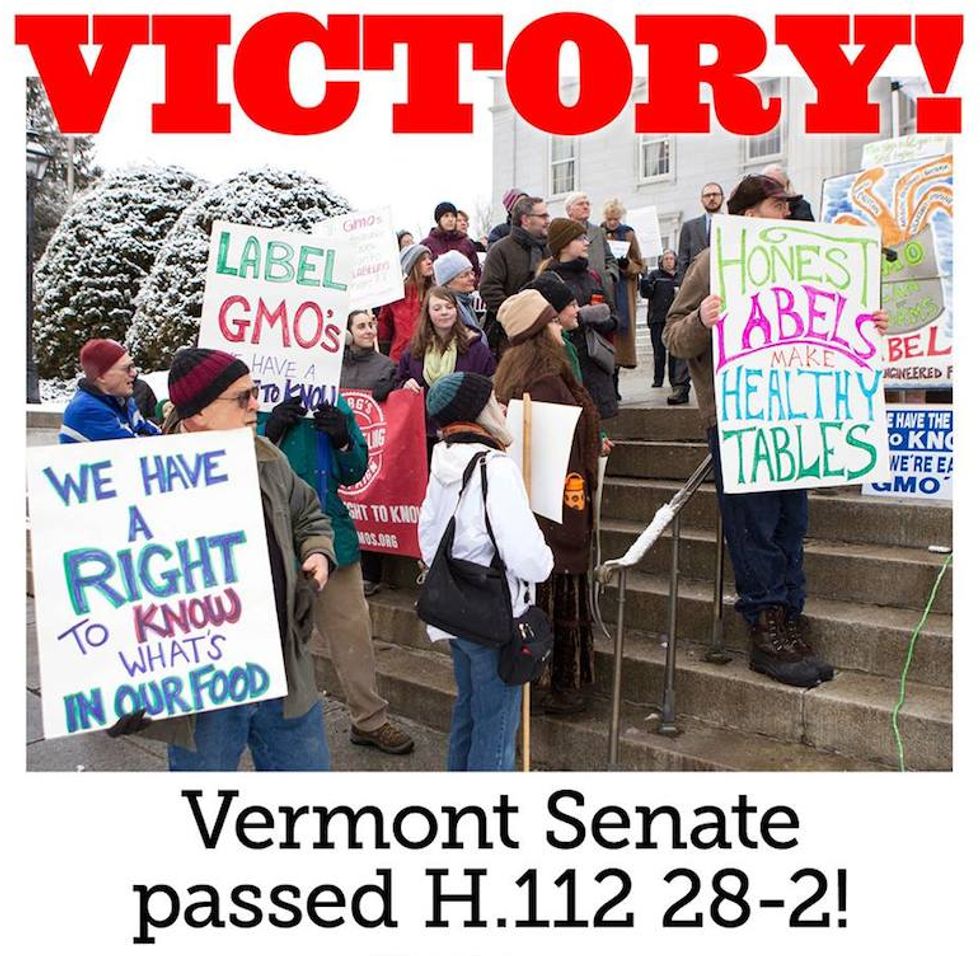 VT Right to Know GMO
Facebook page
"This is a major victory for the food movement," said Rebecca Spector, who heads state labeling efforts at Center for Food Safety. "Vermont will be the first state to enact a law to protect consumers' right to know what is in their food without requiring other states to do so prior to implementation. Nationwide GE labeling is not a question of if; it's only a question of when. And the answer is soon." 
Unlike other state labeling laws, the Vermont labeling bill (H. 112) is the first bill which will go into effect regardless of actions by other states. Previous GE labeling bills have required that a certain number of states enact similar legislation before they would take effect.
Once signed into law, Vermont's mandatory labeling policy will likely set the stage for more states to introduce and adopt no strings attached labeling laws.
Center for Food Safety helped draft the legislation in consultation with state representatives and has been at the center of the fight to inform consumers about GE foods for over a decade. Center for Food Safety provided legal testimony before the Vermont Legislature in 2005 and has maintained an active presence in the state, providing resources and expert legal and scientific advice to the citizens and lawmakers of Vermont.
Sixty-four nations including China, South Africa and all countries in the European Union currently require GE foods to be labeled. Rep. DeFazio (D-OR) and Sen. Boxer (D-CA) recently introduced federal legislation that would require nationwide labeling of GE products. That bill has 65 cosponsors.
"Unfortunately, chemical giants like Monsanto and Dow Chemical will not accept the will of the people," said Colin O'Neil, director of government affairs at Center for Food Safety. "Vermont's initiative has spurred agrichemical industry lobbyists to push legislation at the national level that would eliminate states' rights to protect their consumers. We vow to fight them every step of the way and call out industry efforts to keep consumers in the dark."
--------
YOU MIGHT ALSO LIKE
'Big Food' Ready for Costly Battle as States Consider GMO Labeling Bills
2014 Will Be a Make or Break Year for GMO and 'Natural' Food Label Fight
200+ Groups Call on President Obama to Keep Campaign Pledge to Label GMOs
--------
A recent report by The Oregonian found that enormous amounts of money are being spent by agrichemical and biotechnology companies in one Oregon county to stop an ordinance that would ban farmers from being able to plant genetically engineered (GE) Crops. This current legislative fight encapsulates the uphill funding battle that anti-GE activists face when organizing state and local level campaigns.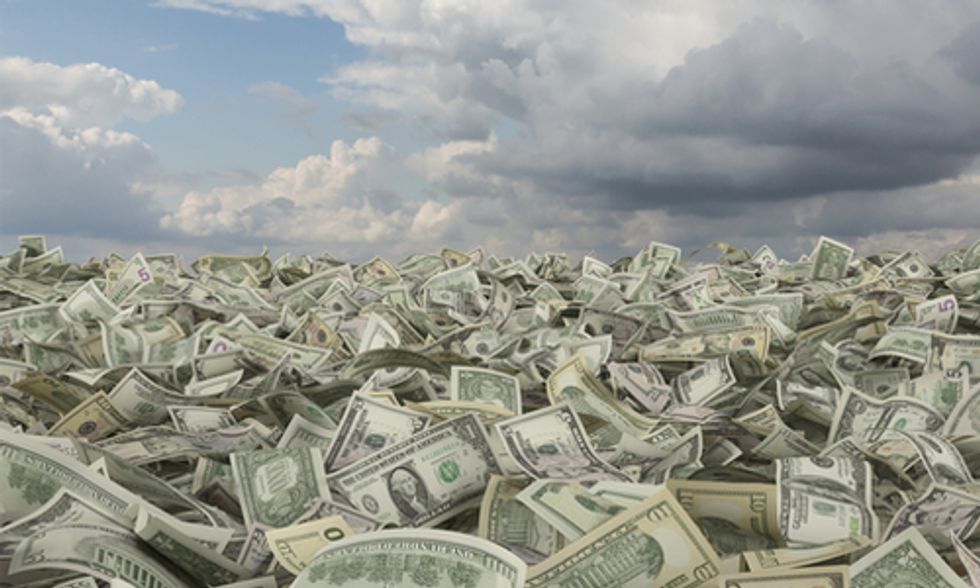 Photo courtesy of Shutterstock
The ordinance that will appear on the upcoming May ballot in Jackson County, OR, will ban the planting and rising of GE plants within the county. The ordinance also calls for the county to conduct inspections and allows enforcement through citizen lawsuits. Jackson County was the only county exempt from a law enacted last fall that made the state the regulator of agricultural seeds.
The county's measure qualified for the May ballot before the Oregon Senate passed S.B. 863, which preempts localities ability to regulate seed, so it was exempted in the bill. The bill preempts the efforts in Benton and Lane counties to restrict GE agriculture. Despite state preemption, Josephine County has a similar measure on the May ballot to ban GE crops.
According to a recent report in The Oregonian, the ordinance is facing strong opposition from out of state funding sources. According to the report, six pesticide and plant biotechnology firms have donated $455,000 to Good Neighbor Farms, an organization fighting the GE crop ban.
Pesticide and biotech firm Monsanto Company donated $183,294, GMO seed producer DuPont Pioneer $129,647, biotech firm Syngenta Crop Protection $75,000, and $22,353 each from biotech firms Bayer CropScience, BASF Plant Science and Dow AgroSciences. Good Neighbor Farms has more than $556,000 cash on hand which is a colossal amount for a local measure.
The opposition to this measure has dramatically out-fundraised the two political action committees supporting the measure, GMO Free Jackson County and Our Family Farms Coalition, which have a combined $102,368 cash on hand. The lead up to this ballot measure is reminiscent of recent GE labeling efforts in California and Washington where anti-GE labeling efforts flooded the states with outside corporate money.
One of the original concerns behind the ordinance is organic farmers' inability to protect themselves from GE crops drifting or cross-pollinating with their crops. A recent survey by Food & Water Watch, Organic Farmers Pay the Price for GMO Contamination, found that one-third of U.S. organic farmers have experienced problems in their fields due to the nearby use of GE crops, and over half of those growers have had loads of grain rejected because of unwitting GE contamination. In May of 2013, USDA announced that unapproved GE wheat was found growing in an Oregon wheat field. After this discovery, Japan cancelled its order to buy U.S. western white wheat. Monsanto has not conducted field trials in Oregon since 2001 when it reportedly withdrew from the state.
--------
YOU ALSO MIGHT LIKE
California Senator Introduces GMO Food Labeling Bill 
Maine Governor Signs GMO Food Labeling Bill
Petition Launched to Halt GMO Production, Pesticide Use in Hawaii
--------
EcoWatch Daily Newsletter