By Katie Rucke
Genetically modified organisms (GMOs) are the answer to ending world hunger, at least according to the former leader of the Roman Catholic Church, Pope Benedict XVI.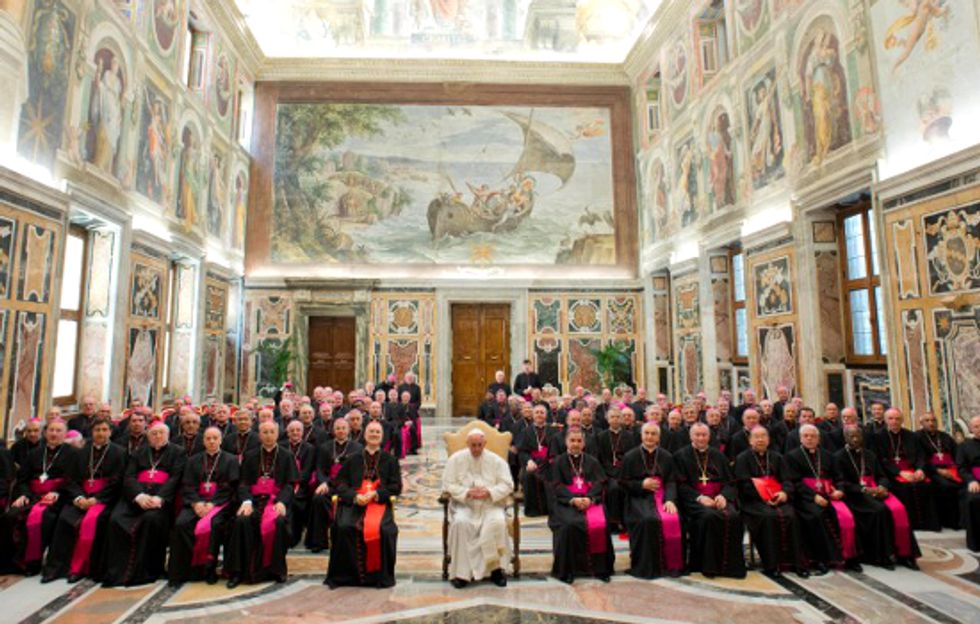 According to a 2009 WikiLeaks cable from the U.S. embassy in the Vatican, it was discovered that "Vatican officials remain largely supportive of genetically modified crops as a vehicle for protecting the environment while feeding the hungry," as a result of lobbying efforts by the U.S.
The cables from the U.S. embassy indicated that if the U.S. could convince the church that GMOs were good, the church would be able to convince its members. This would be a boost for the GMO industry since the Catholic Church claims more than 1 billion members.
Given that GMOs have caused controversy around the world recently as questions arise about their impact on human health, it's uncertain whether the church will be able to convince all its members GMOs are a good thing.
According to the American Academy of Environmental Medicine, doctors should recommend non-GMO diets to all persons, since some animal studies have suggested that diets with GMO foods can lead to organ damage, gastrointestinal and immune system disorders, accelerated aging and infertility.
Several countries have banned the use of GMO ingredients or require labeling for products containing them. In the U.S., home to the big agriculture businesses that created GMOs, there is no GMO ban and Americans have just begun to demand GMO products be labeled as such.
Though the 2009 WikiLeaks cable revealed the Catholic Church was in favor of GMOs, Monsignor James Reinert, a member of the Vatican Council of Justice and Peace, noted that the Catholic Church has come to a "consensus on the need for GMOs with one caveat."
"The Vatican cannot force all bishops to endorse biotechnology," he said, "particularly if their opposition has to do with concerns over protecting profits of large corporations who hold the patents for the crops, versus feeding the hungry."
Poor Health Epidemic Brought On By GMOs?
Some observers think GMO products, introduced by biotechnology companies such as Monsanto in 1996 to work toward ending world hunger and malnutrition, could be connected to an increase in the percentage of Americans with chronic illnesses, food allergies and disorders such as autism, reproductive disorders and digestive problems.
Reports from the International Assessment of Agricultural Knowledge, Science and Technology for Development also indicate that GMO crops do not necessarily increase yields.
According to the report, "assessment of the technology lags behind its development, information is anecdotal and contradictory, and uncertainty about possible benefits and damage is unavoidable." In addition the report states that GMOs "have nothing to offer the goals of reducing hunger and poverty, improving nutrition, health and rural livelihoods, and facilitating social and environmental sustainability."
The three most common GMO crops grown today include corn, soybeans and cotton. According to the Organic Valley Co-Op, the corn and soybeans are animal feed crops and nations that don't consume a lot of meat won't benefit from their use.
Science seems to have also poked holes in the church's argument that GMOs protect the environment. In order to grow GMO crops, farmers have to use hazardous pesticides to remove weeds and keep insects away from the crops.
However, studies indicate that farmers with GMO crops not only have to use more pesticides when they have GMO crops, but have to use more hazardous pesticides.
These pesticides and herbicides have been found to harm birds, insects, amphibians, marine ecosystems and soil organisms. Studies have also found herbicides reduce biodiversity and pollute water.
Not only are these chemicals unsafe, they are expensive. According to the Organic Valley Co-Op, "the only farmers that can afford the seeds and chemicals are those from first-world countries or the wealthy landowners from developing countries, who grow the crops for export, not to feed the poor."
New Pope, New Stance?
While the Catholic Church's initial pro-GMO stance was issued under Pope Benedict XVI, the church's current leader, Pope Francis, has yet to share his view on GMOs.
According to Al Jazeera, Pope Francis is a trained chemist, which gives him more information on the scientific aspect of consuming GMOs than his predecessor. Another factor that may influence Francis is his Argentinian heritage.
Argentina relies heavily on genetically modified crops. But a new documentary demonstrates the high usage of Monsanto-manufactured GMO seeds in the Latin American nation has caused issues with land ownership in addition to health problems.
Filmmaker Glenn Ellis summarized the documentary by saying that "… [D]octors and scientists claim that babies are being born with crippling birth malformations and that in recent years the incidence of childhood cancer has soared. It is a phenomenon, they say, that has coincided with the introduction of Monsanto's seed."
Visit EcoWatch's GE FOOD page for more related news on this topic.

EcoWatch Daily Newsletter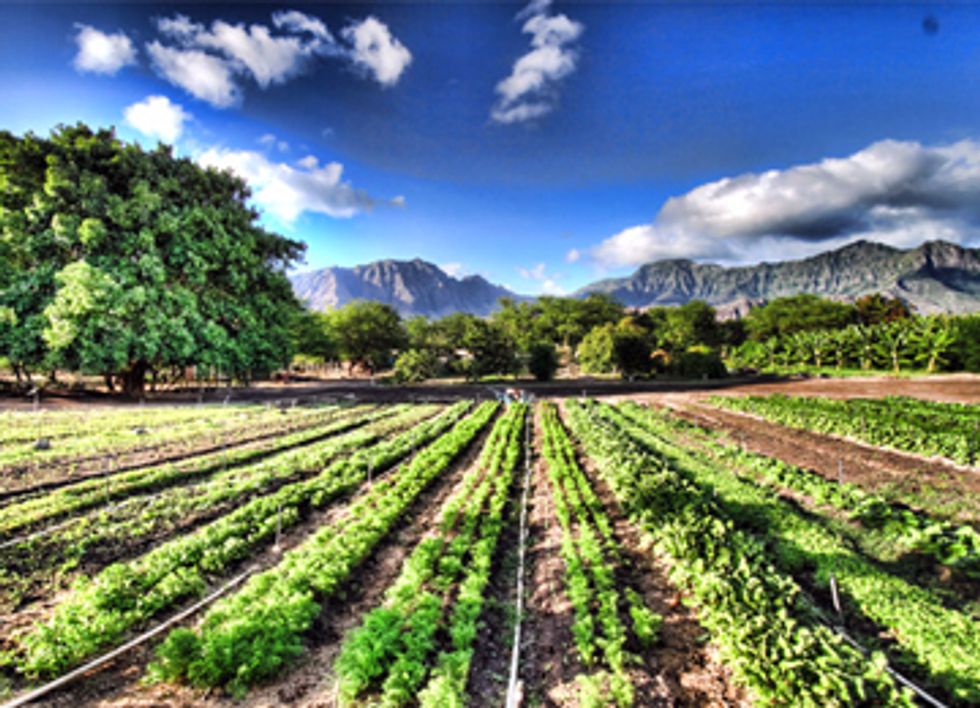 A three-judge panel at the Court of Appeals for the Federal Circuit ruled yesterday that a group of organic and otherwise non-genetically modified organism (GMO) farmer and seed company plaintiffs are not entitled to bring a lawsuit to protect themselves from Monsanto's transgenic seed patents "because Monsanto has made binding assurances that it will not 'take legal action against growers whose crops might inadvertently contain traces of Monsanto biotech genes (because, for example, some transgenic seed or pollen blew onto the grower's land).'"
 
In the ruling issued yesterday in the case Organic Seed Growers and Trade Association (OSGATA) et al. v. Monsanto, the Court of Appeals judges affirmed the Southern District of New York's previous decision that the plaintiffs did not present a sufficient controversy to warrant adjudication by the courts. However, it did so only because Monsanto made repeated commitments during the lawsuit to not sue farmers with "trace amounts" of contamination of crops containing their patented genes.
Plaintiffs' attorney, Dan Ravicher of the Public Patent Foundation (PUBPAT), views the decision as a partial victory. "Before this suit, the Organic Seed plaintiffs were forced to take expensive precautions and avoid full use of their land in order to not be falsely accused of patent infringement by Monsanto," said Ravicher. "The decision today means that the farmers did have the right to bring the suit to protect themselves, but now that Monsanto has bound itself to not suing the plaintiffs, the Court of Appeals believes the suit should not move forward."
The plaintiff farmers and seed companies began their legal battle in March of 2011, when they filed a complaint against agricultural giant Monsanto asking for a declaration that Monsanto's patents on genetically engineered seed were invalid or unenforceable. The plaintiffs were compelled to file the suit because Monsanto's patented seed can contaminate neighboring fields through various means including wind and insects, and the owners of those fields, such as plaintiffs, can then be sued by Monsanto for patent infringement.
 
The Organic Seed plaintiffs' complaint detailed Monsanto's abusive business and litigation tactics that have put several farmers and independent seed companies out of business. They also detailed Monsanto's history of ruthless patent enforcement, going so far as investigating as many as 500 farmers each year for patent infringement by trespassing onto their land. The plaintiffs further detailed the harms caused to society by Monsanto's GMO seed, including the proliferation of herbicide-resistant "superweeds" and environmental pollution. The plaintiffs set forth in their legal filings how the patents were legally deficient in several ways including that the covered technology has no beneficial social use and that the dozens of patents issued to Monsanto have illegally extended and entrenched its monopoly.
"Even though we're disappointed with the Court's ruling not to hear our case, we're encouraged by the court's determination that Monsanto does not have the right to sue farmers for trace contamination," said Maine organic seed farmer Jim Gerritsen, president of lead plaintiff OSGATA. "However, the farmers went to court seeking justice not only about contamination, but also the larger question of the validity of Monsanto's patents. Justice has not been served."
 
While the court is relying on Monsanto's promise not to sue farmers for unintentional contamination, a growing number of America's farmers and consumers are concerned about genetic contamination of our food supply by Monsanto's transgenic crops. While this lawsuit seeks to protect contaminated farmers from being accused of infringing Monsanto's patents, the decision today allows farmers who are contaminated to sue Monsanto and Monsanto's customers for the harm caused by that contamination without fear of a retaliation patent infringement claim against them by Monsanto.
 
"Today's ruling may give farmers a toehold in courts regarding the unwanted contamination of their crops, but it does not protect our food supply from the continued proliferation of Monsanto's flawed technology," said Dave Murphy, founder and executive director of Food Democracy Now!, a co-plaintiff in the lawsuit. "The real threat of continued contamination of our nation's food supply was only highlighted last week when Monsanto's unapproved GMO wheat was discovered in an Oregon farmer's field more than 10 years after it was legally planted in that state."
The discovery of GMO contamination sent shockwaves through the Western wheat growers community and resulted in Japan and South Korea temporarily halting the acceptance of American wheat imports.
 
Despite the Court of Appeals' Decision today the plaintiffs still have the right to ask the Supreme Court to review the Court of Appeals decision and ultimately reinstate the case. Ravicher said the plaintiffs are considering doing so. Complete background on the full lawsuit is available on the OSGATA website.
Visit EcoWatch's GENETICALLY ENGINEERED FOODS page for more related news on this topic.

Watch as Stephen Colbert uses his all-American tongue-in-cheek intellect to bring attention to the genetically engineered Roundup Ready wheat controversy that resulted in cancelled international trade deals and potential fines for agribusiness biotech giant Monsanto.
Visit EcoWatch's GENETICALLY MODIFIED ORGANISM page for more related news on this topic.
——–