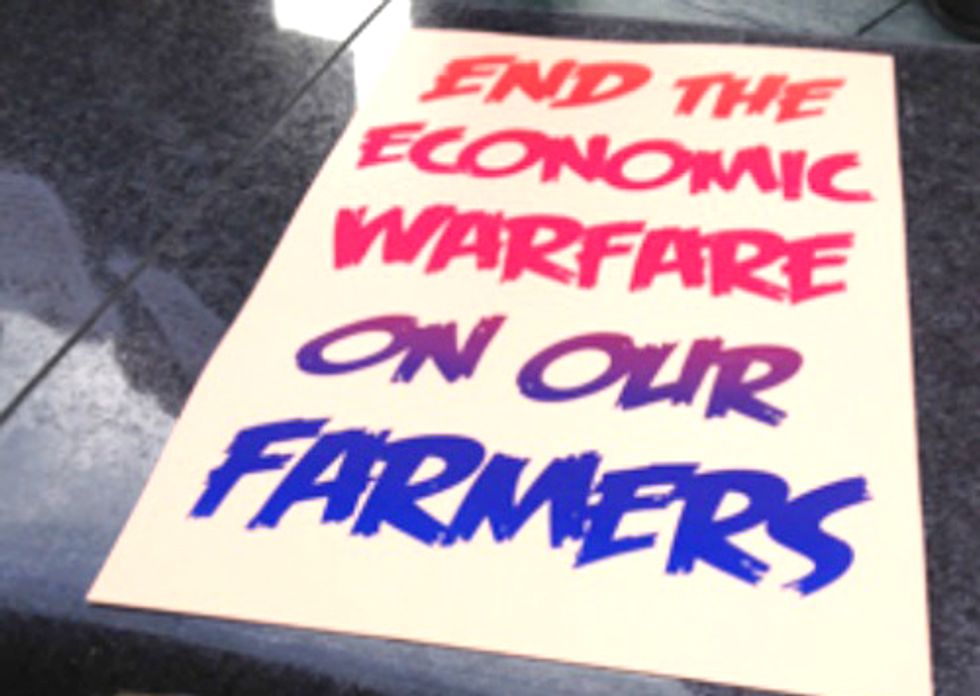 On Feb. 24, Judge Naomi Buchwald handed down her ruling on a motion to dismiss in the case of Organic Seed Growers and Trade Association et al v. Monsanto after hearing oral argument on Jan. 31 in Federal District Court in Manhattan. Her ruling to dismiss the case brought against Monsanto on behalf of organic farmers, seed growers and agricultural organizations representing farmers and citizens was met with great disappointment by the plaintiffs.
Plaintiff Lead Attorney Daniel Ravicher, said:
"While I have great respect for Judge Buchwald, her decision to deny farmers the right to seek legal protection from one of the world's foremost patent bullies is gravely disappointing. Her belief that farmers are acting unreasonable when they stop growing certain crops to avoid being sued by Monsanto for patent infringement should their crops become contaminated maligns the intelligence and integrity of those farmers. Her failure to address the purpose of the Declaratory Judgment Act and her characterization of binding Supreme Court precedent that supports the farmers' standing as 'wholly inapposite' constitute legal error. In sum, her opinion is flawed on both the facts and the law. Thankfully, the plaintiffs have the right to appeal to the Court of Appeals, which will review the matter without deference to her findings."
Monsanto's history of aggressive investigations and lawsuits brought against farmers in America have been a source of concern for organic and non-GMO farmers since Monsanto's first lawsuit brought against a farmer in the mid-90′s. Since then, 144 farmers have had lawsuits brought against them by Monsanto for alleged violations of  their patented seed technology. Monsanto has brought charges against more than 700 additional farmers who have settled out-of-court rather than face Monsanto's belligerent litigious actions. Many of these farmers claim to not have had the intention to grow or save seeds that contain Monsanto's patented genes. Seed drift and pollen drift from genetically engineered crops often contaminate neighboring fields. If Monsanto's seed technology is found on a farmer's land without contract, they can be found liable for patent infringement.
"Family farmers need the protection of the court," said Maine organic seed farmer Jim Gerritsen, president of lead plaintiff OSGATA. "We reject as naïve and undefendable the judge's assertion that Monsanto's vague public relations 'commitment' should be 'a source of comfort' to plaintiffs. The truth is we are under threat and we do not believe Monsanto. The truth is that American farmers and the American people do not believe Monsanto. Family farmers deserve our day in court and this flawed ruling will not deter us from continuing to seek justice."
The plaintiffs brought this suit against Monsanto to seek judicial protection from such lawsuits and challenge the validity of Monsanto's patents on seeds.
"As a citizen and property owner, I find the Order by the Federal Court to be obsequious to Monsanto," said plaintiff organic farmer Bryce Stephens of Kansas. "The careless, inattentive, thoughtless and negligent advertisement Monsanto has published on their website to not exercise its patent rights for inadvertent trace contamination belies the fact that their policy is in reality a presumptuous admission of contamination by their vaunted product on my property, plants, seeds and animals."
"Seeds are the memory of life," said Isaura Anduluz of plaintiff Cuatro Puertas and the Arid Crop Seed Cache in New Mexico. "If planted and saved annually, cross pollination ensures the seeds continue to adapt. In the Southwest, selection over many, many generations has resulted in native drought tolerant corn. Now that a patented drought tolerant corn has been released, how do we protect our seeds from contamination and our right to farm?"
A copy of Judge Buchwalds ruling can be found by clicking here.
For more information, click here.
EcoWatch Daily Newsletter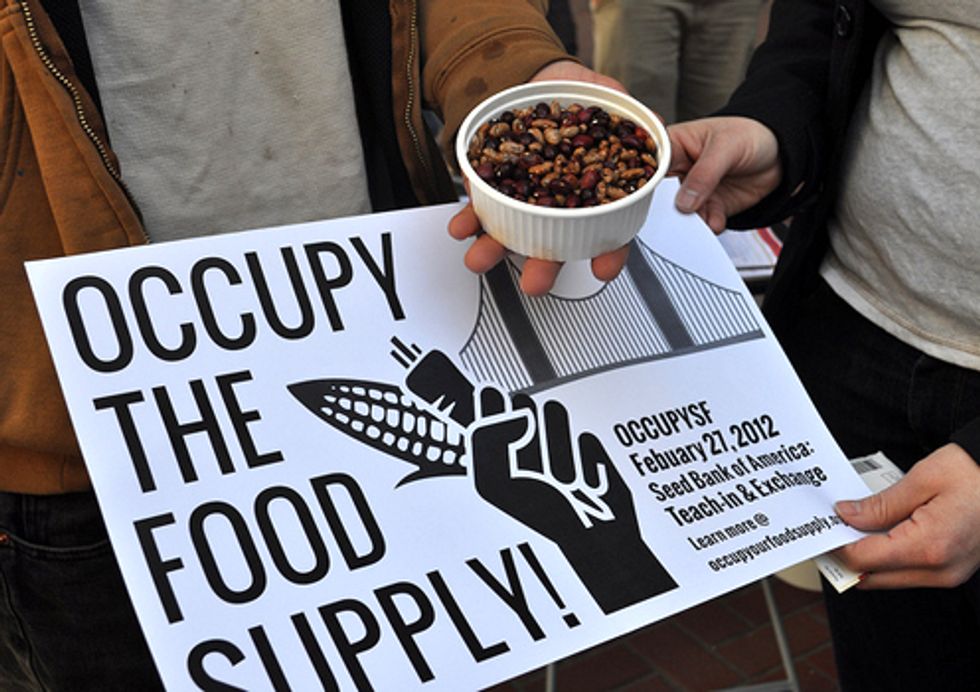 Organizers called the Feb. 27 Occupy our Food Supply day of action a resounding success. The day included more than 100 events across the globe, united an unprecedented alliance of more than 60 Occupy groups and 30 environmental, food and corporate accountability organizations, and featured prominent voices including Indian environmentalist Vandana Shiva, music legend Willie Nelson, actor Woody Harrelson, authors Raj Patel, Anna Lappe, Gary Paul Nabhan, author Michael Ableman and Marion Nestle, among others.
"At this point, we can barely keep up with all the events and blog postings," said Hillary Lehr, an organizer for Rainforest Action Network, which helped facilitate the day of action. "From mommy bloggers to Occupy groups, we are seeing an enormous spectrum of people respond to Occupy our Food Supply's call to resist corporate consolidation of our food systems and create socially and environmentally just local solutions. Plain and simple, it is clear that getting big food giants like Cargill and Monsanto out of our food system is an idea whose time has come."
Across the globe, online and offline, thousands participated in the events. Events included a 40 person seed exchange at the New York Stock Exchange hosted by Occupy Wall Street; the building of a community garden in Oakland hosted by Occupy the Food System Oakland; the 'stickering' of genetically modified foods at more than 20 Safeway and Whole Foods grocery stores across the country; more than 100 people in Wayzata, Minn. convening a Cargill call-in day to CEO Greg Page; and an 'evict Monsanto' protest is planned for Feb. 29 at the Monsanto offices in Lockhart, Texas.
"Every stage of the food system involves some sort of destructive or exploitive practice, and we really need to change that," said Alec Higgins with Occupy Wall Street Food Justice, which organized the seed exchange at the New York Stock Exchange. "Food is at the core of OWS values. We are coming together around this one thing that is so essential to our well being. It's what we eat."
Occupy our Food Supply also had an online face with a blogger and social media day of action, asking influential bloggers, social media users and blog sites to write on the corporate control of food. More than 75 blogs covered the day, from the prominent Huffington Post to the niche CivilEats and Curvy, Foody, Hungry. On Twitter, the event reported two to three posts per minute using the #F27 hasthtag.
Never have so few corporations been responsible for more of our food chain. Of the 40,000 food items in a typical U.S. grocery store, more than half are now brought to us by just 10 corporations. Today, three companies process more than 70 percent of all U.S. beef, Tyson, Cargill and JBS. More than 90 percent of soybean seeds and 80 percent of corn seeds used in the U.S. are sold by just one company—Monsanto. Four companies are responsible for up to 90 percent of the global trade in grain. And one in four food dollars is spent at Walmart.
The overwhelming support for Occupy our Food Supply underscores the unity between farmers, parents, health care professionals, human rights activists, food justice advocates and food lovers around the world who are increasingly viewing their concerns as different manifestations of the same underlying problem—a food system structured for short term profit instead of the long term health of people and the planet.
Supporting groups included: Bay Localize, Berkeley Association for Animal Advocacy, Biosafety Alliance, California Food and Justice Coalition, Chiapas Support Committee, Family Farm Defenders, Food Democracy Now, Food First, Foodchain Workers Alliance, Indigenous Environmental Network, National Family Farms Coalition, PAN (Pesticide Action Network), Pesticide Watch, Planting Justice, Occupy Big Food, Occupy Claremont, Occupy Cargill, Occupy DC, Occupy Denver, Occupy Farms, Occupy Fort Lauderdale, Occupy Food, Occupy Gardens Toronto, Occupy Jacksonville, Occupy MN/Seeds of Change, Occupy London, Occupy Monsanto, Occupy Philly Occupy Vacant Lots),  Occupy Porto Alegre (Brazil), OWS-Food Justice, OWS Puppets, OWS Sustainability, Occupy Santa Cruz, Occupy SF Environmental Justice Working Group, and Occupy the Food System-Oakland, Organic Consumer Association and many others.
See the full list of supporting organizations and events by clicking here.
For more information, click here.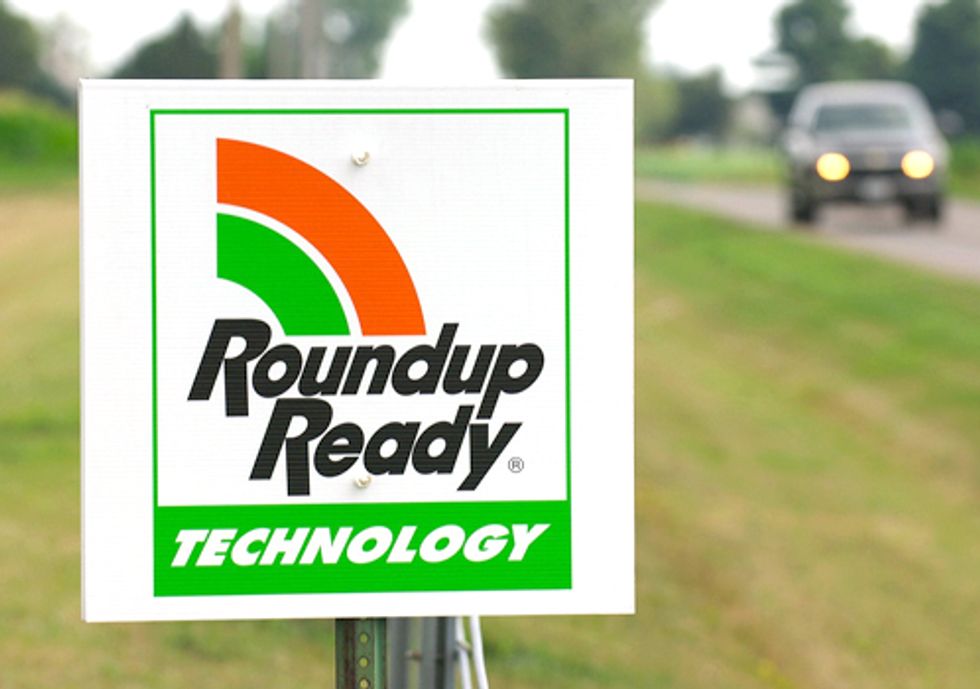 The U.S. Department of Agriculture (USDA) is currently deciding whether or not to approve an application by Dow Chemical for its controversial genetically engineered (GE) corn crop that is resistant to the highly toxic herbicide 2,4-D—one of the main ingredients in Agent Orange.
On Feb. 22, just five days before the close of the comment period, the USDA extended the public comment period on this issue until the end of April 2012. The Center for Food Safety (CFS), the nation's leading organization in the fight against GE crops, was one of the groups that requested this extension from USDA, and we are pleased the agency responded accordingly. If approved, CFS has vowed to challenge USDA's decision in court, as this novel GE crop provides no public benefit and will only cause serious harm to human health, the environment, and threaten American farms.
"Dow's 'Agent Orange' corn will trigger a large increase in 2,4-D use—and our exposure to this toxic herbicide—yet USDA has not assessed how much, nor analyzed the serious harm to human health, the environment, or neighboring farms," said Andrew Kimbrell, executive director of the Center for Food Safety. "This novel corn will foster resistant weeds that require more toxic pesticides to kill, followed by more resistance and more pesticides—a chemical arms race in which the only winners are pesticide/biotechnology firms."
If approved, millions of acres of "Agent Orange" corn could be planted as early as next year, raising concern for its adverse health impacts. 2,4-D was one of the main ingredients in Agent Orange, the chemical defoliant used by the U.S. in the Vietnam War. Agent Orange was contaminated with dioxins, a group of highly toxic chemical compounds, which are responsible for a host of serious medical conditions—from diabetes to cancer to birth defects—in Vietnam veterans as well as Vietnamese and their children. Industry's own tests show that 2,4-D is still contaminated with dioxins.
"Many studies show that 2,4 D exposure is associated with various forms of cancer, Parkinson's Disease, nerve damage, hormone disruption and birth defects," said Dr. Amy Dean, an internal medicine physician and president-elect of the American Academy of Environmental Medicine. "Because it poses significant health risk, exposure should not be increased, but significantly reduced to protect the public's health."
2,4-D drift and runoff also pose serious risk for environmental harm. Because it is such a potent plant-killer, 2,4-D can harm animals by killing the plants they depend on for habitat and food. The U.S. Environmental Protection Agency and the National Marine Fisheries Service have found that 2,4-D is likely having adverse impacts on several endangered species, even now. 2,4-D is currently used to control weeds primarily in cereal grains and lawns. Its use in corn has been extremely limited. USDA's approval of 2,4-D resistant GE corn will increase the overall use of this toxic herbicide, worsening these impacts and likely placing many other species at risk.
American farmers are also rightly concerned that the introduction of 2,4-D resistant corn will threaten their crops—2,4-D drift is responsible for more episodes of crop injury than any other herbicide. "In my experience, 2,4-D is an herbicide that can and does drift considerable distances to damage neighboring crops," said Indiana farmer Troy Roush. "We can expect greatly increased use of 2,4-D with Dow's new corn, and that could wreak havoc with soybeans, tomatoes, and other crops my neighbors and I grow."
The advent of Dow's 2,4-D resistant corn is a clear indication that first-generation genetically engineered, herbicide-resistant crops—Monsanto's Roundup Ready (RR) varieties—are rapidly failing. RR crops, which comprise 84 percent of world biotech plantings, have triggered massive use of glyphosate (Roundup's active ingredient) and an epidemic of glyphosate-resistant weeds. These resistant "superweeds" are regarded as one of the major challenges facing American agriculture.
Dow now falsely suggests that 2,4-D crops (2,4-D soybeans and cotton are also under development) are the solution to weed resistance. Far from solving the problem, however, a peer-reviewed study recently published in the prestigious journal Bioscience, entitled Navigating a Critical Juncture for Sustainable Weed Management, suggests that these new GE crops will pour oil on the fire, triggering an outbreak of still more intractable weeds resistant to both glyphosate and 2,4-D.
USDA's public comment period on 2,4-D resistant corn is open until April 27th. Comments may be submitted to the agency through CFS's action link by clicking here.
For more information on 2,4-D corn, see CFS's two-page fact sheet and more extensive Food Safety Review.
For more information, click here.
—————
The Center for Food Safety is a national, nonprofit, membership organization founded in 1997 to protect human health and the environment by curbing the use of harmful food production technologies and by promoting organic and other forms of sustainable agriculture.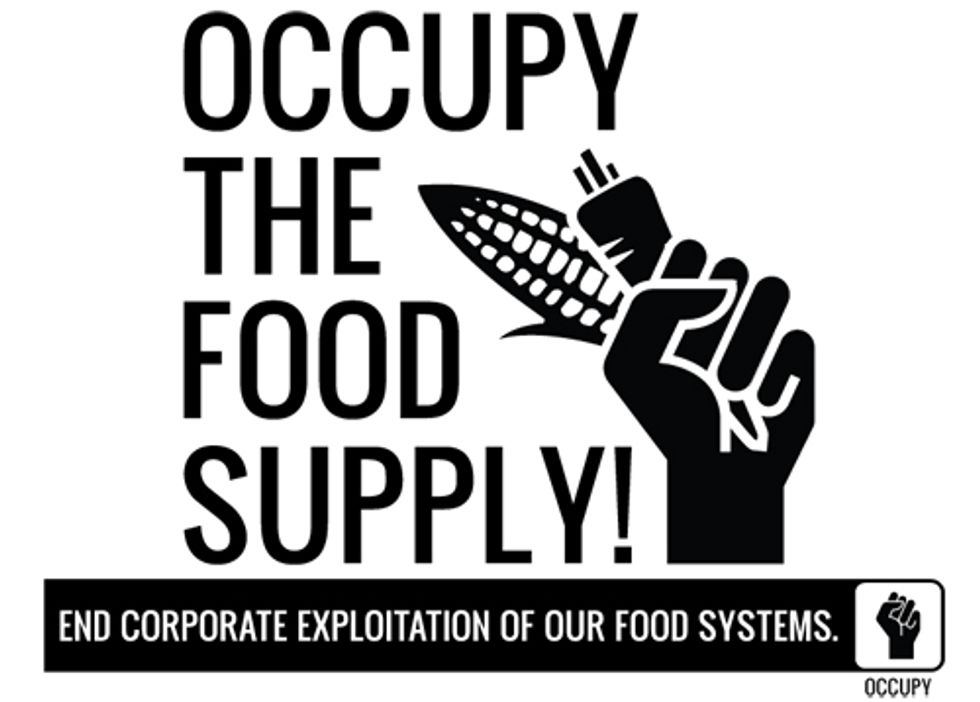 Occupy Our Food Supply is bringing together the Occupy, sustainable farming, food justice, buy local, slow food, and environmental movements for a global day of action on Feb. 27, 2012. Inspired by the theme of CREATE/RESIST, thousands will come together to creatively confront corporate control of our food supply and take action to build healthy, accessible food systems for all.
Industrial agribusiness corporations like Cargill, Monsanto, ADM and Dupont have gained runaway control of our food systems and to take them back, we'll need all the collective power we can manifest around the world. There are few things more personal than the food we put into our bodies every day. Let's ensure that we can stand by the food we eat from farm to fork.
Occupy Our Food Supply will be a major decentralized global day of food action and solidarity. Act locally to affect massive change globally—from hosting a sustainable potluck to planning a community garden to organizing a Tour of Shame featuring corporate food polluters in your area.
Register your event to stand up and be counted in the movement to Occupy Our Food Supply, or click the map to find an event near you and email the organizer to get involved.
Sign up to take action on Feb. 27 to Occupy Our Food Supply.
For more information, click here.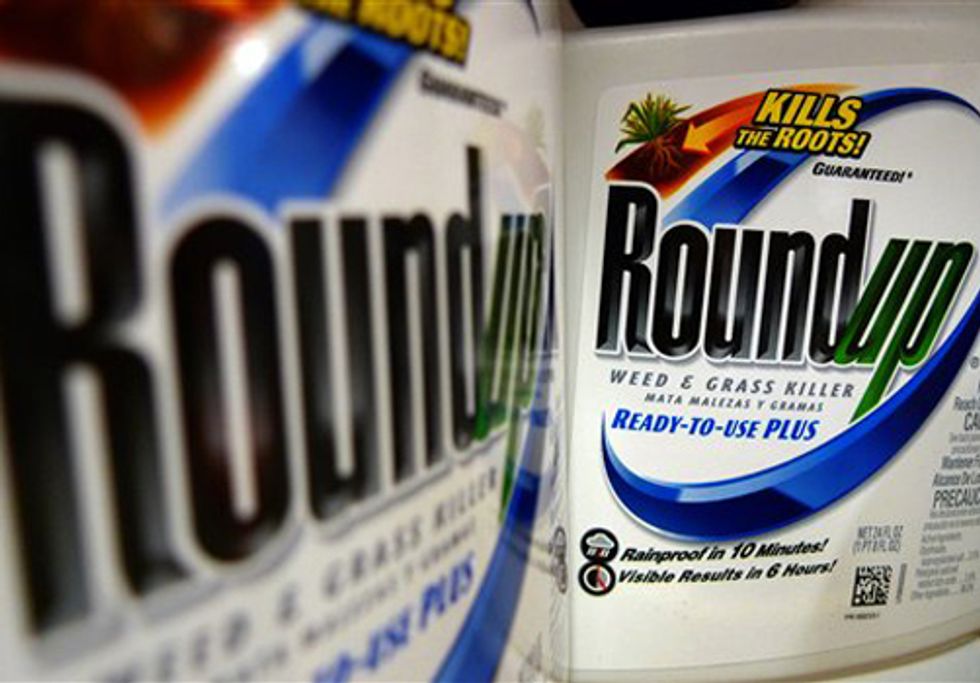 A French court has found U.S. chemical giant Monsanto Co. guilty of pesticide poisoning in the case of a French farmer who became ill after exposure to one of the company's herbicides, according to Reuters. The case is significant in that it sets precedent for other cases alleging pesticide poisoning or negligence in reporting of potential effects on human health resulting from pesticides. The court has said it will seek an expert opinion regarding the farmer's losses in order to determine the appropriate amount of damages he should be rewarded.
The case stems from an incident in which the farmer, Paul Francois, inadvertently inhaled Monsanto's Lasso pesticide when cleaning his sprayer tank on his farm in southern France in 2004. He then began experiencing memory loss, headaches, and stammering, among other neurological problems. This led to his decision to file suit against Monsanto, asserting that the company did not provide adequate warnings on the product label that would indicate these symptoms could result from exposure. The court agreed with Mr. Francois, stating that, "Monsanto is responsible for Paul Francois's suffering after he inhaled the Lasso product … and must entirely compensate him," according to Agence France-Presse (AFP).
Lasso is a general herbicide for grasses and some broadleaf weeds whose active ingredient is alachlor. Before Roundup, Lasso was one of Monsanto's biggest products and became one of the most widely used of any pesticide in the U.S. in the 1980s. Alachlor is a highly toxic chemical that is widely considered an endocrine disruptor and has been linked to kidney and liver damage as well as birth and developmental defects. It is classified by the U.S. Environmental Protection Agency (EPA) as likely to be carcinogenic in high doses. Nonetheless, it remains registered for use through the U.S. In 1987, the state of Massachusetts attempted to ban the chemical, but was fought by Monsanto, which successfully convinced the state's pesticide board to make alachlor a restricted use chemical instead of banned. The chemical was banned throughout the European Union in 2007, including in France, where the Francois incident occurred. It is registered for use in the U.S.
Numerous other cases have been filed seeking damages from chemical companies due to pesticide poisonings, but they have often suffered because of the difficulty of linking chemical exposure to a particular person's chronic illness. However, the Francois case was able to demonstrate that it was in fact the pesticide that caused harm because it was linked to a specific incident involving acute exposure, rather than long terms effects after repeated, chronic exposure. The problem with trying to prove cases regarding chronic exposure was summarized by another farmer, who told Reuters, "It's like lying on a bed of thorns and trying to say which one cut you."
A lawyer for Monsanto said the company was disappointed with the decision and that it will explore appealing to a higher court.
Monsanto and its products are currently involved in several other lawsuits, largely stemming from its line of herbicide tolerant "Roundup Ready" crops. A lawsuit filed by the Public Patent Foundation on behalf of family farmers, seed businesses, organic agricultural organizations, and environmental groups (including Beyond Pesticides) seeks to prevent the chemical company from asserting its patents and suing farmers who are unwittingly found to have incidental amounts of patented herbicide-tolerant seeds in their fields. Oral arguments in this case were heard last month.
Beyond Pesticides is also a plaintiff in another lawsuit involving genetically engineered crops led by attorneys for the Center for Food Safety (CFS), Earthjustice, and farm and environmental groups. The lawsuit filed against the U.S. Department of Agriculture (USDA) argues that the agency's 2011 unrestricted approval of Monsanto's genetically engineered alfalfa is unlawful. For more information on genetically engineered crops, see Beyond Pesticides' webpage.
Chemical companies' argument that people in the U.S. do not have a right to sue for damages associated with registered pesticides lost in the U.S. Supreme Court in 2005 in Bates et al v. Dow AgroSciences LLC. The Supreme Court ruled that citizens damaged by pesticides have the right to sue producers of these toxic products, finding that federal pesticide law does not offer adequate protection from "manufacturers of poisonous substances." Dow Chemical Company, supported by the Bush administration at the time, argued that, because its products are registered by EPA, chemical manufacturers should be shielded from litigation.
For more information, click here.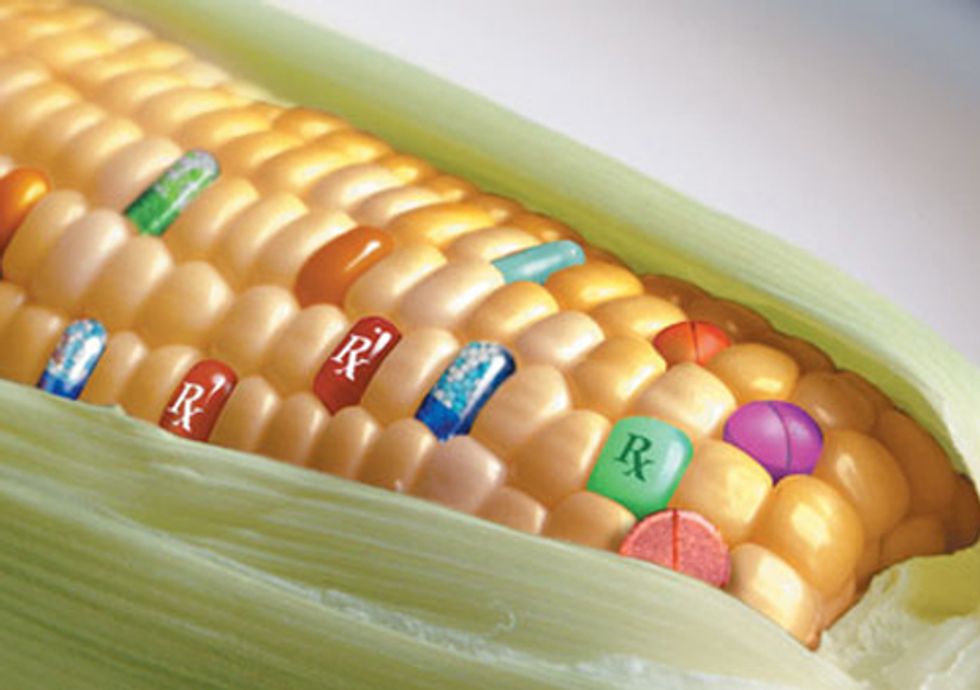 Monsanto's marketing efforts would have you believe that its product line—centered around genetically engineered (GE) seeds and the chemicals used to grow them—is a silver bullet to addressing the world's food and agricultural challenges. And this sales pitch has been extremely effective—so effective, in fact, that even well-educated elected officials, anti-hunger advocates, and everyday people often assume that such an approach is the only option to prevent hunger, reduce pollution, and adapt to climate change. These misconceptions in turn drive important policy decisions, including research priorities and allocation of taxpayer dollars.
The Union of Concerned Scientists' Eight Ways Monsanto Fails at Sustainable Agriculture rebuts these myths and demonstrates that the company's practices are actually holding back the development and expansion of better, cheaper, science-based ways of achieving results for farmers, consumers, and the environment.
But we don't have $120 million to spend on lobbying and PR efforts like Monsanto does to help us get attention to this critical issue—and that's where you come in. We need your help to set the record straight on Monsanto and its products' shortcomings, and give sustainable agriculture a fighting chance. Help change the conventional wisdom, one tweet or Facebook post at a time. And if you're not on Twitter or Facebook, you can help spread the word here.
Eight ways Monsanto fails at sustainable agriculture—What's your "favorite"?
1. Promoting Resistance
Monsanto's RoundupReady and Bt technologies lead to resistant weeds and insects that can make farming harder and reduce sustainability.
2. Increasing Herbicide Use
Roundup resistance has led to greater use of herbicides, with troubling implications for biodiversity, sustainability and human health.
3. Spreading Gene Contamination
Engineered genes have a bad habit of turning up in non-GE crops. And when this happens, sustainable farmers—and their customers—pay a high price.
4. Expanding Monoculture
Monsanto's emphasis on limited varieties of a few commodity crops contributes to reduced biodiversity and, as a consequence, to increased pesticide use and fertilizer pollution.
5. Marginalizing Alternatives
Monsanto's single-minded emphasis on GE fixes for farming challenges may come at the expense of cheaper, more effective solutions.
6. Lobbying and Advertising
Monsanto outspends all other agribusinesses on efforts to persuade Congress and the public to maintain the industrial agriculture status quo.
7. Suppressing Research
By creating obstacles to independent research on its products, Monsanto makes it harder for farmers and policy makers to make informed decisions that can lead to more sustainable agriculture.
8. Falling Short on Feeding the World
Monsanto contributes little to helping the world feed itself, and has failed to endorse science-backed solutions that don't give its products a central role.
Got other ideas for how Monsanto fails at sustainable agriculture? Tweet your response with the hashtag #MonsantoFail.
For more information, click here.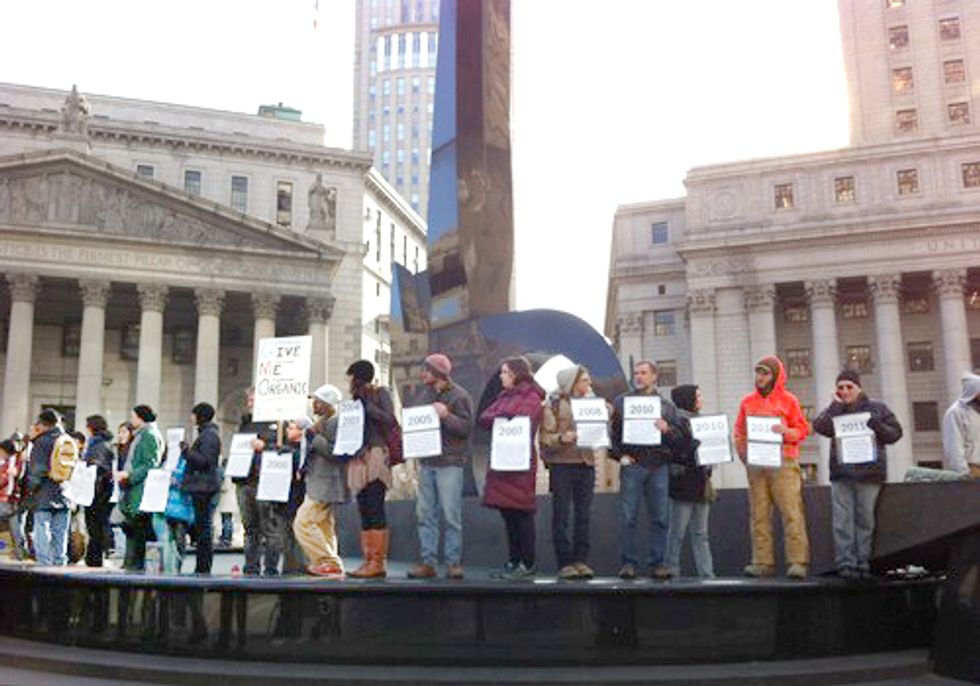 It was standing room only as family farmers from around North America filled Federal Court Judge Naomi Buchwald's courtroom in Manhattan on Tuesday, Jan. 31. The topic was the landmark organic community lawsuit Organic Seed Growers and Trade Association (OSGATA) et al v. Monsanto and the oral argument from Monsanto's pre-trial motion to dismiss, which it filed last July. Plaintiffs from at least 21 States and provinces were in the courtroom including Oregon, California, New Mexico, Colorado, Kansas, Nebraska, South Dakota, Saskatchewan, Missouri, Iowa, Ohio, Florida, North Carolina, Virginia, New Jersey, Pennsylvania, New York, Connecticut, Massachusetts, Vermont and Maine.
Meanwhile, outside the courthouse in Foley Square, hundreds turned out for the citizen's assembly of support for family farmers, an action organized by several groups including Occupy Food Justice. A depiction of Monsanto's infamous 100 year history including Agent Orange, dioxin, PCBs and now gene-spliced food was presented. Speakers addressed topics ranging from sustainable agriculture to risks associated with genetically modified organisms (GMOs) to issues of good food and food justice. After the conclusion of the courtroom oral argument, the plaintiff farmers and their legal team from the Public Patent Foundation provided details and comments on the courtroom proceedings, to supporters at the citizens' assembly.
"We were very pleased that the court granted our request to have oral argument regarding Monsanto's motion to dismiss our case today," said Daniel Ravicher of the Public Patent Foundation, lead lawyer for the plaintiffs. "The judge graciously permitted both parties to raise all the points they wished in a session that lasted over an hour. While Monsanto's attorney attempted to portray the risk organic farmers face from being contaminated and then accused of patent infringement as hypothetical and abstract, we rebutted those arguments with the concrete proof of the harm being suffered by our clients in their attempts to avoid such accusations. The judge indicated she will issue her ruling within two months. We expect she will deny the motion and the case will then proceed forward. If she should happen to grant the motion, we will most likely appeal to the Court of Appeals who will review her decision without deference."
The large group of 83 Plaintiffs in OSGATA v. Monsanto is comprised of individual family farmers, independent seed companies and agricultural organizations. The total number of members within the plaintiff group exceeds 300,000 and includes many thousands of certified organic farmers. The plaintiffs are not seeking any monetary compensation. Instead, the farmers are pre-emptively suing Monsanto and seeking court protection under the Declaratory Judgment Act, from Monsanto-initiated patent infringement lawsuits.
President and lead Plaintiff for Organic Seed Growers and Trade Association—Maine organic seed farmer Jim Gerritsen—was in the courtroom and witnessed the oral argument. Gerritsen had this to say, "Our lawyer did a good job explaining the current injustice farmers face. We have a right to be secure on our farms and to be free from Monsanto's GMO trespass. If we become contaminated by Monsanto, not only is the value of our organic seed crop extinguished but we could also be sued by Monsanto for patent infringement because their contamination results in our 'possession' of their GMO technology. We have farmers who have stopped growing organic corn, organic canola and organic soybeans because they can't risk being sued by Monsanto. It's not fair and it's not right. Family farmers need justice and we deserve the protection of the court."
Early on in the legal process, Monsanto was asked by lawyers for the plaintiffs to provide a binding legal covenant not to sue. Monsanto refused this request and in doing so made clear that it would not give up its option to sue contaminated innocent family farmers who want nothing to do with Monsanto's GMO technology.
In a remarkable demonstration of solid support by American citizens for family farmers, co-plaintiff Food Democracy Now! has collected more than 100,000 signatures on it's petition supporting the rights of family farmers against Monsanto. "For the past 12,000 years farmers have saved the best seeds each year to increase yields and improve traits for the food we eat," said Dave Murphy, founder and executive director of Food Democracy Now! "In 1996, when Monsanto sold its first patented genetically modified (GMO) seed to farmers, this radically changed the idea of how farmers planted and saved seed. Less than two decades later, Monsanto's aggressive patent infringement lawsuits have created a climate of fear in rural America among farmers. It's time for that to end. Farmers should not have to live in fear because they are growing our food."
For more information, click here.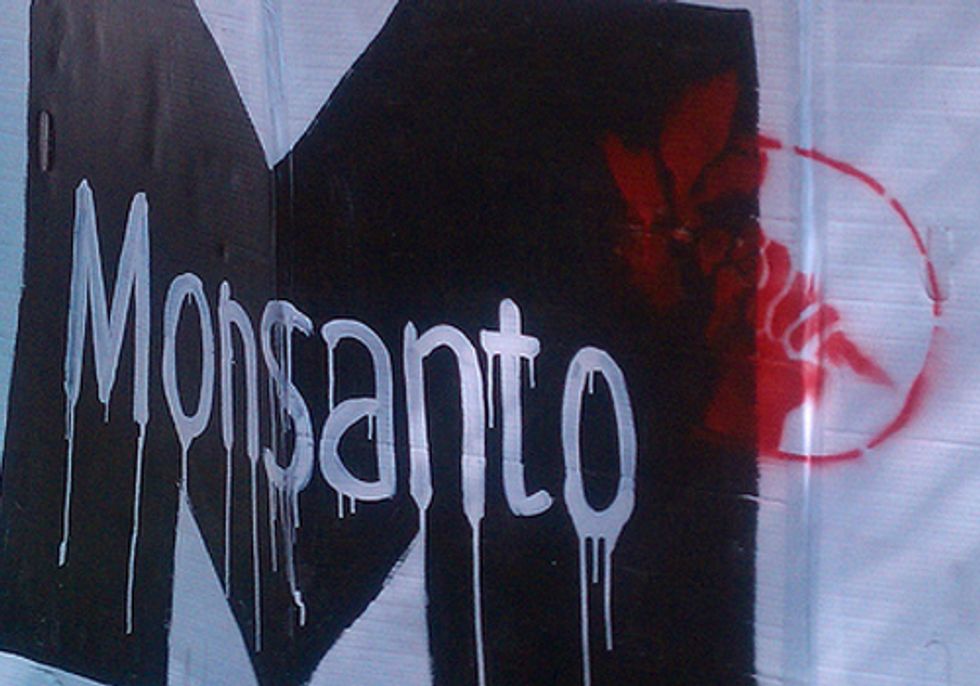 Energy-intensive industrial farming practices that rely on toxic chemicals and genetically engineered crops are not just undermining public health, they're destroying the planet.
Here's how:
Generating massive greenhouse gas pollution (CO2, methane, nitrous oxide) and global warming, while promoting false solutions such as industrial biofuels, so-called drought-resistant crops, and genetically engineered trees

Polluting the environment and the soil-food web with pesticides, chemical fertilizers, and persistent toxins, including dioxin

Draining and polluting wetlands and aquifers, turning farmland into desert

Poisoning wells and municipal drinking water, lakes, and rivers

Chopping down the rainforests for monoculture GMO crops, biofuels and cattle grazing

Increasing the cost of food, while reducing nutrition and biodiversity

Spawning pesticide-resistant superbugs and weeds, and antibiotic-resistant bacteria

Generating new and more virulent plant, animal and human diseases

Utilizing wasteful fossil fuel-intensive practices and encouraging the expansion of natural gas fracking and tar sands extraction (which destroy forests, aquifers, and farmland)

Stealing money from the 99 percent to give huge subsidies to the 1 percent wealthiest, most chemical and energy-intensive farms and food producers
It's not enough to stop eating genetically engineered food. If we want a liveable planet we've got to boycott all factory farmed food and make the great transition from energy and chemical-intensive agriculture to a relocalized and organic system of food and farming. The world according to monsanto is a recipe for disaster. Monsanto and Big Ag contaminate every link in the food chain, threatening the very foundation of life—living nutrient-rich soil, clean water, resilient crops, healthy animals, stable climates, and diverse food sources. The good news is that agro-ecological and organic methods can reverse this threat and sustain food production for future generations, but we don't have much time to turn things around.
Take action by clicking here.
For more information, click here.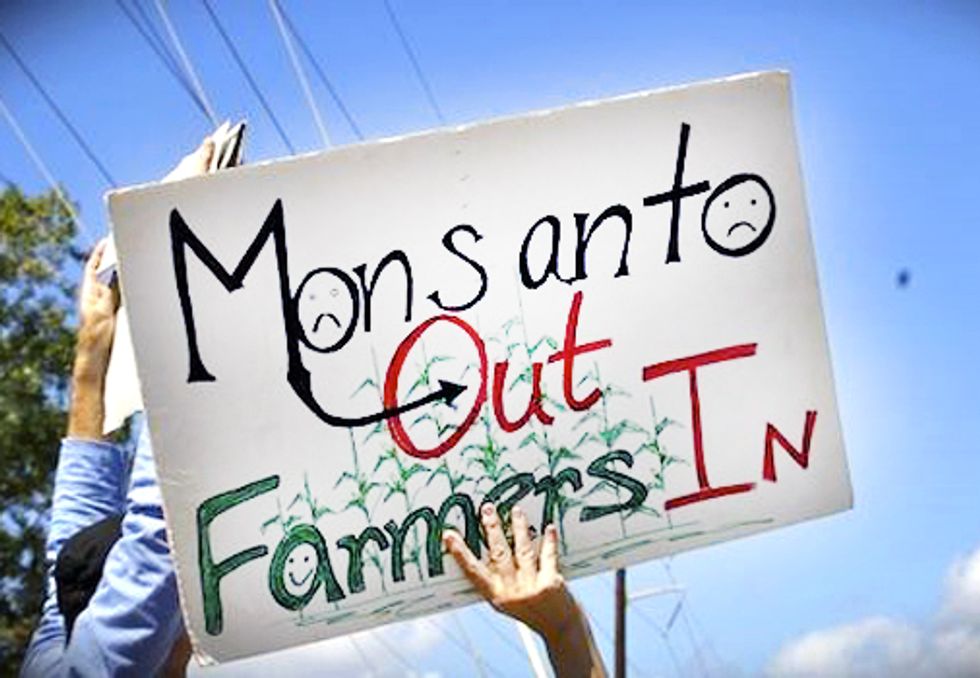 On Jan. 31 family farmers from across the country took part in the first phase of the Organic Seed Growers and Trade Association (OSGATA) et al. v. Monsanto court case. The case was filed to protect farmers from genetic trespass by Monsanto's genetically modified (GMO) seed, which can contaminate organic and non-GMO farmers' crops and open farmers up to abusive lawsuits.
About 200 supporters met at Foley Square in Manhattan the morning of Jan. 31. In total, more than 300,000 people are represented by 83 plaintiffs from 36 organizations in the case against Monsanto.
As a result of aggressive lawsuits against farmers with contaminated crops, Monsanto has created an atmosphere of fear in rural America and driven dozens of farmers into bankruptcy. Farmers now have the opportunity to fight back and have their voices heard in a court of law.
The Federal District Court judge has agreed to hear oral arguments in this landmark case to decide whether or not the case will move forward. The judge has until March 31st to make a decision.
Occupy Wall Street Food Justice, Occupy Big Food and Food Democracy Now! assembled at Foley Square in solidarity with farmers on the front lines of the struggle against corporate domination of the nation's food system.
To learn more about the details of the case, click here.
For more information, click here.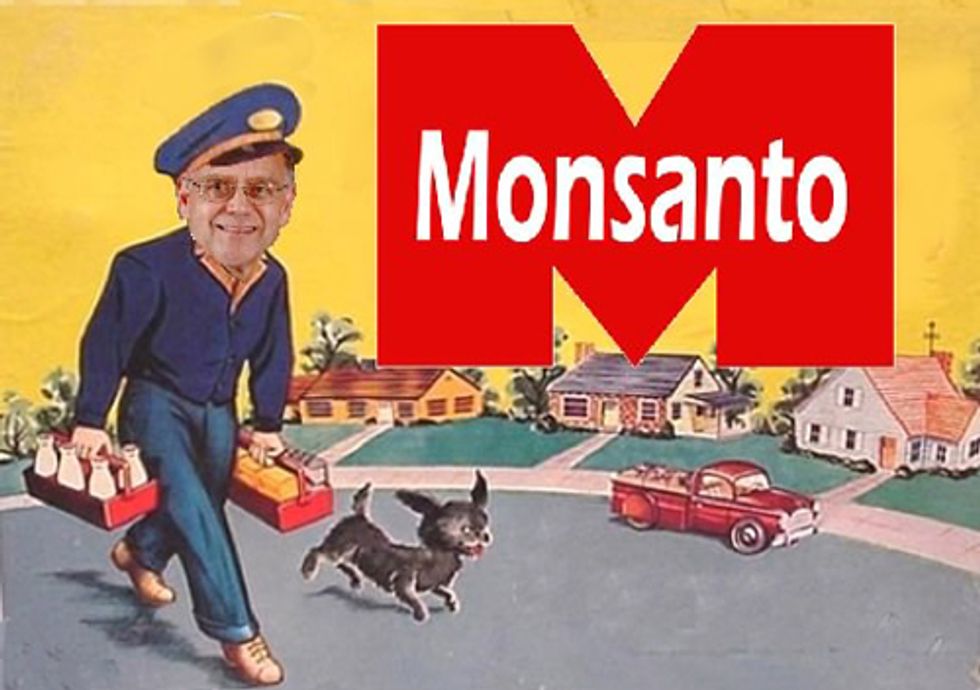 Why is a former Monsanto lobbyist currently serving as the U.S. Food and Drug Administration's (FDA) food safety czar waging war on small dairy farms that produce fresh milk?
While factory farm operators are getting away with serious food safety violations, raw milk dairy farmers and distributors across the country have been subjected to armed raids and hauled away in handcuffs.
The FDA is running sting operations followed by "guns-drawn raids usually reserved for terrorists and drug lords" as part of a crackdown on unpasteurized milk.1 Meanwhile, the FDA is letting the highly consolidated industrial meat and factory farm industry off the hook despite growing problems.
Not surprisingly, the person responsible for prioritizing armed raids on small dairies over holding agribusiness accountable is a former Monsanto attorney and chief super lobbyist. Monsanto's Michael Taylor is the second highest-ranking official at the FDA, and as food safety czar is responsible for implementing the day-to-day policies that govern the food safety laws for the U.S. 2
Tell President Obama to fire Monsanto's Michael Taylor from his job as food czar at the FDA.
Whether or not you think unpasteurized milk is a good idea, it's clear that the FDA under Michael Taylor has its priorities wrong. When industrial agribusiness sickens thousands of people, it's absurd for the FDA to target Amish farmers producing fresh milk, much less to engage in "guns drawn" enforcement raids.
CREDO is joining our allies at Food Democracy Now! in calling on the president to fire Monsanto's Michael Taylor from the FDA. Midwestern farmers will play an important symbolic role in President Obama's reelection campaign. We need to let the president know that we stand with small farmers and not Monsanto.
Michael Taylor seems focused on entirely the wrong aspects of food safety enforcement. Rather than making sure that food safety inspections are done properly at our nation's largest factory farms, where antibiotic resistance has run amuck, Taylor has been leading a departmental crusade against small raw milk dairy producers. So far several dairy farmers have been subject to a year-long undercover sting operation from the East Coast to California.
Incredibly, Michael Taylor and FDA inspectors have not arrested or fined the Iowa agribusinessman—Jack DeCoster—who was wholly responsible for the more than 500 million eggs that were recalled in 2010 salmonella-tainted egg recall.3 Though this industrial agribusinessman endangered the health of millions, Michael Taylor thinks Amish farmers producing fresh milk are more deserving targets of his FDA enforcement raids with guns drawn.
While CREDO recognizes the inherent risks that are involved in food production, it's time that the U.S. government start responsibly looking into the real origins of our nation's largest food safety recalls and stop harassing family farmers trying to survive in the excessively consolidated food and agricultural sectors.
Thanks for standing up for small farmers and taking our government back from Monsanto.
For more information, click here.
—————
1. Food Safety Chief Defends Raw Milk Raids, San Francisco Chronicle, June 7, 2011
2. Monsanto's Man Taylor Returns to FDA in Food-Czar Role, Grist, July 8, 2009.
3. DeCoster Gets Warning, Hillandale Sales OK'd, Food Safety News, October 19, 2010.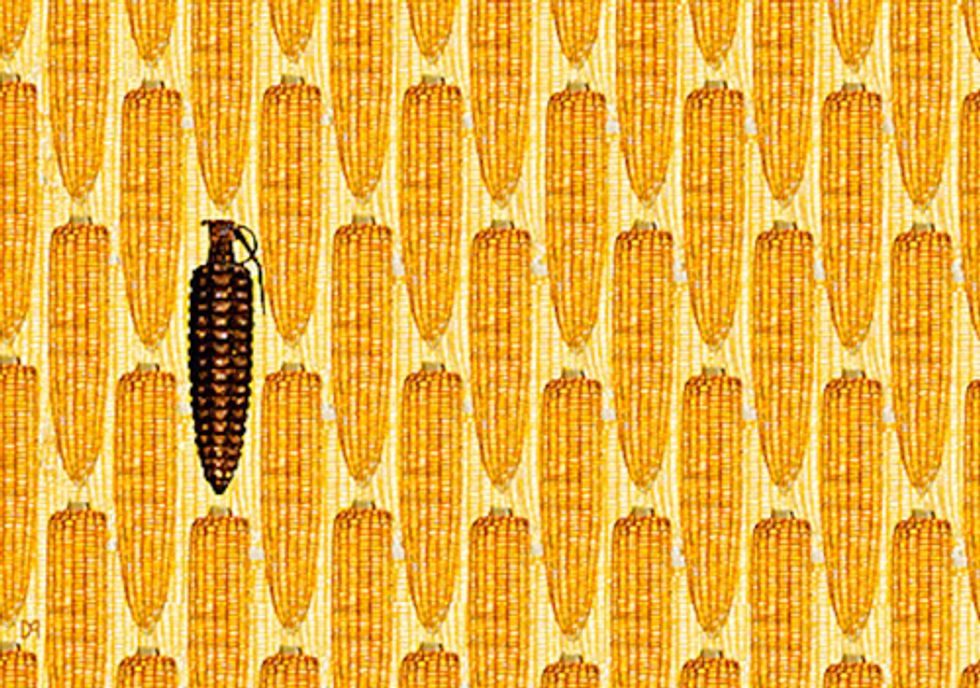 Responding to a study released last week highlighting the increased resistance of weeds to glyphosate, and the potential introduction of new corn varieties genetically engineered (GE) to be used with more highly toxic weedkillers, farmers are calling on the U.S. Department of Agriculture (USDA) to take action to protect rural economies.
If USDA deregulates 2,4 D resistant corn, farmers will once again shoulder the cost of the failed promise of GE crops.
"Widespread planting of 2,4-D corn will inevitably lead to a surge in the herbicide's use," said George Naylor, an Iowa corn and soybean farmer. "This will not only have adverse effects on public health from air and water pollution, but will also pose another economic risk to Midwest farmers whose non-2,4-D resistant crops will take the brunt of more herbicide drift."
The study in last week's edition of Bioscience projects greatly increased herbicide use and collateral damage to nearby, non-resistant crops and wild habitat. 2,4-D is well understood to drift, both directly after it is applied and through volatilization, drift that takes place long after an application. As a result, farmers growing their products within miles of cornfields where 2,4-D is applied could face crop losses and serious financial hardship. In addition, organic farmers could lose their certification for years if their fields are contaminated.
Authors of the article, relying in part on industry analysis, note that use of 2,4-D and dicamba herbicides, first used during World War II, are expected to increase ten fold over the next decade. Dow AgroSciences is the driving force behind 2,4-D-resistant seeds, while Monsanto, the dominant manufacturer of glyphosate-resistant seeds, is collaborating with the European industry giant BASF (soon moving to the U.S.) in engineering dicamba-resistant seeds. And other pesticide and biotech firms have similar products in the pipeline. For years, Dow, Monsanto, and the rest of the "Big 6", have argued that genetically engineered crops result in reduced pesticide use or can even "resist" drought, though with little to no documented success, according to independent scientists.
"Genetically engineered, herbicide-resistant seeds are the growth engines of the pesticide industry's market strategy," said Dr. Marcia Ishii-Eiteman, PhD, senior scientist at Pesticide Action Network. "Repackaging antiquated pesticides as new solutions for Midwest economies is a disaster waiting to happen."
The study also ties the increase in herbicide use to the decline of sustainable weed management. The authors note that USDA has increased funding at major universities for chemically-intensive methods while at the same time decreasing funding for agroecological methods—such as cover cropping, crop rotation and limited tillage—that are successful at improving weed control and reducing weed pressures.
At the same time, weed scientists have been raising red flags around the impending problems of resistance, the reliance on the "pesticide treadmill" and the need to invest in sustainable weed control, or Integrated Weed Management.
"It is only going to get worse," said Lee Van Wychen, director of science policy at the Weed Science Society of America in a Reuter's interview.
The Weed Society of America just announced it will focus its May 2012 meeting on finding solutions to herbicide resistance. However, concerns remain about Monsanto's efforts to undermine science and promote the next wave of GE technology, including 2,4-D and dicamba.
"I'm convinced that this is a big problem," said Dave Mortensen, professor of weed and applied plant ecology at Penn State University. "Most of the public doesn't know because the industry is calling the shots on how this should be spun."
For more information, click here.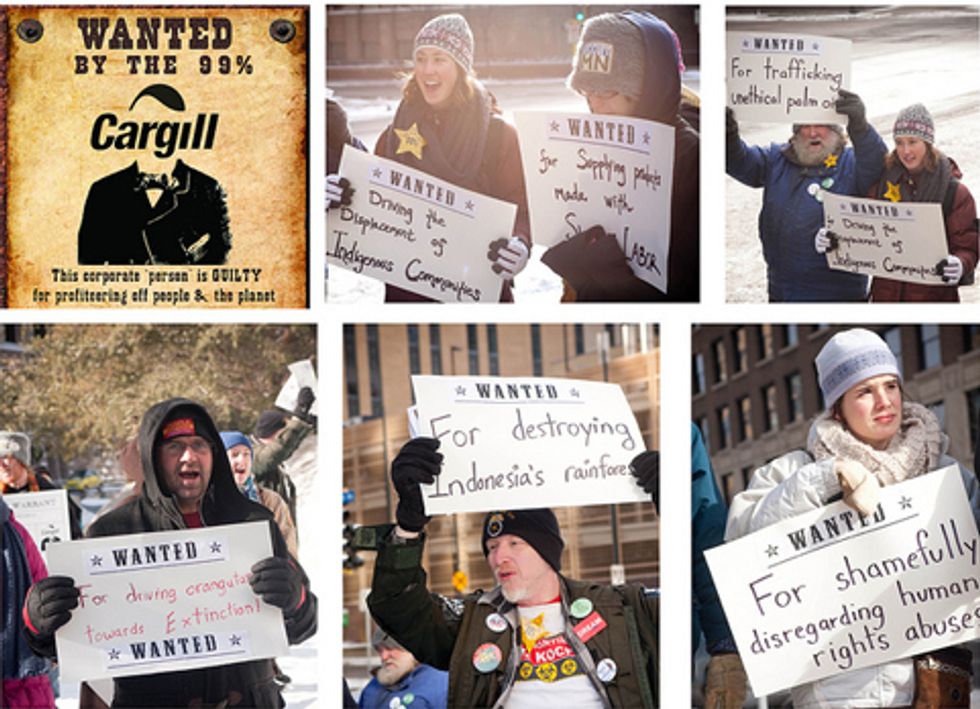 As part of a nationwide day of action protesting the legal doctrine of 'corporate personhood' enshrined by the controversial Citizens United vs. FEC Supreme Court ruling two years ago, a diverse crowd of more than forty Occupy activists and allies staged a rally and march with the Rainforest Action Network (RAN) through downtown Minneapolis on Saturday, Jan. 21. The demonstration began with a rally at the site of the former Occupy Minneapolis encampment, then marched to the Minneapolis Grain Exchange, where Cargill has an office, to post a mock "Citizen's Arrest Warrant" for Cargill Inc.
The colorful group, led by a large banner that read, "WANTED: Cargill Inc., For Profiteering Off People and Planet," then took to the streets waving placards that outlined their grievances with the agribusiness giant. The crowd included environmentalists upset that Cargill, the largest U.S. importer of palm oil, is connected to the destruction of Indonesian rainforests, as well as food justice advocates who say Cargill's support of free trade policies comes at a high price for farmers and food security. Occupy activists pointed out that the family that controls Cargill is the wealthiest in America and uses Cargill's corporate status as a 'person' to exercise political influence in Washington, D.C., where the company spent $1.3 million on lobbying last year alone.
Rainforest Action Network's Agribusiness Campaigner Ashley Schaeffer was among the protesters. She said, "Cargill is an enormously powerful agricultural company that has a dangerous stranglehold on our food supply. This is unhealthy to both people and the planet because Cargill continues to operate with the profits-above-all business mentality of a cutthroat trader." Schaeffer continued, "Cargill has known for many years that its practices are contributing to abuses that include slave labor and rainforest destruction but the company stubbornly continues to operate without basic safeguards that could prevent these violations."
Mark Muller, director of the Food and Justice Program at the Institute for Agriculture and Trade Policy (IATP), said, "We at the Institute for Agriculture and Trade Policy are thrilled by the local food movement. And yet we also recognize that we can only go so far given how far our political and legal system tilts in favor of corporations. Reclaiming our democracy from corporate control is crucial, and we salute all the activists that are working for a better food system and a better democracy."
Hillary Lehr, also with Rainforest Action Network, commented, "Corporations aren't people, everyone knows that. But the infamous Jan. 21, 2010 ruling on the Citizens United vs. FEC Supreme Court case allows corporations unlimited political spending during elections, under a constitutional right equating money with free speech. If corporations have rights like people, shouldn't that mean they can be arrested for their crimes like people, too?"
Cargill is the largest privately held company in the world and is owned by the richest family in America. Cargill's annual revenue ($119 billion) is bigger than 70 percent of the world's countries. Cargill is responsible for 25 percent of all U.S. grain exports, handles 25 percent of global palm oil trade (the world's most used vegetable oil) and supplies about 22 percent of the U.S. domestic meat market.
Paul Sobocinski, a Land Stewardship Project organizer and family farm livestock producer from Wabasso, Minn. said, "Cargill wants to control the livestock industry, they'd like to turn family farmers into modern day serfs who do their bidding while Cargill walks away with the lion's share of the profits. Cargill is fully integrated and one of the largest meatpackers and factory farm hog producers in the country. It's time to hold them accountable. It's time to take back our food and farming system from corporate agribusiness."
The event in Minneapolis was part of a week of coordinated protests nationwide that included Occupy Congress in Washington, D.C., Occupy the Courts and mass demonstrations across the country on Jan. 20.
For more information on Cargill, see RAN's Cargill fact sheet by clicking here.
For more information, click here.
—————
Rainforest Action Network runs hard-hitting campaigns to break North America's fossil fuels addiction, protect endangered forests and Indigenous rights, and stop destructive investments around the world through education, grassroots organizing, and non-violent direct action. For more information, visit www.ran.org.
Check out this latest video from the Just Label It! campaign to encourage the U.S. Food and Drug Administration to label genetically engineered food. Labels Matter, part of a new project by director of Food, Inc., Robert Kenner, tells the story of three consumers who share a belief in the right to know the truth about the production of their food.
Take action against unlabeled genetically engineered foods by clicking here to sign the Just Label It! petition.
For a teaser of Robert Kenner's new project, check out the video below.
For more information, click here.