This website uses cookies to ensure you get the best experience while browsing it. By clicking 'Got It' you're accepting these terms.


The best of EcoWatch, right in your inbox. Sign up for our email newsletter!
The global fight to establish better protections from genetic contamination caused by genetically engineered (GE) crops suffered a legal setback in Australia this week. A ruling of the Supreme Court of Western Australia found that farmer Steve Marsh could not seek compensation after losing his organic certification as a result of a neighbor's GE crops contaminating his organic wheat crops.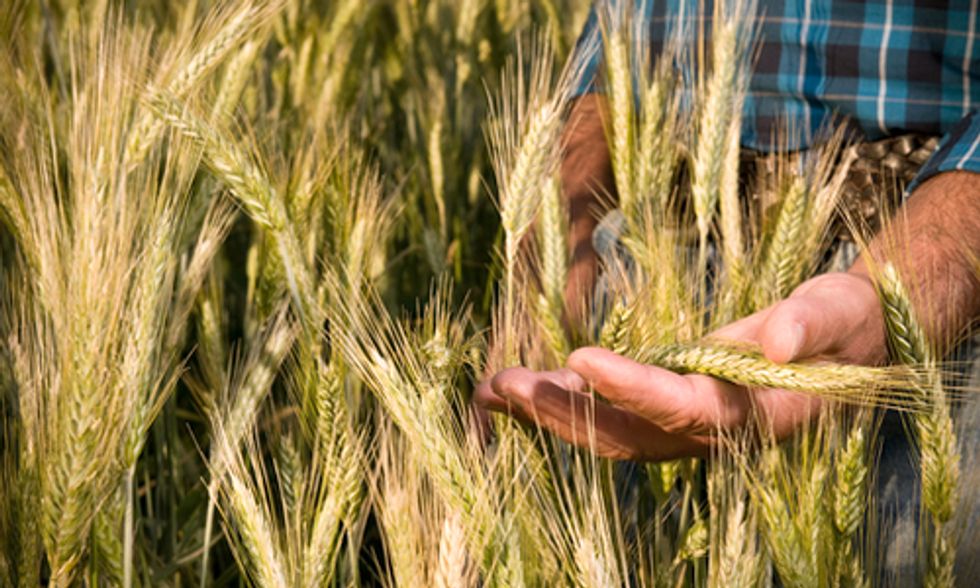 Photo courtesy of Shutterstock
Marsh filed the lawsuit against Michael Baxter, a neighboring GE canola seed farmer, alleging that he had suffered economic damage because of his organic decertification. The decertification had been brought on by the confirmed presence of GE canola plants and seeds on his property and Australia's zero-tolerance organic standard concerning GE contamination on organic lands. Baxter began farming GE canola just a few years before and was the likely source of the contamination.
Argued before the court earlier this year, the litigants as well as environmental and organic advocates across the globe had anxiously awaited the court's decision. Supporters of the suit hoped it might advance much-needed protections against the economically devastating and oft uncontrolled invasion of GE crops on organic and non-GE lands. Opponents of the suit claim it would have burdened GE farmers with more rules and potentially restricted the amount of crops a farmer could plant.
Organic farmers and consumers did not receive the ruling that is needed to protect the viability of organic production systems. Instead of reinforcing the Australian organic zero-GE-tolerance standard and shifting the burden to GE farmers and the makers of GE crops, like Monsanto, to protect against the pollution their products create or pay the price, the court ruled that no physical harm had been shown and the burden rested on the plaintiff to clean up the GE-mess to reinstate his certification.
Justice Martin also added in his judgment that decertification of Marsh's Eagle Rest farm appeared to be a "gross overreaction" by Australia's organic certification body, observed Reuters journalists.
In the U.S. and under U.S. Department of Agriculture (USDA) organic certification standards, GE crops and their byproducts are prohibited. However, unlike Australia, USDA organic regulators take a process-based approach to GE contamination and, while organic farmers are expected to protect their farms without real guidance or established efficacy, there are currently no established contamination or allowable threshold standards. 
And the fight has not limited itself to the defensive. To add insult to injury, farmers who have not purchased GE seeds and find them on their land face potential litigation from the seed producers for patent infringement. One case, Organic Seed Growers and Trade Association et al. v. Monsanto, sought to protect non-GE and organic farmers from this absurd abuse of power and to establish protections against Monsanto, one of the world's primary producer of GE seeds and aggressive GE patent-infringement litigant. (According to Reuters, between 1997 and 2010 the agrichemical giant filed 144 patent-infringement lawsuits against farmers that it said made use of its seed without paying royalties.) While this case garnered Monsanto assurances to not pursue patent infringement cases where trace amounts of its GE crops or seed were discovered, the results failed to achieve any meaningful protections.
The uncertainty of the courts willingness to protect non-GE and organic farmers, both at home and abroad, has not overshadowed recent successes outside of the courts, in the form of county bans on GE crops and GE labeling bills.
--------
YOU MIGHT ALSO LIKE
How Organic Farming Can Reverse Climate Change
Survey Shows Organic Farmers Pay the Price for GMO Contamination
Organic Farmer Taken to Court for Refusing to Spray Pesticides
--------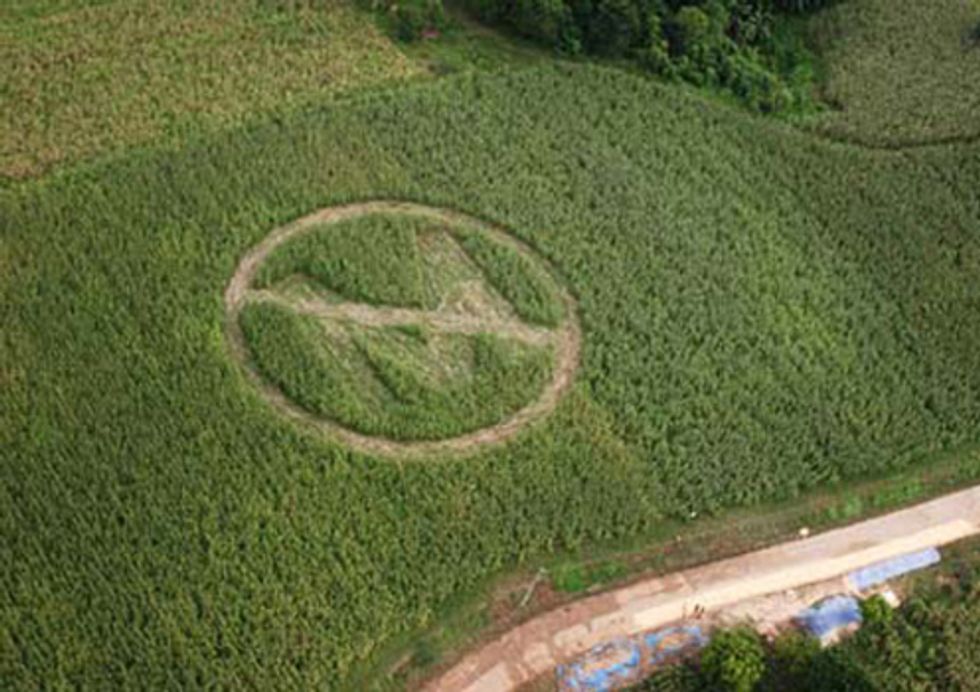 The Organic Seed Growers and Trade Association (OSGATA) invites citizens to assemble outside the Manhattan District court on Jan. 31 in an effort to present the message to family farmers that millions of Americans stand behind them as they seek their day in court. In the past two decades, Monsanto's seed monopoly has grown so powerful that they control the genetics of nearly 90 percent of five major commodity crops including corn, soybeans, cotton, canola and sugar beets. This has resulted in onerous costs to farmers through high technology patent fees for seeds as well as burdensome litigation costs in defending themselves against lawsuits asserted by Monsanto.
In many cases organic and conventional farmers are forced to stop growing certain crops in order to avoid genetic contamination and potential lawsuits. Between 1997 and April 2010, Monsanto filed 144 lawsuits against American farmers in at least 27 different states, for alleged infringement of its transgenic seed patents and/or breach of its license to those patents, while settling another 700 out of court for undisclosed amounts. As a result of these aggressive lawsuits, Monsanto has created an atmosphere of fear in rural America and driven dozens of farmers into bankruptcy.
The lawsuit OSGATA et al vs. Monsanto was filed on behalf of 300,000 organic and non-GMO (genetically modified organisms) farmers and citizens to seek judicial relief in "protect[ing] themselves from ever being accused of infringing patents on transgenic (GMO) seed." The judge has requested and agreed to hear oral argument in order to make a decision of whether or not to allow the farmers' cases to move forward in the courts after Monsanto filed a motion to dismiss the lawsuit.
"We are family farmers and we are headed to court in New York City on Jan. 31 to let the judge know that our survival as farmers depends on this lawsuit," said Jim Gerritsen, OSGATA president. "We're not asking Monsanto for one penny. We just want justice for our farmers and we want court protection from Monsanto."
"I don't think it's fair that Monsanto should be able to sue my family for patent infringement because their transgenic seed trespasses onto our farm and contaminates and ruins our organic crop," said Bryce Stephens, of Stephen's Land and Cattle Co. "We have had to abandon raising corn because we are afraid Monsanto wouldn't control their genetic pollution and then they would come after us for patent infringment. It's not right."
We are encouraging supporters of farmers' rights to grow food without fear and intimidation to assemble outside the courtroom in a peaceful manner to support the farmers in their claims, recognizing that these injustices affect us all and that this case is deserving of the court's time and attention on Jan. 31, 2012.
Due to limited space, only a small number of individuals will be able to enter the courtroom and listen to the proceedings. We respectfully ask that farmers and plaintiffs in the case be given priority to hear this case in person as each plaintiff will have traveled many miles and put a great deal on the line to be a part of this case.
In the spirit of peaceful assembly and respect for the courts, we request that you adhere to the following principles:
Principles for Citizens' Assembly
1. Assemble outside the court in a show of support for family farmers and their right to grow food without the threat of intimidation, harassment or loss of income.
2. Assemble peacefully to present a positive message that America's citizens stand behind family farmers and support their rights of legal protection under the Constitution.
3. Bring signs that portray messages of:
Hope
The positive impacts of sustainable and organic agriculture
Solutions to our current crisis in food, agriculture and society
Support for farmers who seek justice in the courts
4. Be respectful of court security requests and follow them faithfully.
5. Maintain a respectful distance from the court entry on Pearl Street, making sure not to block access for foot traffic or vehicles.
6. Maintain a tone of respect for the court and the sanctity of our legal process as the judge hears the merits of this important case.
7. Cell phones, cameras and tape recorders are prohibited inside the courthouse. Those who enter the courthouse must conform to court security protocols.
8. No signs, t-shirts with slogans or other disruptions, visual or otherwise, are appropriate or allowed in the courtroom.
9. No chanting or loud noises allowed outside the courthouse as all must maintain their conduct in ways that are respectful to the judicial process and in accordance with the seriousness of the case.
10. Follow the instructions of designated assembly captains who will continue to update you as the events of the day unfold.
As advocates for farmers and supporters of a citizen-based democracy we greatly appreciate your support for family farmers and your agreement to act in accordance with these principles in order to guarantee farmers' rights to grow food without fear and intimidation.
Location to Hear Plaintiffs and Attorney Comment After Hearing
Once oral arguments are heard in the court, farmers, plaintiffs and Lead Attorney Dan Ravicher of the Public Patent Foundation will be available for comments to supporters and the media, at the Southwest Corner on 500 Pearl Street, at Pearl Street and Cardinal Hayes Place.
For those planning on assembling at 9 a.m., Pearl Street has been recommended to gather respectfully and overflow can gather at Foley Square.
Find a link to a map of the location by clicking here.
To RSVP to the event, click here.
To sign a petition supporting farmers in the case against Monsanto, click here.
For more information, click here.
EcoWatch Daily Newsletter