This website uses cookies to ensure you get the best experience while browsing it. By clicking 'Got It' you're accepting these terms.


The best of EcoWatch, right in your inbox. Sign up for our email newsletter!
GE's Haliade-X 12-megawatt offshore wind turbine
The world's largest and most powerful offshore wind turbine will test its wings at an innovative facility in northeast England.
The 12-megawatt Haliade-X, developed by GE Renewable Energy, stands 853 feet tall, or about three times the height of the Flat Iron building in New York City. Its massive rotor diameter of 722 feet is roughly the tower height of San Francisco's Golden Gate Bridge above water.
GE Renewable Energy has unveiled plans to develop the world's largest and most powerful offshore wind turbine.
Each 12-megawatt Haliade-X stands 853 feet tall, or roughly five times the height of the Arc de Triomphe in Paris, and features 350-foot blades, or the length of a Major League Soccer field.
EcoWatch Daily Newsletter
The U.S. Environmental Protection Agency (U.S. EPA) has issued a new rule raising the allowed residue levels of Monsanto's glyphosate herbicide, Roundup, on food.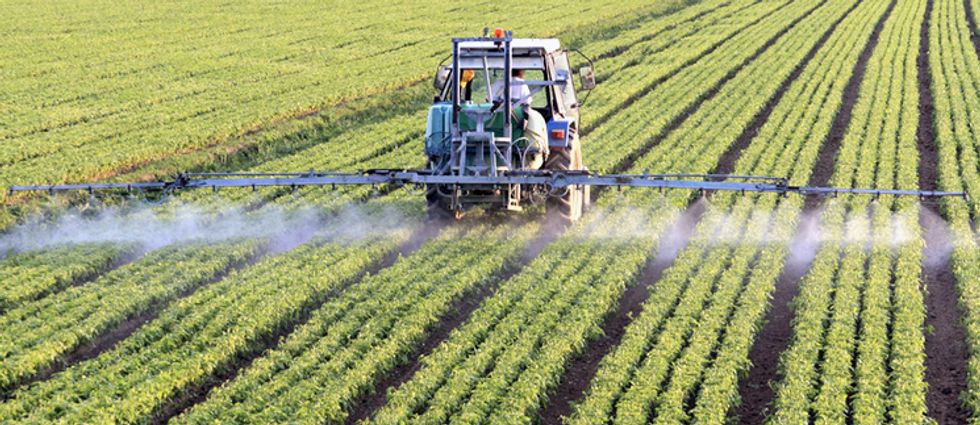 Glyphosate is an herbicide produced and marketed by Monsanto Corporation, the agrochemical and biotechnology giant. Monsanto claims that glyphosate is safe and has successfully lobbied the U.S. EPA to raise the residue limits of this toxic chemical.
But independent scientists disagree with Monsanto: several recently published peer-reviewed studies point to serious health impacts from exposure to this toxic herbicide.
Glyphosate has been shown in several recent studies to be an endocrine disruptor. According to the National Institutes of Health, endocrine disruptors could have long-term effects on public health, especially reproductive health. And the "dose makes the poison" rule does not apply to endocrine disruptors, which wreak havoc on our bodies at low doses.
The U.S. EPA must consider independent and recent science rather than depending on industry-funded, outdated studies supplied by Monsanto. A June study concluded that glyphosate "exerted proliferative effects in human hormone-dependent breast cancer." An April study by a Massachusetts Institute of Technology scientist concluded that "glyphosate enhances the damaging effects of other food borne chemical residues and environmental toxins," and pointed out that glyphosate's "negative impact on the body is insidious and manifests slowly over time as inflammation damages cellular systems throughout the body."
Instructions for Submitting Comments
Click here to submit your comment electronically.
If you are submitting on your own behalf, for the required field "Organization Name," please enter "Citizen."
The deadline for submitting comments is Monday, July 1.
Sample Letter
You may cut and paste, but you are encouraged to personalize:
The EPA's final rule raising the residue limits of glyphosate is unacceptable and based on outdated science.
The toxicology profile for glyphosate is not "complete," as the EPA claims. Ongoing research shows glyphosate may promote breast cancer, induce inflammation, and act as an endocrine disruptor.
I urge you to perform a careful review of independent science to determine the health impacts of raising the residue limit for glyphosate.
Comment today to let the U.S. EPA know that their decision to cater to Monsanto's interests is unacceptable given the recent science pointing to serious harm from this toxic herbicide.
Visit EcoWatch's BIODIVERSITY and GE FOOD pages for more related news on this topic.

The Center for Food Safety applauds the passage of a bipartisan amendment offered by Sen. Lisa Murkowski (R-AK) to the Fiscal Year 2014 Agriculture Appropriations bill that would require the mandatory labeling of genetically engineered (GE) salmon. It marks the first recorded vote on GE food labeling in the Senate Appropriations Committee. The bill is on track to pass on the Senate floor in the coming weeks.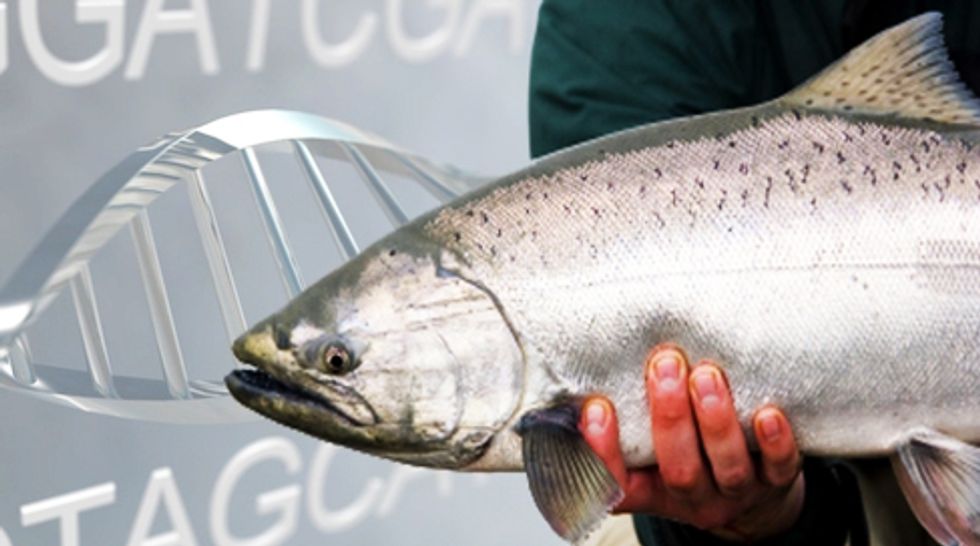 "The tide is shifting in states across the nation and on Capitol Hill in favor of labeling genetically engineered foods," said Colin O'Neil, director of government affairs for Center for Food Safety. "Consumers are overwhelmingly demanding that genetically engineered foods be labeled. The Murkowski amendment is a big step forward for consumer rights."
The amendment was offered by Sen. Murkowski yesterday in the Senate Appropriations Committee. Sen. Murkowski was supported in committee by Sen. Dianne Feinstein and others who spoke in strong favor of labeling. Objections were raised by Sen. Roy Blunt (R-MO), ultimately bringing the amendment to a recorded vote where it passed 15-14.
Earlier this year, nearly 2 million Americans wrote to the Food and Drug Administration (FDA) opposing the introduction of GE fish. The first such GE fish, a GE salmon engineered for faster growth, is currently in its final stage of review with the agency.
If approved, the FDA has signaled that it would not require labeling despite strong public demand. Beyond the failure to label, FDA's current proposed approval of the GE salmon is unlawful and dangerous, and should be rejected outright.
Currently, 64 countries require the labeling of GE foods including Japan, Australia, Brazil, China, Russia and the European Union. Most recently several major grocery retailers, including Whole Foods and Trader Joe's, committed to not sell GE seafood if it is allowed on the market.
Visit EcoWatch's GENETICALLY ENGINEERED FOOD page for more related news on this topic.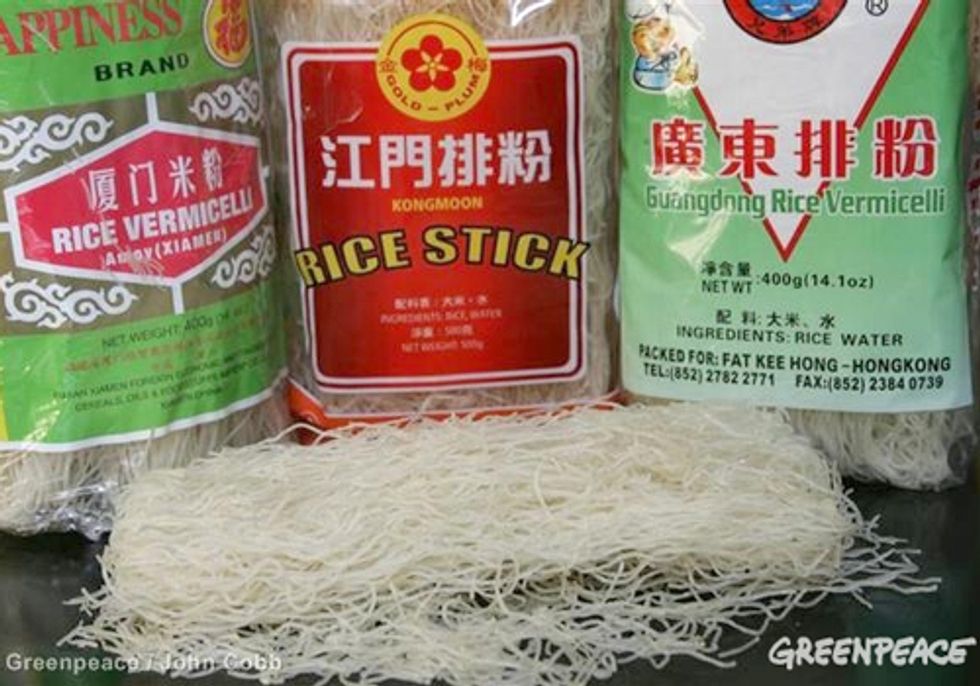 Recently, China proposed to legislate against genetically engineered (GE) grains. This means that staple foods such as rice cannot be researched, planted or sold on the Chinese market, nor can it be exported.
Greenpeace China has campaigned against GE rice since 2004, and in September 2011, the Chinese government announced the suspension of GE rice and wheat commercialisation. That was the first nail in the GE coffin. This time the Chinese have gone a step further and put a legislative proposal on the table.
In the past few years other Asian countries have said no to GE foods as well. India made a ground-breaking decision by putting a moratorium on the approval of Bt Brinjal (eggplant) in 2010 and in 2011 the Thai government decided to keep its rice GE-free.
Other Asian countries, such as the Philippines and Bangladesh are currently in the process of developing and commercializing GE grains so the proposed grain law in China should send a message to decision-makers globally that GE is not welcome in Asia, which companies such as Monsanto and Bayer, regard as a key future market for their GE seeds.
Europe voiced a loud no to GE in 2009 after 1 million Europeans signed a Greenpeace petition. Annual industry figures that were recently released by the International Service for the Acquisition of Agri-biotech Applications (ISAAA), a group funded by the biotech industry to promote GM crops, confirmed the commercial failure of GE food in Europe. Only around 0.06 percent of the EU's farmland was used in 2011 to grow GE food.
While we await the legislative proposal to be passed into law, China should focus its future investments on sustainable agriculture that has the capacity of providing rice to all Chinese, just as it has in the past 7,000 years. We believe that ecological farming should be adopted as the national policy framework for food and agriculture in China and in all countries around the globe to form a solution that provides food for all.
For more information, click here.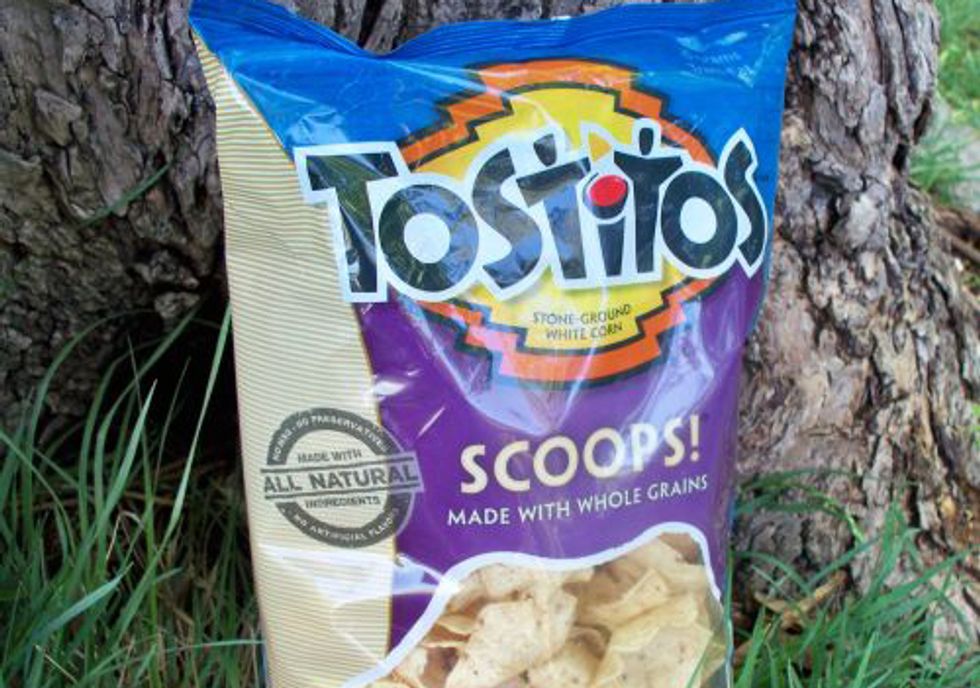 By Rady Ananda
Less than a year after Frito-Lay announced plans to make half their products without "any artificial or synthetic ingredients," the $13 billion company was sued last week in federal court for fraudulently marketing the snacks that contain genetically modified ingredients.
Somehow, "artificial" and "synthetic" doesn't include "genetically modified" in Frito's mind.
In its April 2011 Seed-to-Shelf disclosure campaign, Frito-Lay promised to inform consumers about each individual snack's ingredients, even setting up an app for smartphone users to swipe the product's barcode and read about it. Ann Mukherjee, Frito-Lay's senior vice president and chief marketing officer, said, "What better way to share the story behind Frito-Lay snacks than by giving consumers a look inside our Flavor Kitchen to see first-hand the all natural ingredients and real foods that inspire the products we make?"
Real foods? All natural? Even Monsanto defines genetically modified organisms as unnatural, which the lawsuit quoted, "Genetically Modified Organisms (GMO)—plants or animals that have had their genetic makeup altered to exhibit traits that are not naturally theirs."
The World Health Organization agrees, defining GMOs as "organisms in which the genetic material (DNA) has been altered in a way that does not occur naturally."
The lawsuit names only one plaintiff, Julie Gengo of Richmond, California, but includes all those who purchased Frito's products which bear the "ALL NATURAL" label. Last August, the law firm Milberg LLP invited potential litigants to contact them.
Though Gengo holds a Bachelor of Science in electrical engineering, she earns a living as an independent marketer for such organizations as Berkeley Playhouse/Julia Morgan Center for the Arts, Vital Systems, Bay Area Green Tours, Oxfam America and Slow Money Northern California. She describes herself as "an ongoing environmental, and healthy foods advocate."
In early 2009, she wrote Genetically Modified (GM) Foods' Another Reason to Buy Organic, warning people that Frito-Lay uses GMOs. According to the complaint, since 2007, she regularly bought the company's Tostitos and Sun Chips believing they were "all natural" as indicated in advertising and on the package.
On Dec. 20, Frito's Naturally Delicious webpage still boasted: "All Frito-Lay snack chips made with natural ingredients start with all-natural corn or potatoes and healthier oils. For our flavored LAY'S®, TOSTITOS® and SUNCHIPS® products, we are using all natural seasonings that don't have artificial or synthetic ingredients."
But because they contain GMOs from genetically modified corn and genetically modified soy, in five separate counts, plaintiff charges Frito-Lay with fraud, deception, unfair competition and false warrants under several laws including the federal Magnuson-Moss Warranty Act.
Based in New York City and specializing in class-action lawsuits on behalf of investors and consumers, Milberg LLP also has offices in Los Angeles, Tampa and Detroit. Founded in 1965, the firm now employs about 75 attorneys.
After two successful class action suits against military contractors Raytheon and General Electric, in 2006 Milberg was the target of a criminal probe by the U.S. Department of Justice (DOJ). The firm and some of its partners were indicted on 20 criminal counts including bribery, racketeering and fraud. The DOJ press release alleges the firm participated "in a scheme in which several individuals were paid millions of dollars in secret kickbacks in exchange for serving as named plaintiffs in more than 150 class-action and shareholder derivative-action lawsuits."
Four of Milberg LLP's partners served time in prison, and the firm paid $75 million in fines before the DOJ dropped the matter, reports Wikipedia.
Frito-Lay North America is a wholly-owned subsidiary of PepsiCo, Inc. Though Pepsi uses genetically modified sweeteners (high fructose corn syrup) in its soft drinks, it does not label them for U.S. consumers, adhering to the U.S. regulator policy of hiding GMOs from the public.
In 2009, the U.S. Food and Drug Administration (FDA) proposed rules banning GMO labels. Despite government policy of keeping GMO food ingredients secret from the public, citizens are advancing toward requiring full disclosure.
The Frito-Lay lawsuit was initiated in California where a GMO-label law has been proposed for vote in the November 2012 election.
In Ohio, a district court overturned the ban on labeling milk as free from artificial hormones last year. The FDA approves the genetically modified additive, which has been linked to cancer and lower milk quality. Developed by Monsanto, rBGH is banned in Canada, the European Union, Japan and Australia.
For more information, click here.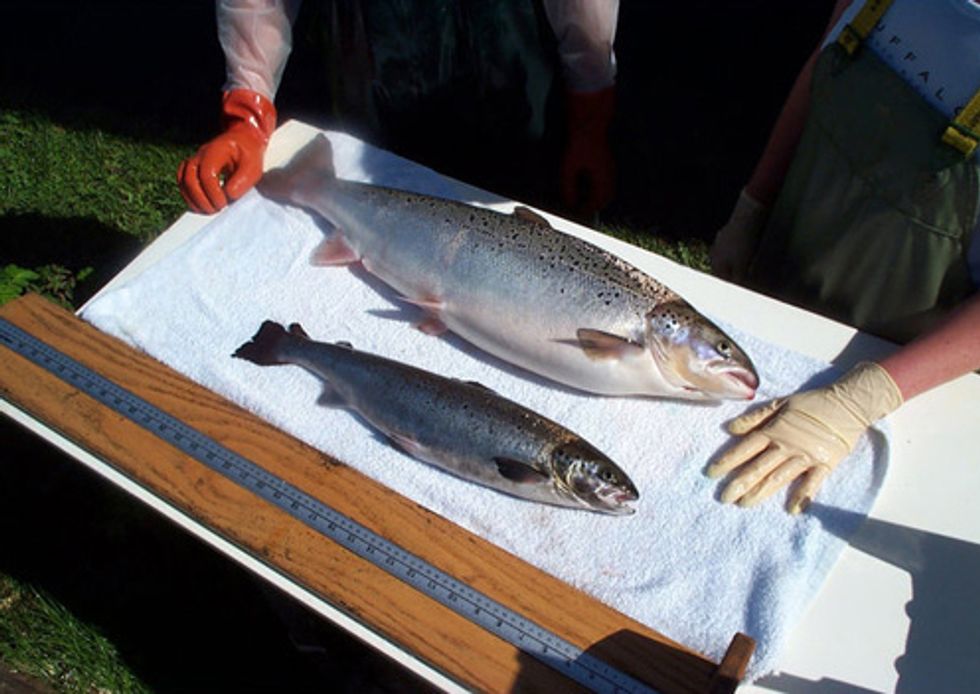 Statement by Wenonah Hauter, executive director, Food & Water Watch:
"The Senate hearing Dec. 15 called by Sen. Mark Begich (D-AK) to discuss the environmental impact of genetically engineered (GE) salmon is a welcome development. Congress also needs to examine what we know about the human health impacts of consuming such laboratory creations. If they did, they'd figure out the answer—not much. No long-term studies have been conducted regarding the human health impacts of consuming genetically modified foods.
"Congress needs to step in because the Food & Drug Administration seems set on approving this first transgenic animal to enter the food chain, even though nearly all of the safety studies they are scrutinizing have been conducted by AquaBounty, the company that has sunk tens of millions of dollars into the research and development of the product. That hasn't kept the federal government from also dispensing tax payer money—to the tune of $2.4 million since 2003—to help this private company commercialize a product there is no demand for. In fact, over 78 percent of Americans say they don't want it approved without further study.
"Approving GE salmon now, given the information we lack about its potential effects, could be devastating for consumers, the environment, and fishermen alike."
For more information, click here.
—————
Food & Water Watch works to ensure the food, water and fish we consume is safe, accessible and sustainable. So we can all enjoy and trust in what we eat and drink, we help people take charge of where their food comes from, keep clean, affordable, public tap water flowing freely to our homes, protect the environmental quality of oceans, force government to do its job protecting citizens, and educate about the importance of keeping shared resources under public control.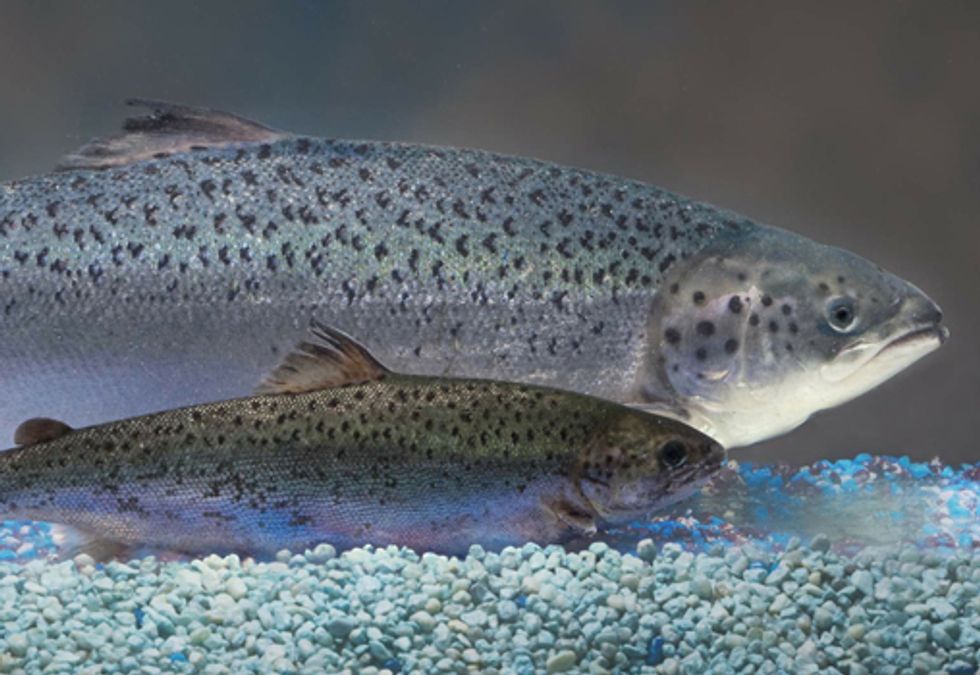 The U.S. Senate Subcommittee on Oceans, Atmosphere, Fisheries, and Coast Guard announces a hearing on the environmental risks of genetically engineered (GE) fish to take place Dec. 15 at 10:30 a.m. in the Russell Senate Office Building. The hearing will examine the environmental safety issues surrounding genetically engineered fish, focusing on risks to wild fish stocks, fisheries and aquatic ecosystems should these fish escape into wild habitats. In their testimony, witnesses will address the potential environmental impacts from the escapement of AquAdvantage salmon and other GE fish, the information required for conducting a scientifically rigorous environmental risk assessment of GE fish, and what improvements can be made to the federal government's current review and compliance processes to minimize the environmental risks.
Note that the hearing will be webcast live via the Senate Commerce Committee website. Refresh the Commerce Committee homepage 10 minutes prior to the scheduled start time to automatically begin streaming the webcast.
Individuals with disabilities who require an auxiliary aid or service, including closed captioning service for webcast hearings, should contact Collenne Wider at 202-224-5511 at least three business days in advance of the hearing date.
For more information, click here.