This website uses cookies to ensure you get the best experience while browsing it. By clicking 'Got It' you're accepting these terms.
Josh Fox, award winning filmmaker and director, speaking on stage at Collision 2017 in New Orleans, Louisiana on May 2, 2017.
CC BY 2.0
By Reynard Loki
Josh Fox, the Emmy-winning and Oscar-nominated filmmaker behind Gasland, the documentary that started the global anti-fracking movement, is bringing a new message to audiences across the country with The Truth Has Changed, a live theater-based project that sounds the alarm on the right-wing disinformation campaign working to secure President Trump's reelection.
A federal judge has reversed last year's unanimous jury decision that awarded $4.2 million to two Dimock, Pennsylvania families who claimed that Cabot Oil & Gas Corp contaminated their water supply during fracking operations near their homes.
EcoWatch Daily Newsletter
By Americans Against Fracking
The U.S. Environmental Protection Agency Science Advisory Board (SAB) today finalized its review of the EPA's June 2015 draft study of fracking's impacts to drinking water resources. For over a year, a panel of 30 scientists, engineers and industry consultants have reviewed the details of the 1,000-page draft report. The panel has taken particular issue with a finding that seemingly came out of left field: the agency's statement that fracking has not led to "widespread systemic impacts" in the U.S.
Tainted water collected from a private drinking water well in PA near a fracking site.
The EPA dismissed fracking's impacts with this line, without any clear, scientific basis of support, and now the EPA SAB has taken the agency to task. The EPA, and independent peer-reviewed studies, have identified many mechanisms of contamination, such as spills, well cementing failures below ground, and complications with waste disposal. For example, the EPA found there was on the order of 15 spills every day somewhere in the U.S., yet chose to dismiss those daily incidents as not a sign of "widespread, systemic" problems.
Affected individuals, public interests groups, and now the independent EPA Science Advisory Board, comprised of the EPA's own scientists, are calling on the EPA to "clarify" and "quantify" the controversial "widespread, systemic" line, or drop the language altogether. The panelists joined affected individuals and various independent experts who submitted comments in taking issue with how the agency ignored three high-profile contamination cases in its study—notably Dimock, Pennsylvania; Parker County, Texas; and Pavillion, Wyoming. The agency's omissions were contentious in part because in each case, the EPA prematurely abandoned investigations. Now, the EPA SAB has recommended that the agency include detailed summaries of these critical cases.
"By choosing politics over science, the EPA failed the public with its misleading and controversial line, dismissing fracking's impacts on drinking water and sacrificing public health and welfare along the way," Hugh MacMillan, senior researcher at Food & Water Watch, said.
"We are calling on the EPA to act quickly on the recommendations from the EPA SAB and be clear about fracking's impacts on drinking water resources. The EPA must prioritize the health and safety of the American people over the political interests of the oil and gas industry and its financiers, who have committed hundreds of billions to drilling and fracking in the coming decades. For climate reasons alone, that's a vision for the future that we can ill-afford."
The release of this final report comes on the heels of a massive March for a Clean Energy Revolution at the Democratic National Convention calling for a nationwide ban on fracking, a March 2016 Gallup poll showing that Americans oppose fracking 51-36 percent, and a July 2016 Johns Hopkins Study showing that fracking is linked to increased asthma attacks in Pennsylvania.
A recent peer-reviewed analysis of the science on unconventional oil and gas extraction, of more than 680 peer-reviewed studies, found that, "The great majority of science contains findings that indicate concerns for public health, air quality and water quality." In October of 2015, a partnership of prominent health organizations encompassing nationwide medical and public health experts and scientists released a Compendium of more than 500 peer-reviewed scientific papers, as well as numerous government reports and findings, demonstrating the risks of fracking to public health, air and water quality, birth and infant health, the environment and climate change.
Dear President Obama, Vice President Biden, Secretary Moniz, Heather Zichal and Valerie Jarrett,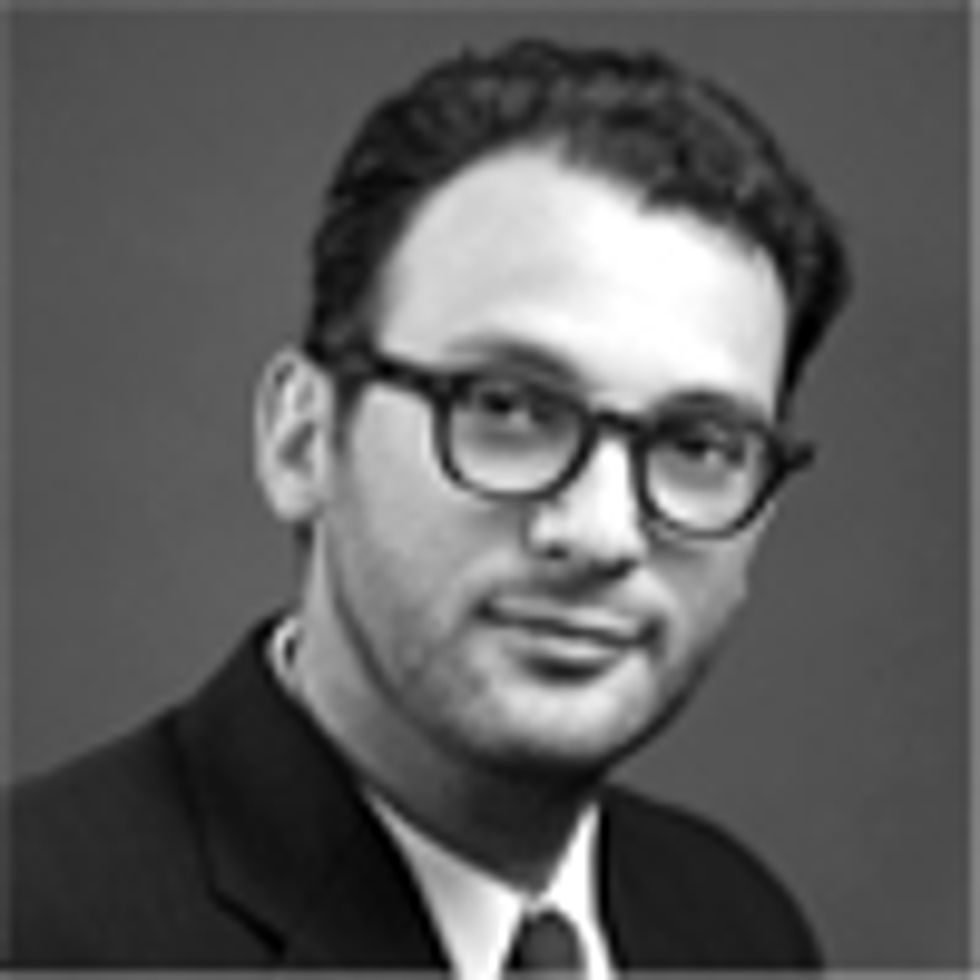 I write to request a meeting with you and families directly impacted by oil and gas drilling and fracking—as documented in Gasland Part II—together with a small group of scientists and engineers who are also featured in the film. We would like to discuss health and economic impacts felt by communities located near the oil and gas fields, share our first-hand stories, and provide you with evidence on rates of well leakage, water contamination, air pollution and methane emissions.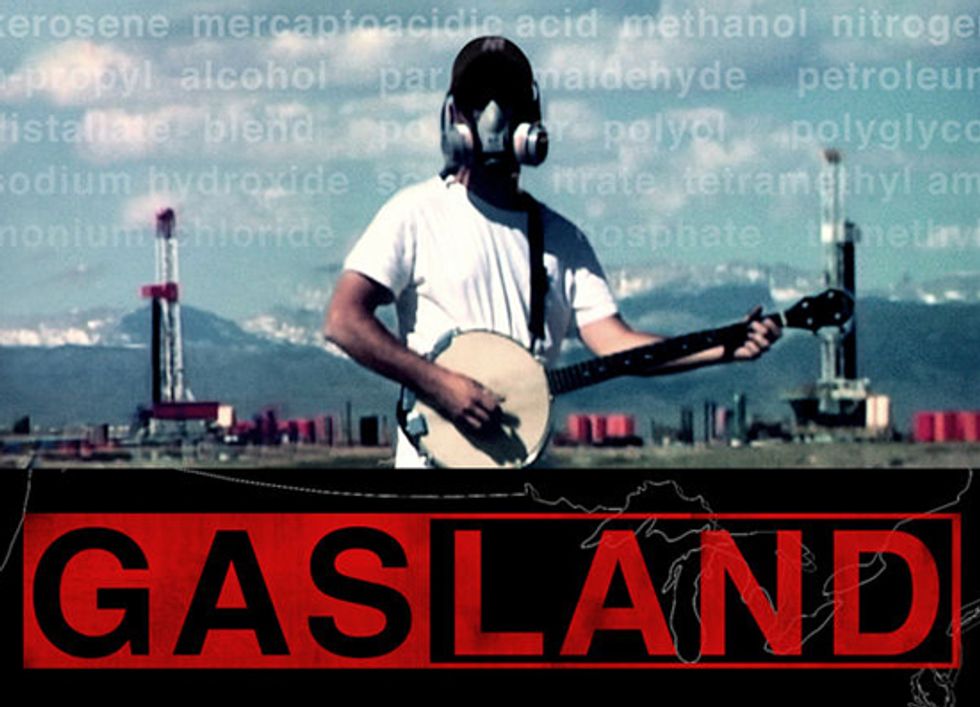 We are aware that your administration has met with the natural gas industry and their representatives and lobbyists many times. We now ask you to meet with us: representatives of those suffering from unconventional drilling and fracking, and members of the scientific community who wish to inform you of the perils of this unprecedented push to drill.
We believe that the natural gas industry has not been forthcoming with your administration about the real effects of drilling and fracking on our water, air, land, climate, public health and safety—and on democracy itself. As such, we seek to discuss with you the dark side of fracking, a perspective that has not yet been presented to you with adequate weight or emphasis.
In 2008, when I was offered a gas lease on my land in the upper Delaware River watershed in Pennsylvania, I decided to investigate the effects of drilling and fracking around the nation. That investigation became the documentary Gasland. While filming, I discovered widespread water contamination, air pollution, methane leakage, land scarring and massive industrialization of previously rural, suburban or urban areas. Most disturbingly of all, I discovered in the gasfields of America people who had lost control of their lives, their communities and their human and civil rights.
Although I had never before made a documentary, Gasland was accepted at the Sundance Film Festival, picked up by HBO, nominated for the 2011 Academy Award for Best Documentary and received four Emmy nominations—winning one for my direction. The film has been aired on television in over 30 countries to an estimated audience of 50 million people.
I have now made a second film, Gasland Part II, which covers a new form of contamination—the capture of our regulatory agencies by the oil and gas industry. I document industry's undue influence on your administration as well as on state and local regulators whose job is to protect the public health and safety. A striking pattern emerges: Time and again, regulators investigating citizens' concerns determine the gas development operation nearby is a clear cause of water contamination, only to walk away after protest from industry reaches an uncomfortable pitch. The film's portrayal of the exclusion of "we the people" from the dialogue about the future of energy in the United States should concern you. Gasland Part II premieres July 8, on HBO.
We thus respectfully request a meeting with you. More specifically, I wish to introduce you to members of seven families from disparate regions across the nation who have all had their lives ruined by drilling and fracking operations. These families are emblematic. They represent thousands of people who have had their basic rights trampled by drilling on nearby properties and by the attendant gas refining and delivery infrastructure. These citizens include—
The Lipsky family in Texas, whose water was contaminated and made flammable by Range Resources;
The Gee family in Pennsylvania, who, after four generations, were forced off their land by a six-well horizontal drill pad built by Shell on a neighboring property;
The Fenton family in Wyoming, who have been battling Canadian drilling giant Encana and who are now suffering health problems from the air and water contamination around their house;
The Tillman family of Dish, Texas, who were forced by polluted air to move from the town that Mr. Tillman was serving as mayor;
The Switzer and Ely familes of Dimock, Pennsylvania, whose water was shown to be contaminated by both the federal Environmental Protection Agency and the Pennsylvania Department of Environmental Protection—only to receive a roller coaster ride of broken promises by both agencies; and
The Bevins family from West Virginia, whose son CJ was killed on a drilling pad in New York as a result of an unsafe drilling site, and whose campaign has helped alert the country that workers in the oil and gas industry are seven times more likely to die on the job than workers in other industries.
In addition, I would like you to meet with the scientists in the film: Dr. Tony Ingraffea, Dr. Robert Howarth and Professor Mark Z. Jacobson.
Dr. Ingraffea from Cornell University, a former oil and gas industry researcher, will explain how the industry is incapable of ensuring the integrity of wells being drilled and how the industry's own science shows that wells are leaking at high rates, contaminating our country's precious groundwater. Dr. Howarth, also of Cornell, will describe how the release of methane, one of our most potent greenhouse gases, into the air from fracking and natural gas production render the use of fracked gas even more deleterious to the climate than burning coal. Professor Mark Z. Jacobson, director of Stanford University's Atmosphere and Energy Program, will explain that there is a way forward for America that is free of fossil fuels. As he and his colleagues have documented in a groundbreaking study, wind, water and solar resources available to us right now make it possible for our nation to claim true energy independence and protect the health and safety of the generations to come.
America has been forever changed by the sense of grassroots collective drive that your election in 2008 instilled in us as a nation. The grassroots movement that has sprung up across the country and across the world against fracking has all the enthusiasm, positivity, sense of history, endurance and resolve as the one that elected you our President. When speaking to your grassroots campaign staff in 2012, you reminded them that the only way to fight the enormous influence of corporate cash and power in the election was the strength of "neighbor talking to neighbor," of communities coming together to fight for what is right. That is exactly what the grassroots movement against fracking is made of: people fighting for their communities locally, with an eye on the bigger global challenges ahead. Above all, we are a movement of people, not corporations; we are a movement of neighbors who care deeply about the places we live and about this country as a whole. We believe that it is your desire to put the people's interests at the forefront of your political message and it is in this spirit that we ask you to meet with us.
President Obama, we support you. We support your earnest desire to fight climate change, but the science shows that your embrace of natural gas will undermine everything you are trying to accomplish in your plan. And the violation of health and property rights that inexorably accompany drilling and fracking operations undermines any claim of energy independence.
We urge you to meet with us as you have met with the gas industry. We are on your side. We do not wish to see your legacy inscribed by fracking chemicals in the ground, high levels of emissions and pollution in the air, ruined families, broken shards of the American dream and the terror felt by millions as the drilling industry descends on lands in 34 states. Do not let your legacy be a switch from coal to gas, a Pyrrhic victory, an exchange of one form of climate-killing pollution for another that, over its entire lifecycle, is just as calamitous. Instead, ground your energy policy in careful science and let your legacy include hearing the people out.
In the name of fairness and democracy, we implore that you meet with us, as you have met with the oil and gas industry.
We look forward to your reply. Thank you for considering this request.
Visit EcoWatch's FRACKING page for more related news on this topic.
--------
SHARE YOUR THOUGHTS BELOW: What would you like to share with President Obama about fracking?
--------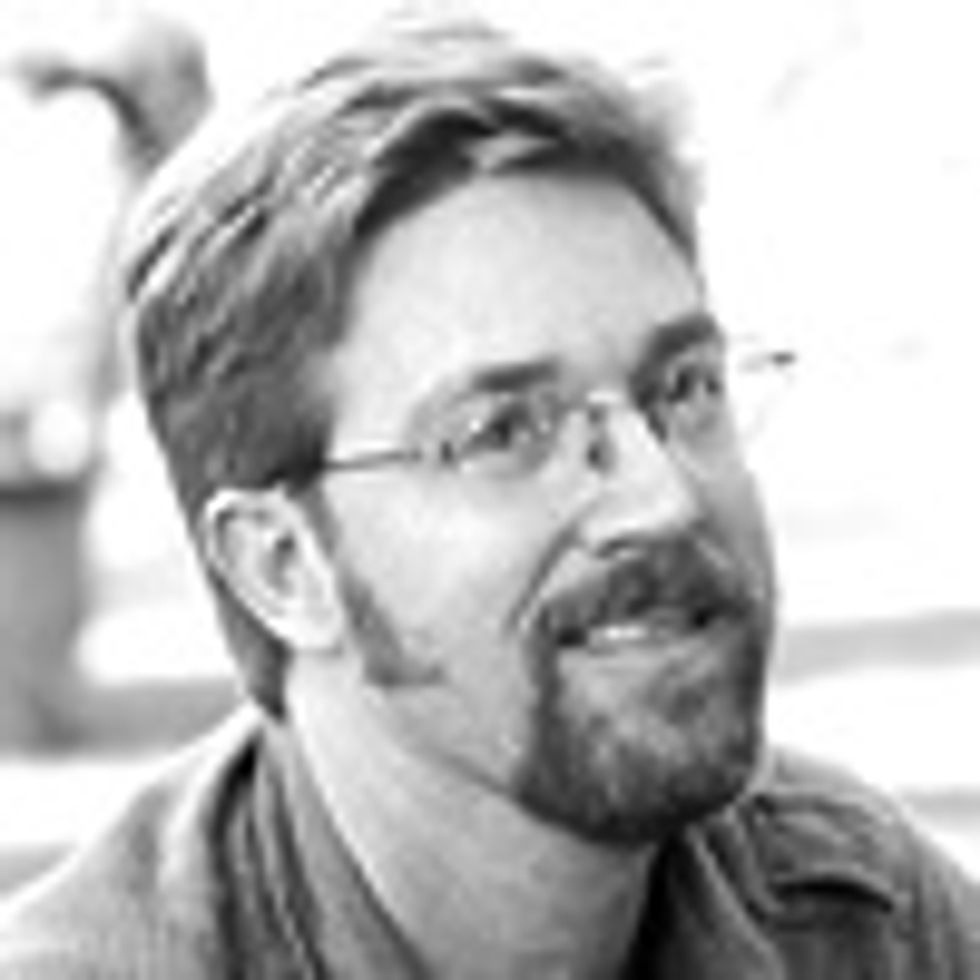 The fracking rush in the heartland may have been unleashed by ill-conceived regulatory measures last month, but frontline organizations and citizen groups in southern Illinois are not throwing in the towel—or even taking vacations this summer.
Welcome to Fracking Independence Days.
One of the most effective and outspoken citizen groups on the frontlines in the region, SAFE—Southern Illinoisans Against Fracturing Our Environment, has embarked on an ambitious plan to meet the frackers head on.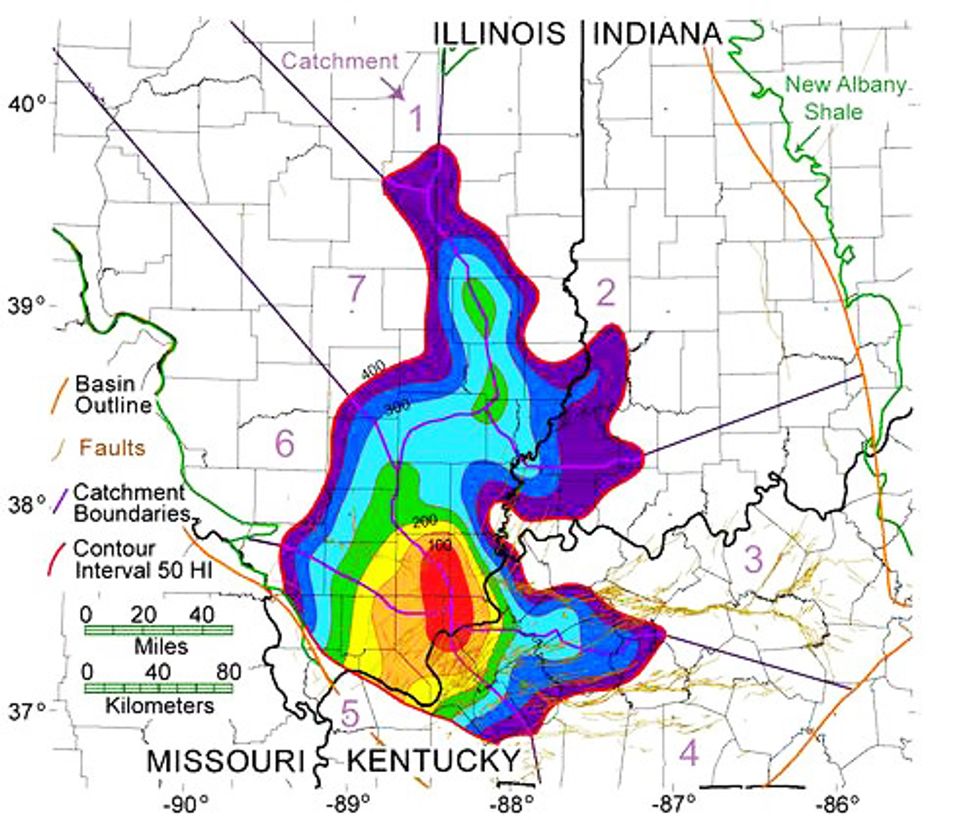 "SAFE has a major role in not only fighting for a healthy clean environment," SAFE activist Tabitha Smith Tripp told me, "but also that of re-educating people of their basic rights and how to interact with our government at even the local level."
SAFE plans to follow up its nearly two-year volunteer grassroots campaign and post-regulatory fracking manifesto, incorporate as a 501c3 non-profit and broaden its alliances with other extraction-impacted communities. SAFE plans to educate property owners and rural citizens on community rights as well as the short and long term risks of fracking. They plan to take the lead in monitoring water and air permits and activities, initiate legal challenges and defend its communities, Shawnee National Forests and watersheds from out-of-state fracking companies.
In essence: All that's necessary to ensure fracking-free independence in southern Illinois.
And to this end, with an unprecedented fracking rush on their doorsteps, effective frontline groups like SAFE needs support—funding, legal assistance and national backing. Now. This summer. This fall. Long-term.
Deeply rooted residents in southern Illinois are no strangers to the recklessness and devastation of extraction industries: absentee coal companies have left the region in ruin for decades, with more than 1,300 abandoned and toxic mines, destroyed farms, forests and hundreds of miles of now contaminated waterways; an oil rush in the 1940-50s left behind tens of thousands of abandoned toxic wells; and unchecked logging resulted in deforestation and erosion in the state's unique Shawnee National Forest.
Now caught up in the exploding coal exports market on the Mississippi River, Illinois is also slated to be targeted for expanding oil pipelines. Add a fracking boom to this explosive mix.
Enough, says SAFE.
The days of extraction mayhem are over. For the first time in decades, with generations of experience, southern Illinois has seen an emergence of citizen groups willing to take on fracking, big coal and reckless logging operations, and are now calling for a new movement to transition to clean energy manufacturing and development, community rights and water and forest protection.
I did an interview with Tabitha Smith Tripp, who has taken a leadership role in SAFE and frontline-based anti-fracking activism on a national level. Tripp also played a key role in the recent legislative battle in Illinois to pass a moratorium instead of flawed fracking regulations. Full transcription of the interview is below.
Jeff Biggers: Describe SAFE and its role in advocating for a frack-free Illinois, and its relationship with other citizens groups and environmental organizations.


Tabitha Smith Tripp: Our mission is to ban fracking in Southern Illinois, most urgently horizontal fracking, until such a time as any extraction method presents no risk to our land, air or water. To fulfill our needs for energy, employment and habitation, this implies the need to develop non-polluting technologies which do not threaten our soil, air or water.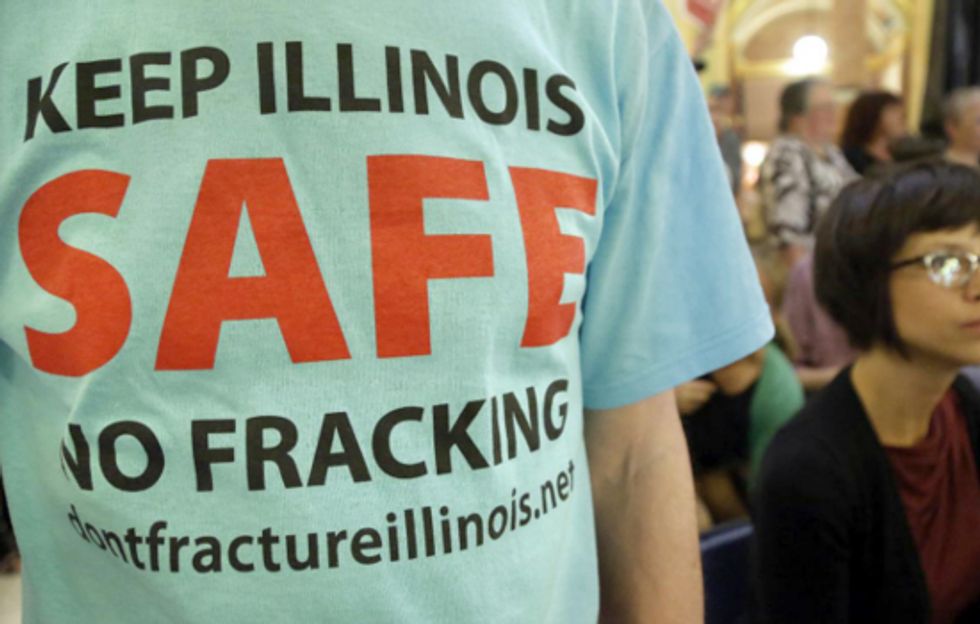 Our struggle is against a long-standing trend to intimidate and separate residents and communities from each other, which is antithetical to the basic concepts of democracy. If we are to succeed in protecting both our resources and our communities, we must re-establish and protect our human rights as granted by the Constitutions of the U.S. and the State of Illinois, and to fulfill our human duty to protect the soil, water, air, wildlife and human beings so that we might prosper, and that we might be good stewards of these resources.
 In our efforts to ban fracking, it is also our mission to awaken a community spirit among the people of Southern Illinois and create a popular movement that educates people to their rights and mobilizes them to act in the protection of these rights.
SAFE is (or will be soon) a not-for-profit 501c3 charitable organization, operating independently of other groups but in conjunction with those organizations or citizen groups who also choose to work boldly toward a ban on fracking.
Biggers: What are SAFE's main immediate needs, in terms of funding, office space, outreach and wider support?
Tripp: The movement is in a new phase. I can only presume to guess that a full time and a part time staffed position are needed, as well as retaining an attorney for many of the legal concerns raised on a daily basis.
All the things that go into an office...rent utilities, phone, copier, paper, print cartridges, tp etc. I would need more time to research the approximate figure for the basics
Travel expenses: it is three hours north to the thick of the New Albany shale—a tank of gas and 360 miles—if we have volunteer groups willing to do water testing of surface water we should be willing to compensate mileage at what cost I don't know, but if SAFE gets a 501c3 then what SAFE can't cover would then be a tax deduction.
Fracking poses a risk to the commons; air and water. Rural Illinois citizens need to have access to funds to have their water tested for specific chemicals that will provide the water well owner burden of proof evidence should there be contamination of a well. Currently the law does not test residents out side of a 1500' radius of the well bore and the well may extend up to a mile or more—it has been suggested that anyone within one kilometer of the well bore in any direction should have their well tested.
A basic pre-frack test is about $400. SAFE would like to have a fund to help families in need who would like testing but other wise can't afford it. If nothing else a Illinois tax credit when using a certified lab.
Air monitoring devices—radioactivity monitoring devices for alpha and gamma particle, water testing at a certified lab is minimum of $400 each. The needs of this movement are vast.
Biggers: Illinois is once again in the mist of an incredible coal mining rush—with a nearly 25 percent increase in the last year, and a five-fold increase in coal exports. Should frontline anti-fracking and coal mining groups be working together to deal with the extraction rush, and do you think groups like SAFE also need to be discussing "transition" efforts to clean energy production?
Tripp: The extraction industries are a perpetual boom bust cycle that has plagued Southern Illinois for as long as it has been inhabited by Europeans. Whether it was salt mining, logging, the various forms of coal removal, conventional oil drilling or hydro-carbon extraction via high volume high pressure horizontal fracturing, it perpetuates a mentality of victimization and enables rural communities to remain in a state of helplessness, instead of learning healthy means of sustainability via alternate means of commerce.
SAFE would gladly welcome conversations and the opportunity to create a regional planning group focused on transitional and long term strategies for maintaining a local economy based on sustainability and clean energy methods.
We plan for our children's education, we buy life insurance just in case—so they are "taken care of" in the event of an untimely death, but I find it ironic that when we talk to our elected officials about how to insure a healthy environment for our children's future, it falls on deaf ears. There is no contingency plan
I mentioned this idea to the Sierra Club: I wanted to be part of the 2050 club—the planning committee for the future, to anticipate 40 years down the road what our children can expect, to mitigate the pollution in terms of generation instead of elections—well you know what happened: I was told good luck getting members and laughed at.
If we could work together with other anti extraction groups in southern Illinois, what would that look like? At one point, we considered going to friends in coal mining to wage a bet—but that's like selling your soul to the devil.
Based on the latest research for coal in Illinois—it's costing taxpayers $20 million annually—what will the cumulative cost of fracking burden our children with? By taking back our communities from corporations and their subsequent greed, creating allies in similar pro-environmental groups, we could shift the tides, make use of shared resources and educate more rural areas to the propaganda and fallacies that spread virally in the words "jobs, economic boost, economic stimulation, etc."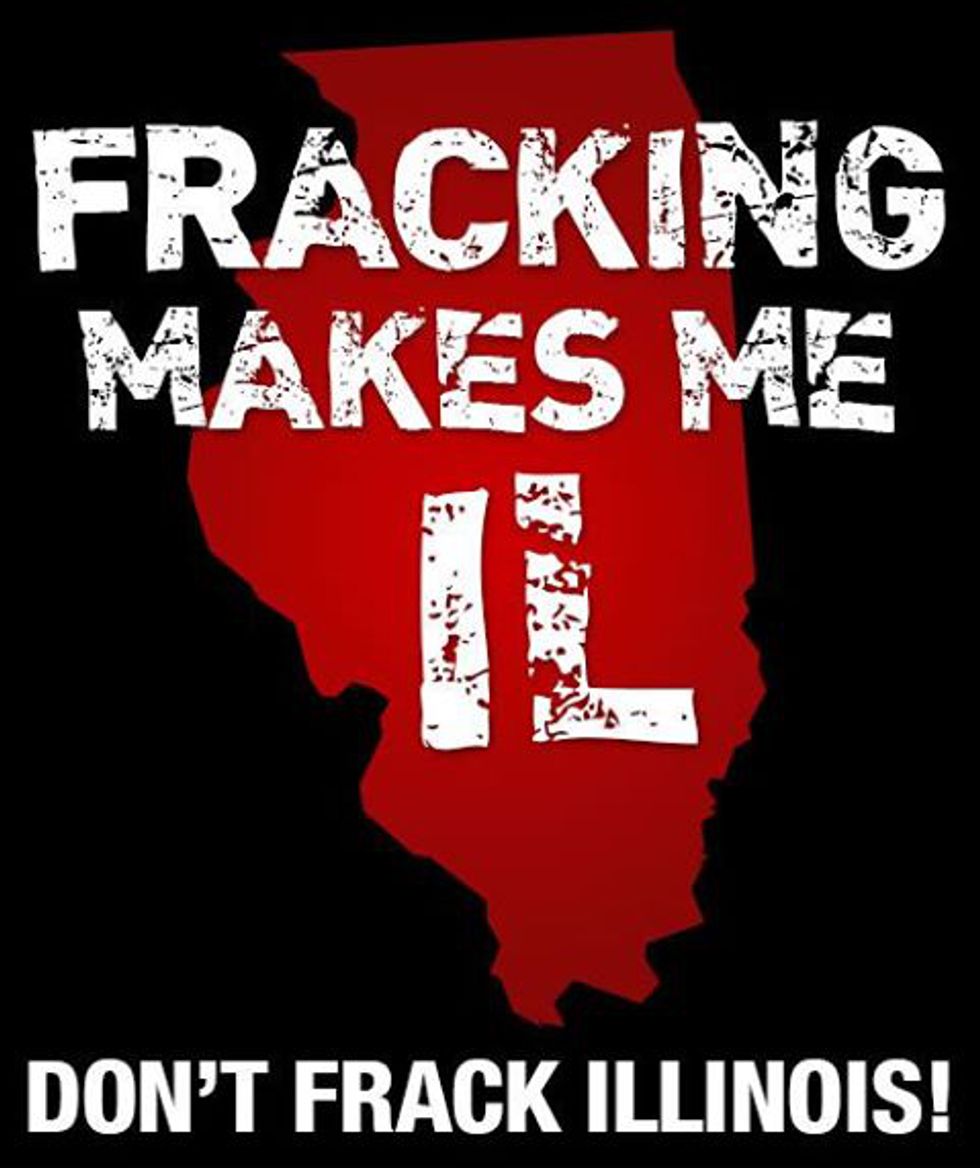 Biggers: With the new fracking regulatory rules on the books in Illinois, what do you see as the main priorities for SAFE and impacted residents in southern Illinois this summer and fall?
Tripp: SAFE's primary goal is to continue to educate property owners and rural citizens on the short and long term risk of fracking. We value our constitutional right, IL Article XI, to a healthy environment. SAFE will continue to support a moratorium and work towards a ban. Another of SAFE's primary goals is litigation at the state level based upon the right to a healthy environment. SAFE would also like to help counties and local governments put ordinances in place that protect the communities from the abuse of industry
As far as what the public can be doing to prepare and SAFE will be assisting with these as much as possible as a resource to IL residents:
—Every one should be taking before pictures, to document what your communities look like before frackers come to town. Document what the roads look like, the lack of light in the evening in rural settings. Make recordings of the sound of nature in communities and rural settings.
—Test for radioactivity—I laughed about this at first, but hey if there is no "before" you can't prove it after—and by after it may be ten years from now that all your neighbors end up with breast cancer and you can say well back then....and now there is "x" in the air or water.
—The water testing is a big one.
—Counties have the right to enact road restrictions, sound ordinances, light ordinances (fracking rigs operate day and night, trucks don't stop delivering fuel, water or chemicals) 
Surface owners need to be educated about their rights with regard to forced pooling and forced integration.
—Did I say water testing yet? I really can't express the importance of this enough. Another issue that I hadn't thought of was having the flow rate testing and documented. As we have seen in other states, like Colorado and even in place like Ohio and Pennsylvania, and most recently Michigan, water sources will be depleted, especially in times of drought. Measuring the flow rate of water wells will grant the home owner some validity when a well goes dry and a complaint is made to the state and consequentially in litigation. Once a property has been depleted of a water source the property value then decreases considerably making the home less salable and desirable.
—Get a current appraisal or updated tax assessing. It could be that the value of your real estate drops due to one of the side effects of fracking—dry well, pollution, air quality, road spill.....
—Blood testing for chemicals frequently found near fracking sites.
—Are local EMT and first responders equipped to handle an emergency, know who to call in the event of a spill—that 1-800 number should be plastered in every news paper throughout Southern Illinois.
—Citizens need to know how to object to a permit. SAFE at this time does not have the staff or the resources to fight each and every permit that comes through. We highly encourage everyone to participate in the process of public hearings as it is our only means of democracy at this point in the industry's game. They will need experts and current research, attorneys to work pro-bono or reduced rates...there is much work to be done, and SAFE needs staff and resources to be the most beneficial for this movement.
Biggers: Mainstream environmental groups based far from fracking operations are now raising funds to monitor fracking operations, and continue frack-free advocacy outreach. Do you think funders, such as foundations, need to put more money into grassroots and impacted frontline movements like SAFE?
Tripp: The extreme diversity of Illinois, whether it is the imbalance of population or the cultural differences, climate or varied topography from one end of the state to the other make outreach and education throughout the targeted fracking zone an issue. Rural organizing and movement building in the back roads of deep southern Illinois is a arduous and fiscally demanding task. Grassroots activist do what they do because most often it is their community at risk.
Covering the expenses of devoted volunteers for simple things like fuel and mileage for educating citizens about water testing or document printing, or sharing a question and answer meeting with concerned property owners, is something we can't offer currently, SAFE feels that may be one of the ways to boost volunteers help by covering legitimate expenses.
Attorney who have graciously and selflessly helped SAFE with legal documents and advice have "real" jobs. Legal advice and assistance is necessary for SAFE to continue to be effective and informative to citizens in southern Illinois, we would like to be able to retain an attorney. All these are "things" that big national organizations already have due to the multiple issue they are involved in.
SAFE is in the thick of it all, at the fore front of the fight, resources are sparse and the work load is heavy. Funding would help immensely.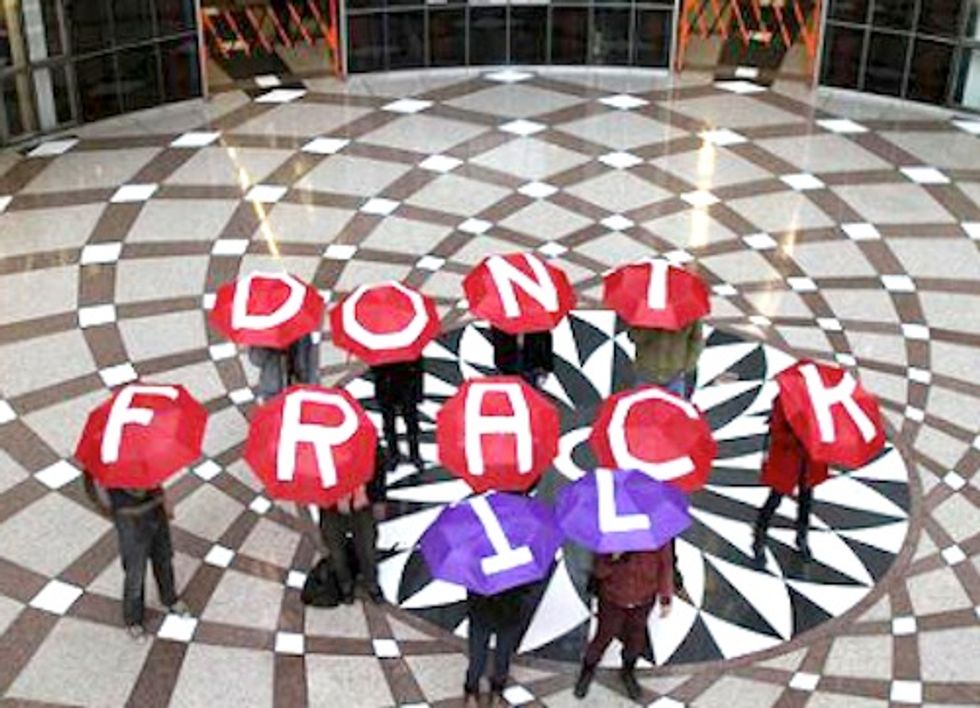 Biggers: Despite various concerns over loopholes and enforcement, the fracking regs recently passed in Illinois thanks to the support small cadre of non-impacted environmental groups based in Chicago, Springfield, and Urbana. Do you feel frontline citizen groups like SAFE have been left out of the larger fracking discussion in Springfield (and Washington, DC), and if so, what role should they play in the future?
Tripp: There are select few making decisions for a great many folks. It's happening in Illinois, it's happening in DC. This is no surprise. SAFE was left out, we had no representation from southern Illinois except for Rep. Bradley (D-IL) who was the sponsor of regulatory bill.
What role do grassroots groups play in the future of policy making? (My attitude is one of disgust and dismay.) In my news feeds on line, I see all kinds of grassroots efforts to initiate change in the system and the powers that be. I see protest and uprisings, I see indigenous groups holding back trains and tents in New York city parks, but I see a great majority of people who have been oppressed long enough and often enough that disempowerment has rooted itself like mustard grass here in the Prairie state. SAFE has a major role in not only fighting for a healthy clean environment, but also that of re-educating people of their basic rights and how to interact with our government at even the local level.
So many people, myself included, have never been to a county board meeting, sat in week after week, to press upon an issue dear to their heart.
Giving people the courage, the tools and the knowledge to impress upon elected officials that change is needed to insure a stable and sustainable future for the next generation is a positive role that SAFE and any other grassroots can model.
Biggers: How did you get involved with SAFE?
Tripp: A friend sent me a movie link about fracking, it was Gasland. I was in tears while I watched it, appalled and speechless. I thought "what are we doing to our children?" I have two young kids, we live on a fourth generation family farm with a well, and it's really good water. I had hoped that my kids would have a small lot next door and make themselves the fifth generation on the farm. But without clean water, there is no reason to stay.
I began to research the chemicals, the pollution, the waste disposal methods, the derailing of democracy in small communities where fracking had occurred, met people who had lost their water to vertical "conventional" fracking. This isn't an issue that was going away without a fight.
One of the most astonishing facts I learned was 85 percent of Illinois would be at severe to moderate risk for water shortages by the year 2050. This was a study commissioned by Natural Resources Defense Council, one of the environmental groups supporting the regulations. What is even worse is the numbers used in calculating these figures did not take into account the exorbitant amount of water permanently withdrawn from the hydrological cycle, nor did it take into account accelerated increases of atmospheric temperatures dues to increases methane emissions due to the fracking "boom."
How, in their right mind, could anyone one say that trading water, clean water, for fossil fuel and strong regulations is a good idea. Jobs wont mean anything if there is no water to drink. 
So I became involved with SAFE after the first public meeting. I will fight for what I love and what I believe in. Like most parents, you do anything and everything to protect your kids from harm.
Biggers: Do you consider SAFE to be the main frontline fracking organization in Illinois? 


Tripp: SAFE is one of the few organizations in the thick of the battle, we have active members spread across all of Southern Illinois and as far north as White county. We have been actively meeting since March of last year and have many devoted volunteers doing a massive amount of public service and education. It would be egotistical to think we are the only group fighting fracking over the 1,000's of miles in Southern Illinois, but we have made our presence known in Springfield as well as nationally.
We have recently heard through the grapevine that the group RACE and Friends of Bell Smith Springs are becoming active again as the threat of fracking looms over the Shawnee National Forest. SAFE welcomes our allies, local and statewide to join us here Southern Illinois in the fight to ban fracking in our rural communities.
SAFE, like all citizens groups on the frontlines, needs your help.
Visit EcoWatch's FRACKING page for more related news on this topic.
——–
HOW ARE YOU ASSISTING IN THE FIGHT AGAINST FRACKING?
Gasland was about people lighting their water on fire. Gasland Part II is about the oil and gas industry lighting our democracy on fire.
And like a scene from our film, last week we saw another example of the toxic influence they have on our democracy when our President doubled down on natural gas in his climate speech.
We applaud the President for taking on climate change, but he's got the message wrong. Fracked gas is not the solution, it's part of the problem.
Next Monday, we'll have a chance to get the right message out, but we can't do it without you. We need your help to get the right message to everyone, from people living in your community all the way up to the President.
So here's the plan:
1. Host a watch party. Invite friends and neighbors over to watch the film, so they will be educated on the issue and as passionate as we are about stopping fracking.
2. Join me on a national strategy call. Right after the movie I am holding a national Q & A and discussion to talk about how we can make sure the right message gets out. To participate, call 559-726-1200 and enter code: 776632.
3. Make a donation. Your dollars will be used to fight the frackers in New York, Illinois, Texas, California, and everywhere in between. Literally, that is what the donations are used for: to fund staff and projects that educate and inform people about the dangers of fracking.
I don't know about you, but I'm tired of hearing my President read natural gas talking points, and seeing the fossil fuel industry have more influence on my government than I do as a citizen.
I won't sit by and watch our democracy burn. On Monday, July 8 at 9 p.m. EST on HBO, I'm going to get the right message out and I hope you'll join me.
Visit EcoWatch's FRACKING pages for more related news on this topic.
——–

Watch The Daily Show's John Oliver interview Gasland Director Josh Fox on his new film, Gasland Part II, which elaborates on the government's role in promoting the fossil fuel industry's practice of hydraulic fracturing (or fracking) for natural gas and oil. Exposing the grave warning signs coming from U.S. "energy sacrifice zones," Fox warns of the systemic corruption with regard to our regulatory agencies and industry influence. He also discusses the technical and engineering problems of the fracking process and the effects of methane emissions being worse for climate change than coal. Gasland Part II will debut nationally on HBO, Monday, July 8 at 9 p.m. EST.
Visit EcoWatch's FRACKING page for more related news on this topic.
——–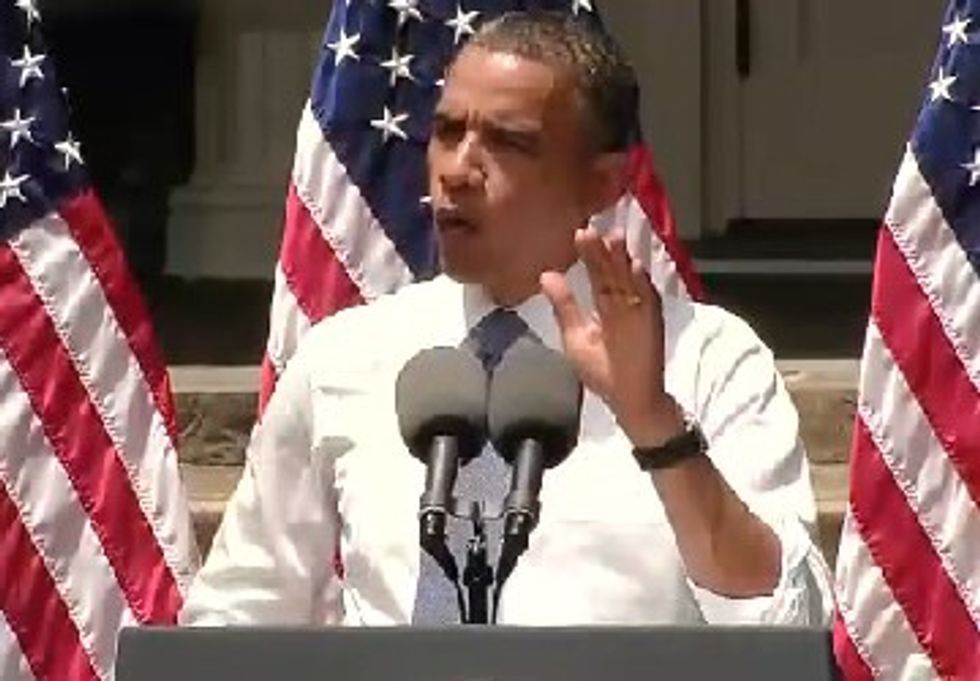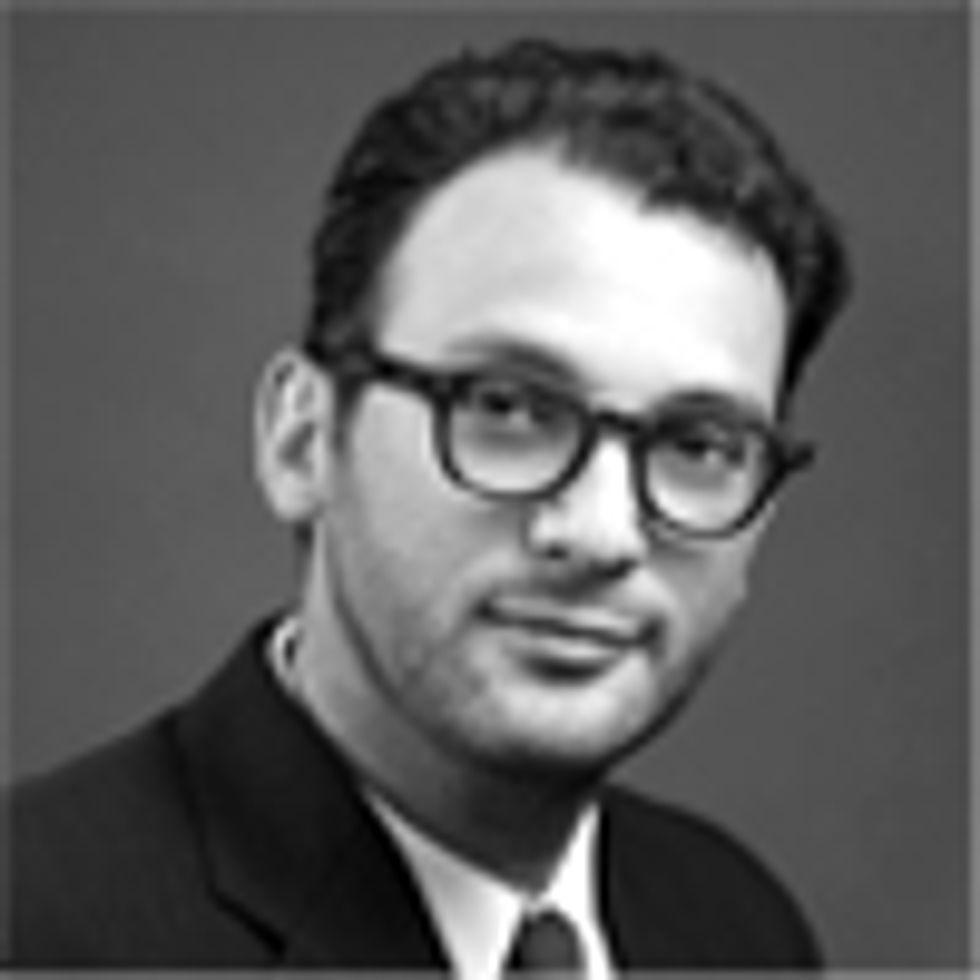 It's amazing to watch the bully pulpit, with all the power of this president's ability to command words, focus on the greatest crisis of our generation. I applaud the President for tackling climate change in his speech today. It's the most important issue we face. Reducing coal pollution, increasing energy efficiency, stimulating more renewable energy—it's about time. Especially because Dr. Hansen and other climate scientists have shown that time is running out.
However, all the good that President Obama will do with his reductions in CO2 from power plants will be undone by his embrace of fracked gas. It is clear that he does not have the right information on fracked gas. His administration has allowed the gas industry to influence far too much of this process. In March, the President called a meeting to discuss his pending climate plan. The group of 14 energy-industry leaders—nine were CEOs of energy companies—included the head of the oil and gas giant Anadarko; Southwest Gas; Edison Electric Institute; FedEx, which pushes a switch to gas vehicles; and former Colorado Gov. Bill Ritter, a longtime booster of gas.
 
As a result, this plan has become a wholesale endorsement of increased natural gas use in America and abroad. For all the correct emphasis on the dangers of climate change, the plan is: frack now, frack here and frack all over the world. Fracked gas isn't a bridge fuel—it's a gangplank.
The President's Climate Action Plan says methane is 20 times more powerful a greenhouse gas than carbon dioxide (CO2). This is incorrect, it's far more than that—for the first 20 years, methane is 80 to 105 times more powerful, than CO2 as a warming agent in the atmosphere. This means you need between 80 to 100 pounds of CO2 to equal the warming potential of 1 pound of methane. So even limited methane leaks from fracked wells (not to mention compressors and pipelines) can make fracked gas worse for climate than coal. And the leaks aren't minimal or easily solvable. And methane is leaking like crazy. A series of peer reviewed studies have now put the leakage rates at between seven and 17 percent. Above one to three percent, the science tells us that developing fracked gas is worse than coal for the atmosphere.
 
Additionally there is the large problem of water contamination from drilling and fracking. A large percentage of the wells leak—as industry's own documents and other studies show. These documents come from drilling giant Schlumberger, Archer Oil & Gas, Southwestern Energy and Society of Petroleum Engineers, to name just a few. A leaking well can't be prevented, and it can't usually be repaired thousands of feet below the earth. The great pressures under the earth, shrinkage, vibrations from nearby drilling, temperature changes—these all crack the cement that protects the well from leakage.
 
Coal is abhorrent. Coal production and use needs to be curtailed immediately, no new coal plants should be built and those that exist now need to be shut down. But the same is true for natural gas fired power plants. We do not want to see greenhouse gas emissions go down in the coal sector at the power plants only to rise from leaking gas in the gas fields, in the transmissions systems and the delivery systems in our major cities.
 
I'm glad the President is going to study methane leakage—what he will find will make fracking impossible. See Gasland Part II if you want to see huge clouds of methane billowing out from fracked wells. It airs on HBO July 8.
Exporting fracked gas is even worse. It takes more energy to convert the gas to liquid for shipment, negating any greenhouse advantage even more. And meanwhile, with the high percentage of well cement that cracks and leaks, and no way to prevent it given the pressures under the earth, the President's plan will ruin drinking water for many families without any climate advantage. What's the sense of that?
 
I am glad the President is increasing energy efficiency investments. But the scale could be so much larger. We could save far more energy than we will ever produce with fracking by just insulating all the buildings in America. This will create far more jobs than fracking, and save consumers money forever. Let's do this instead of fracking hundreds of thousands of leaky wells in populated areas.
The President should meet with the families whose lives have been ruined by fracking, as depicted in Gasland Part II. He should meet with Dr. Tony Ingraffea of Cornell and other long-time oil and gas experts not currently in the pay of industry to learn the truth. We respect his sincere desire to do something about climate change. Fracking for gas will not help and it may just make the accelerate climate change beyond the current status quo.
Visit EcoWatch's FRACKING page for more related news on this topic.
——–
Sign the petition today, telling President Obama to enact an immediate fracking moratorium:

[Editor's note: This op-ed by Josh Fox is in response to an op-ed by Thomas Pyle—president of the Institute for Energy Research, a pro-industry nonprofit organization—on Real Clear Energy.]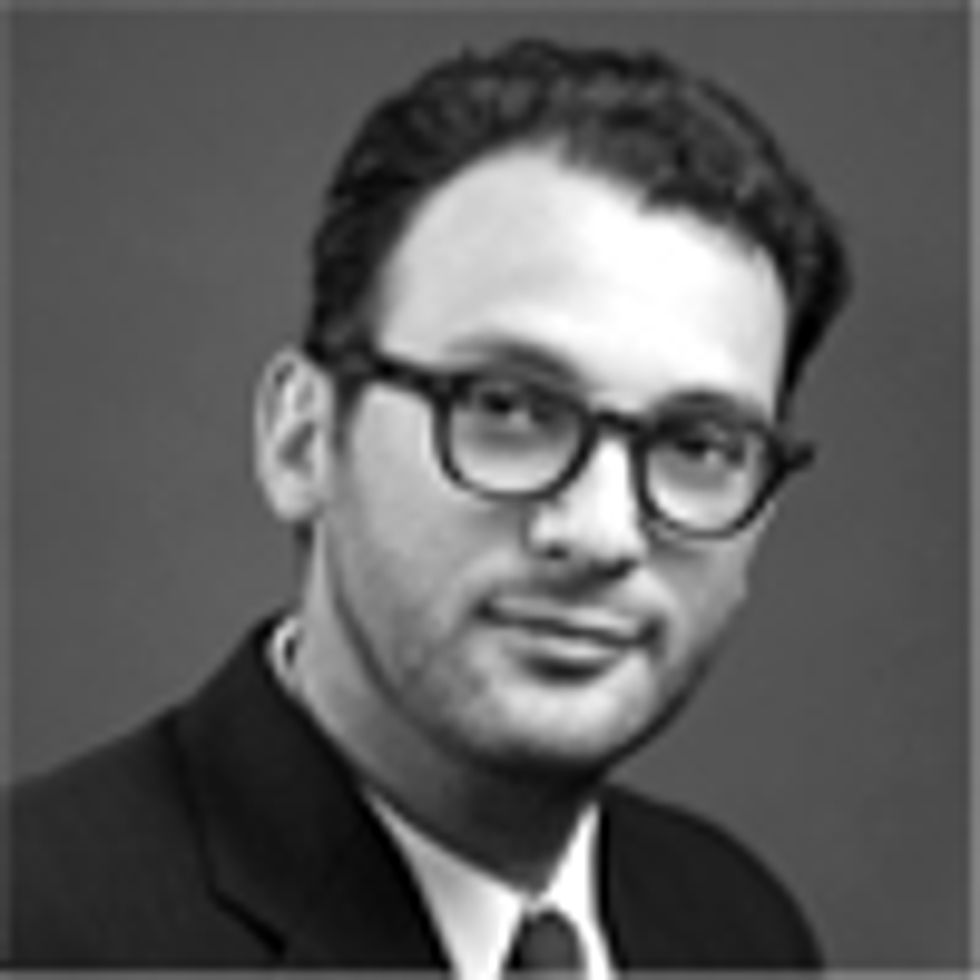 Industry's denial of the dark side of natural gas fracking shouldn't fool anyone. Thomas Pyle's claim on Real Clear Energy that there is not one "confirmed case of groundwater contamination" from fracking is the big lie, repeated often. It's like saying cigarettes don't cause cancer. And industry's intentional disinformation campaign comes from the same tobacco playbook (it even uses the same PR firm).
After spending the past four years traveling the country and meeting people whose lives were wrecked by fracking operations at their doorstep, I've learned the oil and gas industry is willfully misleading the public. Let's look at each of Pyle's misrepresentations one by one:
"Hydraulic fracturing has been in use for more than 60 years without any confirmed cases of groundwater contamination."
Fracking—when taken to mean the entire process of developing an oil or gas well—has conclusively been linked to water contamination by federal and state environmental authorities many times. In Dimock, Pennsylvania, for example, the PA Department of Environmental Protection's (DEP) determined that methane contamination of the local water supply was due to gas drilling, specifically finding that 18 drinking-water wells in the area were affected by the operations of Cabot Oil & Gas.1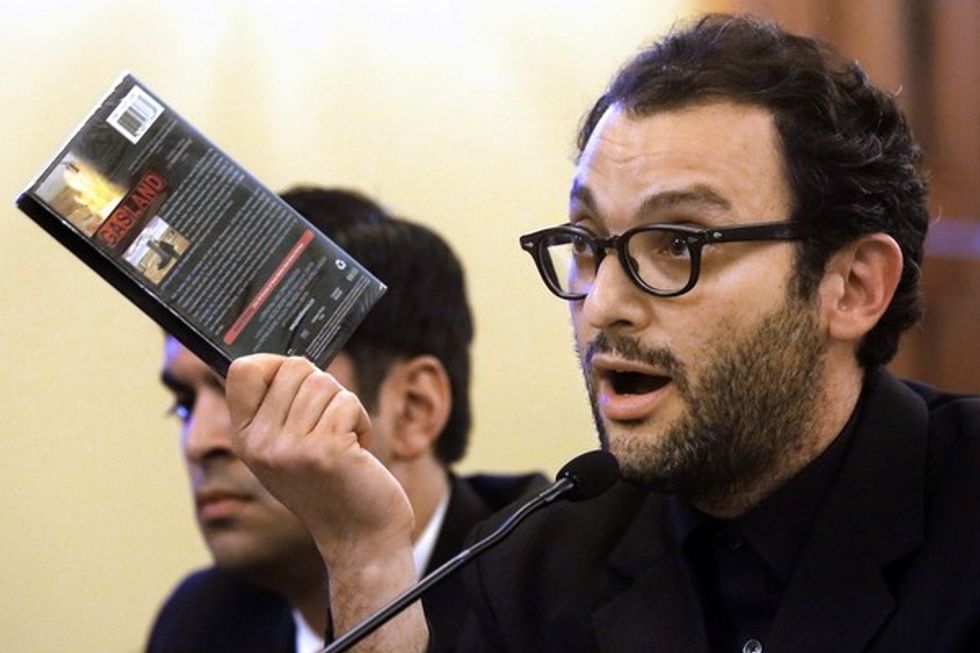 The U.S. Environmental Protection Agency (EPA) tests of Dimock water also clearly showed contaminants that could be traced to the fracking activities of Cabot Oil & Gas. Independent expert Dr. Rob Jackson from Duke University also analyzed EPA's data and concluded that the water was contaminated by Marcellus shale gas fracked by Cabot.2
When oil industry spokespeople say "not one well" has been contaminated by fracking, it's deeply and dangerously misleading. The claim itself requires the parsing of language so that "fracking" only refers to one step in the process, namely the point when a toxic slurry of water and chemicals is pumped at enormous pressure into the ground to fracture the shale rock and free the gas within.
Industry knows it's the drilling and well construction stages where it all breaks down—literally. As the drill penetrates deep into the earth, it punctures different gas pockets that can mix together. The well around the hole is generally sealed with cement. But this thin layer of cement—the supposed barrier to gas and chemical migration into drinking water supplies—is notorious for cracking and leaking.
Industry's own documents show that 5 percent of oil and gas wells leak immediately and up to 60 percent of them fail over a 30-year time period. Industry estimates that about 35 percent of all oil and gas wells are leaking now. These conclusions aren't my own: They come from drilling giant Schlumberger, Archer Oil & Gas, Southwestern Energy, Society of Petroleum Engineers, and Colorado Oil and Gas Conservation Commission, to name just a few.3
Why do so many wells leak? Pressures under the earth, temperature changes, ground movement from nearby wells and shrinkage all crack and damage the thin layer of brittle cement that seals the wells. And getting the cement right as drilling goes horizontal is extremely challenging. Meanwhile, once the cement leaks, no one can go thousands of feet under the earth to repair it.
And it is not a question of stronger cement or better technology. Industry's own documents say that "strength is not the major issue in oil well cementing under any circumstances … cement clearly cannot resist the shear stress that is the most common reason for oil well distortion and rupture during active production."4 In other words, the great pressure underground will cause a significant proportion of wells to fail no matter what.
Fracking has got to be seen as the sum of all parts of the operation. While the gas industry is busy playing semantics, people's health, lives and property is being compromised.
 "[W]hen water from a kitchen faucet is set ablaze … the stunt is completely unrelated to drilling; rather it's the result of naturally occurring methane."
The flaming faucets documented in Gasland I and II are the product of natural gas migration into water supplies due to fracking right next door. Numerous investigations have confirmed this fact, including studies by the U.S. Environmental Protection Agency, the Pennsylvania Department of Environmental Protection, and many others.5 When industry says no, that's not true, it's telling you to believe in some giant conspiracy theory—that families all across the country are lying in reporting that their wells never flamed before fracking.
Piling on the evidence, Duke University recently conducted a peer-reviewed study that links water contamination with nearby drilling and fracking, concluding that water wells near drilling and fracking operations were 17 times more likely to contain elevated levels of methane.6 Seventeen times!
"[S]hale gas drilling stands accused of methane contamination. But in April, Pennsylvania's Department of Environmental Protection concluded that naturally occurring shallow gas was responsible for contaminating well water of the three private homes in question."
The Pennsylvania Department of Energy issued a consent order specifically concluding that 18 drinking-water wells in the area were affected by the drilling and fracking operations of Cabot Oil & Gas.7
"Even the Environmental Protection Agency's groundwater studies cited by Fox were so deeply flawed that then-EPA administrator Lisa Jackson publicly disputed them."
Here's what Lisa Jackson really said, as captured in an on-camera interview with her for Gasland II: "We do have cases where we believe we see many cases of groundwater contamination and drinking water contamination that are, if not brought on entirely by natural gas production, were exacerbated by it. Not just methane, which is natural gas, but other contaminants as well."
"Domestic energy production is leading to a more secure energy future and economic prosperity here at home."
First, we don't use gas to power cars—save a few niche city bus fleets—nor oil to generate electricity, so the "energy independence" hype is truly misleading. Much of the gas fracked in the U.S. will end up overseas. Currently gas in Europe costs about 3 times more per unit than it does in the U.S. Prices in Asia are even higher. These realities are leading to an explosion of permitting requests for the construction of Liquefied Natural Gas terminals on our coasts for the purpose of transporting gas overseas.
What's more American prosperity will be gutted anyway if we continue to flood the atmosphere with heat-trapping gases like carbon dioxide and methane. Some say gas is a bridge to get us over the climate hump because it's cleaner than coal. But this ignores the leakage of methane—a heat-trapping gas up to 105 times as potent as carbon dioxide over 20 years. Experts have said anything more than a 2 percent leakage rate of methane means any climate benefits of gas over coal are voided.8 Results now coming in from the field show leakage rates between 7 and 17 percent9—making natural gas from fracking way worse than coal as far as climate is concerned.
The explosion of fracking across the American landscape is being painted by industry as a blessing to us all. But for the families I've met with, it's the worst kind of curse. Lives upended, forced to move, health hanging in the balance—these are the "blessings" families I now know well are experiencing. Don't believe the hype. See the film and judge for yourself.
This op-ed originally appeared in Real Clear Energy.
Visit EcoWatch's FRACKING page for more related news on this topic.
--------
Jill Wiener has dedicated a large part of the past five years of her life to keeping the use of hydraulic fracturing for natural gas extraction out of New York State. The Sullivan County, NY, resident believes that if fracking has yet to happen in a state, it should never be allowed to happen. And where fracking is happening, it should be stopped.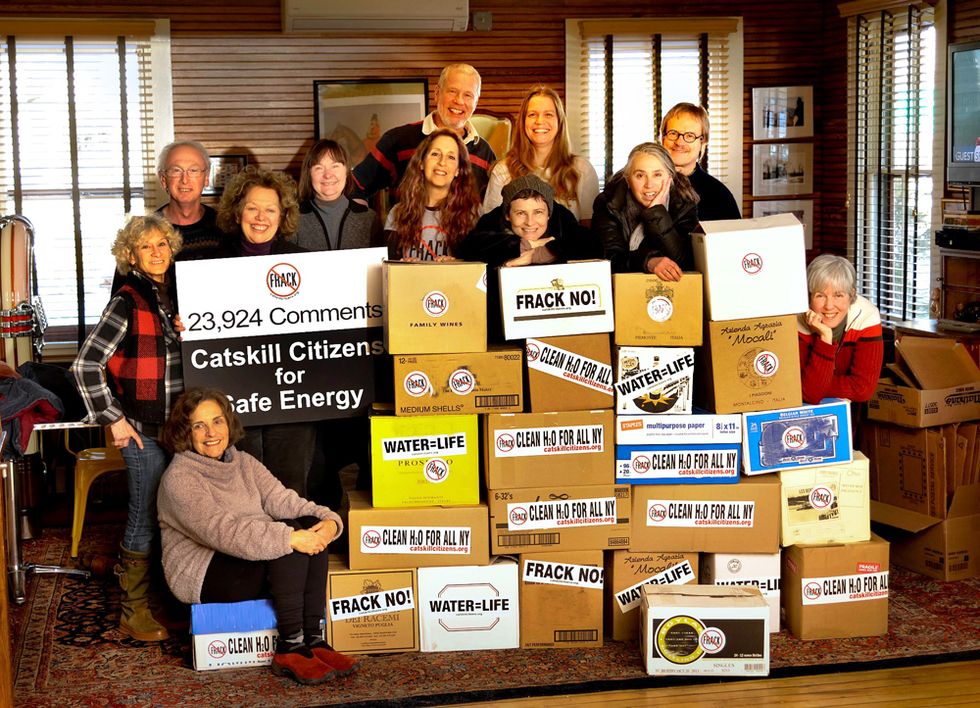 Many of Wiener's fellow grassroots activists in New York share this belief. They're opposed to the regulatory path followed in other states, including in Illinois where some big environmental groups worked with the natural gas industry to get fracking legislation passed and signed into law. So far, the New York activists' strategy for keeping shale gas drilling out of the state has worked: fracking in New York still appears to be a long way off, if it happens at all.
The strength of the resistance manifested itself again June 17 when more than 3,000 people of all ages and backgrounds from across New York gathered in Albany to urge Gov. Andrew Cuomo and the legislature to end the threat of fracking and promote a clean energy agenda. Robert Boyle, a long-time environmental activist and founder of Riverkeeper, remarked last year that he has never seen an environmental movement "spread with such wildfire" as the anti-fracking movement.
"It took me 13 or 14 years to get the first Riverkeeper going. Fracking isn't like that. It's like lighting a train of powder," he told journalist Ellen Cantarow.
Spreading Like Wildfire
The movement started to spread like wildfire in New York when concerned residents began educating their neighbors about the dangers of fracking. "The grassroots groups actually informed the Big Green groups," Wiener said in an interview with EcoWatch. "This was the grassroots telling the grass tops what was happening on the ground and doing the research and seeing that something was wrong. Back in 2008, the Big Greens thought that natural gas was a good bridge fuel, better for the climate."
Anti-fracking activists in New York were hearing news about what was happening in Pennsylvania, stories that put them on high alert. "We had a head-start because the industry marched through Pennsylvania first," Wiener said. When industry representatives began showing up in New York, they guaranteed millions of dollars to residents if they leased their land and minimal impact on the environment from the shale gas extraction process.
But many residents refused to buy into the industry's narrative. "There are a lot of native New Yorkers here," Wiener said. "We all grew up with the story, 'Well, I've got a bridge to sell you.' We're pretty skeptical."
Wiener became involved in the anti-fracking movement after she ran into a friend at a local supermarket who handed her literature describing what the natural gas industry had up its sleeve.
"I looked at it and said, 'Oh dear! They're never going to do this here. This is a hair-brained scheme,'" she recalled.
Wiener and other anti-fracking activists in the region were feeling good about their chances because they had just finished working with state lawmakers to defeat the construction of an electric transmission line called the New York Regional Interconnect (NYRI). The proposed 400-kilovolt, 1,200 megawatt, high-voltage line would have run about 190 miles from Utica, NY, to Orange County, NY.
"The whole project didn't make sense. It was not easily defeated, but we had our elected officials on our side," explained Wiener. The activists were expecting the same success in the fight against fracking. Getting public officials on board the anti-fracking bandwagon would be a "no-brainer," she thought. Activists soon discovered, though, that the fight against fracking would be much tougher and drawn-out than the campaign against the NYRI electric transmission line.
Wiener's concerns about fracking led her to Catskill Citizens for Safe Energy, a group formed in 2008 in reaction to "landmen knocking on doors." The group seeks to educate the public about fracking and to promote clean energy. At Catskill Citizens, no one takes a salary and there's no office. The organization is run by volunteers who make decisions by consensus.
The various anti-fracking groups in New York regularly communicate with each other. "If there is a plan or an action or a piece of legislation, we keep in very close touch. We have open discussions about where we need help," Wiener said.
Catskill Citizens has attracted "creative thinkers from all political stripes," many of whom have organizing experience, she said. "This is not a left-wing, tree-hugging issue. It's a public health issue and everybody deserves clean air, clean water and the right to their property and the quiet enjoyment of their property," she emphasized.
An Artist and an Activist
An artist by trade, Wiener moved into a late nineteenth century farm house in Callicoon, NY, from New York City in 1997, where she set up a pottery studio. Along with running a pottery business, Wiener grows flowers on her farm that she then cuts and arranges for parties, weddings and special events.
"I now spend much more time 'working' with Catskill Citizens than tending to my own businesses," she said. It's Wiener's strong convictions that allow her to work the long hours needed to help sustain a movement. "I don't have kids. It's not like I'm fighting for my own children. But there is right and there is wrong. And, boy, I really hate wrong," she said.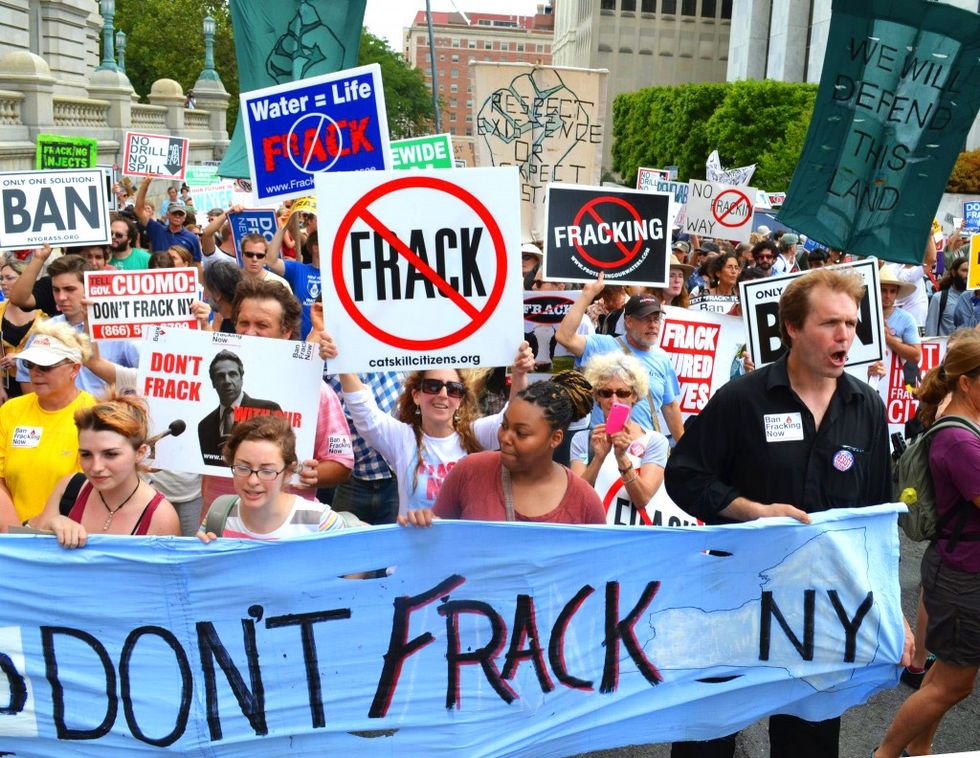 New Yorkers Against Fracking
In her work as an activist, Wiener serves as a member of the board of directors of Catskill Citizens and is on the advisory council of Stop the Frack Attack, a national coalition of anti-fracking groups.
Since moving out of New York City, Wiener also has served on the boards of the Sullivan County Visitors Association, Sullivan County Farmers' Markets, Jeffersonville Area Chamber of Commerce and the Sullivan County Alliance for Sustainable Development. She ran for the Callicoon Town Council in 2011 but did not win a seat. "I believe it is my duty to participate, to try to make our communities better where we can and protect them where we must," she said.
Before she became involved in the anti-fracking movement, Wiener said she had trouble standing up and speaking in front of just a handful of people. In recent years, though, she has become a spokesperson for the movement, speaking at events where she puts her gas industry expertise and her quick wit on display in front of large crowds. "One of my proudest moments was at the [Don't Frack New York rally in Albany in August 2012] when I spoke in front of over 2,000 people," she said.
On most days, Wiener said she is phoning fellow anti-fracking activists to talk strategy, attending meetings or performing ordinary organizational duties to help make the movement even bigger. "Our numbers keep increasing and I think our resolve keeps getting stronger and stronger because everyday something else that is an obvious wrong comes from this industry," she said.
"The industry had for years and years sold natural gas as this perfect solution to our energy problems and to climate change. They sold it as wonderful and clean and green and you put a straw into the ground and you just sort of suck the gas out and it's very simple," Wiener said. "But it really turns out that it wasn't. This is not your grandmother's gas well."
The rush to extract natural gas from the Marcellus Shale and other shale gas plays is creating industrial zones in rural areas across the U.S. The industrialization of wide swaths of forestland, meadows and mountains is threatening the health of humans who live near the drilling zones and disturbing animal and plant species who inhabit these regions.
Most people agree that the natural gas extraction process harms the environment. But they disagree on the extent of the harm. There's debate on whether the benefits of natural gas production outweigh the harm it causes. According to Wiener, the natural gas industry often takes "one kernel of one word of truth and they surround it in this pile of misinformation."
Five Minutes of Happy Dance
The odds appear to be stacked against anti-fracking activists, especially when they compare their meager budgets with the industry's huge war chests. "It's very hard to break through that with the truth when you're faced with insurmountable amounts of money. But somehow we manage to do it, person to person to person," she said.
Echoing a major theme in Gasland 2, the new documentary made by filmmaker Josh Fox, Wiener said the political elite's overwhelming support for fracking at the state and federal levels demonstrates that the nation has "a democracy problem" and that there is "undue influence by corporate money."
The influence of money also is seen in the nonprofit sector. Referring to the Environmental Defense Fund's (EDF) involvement in the Center for Sustainable Shale Development, Wiener said she takes exception to environmental groups that are "GINO," or green in name only. The Pittsburgh-based center, formed earlier this year, bills itself as a coalition of companies and groups working together to improve environmental performance of industry operations. In addition to EDF, the center's members include Chevron Corp., CONSOL Energy Inc. and Royal Dutch Shell plc, as well as Citizens for Pennsylvania's Future and the Pennsylvania Environment Council.
"If the Environmental Defense Fund actually wanted to do something good, they could take their incredible power and the money that they've gotten from Mayor Bloomberg, and put it to good use by educating the public on the dangers of shale gas extraction," she said. In August 2012, Bloomberg Philanthropies awarded the EDF with a three-year, $6 million grant for its work to "minimize the environmental impacts of natural gas operations through hydraulic fracturing."
According to Wiener, the EDF "could walk into Pennsylvania because they have relationships there and say, 'That's enough now, stop! You put a moratorium on this right now. Unless and until you get it right and you're not putting people's lives at risk and polluting their air and changing the character of your state in an irreversible way, you don't do it.'"
North of the border, in New York, pro-industry officials and environmental activists alike are beginning to believe the strength of the anti-fracking movement could spoil the natural gas industry's dream of a shale gas bonanza in the state. Wiener, who describes herself as "really stubborn," believes New York can remain free of shale gas drilling as long as she and fellow activists keep applying pressure.
But what if anti-fracking forces do succeed in New York? That was a question that a state lawmaker asked Wiener at a recent meeting. "My own state senator—not particularly on our side—said, 'Jill, what are you going to do if you ever manage to stop this? Are you going to sit back and do everything you did before?'"
"I said, 'No, if we can stop it in New York, you think I'm going to leave everybody else behind? No. Five minutes of happy dance and then we're right back to work.'"
Visit EcoWatch's FRACKING page for more related news on this topic.
——–

Sign the petition today, telling President Obama to enact an immediate fracking moratorium: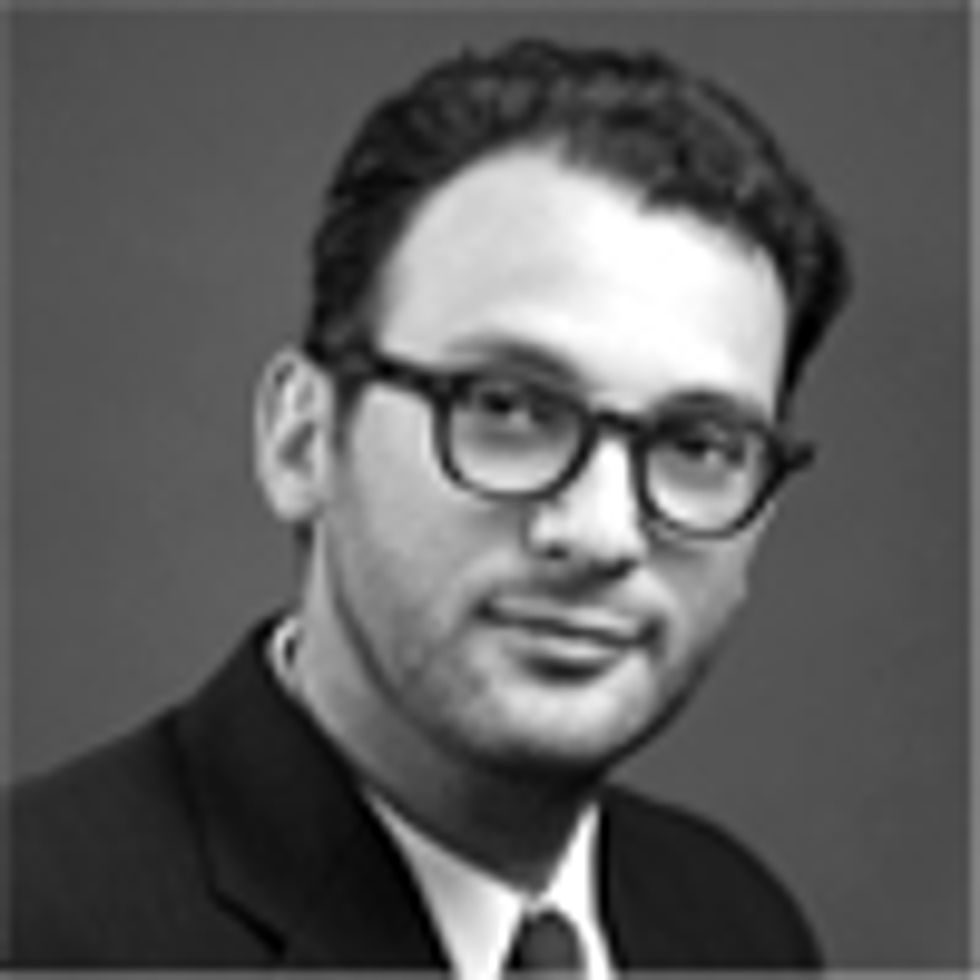 On Feb. 12, the charge of "unlawful entry" brought against me was dismissed without condition. The U.S. Attorney dropped the case, finding it baseless and without merit. Although this is a personal victory and I am very grateful and relieved at the U.S. Attorney's decision, it serves as a painful reminder that we do not have rights unless we exercise them.
On Feb. 1, I was arrested, briefly jailed, and charged with "unlawful entry" for attempting to film a public hearing in the Science, Space and Technology committee. I did not enter unlawfully, I lined up outside just as everyone else did and walked in when the room opened. I set up my tripod and camera where cameras normally are set up in that particular hearing room and I was calm and peaceful. I did not disrupt the hearing nor did I intend to do so. I believed I was within my first amendment rights, as a journalist and filmmaker. I was reporting on a case that is intensely personal to me, that I have been following for 3 years.
The House had convened a hearing in the House Energy and Environment subcommittee to challenge EPAs findings that hydraulic fracturing fluids had contaminated groundwater in the town of Pavillion, Wyoming. I have a long history with the town of Pavillion and its residents who have maintained since 2008 that fracking has contaminated their water supply. I featured the stories of residents John Fenton, Louis Meeks and Jeff Locker in GASLAND and I have continued to document the catastrophic water contamination in Pavillion for the upcoming sequel GASLAND 2. It was clear that Republican leadership, including Chairman Andy Harris of Maryland, who ordered my arrest, was using this hearing to attack the three year Region 8 EPA investigation involving hundreds of samples and extensive water testing which ruled that Pavillion's groundwater was a health hazard, contaminated by benzene at 50x the safe level and numerous other contaminants associated with gas drilling. Most importantly, EPA stated in this case that fracking was the likely cause.
When I was being led out of Congress in handcuffs, Representative Paul Tonko, Democracy of New York shouted out "This is the People's House!" in disgust. Representative Brad Miller of North Carolina, moved to suspend the rules so that we could continue to film the proceedings stating "All god's children should be allowed to film this hearing!" It was a surreal moment. Later that day, Congressman Maurice Hinchey would write, "This is blatant censorship and a shameful stain on this Congress."
But if it is not now the "People's House," it is now, more than ever the "people's media." I was able to watch my own arrest on YouTube because members of the audience filmed it and posted their videos. It was the citizen journalism that first documented people lighting their water on fire in gas fracking areas. It was citizen journalism that posted videos of the recent mass arrest of peaceful protestors in New York and in California. The people's media is our system of accountability and transparency and we must continue to practice it.
The First Amendment to the Constitution states explicitly "Congress shall make no law…that infringes on the Freedom of the Press." Which means that no subcommittee rule or regulation should prohibit a respectful journalist or citizen from recording a public hearing.
I have huge respect for those who make the immense personal sacrifice to do public service and represent their constituents and the American people. I believe we elect our representatives with good will and trust and the hopes that they serve us honestly and respectfully and I believe that we, as citizens, send them to Congress with love, pride and well wishes for the future of the nation. However, I have no respect for or deference to those who would misuse the power granted them by the American people to upend the institutions of democratic government and the rights of the citizenship they have been sworn to uphold for private gain, political leverage or because they are beholden to corporate influence or corrosive ideology.
The people of Pavillion deserve better. The thousands across the U.S. who have documented cases of water contamination in fracking areas deserve their own hearing on Capitol Hill. They deserve the chance to testify before Congress. The truth that fracking contaminates groundwater is out, and no amount of intimidation tactics—either outright challenges to science or the arrest of journalists—will put the genie back in the bottle. Such a brazen attempt to discredit and silence the EPA, the citizens of Pavillion and documentary filmmaking will ultimately fail and it is an affront to the health and integrity of Americans.
We cannot take our democracy and the rights of our citizenship for granted. Democracy is not handed to us from on high or guaranteed to us by battles fought by our ancestors. It is perpetually under siege by those with power, money and influence who would rather our nation of laws becomes a nation of affiliation. It is clear to me that I was arrested to serve the interests of oil and gas companies, whose interests often run counter to those of ordinary American citizens.
I was arrested because I refused to turn off my camera at a public hearing in the U.S. congress. I have filmed hundreds of public hearings around the country and the first amendment guarantees my ability to report on what happens in public.
And I continue to refuse. I refuse to let Congressmen blatantly attack science in the the Science committee without the light of the media shining out their transgressions. I refuse to be silenced and not report on the misdeeds of those representatives who are clearly influenced by oil and gas companies beyond loyalty to their own citizen's health. I refuse to stand down and let oil and gas companies lie about what they are injecting into the ground and emitting into the air. I refuse to let the Bill of Rights collapse under the weight of a 250 million dollar lobbying campaign. I refuse to let money, power and influence define the next American century over the will of the people. I refuse to turn of my camera and sit idly by as huge areas in 34 states become sacrificial drilling zones. I refuse to turn my back on the good and great people that have entrusted me with their stories of oil and gas contamination and walk away from the fight they have inspired me to wage on their behalf. I refuse to let the oil and gas industry bury their cancerous secrets for us to unwittingly drink. I refuse to bow and walk out of congress leaving it to the influence of those with money to peddle in its halls. I refuse to relinquish my understanding of the law and of justice. I refuse to surrender my citizenship and my dignity, head bowed in submission, to the influence of corporate power. I refuse to forsake the American dream of the many for the financial gain of the nationless few. I refuse to walk away, from my home and my country.
The fact that my case was dismissed so readily only attests to the ridiculousness and unfairness of my arrest, the U.S. attorney has refused to pursue it.
I woke up one morning and declared myself a journalist. I had to. My home was under siege by the gas fracking industry. I felt that I had to not only seek out the true effects of the largest natural gas drilling campaign in history on public health and the environment but also to report what I found to my community.
The first amendment states that anyone can do the same. Anyone can wake up in the morning, declare themselves a journalist and enjoy the protections of the First Amendment. In the era of instant media, YouTube and social networks, this becomes even more relevant and exciting; anyone with an iPhone can rock the world. It was citizen journalists who first posted police pepper spraying peaceful protestors in New York and California and it was citizen distribution that virally spread those horrific videos of police brutality until the whole world was infected with the truth of what is happening in the USA today. It was citizen journalists who first documented water catching on fire at the kitchen sink as a result of gas fracking. It was citizen journalists who woke up one morning and decided to show the water contamination and air pollution due to gas drilling in Texas, Wyoming, Pennsylvania and in states across the nation.
This year we have seen severe repression of journalism in America. Hundreds of journalists have been arrested this year simply trying to do their jobs. Whether they were covering oil and gas issues or issues of economic inequality during the Occupy demonstrations.
"Recently, Reporters Without Borders released its 2011–2012 global Press Freedom Index. Due to journalist arrests and press suppression at Occupy Wall Street-inspired protests, the United States has dropped significantly in the rankings of press freedom, from 27 to 47," Truthout reports.
Having personally witnessed the outrageous police brutality and repression which was an unwarranted response to occupy protests and to citizens who were acting in defense of their towns and neighborhoods against gas fracking and other egregious human rights violations as the result of fossil fuel development, I feel it is necessary to stand with all of those who have had enough of inequality and enough of big business having undue influence over the government.
So please accept my invitation, and the First Amendment's authorization, to declare yourself a member of the Press. Declare yourself a witness to history and a fighter for transparency and equality under the law. And if you feel like it, go film a congressional hearing. Don't bother to ask for permission, permission was just granted to you by the U.S. Attorney. You don't need credentials, you have your rights. Assert them.
p.s. I am very thankful to Reporters Without Borders, the Society of Environmental Journalists and the Independent Documentary Association and to the 30,000 people who signed the Working Families Party petition on my behalf and to all of my supporters for your help, well wishes, and statements of outrage and strength. I am also very grateful to all of the reporters, news outlets and journalists who reported on this travesty.