Pavillion-area citizens, landowners and environmental groups today condemned Gov. Mead's (R-WY) announcement that the state is assuming control from the U.S. Environmental Protection Agency (EPA) of the investigation into groundwater contamination by fracking-enabled oil and gas development near Pavillion, WY.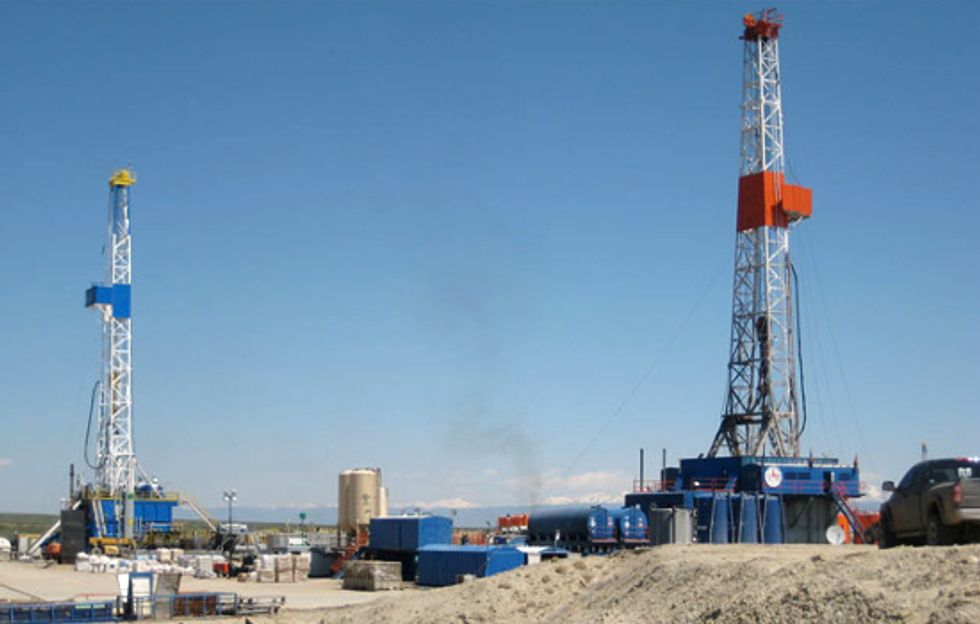 In the announcement, the Governor congratulated EPA and Encana—the company operating in the Pavillion area—for working with him to "chart a positive course" for the investigation.
"We went to the EPA for help after the State of Wyoming and Encana refused to address the public health impacts of unbridled development in the Pavillion area," said Pavillion farmer John Fenton. "Now Encana has bought its way back in and is working with the state on a strategy to cover up the mess they've created."
"Our government's priority is clearly to protect industry rather than Wyoming citizens, our health and our property values. Gov. Mead, the Obama administration and Encana have decided what is best for our community without consulting us," Fenton continued. "We were presented with Mead's vague plan at the same time it was released to the public. Unlike the other stakeholders, we bear the brunt of living in the toxic mess that has become our community, but our input has been thrown out with EPA's investigation. This is a sad day for our country."
This decision continues a nationwide pattern of Obama Administration walkbacks of the EPA investigations whose preliminary results indicate fracking-enabled oil and gas development presents real risks to public health and water. Similar actions have occurred in Parker County, TX, and Dimock, PA.
"It seems clear that the White House's 'all of the above' energy policy means fracking's impacts on communities are being ignored," said Earthworks' energy program director Bruce Baizel. "All across the country, whether it's Wyoming, or Texas or Pennsylvania, it appears the EPA is being politically pressured to back off sound science that shows fracking-enabled oil and gas development is a risk to public health. With these decisions, the Obama administration is creating more opposition to fracking, not less."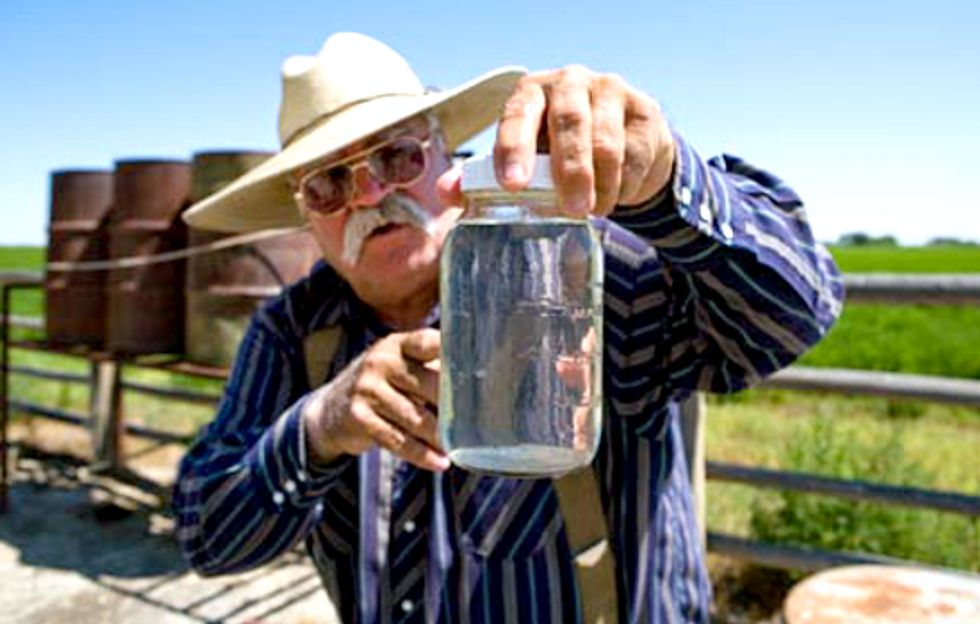 "Gov. Mead said earlier this week that change should be driven by elected officials and agencies, not the people," said Don Nelson, a farmer and rancher near Keene in western North Dakota, on behalf of the Western Organization of Resource Councils.
"This attitude is exactly why those of us who have to live with drilling and fracking have so little confidence in our regulatory agencies and elected officials. They only listen to the oil and gas industry, not to the local people. The same is true in North Dakota. And now EPA is backing down too and another investigation into groundwater contamination from oil and gas development is being swept under the rug. Why would anyone believe the oil and gas industry or the state regulatory agencies when they say drilling and fracking are safe?"
Governor Mead's announcement indicates that the state would cease peer review of EPA's investigation, essentially ignoring it.
"The state of Wyoming is already on record, through action and inaction, as denying that Pavillion's groundwater contamination is a cause for concern," said area ag-producer Jeff Locker. "They are throwing out a conscientious science based study by EPA that cost the taxpayers millions of dollars. The Governor's plan postpones any conclusions for at least another year. It's hard to believe that they're trying to get to the bottom of the problem, they're hoping this whole thing just goes away."
Visit EcoWatch's FRACKING page for more related news on this topic.
——–
Sign the petition today, telling President Obama to enact an immediate fracking moratorium:

EcoWatch Daily Newsletter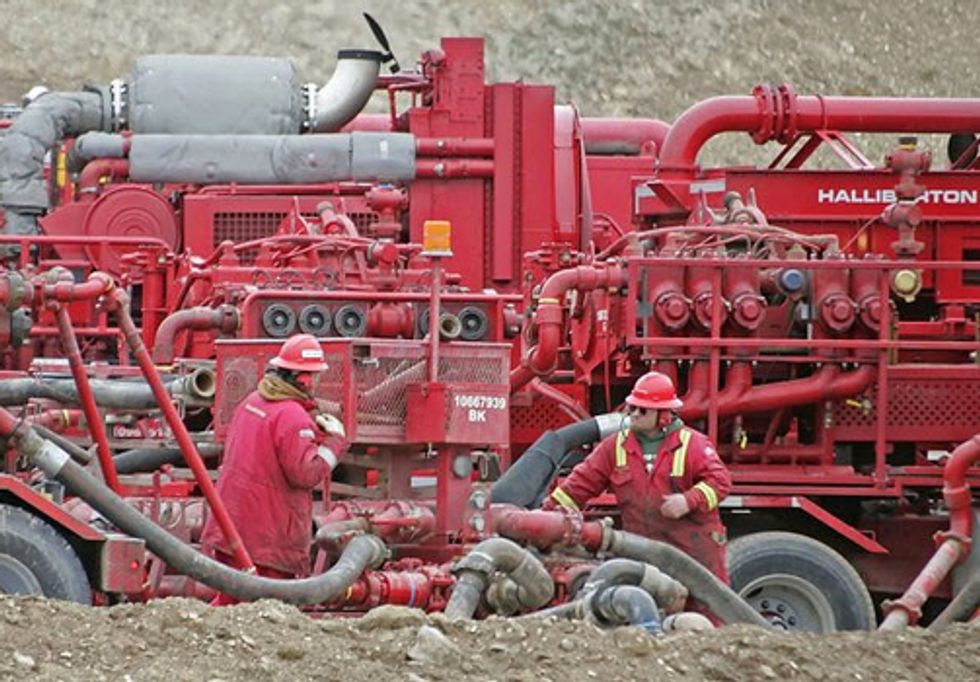 Today multiple environmental organizations called on President Obama's chief environmental advisor asking for a full environmental analysis of plans to export liquefied natural gas (LNG). The letter to the Council on Environmental Quality and the Environmental Protection Agency sounds the alarm that the agencies considering these export plans are not analyzing or disclosing the environmental impacts of the increased hydraulic fracturing or 'fracking' that would be necessary to support major LNG exports.
"Exporting liquefied natural gas means more dangerous fracking, a secretive and toxic part of the production process that the Sierra Club has no confidence in," said Michael Brune, executive director of the Sierra Club. "With the health of our communities and our environment at stake, it's up to our leaders at EPA and other agencies to keep their commitment to protecting Americans from the toxic threats to our air and water that come with liquefied natural gas."
"LNG facilities like the one proposed for Cove Point are intended to ship natural gas extracted in this country off to foreign lands, said Michael Helfrich of Lower Susquehanna Riverkeeper. "The result is that gas drillers can ship American gas overseas in order to make more money, but this increases the price of natural gas for us, and our communities and environment get ravaged by the shale gas "gold rush", including thousands of miles of new pipelines and new compressor stations through the Susquehanna Watershed. It may be a win for the gas drillers but it throws the idea of American energy independence out the window."
"Gas drilling is devastating the communities where it is happening; the claim of environmentally friendly fracking and shale gas drilling is just another expensive messaging campaign," said Maya van Rossum of the Delaware Riverkeeper. "People are losing their drinking water, their clean air, their health, and the beautiful landscapes they call home. The assertion of cheap gas and energy independence is just another marketing campaign—drillers are investing heavily in building and expanding LNG facilities in order to ship American extracted gas overseas. Americans are suffering all of the pollution and harm from gas drilling while foreign countries get to use the gas and drillers get to reap the profits. It's a lose lose for Americans."
On Feb. 7, 2012, The Sierra Club filed the first formal objection with the Department of Energy against the export of domestic gas produced from fracking. This objection called the export proposal an unwise plan which would make a dirty fuel even more dangerous and would cost families money by raising gas and electricity prices. The Sierra Club also intervened in proposals for LNG export facility permits in Sabine Pass, La. and Coos Bay, Ore.
The letter is signed by the Sierra Club, Columbia Riverkeeper, Delaware Riverkeeper, Earthjustice, Friends of Living Oregon Waters (FLOW), Klamath-Siskiyou Wildlands Center, Lower Susquehanna Riverkeeper and Rogue Riverkeeper. Full text of the letter as submitted is available upon request.
For more information, click here.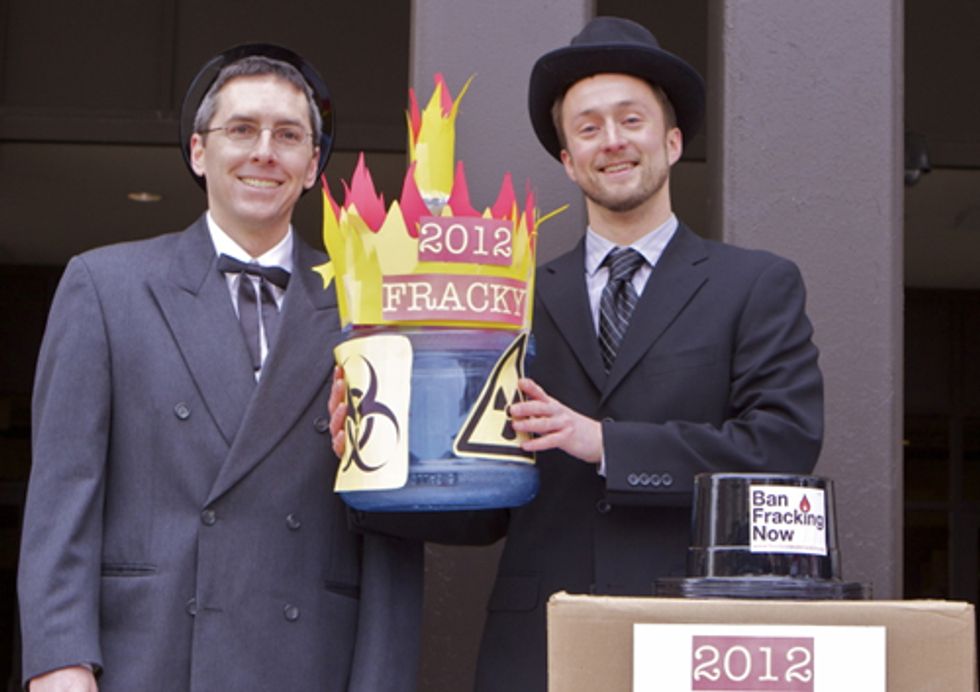 Activists protested one of several planned regional workshops by the American Petroleum Institute in Trenton, N.J., on Feb. 8 countering the oil and gas industry association's event discussing the development of hydraulic fracturing (fracking) with a recommendation of their own—ban fracking entirely. Protestors handed media and passersby "swag bags" filled with information on the risks associated with fracking and staged an award ceremony for the Frackies.
 
"It's awards season, and what better way to protest this elite gathering than with a riff off of another elite event—the Oscars," said Jim Walsh, eastern region director of Food & Water Watch. "If there were an award for destroying rural communities and endangering drinking water supplies, it would certainly go to the American Petroleum Institute, which uses its clout to spread disinformation about the dirty, polluting practice."
 
The event took place near the New Jersey Statehouse, where on Feb. 9 the Senate Environment Committee is expected to vote on a bill to permanently ban fracking in New Jersey before the temporary moratorium is lifted in January 2013.
"These petroleum industry representatives should know that New Jersey has prevented fracking because of grave concerns about the pollution to our drinking water and communities, so they may as well go home. We regret that we cannot give out awards for clean and sustainable energy today and that we must recognize the American Petroleum Institute for its disgraceful failure in making drillers publicly accountable and law-abiding. In Pennsylvania alone, the state reports that as fracking races ahead, drillers commit 12 violations per day of environmental permits, adding up to thousands of pollution incidents each year," said Tracy Carluccio, deputy director, Delaware Riverkeeper Network.
The nominees for the Fracky were New Jersey Gov. Chris Christie, El Paso Pipeline Company, Cabot Oil & Gas, Representative Andy Harris (R-MD), and the American Petroleum Institute. Each nominee was chosen because of some practice that protesters found seriously objectionable.
 
"We are here especially to announce the Fracky nomination for El Paso, the parent company of Tenneco Natural Gas and surviving part of Enron. Their proposed pipeline will be supporting and encouraging fracking that will threaten our water supply. They will be running a pipeline through the most environmentally sensitive area of New Jersey. The pipeline will go through the Delaware Water Gap, Wallkill, Newark and Pequannock water shed and drilling right through the Monksville Reservoir. Along the way it will be cutting an ugly scar through the Highlands and dozens of parks and open space areas. They are attacking our water supply through both fracking and this pipeline," said Jeff Tittel, director of the New Jersey Sierra Club.
The eventual winner of the Fracky was the American Petroleum Institute for what activists referred to as "spinning the benefits of fracking so hard that some people actually believe that gas is a bridge fuel to renewables." Gov. Christie was nominated for a Fracky for saving the fracking industry from the first statewide attempt to ban fracking when he issued a conditional veto last August.
Organizations participating in the 2012 Fracky Awards include Food & Water Watch, Delaware Riverkeeper Network, New Jersey Sierra Club, New Jersey Environmental Federation and 350.org.
For more information, click here.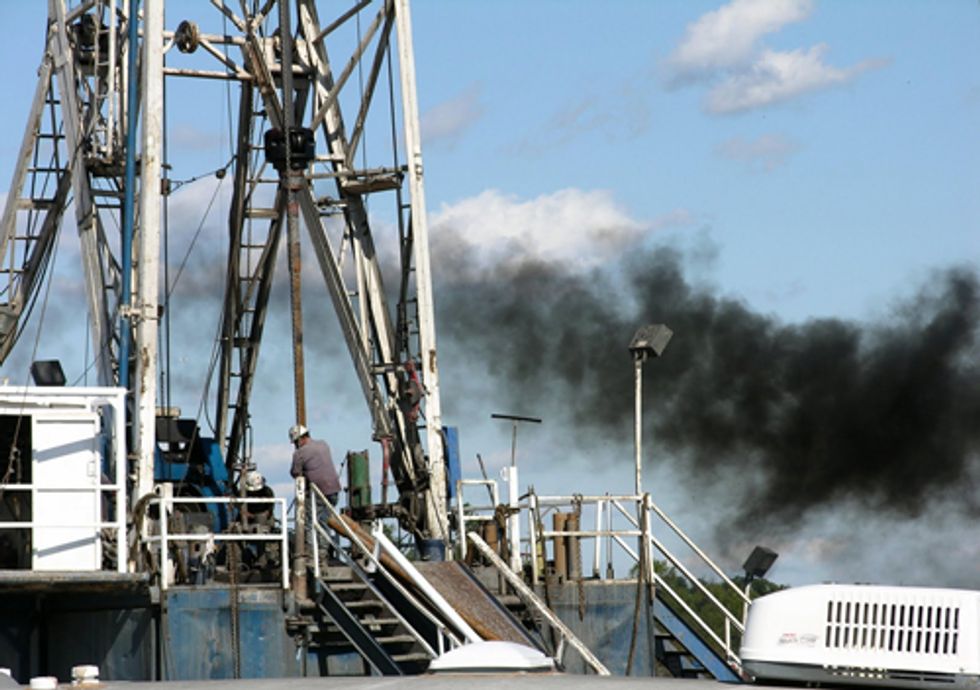 By Andy Rowell
The hype surrounding the U.S. gas industry continues to grow as America moves ever closer to its cherished dream of energy independence.
On Feb. 7, Bloomberg reported that "the U.S. is the closest it has been in almost 20 years to achieving energy self-sufficiency, a goal the nation has been pursuing since the 1973 Arab oil embargo triggered a recession and led to lines at gasoline stations."
On the surface, at least, America's recent gas revolution is great news for people worried about energy security and jobs. Domestic oil output is said to be the highest in eight years.
And as Bloomberg reports, "The U.S. is producing so much natural gas that, where the government warned four years ago of a critical need to boost imports, it now may approve an export terminal."
So America is moving from an importer to having so much gas it has a gas glut. Bloomberg reports that so great is the gas boom that the U.S. could even become the world's top energy producer by 2020.
Other media outlets are full of stories of even more unexplored basins that could have huge gas reserves too.
As any regular reader of this blog will know, the expansion in gas production isn't without a hugely controversial downside—fracking—which has been shown to cause widespread water contamination and ever minor earthquakes.
Ironically, Bloomberg points out that gas glut is forcing down the gas price which is also making the use of alternative energy sources such as solar, wind and nuclear power less attractive. Still, says Bloomberg, "those concerns probably won't be enough to outweigh the benefits of greater energy independence."
But there is another major downside about gas that the oil industry doesn't want you to know about. One which has major ramifications for climate change.
Proponents of natural gas have long argued it is a "clean" fossil fuel, cleaner than oil and a great transition fuel that bridges our addiction to fossil fuels as we head towards renewable energy sources.
But gas may not be as clean as the industry would like you to believe, due to high leakage of methane.
As Nature reported on Feb. 7—"When U.S. government scientists began sampling the air from a tower north of Denver, Colorado, they expected urban smog—but not strong whiffs of what looked like natural gas. They eventually linked the mysterious pollution to a nearby natural-gas field, and their investigation has now produced the first hard evidence that the cleanest-burning fossil fuel might not be much better than coal when it comes to climate change."
Nature reports that researchers at the National Oceanic and Atmospheric Administration (NOAA) and the University of Colorado, Boulder, estimate that gas producers in an area known as the Denver-Julesburg Basin are losing about 4 percent of their gas to the atmosphere, and this does not include potential losses in the pipeline and distribution system, which could also be significant.
This is more than double official estimates by the industry. As Nature argued, "And because methane is some 25 times more efficient than carbon dioxide at trapping heat in the atmosphere, releases of that magnitude could effectively offset the environmental edge that natural gas is said to enjoy over other fossil fuels."
"If we want natural gas to be the cleanest fossil fuel source, methane emissions have to be reduced," argues Gabrielle Pétron, an atmospheric scientist at NOAA and at the University of Colorado in Boulder, and first author on the study, currently in press at the Journal of Geophysical Research. "I think we seriously need to look at natural gas operations on the national scale."
For more information, click here.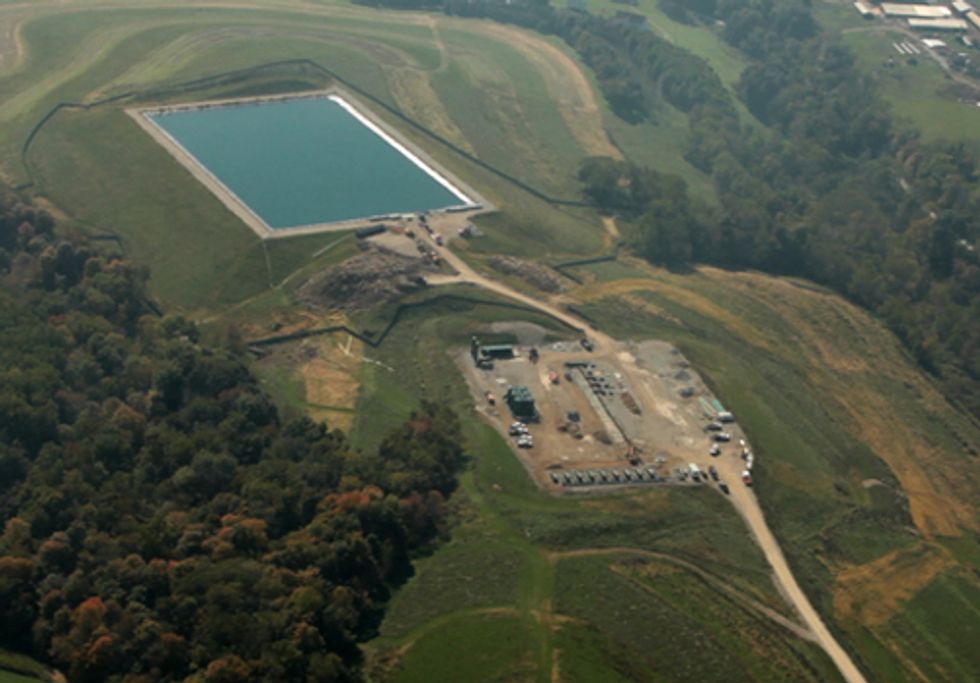 We all know that the affordability, efficiency, and sustainability of cleaner, greener energy will be a major challenge for this century. Some have called natural gas a better and cleaner energy source. Yet, even if we set aside this hot air, the process of extracting the gas (called hydraulic fracturing or fracking) proves problematic for both environmentalists as well as those in proximity to the wells. This article covers five major problems with fracking, based on two SnagFilms from the After the Gas Rush series, you can view by clicking here.
1. Water Pollution
The fracking process involves pumping large quantities of water, chemicals, and sand deep underground. This process produces a huge amount of pressure, which both extracts the natural gas and forces much of the water back to the surface.
The major concern with polluted water is that the salts, radium, other heavy metals, and benzene (a carcinogenic and flammable chemical) are forced back up to the surface with the rest of the wastewater. For efficiency, fracking companies want to reuse this wastewater and they subsequently treat the water so that the excess waste does not plug up parts of the well. Consequently, the products that have been removed (radium, and some other heavy metals) are disposed of. However, the water that gets reused still contains salts and benzene. The water is then pumped back underground, endangering aquifers.
 2. Proximity to Residential Areas—Fumes and Earthquakes
In addition to the risk of water contamination for those near fracking sites, wells also produce excess gases, which are either simply released into the air or burned upon their release. These fumes both leave an odor as well as present the possibility of negative health effects for those in proximity to the wells. Such effects include dizziness, confusion, and nasal bleeding. There is also growing evidence to support the theory that fracking can produce minor earthquakes within the vicinity of fracking wells. This may not be as surprising as it sounds considering the amount of pressure (around 8,000 pounds per square inch) that the gas extraction process exerts on shale rock deep beneath the surface.
 3. Property Rights
It is often the case that when someone buys a property, his or her rights do not extend to the subterranean levels where fracking companies aim to extract natural gas. These multinational companies purchase/lease the mineral rights to the land, and thus they legally are allowed to accesses those minerals through drilling as long as they pay damages to the surface owner (these damages are often do not satisfactorily cover the actually property loss, as average Americans find themselves up against massive corporate interests). Additionally many leases do not require companies to compensate landowners for water contamination. Many American landowners, farmers, and families are thus placed at the mercy of drilling companies who can legally exercise their mineral rights largely regardless of what lays on the surface.
4. Lack of Governmental Regulation
Aside from the government's lack of regulations on carbon emissions, the disposal of fracking waste products needs better oversight. As noted, the wastewater that rises to the surface during fracking is treated and then reused. After treatment, the waste that is extracted from the wastewater is placed in a landfill, as it is exempt from federal regulations pertaining to toxic waste. This lack of regulation does not recognize the fact that such waste can be extremely dangerous for the environment. As described, the cancerous and flammable benzene, other heavy metals, radium, and corrosive salts remain in the waste. However, regardless of how dangerous these chemicals may be, it is not treated as hazardous waste. If the waste is treated as normal garbage, then these toxic materials may endanger people's health and the environment's wellbeing for years to come.
5. Industry Growth
Compounding all of these factors is the fact that the natural gas industry is ballooning. In After the Gas Rush, Roshini Thinakaran states that in Pennsylvania alone 50,000 new wells will be permitted to be drilled over the next two decades. The result of this will be both an explosion in the burning of natural gas as well as in water contamination. One million gallons of toxic wastewater will be produced by each well within the first thirty days of its operation. One can only imagine the degree of environmental damage these wells may have after only a year's time. Similar expansion is also occurring in states such as New York, West Virginia and Ohio.
Below is SnagFilms's After the Gas Rush series. In the films, Roshini Thinakaran leads us into Pennsylvania to see how fracking affects the environment and the lives of those living within the vicinity of fracking wells. We invite you to watch the films here or at snagfilms.com and share them with others interested in the subject.
To see After the Gas Rush, click here.
For more information, click here.
Two years ago this month, the Deepwater Horizon drilling rig began drilling on the Macondo Prospect, an operation that would result in one of the worst environmental disasters in U.S. history. Now, as we contemplate exploratory drilling in the Arctic, the Center for American Progress released Putting a Freeze on Arctic Ocean Drilling: America's Inability to Respond to an Oil Spill in the Arctic, detailing the lack of resources and existing infrastructure to respond to an environmental disaster off Alaska's North Slope.
Even the well-developed infrastructure and abundance of trained personnel in the Gulf of Mexico didn't prevent the Deepwater Horizon tragedy. Our Arctic response capabilities pale by comparison. Some in the U.S. are eager to keep pace with other Arctic nations by tapping into the "great opportunity" for economic gain they believe lies beneath the pristine Arctic waters, despite the dangerous dearth of response resources illustrated in the map below.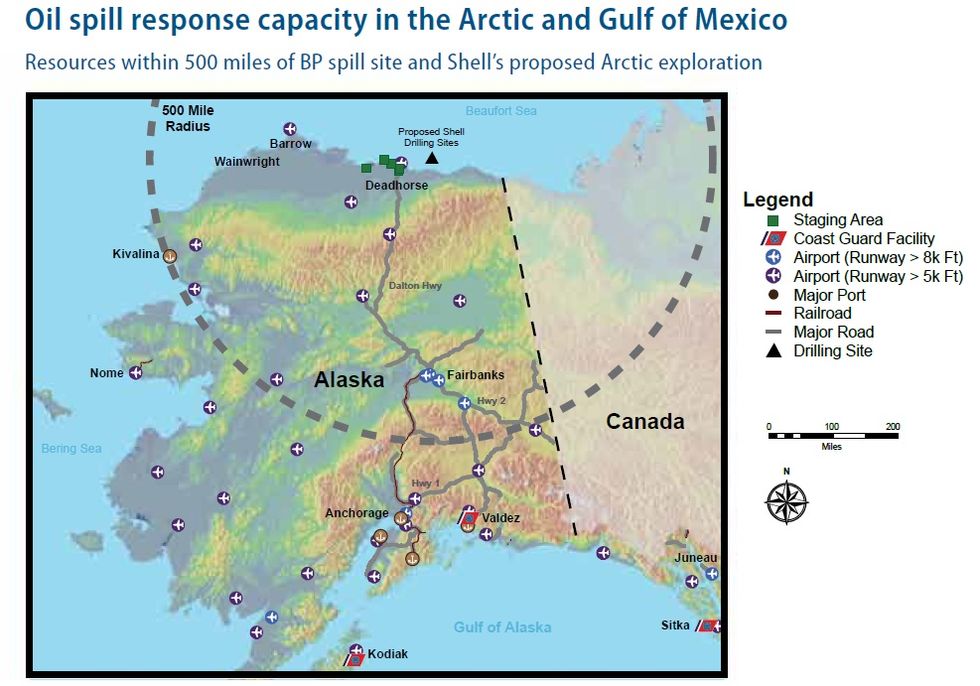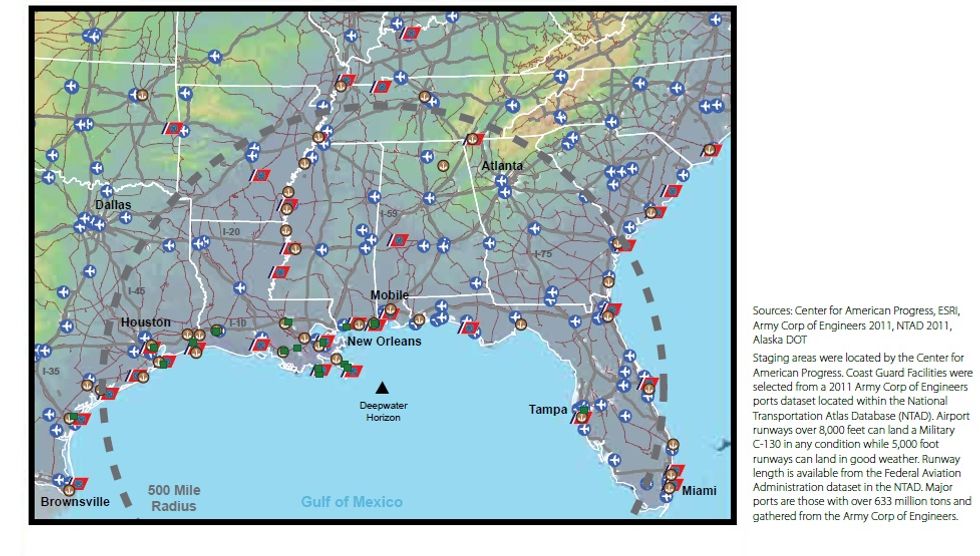 Drilling for oil in this fragile region, however, should not be pursued without adequate safeguards in place. If we've learned anything from the Deepwater Horizon tragedy, it's that the importance of preparedness cannot be overstated. That is why we strongly recommend specific actions be taken by the federal government, by Congress, and by Shell and other companies before beginning exploratory drilling in the Arctic. Recommendations include:
Ensure adequate response capabilities are in place before drilling operations commence
Require and oversee oil spill response drills in the Arctic that prove the assertions made in company drilling plans prior to plan approval
Engage other Arctic nations in developing an international oil spill response agreement that includes an Arctic Ocean drilling management plan
Appropriate adequate funds for the Coast Guard to carry out its mission in the Arctic, including increasing our icebreaking capability
Significantly increase the liability cap (currently $75 million) for oil companies in violation of drilling safety rules
Certainly, meeting our nation's energy needs in the near term means maintaining access to domestic offshore oil and gas resources, but it is imperative that we do so in the most prudent, responsible, and environmentally safe manner. And while we applaud the critical reforms implemented by the Obama administration in the aftermath of the Deepwater Horizon tragedy, more must be done. Until the oil and gas industry and its federal partners meet the recommendations we lay out in this report and demonstrate the ability to identify and immediately respond to a blowout or oil spill, the Arctic region of the U.S. should remain off-limits to exploration and drilling.
For more information, click here.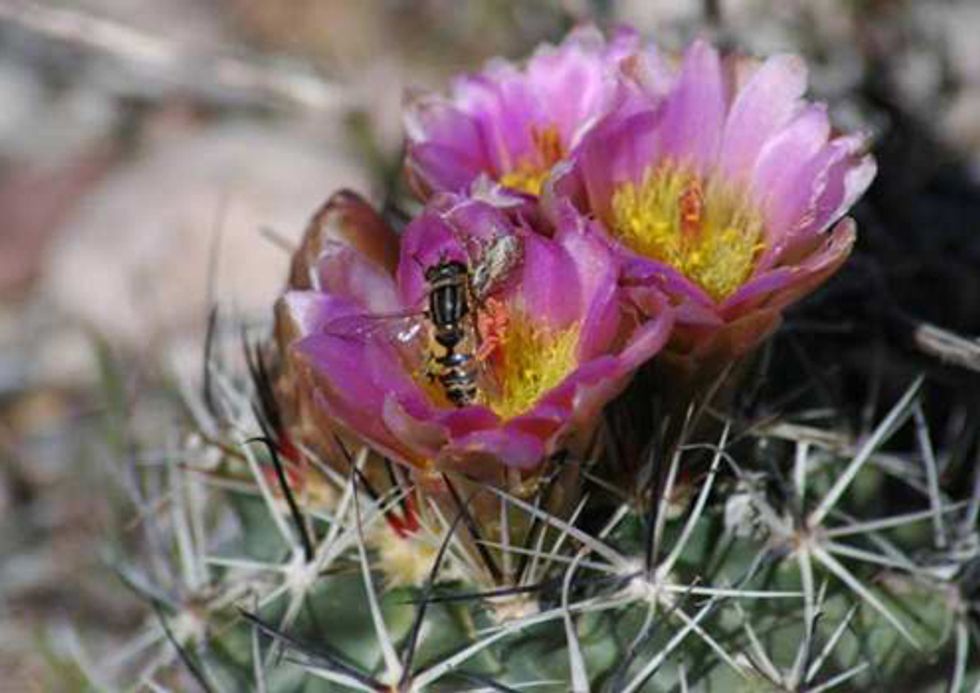 The dunes sagebrush lizard, a small, rare lizard that lives only in Texas and New Mexico, was named one of 10 U.S. species most urgently threatened by fossil fuel development in a report released Jan. 19 by the Endangered Species Coalition. The report, Fueling Extinction: How Dirty Energy Drives Wildlife to the Brink, highlights the top 10 U.S. species whose survival is most threatened by fossil fuels. The dunes sagebrush lizard is currently proposed for protection under the Endangered Species Act.
"America's outsized reliance on dirty and dangerous fuels is making it much harder to protect our most vulnerable wildlife," said Mark Salvo with WildEarth Guardians. "We should not sacrifice our irreplaceable natural heritage in order to make the fossil fuels industry even wealthier."
The report highlights the 10 most endangered animals, plants, birds and fish at risk of extinction due to fossil fuel development, and shows how wildlife suffers displacement, loss of habitat and the threat of extinction from the development, storage and transportation of fossil fuels. Coalition members nominated candidates for inclusion in the report. Submissions were then reviewed, judged and voted on by a panel of scientists. The report identifies the home range, conservation status, remaining population and specific threat facing each of the 10 finalists.
The dunes sagebrush lizard occurs in slivers of shinnery oak-sand dune habitat within the Permian Basin, the largest onshore oil and gas field in the U.S. The Center for Biological Diversity petitioned the U.S. Fish and Wildlife Service to protect the lizard under the Endangered Species Act in 2002, and WildEarth Guardians submitted an emergency petition for the species in 2008. Long threatened by fossil fuel development and other land uses, the service finally proposed the species for listing as "endangered" in December 2010. 
"The fact that dunes sagebrush lizard habitat spans less than 2 percent of the Permian Basin hasn't stopped oil-polluted politicians from claiming that protecting the lizard will destroy industry," said Taylor McKinnon with the Center for Biological Diversity. "The lizard, not the oil and gas industry, is at risk of extinction—and industry's refusal to yield even the last tiny slivers of habitat to prevent that extinction underscores the need for federal protections."
Congressional opponents have loudly proclaimed that listing will "shut down" oil and gas development in the Permian Basin. Rep. Steve Pearce (R-N.M.) and colleagues have tried every conceivable tactic to prevent the service from protecting the species. Pearce's opposition to listing the lizard is without basis, however, as the dunes sagebrush lizard occurs on less than 2 percent of the Permian Basin, and its small range has already been drilled with thousands of oil and gas wells. The service has repeatedly stated that listing the lizard will have negligible effects on oil and gas development—but Pearce and his colleagues are undeterred. He and other members of Congress recently pressured the agency to delay the final listing decision for six months, allowing opponents more time to sharpen their attacks on this tiny reptile.
Fueling Extinction: How Dirty Energy Drives Wildlife to the Brink calls for a commitment to a clean, safe and sustainable energy future. It urges lawmakers to honor the intent of the Endangered Species Act while reducing the country's dependence on dirty fossil fuels.
For more information and to view the full report, click here.
Top 10 List of Wildlife Threatened by Development, Storage and Transportation of Fossil Fuels
Bowhead Whale—The remainder of the endangered bowhead whale population is threatened by potential oil spills, noise from offshore oil drilling, and deadly collisions with ships. An oil spill could easily undo the successful recovery efforts for this species in recent years.
Dunes Sagebrush Lizard—The dunes sagebrush lizard is a candidate for listing under the Endangered Species Act due to impacts from oil and gas drilling on the Permian Basin in western Texas. Disturbance from well pads, leaking pipelines, and high concentrations of toxic gas emitted from wells contribute to the decline of the lizard's population, which exists on a tiny range within the Basin's vast oil reserves.
Graham's Penstemon—This delicate flower lives only on oil shale reserves being explored for mining in Utah. Oil shale mining takes massive amounts of water, putting the flowers at risk of either being starved of water or drowned under new reservoirs.
Greater Sage Grouse—Energy development has caused habitat loss and fragmentation due to roads, pipelines, power lines, and human and vehicle-related disturbance, resulting in marked declines in sage-grouse numbers. Coalbed methane gas development in the Powder River Basin of Wyoming has coincided with a 79 percent decline in the greater sage-grouse population.
Kemp's Ridley Sea Turtle—According to U.S. Fish and Wildlife Service, the Kemp's ridley is the most seriously endangered of all sea turtles, due to lingering impacts of the BP oil disaster on Gulf waters—the sole breeding ground and key feeding grounds of the turtle. A total of 809 Kemp's ridleys were found impacted by the spill, and of those 609 were killed..
Kentucky Arrow Darter—Toxic waste pushed into streams from mountaintop coal mining is smothering the rare Kentucky arrow darter fish and poisoning the drinking water of downstream communities. The arrow darter has already been wiped out from more than half of its range.
Spectacled Eider—Oil and gas development, along with climate change, have drastically reduced the frigid habitat range of the threatened spectacled eider. As a result, the western Alaskan population dropped by 96 percent between 1957 and 1992. Aircraft and vessel traffic and seismic survey acoustic activities can all negatively impact the bird's habitat and cause death.
Tan Riffleshell—This endangered mollusk plays a critical role in the health of Appalachian river habitats by filtering pollutants and restoring nutrients to the water. Acid mine drainage, sedimentation from coal mining, and coal ash landfills are contaminating the mussel's habitat and breeding areas, further threatening this most endangered member of the mussel family. 
Whooping Crane—The endangered whooping crane overcame near extinction in the 1940s, but the existing wild flock of 437 cranes now faces a new battle for survival. The proposed Keystone XL pipeline would run alongside the crane's entire migratory path from Canada to Texas, and the inevitable toxic waste ponds, collisions and electrocutions from power lines, along with potential oil spills, would decimate the vulnerable remaining population. Although President Obama rejected the pipeline this week, Republicans in Congress are expected to fight that decision.
Wyoming Pocket Gopher—It is estimated that fewer than 40 pocket gophers exist today in their sole range in Wyoming's Sweetwater and Carbon Counties. Truck and vehicle traffic associated with increasing oil and gas activities result in habitat loss and fragmentation, cutting off potential mating opportunities and endangering the survival of this rare animal.
Advocates' Choice: The Polar Bear—The polar bears' survival is completely dependent upon sea ice, which is rapidly melting. They are further threatened by the risk of an oil spill, and activities like seismic testing, icebreaking, and vessel movement also negatively impact polar bears and their food sources.
For more information, click here.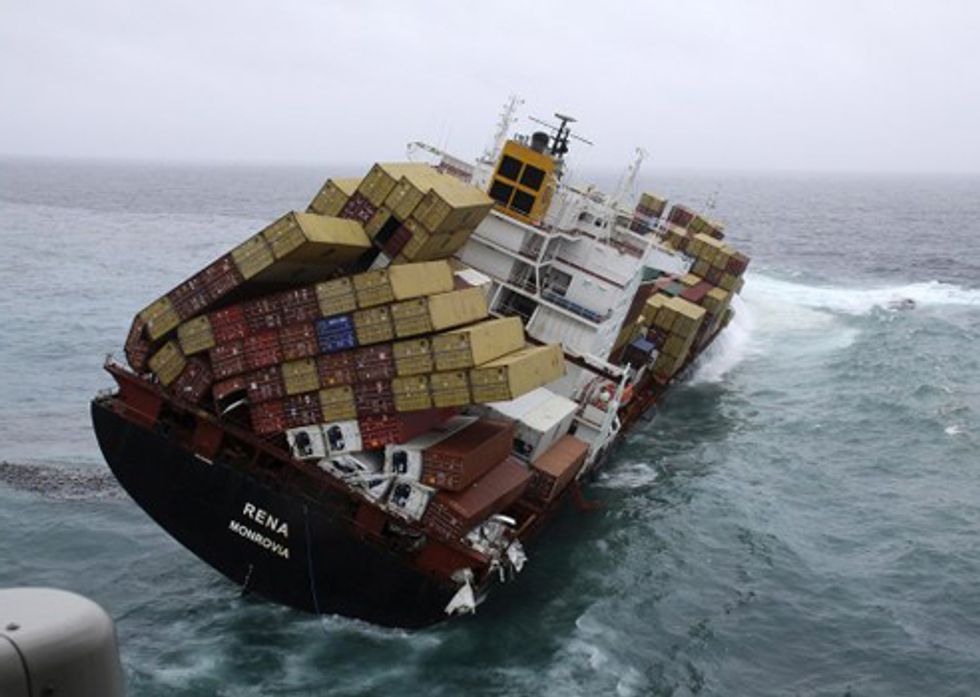 The number of oiled wildlife reported dead is a tiny fraction of the true figure killed by the Rena oil spill, World Wildlife Fund (WWF)-New Zealand said Jan 13.
The conservation organisation said that the tragedy should act as a wake up call for government, yet its recent proposed legislation for New Zealand's offshore environment does little to protect wildlife from future oil spills.
Maritime New Zealand reported Jan. 12 that 45 dead oiled birds have been collected by wildlife recovery teams since the beginning of the week when the stern section of the storm-battered Rena began to sink, releasing more oil and littering the ocean with debris and containers. The current total number of dead wildlife recorded stands at 2066.
"The true number of wildlife killed by the spill will be far greater than the numbers recovered—the corpses the teams are collecting are the tip of the iceberg, and of course the number of animals affected by the spill is greater still," said WWF-New Zealand Marine Programme Manager Rebecca Bird. "Our main concern remains the long term impacts of the oil spill on the environment. This latest release of oil occurred during a significant storm, so oiled birds would have drowned more quickly and many will disappear from view. The vessel breaking up, discharging more oil and harming more wildlife clearly puts more pressure on an already damaged environment. However, if this had happened before the majority of the oil was removed, it would have been an even greater catastrophe," she said.
WWF said wildlife recovery efforts it had observed first-hand, which were led by the National Oiled Wildlife Recovery Team coordinated by Maritime New Zealand are "world class," and praised the dedication and professionalism of the staff involved.
"The speed with which the wildlife response teams recovered oiled wildlife, and the high standard of expertise from those involved—from local volunteers to wildlife professionals—is world class," said Ms. Bird. "The teams out in the field recovering wildlife affected by the spill and those at the recovery centre caring for and restoring the animals to health have worked tirelessly and with sound judgment—you couldn't find a better operation anywhere in the world."
The conservation organisation says the tragedy should be a wake up call for government, yet proposed legislation governing New Zealand's offshore environment—the government's Exclusive Economic Zone and Continental Shelf (Environmental Effects) Bill—will fail to protect wildlife from future spills. WWF-New Zealand Marine Advocate Bob Zuur said:
"At a time when we are counting the cost of the Rena oil spill, the government's draft legislation for environmental controls in our offshore environment does little to prevent future spills killing more wildlife. It appears that its primary purpose is to smooth the way for the government's Petroleum Action Plan which aims to attract more oil and gas exploration in our oceans," he said. "It will allow petroleum development in areas which are so significant for wildlife they should be never be exploited—the equivalent of allowing mining in national parks."
Currently, the draft legislation does nothing to prevent risky activities such as offshore mining in sensitive areas of the ocean which are home to unique wildlife. WWF is calling for the government to set aside regions of outstanding biodiversity in marine reserves, or national parks of the sea, separate high risk activities from important vulnerable areas of ocean, and specify mandatory areas to be avoided by shipping such as currently exist around the Three Kings Islands, Poor Knights and in Taranaki.
"The Rena oil spill is a tragedy in itself for the wildlife harmed and killed, the damage to the environment, and the impact on the local community. The government should shelve plans to open up more of New Zealand's oceans for deep sea oil and gas drilling, at least until it is willing to draft legislation that will protect the vulnerable ocean environment," said Mr. Zuur.
WWF is calling on the government to protect areas important for wildlife, and strengthen the legislation, reducing the risk of spills happening. "Failure to do so would be a kick in the teeth to all those who are working to clean up their beaches and recover wildlife following the Rena spill," said Mr. Zuur.
Submissions on the government's Exclusive Economic Zone and Continental Shelf (Environmental Effects) Bill close Jan. 27.
For more information, click here.