For nearly 10 years, two nonprofits filed lawsuits, legal petitions and countless administrative actions to stop the U.S. Fish and Wildlife Service (FWS) in its tracks.
The issue that Center for Food Safety and Public Employees for Environmental Responsibility (PEER) took with the FWS? The regular use of genetically engineered (GE) crops and bee-killing neonicotinoid pesticides in national refuge farming programs—which ultimately interfere with the very plants and animals the refuge system is designed to protect.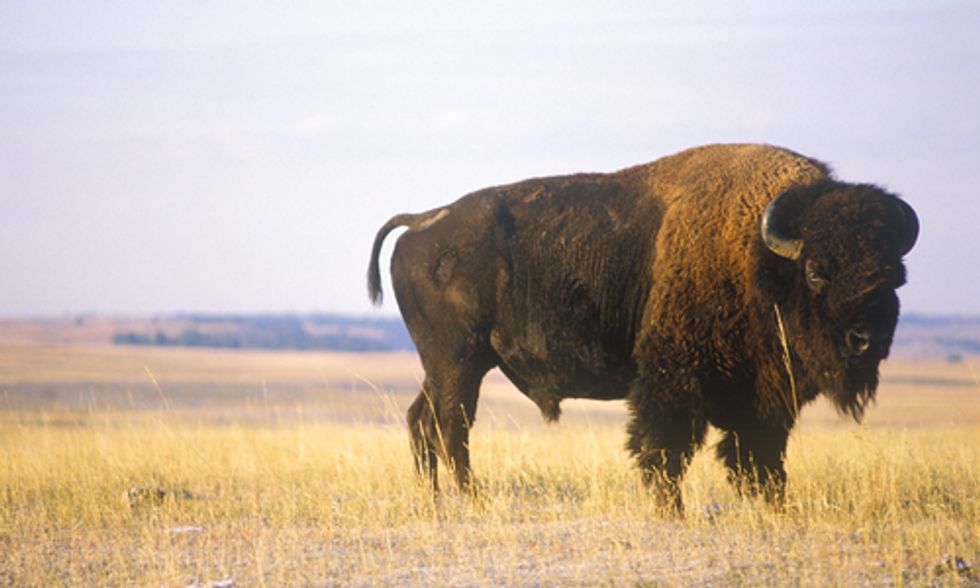 Buffalo grazing in Niobrara National Wildlife Refuge. Photo courtesy of Shutterstock
Today, the FWS announced in an internal memorandum that the agency will ban neonic pesticides and phase out GE feed for wildlife by January 2016.
"GE crops and toxic pesticides violate the basic purposes of our protected national lands," said Andrew Kimbrell, executive director of Center for Food Safety. "We applaud the Fish and Wildlife Service for recognizing what our legal challenges have repeatedly stated and courts have repeatedly held: that they must stop permitting these harmful agricultural practices."
National Wildlife Refuge System Chief James Kurth acknowledged in the memorandum that the agency has demonstrated its ability to "successfully accomplish refuge purposes over the past two years without using genetically modified crops, therefore it is no longer possible to say that their use is essential to meet wildlife management objectives." However, the temporary use of GE crops will be considered on a case-by-case basis for habitat restoration purposes.
Kurth also wrote that the FWS will follow a directive to use long-standing integrated pest management principles to evaluate and guide the agency's pesticide use practices.
"We are gratified that the Fish and Wildlife Service has finally concluded that industrial agriculture, with GE crops and powerful pesticides, is both bad for wildlife and inappropriate on refuge lands," stated PEER Executive Director Jeff Ruch. "Since refuges have already demonstrated that they do not need these practices, we would urge the Fish and Wildlife Service to make the ban immediate, not wait until 2016, and to eliminate the loopholes in its new policy."
The Center for Biological Diversity, Beyond Pesticides and Sierra Club have also been involved in petitions and litigation leading up to the FWS's policy reversal.
You Might Also Like
New Study Shows Glaring Differences Between GMO and Non-GMO Foods
How the EPA's Inaction on Bee-Killing Neonicotinoids Cripples Our Economy
15 Endangered Species You Can Spot in U.S. National Wildlife Refuges
EcoWatch Daily Newsletter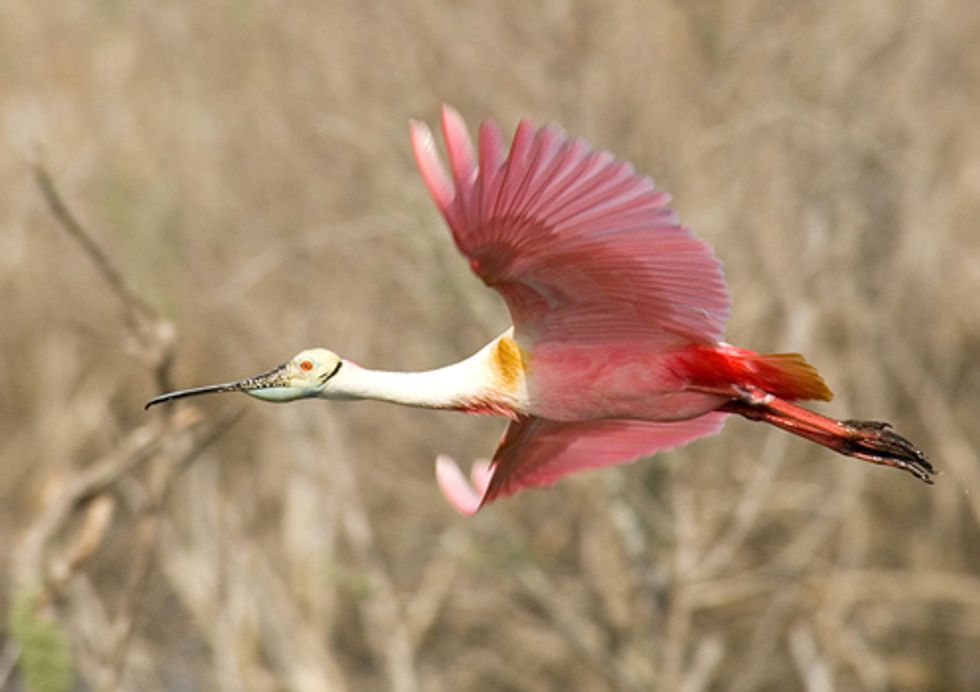 The Conservation Fund and the U.S. Fish and Wildlife Service (FWS) on Feb. 21 announced the purchase of 4,471 acres of unique Columbia Bottomlands habitat near West Columbia. This acquisition will permanently protect a diverse freshwater wetland and the Brazos River floodplain forest surrounding Eagle Nest Lake for wildlife, public recreation and education.
"The service is excited about the opportunity that conservation of Osceola Plantation will provide for wildlife and visitors; including restoring the emergent marsh to provide freshwater habitat for thousands of wintering ducks and geese and restoring one thousand acres of diverse native prairie habitat where one day an Attwater's prairie chicken may once again be heard," said Jennifer Sanchez, refuge manager of the Texas Mid-Coast NWR Complex, which includes San Bernard National Wildlife Refuge (NWR).
The property, known as the Osceola Plantation, features one of the largest natural lakes in the coastal region. The tract's unique and diverse habitat features coastal prairie, river bottom forests, freshwater wetland and open water. The habitat is a magnet for migratory land birds, wintering sparrows, shorebirds and waterfowl, including the Mottled Duck, a species in sharp decline.
The Conservation Fund has conveyed the tract to the FWS for incorporation into the San Bernard NWR as part of the FWS's Austin's Woods/Columbia Bottomlands Conservation Plan—an effort to conserve 70,000 acres of bottomland hardwood forests and other associated habitats vital for approximately 29 million migrant birds. As one of the "birdiest" spots in the world, the Texas Gulf Coast brought in $2.9 billion in revenue for the state from wildlife watching in 2006. These low-lying forests loved by birds also help to clean the water on its way through to the Gulf of Mexico, improving conditions for aquatic life and the multimillion-dollar seafood industry.
The U.S. Department of Agriculture's Natural Resources Conservation Service designated funds for the protection of the property with a conservation easement through its Wetlands Reserve Program. In 2009, the U.S. Congress approved funding for the purchase of the property through the Land and Water Conservation Fund. A North American Wetlands Conservation Act grant and $3 million from the Migratory Bird Conservation Commission's Federal Duck Stamp program were also approved for this conservation effort. In addition, generous private donations from Houston Endowment, Inc.; The Brown Foundation, Inc.; The Trull Foundation; Malcolm C. Damuth Foundation; The Jacob and Teresa Hershey Foundation; George and Mary Josephine Hamman Foundation and the Great Texas Birding Classic helped make this acquisition possible.
"The San Bernard National Wildlife Refuge has attracted visitors from around the world," said U.S. Sen. Kay Bailey Hutchinson (R-TX). "Today's welcome announcement assures that this wildlife refuge and its unique habitat are protected for future generations to enjoy."
"This project attracted the attention of so many partners because of its beauty, habitat diversity, recreational potential and proximity to the Houston metroplex," said Julie Shackelford, Texas programs director of The Conservation Fund. "With key support from the National Fish and Wildlife Foundation and all of our partners, we were finally able to facilitate its permanent protection."
 For more information, click here.
—————
The San Bernard NWR is one of three refuges that make up the Texas Mid-Coast National Wildlife Refuge Complex and form a vital area of coastal wetlands harboring more than 300 bird species. The complex serves as an end point of the Central Flyway for waterfowl in winter, and an entry point for neotropical migratory songbirds tired from a 600-mile Gulf crossing from Mexico's Yucatan Peninsula. Located just south of Houston, the refuge complex offers a haven for both wildlife and people. The public is welcome at several locations across San Bernard NWR, providing opportunities to encounter marsh, prairie and forest ecosystems.
At The Conservation Fund, we combine a passion for conservation with an entrepreneurial spirit to protect your favorite places before they become just a memory. A hallmark of our work is our deep, unwavering understanding that for conservation solutions to last, they need to make economic sense. Top-ranked, we have protected nearly 7 million acres across America.
waterlust.com / @tulasendlesssummer_sierra .
Each product featured here has been independently selected by the writer. If you make a purchase using the links included, we may earn commission.
The bright patterns and recognizable designs of Waterlust's activewear aren't just for show. In fact, they're meant to promote the conversation around sustainability and give back to the ocean science and conservation community.
Each design is paired with a research lab, nonprofit, or education organization that has high intellectual merit and the potential to move the needle in its respective field. For each product sold, Waterlust donates 10% of profits to these conservation partners.
Eye-Catching Designs Made from Recycled Plastic Bottles
waterlust.com / @abamabam
The company sells a range of eco-friendly items like leggings, rash guards, and board shorts that are made using recycled post-consumer plastic bottles. There are currently 16 causes represented by distinct marine-life patterns, from whale shark research and invasive lionfish removal to sockeye salmon monitoring and abalone restoration.

One such organization is Get Inspired, a nonprofit that specializes in ocean restoration and environmental education. Get Inspired founder, marine biologist Nancy Caruso, says supporting on-the-ground efforts is one thing that sets Waterlust apart, like their apparel line that supports Get Inspired abalone restoration programs.
"All of us [conservation partners] are doing something," Caruso said. "We're not putting up exhibits and talking about it — although that is important — we're in the field."
Waterlust not only helps its conservation partners financially so they can continue their important work. It also helps them get the word out about what they're doing, whether that's through social media spotlights, photo and video projects, or the informative note card that comes with each piece of apparel.
"They're doing their part for sure, pushing the information out across all of their channels, and I think that's what makes them so interesting," Caruso said.
And then there are the clothes, which speak for themselves.
Advocate Apparel to Start Conversations About Conservation
waterlust.com / @oceanraysphotography
Waterlust's concept of "advocate apparel" encourages people to see getting dressed every day as an opportunity to not only express their individuality and style, but also to advance the conversation around marine science. By infusing science into clothing, people can visually represent species and ecosystems in need of advocacy — something that, more often than not, leads to a teaching moment.

"When people wear Waterlust gear, it's just a matter of time before somebody asks them about the bright, funky designs," said Waterlust's CEO, Patrick Rynne. "That moment is incredibly special, because it creates an intimate opportunity for the wearer to share what they've learned with another."
The idea for the company came to Rynne when he was a Ph.D. student in marine science.
"I was surrounded by incredible people that were discovering fascinating things but noticed that often their work wasn't reaching the general public in creative and engaging ways," he said. "That seemed like a missed opportunity with big implications."
Waterlust initially focused on conventional media, like film and photography, to promote ocean science, but the team quickly realized engagement on social media didn't translate to action or even knowledge sharing offscreen.
Rynne also saw the "in one ear, out the other" issue in the classroom — if students didn't repeatedly engage with the topics they learned, they'd quickly forget them.
"We decided that if we truly wanted to achieve our goal of bringing science into people's lives and have it stick, it would need to be through a process that is frequently repeated, fun, and functional," Rynne said. "That's when we thought about clothing."
Support Marine Research and Sustainability in Style
To date, Waterlust has sold tens of thousands of pieces of apparel in over 100 countries, and the interactions its products have sparked have had clear implications for furthering science communication.
For Caruso alone, it's led to opportunities to share her abalone restoration methods with communities far and wide.
"It moves my small little world of what I'm doing here in Orange County, California, across the entire globe," she said. "That's one of the beautiful things about our partnership."
Check out all of the different eco-conscious apparel options available from Waterlust to help promote ocean conservation.
Melissa Smith is an avid writer, scuba diver, backpacker, and all-around outdoor enthusiast. She graduated from the University of Florida with degrees in journalism and sustainable studies. Before joining EcoWatch, Melissa worked as the managing editor of Scuba Diving magazine and the communications manager of The Ocean Agency, a non-profit that's featured in the Emmy award-winning documentary Chasing Coral.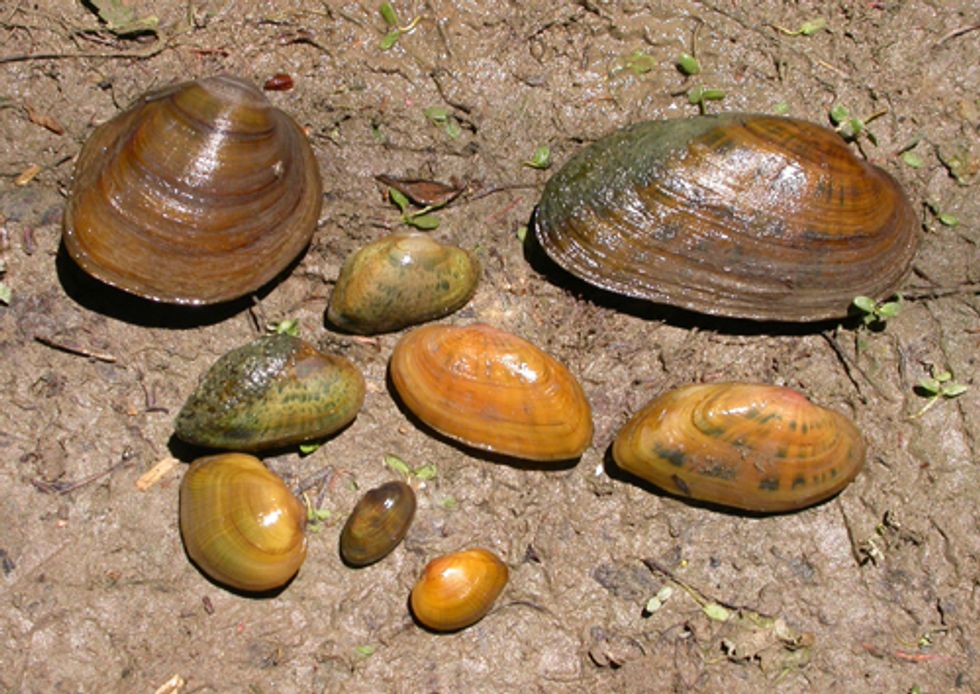 The U.S. Fish and Wildlife Service (FWS) has listed two freshwater mussels—the rayed bean and the snuffbox—as endangered under the federal Endangered Species Act (ESA). The two mussels are found in river systems in the eastern U.S.
The rayed bean is currently found in rivers in Indiana, Michigan, New York, Ohio, Pennsylvania, Tennessee and West Virginia, as well as Ontario, Canada. The snuffbox occurs in Alabama, Arkansas, Illinois, Indiana, Kentucky, Michigan, Minnesota, Missouri, Ohio, Pennsylvania, Tennessee, Virginia, West Virginia, Wisconsin and Ontario, Canada.
In its final rule listing the two species under the ESA, FWS pointed to dramatic declines in their populations. The rayed bean has been eliminated from 73 percent of its historical range, and the snuffbox has disappeared from 62 percent of the streams in which it was historically found. The final rule appears in the Feb. 14, 2012, Federal Register.
Threats to both the rayed bean and the snuffbox include loss and degradation of stream and river habitat due to impoundments, channelization, chemical contaminants, mining and sedimentation. Freshwater mussels require clean water—their decline often signals a decline in the water quality of the streams and rivers they inhabit.
FWS will now work cooperatively with partners to develop recovery plans for the two mussels and coordinate efforts to conserve their habitats.
Under the ESA, "endangered" means a species is in danger of becoming extinct throughout all or a significant portion of its range. It is illegal under the ESA to kill, harm or otherwise "take" a listed species, or to posses, import, export or conduct interstate or international commerce without authorization from FWS. The ESA also requires all federal agencies to ensure actions they authorize, fund or undertake do not jeopardize the existence of listed species.
More information on mussels and endangered wildlife can be found by clicking here.
For more information, click here.
—————
The mission of the U.S. Fish and Wildlife Service is working with others to conserve, protect and enhance fish, wildlife, plants and their habitats for the continuing benefit of the American people. We are both a leader and trusted partner in fish and wildlife conservation, known for our scientific excellence, stewardship of lands and natural resources, dedicated professionals and commitment to public service.