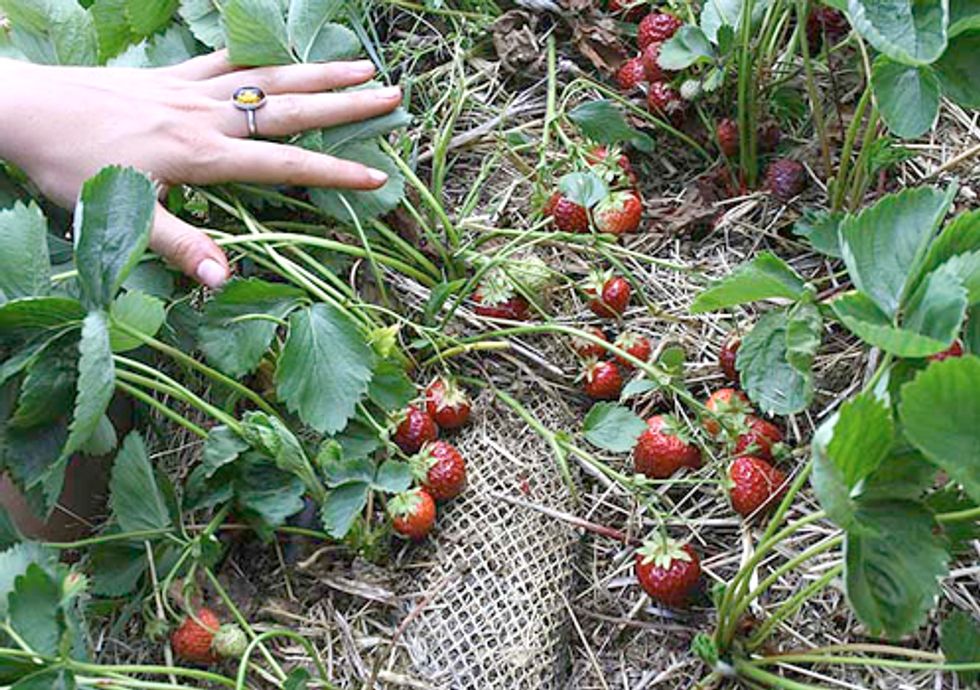 On the heels of the removal of the cancer-causing pesticide methyl iodide from California's strawberry fields, on April 24 state officials announced a new effort to help strawberry growers transition off of all methyl-iodide-like fumigant pesticides and towards safe and sustainable alternatives. Fumigants are injected into the soil to "sterilize" it before planting, and are among the most hazardous pesticides to human health used in California. The state is convening a panel of experts to help develop a plan to support strawberry growers as they transition towards safer, more sustainable technologies and techniques that protect public health and build soil health.
"With this panel, California is signaling support for innovation, including entrepreneurs who will bring new techniques to the market and the cutting-edge farmers who will use them in the fields," said Margaret Reeves, a senior scientist at Pesticide Action Network. "The future of agriculture—quite literally—rests on the ability to build and maintain healthy, vibrant soils. A new plan for strawberry farming should set us on that course."
Starting in August, the California Department of Pesticide Regulation will convene a panel of experts—including academic specialists in economics and agricultural production, farmworker safety specialists and business leaders—who will review alternative technologies to soil fumigant pesticides, as well as the economic and production-level barriers to farming without fumigants, and create a five-year plan to transition California away from most uses of fumigants in strawberry production. The effort, conceived by state officials and Assemblymember Bill Monning, has national significance since more than 85 percent of the country's strawberries are grown in California.
Soil fumigants are applied at very high rates per acre and are readily transformed into a gas, making them difficult to control and prone to drift away from the application site. Rural families and farmworkers throughout California face some of the greatest direct threats of exposure from these chemicals. Fumigants reduce farmers' ability to manage pests because they "sterilize" the soil, killing the live soil organic matter that forms the basis of naturally resilient farming systems. Healthy soil, for its part, reduces the risk of crop loss from biological and physical events.
"This is an exciting time. There is so much potential for positive change that will benefit both farmers and agricultural communities, and it's encouraging that both the Department of Pesticide Regulation and the strawberry growers are embracing the idea of change," said Susan Kegley, consulting scientist at Pesticide Action Network. "This effort will help California maintain its leadership in innovation with new farming techniques that can be used across the nation and globally."
Last month, Brian Leahy—Director of the Department of Pesticide Regulation—signaled a new direction for strawberry growing in California when he awarded the California Strawberry Commission $500,000 to research alternatives to pesticide fumigants. "We really want to work with the industry to look at fumigants," said Leahy. "They are very intense, and we have to find all kinds of alternatives to get away from these most toxic chemicals."
Despite high fumigant pesticide use in conventional agriculture, California also leads the country in organic farming, with more than 430,000 acres in production and average annual growth of 15 percent. Farmers and entrepreneurs have developed a variety of alternatives to fumigant pesticides. Current and emerging alternatives include use of disease-resistant cultivars, solarization, steam treatments, crop rotations, use of green manures such as mustard seed meal, and anaerobic disinfestation.
The fumigant transition panel will also evaluate ways to remove structural barriers to change, including provision of crop insurance and support for small-scale testing of the new methods in the required buffer zone areas to help farmers make the transition. Access to affordable land is also an issue on the Central Coast, the California location with the highest density of strawberry fields.
"Pesticides are poisons—they should not be used as a form of insurance. Instead, we need to provide growers with safer, lower-risk ways to grow their crops," said Tracey Brieger, co-director of Californians for Pesticide Reform. "With the broad scientific and public rejection of methyl iodide, California has an unprecedented opportunity to invest in farmers and technological entrepreneurs to help propel forward a new system of agriculture that will help California thrive into the future."
The growing interest in the new panel and plan follows a multi-year battle to take one new pesticide fumigant, methyl iodide, off the market. After pressure from rural communities, farmworkers, and the scientific community, the manufacturer of methyl iodide, Arysta, pulled product and ended U.S. use last month. UCLA scientist John Froines, who led the external review of the chemical, called it "one of the most toxic chemicals on earth." Advocates in Africa and Latin America are now using California's scientific review to urge their governments to prohibit methyl iodide's use.
As a result, all fumigants are under increasing scrutiny. Methyl bromide is slated for phase-out in 2015 under an international treaty agreement, and several of the other fumigants have severe restrictions on their use. Instead of focusing on safer alternatives, conventional pesticide manufacturers have attempted to market new highly toxic fumigants as replacements for methyl bromide. Rural residents across California have documented the on-the-ground harms that these pesticide fumigants pose to their communities.Last month, for example, a community outside Red Bluff, California released air monitoring results that showed high concentrations of the fumigant chloropicrin applied to strawberry fields near their homes. Chloropicrin, which was a co-ingredient in all of the methyl iodide products, is a severe respiratory irritant and a potent carcinogen.
For more information, click here.
EcoWatch Daily Newsletter
stocknroll / Getty Images
More and more Americans are retrofitting their bathrooms with high-end bidets, allowing them to enjoy cleanliness and hygiene without creating as much paper waste. Not all bidets are created equal, however, and before deciding on a particular brand, it's important to do your homework. Take a look at our comprehensive Toto bidet review, and our reviews of Tushy and Omigo, to learn more about all of their options.

<h2>Toto overview</h2><p>Toto is a company that has been around for over 100 years. They aim to improve people's quality of life, and they do that specifically by focusing on bathrooms. To that end, Toto is known for high-quality products including toilets, faucets, showers, bathtubs, and bidets. </p><p>Toto has also expressed an admirable commitment to ecological stewardship. As <a href="https://www.totousa.com/about-toto/toto-way" target="_blank">their corporate website</a> notes, they strive to "protect the global environment by conserving finite natural resources and energy." One example of this is their donation of any imperfectly fired porcelain products for recycling and reuse as porcelain floor tile. Their <a href="https://www.totousa.com/about-toto/living-toto-library/smart-sustainable-packaging-solution" rel="noopener noreferrer" target="_blank">packaging</a> uses differing levels of recycled post-consumer paper products while their forklifts operate using <a href="https://www.totousa.com/about-toto/living-toto-library/plant-based-hydraulics" rel="noopener noreferrer" target="_blank">plant-based hydraulics</a> made from soybean oil instead of traditional hydraulic oil.</p><p>Toto is definitely a company with a superior reputation when it comes to bathroom accessories in general, and bidets in particular. Here are reviews of some of the specific products in the Toto line.</p><h2>Toto bidet reviews</h2><p>There are two different bidet product families available from Toto: standalone bidets and bidet seat attachments. Their standalone models include the Piedmont bidet, the Lloyd bidet, and the Clayton bidet, while their bidet toilet seat offerings include a wide selection in the popular Washlet line. Here are details on the three standalone options and three of the most popular bidet seat attachments.</p><p><em>Each product featured here has been independently selected by the writer. If you make a purchase using the links included, we may earn commission.</em></p><h3>Toto standalone bidets</h3><h4></h4>
<h3>Toto bidet seats</h3>