Police and media in Japan have discovered that homeless people near Fukushima have been recruited to help clean up the three-year-old nuclear devastation for minimum wages, but haven't seen most of their money.
Most have wound up in debt.
According to Reuters, recruiters like Seiji Sasa have been trolling Sendai Station another locations for homeless people to aid in the behind-schedule, taxpayer-funded radioactive cleanup throughout northern Japan. Police arrested members of Japanese crime syndicates several times this year for infiltrating Obayashi Corp.'s subcontractors and illegally sending workers to disaster sites. Those workers were often brought in for less than minimum wage, but essentially scammed out of their earnings because they were given a place to stay during the hours they weren't attempting to clean up radioactive soil and debris.
"Many homeless people are just put into dormitories, and the fees for lodging and food are automatically docked from their wages," Yasuhiro Aoki, a Baptist pastor and homeless advocate, said. "Then at the end of the month, they're left with no pay at all."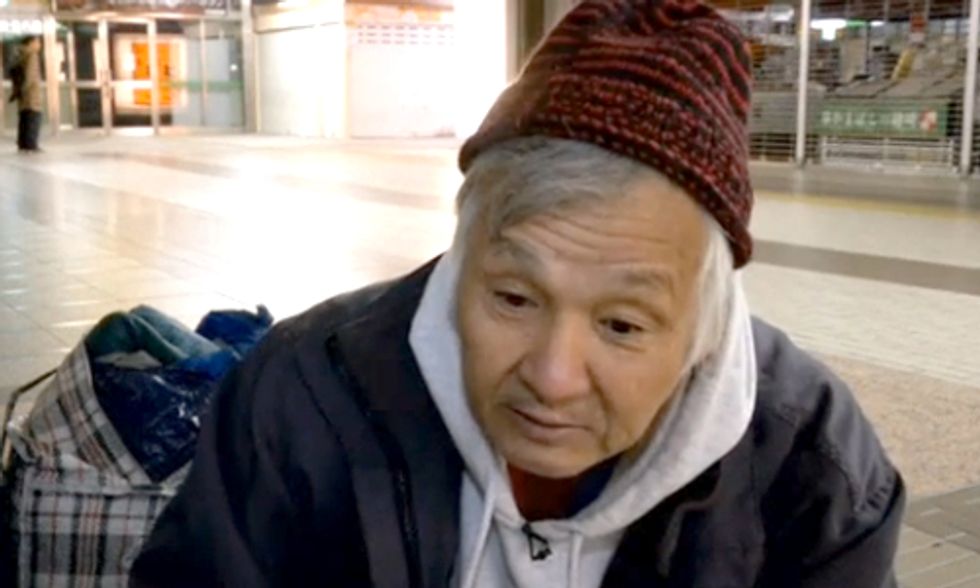 The homeless workers reported to companies who then reported to Obayashi, known as the country's second-largest construction firm and one of 20 large contractors involved in governmental cleanup efforts. There are at least more than 730 subcontractors working for performing work for the Ministry of Environment, an amount that has led to scarce oversight. Loose certification and disclosure rules have made it easier to obtain radiation removal contracts. Reuters found 56 subcontractors on environment ministry contracts worth $2.5 billion in the most radiated areas of Fukushima that would have been barred from traditional public works because they had not been examined by the construction ministry.
The crime organizations created recruiting agencies and people like Sasa stood to make $100 for every worker they brought in.
"I don't ask questions; that's not my job," Sasa said in an interview with Reuters. "I just find people and send them to work. I send them and get money in exchange. That's it.
"I don't get involved in what happens after that."
Sasa was arrested in November, but did not face any charges. Obayashi also has not faced charges, though the recruiting agencies were set up under the large company.
The Japanese government does not have estimates on the amount of homeless people working on disaster sites, according to Reuters.
Just one-third of wages allocated by Obayashi's top contractor made it to the workers recruited by Sasa. Various middlemen took the rest, according to police. Workers were left with 50 cents less than Fukushima's $6.50 minimum wage after food and lodging deductions, but most have ended up in debt.
"We're an easy target for recruiters," said Shizuya Nishiyama, a 57-year-old who opted to return to the streets after more than half of his pay was docked for room and board. "We turn up here with all our bags, wheeling them around and we're easy to spot.
"They say to us, are you looking for work? Are you hungry? And if we haven't eaten, they offer to find us a job."
Radioactive hotspots have turned up throughout Japan, including some that threaten human life in Tokyo and may cast a pall on the upcoming Olympics. Tuna contaminated with radiation from Fukushima have been caught off the California coast.
Also, more than 70 U.S. Navy sailors are suing Tokyo Electric Power Co. (TEPCO)—which operates the Fukushima Daiichi energy plant—for downplaying the danger of nuclear radiation on the site, which led to various forms of cancer and radiation sickness.
Visit EcoWatch's NUCLEAR page for more related news on this topic.

EcoWatch Daily Newsletter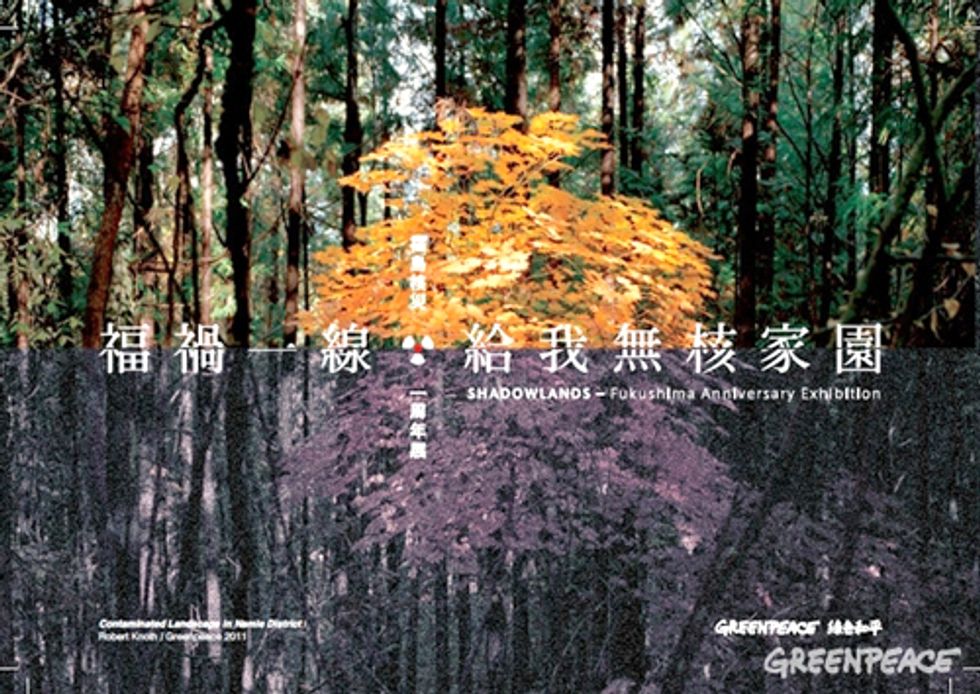 Greenpeace launched 'Shadowlands' on Feb. 20, a presentation of haunting photographs depicting the impacts of the Fukushima nuclear disaster, the plight of people displaced by the crisis, and a warning to others that a serious nuclear accident can happen everywhere there are reactors.
Shadowlands features the work of award-winning photographer Robert Knoth and documentary maker Antoinette de Jong and can be viewed by clicking here. Using social media links and its website, Greenpeace will also collect messages of support for the Japanese people.
"The Fukushima nuclear disaster is having a dramatic impact on the environment and the lives of the people from a wide area around the nuclear plant," said Knoth. "We sought to document this through landscape and portrait photography, as well as interviews with people from the affected region—some of whom may never be able to return to their homes. What we found was a profound sense of loss."
Since the beginning of the crisis on March 11, 2011, Greenpeace radiation specialists have documented the on-going impacts of radiation contamination on the environment, food and seafood to demonstrate that Japanese authorities have consistently underplayed, underestimated and underreported the radiation impacts around Fukushima.
"The underestimation of the disaster by the authorities has exacerbated the suffering of the people of Fukushima," said Junichi Sato, Greenpeace Japan executive director. "Now, the government is rushing to restart reactors against public opinion, and without learning any lessons from Fukushima. We hope our exhibition will give it pause to reflect upon the ramifications of its decisions."
"The Fukushima nuclear disaster happened because the Japanese authorities failed to protect people, instead choosing to protect the nuclear industry. For this reason, people in Japan continue to be exposed to radiation hazards, even a year later. They have not been compensated for all they have lost, and they have not received the support they need to rebuild their lives," said Jan Beránek, head of Greenpeace International's energy campaign. "This reminds us that millions of people living near reactors anywhere in the world are at risk of suffering the same consequences of a major nuclear disaster."
The Shadowlands photos show beautiful landscapes—but something is clearly missing—people. More than 150,000 people had to flee the Fukushima area because of radioactive contamination.
"Nature is already taking over. In the early morning, monkeys look for food on the outskirts of villages, wild boars roam the fields, cranes majestically soar over breath taking scenery, and there is silence," said Knoth.
Greenpeace Japan also launched the first of a series of exhibitions of Knoth's photographs. The Fukushima collaboration by Knoth and De Jong continues their earlier work with Greenpeace on the on-going effects of the Chernobyl nuclear disaster on the Ukrainian people.
Greenpeace is calling on the Japanese government to not restart any nuclear plants and for a global phase out of inherently dangerous nuclear reactors.
For more information, click here.
There's no shortage of CBD products on the market today, especially when it comes to CBD oils. These tinctures are the most popular way to take CBD, but there is so much variety amongst CBD oils it can be hard to know which one is the right choice for you. Among the different flavor options, CBD strengths, and types of hemp extracts (like full-spectrum CBD oil vs CBD isolate), there is another potential differentiator when it comes to CBD oil: water solubility.
<h2>What is Water Soluble CBD?</h2><p>Cannabidiol (CBD for short) is a well-known cannabinoid found within cannabis plants that is widely used as a wellness supplement in oil form.</p><p>Water soluble CBD is an up-and-coming product that exists primarily to simplify the process of adding CBD oil to beverages since it mixes easily with liquids. Traditional CBD oil tinctures don't blend as well into liquid drinks because the oil is less dense than water and separates easily. However, water soluble CBD oil may also provide other advantages through its potential enhancement of bioavailability.</p><p>You see in order to make water soluble CBD oil, the Cannabidiol molecules must be transformed into "nanoparticles." These tiny CBD particles are "nano-emulsified" and might be easier for the body to absorb due to their smaller size. This is a common process that has been used in pharmaceutical medicine for years, and the technology may prove to be beneficial in the CBD industry as well.</p><p>However, water soluble CBD can be harder to come by since it involves a more intense production process in order to create these nanoparticles of CBD. Fortunately I've had the benefit of trying hundreds of CBD oil products, some of which are water soluble, and below are my top three recommendations based on several factors including price, hemp source, customer service and reviews, as well as my own experience after trying these products.</p><h2>Best Water Soluble CBD Products</h2>