This website uses cookies to ensure you get the best experience while browsing it. By clicking 'Got It' you're accepting these terms.


The best of EcoWatch, right in your inbox. Sign up for our email newsletter!
Todd Porter & Diane Cu
By Luke Doyle, Budget Direct
A healthy lifestyle is fueled by nutrient-rich foods that give your body the energy it needs. But some of these foods come with high calorie counts and the "healthy" label doesn't mean it's okay to consume unlimited amounts of them.
By Adam Campbell
They may be lauded as health foods or better-for-you alternatives, but don't be fooled by these seemingly good eats.

Just because the packages proclaim nutritional benefits and commercials flaunt the product's rumored perks, these eats are just big health frauds:

1. Yogurt with Fruit at the Bottom
Shutterstock
The upside: Yogurt and fruit are two of the healthiest foods known to man.

The downside: Corn syrup is not. But that's exactly what's used to make these products super sweet. For example, a six-ounce carton of fruit-flavored yogurt contains 32 grams of sugar, only about half of which is found naturally in the yogurt and fruit. The rest comes from corn syrup, an added sugar or what we prefer to call "unnecessary."
The healthier alternative: Mix 1/2 cup plain yogurt with 1/2 cup fresh fruit, such as blueberries or raspberries. You'll eliminate the excess sugar while more than doubling the amount of fruit you down.
2. Baked Beans
Shutterstock
The upside: Beans are packed with fiber that helps keep you full and slows the absorption of sugar into your bloodstream.

The downside: The baked kind are typically covered in a sauce made with brown and white sugars. And because the fiber is located inside the bean, it doesn't have a chance to interfere with the speed at which the sugary glaze is digested. Consider that 1 cup of baked beans contains 24 grams of sugar: about the same amount that's in an 8-ounce soft drink. Not drinking regular soda? Then you should skip the baked beans, too.
The healthier alternative: Red kidney beans, packed in water. You get the nutritional benefits of legumes, without the extra sugar. They don't even need to be heated: Just open the can, rinse off the liquid and excess salt they're stored in and serve. Try splashing some hot sauce on top for a spicy variation.
3. California Roll
The upside: The seaweed it's wrapped in contains essential nutrients, such as iodine, calcium and omega-3 fats.

The downside: It's basically a Japanese sugar cube. That's because its two other major components are white rice and imitation crab, both of which are packed with fast-digesting carbohydrates and almost no protein.
The healthier alternative: Opt for real sushi, by choosing a roll that's made with tuna or salmon. This automatically reduces the number of blood sugar-boosting carbohydrates you're eating, while providing a hefty helping of high-quality protein. Or better yet, skip the rice, too, by ordering sashimi.
4. Fat-Free Salad Dressing
Shutterstock
The upside: Cutting out the fat reduces the calories that a dressing contains.

The downside: Sugar is added to provide flavor. Perhaps more important, the removal of fat reduces your body's ability to absorb many of the vitamins found in salad vegetables. In a recent study, Ohio State University researchers discovered that people who ate a salad dressing containing fat absorbed 15 times more beta-carotene and five times more lutein—both powerful antioxidants—than when they downed a salad topped with fat-free dressing.
The healthier alternative: Choose a full-fat dressing that is made with either olive oil or canola oil and that provides less than 2 grams of carbohydrate per serving. Or keep it simple, tangy and completely sugar-free by making any of these 15 homemade salad dressings or just shaking liberal amounts of balsamic vinegar and olive oil over your salad.
5. Reduced-Fat Peanut Butter
Shutterstock
The upside: Even the reduced-fat version is packed with healthy monounsaturated fat.

The downside: Many commercial brands are sweetened with "icing sugar"—the same finely ground sugar used to decorate cupcakes. And reduced-fat versions are the worst of all because they extract the healthy fat only to infuse more icing sugar. In fact, each tablespoon of reduced-fat Skippy contains 1/2 teaspoon of the sweet stuff. So the label might as well read, "Stick a birthday candle in me."
The healthier alternative: An all-natural, full-fat peanut butter that contains no added sugar.
6. Corn Oil
Shutterstock
The upside: It's considered good for you because it contains high levels of omega-6 fatty acid—an essential polyunsaturated fat that doesn't raise cholesterol.

The downside: Corn oil contains 60 times more omega-6 than omega-3, the type of healthy fat predominantly found in fish, walnuts and flaxseed. This is a problem because research shows that a high intake of omega-6 fats relative to omega-3 fats is associated with increased inflammation that boosts your risk of cancer, arthritis and obesity.
The healthier alternative: Olive or canola oils are some of the healthiest oils, which have a much better balance of omega-6 to omega-3 fats. They also have also a greater proportion of monounsaturated fat, which has been shown to lower LDL ("bad") cholesterol.
Adapted from The Women's Health Big Book of Exercises
EcoWatch Daily Newsletter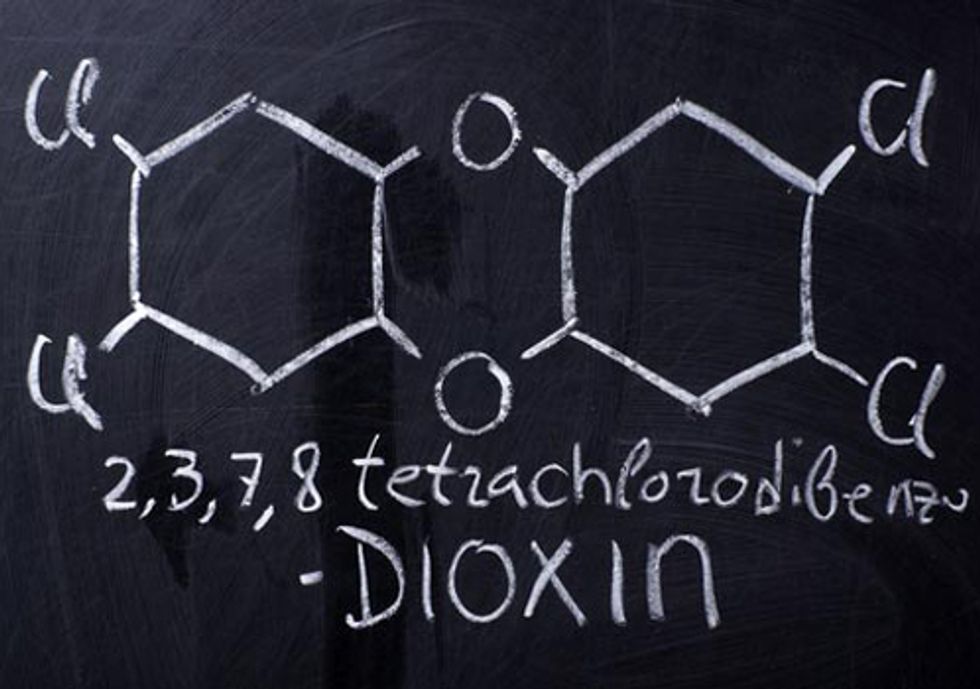 By Marion Nestle
The food and chemical industries are lobbying hard against what is expected to be a tough report from the U.S. Environmental Protection Agency (EPA). The report will set an upper limit for safe consumption of dioxins.
Most Americans consume dioxins at levels higher than this standard, mostly from food. About 90 percent of dioxins come from foods, particularly high-fat animal foods.
Dioxins mainly enter the food chain as by-products of industrial processes. To a lesser extent, they also come from natural processes such as volcanoes and forest fires. They contaminate land and sea, are consumed in feed, move up the food chain, and end up in the fatty parts of meat, dairy products and seafood.
Dioxins accumulate in fatty tissues and they increase the risk of human cancer more than any other industrial chemical.
The EPA is expected to recommend an intake limit of 0.7 picograms of dioxin per kilogram body weight per day. A picogram is one trillionth of a gram. The World Health Organization and European Union limit is higher—from 1 to 4 picograms per kilogram per day.
The food and chemical industries argue that the proposed EPA limit is too low.
The EPA thinks less is better. Dioxins are toxic and Americans typically consume amounts within the European range. A single hot dog can contain more dioxin than the proposed limit for a 2-year-old.
Dioxin levels in the U.S. have been declining for the last 30 years due to reductions in man-made sources, but they break down slowly and persist for a long time in the environment.
How to avoid them? The best way is to eat less high-fat meats, dairy foods and seafood. No wonder the food industry is alarmed.
A "Food Industry Dioxin Working Group" of trade associations such as the International Dairy Foods Association, the American Frozen Food Institute and the National Chicken Council wrote to the White House:
Under EPA's proposal…nearly every American – particularly young children—could easily exceed the daily RfD [reference dose] after consuming a single meal or heavy snack…The implications of this action are chilling.

Since the agency contends the primary route of human exposure to dioxin is through food, this could not only mislead and frighten consumers about the safety of their diets, but could have a significant negative economic impact on all U.S. food producers.
These groups singled out the media for particular blame:
The media will inevitably report on this change and in all likelihood misinterpret the RFD as a 'safe limit'. As a result, consumers may try to avoid any foods 'identified' as containing or likely to contain any dioxin.
Eat more fruits and vegetables anyone?
Congressman Ed Markey (D-MA) is urging the EPA to get busy and release its report:
The American public has been waiting for the completion of this dioxin study since 1985 and cannot afford any further delays…A baby born on the day the EPA completed its first draft health assessment would be 27 years old today. I'd like to see the final EPA analysis before it turns 28.
Let's hope the EPA does not cave in to industry pressure and releases the report this month as promised.
Technical note:
Dioxins collectively refers to hundreds of chemical compounds that share certain structures and biological characteristics. They fall into three closely related groups—the chlorinated dibenzo-p-dioxins (CDDs), chlorinated dibenzofurans (CDFs) and certain polychlorinated biphenyls (PCBs). The most studied is 2,3,7,8-tetrachlorodibenzo-p-dioxin (TCDD). PCBs are no longer produced in the U.S.
For more information, click here.
—————
Sign the petition to EPA Administrator Lisa Jackson at Change.org urging the EPA to release the dioxin assessment this month without delay so we can protect our kids from chemicals that cause cancer.