This website uses cookies to ensure you get the best experience while browsing it. By clicking 'Got It' you're accepting these terms.


The best of EcoWatch, right in your inbox. Sign up for our email newsletter!
A dusky gopher frog. USFWS
The U.S. Supreme Court delivered a unanimous setback Tuesday to efforts to protect an extremely endangered species of frog in Louisiana, The New York Times reported.
In Weyerhaeuser v. United States Fish and Wildlife Service (FWS), landowners had sued to stop the federal government from designating private land in Louisiana as "critical habitat" for the dusky gopher frog, which currently only lives in the De Soto National Forest in Mississippi. The United States Court of Appeals for the Fifth Circuit in New Orleans had upheld the FWS decision to protect the land, but the Supreme Court ruled Tuesday to send the case back to the appeals court, asking the lower court to reconsider some key issues.
The pumpkin toadlet (Brachycephalus ephippium), endemic to Brazil's Atlantic Forest, is highly susceptible to the hybrid Bd fungus. Gui Becker
By Morgan Erickson-Davis
A fungus that has decimated frog populations around the world could get even deadlier, according to new research. The study found that hybridization of different types of the fungus creates strains that can cause greater mortality in frogs. And it warns that deforestation could make this impact worse.
EcoWatch Daily Newsletter
SIERRA Magazine
By Jason Daley
Poison dart frogs are some of the most brilliantly colored and beautiful animals on Earth. About one-third of the 300 species of the tiny frogs in the superfamily Dendrobatoidae are poisonous, including the golden poison frog, which may be the most toxic animal in the world.
While venomous animals, like snakes, sequester their venom in glands or pouches, the frogs' poison is found in tissues throughout their bodies. Researchers have wrestled with that fact for a while: Why don't poison dart frogs poison themselves?
Peru's National Forest and Wildlife Service, SERFOR, is investigating the deaths of hundreds of critically endangered Titicaca water frogs, whose bodies were found floating in the waters of Lake Titicaca, the only place in the world the species is found.
Hundreds of the critically endangered Titicaca water frogs have been found floating on the surface of the Coata River in southern Peru.SERFOR
SERFOR responded to the banks of the river in the buffer zone of the Titicaca National Reserve to investigate the reported deaths and found 500 dead frogs in a 200-meter (656-foot) area. However, based on statements from locals and samples taken in the days after, SEAFOR estimated that more than 10,000 frogs were likely affected in a 30-mile span.

SEAFOR's investigation found the presence of solid waste and sludge formation in the area. The Committee Against Pollution of the Coata River told the BBC pollution in the Coata River that flows into Lake Titicaca is to blame for the deaths, and that the government has ignored pleas to address the problem.
After this latest incident, committee leader Maruja Inquilla and other supporters brought 100 of the dead frogs to the central square in the regional capital, Puno.
"I've had to bring them the dead frogs," Inquilla told AFP. "The authorities don't realize how we're living. They have no idea how major the pollution is. The situation is maddening."

The committee said a sewage treatment plant is needed to clean up the lake and its tributaries.
Titicaca Water Frog Arturo Muñoz / iNaturalist.org
Titicaca water frogs are also known as Titicaca scrotum frogs because of their wrinkly, baggy skin that helps them breathe. They live their entire life in the water and it is estimated their population has declined by more than 80 percent over the past 15 years due to over-exploitation, habitat degradation and invasive species.

The last known member of a rare tree frog species died last week at the Atlanta Botanical Garden causing many to fear his species is now extinct.
The male Rabbs' fringe-limbed tree frog, staff nicknamed "Toughie," was found dead in his enclosure during a routine daily inspection Sept. 26. They believe he was about 12 years old.
Toughie was the last known surviving member of its species until its death in September 2016.Brian Gratwicke / Flickr
Toughie was found during a 2005 frog rescue mission by the Atlanta Botanical Garden and Zoo Atlanta. He was one of many frogs scientists raced to collect as the deadly chytrid fungus closed in on central Panama.

"It was likened to just rescuing things from a burning house," Mark Mandica, who is head of the Amphibian Foundation and worked with Toughie for seven years, told National Geographic.
Toughie's species, unknown to scientists at the time, was formally described three years later by Zoo Atlanta herpetology curator Joseph Mendelson III as Ecnomiohyla rabborum. He named the frog, the Rabbs' fringe-limbed tree frog, for conservationists George and Mary Rabb.
The species was found in a very small area at an elevation where the fungus proved especially deadly. National Geographic reports field studies suggest up to 85 percent of all the amphibians in that area were wiped out, and it's unlikely that any of his kind survived in the wild.
"Science had a very short window to learn about the species in the wild before this disease struck the only known locality for the frog and the species vanished," Mary Pat Matheson, president and CEO of Atlanta Botanical Garden, told The Atlantic Journal-Constitution.

The only other Rabbs' frog known in captivity died at Zoo Atlanta in 2012, and that one was also a male.
The staff at the Atlanta Botanical Garden tried to save the species and successfully bred Toughie with a female, Matheson said, but the tadpoles did not survive.
Toughie had quite a following, according to garden staff, and he definitely left his mark on the world.
"A lot of attention had been paid to him in captivity, so he even has his own Wikipedia page," Mandica said.
Last year, his image was even projected onto St. Peter's Basilica, and his call—captured by Mandica in 2014—played so that the world could see and hear him, National Geographic reported. He also met race car drivers and movie directors.
Toughie's death highlights the ongoing battle frogs face around the world to survive. According to a 2015 study, "About 200 frog extinctions have occurred and hundreds more [frog species] will be lost over the next century, so we are on pace to create a mass extinction."
The study's author, John Alroy at Macquarie University in Australia, looked at salamanders, snakes and lizards, but "he found that frogs seemed to be the most vulnerable to extinction—the results suggested that more than 3 percent of all frog species have disappeared, largely since the 1970s," according to The Washington Post.
So what's causing these mass extinctions? While Alroy said there is a tendency to "focus very strongly on the potential future impacts of climate change, specifically," he said we shouldn't point the finger solely at climate change.
"I'm not saying we should stop looking at climate change," he said. "I'm saying there should be additional focus on other causal factors like habitat destruction and invasive species in particular."
What if I told you there was an entire underground world below you right now? The frogs you may see in your backyard are a tiny portion of the amphibian world surrounding you.
According to Mark Mandica, amphibian conservation coordinator at the Atlanta Botanical Garden (ABG), "If you weighed all the spotted salamanders they'd weigh more than all the mammals and birds combined in a healthy ecosystem." Some salamanders on average live 50-51 weeks underground, until they emerge for their breeding season. Frogs and salamanders come in many shapes, sizes and colors and are critically important to ecosystems around the world.
Toughie is the last known Rabbs' Fringe-Limbed Tree Frog in existence. He is named after George Rabb, one of the world's most eminent herpetologists.Mark Mandica
Unfortunately, amphibians are dying off in huge numbers in a global mass extinction. Reasons are varied, but chief among them are habitat loss and the chytrid fungi. In the mid-90's, then amphibian conservation coordinator of ABG, Ron Gagliardo, started what is now one of the oldest amphibian conservation programs in the U.S. He and several botanists started working with frogs as a way to illustrate plant and animal relationships at the garden. From there the program gained momentum and started safeguarding rare amphibians.
Their work reached a crisis level in 2005 when the chytrid fungus was sweeping through South and Central America. Gagliardo from ABG and Joe Mendelson, director of Herpetological Research at Zoo Atlanta, swooped in urgently ahead of the fungus and collected as many frogs as possible. After the collection, that same year the fungus killed up to 85 percent of amphibians in the region.
Famed National Geographic photographer and creator of the Photo Ark, Joel Sartore, likened this to rescuing precious items from a burning house. Thank goodness they did because the frogPOD at ABG is now home to some of the world's rarest frogs. Shortly after Gagliardo and Sartore returned from their rescue mission I took my three young children to observe the magnificent menagerie. Laura Elizabeth, my then 9 year-old daughter was truly moved. She befriended Gagliardo and Sartore and wrote a children's book with their help, Our Friends the Frogs. It was important to her to educate others on the tragic plight of the amphibians and offer pointers on how anyone can help. Laura Elizabeth is now 18 and, sadly, the crisis still looms large.
My then nine year-old Laura Elizabeth with Ron Gagliardo visiting the frogs for her book, Our Friends the Frogs.
The Atlanta Zoo and ABG's conservation programs are centered around Captive Assurance Colonies which are collections of endangered animals kept safely in captivity and bred with the hope they may one day be returned to the wild. For some like Toughie, the last Rabbs' Fringe-limbed Tree Frog known in existence, this will probably never be a reality. For other species at the frogPOD there is hope, but currently it is still not safe to re-release.
The chytrid fungus still remains in the area, with no known method of eradication and growing in lethality. According to Mandica, "The more out of balance an ecosystem, the more lethal the disease can become." Prof. Tyrone Hayes, UC Berkeley, released a study in 2006 positing agricultural chemical drift and specifically the most popular herbicide worldwide, atrazine, is compounding the problem. Amphibians exposed to common pesticide mixtures suffer suppressed immune systems, making them more susceptible to the chytrid fungus, among other disorders.
In the U.S. and specifically Georgia, amphibians are becoming increasingly endangered from habitat loss. Georgia is second behind North Carolina for the largest number of amphibian species. For eight years ABG has collaborated with Zoo Atlanta, the University of Georgia and Georgia Department of Natural Resources on a head-start program for their rarest frog, the Gopher Frog. They collect eggs every year, raise the tadpoles up through metamorphosis and release the baby frogs in protected habitats in South Georgia. Their habitat, the longleaf pine ecosystem, has been reduced by 97 percent. Other animals adversely affected by this reduction are the Gopher Tortoise, Indigo Snake and Mandica's favorite, the Flatwoods Salamander.
The Frosted Flatwoods Salamanders, native to Georgia, are critically endangered.Pierson Hill
The Flatwoods Salamander is a peculiar species that has never been kept successfully in captivity. But Mandica and his team are trying to change that. They currently have three adult salamanders which they collected and raised from larvae last year. This season, they acquired 15 more as recently metamorphosed baby salamanders. Flatwoods Salamanders live underground until they emerge to return to the same small pond they were born in to breed. They have not been detected in South Carolina for six years, very few last year in Georgia and none this year. Fortunately a broad coalition is working to restore their habitat. ABG's plant and amphibian conservation efforts have targeted this endangered ecosystem and partnered with the U.S. Fish and Wildlife Service, U.S. Geological Survey, San Antonio Zoo, University of Missouri, Virginia Tech, Florida Fish and Wildlife Conservation Commission and others.
Visiting the Atlanta Botanical Garden's frogPod with Mark Mandica, Suzanne Barnes, Joel Sartore and Cole Sartore.
Conserving amphibians is important for many reasons. Here in the South, we should be especially grateful for their voracious bug consumption and even better, spotted salamanders are mosquito eating experts! Mandica says a mere 1,000 amphibians can eat five million bugs a year! Due to amphibian's highly sensitive skin they are the first to show imbalances in the ecosystem. At ABG frogs can only be sprayed with filtered "frog water" because if common, highly-treated tap water were used, they would all die. There are some very important lessons there! Amphibians are also a critical part of the food chain as popular prey and bug-eating predator. To humans, amphibians can have big health implications. For example, a pharmaceutical study revealed a compound in the skin of the endangered Phantasmal Poison Frog is 200 times more effective than morphine and non-addictive.

Locals and out-of-town visitors alike can learn more about amphibian conservation from exhibits in the ABG conservatory every day at 11 a.m. They can also join Mandica's hugely popular Metro Atlanta Amphibian Monitoring Program. He gives workshops on how to identify and monitor frogs and salamanders in your backyard. On the website, maamp.us, Mandica has information, call recordings and pictures of each life stage of all 28 species we have in Atlanta. Outside the Southeast, you can visit AmphibianArk.org to learn more about amphibian conservation.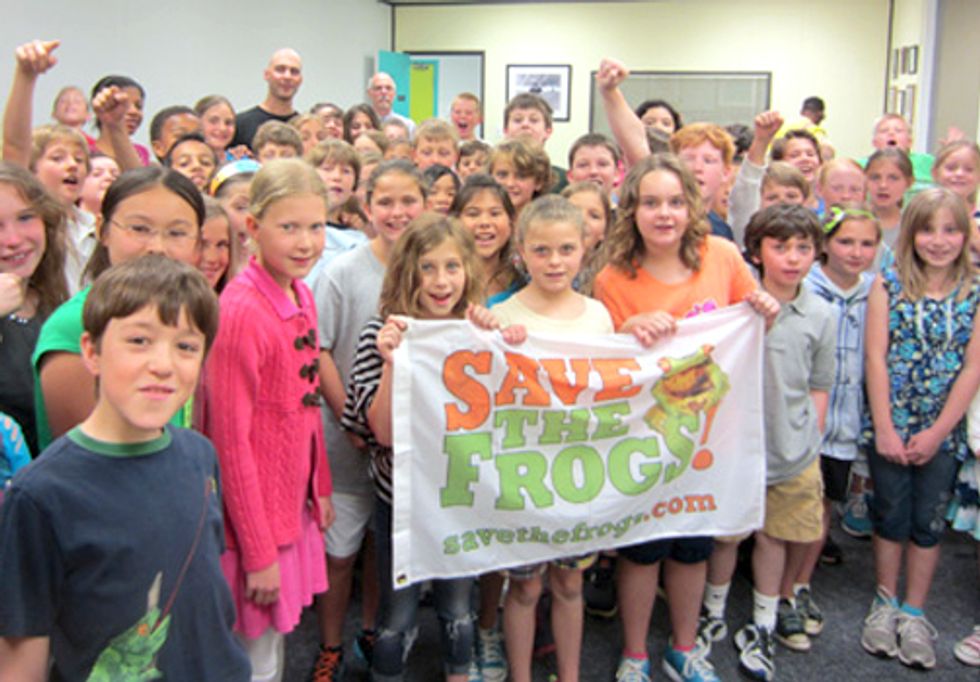 Frog lovers and environmentalists of all ages are gearing up for the 4th Annual Save The Frogs Day, set for Saturday, April 28. The annual celebration of amphibians will be the largest day of amphibian education and conservation action in the planet's history. At least 180 Save The Frogs Day events are happening in 37 countries, including the U.S., Canada, Brazil, Bangladesh, Ghana and Pakistan. The goal is to raise awareness of the rapid disappearance of frog species worldwide. The events are being coordinated by SAVE THE FROGS!, a California-based nonprofit dedicated to amphibian conservation.
Amphibian populations worldwide have been declining at unprecedented rates, and nearly one-third of the world's amphibian species are threatened with extinction. Up to 200 species have completely disappeared in recent years. Amphibians are faced with an onslaught of environmental problems, including climate change, pollution, infectious diseases, habitat loss, invasive species, and over-harvesting for the pet and food trades. "The goal of Save The Frogs Day is to get people worldwide educating their fellow citizens about the plight of amphibians and ways they can help" says Dr. Kerry Kriger, founder & executive director of SAVE THE FROGS!. "Frogs eat mosquitoes, provide us with medical advances, serve as food for birds, fish and monkeys, and their tadpoles filter our drinking water. There are lots of reasons to save them."
Dr. Kriger will be leading a Save The Frogs Day 5K race in downtown Seattle on April 28. Other Save The Frogs Day events include a frog legs protest at the Coney Island, N.Y. location of Nathan's Famous, a nationwide chain restaurant that sells frog legs. Up to a billion frogs are taken out of the wild for use as food by humans each year; protesters hope to raise awareness of the issue and bring an end to frog leg sales at the restaurant. In San Francisco, SAVE THE FROGS! supporters will gather at Sharp Park, a rare coastal wetland that the city pumps out to sea to create dry land for a taxpayer-funded golf course—illegally killing endangered California Red-Legged Frogs in the process.
Outside the U.S. there will be scientific conferences focused on frog conservation in Ghana, Bangladesh and Mexico; frog photo exhibitions in Colombia, Malaysia and Australia; and frog art exhibits in Brazil and India.
Save The Frogs Day 2012 has been officially recognized by Gov. Bev Perdue of North Carolina; Gov. Nikki Haley of South Carolina; Mayor Bob Buckhorn of Tampa, Fla.; Mayor Tom Lowry of Three Rivers, Mich.; and the Michigan House of Representatives.
You can learn more about Save The Frogs Day and events in your area by clicking here.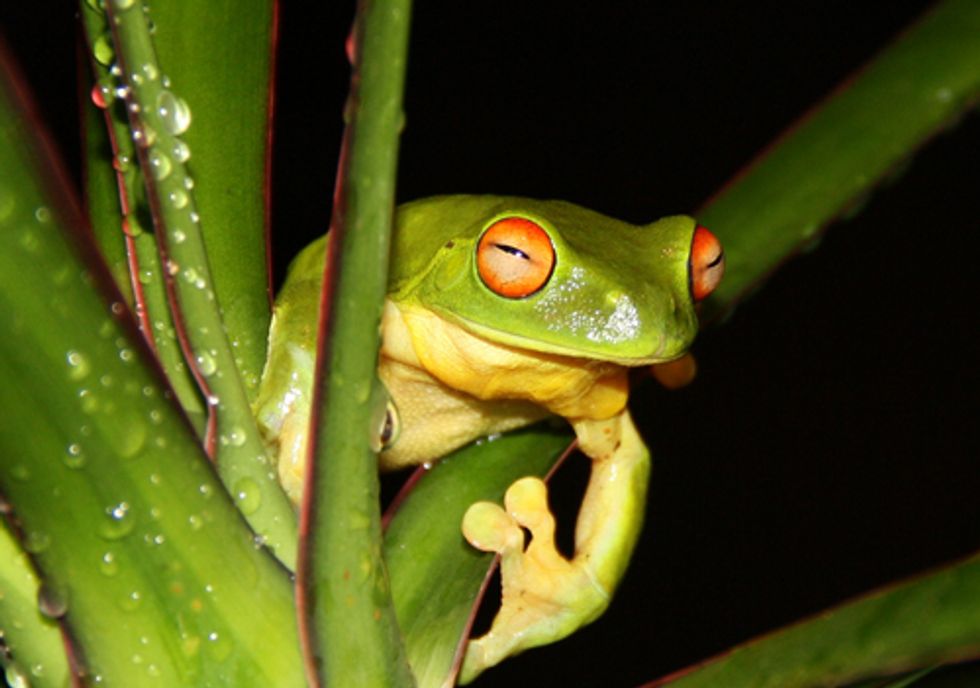 A coalition of California environmental groups are outraged that San Francisco's Mayor Ed Lee has vetoed legislation designed to protect the city's Sharp Park Wetlands and the endangered California Red-Legged Frogs and San Francisco Garter Snakes that live there. The city currently operates a golf course on the property. The course was built on top of the wetlands, which the city pumps out to sea to improve playing conditions—at the expense of the multitude of wildlife species that depend on the site's rare wetland habitat. More than 95 percent of California's coastal wetlands have been destroyed or damaged.
The legislation would have paved the way for the closure of the Sharp Park Golf Course and the turning over of the management of the land to the National Park Service. "Golf is a game, it is not crucial to life on this planet, and there are over 10,000 golf courses in the USA. Wetlands however, are not a game. They are a matter of life or death for a large number of endangered species," said Dr. Kerry Kriger, founder of Save The Frogs, an amphibian conservation organization based in Santa Cruz, California.
Mayor Lee, a golfer, refused to meet with any representatives of the Save The Frogs, the Wild Equity Institute, the Sierra Club or the National Parks Conservancy Association prior to issuing the veto. "By vetoing the legislation without ever meeting with environmental groups the Mayor has labeled himself as 'anti-environment', he has damaged San Francisco's reputation as a progressive leader and he has extended the death sentence that endangered frogs face every time the city uses taxpayer money to pump the Sharp Park Wetlands out to sea," said Dr. Kriger. "The mayor blew a brilliant opportunity and should redeem himself by rescinding the veto immediately."
Save The Frogs supporters sent the mayor's office more than 4,000 letters asking him to protect the wetlands. Mayor Lee expressed no remorse about the veto, stating, "I remember the clubhouse very well, a lot of my friends went to the clubhouse to have some great dinners there."
The federally endangered California Red-Legged Frogs that live at Sharp Park are killed when their egg masses get stranded on land during the city's pumping operations and when tadpoles get sucked through the pumps and out to sea. The Red-Legged Frogs were nearly eaten to extinction in the 1890's by the California gold miners. Now they are threatened by habitat destruction, roadkill and non-native species such as American Bullfrogs, which are voracious predators that are being imported into California by the millions each year to satisfy San Francisco's burgeoning frog meat trade. "Humans have been persecuting the California Red-Legged Frogs for over a century. I think it's time we gave them a little assistance," says Dr. Kriger. Save The Frogs is calling on the mayor to rescind his veto.
The city of San Francisco is currently being sued for illegally killing endangered wildlife at the golf course, which loses more than $100,000 per year. Social justice groups say closing the golf course would allow San Francisco to direct more money to youth programs in the city. The U.S. Fish & Wildlife Service last week denied the city's attempt to classify golf course activities as "recovery actions" and put them on notice not to kill endangered species without proper permits.
For more information, click here.
—————
SAVE THE FROGS! is America's first and only public charity dedicated to amphibian conservation. The mission of SAVE THE FROGS! is to protect amphibian populations and to promote a society that respects and appreciates nature and wildlife.
The Wild Equity Institute is building a healthy and sustainable global community for people and the plants and animals that accompany us on Earth.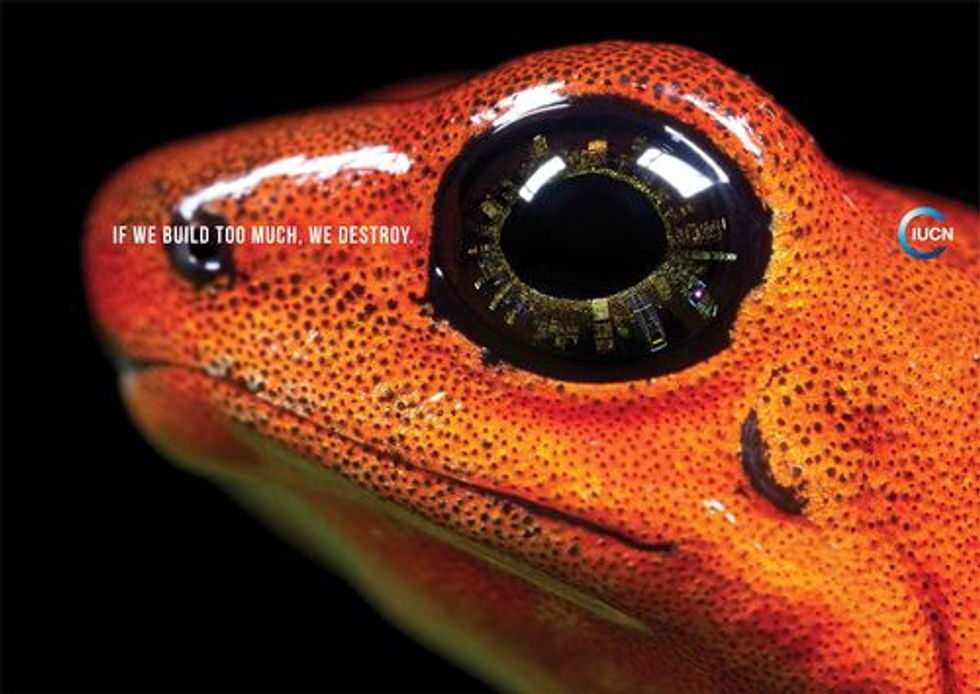 The first ever International Union for Conservation of Nature (IUCN) mobile application developed together with Nokia is now available for consumer use and ready to be downloaded from the Nokia Store. The free-for-download app is the result of a partnership between Nokia and SOS (Save Our Species), a global species conservation fund to protect threatened species and their habitats.
The app, Fantastic World of Frogs, is an image gallery of frogs for the Nokia N9 Smartphone and allows users to view spectacular photos of frogs, discover their habitat in the Colombian rainforest, and learn more about these incredible creatures. Additionally, users can learn about conservation breakthroughs that the corresponding SOS-sponsored project—protecting and restoring key sites for globally threatened amphibians—in partnership with Conservation International (CI), delivered. The app highlights Conservation International's (CI) work with their local non-governmental organization partner, Fundación ProAves, in the biodiversity hotspot Chocó of Colombia.
Users of the IUCN Smartphone app can also enjoy the adventures of conservation hero Robin Moore, project leader and Programme Manager of IUCN's Amphibian Specialist Group and amphibian conservation officer at CI. Amphibians are the most threatened group of vertebrates in the world, with more than 41 percent threatened with extinction, according to the IUCN Red List of Threatened Species. The goal of the new app is to drive awareness of the plight of frogs and introduce users to the diversity of Colombian frog species.
Nokia is lead sponsor of SOS and, in addition to supporting conservation projects, helps raise awareness of the importance of species protection by the use of innovative mobile technology. SOS aims to build a global coalition in order to halt the loss of biodiversity, and they invite other innovative businesses across all industries to join in the initiative.
Key Issues
"Frogs are sensitive barometers of environmental health," says Robin Moore, project leader and programme manager of IUCN's Amphibian Specialist Group. "As a group they are heavily threatened by habitat loss, and combining photography with technology is a fun way of highlighting our approach to protecting critical habitats with a behind-the-scenes look at conservation in action."
"Amphibians provide many important services to humans such as controlling insects that spread disease and damage crops—they also form a beautiful group of animals harboring an amazing diversity of colors, making them outstanding ambassadors for wildlife conservation, says Jean-Christophe Vié, deputy director of IUCN's Global Species Programme and SOS Director. "We need targeted conservation to protect these species. Fantastic World of Frogs is an amazing tool that helps us promote amphibian preservation."
"We were the first company to join the SOS initiative. We believe that mobile applications offer a fantastic opportunity to raise awareness on environmental issues. This new app is a great way to teach people about the importance that frogs have in the ecosystem," says Outi Mikkonen, director, Stakeholder Engagement at Nokia.
For more information, click here.