This website uses cookies to ensure you get the best experience while browsing it. By clicking 'Got It' you're accepting these terms.


The best of EcoWatch, right in your inbox. Sign up for our email newsletter!
It's no surprise that chemicals can get flushed into our water supply from the pills we take. But as the world's population grows, the rampant consumption of pharmaceuticals has become an emerging threat to the world's freshwater ecosystems, researchers said.
The research, presented at the European Geosciences Union General Assembly on Tuesday, warns that if no action is taken to mitigate the flow, the amount of drug waste entering waterways such as rivers and lakes could increase by 65 percent by 2050, endangering fish and other species' health.
A collaboration of aquariums across the U.S. have launched a campaign Monday to reduce ocean and freshwater plastic pollution.
Notably, as of today, all 19 aquariums that belong to the Aquarium Conservation Partnership (ACP) have "eliminated" plastic straws and single-use carryout plastic bags at their facilities.
EcoWatch Daily Newsletter
By Brian Bienkowski
When fish swim in waters tainted with antidepressant drugs, they become anxious, anti-social and sometimes even homicidal.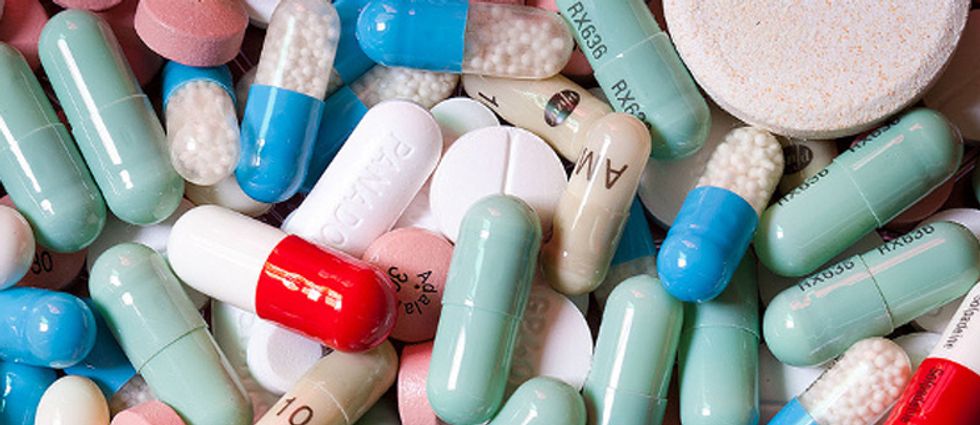 New research has found that the pharmaceuticals, which are frequently showing up in U.S. streams, can alter genes responsible for building fish brains and controlling their behavior.
Antidepressants are the most commonly prescribed medications in the U.S.; about 250 million prescriptions are filled every year. And they also are the highest-documented drugs contaminating waterways, which has experts worried about fish. Traces of the drugs typically get into streams when people excrete them, then sewage treatment plants discharge the effluent.
Exposure to fluoxetine, known by the trade name Prozac, had a bizarre effect on male fathead minnows, according to new, unpublished research by scientists at the University of Wisconsin-Milwaukee.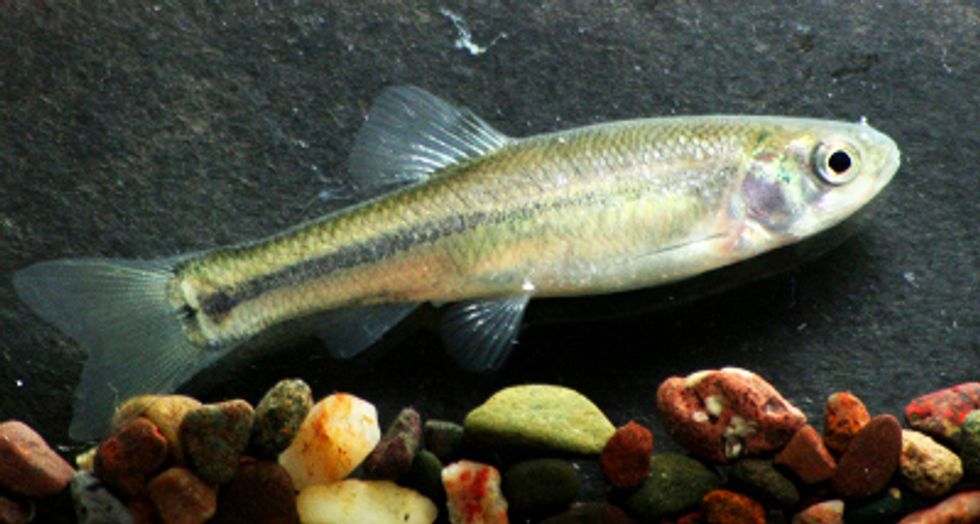 Male minnows exposed to a small dose of the drug in laboratories ignored females. They spent more time under a tile, so their reproduction decreased and they took more time capturing prey, according to Rebecca Klaper, a professor of freshwater sciences who spoke about her findings at a Society of Environmental Toxicology and Chemistry conference last fall. Klaper said the doses of Prozac added to the fishes' water were "very low concentrations," one part per billion, which is found in some wastewater discharged into streams.
When the dose was increased, but still at levels found in some wastewater, females produced fewer eggs and males became aggressive, killing females in some cases, Klaper said at the conference.
The drugs seem to cause these behavioral problems by scrambling how genes in the fish brains are expressed, or turned on and off. The minnows were exposed when they were a couple of months old and still developing.
There appeared to be architectural changes to the young minnows' brains, Klaper said at the toxicology conference. Growth of the axons, which are long nerve fibers that transmit information to the body, was disrupted.
The new findings build on Klaper's previous research, which tested minnows with the gene changes to see how well they avoided predators. They swam longer distances and made more directional changes, which suggests that the drugs induced anxiety.
The drugs used in the study were among the most common in sewage: Prozac, Effexor and Tegretol. The researchers tested each drug alone and in combination.
"At high doses we expect brain changes," Klaper said. "But we saw the gene expression changes and then behavioral changes at doses that we consider environmentally relevant."
However, there is too little evidence to know whether pharmaceuticals are having any impacts on fish populations in the wild, said Bryan Brooks, an environmental science professor at Baylor University who has extensively studied pharmaceuticals in streams and fish.
Any changes in reproduction, eating and avoiding prey can have devastating impacts for fish populations, Klaper said.
The most vulnerable fish populations are those downstream of sewage treatment plants, where prescription drugs consistently show up in higher levels than in other waterways. It's only within the past decade that technology has allowed plants to test for the chemicals in their wastewater and in waters downstream, though most still don't, said Steve Carr, supervisor of the chemistry research group at the Los Angeles County Sanitation Districts.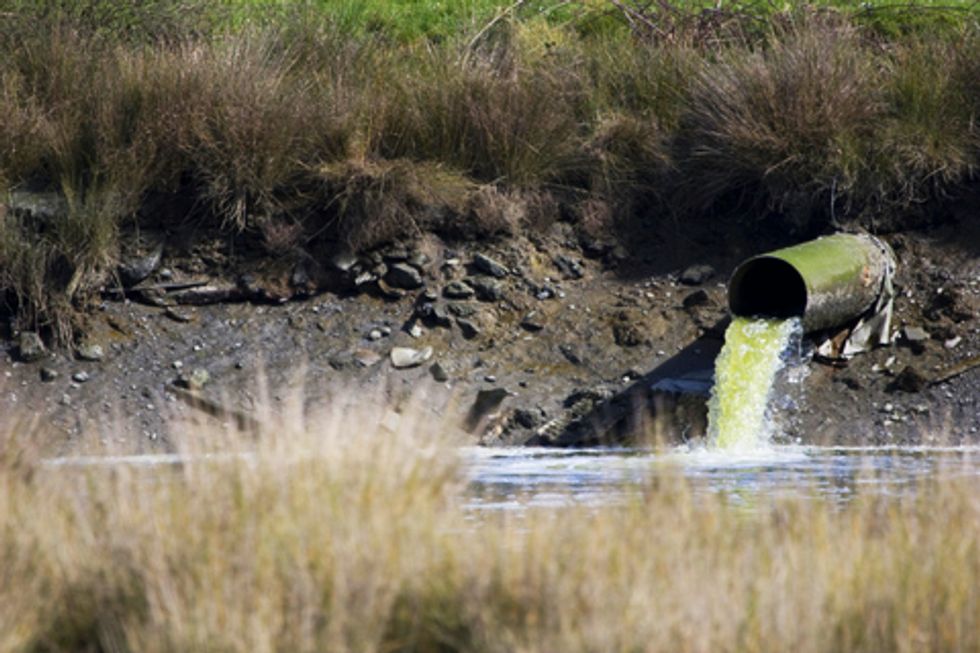 One of the antidepressants tested in the fish—Tegretol—comes into the treatment plants and goes out at near constant levels, said Eric Nelson, a senior chemist with the Los Angeles County Sanitation Districts.
That means the county's treatment technology does not seem to have any effect on the drug. It comes in and leaves in a very tight range, about 150 to 400 parts per trillion, Nelson said.
Nelson said the two other drugs tested on the fish—Prozac and Effexor—are discharged in effluent at even lower levels: between about 20 and 30 parts per trillion. In comparison, the levels that altered behavior of the lab fish were 50 times higher.
When monitoring an Iowa and a Colorado stream, the U.S. Geological Survey found most drugs at levels similar to Los Angeles County's. However, these low levels could still find their way into fish brains, according to their 2010 study.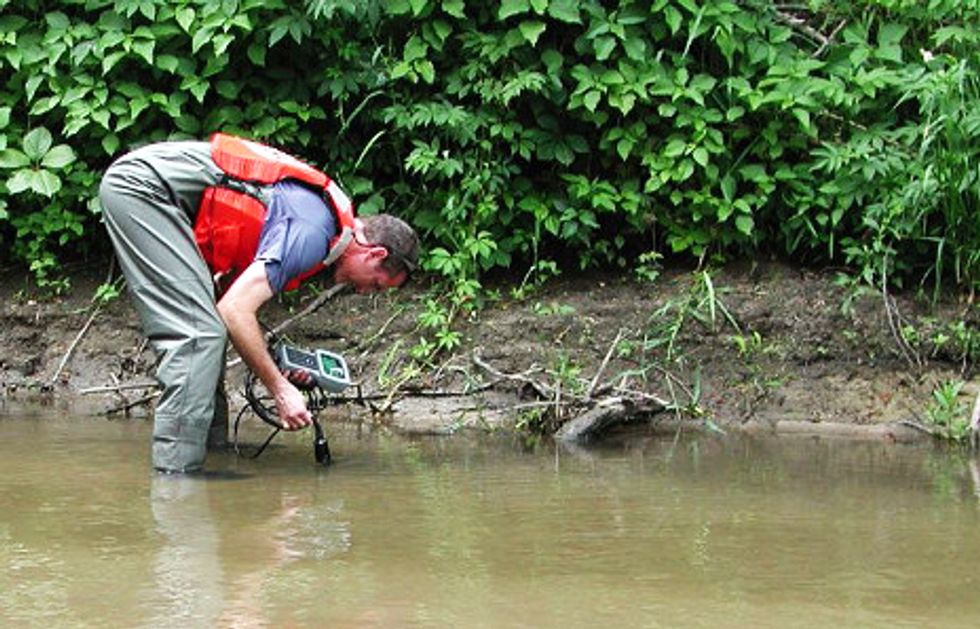 Researchers found elevated levels of pharmaceuticals in the stream water two to six miles from the sewage treatment plants. But the chemicals at the highest levels in the water were not the ones most prevalent in the fish brains.
"The fish downstream of the wastewater treatment had elevated concentrations of two antidepressants … Zoloft and Prozac," said Edward Furlong, a research chemist at the U.S. Geological Survey based in Boulder, CO. "And these were relatively low in water compared to others."
Even if the levels released into streams seem low, they are constant, which is problematic, Brooks said.
"The drugs may not be classically persistent like PCBs [Polychlorinated biphenyl]," Brooks said. "But they're pseudo-persistent. The [continuous] exposure of organisms in a stream is equivalent to a chemical that is persistent."
Some drugs bioaccumulate, or build up, in rainbow trout, according to Brooks' research. Also, rainbow trout exposed to sewage effluent have pharmaceuticals in their blood at levels as high as those that affect the brains of people, according to research in Sweden.
Brooks said the likelihood of bioaccumulation for pharmaceuticals is high. "People have to take these drugs for weeks before they start having effects. They slowly bioaccumulate in your system," which suggests bioaccumulation potential in fish, too, said Brooks.
Changes to the brain can affect all kinds of things in fish, Klaper said. And since humans have a similar brain gene structure, the findings raise questions about whether traces of these drugs in drinking water might harm human health.
The U.S. Environmental Protection Agency (EPA) considers pharmaceuticals an "emerging concern," and has concluded that the chemicals may pose risks to wildlife and humans. There are currently no federal regulations of the compounds in waste or drinking water. However, 12 pharmaceuticals are currently on the EPA's Contaminant Candidate List, which are chemicals that may require regulation under the Safe Drinking Water Act.
Studies have consistently found prescription drugs in drinking water at parts-per-trillion levels. U.S. Geological Survey scientists sampled 74 waterways used for drinking water in 25 states in 2008 and found 53 had one or more of the three dozen pharmaceuticals they were testing for in their water. Forty percent of the pharmaceuticals were found at one or more of the sites.
Fifty-four active pharmaceutical ingredients and 10 metabolites have been detected in treated U.S. drinking water, according to a 2010 EPA review.
Studies of children exposed in the womb to antidepressants taken by their mothers show effects on their motor development and a higher risk of some birth defects.
But health officials say the levels found in some drinking water are too low to cause harm.
According to a 2012 World Health Organization report, the "trace quantities of pharmaceuticals in drinking water are very unlikely to pose risks to human health." The report said that the amount found in drinking water is usually 1,000 times lower than doses expected to have an effect on a person.
But Klaper said that in light of the gene changes in fish brains, officials may need to rethink what is considered safe.
"Fish do not metabolize drugs like we do," Klaper said. "Even if environmental doses aren't thought to be much for a human, fish could still have significant accumulation, and, it appears, changes in their brain's gene expression."
Visit EcoWatch's BIODIVERSITY page for more related news on this topic.
——–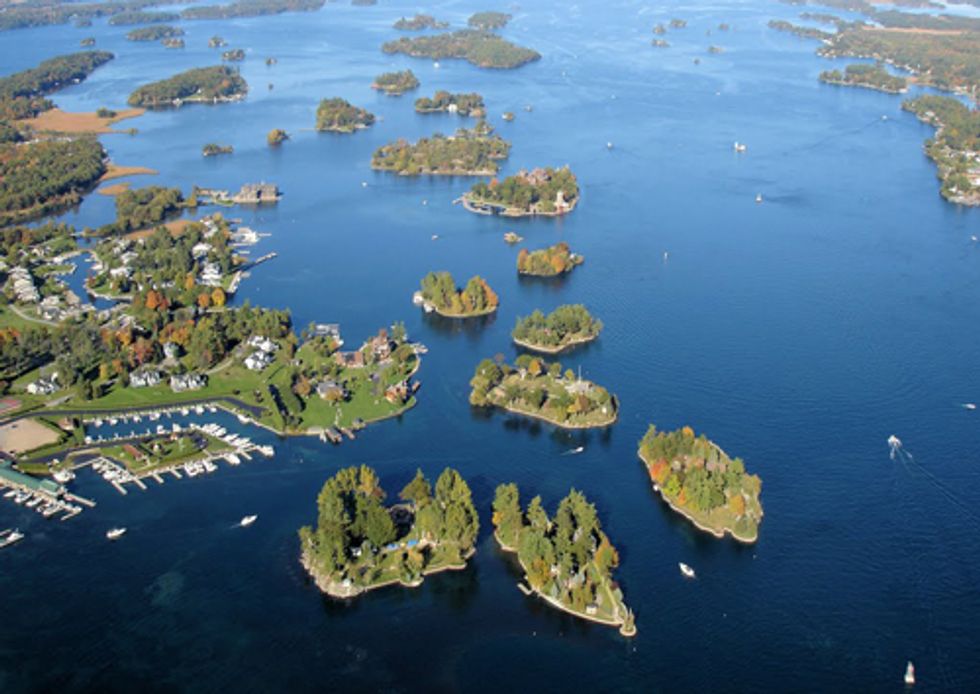 Save The River, The Nature Conservancy and World Wildlife Fund—Canada (WWF) offered their organizations' support for the International Joint Commission's (IJC) new approach to water level regulation in Lake Ontario and the St. Lawrence River Jan. 30. The three organizations are encouraged by the proposed Plan BV7 which, if appropriately implemented, will take steps to restore the lake and river after 60 years of environmentally damaging regulation.
Save The River, The Nature Conservancy and WWF-Canada look forward to learning more about Plan BV7 throughout 2012 and urge citizens and national, state, and provincial governments to support the IJC moving this forward-thinking approach from plan to action over the course of the year.
Jennifer Caddick, Save The River executive director said, "Save The River applauds the IJC's new approach for water levels regulation on the Lake and River. Plan BV7 will begin to reverse damage caused by years of destructive regulation, and allow the lake and river ecosystem to once again thrive. The plan will also enrich the quality of life for citizens living in these areas, as the balanced proposal protects property owners and has clear benefits for recreational boating, hunting, fishing, shipping, and clean hydroelectric production. Save The River urges its adoption."
The proposed plan represents an innovative approach that delivers environmental improvements along with substantial benefits for the regional economy and property owners.
Jim Howe, The Nature Conservancy's Central and Western New York Chapter executive director, remarked, "This plan strikes a balance between people and nature. Plan BV7 is a common-sense proposal that benefits hydropower, shipping, hunting and fishing, recreational boating, and shoreline property, while focusing on the health of the Lake Ontario—St. Lawrence ecosystem as a whole. The result will be a thriving lake and river system that enhances property values by generating more fish, more wildlife, more tourism, and better recreation opportunities for people."
Tony Maas, WWF-Canada's freshwater program director said, "As a science-based organization, WWF is working to protect and restore environmental flows—the quantity, quality and timing of river flows—in Canada and around the world as part of our freshwater conservation program. The St. Lawrence is one of North America's most important and most threatened rivers. Restoring more natural rhythms of water flows is fundamental to improving the overall health of the Great Lakes-St. Lawrence ecosystem and the communities and economies that depend on it. The integration of environmental flow in BV7 will help to make this possible and I look forward to the realization of environmental, social and economic benefits coming out of this effort."
Sixty years of regulation forcing unnatural flow conditions and water levels has caused damage to the lake and river environment and the livelihoods and well-being of the people who rely upon it. The approach contained in Plan BV7 shows that benefits for the environment, the regional economy and property owners can go hand-in-hand.
Plan BV7's approach will create the conditions for:
Environmental Benefits
A healthier lake and river, as evidenced by the following:
Increased populations of Northern Pike, Black Tern and other marsh-nesting birds. Northern pike, the top predator in coastal marshes, have declined by 70 percent since regulation began. Populations of the Black Tern have declined by more than 80 percent in coastal marshes, and are now on the list of threatened species in New York and designated as species of Special Concern in Ontario.
A 40 percent increase in wet meadow habitats, which are vital to native fish and wildlife. Since regulation began this entire class of coastal wetlands has declined by more than 50 percent and been replaced by dense stands of cattails.
Return of a cornerstone mammal. The muskrat is an essential habitat engineer whose year-round grazing on cattails creates openings on which other animals and plants depend. Muskrats have almost disappeared from Lake Ontario coastal marshes since regulation began, and their beneficial effects will nearly quadruple under Plan BV7.
Economic Benefits
Significant economic investment. The economy of the Great Lakes depends on the health and beauty of the lakes and their ecosystems. A 2007 cost-benefit analysis by the Brookings Institution demonstrates that each dollar of restoration brings two dollars of benefits to the economy of the Great Lakes region.
Improved conditions for recreational boating and commercial shipping. For the vast majority of years, Plan BV7 will extend the season for recreational boating by avoiding the rapid draw-down of the Lake and upper River as under the current plan. Plan BV7 would also improve conditions for commercial navigation in the River by reducing shipping delays.
Additional recreational opportunities. Healthier Lake and River wetlands will support stronger populations of native fish and wildlife, improving the area's hunting and angling, and strengthening the recreational economies that rely upon them.
Less flooding and more hydropower. Plan BV7 would slightly decrease the risk of flooding in the lower River while enhancing hydropower production in Canada and the U.S.      
Shoreline Benefits
Protection from flooding. Plan BV7 will ensure water levels are managed in ways that will minimize the risk of flooding to shoreline property.
Continued protection for property owners. Plan BV7 is estimated to save property owners on the lake and upper river $24 million dollars a year by reducing the cost of maintaining shoreline properties when compared to no regulation. This may be 12 percent lower than the current level of support offered to shoreline property owners, but it is still a significant benefit.
Rebuilt shorelines. Restoration of low water to Lake Ontario will help rebuild shoreline property.  In some areas, once sandy beaches have been replaced with rocks and cobbles, a result of the current plan's absence of naturally occurring low water conditions.
For more information, click here.
—————
Save The River and The Nature Conservancy represent more than 17,000 homeowners living on the lake and river, business people, environmentalists, hunters, anglers and recreational users of the St. Lawrence River and Lake Ontario. The groups have a combined 85 years of experience conserving and advocating for these bodies of water and the people who use them. Save The River was formed in 1978 to protect and preserve the ecological integrity of the Upper St. Lawrence River through advocacy, education, and research. The Nature Conservancy's mission is to conserve the lands and waters on which all life depends.
WWF is creating solutions to the most serious conservation challenges facing our planet, helping people and nature thrive.
Plan BV7 has been formulated over the course of ten years with the input of more than 180 stakeholder representatives, experts, and scientists from government agencies, academia, NGO's and industry in New York, Ontario, and Quebec.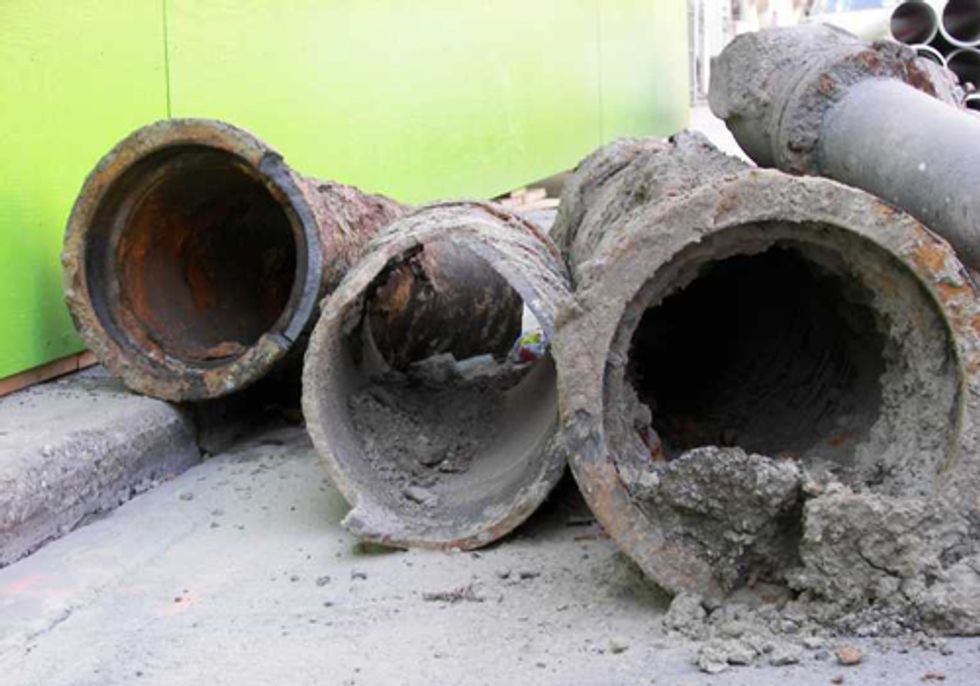 Innovative financing and pricing flexibility are key to preparing the nation's aging freshwater systems to handle growing demand and environmental challenges, according to a Charting New Waters report released Jan. 26 by The Johnson Foundation at Wingspread, American Rivers and Ceres.
The Financing Sustainable Water Infrastructure report, is the product of a meeting convened by The Johnson Foundation, in collaboration with American Rivers and Ceres, which brought together a group of experts to discuss ways to drive funding toward the infrastructure needed for the 21st century.
Largely built on systems developed during the 19th and early 20th centuries, U.S. water infrastructure faces profound problems of aging components, outdated technology and inflexible governance systems ill-equipped to handle current consumption, environmental and economic problems.
Presently, about 6 billion gallons of expensive, treated water is being lost in the U.S. each day due to leaky and aging pipes—some 14 percent of the nation's daily water use. This pervasive water waste is underscored by the fact the American Society of Civil Engineers gives the nation's water systems a D-, the lowest grade of any infrastructure including roads and bridges.
The report concludes that rebuilding and operating our water systems as they are presently built would be enormously inefficient. One major problem is the very nature of the systems themselves—where drinking water, stormwater and wastewater are built, financed and operated as entirely distinct units rather than as more efficient, interconnected systems. Another major problem is myopic, inflexible water-pricing systems that fail to distinguish between various water uses and generally undervalue water.
In order to achieve more sustainable, resilient and cost-effective freshwater systems, the report recommends bold new approaches for financing and operating public water systems, including:
• Local water solutions that can improve efficiencies, including green infrastructure, closed-loop systems and water recycling
• Flexible water pricing and revenue structures that distinguish between drinking water and various other types of water, such as lawn water and toilet water
• System-wide, full-cost accounting of water services and financing mechanisms
• Less reliance on state and federal funding and more reliance on private, market-based financing mechanisms that can support local, customer-supported solutions.
"While the deteriorating state of the nation's water infrastructure is not a secret, we have lacked workable strategies and policies to finance the changes needed," said Lynn Broaddus, director, Environment Programs at The Johnson Foundation. "This report addresses the critical linkage between financing and sustainability that was initially raised by the Charting New Waters consensus report in 2010. It's not enough to pay for new water infrastructure—we need the financing to actually drive a new, sustainable water infrastructure that will take care of generations to come."
 
Jeffrey Odefey, director of Stormwater Programs at American Rivers, said, "Clean water and resilient ecosystems are absolutely vital to our health, our communities, and economy. This timely report lays out clear directions to ensure that our communities grow into the future with safe, reliable water supplies and healthy rivers and streams."
Sharlene Leurig, senior manager of Water and Insurance Programs at Ceres, said, "This report makes clear that our nation's water infrastructure system is broken and dramatic changes are needed. Rethinking how we finance and operate our vast water systems is not a choice, it's a must. We have the engineering and land use tools we need to ensure our water systems can stand up to 21st century challenges. The key will be partnerships and cooperation between business, government and public interest groups to finance these new tools."
The Johnson Foundation is releasing this report as part of its work with Charting New Waters, an effort it formally launched in 2010 dedicated to catalyzing new solutions to U.S. freshwater challenges. Charting New Waters is composed of a diverse group of leaders from business, agriculture, academia and environmental organizations that have publicly committed to improving U.S. freshwater resources by advancing the principles and recommendations of the group. 
The initial phase of work led to the release of Charting New Waters: A Call to Action to Address U.S. Freshwater Challenges, a consensus report issued on Sept. 15, 2010. Download the report here.
As part of its ongoing Charting New Waters effort, The Johnson Foundation is also hosting a series of Regional Freshwater Forums that convene experts to examine freshwater challenges, successes, innovations and potential solutions that can bridge geographies and inform national policy. The first Forum took place in Denver, Colo., in October 2011.
For more information, click here.
—————
The Johnson Foundation at Wingspread is dedicated to serving as a catalyst for change by bringing together leading thinkers and inspiring new solutions on major environmental and regional issues. For additional information about Charting New Waters, or to learn more about The Johnson Foundation at Wingspread, visit www.johnsonfdn.org.
Ceres is an advocate for sustainability leadership. It leads a national coalition of investors and public interest groups working with companies to address sustainability challenges such as global climate change and water scarcity. Ceres also directs the Investor Network on Climate Risk (INCR), a network of 100 institutional investors with collective assets totaling about $10 trillion. For more information, visit www.ceres.org.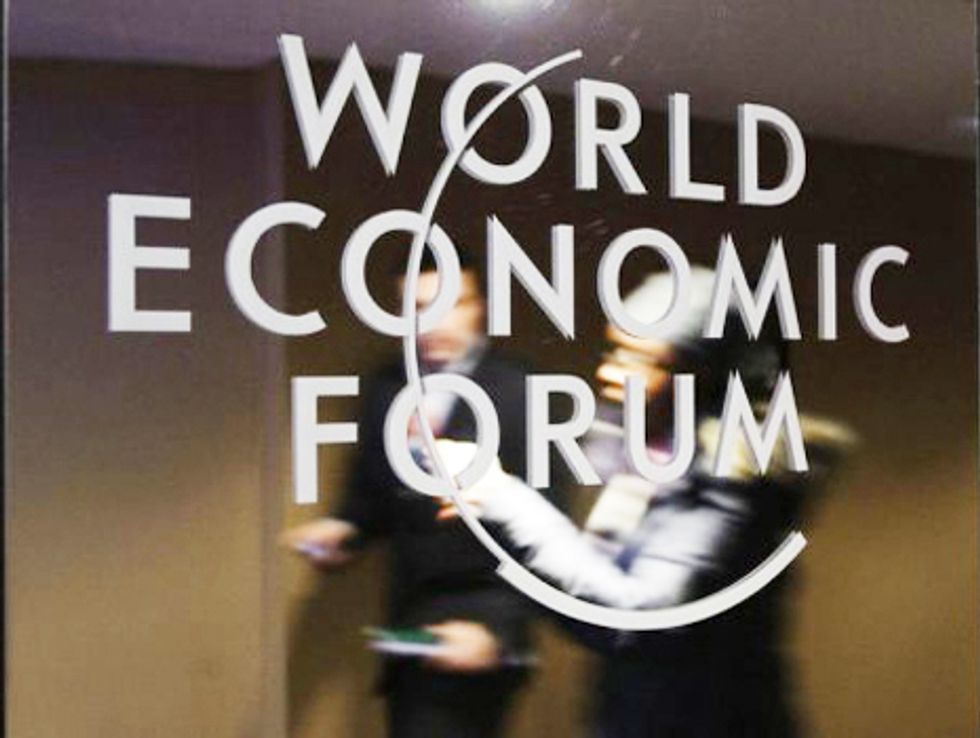 The World Economic Forum (WEF), meeting this week in Davos, Switzerland, is the biggest annual gathering of influential thinkers and leaders from the worlds of business, politics, media and civil society. World Wildlife Fund (WWF) Director General Jim Leape explains why WWF is there.
What are the main environmental issues on your mind going into this year's World Economic Forum in Davos?
There is an ever greater need for a sustainable approach to business—especially regarding resource use, in a world of rapidly increasing consumption. Humanity is already using the equivalent of over 1.5 planets—yet for life we all rely on clean air and healthy freshwater resources, abundant forests and thriving natural ecosystems.
WWF is active in preserving freshwater systems, ocean life and forests; encouraging the use and development of renewable energy; reducing the impact on natural resources of major commodity supply chains like paper, palm oil and soy; and generally lightening humanity's footprint on the natural world. We envision a future where humans live in harmony with nature, and we partner with major players on the world stage—politicians, civil society, faith groups, labour unions, businesses and many others—in achieving that goal.
The theme of this year's Davos event is 'The Great Transformation: Shaping New Models," and this links closely with WWF's vision of change that makes room for both social and environmental sustainability. We only have one planet, and a finite bank of precious natural resources. But with bold and thoughtful solutions, there is ample room for green businesses to thrive within a model of global sustainable development.
In recent years, WEF has proved to be an increasingly important place to engage with companies on sustainability. Good initiatives have started to emerge regarding water, agriculture and sustainable consumption—and I look forward to see how these good intentions can become more concrete in the coming days and weeks.
The WEF event in Davos is an opportunity to catch up with business and corporate contacts. How important is WWF's work with the private sector, and why should businesses care about the environment?
Business and industry have a massive impact on natural resources, and companies have a duty to ensure that they use those resources sustainably. We all benefit from products and services in our daily lives, but the private sector should be encouraged to conduct its business in a way that entails a minimum impact on the natural world and the ecosystems on which we all depend.
Companies that want to be competitive today and tomorrow should be concerned about sustainability. Licence to operate is being increasingly influenced by environmental and social performance—and this trend will only continue.
WWF engages with corporate partners to bring about real change on the ground—supporting responsible businesses to reduce their ecological footprint.
The next big event this year is the Rio+20 summit on sustainable development in Brazil in June. What does WWF hope will come out of that global gathering?
Two decades after the first Earth Summit in Rio de Janeiro, Brazil, this year's Rio+20 conference is a major opportunity for the world to commit to charting a course for creating shared prosperity within the limits of this one planet. Twenty years ago the term 'sustainable development' came into currency, but this has still not been followed by sufficient action in making the concept a reality. Rio is an opportunity to put things back on track.
I am hopeful that Rio+20 will prove a catalyst in sparking new commitments and urging major players—including governments, businesses and others—to stretch themselves in aiming for a more sustainable approach to what they do. The WEF in Davos this week is an ideal platform to inspire governments, corporate players and others to step up and prepare the road to Rio.
For more information, click here.