This website uses cookies to ensure you get the best experience while browsing it. By clicking 'Got It' you're accepting these terms.


The best of EcoWatch, right in your inbox. Sign up for our email newsletter!
Scott Pruitt speaking at meeting at the USDA headquarters in Washington, DC, on Jan. 17.
Lance Cheung / USDA
As part of ongoing litigation, the Sierra Club has demanded that the U.S. Environmental Protection Agency (EPA) search Scott Pruitt's personal email accounts for work-related emails, or certify clearly and definitively that the administrator has never used personal email for work purposes. The demand comes on the heels of a successfully litigated Freedom of Information Act (FOIA) request for all of EPA Administrator Scott Pruitt's email and other communications with all persons and parties outside the executive branch. These facts were first reported in Politico early this morning.
U.S. Environmental Protection Agency (EPA) administrator Scott Pruitt directed staff to delay or withhold the release of requested public records relating to his scandal-ridden tenure at the agency, according to the top Democrat on the House Committee on Oversight and Government Reform.
EcoWatch Daily Newsletter
By Elizabeth Schuster
Monday, I participated in a meeting hosted by the White House Council on Environmental Quality and the Environmental Protection Agency on financing water infrastructure.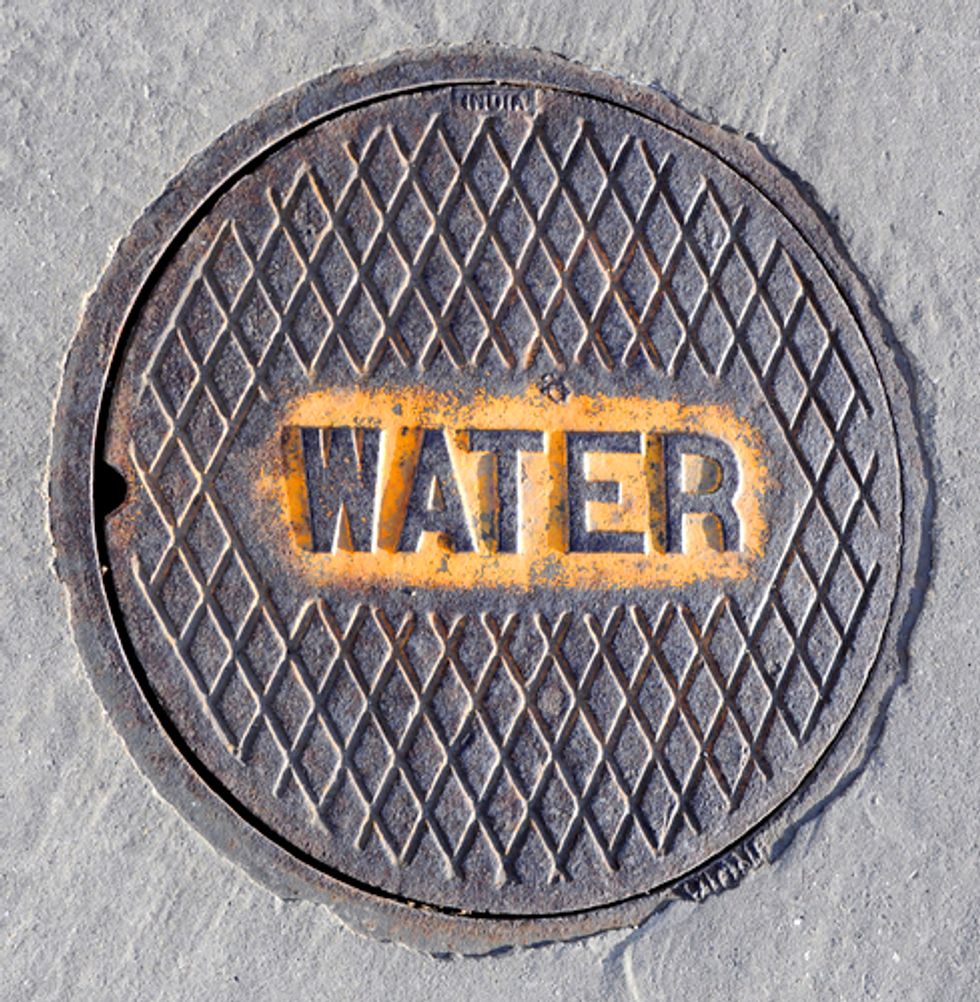 Photo courtesy of Shutterstock
Although I applaud the administration's efforts to convene a discussion about the enormous need to invest in our nation's aging infrastructure, I was discouraged that much of the meeting focused on promoting public-private partnerships and attracting more private financing for public water systems.   
Throughout the meeting, a misleading notion was continually raised that using private capital to fund water systems somehow constitutes an innovative approach to financing. This couldn't be further from the truth. Time and again, municipalities and consumers have suffered under privatized water systems.  
As if attempting to package and sell privatization as a new trendy approach isn't alarming enough, the chief financial officer of American Water, the nation's largest water company, added insult to injury when she asked about the status of the company's proposal that the Internal Revenue Service modify its rules to allow companies that take over privatized municipal water systems to retain public tax benefits on the system's existing debt. 
Why not just give private companies like American Water the same tax-exempt status on bonds as public utilities? That's actually another proposal out there these days. Apparently, this so-called "innovative" private financing requires government tax breaks and special treatment to compete with traditional public financing.
This is not the first time American Water has floated this proposal to the federal government. In response to a Freedom Of Information Act request filed by Food & Water Watch in November 2012, we learned that American Water's proposal had made it to the Treasury Department in September. Then in March of this year, the company included its proposal in testimony submitted to the House Appropriations subcommittee. Talk about persistence.  
Modifying the tax code to allow private companies like American Water to receive the same tax benefits on its financing as our public, local governments would not level the playing field.  It would give companies an unfair and unjustified advantage. Worse, unlike with local governments, there is no guarantee that lowering the borrowing costs for private companies will result in greater investments in our water systems or lower water rates for consumers. The companies could just pocket most of the savings, using the lower debt costs to rationalize higher returns. That means we would sacrifice tax revenue to pad the profits of the water privatization industry. 
We have to keep tabs on their next moves and continue to protect our water systems. At the end of the day, privatizing our public water systems is not an innovative approach to delivering clean, safe, affordable water to U.S. communities. Instead, we should stick to a tried and true method—keeping water in public hands. If we want to talk actual innovation, why not establish a steady source of federal funding for community water systems so no municipality ever has to entertain the notion of privatizing its water. 
Visit EcoWatch's WATER page for more related news on this topic.
——–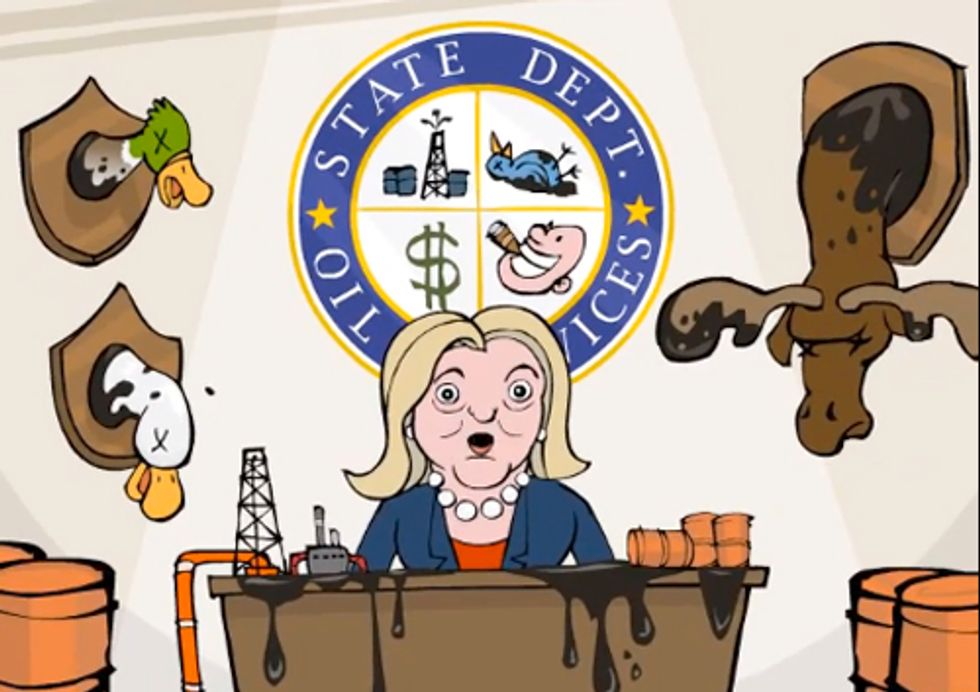 Environmental group Friends of the Earth sued the State Department on Feb. 23 to gain access to communications between the department and a broad web of lobbyists promoting the Keystone XL tar sands pipeline.
Friends of the Earth, represented by Earthjustice, filed a Freedom of Information Act (FOIA) request in October 2011, asking the State Department to release communications between the department and employees of TransCanada, the Canadian oil company seeking to build the Keystone XL pipeline, or between the department and employees of pro-pipeline lobbying firms McKenna Long & Aldridge, Bryan Cave LLP and DLA Piper.
Two of the lobbyists named on this FOIA request, Gordon Giffin with McKenna, Long & Aldridge and James Blanchard with DLA Piper, were fundraising bundlers for Secretary of State Hillary Clinton's 2008 presidential bid. DLA Piper was also the largest single corporate source of employee and PAC contributions to Hillary Clinton's campaign. The campaign connections also extend to President Obama. Jeff Berman, a lobbyist listed on Bryan Cave's Keystone XL lobbying account, was director of delegate selection in Obama's primary campaign and was called the "unsung hero" of his victory.
"Despite the administration's recent rejection of the Keystone XL permit, TransCanada is forging full-speed ahead on a new permit application, and pro-pipeline lobbyists are keeping the pressure on the State Department to approve this controversial and misguided pipeline," said Damon Moglen, climate and energy project director at Friends of the Earth. "The communications we seek are key to ensuring that the State Department isn't letting lobbyists' personal connections to Secretary Clinton or President Obama bias its decision-making."
Friends of the Earth filed a previous lawsuit against the State Department for failure to respond to a December 2010 FOIA request, leading to the release of correspondence between State Department officials and Paul Elliott, TransCanada's lead Washington, D.C. lobbyist, who was formerly one of Hillary Clinton's presidential campaign managers. Revelations about other lobbyists with close ties to Secretary of State Hillary Clinton and their potential influence on the review process for the Keystone XL permit led the environmental groups to file this FOIA request for those additional lobbyists' communications. The State Department has ignored that request.
"Emails released in response to our first Keystone XL FOIA request revealed an inappropriately cozy and accommodating relationship between TransCanada and State Department officials," said Moglen. "From conflicts of interest, to insider advice, to outright cheerleading from within the department, those FOIA documents revealed a corrupted and broken process. With TransCanada continuing to push for a permit for this controversial project, the public deserves to know the full details of oil lobbyist relationships fueling this project. The State Department must not hide documents from the public that could shed further light on serious problems in the initial review of the Keystone XL pipeline—problems that contributed to the biased and incomplete environmental review of the pipeline the first time around."
"The billions of oil dollars backing this pipeline should not interfere with government transparency. The public has a right to know how our government is making decisions that have potentially grave consequences for our environment," said Earthjustice attorney Abby Rubinson.
The complaint filed on Feb. 23 against the State Department is available by clicking here.
For more information, click here.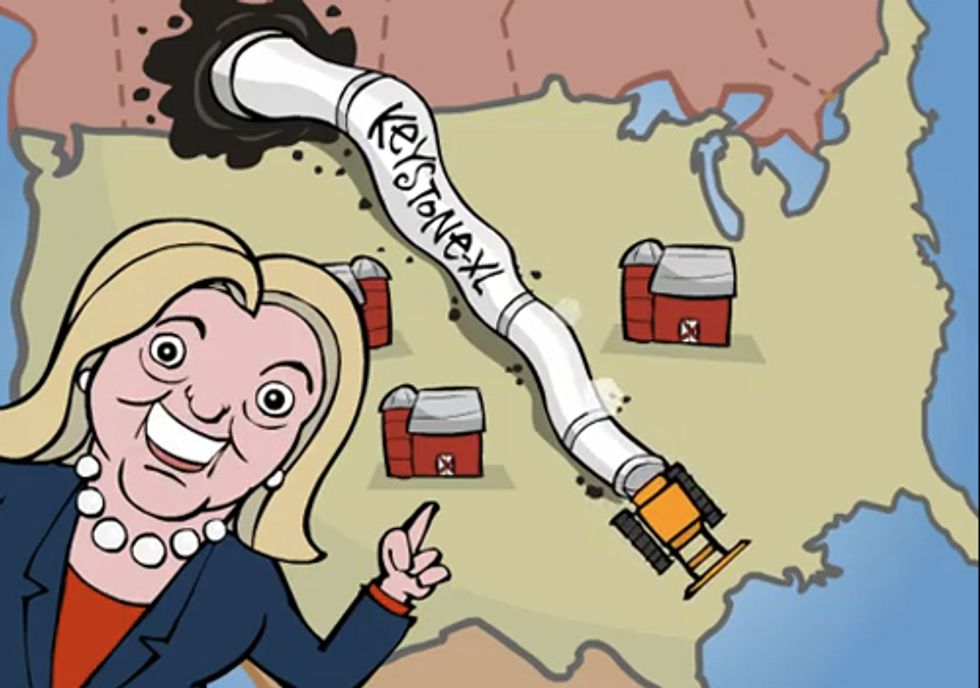 In a move sure to turn up the heat on a conflict-of-interest scandal that has been simmering for months, the State Department told Friends of the Earth this week that it will reject a Freedom of Information Act (FOIA) request for contracts involving the firm Cardno Entrix's work on the review of the Keystone XL tar sands oil pipeline.
Prior to President Obama's rejection of the pipeline last month, the State Department had run an environmental review process that was widely criticized as being rife with bias, lobbyist influence and conflicts of interest. The role played by Cardno Entrix, the contractor chosen by the State Department at TransCanada's behest to oversee drafting of the environmental impacts review as well as the public comment process, has been especially controversial. Cardno Entrix's long history of involvement with the oil and gas industry and with TransCanada in particular—which it listed as a major client—raised significant conflict of interest concerns. An October 7 New York Times expose revealed that the State Department "flout[ed] the intent of a federal law" aimed at ensuring impartiality when it hired Cardno Entrix, and numerous members of Congress subsequently called for investigations.
Yet now, in apparent violation of federal law, the State Department has indicated it will reject Friends of the Earth's Freedom of Information Act request for the State Department's contract or contracts with Cardno Entrix or TransCanada.
State Department program analyst Tangie Ellis acknowledged in a Dec. 14 email that the State Department has a list of "over six pages of contracts" consistent with Friends of the Earth's FOIA request and asked whether Friends of the Earth would be willing to pay to obtain them.
Yet by Jan. 24 the department's tune had changed. Ellis wrote in an email that "the Department of State has not issued any awards to either of the contractors Entrix and/or Cardno" and that "unfortunately the Department of State isn't one of the agency that handle this kind of request," [sic] advising Friends of the Earth to ask other federal agencies for the State Department's contracts.
"Simply put, the State Department's response to our Freedom of Information Act request has been bewildering, and it's unacceptable," said Marcie Keever, legal director at Friends of the Earth. "It's not clear whether gross incompetence or willful disregard for the law is at play, but either way, the result is the same—the public is being denied its right to see a document that could reveal serious problems in the review of the Keystone XL pipeline—problems that may have led the State Department to understate the damage to the environment that the pipeline would cause."
Friends of the Earth pledged to continue its pursuit of the documents.
"This matter is far from over," Keever said. "We will use all the legal tools at our disposal to force the State Department to comply with the law and release its contract with Cardno Entrix."
Friends of the Earth's correspondence with the State Department in regard to this Freedom of Information Act can be read by clicking here.