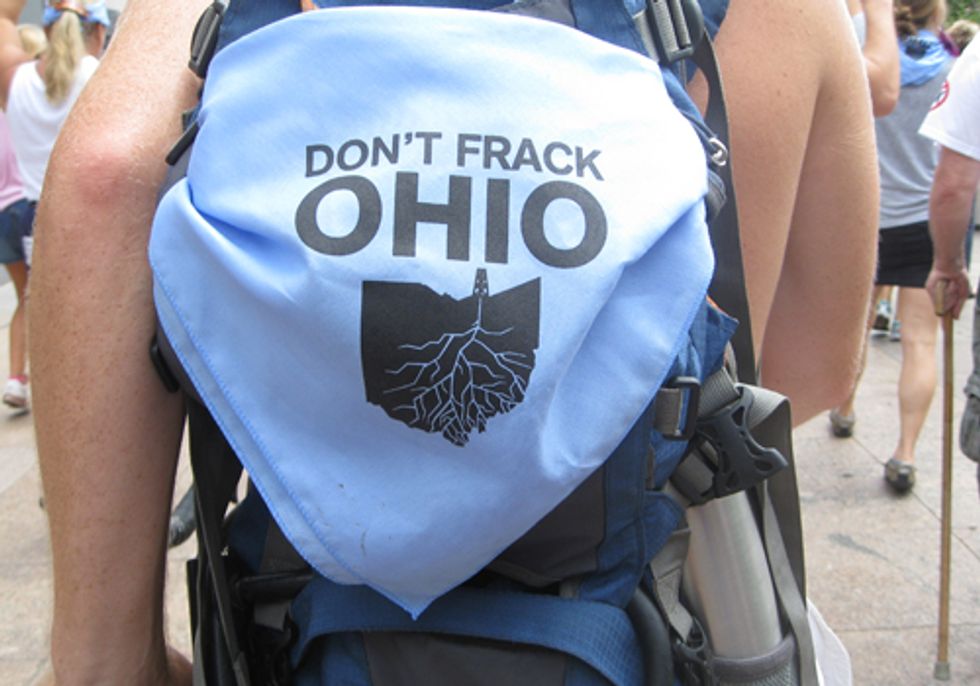 Communities across Ohio are launching an effort to work with their local officials to pass resolutions that affirms citizens' rights to clean water and air, acknowledges the dangers of hydraulic fracturing of shale gas and demand return of local community control.
The resolutions will be non-binding but the citizens' resolve to let local communities decide is steadfast. Increased awareness that the use of fracking technology is destructive to public health, the environment and economic stability has also led to the realization that this industry is destructive to representative government.
"Fracking the shale to extract oil and gas is a highly industrialized process that turns residential and farming communities into industrial zones. Our communities should have the right to decide what happens in their community and whether or not that is what they want," said Gwen Fischer, a member of Concerned Citizens Ohio.
As a result of legislation passed in Ohio in 2004, residents and local municipalities lost their ability to protect their communities from fracking gas wells, toxic injection wells, and other oil and gas operations. Sole authority over oil and gas operations in all Ohio communities was given to the Ohio Department of Natural Resources.
"The key to the solution lies in the people demanding that their local and state elected officials honor their oath of office to protect their health, safety and welfare," said Sandra Bilek, co-founder of Concerned Citizens of Medina County. "Local control needs to be returned and the elected leaders in Columbus need to start working for the people and return to Constitutional concepts that this country and state were founded on, not taking corporate dollars for corporate driven legislative decisions." 
"Citizens are waking up. Local elected officials are waking up. People are tired of being pushed around, led around and given the run-around by corporations," said Lou Giavasis, Plain Township board of trustee. "Corporations have not been given permission to tell us what to do or how we should run our cities, villages and townships. The lack of local control is an assault on 'we the people's' right to protect our own community politically, economically and environmentally,"
In an effort to ensure that their residents health, safety and property rights are protected municipalities are passing resolutions that highlight the importance of local control and community protection.
Over the next several months, community groups will be working to get these local resolutions passed. Concerned residents are taking action in every corner of the state and are striving to highlight the injustice of gas development and the need for self-determination.
Ohio Grassroots groups involved in this effort, include: Concerned Citizens of Lake Township, Concerned Citizens of Medina County, Concerned Citizens Ohio, Concerned Citizens of Summit County, Cuyahoga County Concerned Citizens, Defenders of the Earth Outreach Mission, Frackfree America National Coalition, Youngstown, Gas and Oil Drilling Awareness and Education, Licking County Citizens Concerned for the Environment and Public Health, Mothers Against Drilling In Our Neighborhoods, Stewards of the Land, SW Ohio No Frack Forum, and Williams County Alliance.
Visit EcoWatch's FRACKING page for more related news on this topic.
EcoWatch Daily Newsletter
More than 50 youth vote activists with the Energy Action Coalition rallied outside of the Obama for America campaign headquarters in Chicago yesterday, calling on President Obama and Mitt Romney to take action to address climate change and support clean energy. The rally coincided with the release of Mitt Romney's energy plan, which made no mention of climate change, and launched the Power Vote campaign, which will mobilize hundreds of thousands of young voters to turn out in the elections and call for clean energy and climate action.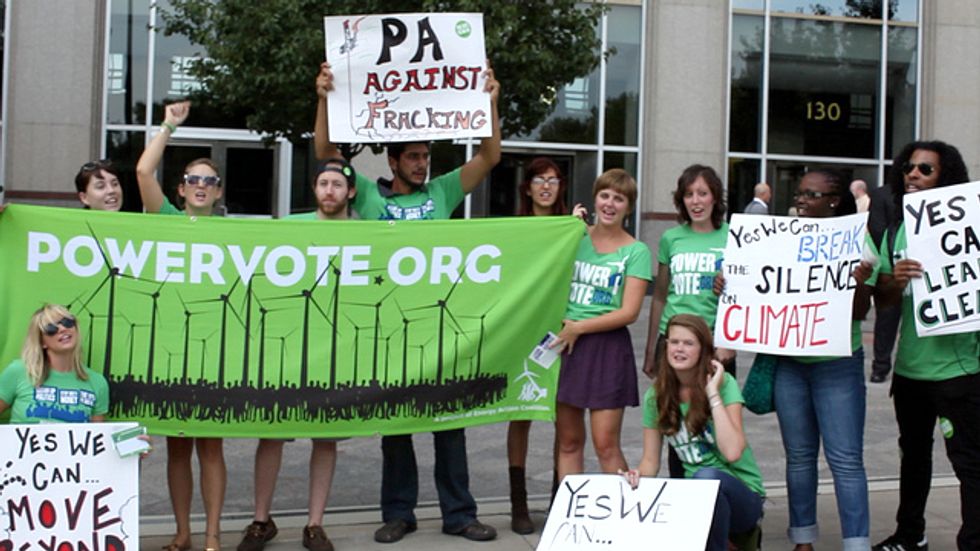 "We're breaking the silence on climate change, and building grassroots support for action so that President Obama, Mitt Romney and other candidates have to answer to young voters on climate change," said Maura Cowley, executive director of Energy Action Coalition. "Romney's energy plan, which is nothing more than ridiculous handouts to Big Oil and Big Coal, and makes absolutely no mention of climate change, adds fuel to the fire for young voters to get out there and demand leadership from the candidates."
Power Vote will support thousands of youth organizers to mobilize hundreds of thousands of young voters for clean energy and climate action, and call on candidates to stop stalling and start leading on climate change. President Obama and Mitt Romney have been silent on climate change. The Power Vote campaign is building grassroots support for climate action and demanding President Obama, Mitt Romney and other candidates break the silence and start taking action.
"In Ohio young people want to see President Obama and Mitt Romney stand up to the Oil & Gas industries and stop supporting handouts for dangerous fracking," said Kate Dye, a student and Power Vote leader at Columbus State Community College. "President Obama and Mitt Romney need to start addressing climate change with action for a clean energy economy, and stop dirty fracking from impacting the health of young people in Ohio."
The 50 youth vote leaders with Energy Action Coalition were gathered in Chicago this week for an intensive grassroots organizing training. The training and rally marked the beginning of the larger Power Vote campaign, which will kick-off on campuses as the fall semester starts, and will include a series of election related events, national days of action and the release of an online organizing tool that allows grassroots supporters to build their own campaigns.
Visit EcoWatch's CLIMATE CHANGE page for more related news on this topic.
--------
Energy Action Coalition is a coalition of 50 youth-led environmental and social justice groups working together to build the youth clean energy and climate movement. Working with hundreds of campus and youth groups, dozens of youth networks, and hundreds of thousands of young people, Energy Action Coalition and its partners have united a burgeoning movement behind winning local victories and coordinating on state, regional and national levels in the U.S. and Canada.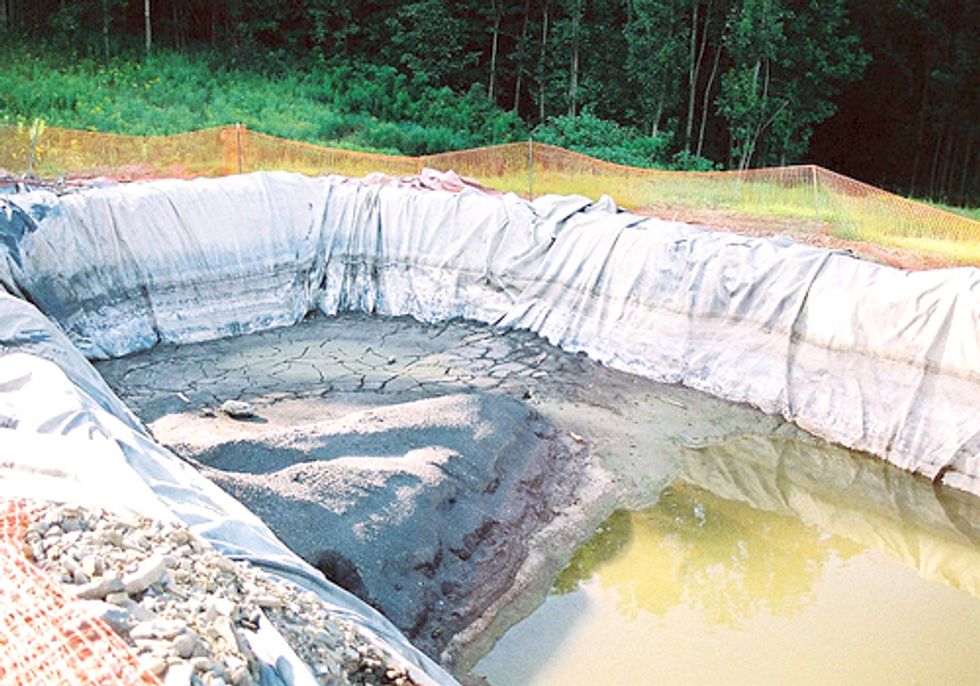 Network for Oil and Gas Accountability and Protection (NEOGAP) and Frackfree America National Coalition (FANC) are coordinating a national grassroots rally called Freedom from Toxic Fracking Waste: National Rally Day. The event on Sept. 12 will help raise public awareness of what the groups believe are serious risks to public health, safety and well-being posed by the millions of gallons of toxic fracking waste continually produced by the shale gas and oil drilling industry.
A national coalition of local coordinators and groups in communities across the U.S. will hold simultaneous rallies throughout the day to shine light on the numerous problems associated with toxic fracking waste and its disposal, including its links to earthquakes, spills and leaks.
"The public is not being fully or adequately informed of the risks of fracking and related processes to public health and safety and well-being," said geologist Susie Beiersdorfer of FANC and Frackfree Mahoning Valley.
"We are calling for increased transparency and public awareness about the truth of toxic fracking waste, which can contain naturally occurring radioactive material and numerous toxic chemicals or known carcinogens, like benzene, toluene, ethylbenzene and xylene, that could find their way into drinking water sources or into soil and air via leaks, surface spills near waterways or well casing failures."
The groups believe that the rosy picture of drilling for oil and gas painted by slick, expensive radio and television advertisements by the gas and oil industry does not represent the real experiences of many everyday concerned citizens who live near injection wells or along the routes where fracking waste is, or will be, transported and possibly spilled. The groups say that there are too many unanswered questions about fracking waste, partially because gas and oil companies are exempt from the Safe Drinking Water Act.
According to the coalition, every newly permitted fracking well will result in millions of gallons of toxic fracking wastewater being created, transported and disposed of. Although the fracking waste is frequently referred to by the industry or others as "brine," "saltwater," or "produced water," the groups believe that these euphemistic terms are highly misleading and give the public a false sense of reassurance about the alleged safety of the fracking waste.
"The truth is that the risks imposed by the production, transport and disposal of toxic fracking waste are creating a serious public health problem," said Vanessa Pesec of NEOGAP.
"Toxic fracking waste can expose the public to a number of chemical and radioactive carcinogens, neurotoxins and pulmonary and cardiovascular toxins. Children, whose immune systems are still developing, workers on drill sites and those handling toxic fracking wastes are especially vulnerable to risks as are persons living or working near drilling sites, along toxic fracking disposal routes or at or near toxic fracking waste injection wells."
FANC and NEOGAP cite a Columbus, Ohio news story that illustrates how not knowing the components of fracking waste can put communities and first responders at unnecessary risk. They ask: How can cities and townships effectively prepare for an emergency when they don't know what the substance is that they are dealing with?
The groups say that even though the following news story is from Columbus, the news report is relevant for every state that faces the possibility or present reality of fracking, which will result in the need to transport and dispose of waste, thereby increasing the chance for spills and leaks.
For more information, visit the Freedom from Toxic Fracking Waste: National Rally Day Facebook event page.
Visit EcoWatch's FRACKING page for more related news on this topic.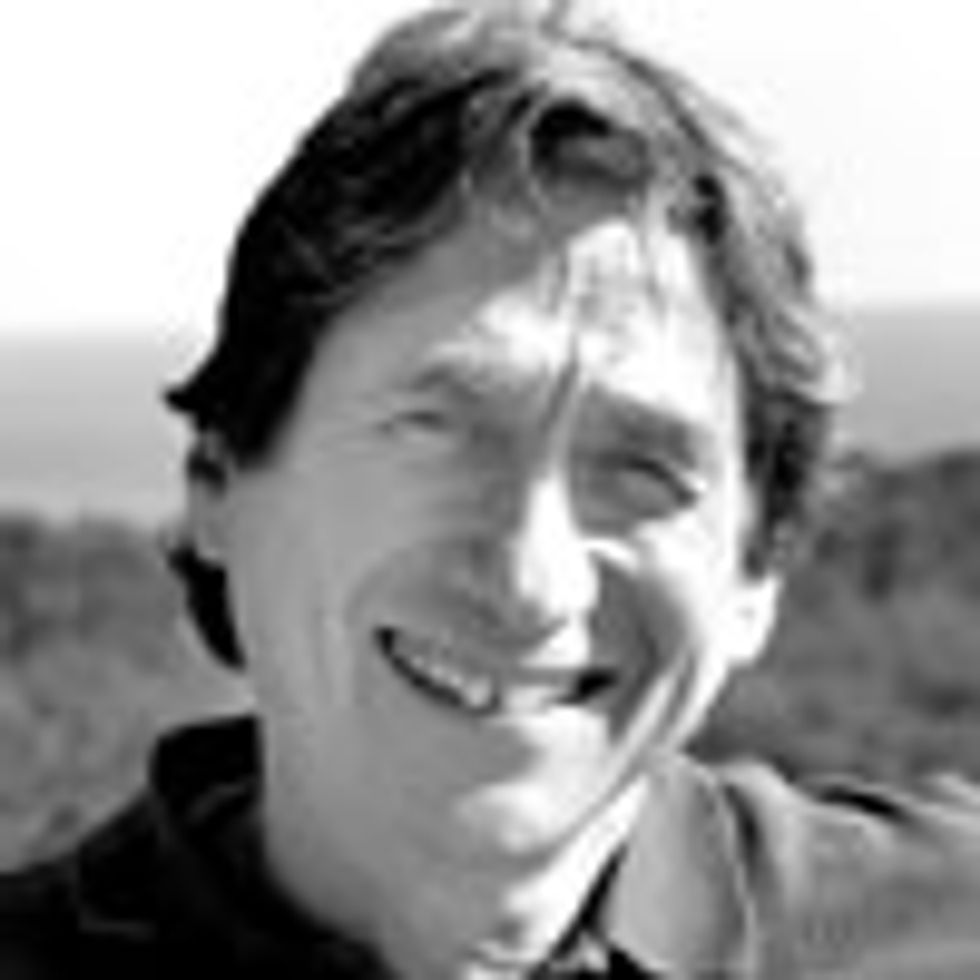 Renewable "green" energy will be the biggest industry in the history of humankind. Jay Warmke's When the Biomass Hits the Wind Turbine is a great way to learn all about it.
Jay is blessed with an off-beat sense of humor and a wonderful way of narrating truly earth-shattering history with aplomb and a light, loving touch. "I don't remember a time when the world wasn't about to end," he begins.
Neither do I.
But given this summer's life-threatening heat, its record drought and on-going string of apocalyptic ecological disasters, we could be easily convinced that unless we do something—NOW!—our ability to live on this earth could indeed come to a crashing halt.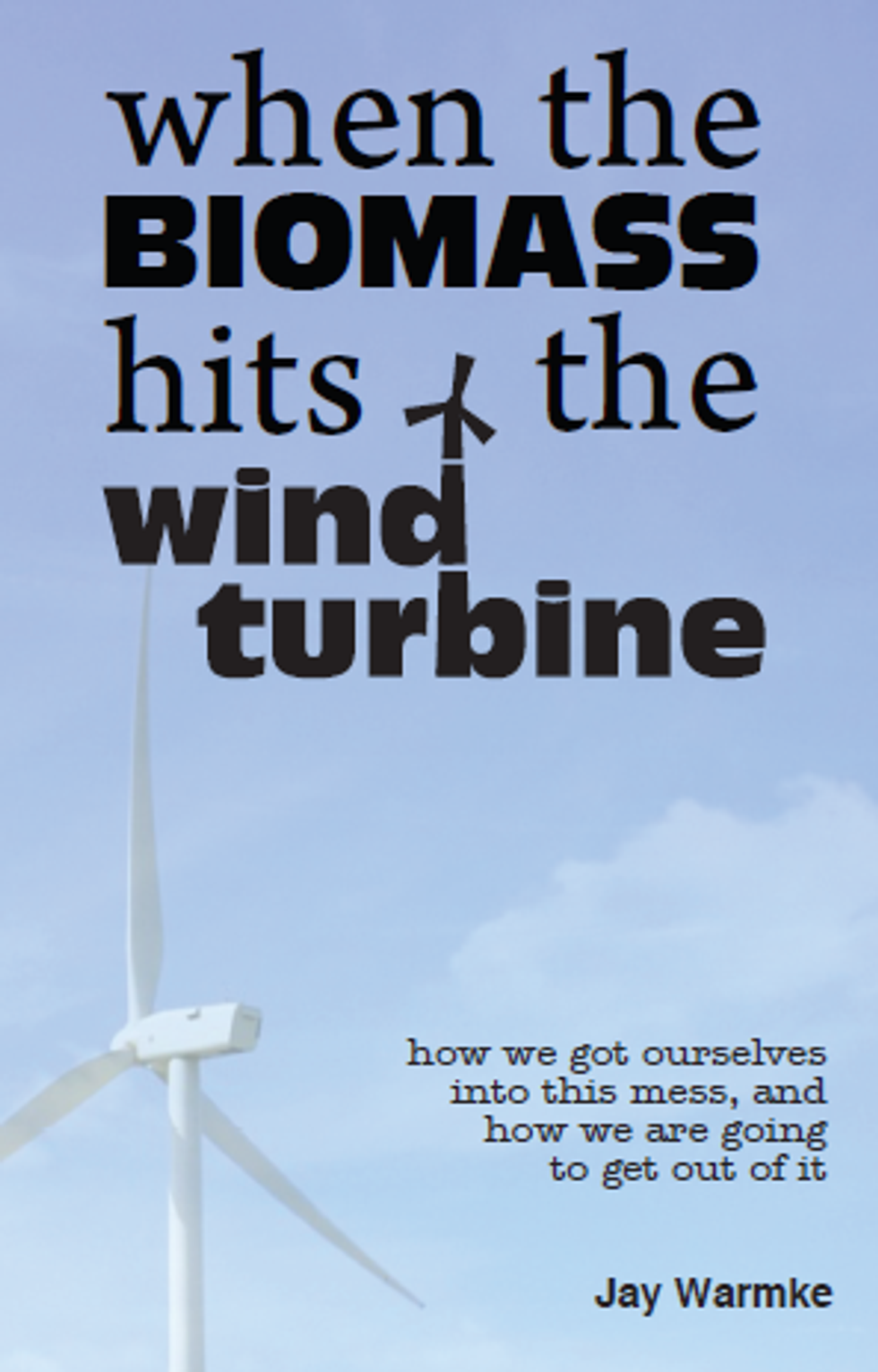 With his wife and collaborator, Annie, Jay has founded an ecological community called Blue Rock Station, near Zanesville, Ohio. It features green power along with tours and classes designed to further our knowledge and commitment to a world worth saving.
His book opens with some obligatory personal history from a guy who grew up when "the price of fossil fuels is way too cheap."
To explain why, Jay backs us up to 1491, the year before native Americans discovered Christopher Columbus on their beach. We learn about charcoal, peat and the reason the Mayans dropped from a population of 14 million all the way down to 30,000 (hint: it had to do with energy and trees).
We learn that Pope Celestine 3 believed that since wind came from God, His church had the right to issue (or deny) permits for windmills. Warmke says as many as 4,000 operated in England when William the Conqueror took a census in 1086. The number jumped to more than 10,000 a century later.
None of them were used to generate electricity, discovered by Ben Franklin not with a kite (he would've been fatally electrocuted) but with a parlor game device that generated shocks just for the fun of it. It was Franklin who invented the term "battery" when he hooked up Leyden jars in sequence and used the system to zap a chicken. Ben later reported that the electrocuted meat was "uncommonly tender."
But for all the fun history—and there's a lot of it in this book—the most interesting time is the present. As Warmke points out, the era of the photovoltaic (PV) cell is rapidly accelerating. "The installed base of PV within the U.S. has more than doubled," he says. Since 1980 the price of PV modules has dropped from more than $20/watt to well under $5. As General Electric and others have confirmed, the price of solar-generated electricity—long dismissed as being far too high to be practical—is about to drop below installed new coal generators.
Which means, simply put, that even if you're a 1 percent billionaire who hates hippies and the planet, you're still going to invest in solar over nuclear, coal or oil.
In fact, says Warmke, in the face of the Solartopian revolution, the whole fossil/nuclear business is nothing but smoke and mirrors. "For the foreseeable future," he writes,"the battle for newly installed electric power will be between natural gas, wind and solar."
But the horrifically destructive fracking process by which natural gas is being mined is ecologically and economically unsustainable. Aside from destroying our water and bringing on earthquakes, Jay writes, fracking simply does not pay. It's heavily subsidized, barely covers investment if at all, and will not last. Ditto tar sands, the Keystone Pipeline and all the other insanely expensive eco-ripoffs being perpetrated by the corporate elite.
Instead, says Warmke, we're now in the midst of the greatest technological revolution in history, and its color green stands for both the planet and profit. As knowledge and mastery of PV improves, every building, every machine, every vehicle will be covered with it.
Like wind power, biofuels and nearly all other green energy technologies, PV power stations nearly always come on line ahead of schedule and under budget. And they are always "misunderestimated." According to the Renewable Energy Policy Network for the 21st Century, projections for how far and fast green energy would spread have been consistently low-balled. And not by a little. In many cases the predictions for the spread of renewable energy have been off by a factor of ten and more, in terms of energy produced, dollars invested and viability of market price.
To help prove the point Warmke provides a fascinating history of the electric car. It was, after all, the original plan of Thomas Edison and Henry Ford to have a global auto industry based on batteries. As you ran out of charge, you simply drove into a station and traded out your limp battery for a freshly charged one.
But back then the power of the oil cartels was stronger than the magnetism of an electric vehicle. Rockefeller's petroleum—which had been used primarily to produce kerosene for lighting—suddenly became the basis for a new fuel called gasoline (airplanes still fly on a variation of the original kerosene).
Way too late, we are finding our way out of the fossil fuel dead end. Worldwide hybrid sales have jumped from virtually zero in 1997 to nearly 700,000 just 13 years later.
And as solar/wind-driven electricity skyrockets in popularity, the electric car has returned. It has come most importantly in the form of the hybrid, especially Toyota's Prius. Initially dismissed by bloviating "experts," the gas/electric combo is delivering 60 mpg and more in commercially available automobiles that look a hell of a lot like "regular" gas-driven planet killers.
In his brilliant chapter on "The Rebirth of the Electric Car," Warmke predicts that within 30 years half of all passenger cars will be electric or hybrid (if green patterns hold true, it will come a lot sooner). The most serious problem today, Jay says, may be that battery technology currently limits the range of an electric vehicle to 100 miles or less on a single charge.
But most people don't drive anywhere near that many miles every day. An automobile is usually on the road an hour a day or less. The batteries are rapidly improving. And "electric filling stations" are starting to proliferate. The heavily traveled Route 5 Corridor through Washington, Oregon and California is about to host the West Coast Electric Highway, with charging stations every 40-60 miles along the way. With the speed and power of the charge improving daily, 2 million or more electric cars may travel Route 5 alone.
But what makes green energy so exciting in general is its astonishing adaptability. According to Warmke, a new breakthrough now involves "the invention of a process whereby photovoltaic panels can actually be produced in a manner very similar to printing."
And, he says, "by printing the photovoltaic energy source directly on the surface of nearly any suitable product (be it paper or cloth or plastic), the only added cost will be in the production, not in the material."
As that happens, electrical generation will be everywhere. Politically, it will undercut the power of the energy corporations in particular, and all corporations in general. Distributed generation, as it's often called, will mean everyone can generate and use their own industrial energy, regardless of what the corporate 1 percent has to say or wants to charge.
Overall, Jay Warmke's often funny, always compelling excursion to Solartopia makes it clear that when it comes to green power, "opportunities abound that will make the Industrial Revolution look like a second-rate warm-up act for the real show."
And the real show is a green-powered economy that is sustainable, inexpensive and provides jobs for all those who want them.
As Warmke concludes: "One thing is certain. It's sure going to be exciting."
As is his book. Take it, read it and enjoy. Then go out and work. Shut a nuke. Stop a coal-burner. End fracking.
I'm sure if you visit Jay and Annie at Blue Rock Station, they'll have some suggestions. And that they'll be every bit as fun, provocative and productive as this excellent book.
Visit EcoWatch's RENEWABLES page for more related news on this topic.
—————
Harvey Wasserman's Solartopia Green Power & Wellness Show is at www.progressiveradionetwork.com, and he edits www.nukefree.org. Harvey Wasserman's History of the U.S. and Solartopia! Our Green-Powered Earth are at www.harveywasserman.com along with Passions of the PotSmoking Patriots by "Thomas Paine." He and Bob Fitrakis have co-authored four books on election protection, including How the GOP Stole America's 2004 Election, at www.freepress.org.
By Tish O'Dell and Michelle Aini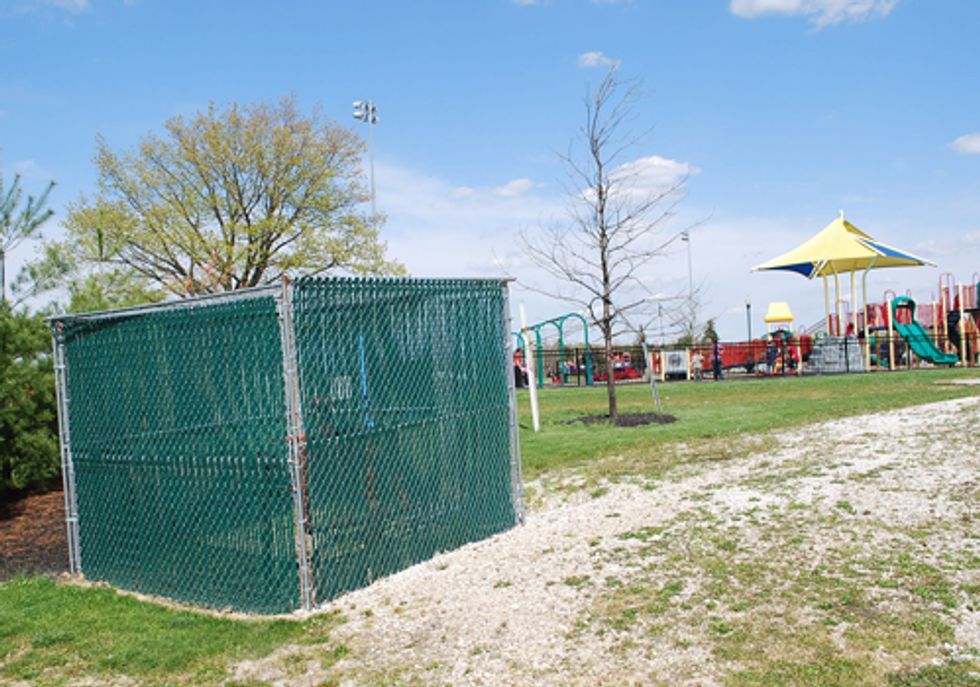 Why are Broadview Heights, Ohio residents accepting the loss of their rights? Is it because many of them don't even realize that their rights, their children's rights and the rights of our local officials have been taken away by the state and oil and gas industry?
When many people purchased or signed rental agreements for their homes in Broadview Heights, Ohio, they did it thinking that their homes were in residentially zoned areas and neighborhoods. Today, to their surprise, as trees are cleared and trucks move in, residential neighborhoods are no longer residential. Rather, they're being converted into industrial zones for the oil and gas drilling industry. Broadview Heights has nearly 90 wells in backyards, next to playgrounds and on school properties in its 13 square mile suburb.
When council representatives were contacted, residents were told that the State of Ohio has taken all control away from local officials when it comes to the oil and gas drilling industry. Shouldn't the city have a constitutional right to self governance? Or is a rich and powerful industry able to usurp that right by lobbying for or purchasing control of our government? Once they control the government, it is easy to pass laws and regulations to deny citizens their rights in favor of the industry.
Fracking and drilling in our neighborhoods is not inevitable unless we surrender through inaction. Inaction means continuing to live with the risk of explosions, methane leaks, oil spills and toxic chemicals being deposited into our air, water and soil. Inaction means continuing to not be concerned for the welfare of our own health and the health of our children due to exposure to these chemicals. Inaction means continuing to suffer the decline in property values that so many residents are now experiencing. Inaction means continuing to allow Broadview Heights to become a toxic dumping ground for the gas and oil drilling industry.
We are Americans, and as Americans we have inalienable rights. The state has authority only by consent of the governed. The state has no authority to issue permits to state-chartered corporations that deny Americans their inalienable rights. Some may argue for the rights of residents and businesses to sign leases to allow fracking and drilling on their property. Leaseholders have exactly the same right to the peaceful enjoyment of their property as their neighbors. But, no one in the city has the right to use their property in a way that threatens or harms the rights of their neighbors or the community as a whole.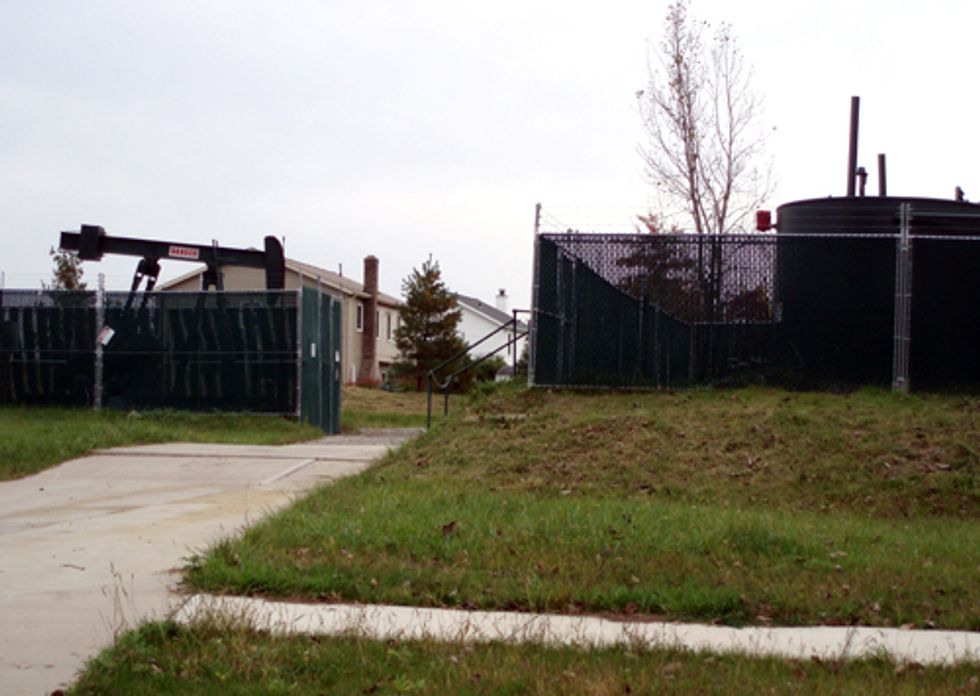 As Americans, we have fought for our rights for more than 200 years. We must continue to fight for our rights or risk losing more of them. In Broadview Heights, some residents have decided to try and stop the madness. They have attempted to educate their elected officials on the importance of protecting residents and the environment of Broadview Heights. Unfortunately, these elected officials are not standing up to the industry and politicians in Columbus. Therefore, the residents of Broadview Heights have launched a petition drive to place a Community Bill of Rights into the city charter by a vote of the people.
If residents can collect enough signatures to get this bill on the November ballot and get the residents to pass it, this Bill of Rights will prevent more drilling from taking place in their city and neighborhoods. This is the first step to assert our rights, take back control of our community and send a clear message to the state that we will not surrender our rights as Americans.
Let's stop being complicit in the ruination of our city, state and country. Let's stop settling for regulating the rate of destruction of our neighborhoods and communities.
For more information, click here. If you are interested in helping with the petition drive, click here and fill out the email form.
Visit EcoWatch's FRACKING page for more related news on this topic.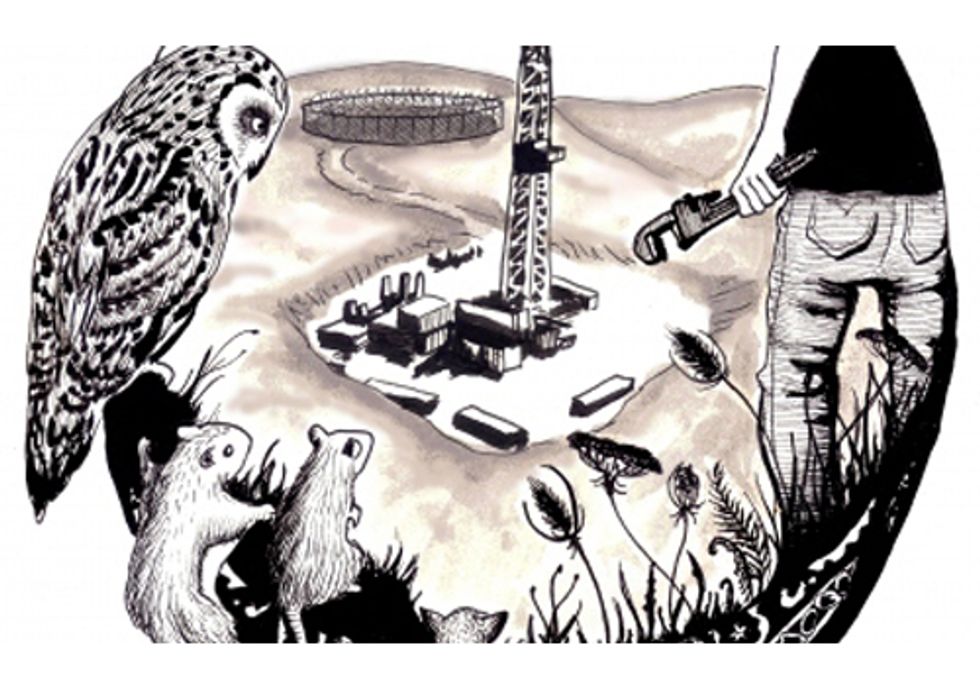 Activists from Marcellus Earth First! have erected a slash pile blockade and two tree sits blocking an access road to an EQT hydro-fracking site in Moshannon State Forest in Clearfield Co., Pa., halting drilling operations set to begin this week.
The blockade is trying to stop the further destruction of Pennsylvania's state forests—more than half of which have already been leased for drilling—and call attention to the devastating effects of hydrofracking on communities. The sitters' anchor lines are blocking the road by crossing each other and the road, and if an anchor line is cut a sitter will fall.
Today's blockade is the latest in a series of escalating actions of resistance to the destructive impacts of hydrofracking in the Marcellus Shale. For the latest updates on this action, click here.
Last May, residents of Butler County occupied the office of State Representative Brian Ellis, demanding accountability for widespread contamination caused by horizontal drilling.
In June, seven families, along with dozens of supporters, blocked the entrance to the Riverdale Mobile Home Community to prevent their imminent eviction at the hands of Aqua America PVR. Aqua America sought to destroy their homes and construct a water withdrawal facility permitted to extract up to three million gallons of water from the Susquehanna River daily for use in fracking. Residents were able to maintain the blockade for 12 days.
On June 17, more than 1,000 Ohioans stormed the statehouse in Columbus and passed a "people's resolution" banning hydrofracking.
Most recently, a 31-year-old landowner from Athens County, Ohio chained herself to concrete barrels and shut down operations at one of Ohio's 170 injection wells, which contain about 95 percent of the toxic and radioactive fracking waste generated from Pennsylvania drilling.
Momentum in the anti-fracking battle will continue to build across the Marcellus and Utica shale regions throughout July. Next weekend, residents from Ohio and beyond will gather at an anti-fracking action camp in Youngstown and prepare to enforce the "people's resolution" against fracking.
The upcoming months show the beginnings of a national rebellion against extractive industry across the board. On July 28, anti-frackers from across the nation will gather in Washington D.C. for "Stop the Frack Attack," the largest mobilization against fracking ever.
In West Virginia, Appalachians and allies will stand together at the "Mountain Mobilization" and shut down an active strip mine the last week of July.
In Montana,the "Coal Export Action," a ten-day campaign of civil disobedience at the beginning of August will target coal shipments from strip mines in the Powder River Basin, overseas. And later in the month, Texas residents have called for the "Tar Sands Blockade" to block the recently approved southern leg of the Keystone XL pipeline.
Where the government has failed to act to protect communities and the earth from the ravages of an out-of-control energy industry, the people are rising up to resist. No matter where you live, you have the opportunity to join the fight for our future. Find your place, stand your ground, and in the words of Mother Jones, "Boogie Chilluns."
Visit EcoWatch's FRACKING page for more related news on this topic.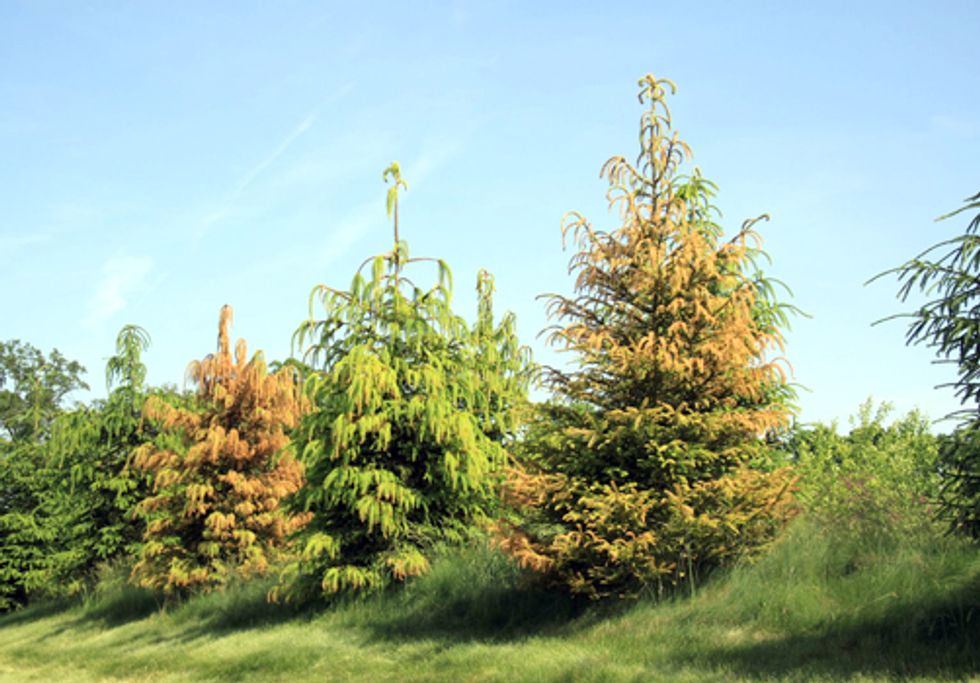 The agribusiness conglomerate DuPont has received more than 30,000 damage claims arising from its sale of a pesticide that resulted in death and injury to hundreds of thousands of evergreen trees, particularly Norway spruce and white pine. DuPont marketed the pesticide, sold under the trade name Imprelis, based on a conditional registration that the U.S. Environmental Protection Agency (EPA) granted in 2010.
Soon after Imprelis became commercially available the next spring, EPA began receiving widespread reports of tree death and injury from landscapers and residential users who had applied the pesticide according to its label conditions. EPA issued an immediate stop sale order for Imprelis on August 11, 2011 after DuPont submitted reports of more than 7,000 reports of tree damage.
The New York Times reports that DuPont has set aside $225 million for claims that have already been submitted, and that the payout could ultimately reach $575 million. These figures do not include costs related to a class-action lawsuit filed by thousands of homeowners, landscapers and others, consolidated in federal court in Philadelphia. Some claimants are frustrated by the pace of the claims process and communications from the company.
"We're hearing nothing," said Janet DaPrato of Columbus, Ohio, who had two trees die last year and has had two more die since. "We put in a claim for two trees, and now the problem is getting worse."
Conditional registration is allowed under Section 3(c)(7) of the Federal Insecticide, Fungicide and Rodenticide Act prior to the registrant submitting all statutorily required data. EPA is authorized to grant a conditional registration on the assumption that no unreasonable adverse effects on environmental and human health will result. As the case of Imprelis confirms, conditional registration actually allows EPA to bypass statutory safeguards and rush pesticides with unknown and unevaluated risks to market. It often takes years before EPA receives the relevant data, and sometimes that data is not submitted before the 15-year reregistration review cycle required for all pesticides.
EPA's decision to grant conditional registration to the systemic insecticide clothianidin further illustrates the dangers of approving a pesticide before completing a rigorous and comprehensive appraisal of its risks. EPA granted a conditional registration to clothianidin in 2003 despite the absence of a required field study satisfying the statutory requirement that the pesticide not impose "unreasonable adverse risks" to pollinators, including honey bees. Nine years later, EPA still lacks an acceptable study satisfying this legal requirement yet the agency continues to allow the widespread use of clothianidin and similar neonicotinoid insecticides. Substantial new research is emerging that neonicotinoid insecticides have cumulative, sublethal effects on bees including neurobehavioral and immune system disruptions that are contributing to the Colony Collapse Disorder that is decimating bee hives globally. To take action to reverse the catastrophic damage caused by clothianidin and other neonicotinoid insecticides, visit Beyond Pesticide's Pollinators and Pesticides webpage.
The active ingredient in Imprelis, aminocyclopyrachlor, is biologically active in soil and rapidly absorbed by roots and leaves. Aminocyclopyrachlor is in the chemical class of the pyrimidine carboxylic acids, which is similar to pyridine carboxylic acid herbicides that includes the herbicides aminopyralid, clopyralid and picloram.
The two classes of herbicides share characteristics, including high persistence in the environment, systemic incorporation into plants and high toxicity during seedling emergence. The pyridine carboxylic acid herbicides are so persistent that they resist breakdown even when passing through the gut of ruminants that consume forage on which the pesticides have been applied. Organic farmers and gardeners have linked herbicide-contaminated manure and compost obtained from non-organic farms and dairies to severe crop damages.
Visit EcoWatch's BIODIVERSITY page for more related news on this topic.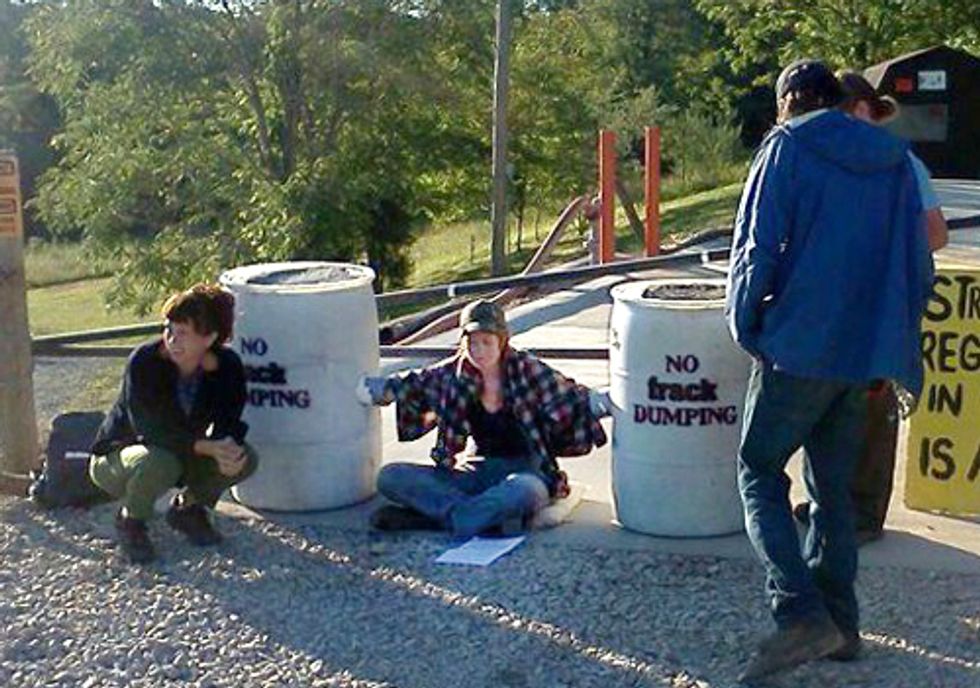 Results from a sample of brine from hydraulic fracturing operations have revealed numerous hazardous materials, leaving many residents increasingly frustrated at the inaction of Ohio's Division of Natural Resources (ODNR), the agency responsible for regulation of the state's shale development.
The lab results indicate high levels of alpha particles, arsenic, barium and toluene, among other contaminants, and are cause for the brine to be classified as "hazardous," according to Ben Stout, professor of biology at Wheeling Jesuit University who interpreted the results. Stout labeled the results as "eerily similar" to brine samples taken by West Virginia's Department of Environmental Protection. He describes heavy metals found in the sample as "grossly above standard," citing skyrocketing arsenic and barium levels that exceed the primary standard for acceptable drinking water concentrations by 370 and 145 times, respectively.
Alpha particles indicate elevated levels of radioactivity and have been linked to lung cancer. High levels of barium are associated with organ failure, and both toluene and arsenic are highly carcinogenic. A partial review of ODNR inspection records on 116 injection wells from 2000-2011 reveals a legacy of brine spillage in at least twelve Ohio counties. In many cases, no remediation has occurred because the ODNR does not classify brine as hazardous waste.
"Ohioans have been asking ODNR to test the fracking wastewater coming into our state from Pennsylvania and West Virginia for a long time," said Madeline ffitch, a 31-year-old landowner from Athens County who was arrested for blocking access to the Hazel-Ginsburg injection well on June 26. The Ginsburg well contains an open pit storage site from which the hazardous material analyzed by Professor Stout was obtained. ffitch recalls how a worker who oversees the Ginsburg injection well assured her that "just water" is stored in the pit. "ODNR is failing in their responsibility to this Ohio worker," ffitch said. "Why haven't they tested this frack waste and made the results public?"
Upon reviewing Stout's analysis of the brine sample earlier this week, Ohio State Rep. Bob Hagan (D-Youngstown) sent a letter to Gov. John Kasich and ODNR Director Jim Zehringer on June 27, stating, "I am writing to express serious concern that the safety and health of Ohio citizens is in jeopardy from the chemical contents of fracking wastewater ... When was the last time ODNR tested the make-up of brine and other fracking waste?" As of July 2, he has received no reply.
The ODNR has authority to order testing of brine before it is injected under section 1509.06 of the Ohio Revised Code. Rick Simmers, ODNR's Oil & Gas Division chief, and other ODNR officials have received numerous written and oral requests from Ohio residents to order testing of brine, dating back to as early as Jan. 3. In an email dated Feb. 17, ODNR Records Coordinator Beth Wilson admitted that ODNR had "not completed any sampling on the out-of-district fluids injected to date." In response to a public records request filed in June asking ODNR to release all testing relevant to fracking brine, ODNR Geologist Tom Tomastik provided no test results taken after 1989, nearly two decades before Ohio began to accept massive quantities of waste from high volume hydraulic fracturing operations in Pennsylvania, West Virginia and as far away as Texas.
A recent scientific review by ProPublica entitled Injection Wells: The Poison Beneath Us, states: "Records from disparate corners of the United States show that wells drilled to bury this waste beneath the ground have repeatedly leaked, sending dangerous chemicals and waste gurgling to the surface or, on occasion, seeping into shallow aquifers that store a significant portion of the nation's drinking water."
Last week, New Jersey's legislature banned the processing of fracking waste by a margin of 30-5, citing health and environmental concerns.
While neighboring states are taking steps to minimize brine injection, ODNR collects a fee of 20 cents on each barrel of brine injected from fracking operations out of state. Last year, 95 percent of Pennsylvania's fracking brine was disposed of in Ohio. The injection program has secured the ODNR more than one million dollars in brine fees between last January and September 2011 alone, causing some residents to criticize this apparent conflict of interest.
"Keeping their jobs and creating new ones is totally dependent on keeping the waste flowing," said Elisa Young, a resident of Athens, Ohio. "Refusing to analyze the waste when they have the authority to do it while allowing these out-of-state companies to dump unknown toxins in volumes of waste sufficient to induce earthquakes is tantamount to poisoning us for their paychecks."
ffitch added that Ohio residents taking action to test brine "are putting their health and safety at great risk to do the job that should rightfully fall to our state regulators. The burden should not be on residents to defend the legitimacy of work that the ODNR has failed to do all along. Anyone with doubt about the accuracy of these results needs to demand that ODNR immediately sample brine for independent testing."
Speakers at today's press conference at the Statehouse included:
Ruth Partin, a Monroe County mother who lives near the site of a miles-long brine spill that has not been remediated. Ruth's 12-year-old daughter will also be present.
Elisa Young, a community organizer from Athens with extensive experiences requesting brine sampling and other information from the ODNR.
Madeline ffitch, an Athens County landowner who was arrested June 26 for blockading the Ginsburg Hazel well in protest of the ODNR's failure to test brine.
Visit EcoWatch's FRACKING page for more related news on this topic.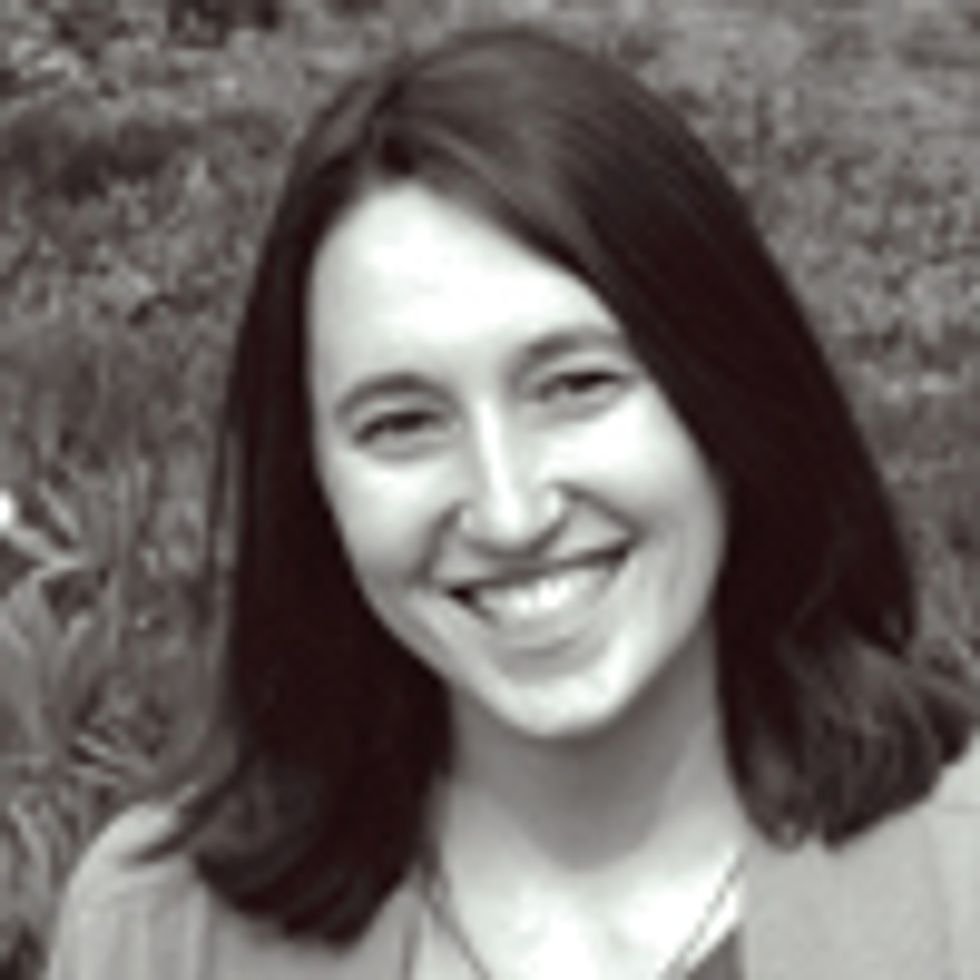 Without a hammer, the house designs of the world's greatest architect are worthless. Without a kitchen, a five-star chef's recipes are of no use. And environmentalists who dream of a sustainable world but are without the tools to build it can't do much.
A small energy company wants to build a wind farm. A young person hopes to be an organic farmer. A homeowner looks to erect solar panels on her roof. A school aspires to super-insulate its building. An entrepreneur plans to start a local organic food business. Another wants to start a local construction business to build the highly energy-efficient and furnace-free Passiv Haus.
What do these steps toward sustainability have in common? They all require an upfront capital investment, namely money. Initially, it takes some green to be green. Without financing the best intentions to cut carbon fall short.
Ohioans can try to conserve energy at home, but if 86 percent of their electricity is coming from coal-fired power plants, how much progress can be made? And in a poorly-insulated, drafty house, or driving a gas-guzzler how much energy can one save? At some point personal behavior changes aren't enough. To become sustainable, we need large-scale investments, which require capital.

Unfortunately money and lines of credit to do so are not easy to come by these days. Many of us are barely able to keep up with our current expenses and increasingly governments are cutting back. Let's face it: The financing for sustainable infrastructure projects and start-up businesses comes from private banks, lending at compound interest. If they won't lend, we can't go green.
For example, the village of Yellow Springs, where I live, recently cancelled a contract with Columbus-based SolarVision to build a $10 million 2.5-megawatt solar farm on municipal land that was expected to provide 10 percent of the town's electricity. In 10 years, the community could have purchased the array to have a secure, renewable, locally-produced power source for decades to come.

But the deal was called off because SolarVision struggled to raise money from so-called institutional investors, such as banks, insurance companies and mutual funds, which are now seen as reluctant to support renewable energy projects in the wake of the Obama administration's Solyndra fiasco last year, as well as concerns that Ohio may revoke its renewable energy portfolio standard, according to Mike Dickman, SolarVision's vice president. "With all of that, it makes investors run hot and cold,"  he said.
If SolarVision could successfully raise the $60 million to $80 million it needs for its planned 10 Ohio solar projects totaling 20.5 megawatts, it could nearly double the current solar capacity of the state. What stands between Ohio and green electricity—and other sustainability projects—are the banks and other reluctant investors.
There has to be another way. In other words, how can we get access to the financial tools necessary to build a sustainable world? The answer may be through public banking, and one state, North Dakota, points the way.
That's because North Dakota is home to the nation's only state-owned bank, created in 1919 following a tide of farm foreclosures. The bank, with state revenues as its primary deposit base, leverages capital to lend directly or through partnering with community banks to promote development of commerce, agriculture and industry in the state, whose population of slightly less than 700,000 is about one third the size of metropolitan Cleveland's.
The North Dakota bank makes loans to local businesses, farmers, college students and others. By partnering with the state bank, local banks can expand their loan portfolios, make bigger loans, retain customers and better compete with the big Wall Street banks. And the interest payments which go to the state bank could be used for additional lending as well as to reduce state taxes.
How exactly would public banks accelerate sustainability efforts though? According to a fact sheet  prepared by green-conscious organizers for a proposed public bank in the District of Columbia in the nation's capital, public banks can help re-localize goods and services within a local economy thus reducing a community's dependence upon global trade and its high energy costs. And these public banks can invest in infrastructure for electric vehicles, building efficiency improvements, small organic farms and local food distribution systems and community composting and recycling programs.
North Dakota, incidentally, has the lowest unemployment rate in the country and is the only state to have a significant budget surplus every year since the financial crash of 2008, while most states currently have budget shortfalls, according to the California-based Public Banking Institute, which also says that legislation to create a state-owned bank or study the idea has been introduced in about a third of the states since 2010. Ohio is not one of them.
However, at the request of Ohio Rep. Nan Baker the Ohio Legislative Services Commission studied the North Dakota model last year, comparing it with current lending programs in Ohio. The commission's cursory report suggests that a state bank in Ohio, with all state money deposited in it, would adversely affect financial institutions which now act as public depositories for state funds. But the report does note that the Bank of North Dakota has transferred $555 million in profits to North Dakota's general fund since 1945. (Over the last decade the amount transferred into the general fund has increase to about $30 million a year).
The recently formed Public Banking Institute is promoting creation of public banks in states, counties and cities across America and kicked off this effort with its first national conference in Philadelphia in April.  The institute sees public banks as a way to increase government revenues and reduce the pressure for tax increases as the nation confronts the economic crises in the U.S. states. 
With the public banking movement gaining momentum, many Americans have been moving their deposits from large commercial banks into community banks. According to the Move Your Money Project, an estimated 10 million accounts have left the largest banks since 2010 while credit union assets rose above $1 trillion this year for the first time ever. And as part of re-localizing our economies, Americans could also divert their investments from Wall Street, which total an estimated $30 trillion, into such ventures as investing in local enterprises and start-ups, upgrading their homes and otherwise financially supporting community sustainability efforts.
Investing in our own communities, combined with promoting public banking in our states, counties and cities, are important steps to take in seeking to channel our savings, investments and tax dollars into building the physical and financial infrastructures that will allow us to live more resiliently on far less energy as we face the consequences of dwindling fossil fuels, climate change and economic decline in the 21st Century.   
Visit Public Banking Institute for more information.
Visit EcoWatch's ENERGY page for more related news on this topic.
Jamie Frederick
[Editor's note: On Sunday, June 17, Jamie Frederick spoke at the Don't Frack Ohio event where more than 1,000 people marched from Arch Park in downtown Columbus to the Ohio Statehouse and occupied the rotunda. In the Statehouse rotunda, Frederick shared her story which is provided below.]

Thank you all for having enough common sense and common decency to be here today. I really wish we didn't have to be here at all. It's a real shame that on Father's Day we have to be here defending Ohio's natural resources instead of being out there enjoying them. It's a real shame that we have to come here in the year 2012 with all of the technology for clean energy that is available and defend our need for clean air and clean water. It's a real shame that we have to defend ourselves against man made earthquakes and droughts as a result of fracking. Yet here we are: trying once again to get the attention of a government that is supposed to be protecting our health and safety, but with SB 315 has once again failed miserably. This bill does nothing to protect me from from having yet one more well drilled across the road from my home. It does nothing to change what was done to me and keep it from happening to anyone else. 
I came here in January from Youngstown and spoke of how fracking has taken away my quality of life in hopes that someone would listen and stop this insane practice forever. The short version is that I unknowingly drank fracking contaminated water for several years, losing my gallbladder and developing an intestinal infection that nearly killed me. I choose now to never have children knowing the risks to myself caused by the infection and also knowing the birth defects that can be a result of the chemicals found in my water. I have experienced numerous negative health effects and suffered in extreme pain as a result of this drilling frenzy. When I spoke of these things that happened to me in January, I told the Governor and the gas man that they would not take my voice. Now it seems that they are finding a way to do just that. Although I feel better in some ways after I stopped drinking the water, I now have to deal with the contaminated air. The property that surrounds my home is owned by people who don't even live there. Why out of 62 acres that they could have chosen from, did Bocor Gas put the condensate and radioactive toxic waste storage tanks right next to my home–as close as they possibly could? How can this possibly be legal?  
I don't know what or how much is coming out of the tanks and neither does ODNR. What I can tell you is that I am losing my voice more all of the time.  It continues to get raspier, and my throat burns and now my gums bleed all of the time for no apparent reason. Allow me to mention that I am not a smoker. On days with high humidity and no moving air, I feel very tired and get headaches. My animals cough and wheeze, especially my cat, the tiniest set of lungs in the house. The tanks make an awful wailing noise when they go off, many times at all hours of the day and night. Another recent call to ODNR informs me that the tanks will do this for as long as the well is producing, possibly 20 years or more. A little charcoal filter is supposed to protect me from the BTEX compounds that are being spewed into my airspace surrounding and entering my home. When I asked for a copy of the filter-change-out schedule from ODNR, something that I thought surely they would require of these tanks, I was told that no such thing even exists. Something so basic as a regularly changed filter is not even on their radar.  A well is only required to have an inspection every 5 years. I find this all to be very lacking in common sense.  
On Tuesday the World Health Organization declared that diesel fumes cause lung and bladder cancer and are more carcinogenic than second-hand smoke. As we all know there is no shortage of diesel fumes in the shale fields. I always thought that living in the country meant having things like fresh air and peace and quiet. I was wrong. I always thought that our government was supposed to protect our basic human rights. I guess I was wrong about that too. We need clean energy jobs now that do not kill people and animals. If there had been solar panels and wind turbines surrounding my home instead of gas wells, I never would have gotten sick and I would now be called "mom."
So one more time while I still have a voice–to Governor Kasich and all of our elected officials: STOP PROTECTING THE GAS COMPANIES! I don't care how much money they gave you to look the other way while they poison our water and poison our air. You don't work for them, you work for the people of Ohio! How much longer will you continue to lie when the truth is right here in front of you? We are real people dying out here–not guinea pigs in your sick experiment! We will not stand by and let you get away with this! Fracking is Domestic Terrorism. To Homeland Security: Please Send Help! And to President Obama, if you are listening: for God's sake close Dick Cheney's Loophole once and for all!    
Below watch footage of this speech being given at the Ohio Statehouse rotunda as part of the Don't Frack Ohio event that took place last weekend in Columbus, Ohio.
On June 11, Gov. John Kasich signed SB 315 into law, turning one of the worst fracking bills in America into the worst fracking laws.
On Sunday, June 17, Ohioans mobilize to show Gov. Kasich and his friends in the Statehouse that there will be consequences for choosing to frack Ohio. The largest mobilization against fracking in Ohio's history will descend on Columbus and take over the Statehouse to pass peoples' legislation that will defend us from the gas industry.
We will show the depth and diversity of our movement this weekend. All of Ohio's major cities will be represented with big numbers, but so will parts of the state where the gas industry is strongest—places like Steubenville, Carrollton and Youngstown, where the impact of drilling is already deeply felt.
People from surrounding states are en route, too. Michigan, where the frackers are both drilling and dredging sand, is expected to show strong support. So is Pennsylvania, a state that is unfortunately vividly aware of how destructive fracking can be for communities.
Everyone who's coming has a story to share and something to contribute to the movement. We're hoping you will be there to listen and learn, but also to participate in an important turning point for the fracking movement in Ohio. If you or your friends haven't yet signed up, click here.
Here are some of the people who are coming:
Hundreds of people like you from all corners of Ohio, plus dozens of other states affected by fracking
The gas industry (yes, they'll be there to counter-protest us)
We're planning for three days of strategy sessions and trainings from June 14-16 to learn from each other and work together to build a stronger movement. Trainings will be held at the Ohio Urban Arts Center, and a full agenda is available by clicking here.
Here's a bit of what's planned:
A non-violent direct action training led by 350.org's trainers who helped make last year's Tar Sands Action a success
Workshops in organizing for local control led by Ohio's strongest local organizers
Updates and discussions about political strategy to outflank Gov. Kasich and the oil industry in Ohio
Deeper trainings in media outreach, researching campaign contributions and the economics of fracking
Art builds to make our march shine
These workshops are just a piece of the action—there are also bands and a dance party on Friday night, a panel with Bill McKibben and Josh Fox on Saturday night, and a Don't Frack Ohio contingent in Columbus' Pride Parade Saturday at 12 p.m.
If you need it, there's affordable camping space available near Columbus (sign up here), and a ride and housing board to help you make it to the action available here.
That brings us to what's happening Sunday, June 17—the main event. If you can make it for only one day, try to make it Sunday.
At 11 a.m. we'll gather at Arch Park (McFerson Commons) in downtown Columbus. There, we'll rally and get fired up for our march to the Statehouse, where we will occupy the statehouse and send an unmistakable message to Gov. Kasich: Don't Frack Ohio
We'll hear from Josh Fox and Bill McKibben, as well as green business owners, landowners affected by the gas and coal industries, and grassroots activists leading this fight at the front lines. If you're a part of this movement, you'll either see friends there or make new ones. We'll be wrapped up by 2:30 p.m. or so.
It's hard to overstate what's at stake here. We used to think that natural gas might be a help in the fight against climate change–but new studies have demonstrated that so much heat-trapping methane leaks from fracking fields that it may be just as dirty as coal.
Ohio used to be one of the country's leaders in renewable power–the solar and wind industries were sparking a manufacturing renaissance. But the 18-story gas-drilling rigs along the Ohio River are starting to make life hard for renewable energy: because they don't have to pay for the environmental damage their drilling does, they can undercut everyone else's price. "It's kind of taken the wind out of wind," one businessman explained.
We can't let that happen—we can't let Ohio turn into a pincushion, pricked with drill rigs and shaken by earthquakes. If we stay silent, special interests will win. If we speak out together, we have a chance.
Visit EcoWatch's FRACKING page for more related news on this topic.
Ohioans of all political colors agree that the federal government should be protecting and spending money to restore Lake Erie and all the Great Lakes, according to a new poll released today by the Healing Our Waters-Great Lakes Coalition. Majorities of Democrats, Republicans and Independents indicate support for continued funding of Great Lakes restoration, and for an expansive view of the Clean Water Act. Further, far more Ohioans support than oppose building a barrier in the Chicago canals to prevent an Asian carp invasion into the Great Lakes.
 
"Although it is unusual to find an issue that brings voters together across the values and beliefs that divide us, such issues do exist, and in Ohio, protecting Lake Erie and the other Great Lakes is one," said Paul Fallon, president of the Columbus-based Fallon Research & Communications, Inc., which conducted the survey. "Our polling indicates that protecting Lake Erie and the other Great Lakes is one issue that unites Republicans, Democrats and Independents. Ohioans across the political spectrum want the federal government to continue its effort to restore the Great Lakes."
 
The Healing Our Waters-Great Lakes Coalition released the poll as it calls on White House aspirants to commit to supporting Great Lakes restoration and action on Asian carp.
 
"This should be a wake-up call to both Presidential campaigns that are so focused on the Buckeye State," said Emma White, senior director at Belden Russonello Strategists, LLC, a Washington, D.C.-based polling firm that wrote the poll questions. "To be successful in Ohio and other swing states candidates must not only hold their base vote but also attract independent, unaffiliated voters. From our polling, it is clear that standing up to protect Lake Erie and taking action to beat back the invasive Asian carp are winning issues among this critical constituency."
 
"Millions of people are counting on the next president of the U.S. to stand up for Lake Erie and the other Great Lakes," said Andy Buchsbaum, co-chair of the Healing Our Waters-Great Lakes Coalition. "Great Lakes programs are producing results in communities around the region—but there is more work to do. Cutting restoration funding and failing to take action on the Asian carp will cost taxpayers more money because problems will only become more difficult and expensive the longer we wait."
 
The survey of 804 general election voters was conducted by Fallon Research & Communications, Inc., of Columbus, Ohio, from questions written by Belden Russonello Strategists LLC in Washington, D.C. Highlights of the poll include:
1) A large majority of Ohio voters (72 percent) supports continuing Great Lakes restoration funding, including 63 percent of Republicans, 72 percent of independents, and 79 percent of Democrats.  Nearly half overall (47 percent) strongly support continued funding, including a majority of men (55 percent). A majority of voters (54 percent) rejects the idea that the Great Lakes should take a budget cut along with everything else.  
 
2) Although the potential entrance of Asian Carp into the Great Lakes is not something most Ohio voters have heard a great deal about, a brief description of the problem leads fully 90 percent of Ohio voters to say they would be concerned if the fish got into Lake Erie, and a majority (57 percent) to say they would be very concerned if the fish got into Lake Erie. Familiarity and concern are both higher among men, while political party makes little impact.
 
3) Half of Ohio voters (49 percent) support erecting a barrier in the Chicago River to keep out the Asian Carp while only three in ten (29 percent) oppose that idea. Two in ten (22 percent) are unsure, not a surprising finding given the unfamiliar issue. Men are more likely to favor the barrier (53 percent), but views are equal across parties (Republicans 49 percent, independents 50 percent, Democrats 48 percent).
 
4) There is broad bipartisan support for an expansive reading of the Clean Water Act. When presented with arguments on both sides, 68 percent overall say that the Clean Water Act should cover wetlands and small streams, including 55 percent of Republicans, 66 percent of independents and 79 percent of Democrats.
"Ohio voters understand how important Lake Erie is to the environment and economy," said Kristy Meyer, director of Agricultural & Clean Water Programs, Ohio Environmental Council. "We need the next president to show leadership on this issue. Great Lakes restoration is not a Democratic or Republican issue—it is an issue of national significance and utmost urgency."
 
For decades, Lake Erie has been a bellwether for the health of the Great Lakes. Once declared "dead," the lake improved following the passage of landmark environmental protections like the Clean Water Act and an infusion of federal investment to help cities modernize sewage treatment facilities.
 
Recent federal investments are producing results across Ohio:
• Removing contaminated sediments and restoring habitat along the Ashtabula River created jobs, improved water quality and made the river suitable again for maritime commerce, fishing and recreational boating.
• Restoring one mile of Big Creek in Cleveland provided a home for fish and wildlife, curtailed flooding and reduced pollution and sediments flowing into the Cuyahoga River and Lake Erie.
• Dredging and disposing of PCB-contaminated mud and dirt in Toledo's Ottawa River led to improved water quality and the lifting of some fish consumption advisories.
But there is still work to do. Sewage pollution, invasive species, loss of wetlands and run-off of manure and excessive fertilizer into waterways that feed the Lakes have led to a resurgence of problems, most notably harmful algal blooms that pose a risk to people, fish and wildlife.
 
"The problems facing Lake Erie impact me and my business," said Rick Unger, president of the Lake Erie Charter Boat Association. "If President Obama and Governor Romney only want to talk about jobs and the economy, then I've got news for them: Lake Erie is my job. If the next president drops the ball on Great Lakes restoration or allows Asian carp to get in, then I am out of a job. And so are many others. End of story."
 
Great Lakes restoration has played prominently in the last two presidential elections. In 2004, President George Bush called on the region to craft a plan to restore the Lakes. The $20 billion plan—the Great Lakes Regional Collaboration Strategy—has been widely credited with galvanizing support restoration among conservation, business, industry and civic leaders in the eight-state region of Illinois, Indiana, Michigan, Minnesota, New York, Ohio, Pennsylvania and Wisconsin.
 
In 2008, then-candidates Hillary Clinton, John McCain, Barack Obama and Mitt Romney all committed their support to restore the Great Lakes.  In his first year in the White House, President Obama launched the Great Lakes Restoration Initiative, a multi-year investment aimed at confronting urgent problems such as invasive species, habitat destruction, toxic pollution and run-off from farms and cities.
 
"Presidential leadership," said Jeff Skelding, campaign director for the Healing Our Waters-Great Lakes Coalition, "has been essential in the effort to restore and protect the Great Lakes. We're counting on the next president to carry the torch and continue to stand and deliver for the Great Lakes. The nation cannot afford not to restore the Great Lakes—more than 30 million people depend on them for drinking water."
--------
 
The Healing Our Waters-Great Lakes Coalition consists of 120 environmental, conservation, outdoor recreation organizations, zoos, aquariums and museums representing millions of people, whose common goal is to restore and protect the Great Lakes. Follow us on Twitter @healthylakes.
Visit EcoWatch's WATER page for more related news on this topic.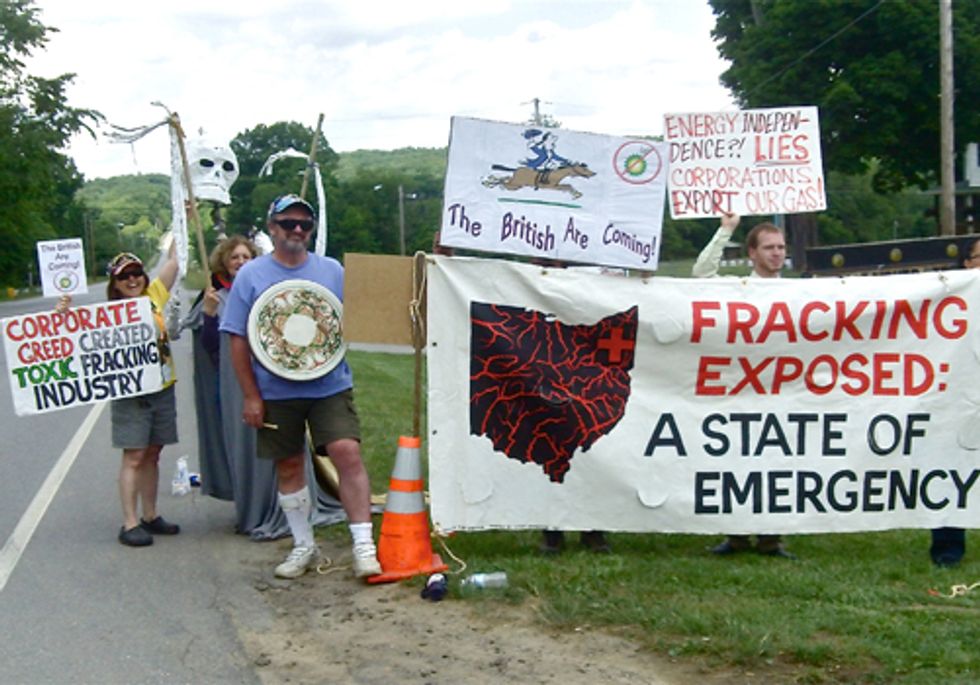 Two Trumbull County residents were arrested on May 31 outside the Ohio Shale Forum , another closed-to-the-public meeting on fracking, attended by Ohio Gov. Kasich, government officials, legislators and gas drilling representatives in Brookfield, OH.
John Williams and Jeremy Bingham of McDonald, OH were each charged with criminal trespassing. They have been released without bond and are scheduled to appear in Brookfield Township Court next Thursday. Williams, a 55-year-old Coast Guard veteran, was arrested for attempting to gain access to the meeting, citing concerns about the environmental and health impacts of increased drilling in his hometown.
"Anytime public officials convene with corporate executives without the public being invited to the table, it is plain wrong. If fracking is so safe, then why are they hiding from us? If our public officials are so intent on being legally right but morally wrong, then we have no problem being legally wrong but morally right," William said.
Before his arrest, Williams presented Rep. Tom Letson of Trumbull County with information regarding industry donations to Ohio state legislators and asked to be allowed inside the ballroom. Rep. Letson refused to assist Williams in gaining access to the meeting.
Bingham, 21-years-old, had left the property upon request of the police and returned in order to film Williams' arrest. He was then arrested without any opportunity to leave the premises. Police also confiscated literature from protesters who were attempting to voice their concerns at the entrance to the ballroom.
Fracking has been linked to cases of water contamination in towns across the country including Dimock, PA and Pavilion, WY, and methane emissions from drilling were the cause of a 2007 home explosion in Bainbridge, OH. The gas industry is exempted from the Clean Water Act and Safer Drinking Water Act and as a result, many of the chemicals used in drilling are unknown.
Recently, the Ohio state legislature approved industry-backed legislation that would gag doctors from sharing information about patients' exposure to hydrofracking chemicals. Anti-fracking groups across Ohio are working towards a massive takeover of the Ohio statehouse to pass people's legislation banning fracking, scheduled for June 17 in Columbus.
Earlier today, Frackfree Mahoning Valley, a Youngstown-based group of concerned residents, published a press release calling for public debates on fracking as an alternative to the frequent closed meetings between gas industry leaders and public officials.
"As the controversy surrounding risks of fracking and related processes accelerates nationwide, the public needs more openness, more transparency and more answers—not less. The general public, the very people and families whose health and safety are directly affected by official decisions regarding fracking, should have a say and an important seat at the table. They do not at this meeting. Officials are not getting the whole picture of the risks of fracking by refusing to allow public feedback in this setting," said geologist Susie Beiersdorfer of Frackfree Mahoning Valley.
Williams echoed the call for increased opportunities for public engagement with industry representatives and top state decision-makers. "The gas industry has given nearly $1 million to our current state legislature alone," said Williams. "We don't have that kind of money. All we have is our voice, and apparently our representatives don't want to hear it."