A week after millions of Americans celebrated our nation's independence, Pennsylvanians held "Independence from Fracking" rallies outside key state senator's offices, including Sen. Browne.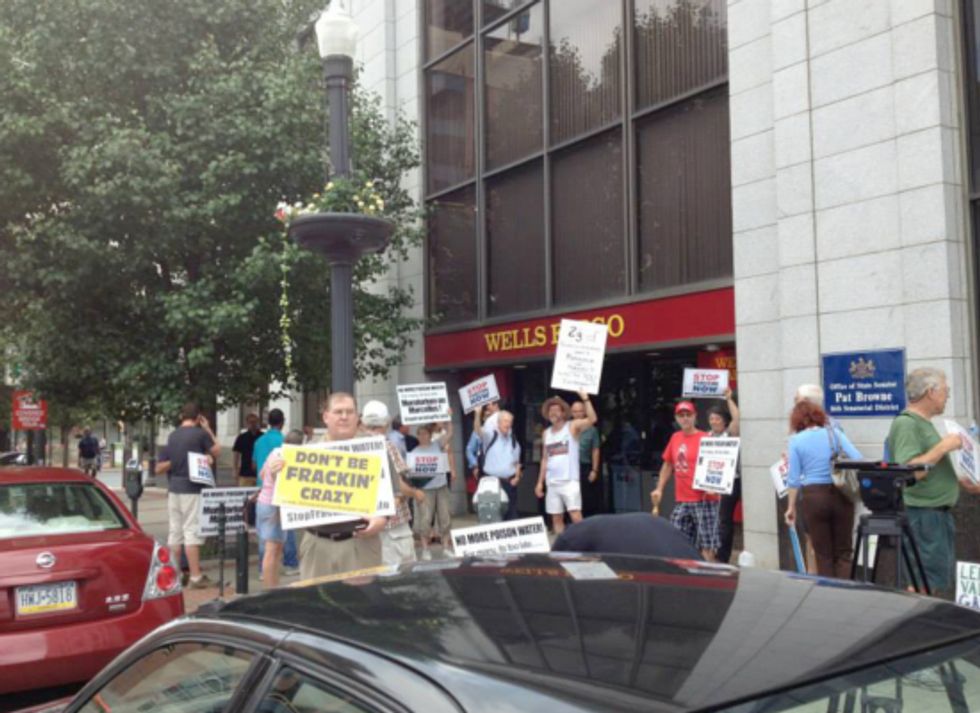 The rallies, coordinated by local citizens and statewide environmental groups, highlighted key legislators' continued opposition to a moratorium on fracking, despite growing support in the Commonwealth. There were rallies outside the offices of Pennsylvania Sen. Baker (R-Wayne), Sen. Browne (R-Lehigh), Sen. Farnese (D-Philadelphia), Sen. Kasunic (D-Fayette), Sen. McIlhinney (R-Bucks), Sen. Scarnati (R-Jefferson & Tioga), Sen. Ward (R-Westmoreland) and Sen. White (R-Westmoreland).
Organizers also held a thank you rally outside Sen. Dinniman's (D-Chester) office, who signed on in support the day before the "Independence from Fracking" day of action.
"Every day that passes, more Pennsylvanians are impacted as fracking continues to ravage our beautiful state," said Adam Garber, PennEnvironment field director. "It's time for our senators to stand up and put people's health first by supporting a moratorium, instead of allowing gas drilling companies to profit at our expense."
"People around the state are putting their state senators on notice today, standing together with one clear message: stop fracking in Pennsylvania." Said Sam Bernhardt, Pennsylvania organizer for Food & Water Watch. "We're thankful for those elected officials who stand with us. Those who continue to allow our state to be exploited by the gas industry should expect only more days like today."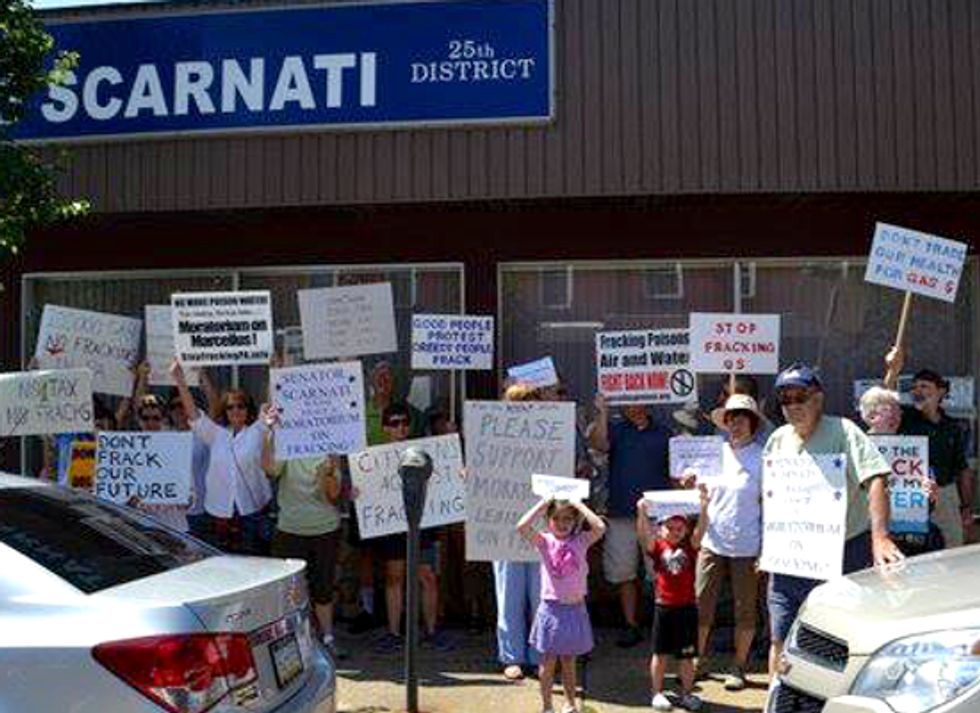 The rallies are part of a growing momentum for a moratorium in Pennsylvania. After a coalition of environmental and health groups submitted 100,000 signatures for a moratorium in April, Sen. Ferlo (D- Allegheny) introduced legislation that will put our health and environment first by halting fracking permits in the Commonwealth.
"I'm encouraged by the leadership of my colleagues in co-sponsoring my legislation to enact a temporary moratorium on fracking," said Sen. Ferlo. "These six senators understand the consequences of gas drilling, and have taken a stand to protect the Commonwealth's air, land and water despite the pressure from the wealthy oil and gas industry."
"Pennsylvania's approach to fracking is 'permit first' and 'figure the rest out later'," said Melissa Troutman, Mountain Watershed Association outreach coordinator. "From water withdrawals to waste disposal, fracking in Pennsylvania is nothing more than an experiment. That is neither good policy nor planning for the Commonwealth's future."
The growing fracking disaster has now persuaded a majority of Pennsylvanians to support a moratorium, demonstrated by a recent Muhlenberg poll. And, in recent weeks, more senators have signed onto Sen. Ferlo's legislation, including Sen. Boscola (D-Northampton), Sen. Dinniman,  Sen. Kitchens (D-Philadelphia), Sen. Leach (D-Montgomery), Sen. Schwank (D-Berks) and Sen. Washington (D-Montgomery, Phildelphia). And, the Pennsylvania State Democratic Committee passed a resolution in support of a moratorium.
"Until there are greater assurances that our citizens, environment and communities are adequately protected and have reasonable legal recourse, there should be a moratorium on gas drilling in Pennsylvania," said Sen. Boscola.
"It is important that we take this action in the interest of clearly understanding the health and environmental impacts of fracking in the Commonwealth," Sen. Dinniman said.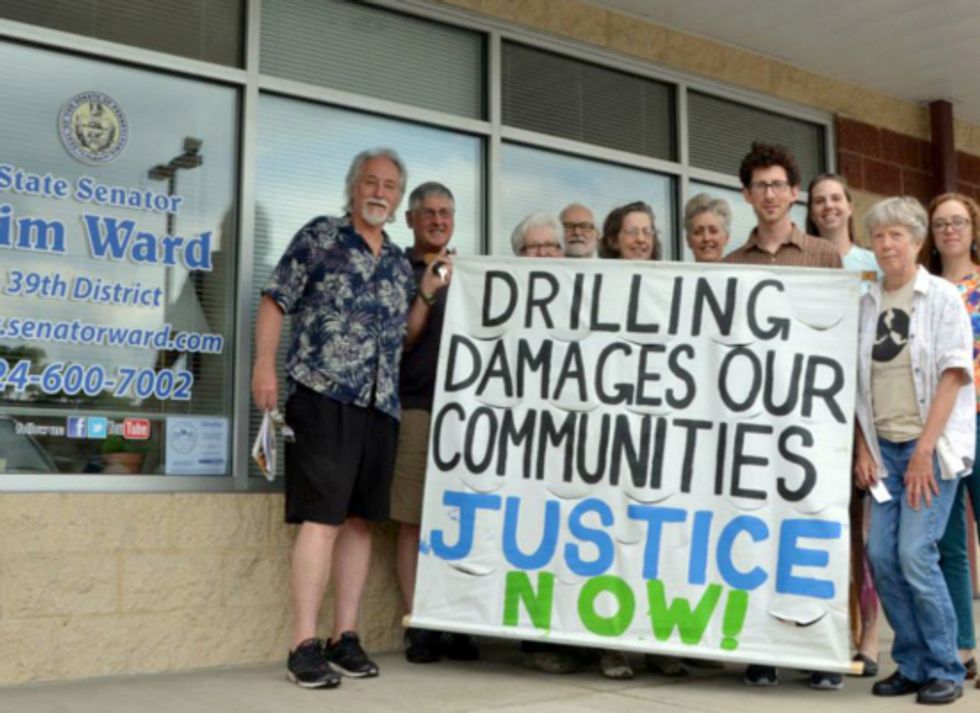 "Since there is still plenty of gas in capped wells and the pipeline infrastructure is still in the planning and approval stages, now is an excellent moment to have a moratorium for a set period of time so we can better understand the impact of natural gas pipelines on my Chester and Montgomery County district," Dinniman concluded.
"The people of Pennsylvania have spoken—nearly two-thirds support a moratorium on fracking, according to recent polling. The Pennsylvania Democratic party voted to support a moratorium," said Karen Feridun of Berks Gas Truth. "Now it's up to our elected officials to decide who they're representing—the people or the natural gas industry."
The rush to drill has had devastating effects on Pennsylvania's environment and public health and includes a track record of thousands of violations of cornerstone environmental laws and protections. In fact, the gas drilling industries have committed more than 4,363 environmental violations in recent years.
"The scope, scale and intensity of destructive accidents and widespread contamination has escalated even while new science has shown that shale gas development harms groundwater and climate," said Iris Marie Bloom, executive director of Protecting Our Waters. "It's time for our leaders to follow the majority of Pennsylvanians in calling for a moratorium to protect our health!"
"Senator Pat Browne and all other PA Senators need to think long and hard about aligning themselves with the will of 59 percent of Pennsylvania citizens who support a moratorium," said Julie Edgar of Lehigh Valley Gas Truth. "Our  need to stop this slow-motion train-wreck of gas industry domination of PA on hold before it is too late—it should be non-partisan, and non-negotiable."
There have also been dozens of cases where people's health has suffered. In Dimock, PA, drilling operations contaminated the drinking water wells of several households for roughly three years, perhaps more. And, recently released court documents show that gas drillers settled with a Washington County family who endured health problems.
The event's organizers pledge to continue pushing these senators, and many more, to support a moratorium in coming months with rallies, letter-writing campaigns, new reports about the impacts of fracking, and more.
"As a founding member of Americans Against Fracking and with nearly 3,000 members in Pennsylvania, Democracy for America is committed to the fight against drilling in PA because public health and the environment are more important than corporate profits," said Ljubica Sarafov, mid-atlantic field organizer for Democracy for America.
Visit EcoWatch's FRACKING page for more related news on this topic.
——–

Local residents rejoiced this week at the Boulder County Commission's decision to enact a new moratorium on fracking for 18 months. The current one was set to expire June 25. Tuesday's vote took place at the County Commissioner's meeting, after a group of local business owners, medical professionals, clergy and residents held a rally calling on the commission to extend the moratorium.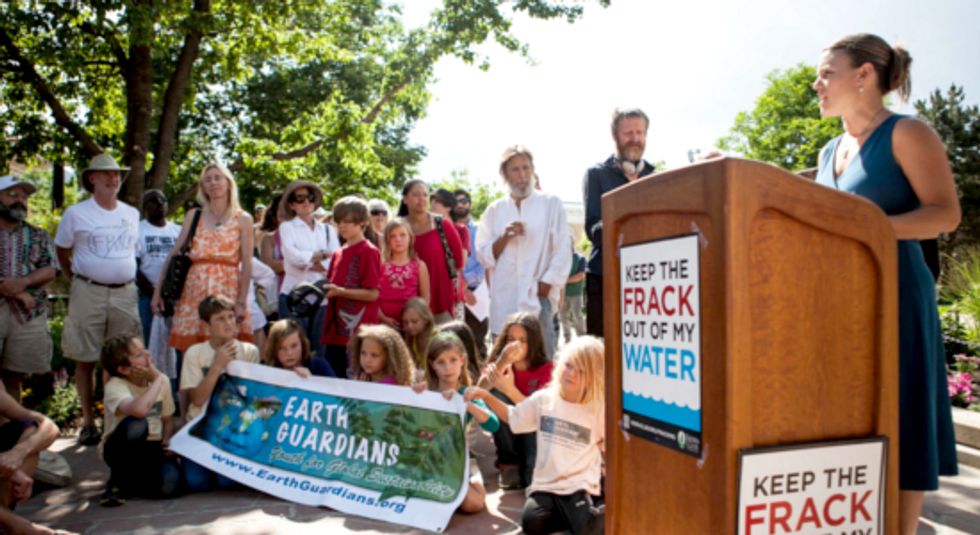 In recent weeks, an unprecedented number of citizens have rallied to protect Boulder County from the ravages of fracking. Thousands of residents have sent emails and post cards to their commissioners, demanding an extension. Activists have also packed meetings held by the County Planning Commission and the Boulder City Council. As a result, the County Planning Commission voted unanimously to recommend the moratorium extension and the City Council voted for its own one-year moratorium and to support an ordinance to ban the sale or use of city water in fracking.
"We applaud the commissioner's decision to extend the moratorium," said Russell Mendell, statewide organizer for Frack Free Colorado. "This is the result of the hard work of thousands of Boulder County citizens who have written post cards, testified and sent e-mails detailing the devastating impacts of fracking."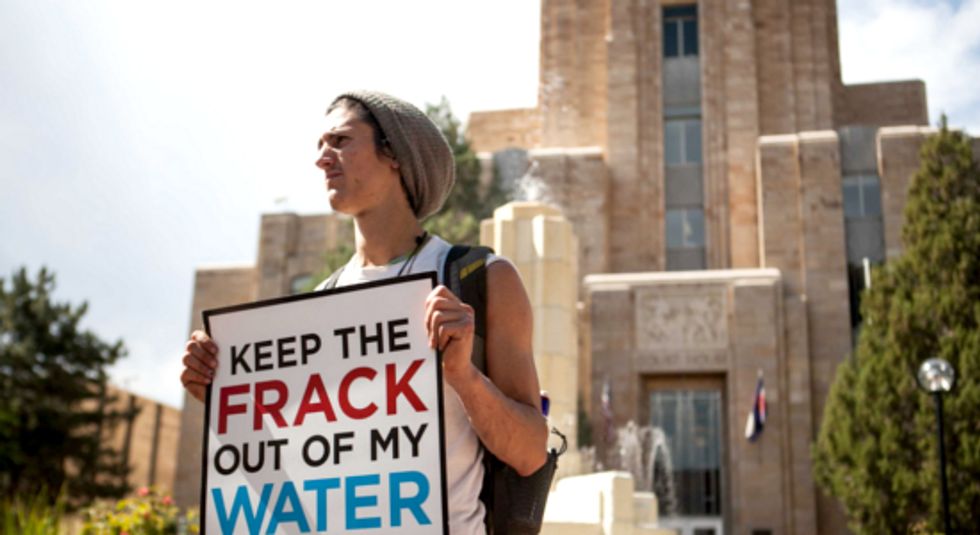 "While people around the country are getting sick from their practices, the gas industry has proven allergic to independent studies quantifying health impacts," continued Mendell. "The independent health studies that have been conducted reveal a 66 percent increase in cancer within one half mile of a fracking well, yet both the EPA [Environmental Protection Agency] and the COGCC [Colorado Oil and Gas Conservation Commission] admit they have no idea how to regulate air emissions to prevent health impacts."
"The people of Boulder County deserve a choice between cancer-causing, toxic fracking and clean renewable energy. We will continue to work to protect our communities from fracking, while moving towards a clean energy economy that relies on solar, wind and energy efficiency."
"We've seen an enormous outcry from Boulder County citizens that fracking is too dangerous to allow near homes and schools in their neighborhood," said Neshama Abraham, member of the Beyond Oil & Natural Gas Team for the Rocky Mountain Chapter of the Sierra Club. "We are grateful that the commissioners have heard us and will extend the moratorium for another eighteen months. We plan to celebrate after the meeting!"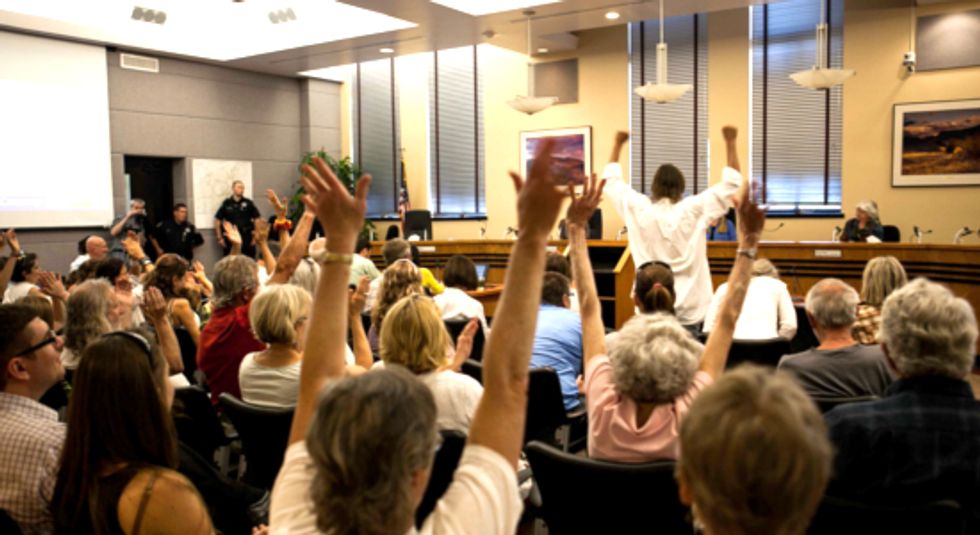 "In a time when all the science indicates that a sane society should be transitioning rapidly away from fossil fuels, and while federal and state regulations are proving dismally ineffective, it's essential that local communities do their due diligence to safeguard air, water, public health and safety," said Micah Parkin, organizer for 350 Boulder County. "Lacking conclusive evidence that fracking is safe and with mounting evidence to the contrary, the prudent action is to follow the precautionary principle. We commend our commissioners for supporting a moratorium on fracking that puts our families' health and safety first."
"The commissioners were woken up by the power and care of their community," said Cliff Willmeng, R.N. and organizer for East Boulder County United. "We aren't going to stop and this is a direct challenge to corporate power. This is the beginning of a new civil rights movement."
Visit EcoWatch's FRACKING page for more related news on this topic.
——–

Sign the petition today, telling President Obama to enact an immediate fracking moratorium:

EcoWatch Daily Newsletter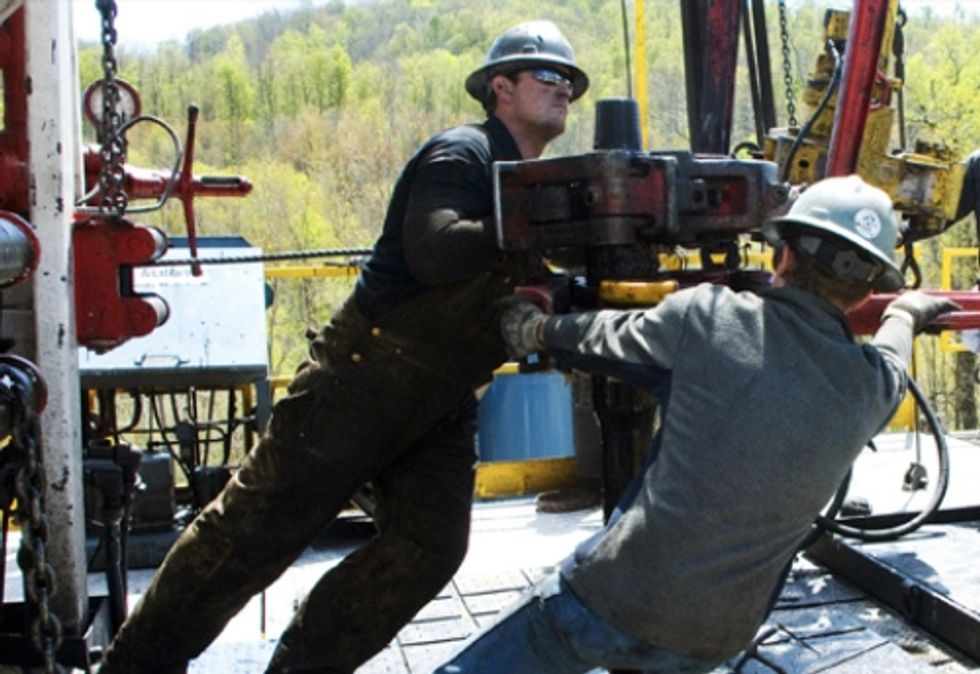 WHAT: Community forum—Hydro-fracking: Should a Moratorium be Enacted?
WHEN: Jan. 29, 9:30 a.m. - 10:45 a.m.
WHERE: First Unitarian Church of Cleveland at 21600 Shaker Blvd., Shaker Heights, Ohio 44122
Five million acres of rural eastern Ohio are at stake for hydro-fracking gas and oil reserves. What's the economic impact? More than 85 hydro-fracking permits were approved in 2011. Do we have sufficient regulations to protect water, air, roads and other quality of life issues?
Moderator:
• David Zeng, chair of the Department of Civil Engineering at Case Western Reserve University.
Panelists:
• Vanessa Pesec, president of the Network for Oil and Gas Accountability (NEOGAP)
• Senator Michael Skindell (D), District 23 (Lakewood)
• Iryna Lendel, assistant director of the Center for Economic Development at Cleveland State University's Levin College of Urban Affairs
For more information, click here or call 216-751-2320.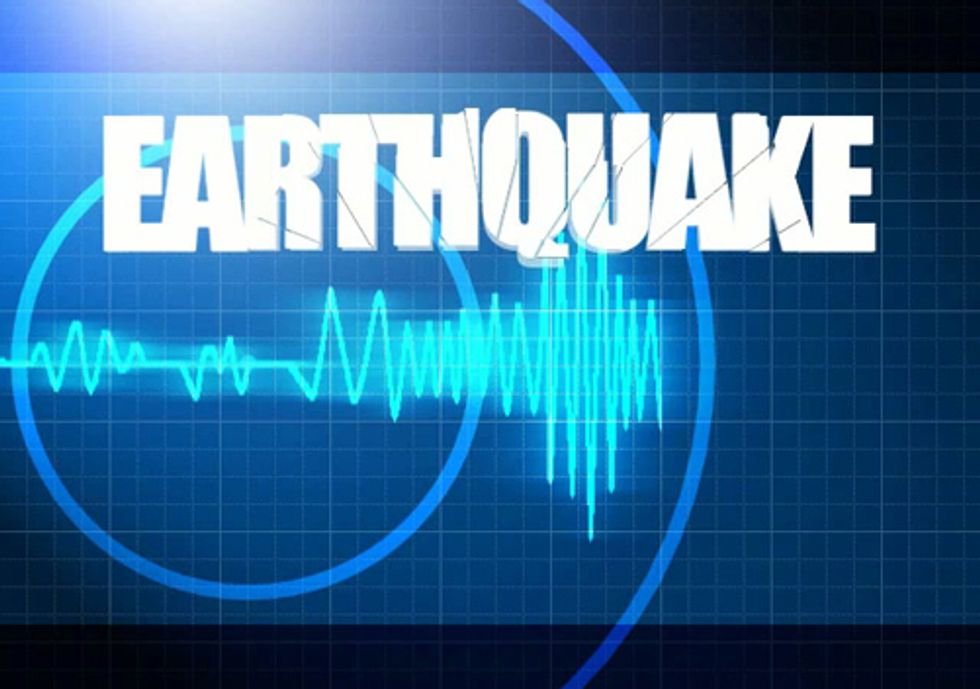 Until March 17, 2011—St. Patrick's Day—Youngstown, Ohio had never officially recorded an earthquake. New Year's Eve 2011 had Youngstown residents trembling for the 11th time in under nine months. Making matters worse, the Dec. 31 quake registered a magnitude 4.0 on the Richter scale—the most powerful quake yet, felt across hundreds of square miles, ranging from Canada to West Virginia.
At the epicenter of the sudden jolt in seismic activity is the Ohio Works Drive fluid injection well, operated by D&L Energy Group affiliate Northstar Disposal Services LLC. The site—just outside of downtown Youngstown—is a 9,200 foot-deep disposal for brine wastewater—a byproduct of hydraulic fracturing, more commonly known as fracking. Ohio is home to 176 other injection deep well sites.
On the heels of the New Year's Eve earthquake, Gov. John Kasich (R-OH), an outspoken drilling proponent, issued a moratorium on wastewater wells within a five-mile radius of the Youngstown site until the Ohio Department of Natural Resources (ODNR) can more clearly review the situation and its impacts on public health and safety.
Rep. Bob Hagan (D-Youngstown) called on Gov. Kasich in a letter on Jan. 5 to institute an indefinite moratorium on the injection wells until Ohioans can be guaranteed that there's no detrimental correlation between the natural environment and the wells.
To read Rep. Hagan's letter to Gov Kasich, click here.
Rep. Hagan's chief concern is the ability for ODNR and the Ohio Environmental Protection Agency to objectively assess the situation, as these organizations are, according to Hagan, "steeped in communications regarding the positive aspects of oil and gas exploration in the state, while ignoring some potentially very serious implications of components such as waste disposal."
Despite compelling evidence linking the recent Youngstown earthquakes to D&L's wastewater injection wells—in addition to a growing number of high-profile water contamination incidents in Dimock, Pa. and more recently in Pavillion, Wy.—regulations to keep citizens safe are lagging.
According to the Youngstown Vindicator, D&L has "a history of at least 120 violations at 32 injection and extraction wells in Ohio and Pennsylvania during the past decade."
To date, the company faces no fines for wrongdoing, although regulators have documented a "lack of correction action."
Tell Gov. Kasich and the ODNR you want stronger safeguards for fracking by clicking here.
For more information, click here.
A Don't Frack Ohio rally is being held on Jan. 10 at 1 p.m. at the Ohio Statehouse in Columbus. Speakers will include Rep. Bob Hagan (D-Youngstown), and representatives from communities impacted by oil and gas drilling and injection well sites. For more information on the fracking protest, click here.