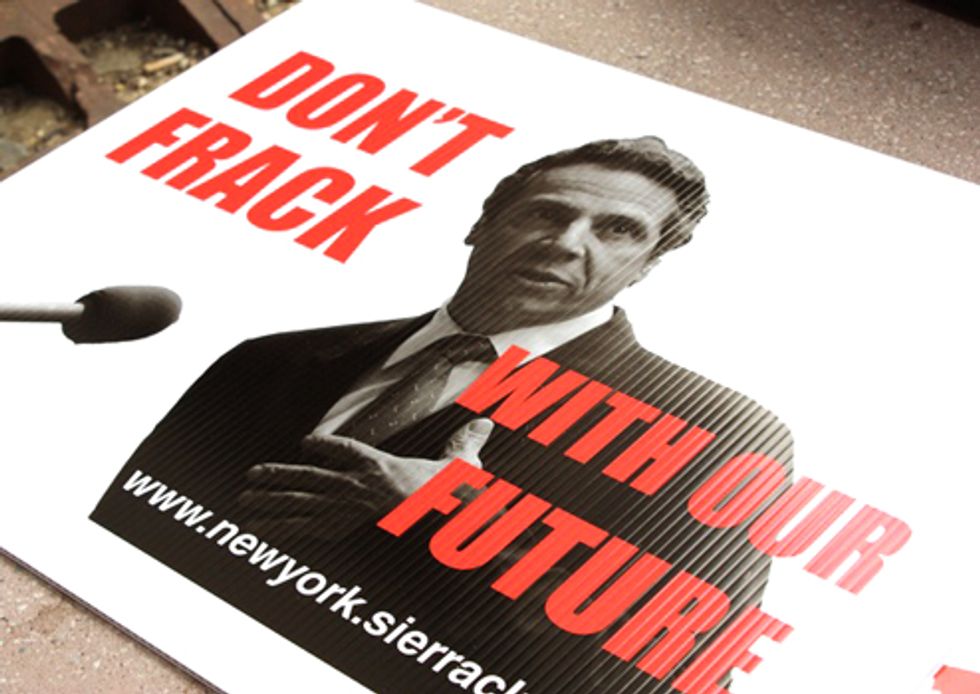 The U.S. Geological Survey (USGS) has warned New York state regulators that their plan to allow drilling and hydraulic fracturing for natural gas in the Marcellus Shale could endanger private water wells, municipal aquifers and New York City's drinking water supply.
The assessment of the USGS, widely regarded as impartial and authoritative on drilling issues, intensifies pressure on Gov. Andrew Cuomo (D-NY) not to proceed with a drilling plan drafted by the New York State Department of Environmental Conservation. Cuomo has pledged to "let the science and the facts make the determination, not emotion and not politics."1
The U.S. Environmental Protection Agency (EPA) has separately written New York regulators arguing that they are ill-equipped to regulate a boom in shale gas drilling and have limited financial means to enforce the numerous new regulations they have proposed. The EPA has raised additional concerns, among them, that the state has understated the severity of radioactive pollution associated with drilling and doesn't know how such contaminants would be disposed of.
Officials at the Department of Environmental Conservation are now considering whether to modify their plan to address the federal agencies' reservations and about 60,000 letters from local governments, independent scientists, gas drillers, property owners, environmental groups and other interested citizens. Once the state agency has concluded its review, which could wind up as soon as this spring, the issue goes to Cuomo's desk.
The stakes for New York taxpayers are enormous. The Department of Environmental Conservation has estimated that if New York City's drinking water supply is contaminated by drilling, cleaning up the water would require a water filtration plant costing at least $8 billion, with a yearly operating expense of $200 million.2 Even then, city officials have said there is no guarantee that the water could be purified. If water supplies of other population centers are tainted, the cleanup costs would soar higher.
As now written, the state plan projects that tens of thousands of natural gas wells could spring up along the New York portion of the Marcellus Shale, a vast underground formation that stretches along the Appalachian chain as far south as Kentucky. Most of the wells are likely to deploy a relatively new shale-drilling process called high volume hydraulic fracturing and horizontal drilling, which typically involves injecting millions of gallons of water laced with chemicals into the ground under high pressure, aiming to crack shale rock and release natural gas trapped in small pockets.
The USGS, the federal government's expert on the geology and hydrology of oil and gas drilling, advised New York regulators that their plan is flawed in several respects. Among them:
The state's proposal to prohibit drilling inside a 500-foot buffer around aquifers that supply major municipal water systems "is one-size-fits-all and may provide only partial protection to these aquifers."3
 
A similar 500-foot buffer for private water wells and springs "affords limited protection" and "does not take local geohydrologic conditions and topographic setting into account." The USGS added that "changes brought about by drilling, including water quality changes, can be felt rapidly at significant distance from a disturbance—especially if a domestic well is [downhill] of a well pad."4
 
Pressurized fracturing fluids could migrate through underground faults and impact an underground aqueduct that carries drinking water to New York City. The USGS said that "the possibility of damage to the aqueduct from hydraulic-fracturing operations is an issue of concern" and deserves more study.5
 
A map displayed in the state's draft plan "grossly under-represents the number and extent of [natural] faults in the Appalachian Basin of New York" where shale gas drilling would occur. Ground that is riddled with underground faults could channel pollution from drilling into underground aquifers.6
 
"Only scattered and incomplete information is available" on underground freshwater sources that could be polluted by shale gas drilling. The USGS said the state plan should require drilling companies to maintain detailed logs that would identify and protect these aquifers.7
Drilling too close to water sources
The USGS went to some lengths to dispute the state agency's premise that drilling could be safely conducted 500 feet from water supplies. The federal agency said that in some cases, it might be necessary to prohibit drilling within five square miles of aquifers to avoid polluting them.8
The USGS position is bolstered by documented cases in Colorado, Ohio and Pennsylvania, where natural gas and related contaminants have polluted underground water supplies at distances much greater than 500 feet.
In 2004, Canada-based Encana Corp. improperly cemented and hydraulically fractured a well in Garfield County, Colo. The state found that the poor cementing caused natural gas and associated contaminants to travel underground more than 4,000 feet laterally. As a result, a creek became contaminated with dangerous levels of carcinogenic benzene. The state of Colorado fined Encana a then-record $371,200. Despite more than seven years of cleanup efforts, as of last September, three groundwater monitoring wells near the creek still showed unsafe levels of benzene.9
 
In 2007, a natural gas well fractured by Ohio Valley Energy Systems Corp. in Bainbridge, Ohio, caused natural gas to contaminate 23 nearby water wells, two of which were more than 2,300 feet from the drilling site.10
 
In 2009, several natural gas wells drilled by Houston-based Cabot Oil and Gas Corp. in Dimock, Penn., polluted water wells used by at least 19 families, according to the state Department of Environmental Protection. Cabot has disputed the finding. At least three of the water wells were farther than 1,000 feet from the gas wells. For about two years, the Pennsylvania DEP ordered the company to deliver water to the families. Last December, Cabot stopped the deliveries after the DEP ruled that the company had met its obligations under a state order. Affected families were forced to scramble for new sources of water. Filmmaker Josh Fox, actor Marc Ruffalo and others donated bottled water that met some of the families' needs. The federal EPA recently found dangerous contaminants in well water in Dimock and ordered a resumption of water deliveries for four of the families. Pennsylvania officials have declined to extend public water lines to the affected families, estimating the cost at $12 million.11
New York City water aqueduct threatened
The USGS concluded that under the state plan, hydraulic fracturing fluids could reach and damage New York City's West Delaware Aqueduct, an underground tunnel that brings drinking water to the city from reservoirs in the Catskill Mountains. Naturally occurring fractures "may potentially provide pathways for the migration of pressurized fluids over significant distances," the USGS wrote. It suggested that the state's proposal to require site-specific permits in a 1,000-foot zone around the aqueduct might prove inadequate.12 The USGS focused only on threats to the West Delaware Aqueduct, one of several underground aqueducts that carry water to New York City from the Marcellus Shale region.
An earlier assessment commissioned by New York City's Department of Environmental Protection (DEP) also concluded that drilling might endanger the West Delaware Aqueduct and other tunnels that carry the city's water, for reasons similar to those cited by the USGS. The city's DEP found that naturally occurring underground pathways near the tunnels "can extend up to seven miles laterally and up to 6,000 feet in depth." It added:
"The vertical and lateral persistence of these features in conjunction with the potential for failed casings or other unforeseen occurrences could result in significant surface and subsurface contamination of fresh water aquifers, as illustrated by incidents in other well fields, most notably documented in Garfield County, Colorado (migration of toxic formation material through subsurface fractures) and Dimock, Pennsylvania (migration of natural gas to the surface via improperly cased wells). Similar mechanisms could permit migration of material into the fresh water aquifers that comprise the NYC West-of-Hudson watersheds and present potential risks to water quality and tunnel lining integrity."13
Based on this assessment, the city agency recommended several preventive measures, including barring drilling within seven miles of several aqueducts and a drilling ban within two miles of other water tunnels.14
Underground faults, water supplies unmapped
The USGS raised serious questions about the state's significant undercount of natural faults throughout the gas-rich Marcellus Shale formation. If drilling and hydraulic fracturing were permitted directly underneath faults, the federal agency said, contaminants could flow upward into underground aquifers. It noted that there are generally far more natural faults in bedrock overlying the Marcellus Shale than elsewhere.15
In a study that focused on the Marcellus Shale in New York and Pennsylvania and was published last year by the National Academy of Sciences, researchers from Duke University reported finding levels of natural gas an average of 17 times higher in water wells close to active natural gas wells than in water wells in non-active drilling areas. The most likely cause, they said, was leaky well casings, but they also raised the possibility that some gas migrated through "extensive fracture systems" in rock above the shale formations. Another factor, they said, might be gas migration through many older, un-cased wells abandoned during 150 years of drilling in Pennsylvania and New York.16
USGS urges better reporting
The USGS said that the depths of underground drinking water sources are not well documented and must be established so that drilling companies can design casing and cementing to prevent migration of gas or saltwater into underground drinking water supplies. The agency faulted New York state regulators for failing to require drilling companies to map underground fresh water and salt water sources and, as well, shallow gas formations before they drill extensively. It called these determinations critical to the design and installation of effective casing and cementing.17
Cuomo should emulate Maryland's O'Malley
The USGS assessment makes clear that New York is not ready for shale gas drilling on any level. Given Cuomo's commitment to science, it is hard to see how he could come to a different conclusion. Cuomo should halt the state's drilling plan and let scientists like those at USGS continue their work so that New Yorkers can know whether high volume hydraulic fracturing and horizontal drilling can be conducted safely before drilling begins.
That's essentially the approach Maryland Gov. Martin O'Malley has taken. His administration has embarked on a detailed study of potential drilling impacts, to be finished by 2014. Until then, O'Malley has committed not to allow gas drilling companies to deploy this controversial technique in Maryland's portion of the Marcellus Shale.18
Meanwhile, the EPA is conducting a nationwide study on hydraulic fracturing's impact on water and a separate inquiry in Pavillion, Wyo., where the agency concluded in a draft report that hydraulic fracturing likely contaminated groundwater on which the community relies for its drinking water and agricultural needs.
By proceeding with drilling in the face of warnings by USGS, the EPA and other experts, "Cuomo would be betting nothing of significance will go wrong," Albany Times-Union columnist Fred LeBrun wrote in a Jan. 15, 2012, column. "Given the enormity of the possibilities, that's a dumb bet."19
Will Cuomo make a multi-billion-dollar gamble with the state's drinking water and the health of New Yorkers? The upside, in the form of jobs and revenues from gas production, is modest. The downside, if anything goes wrong, is incalculable. Why chance it?
For more information, click here.
—————
1. Thomas Kaplan, Millions Spent in Albany Fight to Drill for Gas, New York Times, Nov. 26, 2011.
2. See NYDEC SGEIS, supra note 9, at 6-47.
3. U.S. Geological Survey, New York Water Science Center, Comments on the Revised Draft Supplemental Generic Environmental Impact Statement 6 (2012).
4. See id., at 7.
5. See id., at 20.
6. See id., at 10.
7. See id., at 1.
8. USGS, supra note 3, at 6-7.
9. URS Corp., Phase I Hydrogeologic Characterization of the Mamm Creek field Area in Garfield County (2006), http://cogcc.state.co.us/ (follow links for "Library" and then "Piceance Basin") (prepared for Bd. of County Comm'rs, Garfield County, Colo.); Colo. Oil & Gas Conservation Comm'n, Order No. 1V-276 (Sept. 16, 2004), http://cogcc.state.co.us/ (follow link for "Orders").
10. Ohio Dep't of Natural Res., Report on the Investigation of the Natural Gas Invasion of Aquifers in Bainbridge Township of Geauga County, Ohio 6, 46-7 (2008); Bair, E. Scott, et al., Expert Panel Technical Report, Subsurface Gas Invasion Bainbridge Township, Geauga County, Ohio 3-113 (2010), http://www.ohiodnr.com/mineral/bainbridge/tabid/20484/default.aspx (submitted to Ohio Dep't of Natural Res., Div. of Mineral Res. Mgmt.); Ohio Dep't of Natural Res., Order Number 2009-17 (Apr. 14, 2009) (see attachments A, B).
11. Consent Order & Settlement Agreement in re Cabot Oil & Gas Corp. (Dep't Envtl. Prot. Dec. 15, 2010); Consent Order & Settlement Agreement in re Cabot Oil & Gas Corp. (Dep't Envtl. Prot. Nov. 4, 2009); Laura Legere, DEP Drops Dimock Waterline Plans; Cabot Agrees to Pay $4.1M to Residents, Scranton Times-Tribune, Dec. 16, 2010, http://thetimes-tribune.com/news/gas-drilling/dep- drops-dimock-waterline-plans-cabot-agrees-to-pay-4-1m-to-residents-1.1077910. Laura Legere, Outside Groups Deliver Water as Sides Spar over Drilling, Scranton Times-Tribune, December 7, 2011.
12. See USGS, supra note 3, at 19-20. N.Y. City Dep't of Envtl. Prot., Final Impact Assessment Report, Impact Assessment of Natural Gas Production in the New York City Water Supply Watershed 39-40 (2009) [hereinafter NYCDEP]. N.Y. State Dep't. Envtl. Conservation, Supplemental Generic Envtl. Impact Statement on the Oil, Gas and Solution Mining Regulatory Program, Well Permit Issuance for Horizontal Drilling and High-Volume Hydraulic fracturing to Develop the Marcellus Shale and other Low-Permeability Gas Reservoirs ES-6 (2011) [hereinafter NYDEC SGEIS].
13. NYCDEP, supra note 9, at 39-40 (2009).
14. See id., at D-3. Paul Rush, Dep. Commissioner, Bureau of Water Supply, N.Y. City Dep't of Envtl. Prot., Before the New York City Council, Committee on Envtl. Prot., Sep. 22, 2011. N.Y. City Dep't of Envtl. Prot., Comments on the Revised Draft Supplemental Generic Environmental Impact Statement on the Oil, Gas and Solution Mining Regulatory Program 2 (2012).
15. See USGS, supra note 3, at 9.
16. Stephen G. Osborn, et al., Methane Contamination of Drinking Water Accompanying Gas-Well Drilling and Hydraulic Fracturing, 108 PNAS 8172-76, 8175 (2011), http://www.pnas.org/content/108/20/8172.
17. USGS, supra note 3, at 1.
18. Martin O'Malley, Governor of Maryland, Executive Order 01.01.2011.11, The Marcellus Shale Safe Drilling Initiative, June 6, 2011. Accessed online February 20, 2012 at http://www.governor.maryland.gov/executiveorders/01.01.2011.11.pdf.
19. Fred LeBrun. The Keys to the Kingdom, Albany Times-Union, Jan. 15, 2012, at D1.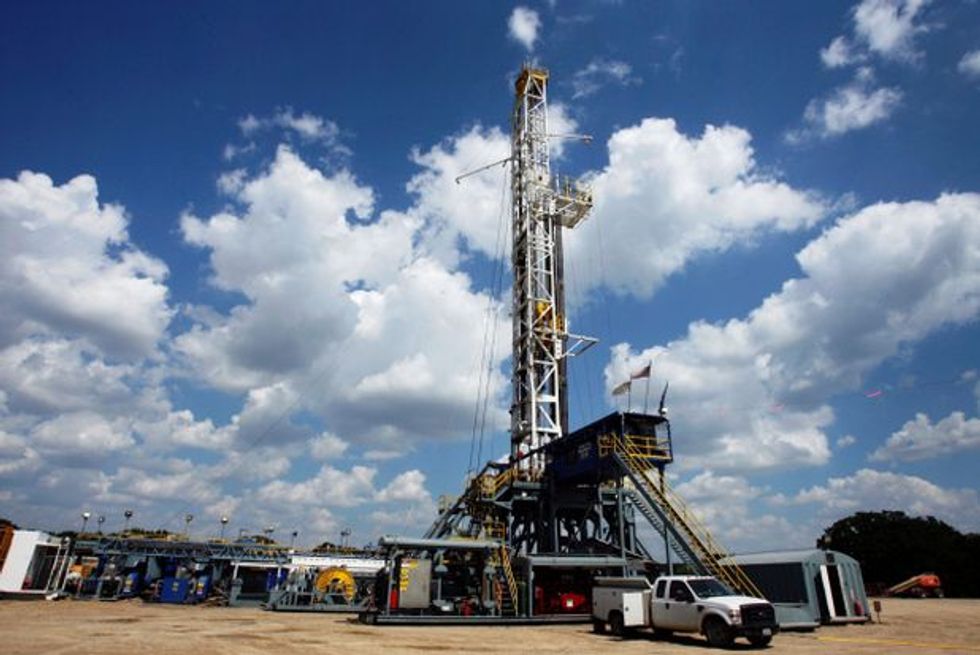 Environmental Defense Fund (EDF) praised the state of Colorado Dec. 13 for adopting a fracturing fluid chemical disclosure policy that, in many ways, can serve as a model for the nation.
"The public expects and deserves full transparency from the oil and gas industry," said EDF President Fred Krupp. "Today, Colorado has taken a critical step toward building the public trust."
The Colorado rule builds on the experience of Wyoming, Arkansas, Texas and Montana—and makes important strides in requiring companies to disclose chemical information in ways that are useful and user-friendly. The Colorado rule requires companies to disclose chemical information on a database that allows the public to search and sort information by company, chemical, geographic area and other criteria.
"Moving to a searchable database format will allow land owners, neighbors, regulators and policymakers to focus their questions and their research about hydraulic fracturing operations. This is a big step forward, and possibly Colorado's most important contribution to disclosure efforts in states across the nation," Krupp said.
Colorado also set a national standard by requiring disclosure of the identities and concentrations of all chemicals, not just those that have been determined to be hazardous in occupational settings under Occupational Safety and Health Administration (OSHA) regulations.
According to industry testimony before the Colorado Oil and Gas Conservation Commission (COGCC), at least half of the chemicals used in hydraulic fracturing don't fall under these OSHA regulations. "The OSHA regulations have to do with workplace safety. They don't tell you anything about whether a chemical might be dangerous to human health if released through environmental pathways. Disclosing identities and chemical concentrations for all chemicals, not just for a limited subset, is the first step toward better understanding the toxicity and potential impacts of these fluids," Krupp said.
Finally, the Colorado rule takes a reasonable approach to trade secrets. EDF recognizes that protecting legitimate trade secrets can foster innovation—in this case, hopefully incentivizing industry to develop less-toxic alternatives for fracturing fluids. However, EDF also believes citizens should have a broad right to challenge trade secret claims.
"You need to have meaningful policing mechanisms in place to ensure trade secret claims are on the up and up," said Krupp.
The Colorado rule puts an important protection in place by requiring that companies submit a substantiation form to the COGCC when they make trade secret claims.
For more information, click here.
—————
Environmental Defense Fund, a leading national nonprofit organization, creates transformational solutions to the most serious environmental problems. EDF links science, economics, law and innovative private-sector partnerships. Click here for EDF's Twitter feed; click here for EDF's Facebook page; and click here for EDF's blog.
EcoWatch Daily Newsletter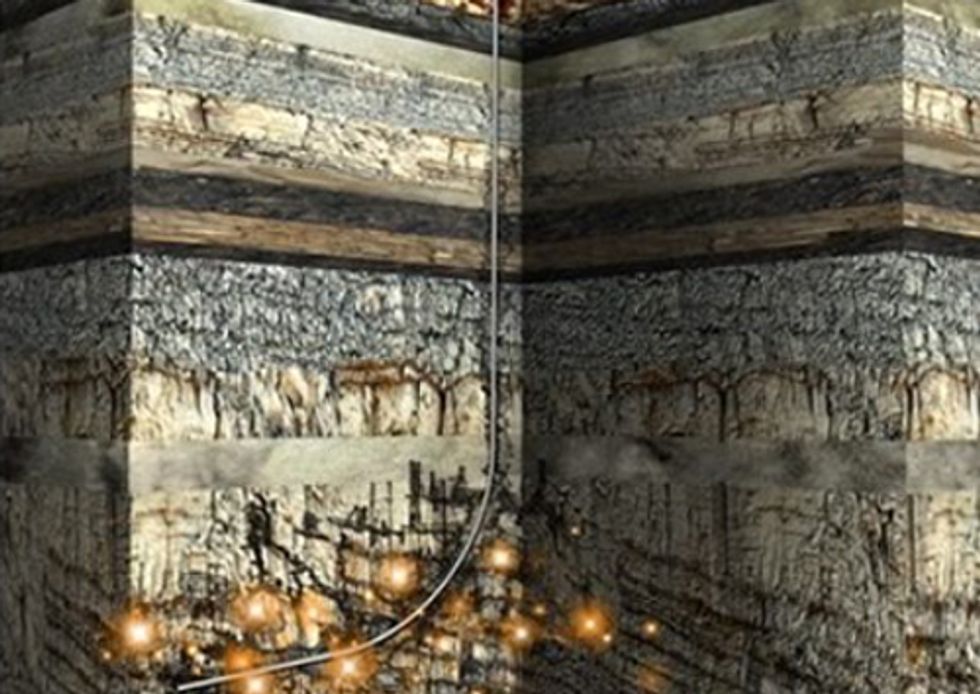 A new human rights report details for the New York State Department of Environmental Conservation specific ways in which hydraulic fracturing threatens to compromise international human rights norms. Commissioned by Earthworks' Oil and Gas Accountability Project, the report evaluates the production process known as hydraulic fracturing in relation to widely accepted international human rights norms.
In invited testimony before the New York Senate Standing Committee on Conservation in Canandaigua, New York, Dec. 12, biologist, author and cancer survivor Sandra Steingraber highlighted the report's conclusion that:
Viewed in light of human rights standards, that the risks associated with hydraulic fracturing may raise liability concerns for the New York State Department of Environmental Conservation, as the state considers whether and how to move ahead with large scale natural gas development.
The report, prepared by Environment and Human Rights Advisory, looks at a number of recent United Nations (U.N.) declarations and documents. One of these informs the U.N. Human Rights Council that the environmental damage caused by hydraulic fracturing for natural gas poses "a new threat to human rights." And a recent U.N. Resolution states that "environmental damage can have negative implications, both direct and indirect, for the effective enjoyment of human rights."
Despite claims of economic benefit, the report notes that hydraulic fracturing presents significant risks to local air quality, to ground and surface waters, to soils and ecosystems and to several dimensions of human health.
The report's author, Dr. Thomas Kerns, finds that although the current state of knowledge about potential human health and environmental impacts of these airborne and waterborne contaminants, as well as of their mixtures and interactions, is poor, some fracking chemicals even now are known to be endocrine disruptors and neurotoxins and some have been designated by the U.S. Environmental Protection Agency as probable or known carcinogens.
The report suggests that this points to a need for caution and for gathering further information before proceeding with licensing, especially since vulnerable and disadvantaged populations would be at even greater risk.
For more information, click here.
—————
Earthworks is dedicated to protecting communities and the environment from the impacts of irresponsible mineral and energy development while seeking sustainable solutions.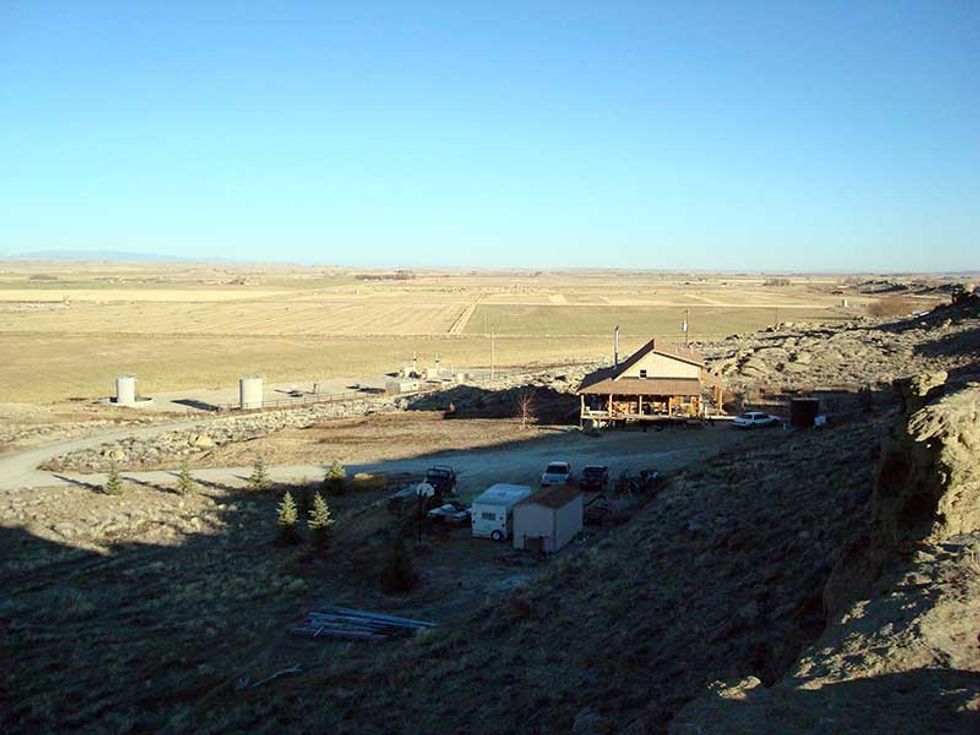 The U.S. Environmental Protection Agency (EPA) released a draft analysis of data Dec. 8 from its Pavillion, Wyoming ground water investigation. At the request of Pavillion residents, EPA began investigating water quality concerns in private drinking water wells three years ago. Since that time, in conjunction with the state of Wyoming, the local community, and the owner of the gas field, Encana, EPA has been working to assess ground water quality and identify potential sources of contamination.
EPA constructed two deep monitoring wells to sample water in the aquifer. The draft report indicates that ground water in the aquifer contains compounds likely associated with gas production practices, including hydraulic fracturing. EPA also re-tested private and public drinking water wells in the community. The samples were consistent with chemicals identified in earlier EPA results released in 2010 and are generally below established health and safety standards. To ensure a transparent and rigorous analysis, EPA is releasing these findings for public comment and will submit them to an independent scientific review panel. The draft findings announced Dec. 8 are specific to Pavillion, where the fracturing is taking place in and below the drinking water aquifer and in close proximity to drinking water wells—production conditions different from those in many other areas of the country.
Natural gas plays a key role in our nation's clean energy future and the Obama administration is committed to ensuring that the development of this vital resource occurs safely and responsibly. At the direction of Congress, and separate from this ground water investigation, EPA has begun a national study on the potential impacts of hydraulic fracturing on drinking water resources.
"EPA's highest priority remains ensuring that Pavillion residents have access to safe drinking water," said Jim Martin, EPA's regional administrator in Denver. "We will continue to work cooperatively with the state, Tribes, Encana and the community to secure long-term drinking water solutions. We look forward to having these findings in the draft report informed by a transparent and public review process. In consultation with the Tribes, EPA will also work with the state on additional investigation of the Pavillion field."
Findings in the Two Deep Water Monitoring Wells:
EPA's analysis of samples taken from the agency's deep monitoring wells in the aquifer indicates detection of synthetic chemicals, like glycols and alcohols consistent with gas production and hydraulic fracturing fluids, benzene concentrations well above Safe Drinking Water Act standards and high methane levels. Given the area's complex geology and the proximity of drinking water wells to ground water contamination, EPA is concerned about the movement of contaminants within the aquifer and the safety of drinking water wells over time.
Findings in the Private and Public Drinking Water Wells:
EPA also updated its sampling of Pavillion area drinking water wells. Chemicals detected in the most recent samples are consistent with those identified in earlier EPA samples and include methane, other petroleum hydrocarbons and other chemical compounds. The presence of these compounds is consistent with migration from areas of gas production. Detections in drinking water wells are generally below established health and safety standards. In the fall of 2010, the U.S. Department of Health and Human Services' Agency for Toxic Substances and Disease Registry reviewed EPA's data and recommended that affected well owners take several precautionary steps, including using alternate sources of water for drinking and cooking, and ventilation when showering. Those recommendations remain in place and Encana has been funding the provision of alternate water supplies.
Before issuing the draft report, EPA shared preliminary data with, and obtained feedback from, Wyoming state officials, Encana, Tribes and Pavillion residents. The draft report is available for a 45 day public comment period and a 30 day peer-review process led by a panel of independent scientists.
For more information on EPA's Pavillion groundwater investigation, click here.
For more information, click here.