A bill banning hydraulic fracturing, or fracking, in the Republic of Ireland was voted through the Dáil Éireann (the country's House of Representatives, so to speak) on Thursday.
During a televised debate over the bill, a number of speakers passionately argued that unconventional oil and gas operations have significant adverse effects.
According to the Irish Examiner, the bill's passage is "the first step in enforcing a nationwide ban on fracking and it will give the Government 12 weeks before it goes before further parliamentary scrutiny." The bill has now been moved to the committee stage for further review.
Fracking does not currently take place in the Emerald Isle but three exploratory licenses have been granted. The bill, The Prohibition of the Exploration and Extraction of Onshore Petroleum Bill, was introduced by Dáil member Tony McLoughlin, TD of the Fine Gael party. McLoughlin currently represents Sligo-Leitrim, a constituency that has been marked for potential shale gas exploration.
The legislation initially faced a potential eight-month delay to allow for Ireland's Environmental Protection Agency to issue a report on fracking, but the Government ultimately decided not to table the proposal.
During a televised debate over the bill, a number of speakers—across parties, no less—passionately argued that unconventional oil and gas operations have significant adverse effects, including its threat to human health, that it pollutes water and drives climate change, and would hamper Ireland's emissions targets.

Oisin Coghlan, the director of Friends of the Earth Ireland, live tweeted the entire debate.
"Fracking has no place in a low carbon future," said Joe Carey, Fine Gael TD for County Clare, according to Coghlan's tweet.

Catherine Connolly, Independent TD for Galway West, said that the bill gives her hope for the country's ability to act upon the emissions thresholds under the Paris climate agreement.
Timmy Dooley, Fianna Fáil TD for Clare, said, "We should not be looking for new methods to extract a resource so damaging to the climate."
A major win for the environment & for Irish politics! My Bill to ban #Fracking has received the full support of… https://t.co/JwmhKVhJgs

— Tony McLoughlin TD (@Tony McLoughlin TD)1477592391.0
To coincide with the bill, the Sustainable Water Network (SWAN) published a report concluding that fracking and other shale-gas operations in Ireland could lead to harmful water contamination and therefore should not be permitted.

The key findings of the report include:
There are numerous documented impacts on water bodies attributed to shale-gas activities, including increases in concentrations of salinity, methane, heavy metals, naturally occurring radioactive material and reduction in water body levels;
Many impacts arise due to contamination from well-casing leaks; leaks through fractured rocks; transportation spills and disposal and spillage of inadequately treated wastewater;
Gaps in legislation and inadequate regulatory capacity mean Ireland would not be in a position to adequately regulate the industry.
"Our research shows that over the past decade there have been many documented impacts to water bodies arising from shale-gas activities," said one of the report's authors Dr. Kieran Craven.
"Degradation of the water environment has occurred in regions of the U.S., where regulation has typically lagged behind industry. Based on a comprehensive review of the scientific literature, it is our view that many of these potential impacts would lead to the pollution of both surface and groundwater in the proposed regions of Ireland."
Kate Ruddock of Friends of the Earth Ireland pointed out to The Irish Times that a number of countries banned fracking, including France, Bulgaria, Scotland, Wales, New Zealand and parts of Austria.
"Governments have decided that fracking is not acceptable and the risks it poses to people's health is unacceptable," she said.
In the U.S., Vermont and New York state and a growing number of cities and municipalities have banned fracking as well. (On the flip side, there are pro-drilling state and city governments attempting to ban fracking bans).
Actor and environmental activist Mark Ruffalo also threw his weight behind the Irish bill with an Instagram post.

"Ireland should ban #fracking to protect public health & the environment, like New York did after finding serious risks & harms," he stated.
The clean energy advocate included a photo of himself holding a sign with the hashtag #backthebill, which has been used on social media to rally support for the ban.
EcoWatch Daily Newsletter
In the escalating ballot battle between the drilling industry and Colorado communities, new records show that energy companies are spending millions of dollars to stop anti-fracking measures in the state.
Environmental groups are currently gathering signatures on two statewide measures, 75 and 78, to appear on Colorado's November ballot. The first initiative would amend the state constitution to enable local governments the option to enact regulations more protective of health and safety than those required by the state, largely addressing the Colorado Supreme Court's recent decision to strike down fracking bans approved by voters in the cities of Fort Collins and Longmont. The other initiative would create 2,500-foot buffer zones between homes, schools and sensitive areas like playgrounds and water sources, and all new oil and gas development.
Active oil and gas wells in Colorado.Map: CPR/Nathaniel Minor | Data: COGCC
But in just the last three months, energy companies such as Anadarko Petroleum Corp, Noble Energy and Whiting Petroleum have funneled more than $6.7 million combined to Protect Colorado, an industry group that aims to defeat these measures, according campaign finance records reviewed by Reuters.
Protect Colorado argues that the initiatives threaten oil and natural gas development and would "devastate" the state's economy. The group raised concerns that these initiatives "would give local governments the sole power to regulate oil and natural gas activity in their jurisdictions, including the power to ban fracking."
"We are doing all that we can to defeat these measures because they would devastate Colorado's economic strength and competitiveness," Mike Kopp, executive director of Colorado Concern and former Colorado Senate minority leader, said. "Passage of these measures would mean—literally—that thousands of careers in a safe, environmentally-responsible industry would come to an abrupt halt, tax revenues that help fund schools and other important local projects would be cut off, and small towns around the state would suffer economically."
Colorado is the seventh-largest oil and gas producing state in the country. Reuters cited a study by the Colorado Oil and Gas Conservation Commission, which found that 90 percent of Colorado's surface acreage would be unavailable for oil and gas development if the setback law passes.

Yes For Health and Safety, a nonprofit pushing the two ballot initiatives, has raised concerns about the health risks of fracking operations and decried the state supreme court's decision to overturn local fracking bans in favor of Big Oil and Gas.
"Time and again, we've seen that this industry will say or do anything to mislead the public and protect their bottom line, but the scientific evidence speaks for itself: Fracking is a leading driver of climate change and destroys our most basic resources," Tricia Olson, executive director of Yes for Health and Safety Over Fracking, told EcoWatch.
"If we don't have clean air, water, soil and healthy bodies, how can our communities thrive? Big Oil and Gas may have billions of dollars, but we have passion, commitment and an historic opportunity to show communities everywhere that when people come together to protect their health and safety, anything is possible."
Get fossil fuels on the ballot in #Colorado and vote for renewables! @YesHealthSafety #keepitintheground https://t.co/6gcemFJM3u

— Mark Ruffalo (@Mark Ruffalo)1468451983.0
In an online petition, the group states:

With more than 73,000 fracking wells, many within walking distance of our homes and schools, Colorado has become ground zero for fracking in the U.S (watch a timelapse of wells spreading throughout our state here).
For years, Coloradans have demanded a stop to this dangerous extraction method. Despite being outspent 500-to-one by the oil and gas industry, five communities have successfully banned fracking in their backyards.
But the oil and gas industry refused to listen. With the support of our governor, the Colorado Oil and Gas Association (COGA) sued these communities, claiming that they have no right to participate in the decision of where and how they drill. In an outrageous rejection of democracy, the Colorado Supreme Court agreed and overturned community regulations and protections against fracking.
Time for a just transition: In response, communities across the state are taking to the streets rallying fiercely for protection of the health and safety of their neighborhoods and families with two state ballot initiatives (#75: Local Control and #78: 1/2-mile Setbacks) that would empower local communities to protect themselves against the hazardous impacts of hydraulic fracking.
In the video below, 16-year-old environmental activist Xiuhtezcatl Tonatiuh urges support for the measures.
"2016 is the year we that make a conscious decision to leave fracked oil in gas in the ground," the youth director of Earth Guardians says. "The Yes for Health and Safety initiatives, number 75 and 78, will protect the people of Colorado from the toxic fracking industry and keep climate-cooking methane out of our atmospheres. These initiatives mean protecting the people, protecting our water and our rights to a healthy atmosphere."
Watch here:
Inside Energy has called Colorado's ballot battle a David vs. Goliath fight pitting the ballot's supporters who have raised "just tens of thousands of dollars" against the deep-pocketed fossil fuels industry that can afford expensive advertisement. One of their television ads touts how "natural gas can help reduce our carbon footprint. We need natural gas, and fracking helps us get it."
Inside Energy reported that Protect Colorado has also bought billboards in Fort Collins and Denver metro with phrases such as, "Think before you ink, it's decline to sign."
Each initiative needs 98,492 signatures from registered voters before Aug. 8 to qualify for the November ballot. Organizers are busy collecting signatures throughout Colorado and will be attending the ARISE Music Festival in Loveland from Aug. 5 - 7 to get any final signatures needed. It is unknown how many signatures have been collected thus far but Lisa Trope of Food & Water Watch told Reuters she was optimistic the measures would get on the ballot.
Local residents rejoiced this week at the Boulder County Commission's decision to enact a new moratorium on fracking for 18 months. The current one was set to expire June 25. Tuesday's vote took place at the County Commissioner's meeting, after a group of local business owners, medical professionals, clergy and residents held a rally calling on the commission to extend the moratorium.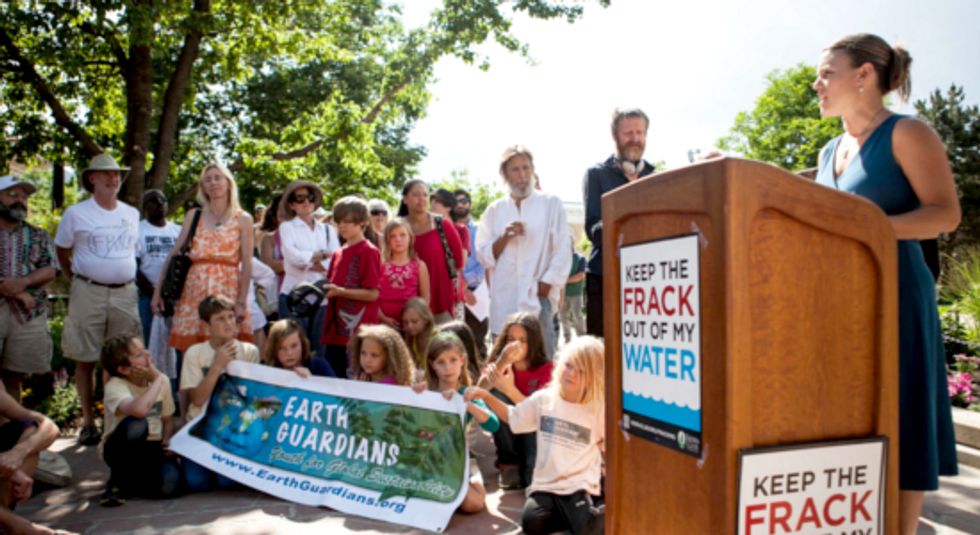 In recent weeks, an unprecedented number of citizens have rallied to protect Boulder County from the ravages of fracking. Thousands of residents have sent emails and post cards to their commissioners, demanding an extension. Activists have also packed meetings held by the County Planning Commission and the Boulder City Council. As a result, the County Planning Commission voted unanimously to recommend the moratorium extension and the City Council voted for its own one-year moratorium and to support an ordinance to ban the sale or use of city water in fracking.
"We applaud the commissioner's decision to extend the moratorium," said Russell Mendell, statewide organizer for Frack Free Colorado. "This is the result of the hard work of thousands of Boulder County citizens who have written post cards, testified and sent e-mails detailing the devastating impacts of fracking."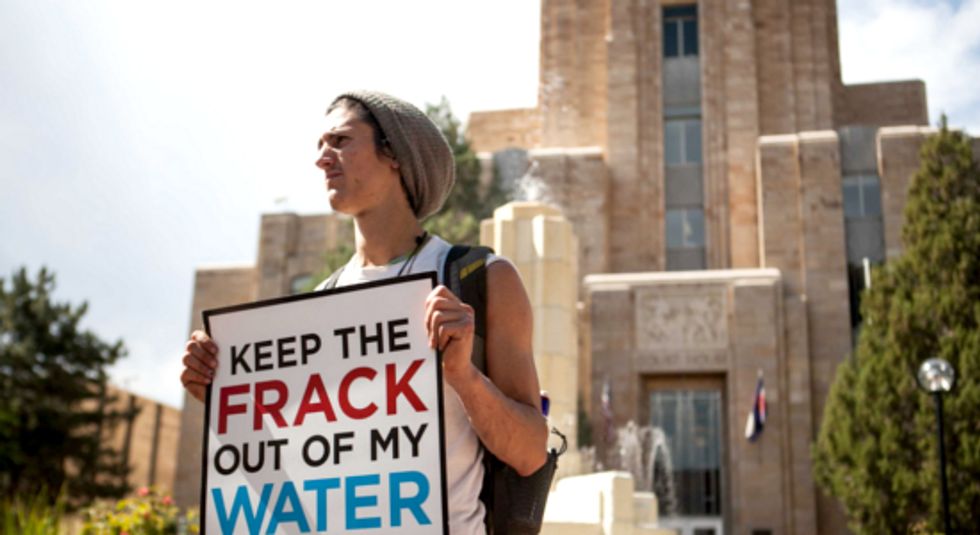 "While people around the country are getting sick from their practices, the gas industry has proven allergic to independent studies quantifying health impacts," continued Mendell. "The independent health studies that have been conducted reveal a 66 percent increase in cancer within one half mile of a fracking well, yet both the EPA [Environmental Protection Agency] and the COGCC [Colorado Oil and Gas Conservation Commission] admit they have no idea how to regulate air emissions to prevent health impacts."
"The people of Boulder County deserve a choice between cancer-causing, toxic fracking and clean renewable energy. We will continue to work to protect our communities from fracking, while moving towards a clean energy economy that relies on solar, wind and energy efficiency."
"We've seen an enormous outcry from Boulder County citizens that fracking is too dangerous to allow near homes and schools in their neighborhood," said Neshama Abraham, member of the Beyond Oil & Natural Gas Team for the Rocky Mountain Chapter of the Sierra Club. "We are grateful that the commissioners have heard us and will extend the moratorium for another eighteen months. We plan to celebrate after the meeting!"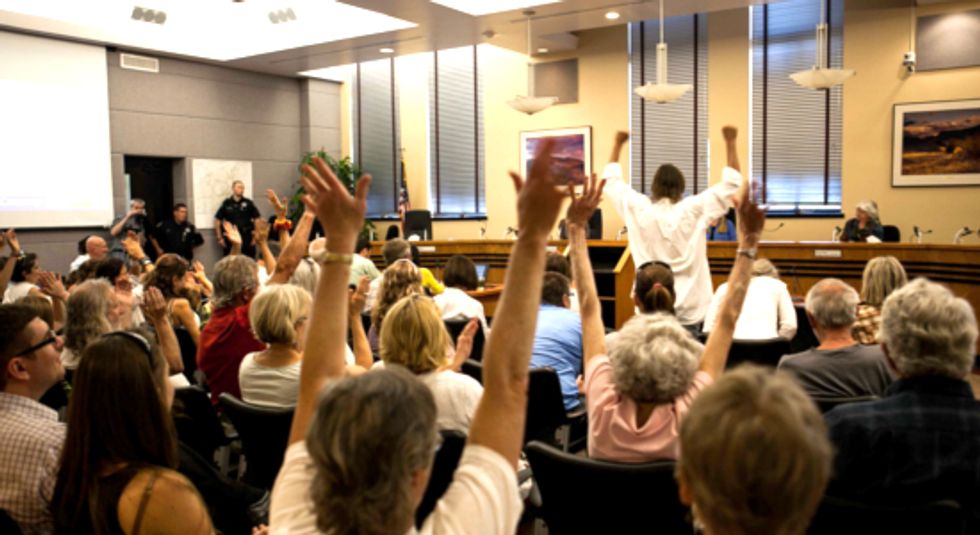 "In a time when all the science indicates that a sane society should be transitioning rapidly away from fossil fuels, and while federal and state regulations are proving dismally ineffective, it's essential that local communities do their due diligence to safeguard air, water, public health and safety," said Micah Parkin, organizer for 350 Boulder County. "Lacking conclusive evidence that fracking is safe and with mounting evidence to the contrary, the prudent action is to follow the precautionary principle. We commend our commissioners for supporting a moratorium on fracking that puts our families' health and safety first."
"The commissioners were woken up by the power and care of their community," said Cliff Willmeng, R.N. and organizer for East Boulder County United. "We aren't going to stop and this is a direct challenge to corporate power. This is the beginning of a new civil rights movement."
Visit EcoWatch's FRACKING page for more related news on this topic.
——–

Sign the petition today, telling President Obama to enact an immediate fracking moratorium: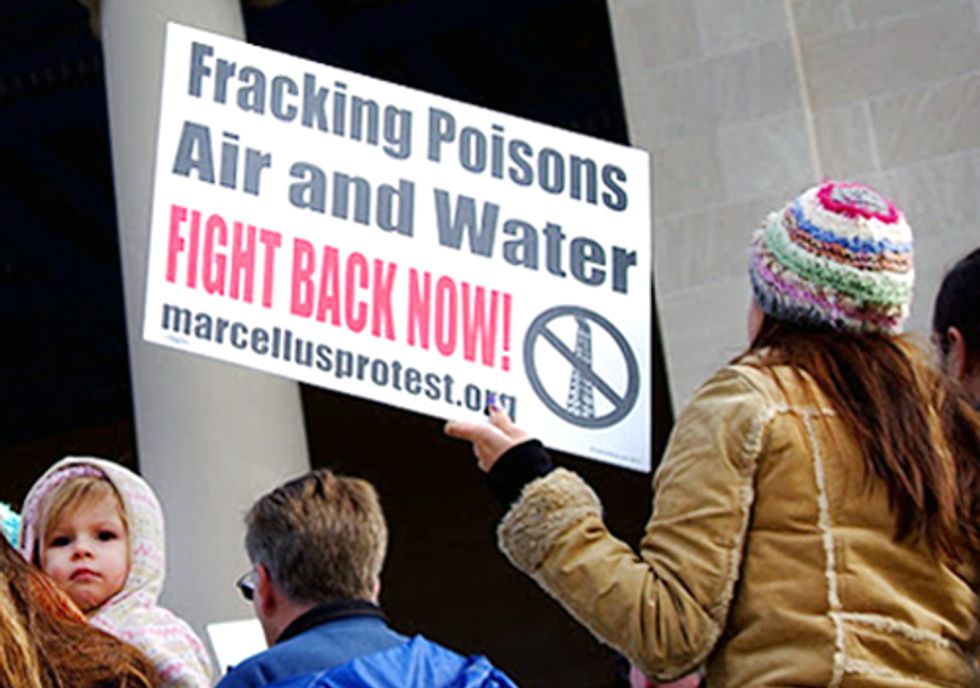 Yesterday, Pennsylvania legislators passed a hydraulic fracturing (fracking) bill that will further limit environmental protections, lower drilling fees, handcuff local governments' zoning power for gas development and undermine public health.
Today, SB 246—a bill to ban hydraulic fracturing in New Jersey—goes before the New Jersey Senate Environment and Energy Committee.
Estimates peg the value of natural gas reserves buried within the Marcellus Shale underneath Pennsylvania and some of the state's immediate neighbors as high as one trillion dollars. With that kind of money at stake, the mostly unregulated extraction process called fracking that's necessary to unleash the gas has become the nation's most polarizing environmental and energy issue.
Look no further than the neighboring states of Pennsylvania and New Jersey.
Fracking was brought to national attention back in 2008 through a sequence of mishaps involving gas wells set up by Cabot Oil and Gas in the small town of Dimock, Pa. In the winter of 2008, metals and methane linked to Cabot's wells were found in many area homes' drinking water. In 2009, the Pennsylvania Department of Environmental Protection (DEP) released a document citing dozens of infractions, including well-construction problems, diesel spills and fracking fluid spills. In September 2009, an estimated 8,000 gallons of fracturing fluid—manufactured by Halliburton—discharged into Stevens Creek and nearby wetlands.
Three years later, residents of Dimock are still fighting for their right to clean water and still reliant upon organizations such as the EPA to deliver fresh drinking water—a responsibility Cabot Oil and Gas is now absolved from. By now, most people are familiar with the infamous images of flammable water pouring from their taps. To see a video, click here.
And that is only the beginning.
Even so, in a move that blatantly disregards the health and welfare of Pennsylvania citizens, Feb. 8 was a landmark day in Pennsylvania as the Pennsylvania Legislature—led by Republican Gov. Tom Corbett—passed a bill to institute an impact fee on Marcellus gas wells and limit the ability of municipalities to restrict gas drilling. In a mostly party-line split, the Republican-led House pushed the bill through on a vote of 101-90.
Next door, New Jersey citizens stand on the brink of banning fracking within state lines entirely as consideration of Senate Bill 246 goes before the New Jersey Senate Environment and Energy Committee on Feb. 9. New Jersey currently has placed a moratorium on fracking until January 2013.
Despite opposition from Republican Gov. Chris Christie and the American Petroleum Institute, SB 246 has garnered overwhelming public support with the help of Sens. Robert Gordon (D-38th District), Linda Greenstein (D-14th District)  and Christopher Bateman (R-16th District).
While citizens of New Jersey are poised to celebrate, residents of Pennsylvania are witnessing just how powerful the oil and gas industry's lobbying arm really is.
According to MarcellusMoney.org, the drilling industry has contributed more than $3 million in political contributions to Pennsylvania lawmakers since 2001 and spent an additional $5 million in the capitol of Harrisburg in the past three years. Unfortunately, the money spent was vindicated yesterday.
The fight isn't over in New Jersey. Click here for more information on how you can reach out to New Jersey lawmakers today.
To learn more about fracking, visit EcoWatch's Fracking page for all the latest information—nationally and internationally.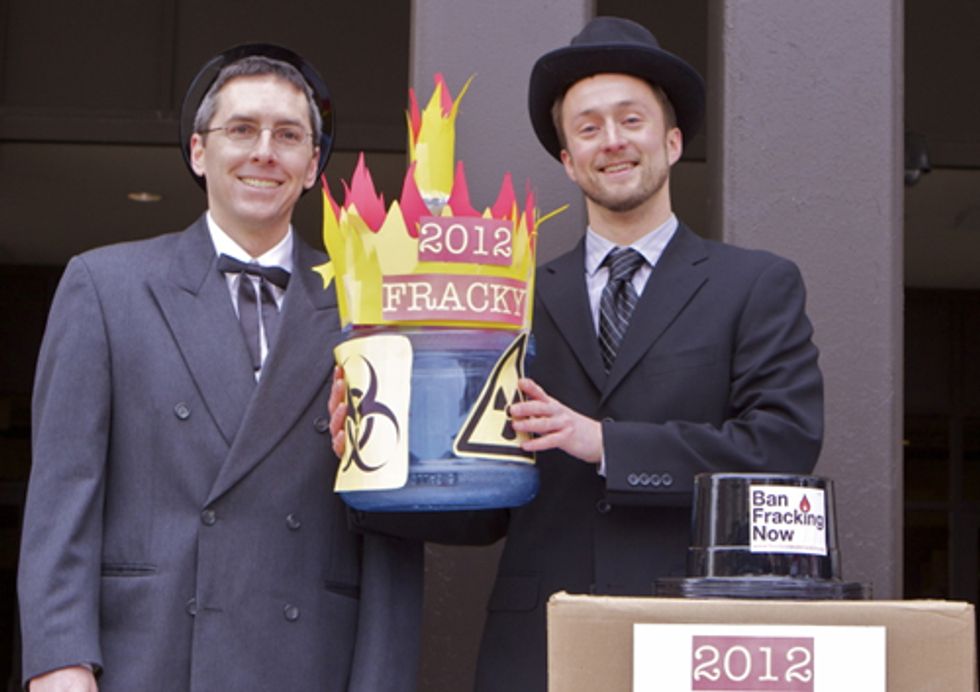 Activists protested one of several planned regional workshops by the American Petroleum Institute in Trenton, N.J., on Feb. 8 countering the oil and gas industry association's event discussing the development of hydraulic fracturing (fracking) with a recommendation of their own—ban fracking entirely. Protestors handed media and passersby "swag bags" filled with information on the risks associated with fracking and staged an award ceremony for the Frackies.
 
"It's awards season, and what better way to protest this elite gathering than with a riff off of another elite event—the Oscars," said Jim Walsh, eastern region director of Food & Water Watch. "If there were an award for destroying rural communities and endangering drinking water supplies, it would certainly go to the American Petroleum Institute, which uses its clout to spread disinformation about the dirty, polluting practice."
 
The event took place near the New Jersey Statehouse, where on Feb. 9 the Senate Environment Committee is expected to vote on a bill to permanently ban fracking in New Jersey before the temporary moratorium is lifted in January 2013.
"These petroleum industry representatives should know that New Jersey has prevented fracking because of grave concerns about the pollution to our drinking water and communities, so they may as well go home. We regret that we cannot give out awards for clean and sustainable energy today and that we must recognize the American Petroleum Institute for its disgraceful failure in making drillers publicly accountable and law-abiding. In Pennsylvania alone, the state reports that as fracking races ahead, drillers commit 12 violations per day of environmental permits, adding up to thousands of pollution incidents each year," said Tracy Carluccio, deputy director, Delaware Riverkeeper Network.
The nominees for the Fracky were New Jersey Gov. Chris Christie, El Paso Pipeline Company, Cabot Oil & Gas, Representative Andy Harris (R-MD), and the American Petroleum Institute. Each nominee was chosen because of some practice that protesters found seriously objectionable.
 
"We are here especially to announce the Fracky nomination for El Paso, the parent company of Tenneco Natural Gas and surviving part of Enron. Their proposed pipeline will be supporting and encouraging fracking that will threaten our water supply. They will be running a pipeline through the most environmentally sensitive area of New Jersey. The pipeline will go through the Delaware Water Gap, Wallkill, Newark and Pequannock water shed and drilling right through the Monksville Reservoir. Along the way it will be cutting an ugly scar through the Highlands and dozens of parks and open space areas. They are attacking our water supply through both fracking and this pipeline," said Jeff Tittel, director of the New Jersey Sierra Club.
The eventual winner of the Fracky was the American Petroleum Institute for what activists referred to as "spinning the benefits of fracking so hard that some people actually believe that gas is a bridge fuel to renewables." Gov. Christie was nominated for a Fracky for saving the fracking industry from the first statewide attempt to ban fracking when he issued a conditional veto last August.
Organizations participating in the 2012 Fracky Awards include Food & Water Watch, Delaware Riverkeeper Network, New Jersey Sierra Club, New Jersey Environmental Federation and 350.org.
For more information, click here.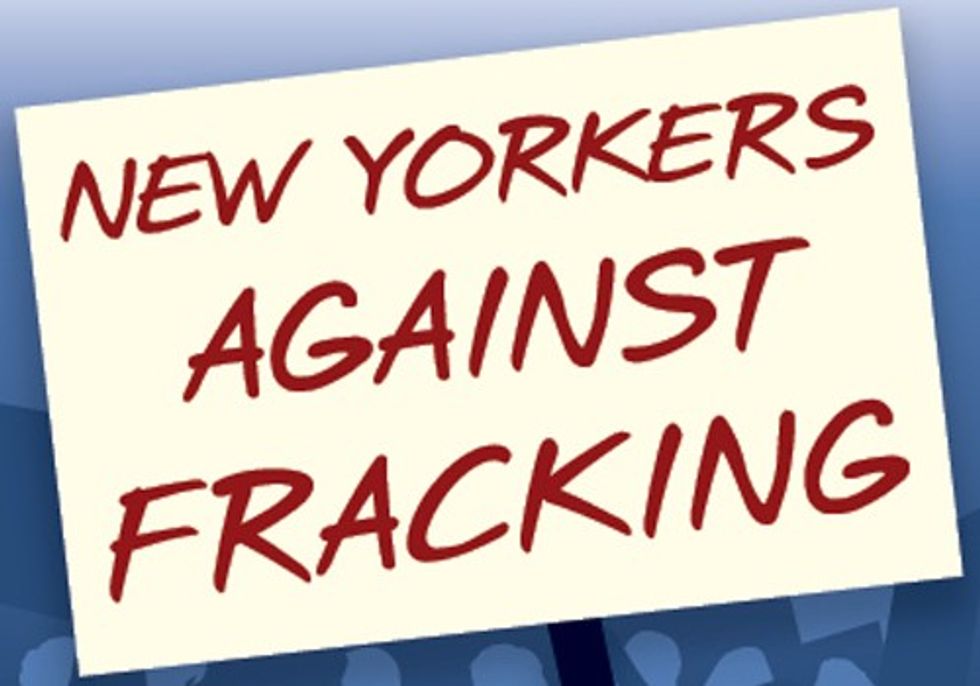 A decision is coming as soon as next week on Gov. Andrew Cuomo's plan to lift New York's ban on fracking, which could jeopardize the safety of water in New York City, and across the state.
After a massive public outcry, New York's Department of Environmental Conservation (DEC) repeatedly delayed the decision, but Jan. 11 is the final deadline to comment on the plan.
The only way to guarantee protection for New York's water is to keep the state's ban on fracking.
This is the final week to register fierce opposition, and that's what we need to do.
Tell the New York Department of Environmental Conservation—Don't lift New York's fracking ban. Submit a public comment now.
DEC's plan lifts a ban on fracking, and opens up 85 percent of the state to this controversial gas drilling practice that has been poisoning water across the country.
Additionally, while drilling won't be allowed on the surface of the watersheds of New York City and Syracuse, the plan fails to protect these watersheds from horizontal drilling below the surface. It fails to set out a plan for safe disposal of the chemical-filled, radioactive1 fracking waste-water and fails to protect the infrastructure (tunnels, dams and aqueducts) that transport water to New York City.2
If fracking is too dangerous anywhere in New York, it should be too dangerous everywhere. And with something as fundamental as safe drinking water on the line, there's no room for any more tragic reminders of oil and gas companies' failures to adhere to even minimal safety standards.
Fracking (also known as horizontal hydraulic fracturing) involves the injection of water, toxic chemicals and sand at extremely high pressure, thousands of feet underground then horizontally, to crack and release gas bubbles trapped deep in the rocks.
From Dimock, Pa., where families can't drink their water, to Pavillion, Wy. where the U.S. Environmental Protection Agency just found their first documented case of groundwater contamination from fracking,3 it's clear that there is currently no such thing as safe fracking.
Even the Department of Energy's fracking panel, despite heavy industry ties, found "a real risk of serious environmental consequences" if fracking continues unchecked.4
There are plenty of ways to meet our energy needs that don't put our drinking water at risk. Gov. Cuomo and the DEC need to reject this plan, and insure that New Yorkers' water remains protected from dangerous gas drilling.
For more information, click here.
—————
1. Regulation Lax as Gas Wells' Tainted Water Hits Rivers, New York Times, Feb. 26, 2011
2. 10 Major Flaws With New York's Fracking Plan, Delaware Riverkeeper, Dec. 1, 2011
3. EPA Finds Compound Used in Fracking in Wyoming Aquifer, ProPublica, Nov. 10, 2011
4. Despite Industry Ties, DOE Fracking Panel Warns of "A Real Risk of Serious Environmental Consequences" Absent Regulation, Think Progress, Nov. 11, 2011