Ray Kemble of Dimock, Pennsylvania, holds a jug of discolored water from his well, contaminated by nearby fracking operations while standing outside of the U.S. EPA building in Washington, DC. Photo credit: Food & Water Watch
The U.S. Environmental Protection Agency (EPA) has released its widely anticipated final report on hydraulic fracturing, or fracking, confirming that the controversial drilling process indeed impacts drinking water "under some circumstances." Notably, the report also removes the EPA's misleading line that fracking has not led to "widespread, systemic impacts on drinking water resources."
"The report, done at the request of Congress, provides scientific evidence that hydraulic fracturing activities can impact drinking water resources in the United States under some circumstances," the agency stated in a media advisory.

This conclusion is a major reversal from the EPA's June 2015 pro-fracking draft report. That specific "widespread, systemic" line baffled many experts, scientists and landowners who—despite the egregious headlines—saw clear evidence of fracking-related contamination in water samples. Conversely, the EPA's top line encouraged Big Oil and Gas to push for more drilling around the globe.
But as it turns out, a damning exposé from Marketplace and APM Reports revealed last month that top EPA officials made critical, last-minute alterations to the agency's draft report and corresponding press materials to soft-pedal clear evidence of fracking's ill effects on the environment and public health.
EPA Watered Down Major #Fracking Study to Downplay Water Contamination Risks https://t.co/9HhJdrSZ1R @GreenpeaceUK @globalactplan

— EcoWatch (@EcoWatch)1480767012.0
Thomas Burke, EPA deputy assistant administrator and science advisor, discussed the agency's final report released Tuesday.
"There are instances when hyrdofracking has impacted drinking water resources. That's an important conclusion, an important consideration for moving forward," Burke told reporters today, according to The Hill.

Regarding the EPA's contentious "national, systemic conclusion," Burke said, "that's a different question that this study does not have adequate evidence to really make a conclusive, quantified statement."

In the new report, the authors heeded to the EPA's independent Science Advisory Board's advice to review the "widespread systemic impacts" line from the June 2015 draft study. The final 1,200-page report omits that line.
RT if you agree: @EPA Must 'Correct Top Claim in Major #Fracking Study' https://t.co/QVWvmTdaIu @foodandwater @MarkRuffalo @joshfoxfilm @350

— EcoWatch (@EcoWatch)1474903123.0
"Scientists put that language in the draft report, and scientists made the decision not to include it in the final report based on feedback from the Science Advisory Board and their interpretation of the available science," Burke explained.
The Science Advisory Board also took issue with how the draft report inexplicably omitted three critical fracking-contamination cases—Dimock, Pennsylvania; Parker County, Texas; and Pavillion, Wyoming.
As Pavillion rancher and affected landowner John Fenton testified last year, "When EPA launched its national study of fracking's drinking water impacts, we thought they'd look first here in Pavillion where they'd already found pollution. But instead they ignored us without explanation. Science means taking the facts as they are. But EPA seems to be intent on finding the facts to support the conclusion they've already reached—'fracking is safe.'"
These specific cases studies are now mentioned in the final report.
In the new report, the EPA has identified cases of impacts on drinking water at each stage in the hydraulic fracturing water cycle:
Water withdrawals for hydraulic fracturing in times or areas of low water availability, particularly in areas with limited or declining groundwater resources;
Spills during the management of hydraulic fracturing fluids and chemicals or produced water that result in large volumes or high concentrations of chemicals reaching groundwater resources;
Injection of hydraulic fracturing fluids into wells with inadequate mechanical integrity, allowing gases or liquids to move to groundwater resources;
Injection of hydraulic fracturing fluids directly into groundwater resources;
Discharge of inadequately treated hydraulic fracturing wastewater to surface water resources; and
Disposal or storage of hydraulic fracturing wastewater in unlined pits, resulting in contamination of groundwater resources.
Burke said that the EPA's assessment "provides the scientific foundation for local decision makers, industry, and communities that are looking to protect public health and drinking water resources and make more informed decisions about hydraulic fracturing activities."
"This assessment is the most complete compilation to date of national scientific data on the relationship of drinking water resources and hydraulic fracturing," he added.
How Fracking Impacts Water-Stressed Regions https://t.co/GDW0cxEq3Q @Frack_Off @Peter_Seeger

— EcoWatch (@EcoWatch)1478137810.0
Unsurprisingly, the oil and gas industry has criticized the report.
"It is beyond absurd for the administration to reverse course on its way out the door," American Petroleum Institute Upstream Director Erik Milito told The Hill. "The science and data clearly demonstrate that hydraulic fracturing does not lead to widespread, systemic impacts to drinking water resources. Unfortunately, consumers have witnessed five years and millions of dollars expended only to see conclusion based in science changed to a conclusion based in political ambiguity."
The industry-funded group Energy In Depth added that despite change in the central conclusion, the report still "blows apart the anti-fracking campaign's most common claim, namely that hydraulic fracturing is polluting groundwater all across America."
Meanwhile, public health and environmental groups and activists are saying the opposite.
"At last the EPA confirms what independent science has overwhelmingly determined for years, that drilling and fracking contaminate drinking water," said actor and prominent environmentalist Mark Ruffalo on behalf of the national Americans Against Fracking coalition.
"Across the country, Americans have had their lives turned upside down as fracking has poisoned the water coming out of their faucets and has made their families sick. Now all of our federal and state elected officials need to take action to protect Americans by banning fracking. Water is life," Ruffalo said.
Five-year @EPA study confirms that #fracking contaminates drinking water https://t.co/ds5XIzbzYf Now officials need to help affected people

— Mark Ruffalo (@Mark Ruffalo)1481647876.0
Greenpeace researcher Jesse Coleman agreed. "The EPA's final report on impacts of fracking on groundwater has concluded what too many Americans already know from personal experience: Fracking has caused lasting harm to drinking water sources throughout the country," Coleman said. "The most important findings from this study is that drilling, fracking, and the use of hazardous chemicals necessary to frack have caused groundwater contamination. This puts to rest the widely repeated lie that fracking is 'safe' and has never caused drinking water contamination."
Julia Walsh from Frack Action said, "The EPA has rightly reported that fracking causes water contamination. For all of the Americans living with this tragedy every day, they are finally validated by the federal government."
Similarly, David Braun, Rootskeeper director, said "Kudos to President Obama's EPA for embracing the science about fracking, which clearly demonstrates serious and inherent problems with the practice."
"The EPA could have bowed to pressure from the oil and gas industry and didn't, however, now that the EPA has acknowledged the serious inherent problems with fracking, it is incumbent upon the Obama Administration to stand with the thousands of Americans who have had their water poisoned, and protect them from this dangerous practice," Braun continued.
Earthworks policy director Lauren Pagel said that President-elect Donald Trump and his pro-fossil fuels cabinet should take the EPA report to heart.
#TrumpWatch: From #Fracking Enthusiast to Exxon CEO: Trump's Latest Picks https://t.co/rfvL5LSINe @BusinessGreen @Public_Citizen

— EcoWatch (@EcoWatch)1480718714.0
"By listening to its scientists instead of its political advisors, EPA's fracking study sets an example that we hope, but do not expect, the Trump Administration to follow," Pagel said. "But a Scott Pruitt EPA would have to ignore 5 years of scientific study, and years of community impacts, to do otherwise. Unfortunately for the still suffering citizens of Pavillion, WY, Dimock, PA and Weatherford, TX, their EPA investigations didn't have advisory boards to publicly remind EPA that science trumps politics."
And Wenonah Hauter, the executive director of Food & Water Watch, said that "the EPA has confirmed what we've known all along: fracking can and does contaminate drinking water. We are pleased that the agency has acted on the recommendations of its Science Advisory Board and chosen be frank about the inherent harms and hazards of fracking."
EcoWatch Daily Newsletter
Hundreds of residents rallied against fracking and for renewable energy outside of Gov. Cuomo's speech in Ithaca, NY, today with just hours notice of the Governor's appearance. The concerned citizens urged the Governor not to put New York's clean water, air, environment and economy at risk by allowing fracking. Further, they urged the Governor to aggressively invest in renewable energy, which would bring sustainable, good jobs and economic development to New York State without jeopardizing people's health and existing jobs like fracking would.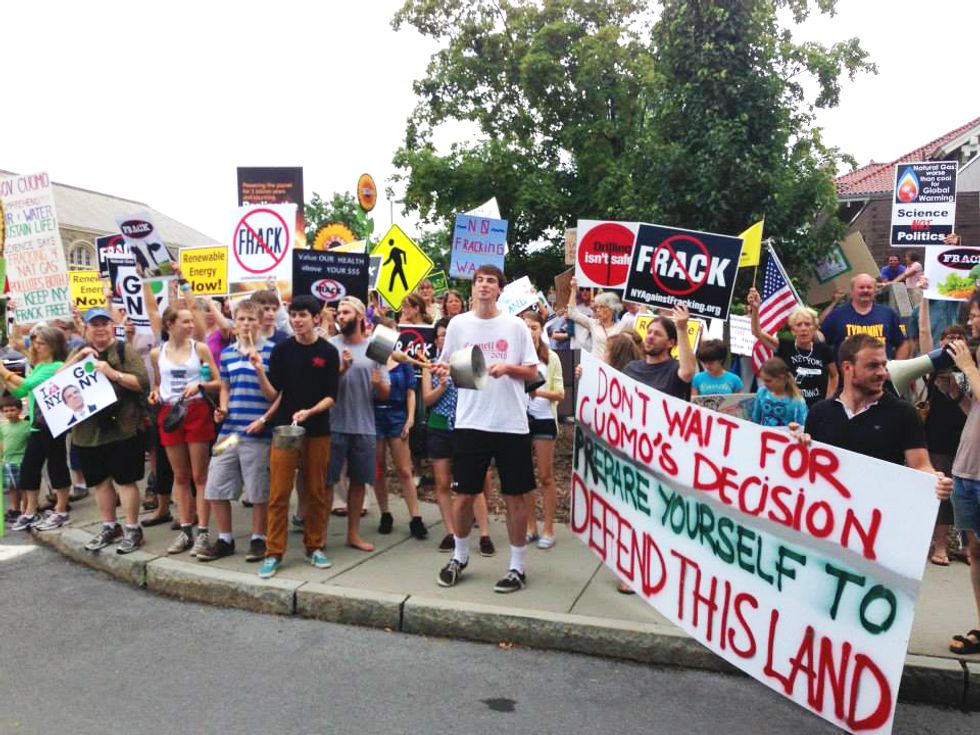 "Governor Cuomo must reject fracking because it would contaminate our clean water, poison our air and undermine our economy including agriculture, tourism and small businesses" said John Armstrong of Frack Action, an Ithaca resident."Science overwhelmingly shows that fracking cannot be done safely and that it would only lead to polluted water and ruined communities, just as it has in Pennsylvania and many other states. We urge Governor Cuomo to make New York State a national leader by moving us forward to a 21st century renewable energy economy that provides long-term, good jobs, not the dirty fossil fuels of the past that will only bring destruction and toxic jobs mostly for out-of-state workers."
"The facts, science, and an overwhelming citizen's movement of New Yorkers insist that Governor Cuomo bans fracking. Unprecedented numbers of business owners, farmers, health professionals, vintners and New Yorkers from all walks of life are speaking out against fracking because it threatens our water, air and way of life," said Sarah Kelsen of New Yorkers Against Fracking, also an Ithaca resident.
"We are gathered here today to give Cuomo a foreshadowing of the resistance that fracking, if approved, will face. If he is wise, he will listen to the people and not allow fracking in New York," said Sam Law, an Ithaca Resident and organizer with Shaleshock and Finger Lakes Action Network.
Gov. Cuomo was in Ithaca for a 2:15 p.m. speech at Friends Hall, Cornell University. The rally began outside of the event at 1:30 p.m.
Independent observers have noted that the gas industry cannot be trusted when it describes fracking as safe. A recent investigation by the Times Tribune in Pennsylvania revealed many cases of water contamination from fracking.  And a recent study showed that fracking emits significant amounts of methane—a major contributor to climate change. A recent peer-reviewed study by Duke University in the renowned Proceedings of the National Academy of Sciences linked fracking with water contamination in Pennsylvania.
The latest Siena Poll showed that upstate New Yorkers oppose fracking 52-38 percent. On Monday, June 17, 3,000 New Yorkers rallied in Albany to demand that Gov. Cuomo reject fracking and instead aggressively pioneer a renewable energy economy.
A recent peer-reviewed study detailed a plan for New York State to get to 100 percent renewable energy by 2030.
Visit EcoWatch's FRACKING page for more related news on this topic.
———
SHARE YOUR THOUGHTS BELOW: If New York State can become 100 percent renewable by 2030, could the whole country?
———

waterlust.com / @tulasendlesssummer_sierra .
Each product featured here has been independently selected by the writer. If you make a purchase using the links included, we may earn commission.
The bright patterns and recognizable designs of Waterlust's activewear aren't just for show. In fact, they're meant to promote the conversation around sustainability and give back to the ocean science and conservation community.
Each design is paired with a research lab, nonprofit, or education organization that has high intellectual merit and the potential to move the needle in its respective field. For each product sold, Waterlust donates 10% of profits to these conservation partners.
Eye-Catching Designs Made from Recycled Plastic Bottles
waterlust.com / @abamabam
The company sells a range of eco-friendly items like leggings, rash guards, and board shorts that are made using recycled post-consumer plastic bottles. There are currently 16 causes represented by distinct marine-life patterns, from whale shark research and invasive lionfish removal to sockeye salmon monitoring and abalone restoration.

One such organization is Get Inspired, a nonprofit that specializes in ocean restoration and environmental education. Get Inspired founder, marine biologist Nancy Caruso, says supporting on-the-ground efforts is one thing that sets Waterlust apart, like their apparel line that supports Get Inspired abalone restoration programs.
"All of us [conservation partners] are doing something," Caruso said. "We're not putting up exhibits and talking about it — although that is important — we're in the field."
Waterlust not only helps its conservation partners financially so they can continue their important work. It also helps them get the word out about what they're doing, whether that's through social media spotlights, photo and video projects, or the informative note card that comes with each piece of apparel.
"They're doing their part for sure, pushing the information out across all of their channels, and I think that's what makes them so interesting," Caruso said.
And then there are the clothes, which speak for themselves.
Advocate Apparel to Start Conversations About Conservation
waterlust.com / @oceanraysphotography
Waterlust's concept of "advocate apparel" encourages people to see getting dressed every day as an opportunity to not only express their individuality and style, but also to advance the conversation around marine science. By infusing science into clothing, people can visually represent species and ecosystems in need of advocacy — something that, more often than not, leads to a teaching moment.

"When people wear Waterlust gear, it's just a matter of time before somebody asks them about the bright, funky designs," said Waterlust's CEO, Patrick Rynne. "That moment is incredibly special, because it creates an intimate opportunity for the wearer to share what they've learned with another."
The idea for the company came to Rynne when he was a Ph.D. student in marine science.
"I was surrounded by incredible people that were discovering fascinating things but noticed that often their work wasn't reaching the general public in creative and engaging ways," he said. "That seemed like a missed opportunity with big implications."
Waterlust initially focused on conventional media, like film and photography, to promote ocean science, but the team quickly realized engagement on social media didn't translate to action or even knowledge sharing offscreen.
Rynne also saw the "in one ear, out the other" issue in the classroom — if students didn't repeatedly engage with the topics they learned, they'd quickly forget them.
"We decided that if we truly wanted to achieve our goal of bringing science into people's lives and have it stick, it would need to be through a process that is frequently repeated, fun, and functional," Rynne said. "That's when we thought about clothing."
Support Marine Research and Sustainability in Style
To date, Waterlust has sold tens of thousands of pieces of apparel in over 100 countries, and the interactions its products have sparked have had clear implications for furthering science communication.
For Caruso alone, it's led to opportunities to share her abalone restoration methods with communities far and wide.
"It moves my small little world of what I'm doing here in Orange County, California, across the entire globe," she said. "That's one of the beautiful things about our partnership."
Check out all of the different eco-conscious apparel options available from Waterlust to help promote ocean conservation.
Melissa Smith is an avid writer, scuba diver, backpacker, and all-around outdoor enthusiast. She graduated from the University of Florida with degrees in journalism and sustainable studies. Before joining EcoWatch, Melissa worked as the managing editor of Scuba Diving magazine and the communications manager of The Ocean Agency, a non-profit that's featured in the Emmy award-winning documentary Chasing Coral.
[Editor's note: These are the prepared remarks for the commencement keynote on June 22 by John Armstrong from Frack Action to the New Roots Charter School in Ithaca, NY.]
What an honor and a privilege to be here with you all. I am blown away by the magnificent idea of New Roots to combine rigorous academics with the vision of empowering young people to create just, democratic and equitable communities powered by green, sustainable economies.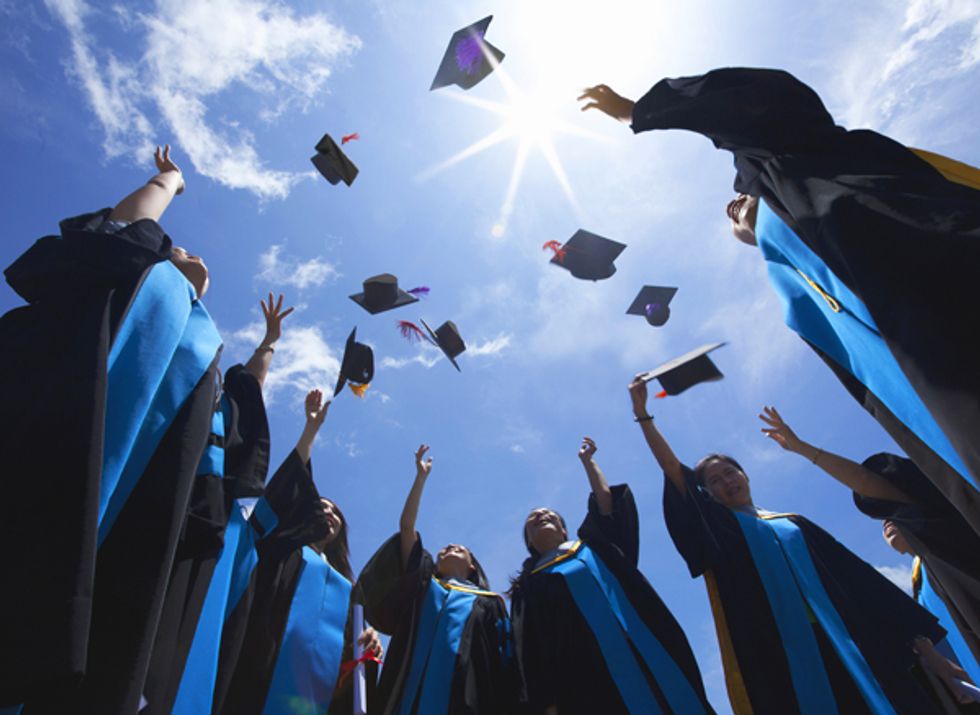 Photo courtesy of Shutterstock
Yours is no ordinary graduation. Today's rightful celebration marks the deployment of a force for good into a world that desperately needs your vision, energy and your convictions. Your class might not be the largest to graduate on this day, but mark my words, you could change the world.  
And you must. Right now the course of our future is being set by the fossil fuel industry, the most powerful corporations in the history of the world, and they're steering us off a cliff into a raging inferno. They fight each day to blow up more mountains for coal, demolish more land and oceans for oil and shatter more of the ground beneath our feet by fracking for oil and gas with a cocktail of the most toxic chemicals known to humankind. With each passing day that these interests set our course, with every additional ton of greenhouse gases emitted like a poison in our atmosphere, the drier the ink becomes on the bleak future written by the fossil fuel industry.
That future is one where oceans drown our coastal homes and cities, where biodiversity is diminished. It's a future where droughts will parch our agricultural fields and allow wildfires to run rampant. It's a future where clean, freshwater will be among the world's scarcest resources, and where smog and pollution suffocate our lungs and the planet's.
Given the fossil fuel industry's seemingly unlimited money and political influence, changing their course and taking control of our future is a tall order. But again, we must. And all of you, yes at your young ages, can make the choices that lead you to seize that control.
I turned 24 last month, and I can tell you how significant a difference each of us can make, how important the choices we make can be and the power we have as youth in this country.
I've made some of those choices. I studied ecology at Cornell, following my love of scientific research. After my undergraduate, I planned to pursue a doctorate and launch a career in research. I was particularly interested in studying high-elevation, mountainous ecosystems and how climate change would affect them. One example I worked on stands out. There's a bird in New York's Catskill Mountains called the Bicknell's Thrush, a threatened species that only lives in ecosystems unique to the highest 600 feet of the tallest mountains.
To cut to the chase of a lot of data, detailed spreadsheets and a great deal of literature, climate change is bad news for the Bicknell's Thrush. As the climate warms, ecosystems and other species' ranges will shift and those 600 feet of habitat will become 400, 200 and eventually none. The appropriate conditions for the Bicknell's Thrush will be above the top of the highest mountains. In other words, no more Bicknell's Thrushes in the Catskills.
My research was essentially projecting the effects of climate change over time, which are mostly negative, often disastrous, and in this case meant projecting the demise of the Bicknell's Thrush in the Catskills over the next 50 years or so. It hit me that I would ultimately be judging my success by how well I had predicted the demise of a species and an ecosystem I cherished.
How's that for a career and your life's work?
Around the same time, a professor pointed me to an opportunity to work for a year in environmental advocacy after graduating. I didn't really know what that was, but as I looked into it more and more, I realized it was a chance to directly affect our future, to campaign for laws that reduce greenhouse gas emissions, safeguard important environmental protections and build a movement to stop the worst impacts of climate change and environmental destruction. On this path, in 50 years I could judge my success not by how well I predicted the demise of species and ecosystems, but by how well they are doing.
I guess you know what choice I made. In that year, I was part of a successful campaign to save our nation's best climate laws in California from a couple of Texas oil companies; I worked in Maine to protect the Clean Air Act from extreme special interests; and I worked on Power Shift in our nation's capital to build the youth climate movement.
After Washington DC, I had another job lined up in New Hampshire. But I'd been learning more and more about fracking. I saw the disaster that was taking place in Pennsylvania, the research showing that fracking is one of the worst things we could do for the climate, and that widespread fracking was on the verge of being allowed in New York State. Worse yet, I saw that fracking was pushing out renewable energy, falsely being sold as a clean transition fuel, and was on track to expand exponentially across the country and the world.
I knew that the oil and gas industry had set a course for a future dominated by fracked oil and gas. If we were going to stop them, we would have to make a stand in New York.
With that conviction, I chose not to take the job in New Hampshire and instead committed myself 100 percent to stopping fracking. I moved back to New York and joined up with a couple of young women who had recently started an organization called Frack Action with the mission to stop fracking outright.
We believed that if we could stop it in New York, that would send shockwaves across the country and the world and we could also stop it elsewhere. It's a lofty goal, but one we must reach to prevent the worst impacts of climate change and to create a renewable energy future.
Given the political landscape, we saw an urgent need to better coordinate the growing grassroots movement and leverage its power across the state, in Albany and in the media. As it stood, the grassroots weren't being heard in our capital, where an army of gas industry lobbyists and a sophisticated propaganda campaign were drowning out our voices and the science.
At that point, Frack Action had a terrible website, a few hundred likes on Facebook and Twitter, and no funding. But the group of us all had some good political experience and an abundance of determination. We worked tirelessly off savings, loans and some small contributions. Frack Action organized the first major rally for a ban in Albany with a record breaking 500 people. With many allies, we went on to build out the movement, educating businesses, farmers, elected officials and combating the gas industry's lies with science and facts. Countless rallies and press conferences got the truth out and helped build the movement across the state.
And the movement was growing like wildfire, with each grassroots group inspiring another and each local action igniting the next.
Our work with the media began to change the discussion from when and how fracking would take place to whether it would take place. And today, the call for a full statewide ban is the prevailing demand. Our voices would go on to carry across the state, nation and even the world in thousands of news stories, informing the public and the national debate while also pressuring our elected officials.   
Ultimately, our vision of a coordinated movement that could effectively leverage its influence turned into what is now the mighty New Yorkers Against Fracking coalition of over 200 organizations.
This past Monday, two years and a month after that first rally for a ban in Albany, over 3,000 people descended on Governor Cuomo's doorstep to demand a frack free future powered by renewable energy. We made the case, and we made it loudly and forcefully, for a better future. Our voices resonated throughout the capitol and across the state and the nation in well over a hundred news outlets. The same morning, a poll showed statewide opposition to fracking significantly ahead of support.
By keeping fracking out this long, we've all done what many political insiders, elected officials and mainstream environmental organizations promised us was impossible. But this isn't a fight for what seems possible—it's a fight for what's necessary. We haven't won yet, but we've certainly changed the playing field. And our growth is exponential, not linear.
Meanwhile, the world is watching us in New York and similar coalitions and actions are popping up everywhere. We've helped empower a serious national and international movement against fracking.
In leaked documents, the gas industry notes how effective we are and the danger we pose. In other words, they're worried that we are changing the course they've set for a future dominated by fracked oil and gas.
We must.
Our movement is broad and diverse. But that's a result of the choices a relatively small number of individuals have made to dedicate ourselves to this cause, with the belief that we can change the course of our future. If not for those choices, we would have had fracking years ago and that future would loom darker. What I've come to know, and I know this for certain, is the incredible difference regular, individual people can make if they choose to.
They always have. An hour north of here in the town of Seneca Falls in 1848, one such individual named Elizabeth Cady Stanton led a group of 68 women and 32 men in signing the Declaration of Sentiments. Modeled after the Declaration of Independence, it asserted the equality and rights of women. A small group of women's vision, choices and action thus marked the beginning of the women's rights movement in the United States. From Seneca Falls they went forward with stalwart determination, and today we all benefit greatly from their resolve and their action.
Those women weren't so different than you and I.
One of the men who signed the Declaration of Sentiments was Frederick Douglass, who escaped slavery and became a leader of the abolitionist movement. He had the courage to fight the establishment for what was right in the face extraordinary odds and very personal attacks. Yet his words and his convictions inspired a movement and broad support ranging from everyday people to President Abraham Lincoln. He knew that you have to fight for the change you want to see in the world.
In his words, "If there is no struggle there is no progress. Power concedes nothing without a demand. It never did and it never will."
These powerful words ring true in the environmental movement as well. In 1962, marine biologist and author Rachel Carson challenged the powerful chemical and pesticides industry with her book Silent Spring. Industry fiercely opposed her work, but Caron's powerful voice carried the science and rang true, leading to a reversal of national pesticide policy and a ban on DDT. As pollution ran rampant, her uncompromising voice also inspired a grassroots environmental movement.
In 1970, Wisconsin Senator Gaylord Nelson created Earth Day, which marked a pivotal turning point away from a future of unchecked pollution and toxic chemicals. Twenty-six year old Dennis Hayes coordinated the event nationally with a team of 85 people, turning out a shocking 20 million Americans demanding environmental reform. Later that year, as a result of the public outcry, Congress created the U.S. Environmental Protection Agency and enacted the Clean Air Act. The Clean Water Act would follow in 1972.
Isn't that amazing?
Today we face climate change, perhaps the greatest challenge humankind has ever faced.
Yet as hard as it will be to meet, this is a moment of hope, not despair. If history is any guide, don't doubt the power of individuals and small groups of people to change the course of our future.
We are those people.
Can you imagine if 20 million people took to the streets tomorrow to demand action on climate change?
We have the science showing we have to take serious action. We have the technology to makes the changes. We need the political will.
That's up to us. As youth, our voices can carry far. Both the Democratic and Republican parties recognize that youth played a major role in the last two presidential elections. Corporations know that the purchasing habits we make now last for life, and as a result listen to us intently. But most importantly, we have a vision for a better world, and we can make that vision a reality with the right determination and action. It's our future, and it's time we take ownership of it.
Recall the words of Frederick Douglass, "Power concedes nothing without a demand."
Uncompromising, let's make that demand. Let's give science the force of 20 million people pushing it forward. With love and resolve, let's take control of our future.
In closing, I implore you all: give your convictions the power of action. Wherever you go from here, make the choices to make a difference.
Visit EcoWatch's FRACKING and CLIMATE CHANGE pages for more related news on this topic.
——–
Sign the petition today, telling President Obama to enact an immediate fracking moratorium:

More than 3,000 New Yorkers took time off work yesterday to send a message to Albany that they want Gov. Cuomo and the state legislature to reject fracking and lead the nation in renewable energy. Organizers noted that the rally was larger than a similar rally at the State of the State address that kicked off the legislative session, indicative of the growth and momentum of the movement across the state. The second rally comes at the end of a legislative session that has included discussion of a two year fracking moratorium—which the Assembly passed overwhelmingly—and many, including Gov. Cuomo, have noted it would pass the Senate if allowed to come to the floor for a vote.
"Thousands of people here today are speaking for many more across the state with a simple call to Governor Cuomo: Ban fracking in New York," said Alex Beauchamp of Food & Water Watch. "They've seen the misery fracking has brought elsewhere—the accidents, the contamination and the devastating health effects—and they've learned the lessons. New Yorkers are fighting to keep their families safe and healthy, and they're sending a message that the oil and gas industry can and will be beaten back."
"The science is clear that fracking poses a serious threat to our health, the air we breathe and the water we drink," said Julia Walsh of Frack Action on behalf of New Yorkers Against Fracking. "An unparalleled citizen uprising demands that Gov. Cuomo rejects fracking, and lead the nation by constructing a renewable energy economy here and now in New York. If he does, we stand ready to roll up our sleeves and get to work."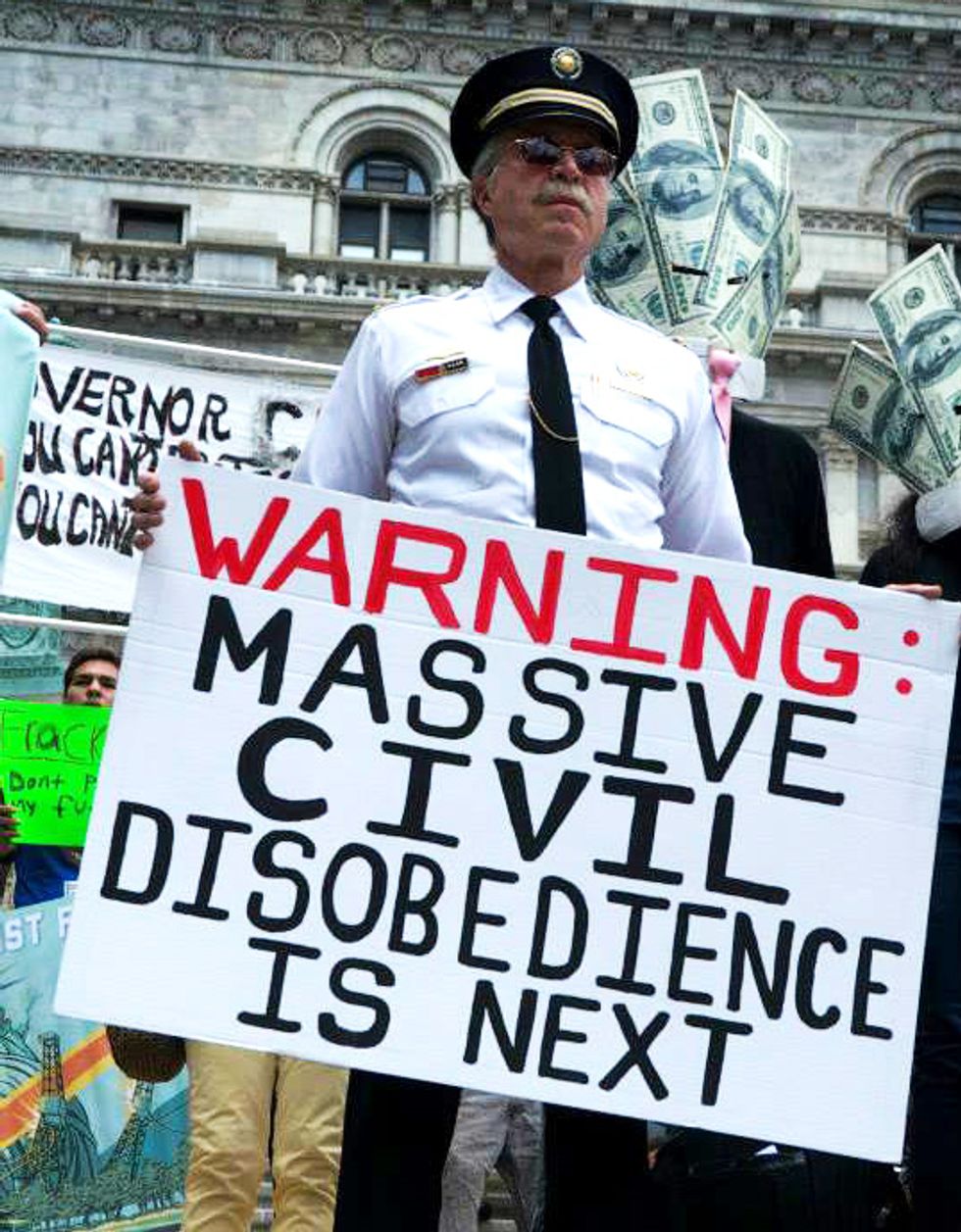 The New Yorkers Against Fracking rally and march, New York Crossroads, was co-sponsored by more than 130 New York and national organizations including Catskill Mountainkeeper, Citizens Campaign for the Environment, CREDO, Democracy for America, Environmental Advocates of New York, Environment NY, Food & Water Watch, Frack Action, New York State Breast Cancer Network, New York State Sustainable Business Council, Northeast Organic Farming Association, New York Public Interest Research Group, Riverkeeper, Save The Southern Tier, and the Sierra Club Atlantic Chapter. Speakers included former Congressman Maurice Hinchey, Lois Gibbs, Jim Dean of Democracy for America, Mark Jacobson, PhD, Arun Gandhi, Oren Lyons, Phil Aroneanu of 350.org and a musical performance by Natalie Merchant. 
While Gov. Cuomo has been weighing whether or not to allow fracking, the oil and gas industry and their supporters have poured millions of dollars into New York to lobby, influence elected officials and saturate the state with pro-fracking propaganda. Yet, fracking opponents outnumber and remain more determined than supporters, demonstrating that New Yorkers aren't buying the oil and gas industry's propaganda and how seriously they take this issue.
"Governor Cuomo, my toddler deserves to breathe clean air, drink clean water and inherit a healthy future," said Logan Adsit of Save The Southern Tier. "Say no to fracking and pioneer a renewable energy economy for New York that offers my child a chance at a better future in the state we love."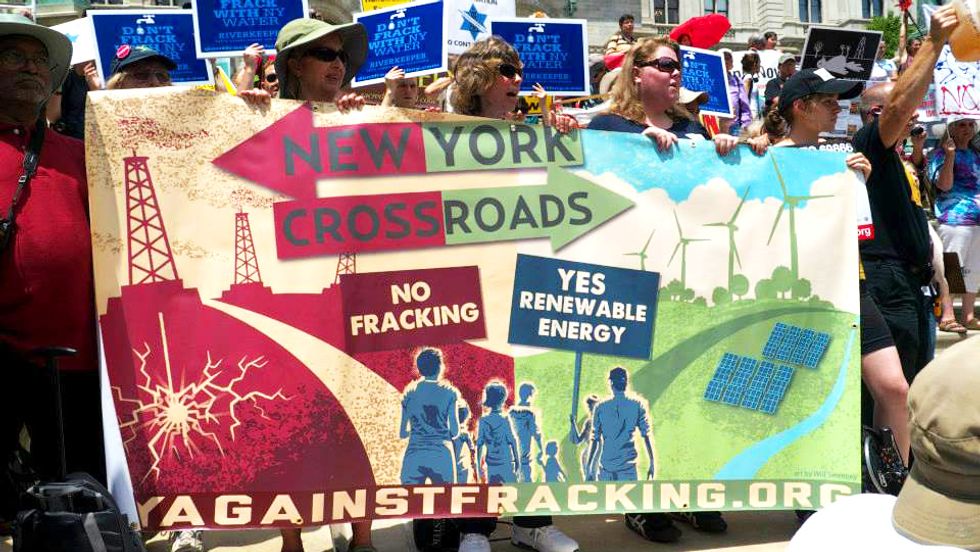 "My neighborhood—Love Canal—became synonymous with the hazards of toxic waste," said Lois Gibbs. "If Governor Cuomo goes forward with fracking, we could have hundreds or thousands of Love Canals. I'm here today to tell Governor Cuomo not to turn the state we love so dearly into a giant toxic disaster."
"We are here to show Governor Cuomo once and for all that fracking is not a viable energy option for New York," said Jim Dean of Democracy for America. "We must fully embrace renewable energy resources, and stop fracking now. Governor Cuomo has the opportunity to lead not only New York, but also the nation by setting an example for those who face the same difficult choice."
Independent observers have noted that the gas industry cannot be trusted when it describes fracking as safe. A recent investigation by the Times Tribune in Pennsylvania revealed many cases of water contamination from fracking. And a recent study showed that fracking emits significant amounts of methane—a major contributor to climate change. One of the key messages of the rally is that fracking is disastrous for the climate and for Governor Cuomo to allow it would be a stark contradiction to his vow to lead on climate change.
"Hurricane Sandy, fueled by Atlantic waters that were five degrees warmer than normal, caused $60 billion in damage downstate, to a city that I love and call home," said Phil Aroneanu, U.S. campaign director and co-founder of 350.org. "It's time for all of us to stand up and say 'We're not drowning, we're fighting.' Gov. Cuomo, do the right thing: Open up New York to solar and wind, to geothermal and tidal power—don't let us drown."
Stanford University Professor Mark Jacobson, lead author of a peer-reviewed study detailing a plan for New York State to get to 100 percent renewable energy by 2030 said, "Converting to wind, water and sunlight is feasible, will stabilize costs of energy and will produce jobs while reducing health impacts and climate damage."
"Our brewery is growing 20 percent annually, creating good-paying jobs in Cooperstown," said Larry Bennett of Ommegang Brewery. "But we depend on clean water to brew our beer. And if fracking comes to New York, we'll either have to shut down or move away."
"Fracking is not just a political issue," said Reverend Bill Levering of the New York State Council of Churches. "It's also a moral issue. It's about protecting the common good from greed. And that is why the New York State Council of Churches opposes fracking."
Visit EcoWatch's FRACKING page for more related news on this topic.
——–
Sign the petition today, telling President Obama to enact an immediate fracking moratorium: